Building a form is quite arduous task as it demands more determination and efforts and it becomes more complex when you don't have a right tool to create and design the forms.
In this article we have compiled a list of Best PHP Form Builders which will help you to generate forms for your websites by spending few mints of time. Following form generating scripts are very useful and can make your work quite easier and let you produce some quality forms for your websites.
Following scripts are premium ones and come with myriad of features and functions so you can easily create beautiful forms for your websites.
So, here is the list of Best PHP Form Generators for Your Websites.

1. Zigaform – PHP Form Builder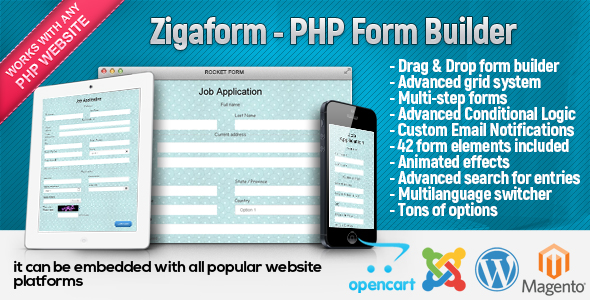 Zigaform is a flexible and Ultimate PHP form builder plugin which allows you to build responsive forms on few minutes using a simple yet powerful drag-and-drop form creator. Also it provides amazing form elements and skin live customizer that makes you to build professional forms. Also it provides an administration section where site admins manage tons of form options. It's really easy to customize and you don't need programming skills.
It works with any php website. it can be embedded with all popular website platforms
Zigaform is a 100% mobile responsive contact form solution, so your contact forms will always look great on all devices (mobile, tablet, laptop, and desktop).
Build complex forms with conditional logic. You can automatically hide or show fields or entire pages in your form based on selections your users make. Check demo samples
Key Features:
Drag and Drop Interface
100% responsive form
Smart conditional logic.
Highly customizable
Easily customizable form editing
2. FormDroid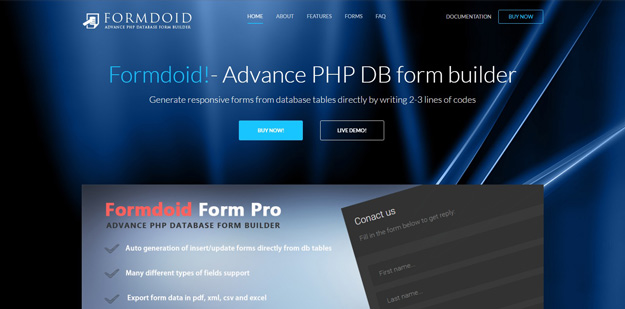 Formdoid is advance PHP database form builder that generates the form directly from the database tables by writing 2-3 lines of codes only. It automatically creates form fields on the basis of the field type and field name as defined in the database table.
You don't need to write data submission code (insert/update/export) also, script handles that part also. By default, script also put validations as per the field type and manages the data submission using Ajax.
3. Easy Forms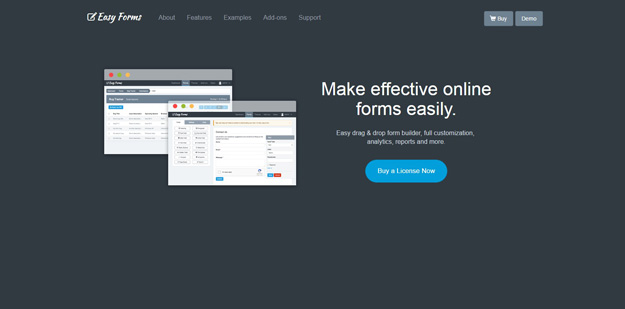 Easy Forms is a full featured form manager application that features a drag and drop php form builder, advanced notification, lead capture, conditional logic fields, multi-page forms, math calculations, form analytics, submission manager, themes, templates and much more!
4. Contact Form Generator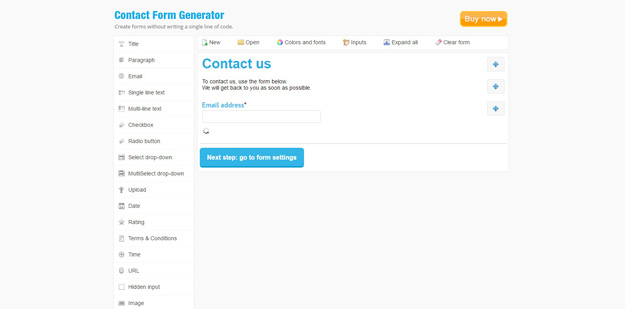 Contact Form Generator is a powerful form builder that enables you to easily create the most elegant forms in less than a minute. It lets you create your own contact forms, feedback forms, online surveys or event registrations and get responses via e-mail.
5. Visual Form Builder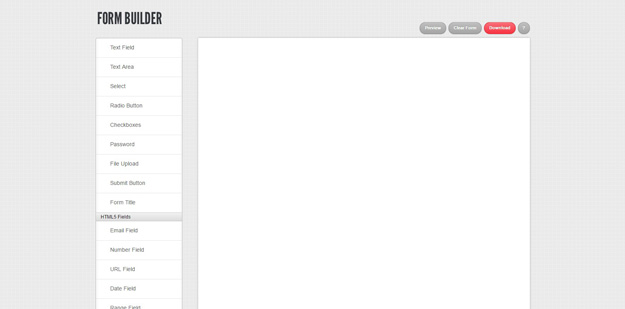 Visual Form Builder enables you to create beautiful HTML5 forms in seconds. Each form has integrated client side and server side validation, and is compatible with all browsers (even IE6).
6. PHP Form Builder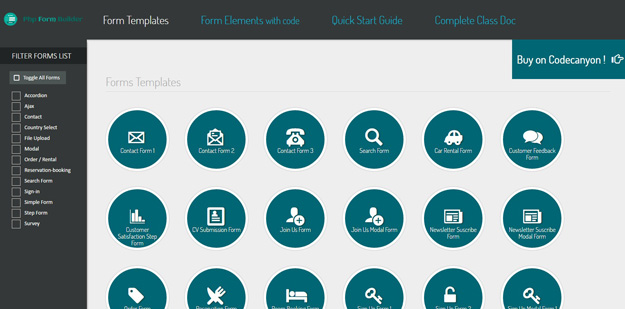 PHPForms generates clean HTML5 markup, with two separates functions to generate CSS and JS code, so you can render them separately.
7. Hello Form Builder

Helloform Builder is a contact form generator that generates html contact form for your website. This contact form builder can create forms with file upload, file attachment, captcha system, smtp, feedback form and is also powered by Ajax and Jquery Library.
8. Inception Responsive Form Generator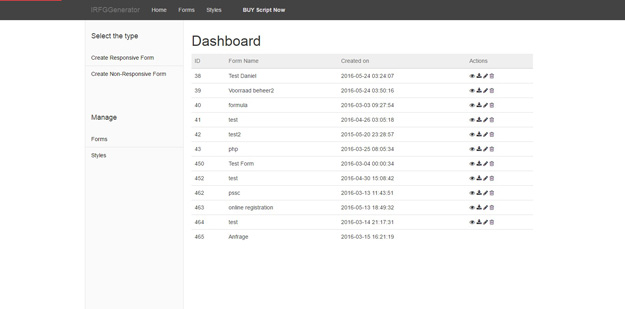 You can build any form in minutes using this tool. Build Responsive OR non-responsive forms using this tool. You can create your contact forms, feedback forms, online surveys etc. and get responses via e-mail AND/OR save in database.
9. Universal Form Builder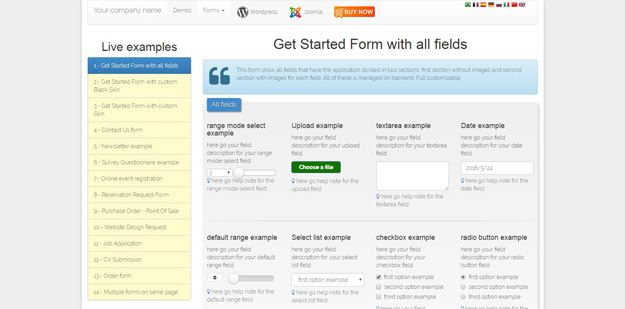 Universal Form Builder is a script which can create amazing forms. it can be integrated with wordpress , Woo Commerce, joomla, drupal, opencart, magento and any site. All through a widget code which is generated by the application. Also it provides an administration section where site admins can create custom forms, fields, custom skin, manage layout fields and all kind of editing operations.
10. Ajax Contact Form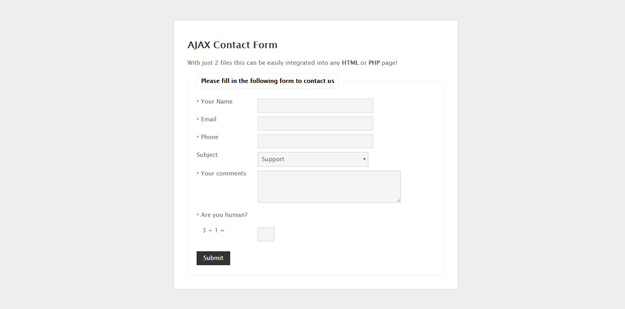 This AJAX jQuery website component allows you to easily place a self-contained Contact Form on any HTML or PHP page of your existing website. It uses just 1 file to Validate, Process and Send the completed contact form to your e-mail address and best of all, does not reload the page to validate or send the form!
11. Quform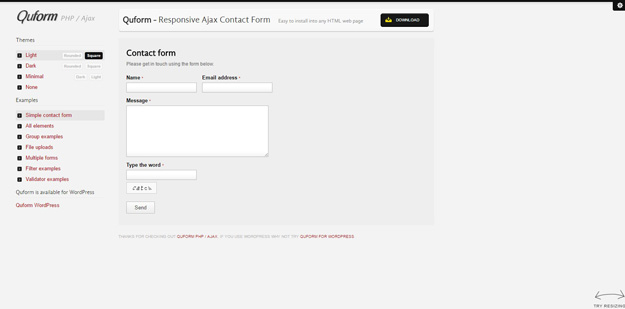 Quform is a powerful responsive ajax contact form that you can easily embed into any web page in a matter of minutes. If you need a simple contact form to put on your website Quform is sure to suit your requirements. It does everything without reloading the page which makes for a sleek user experience that is sure to make a positive impression when your visitors contact you.
12. FormCraft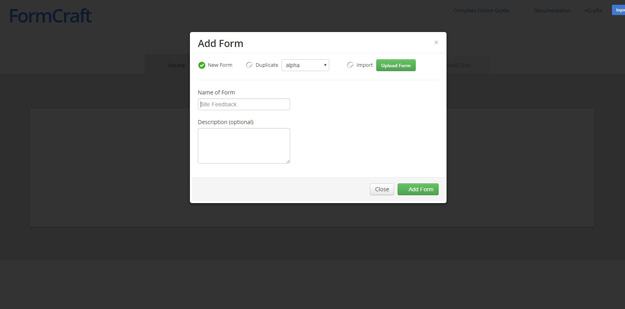 FormCraft is another great form builder script which will allow you to create various forms easily. It supports responsive design and easy to install into any web page, file upload support, form validation, all date is stored in an SQL database, send auto responders and comes with free 6 month support.
13. iSurvey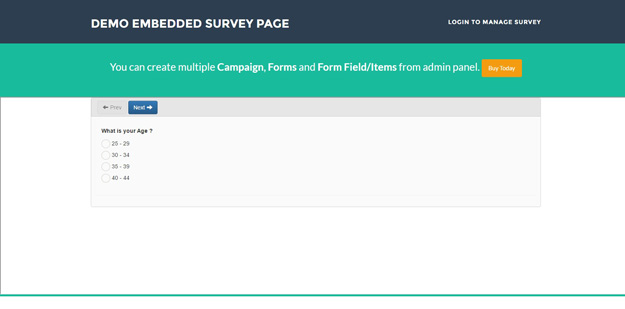 iSurvey is robust survey System which can allow you create survey on fly and send the url to user to fill the form.
14. Easy PHP Contact Form Script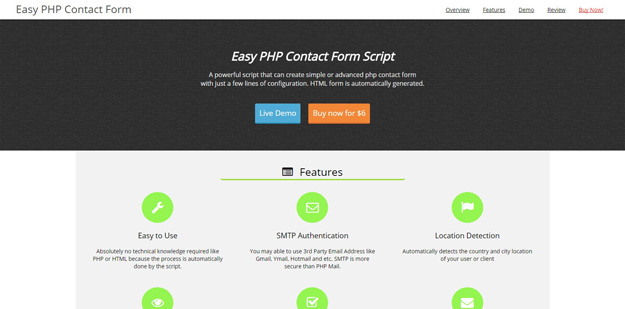 Easy PHP Contact Form Script can configure contact form for your website with file attachment or file upload, captcha system, supports smtp for sending mail and with data validation. This script is a basic contact form generator without user interface.
15. Survey Maker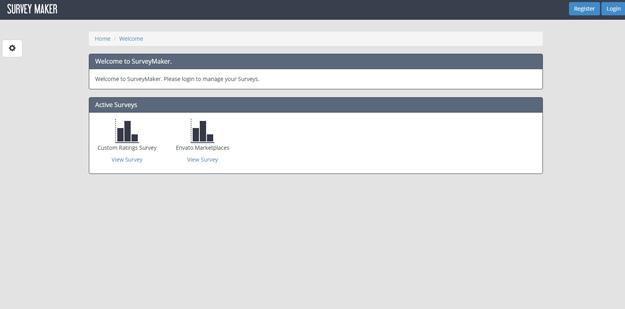 Survey Maker is a powerful PHP CodeIgniter application that allows you to create unlimited Surveys and distribute them to all of your users with no limits! There are 9 different question types to choose from, including Radio, Checkbox, Text Input, Textarea, Slider, Custom Rating and Star Rating! You can build your Surveys with the excellent form builder that is powered by jQuery. You can also have Questions that include Image Answers that you can ask your Users to vote on.