Are you wondering which WordPress contact form plugin to choose for your website? 
When there are so many WordPress form plugins available, finding the best one seems like a daunting task.
How to Choose the Best WordPress Contact Form Plugin?
A successful website should have an effective communication medium with the audience. And, WordPress forms are the best way to increase user interaction and conversions on your site.
You can find hundreds of WordPress form plugins that will allow you to add a contact form to your site. But, there are many things you need to consider before choosing the right WordPress contact form plugin. The requirements may differ from one website to another so, the right choice can be different. Here are some of the basic factors that every website owner must look for in a WordPress form plugin.
User-Friendly Form Builder: Not all business owners have the technical knowledge. So, the best WordPress form builder should have an easy-to-use beginner-friendly interface. 
Unlimited Custom Forms: A good WordPress form plugin allows its users to create contact forms with the custom fields. 
Customization Options: Just creating a form is not enough. So, you must make sure the contact form plugin you choose allows you to customize your WordPress contact page. 
File Upload Feature:  There are times when you need to allow users to attach files with their form submission. So, including a file upload field on the contact form is important.
Options to Block Form Spam: WordPress forms are not free from the spam submissions. So, a WordPress contact form plugin should have anti-spam protection features.
Translation Ready: If you are a business owner with a larger audience, you need to make sure your contact form page is translated to the required languages.
Best WordPress Contact Form Plugins
Zigaform has an HTML form builder plugin for WordPress and other websites too. it really makes it an easy task when it comes to creating forms. You just need to select the field which you want to appear on the form.
It provides a free usage for lifetime and premium version includes extensions add on. A perfect form builder for beginners as well as professionals. !!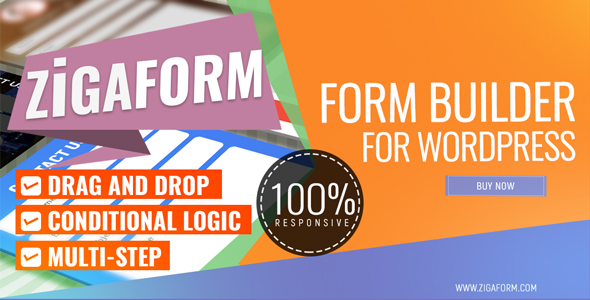 Pros Of ZigaForm – 
Straightforward and easy to use interface along with a drag-drop feature which simplifies form building process.
Doesn't depend on the host website. Forms can directly be created and linked to an email account.
Helps to do better marketing by providing a platform where the user can directly contact the audience of the website and easily update them with the features of their products.
Security can never be an issue with Zigaform as it works on cloud feature application. All the data is securely and efficiently stored on the cloud server.
Unlike few other form plugins, Zigaform provides stress-free payment methods. Even while using the free version, PayPal integration helps quick payments.
A special feature of Zigaform is that it provides detailed analytics report.
Help desk is always available for any assistance. Further, if you are using the premium version, you can get support for unlimited queries.
Cons Of Zigaform – 
Though a free version is available, it provides mere basics. For access to other features, one has to get the premium version where every single feature is chargeable.
Pricing – 
Basic form generation – Free
Additional features – Starts from $38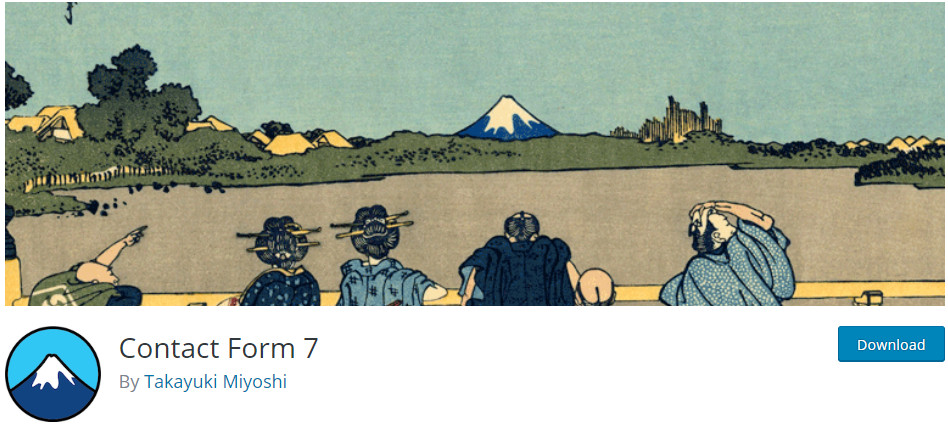 Contact Form 7 is the oldest WordPress contact form plugin. Yet is still popular till this date. It is a simple and lightweight plugin which is why it is still the choice of many WordPress users. And, it is a completely free WordPress contact form plugin so, many users choose it. The users with some coding skills will make great use of this plugin. Because of its code editor, it is difficult for non-technical users to create a contact form for their WordPress site.
But, the plugin offers a pre-built simple contact form so that you don't need to code from scratch. You can see the basic contact form fields such as Name, Email, Subject, and Message. You can add more form fields if you require it. Although there is no official add-on for this plugin, you can use third-party plugins to extend functionality and features.
Features:
Simple design and mobile responsive contact forms.
You can create unlimited contact forms on a WordPress site.
Offers other form fields such as file upload, quizzes, radio buttons, checkboxes, etc.
It supports Google reCaptcha so you can avoid form submission on your contact forms.
You can add a contact form on your WordPress site using shortcodes. 
Integration with Akismet which is a powerful anti-spam service for spam filtering.
Pricing: FREE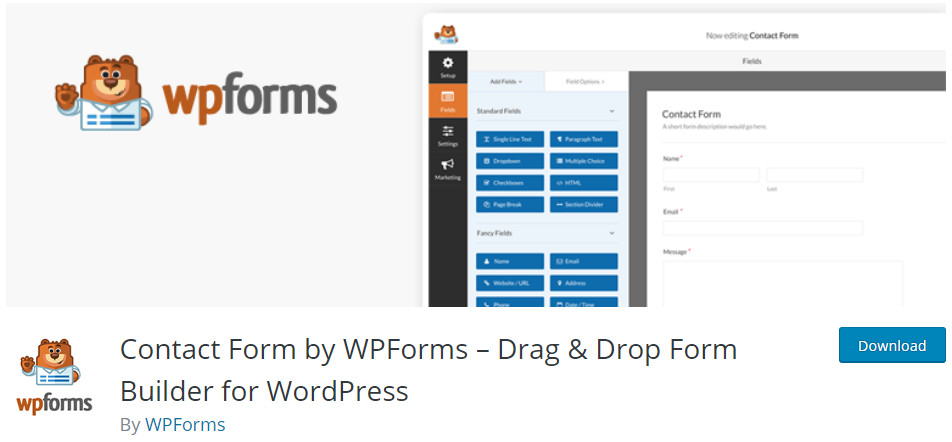 WPForms is one of the best form builders for WordPress that allows you to create easy to advanced contact forms. It is a freemium contact form plugin so, you can find the free version (WPForms Lite) in the WordPress repository. The plugin is extremely user-friendly with the simple design and drag-and-drop interface. Also, you can preview the changes live in the form builder which makes it so easy to create contact forms. 
And, you can easily add a contact form to your WordPress site by embedding the form with the shortcode. There is a built-in entry management system. So, you can view and manage your form entries right from your WordPress dashboard. Moreover, you can send instant email notifications to multiple users according to user choice. You can also create advanced WordPress forms such as user submission form, user registration form, file upload form, and more. 
Features:
Enjoy amazing pre-built form templates with the Form Templates add-on in the pro version.
Allows you to integrate your WordPress forms with major email marketing services like Mailchimp.
Create order and payment forms and accept payment online with payment methods PayPal and Stripe.
Conditional Logic features let you hide or show form fields according to the user choice.
Protect your WordPress forms from Spam with multiple methods such as reCaptcha and Honeypot.
Survey add-on allows you to create surveys and polls and add form fields like Rating, Likert, and more.
Pricing: 
Free version available in WordPress.org: WPForms Lite
Pro version ranging from $39.50 to $299.50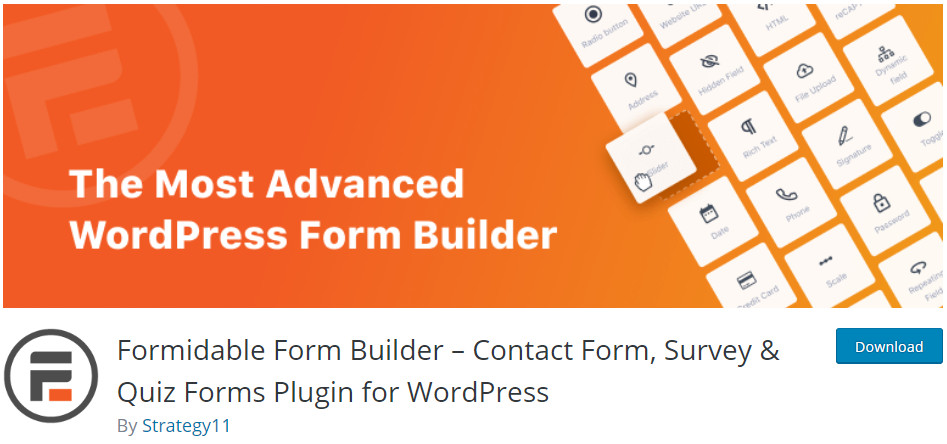 Formidable Forms is an advanced WordPress form builder plugin that allows you to create professional forms. It focuses on technical users who want to create complex forms for their WordPress site. Like other form builders, it also offers a drag and drop interface which allows you to create contact forms easily. Or, you can choose from the various form templates and styles to save your time creating a new contact form. 
You can find the free version of the plugin if you want to create simple contact forms. But, upgrading to the premium version allows you to unlock amazing features. One of the great features of this plugin is that it offers a Form Styler which lets you change the design of your forms. So, you don't need to have coding skills to change the design of your WordPress forms.
Features:
You can view the form submissions in a graphical representation with the built-in chat tool. 
Offers calculated form fields that allow you to provide product orders, estimates, and calculators.
WooCommerce integration helps you to sell products with WordPress forms and build an online business.
Supports Google reCaptcha so you can protect your contact forms from spam submissions.
The post submission form allows your users to submit content such as featured images.
You can make your contact forms multilingual by integrating WPML and Polylang translation plugins.
Pricing:
Free version available in WordPress.org
Pro version starts from $99.38/year to $399.53/year

Gravity Forms is a premium WordPress contact form plugin with a drag and drop form builder. The user interface is less appealing than Everest Forms and other drag and drop form builders. But, it is simple and easy to use for anyone. The plugin is fully mobile responsive so, your forms look great on any screen. You can also get a live preview of your contact form as you create it in real-time.
The plugin offers more than 30 form fields so you can create any type of form for your WordPress site. You can allow your users to upload files and images from the frontend with the file upload field. And, there are email notification options to notify the users when the form is submitted. Like this, there are various other features that the plugin offers. Other than the features offered by the plugin itself, you can find many third-party add-ons to add more functionalities.
Features:
Zapier integration allows you to connect your WordPress forms with various web applications.
You can create user-interactive forms with conditional logic to show or hide form fields according to user input.
Integration with popular online services like AWeber, Campaign Monitor, MailChimp, and more.
Accept online payment with WordPress forms with PayPal and Stripe.
Poll and survey form fields allow you to increase user interaction on your WordPress site and get feedback.
Multi-page option to divide your complex forms. Limit entries and form scheduling to control form submissions.
Pricing: Plans range from $59/year to $259/year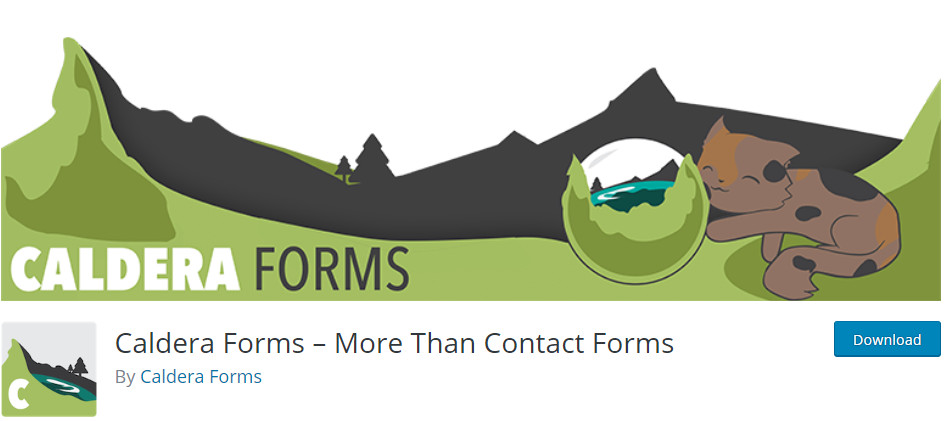 Caldera Forms is another great WordPress form builder plugin that lets you create powerful contact forms. It is probably the best free form plugin that offers many features and functionalities. You can choose from various pre-built form templates which saves so much of your time. Also, the plugin is compatible with all types of WordPress themes and is responsive too.
Likewise, the free contact form plugin allows you to create other amazing forms for your WordPress site. You can use its conditional logic to display the form fields and the submit button according to the user input. Not only this, but there are also options to create multi-part forms to divide your complex forms. You can also find calculation fields in the free plugin. For more advanced features, you can find premium add-ons on the plugin site. 
Features:
Drag and drop features allow you to add any form fields such as dropdown, radio button, file upload, and more.
You can sell products with online forms and accept payments with payment forms by integrating with payment platforms like PayPal.
Options to send form submissions using Email, Slack, and SMS.
Grow your email list with the help of major email marketing services.
Integrate with Zapier and connect with over 2000 web applications. 
Pricing:
Available free in WordPress.org
Pro version ranges from $49.50/year to $249.50/year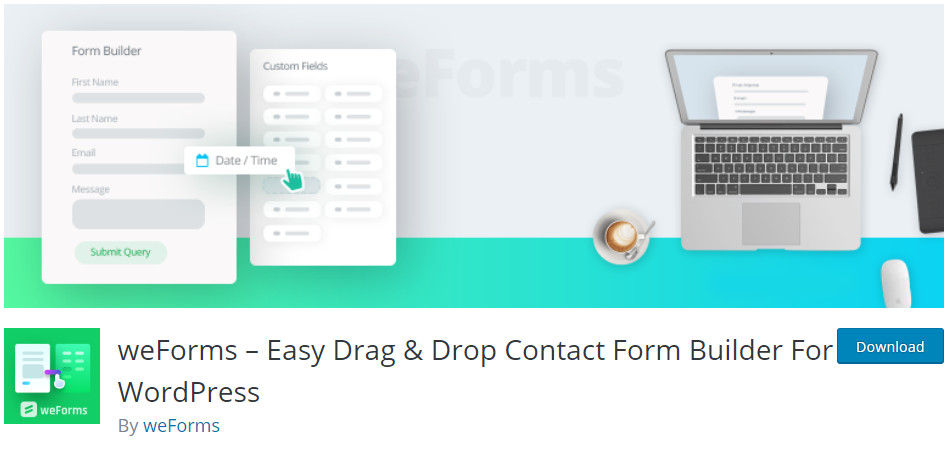 Like other form builders in this list, weForms is also a freemium WordPress contact form plugin. Similarly, it offers a drag and drop form builder that allows you to create all types of forms. To make things easier for beginners, there are some pre-built form templates to start off. The forms that you create with this plugin are mobile-responsive. So, your forms work well on any user device. 
The user interface is very simple and fast and there are no page reloads. There are options to protect your site from spam form submissions with the built-in Google reCaptcha. It allows you to send submission notifications via email, Slack, and SMS. And, you can create Trello cards directly from your form submissions. 
Features:
You can sync your form submissions to Google Sheets automatically.
Import forms from other contact form plugins in WordPress such as Ninja Forms, Contact Form 7, and more. 
Integrate with email marketing tools like HubSpot directly and build an email list. 
Create payment forms and accept payments with payment gateways.
Add quizzes on your WordPress forms and star ratings for feedback.
Premium plans allow integrations with various services such as AWeber, Mailchimp, MailPoet, Campaign Monitor, ConvertKit, etc.
Pricing:
Free version available in WordPress.org
Pro version prices start from $39/per to $199/year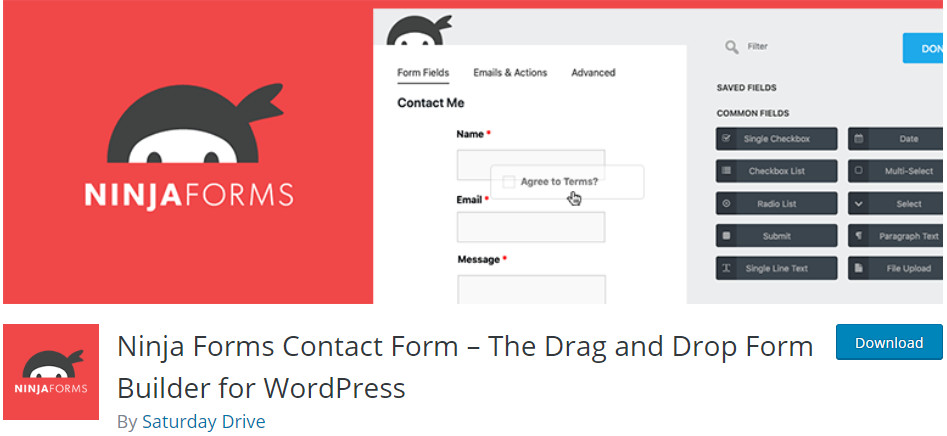 Ninja Forms is another promising contact form plugin in WordPress. It also offers a visual drag and drop form builder which is more basic as compared to other plugins. The plugin also provides a number of pre-built form templates to create and add a contact form easily. You can customize your forms by changing the layout and styling settings. 
Similarly, you will find various useful features such as conditional logic and multi-part forms. There is even an option in the form builder to favorite your most used form fields. If you are more on the technical side, you can make the most out of this plugin. It allows you to add your custom CSS for your WordPress contact forms.
Features:
You can allow users to attach files and images to your WordPress forms with a file upload field.
Integrate with Zapier and connect to the various web applications and make most out of your forms.
Register users on your WordPress site with the user registration feature.
Fill out documents with user form submissions by integrating with WebMerge.
Sell products online and create payment forms with PayPal and Stripe integration.
Email Marketing services such as Mailchimp allow you to create newsletter signup forms.  
Pricing:
Free version available in WordPress.org
Pro version prices start from $49.50 to $249.50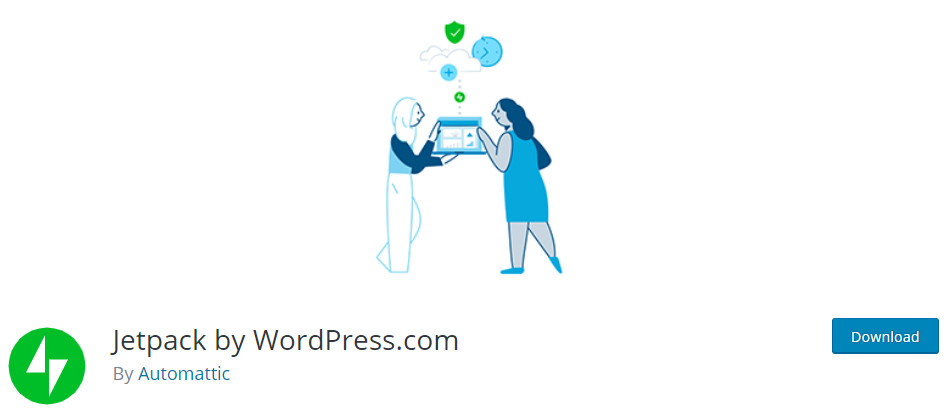 Jetpack is one of the most used WordPress plugins and it was created by Automatic. It is a powerful plugin that offers multiple features that help you design, secure, and grow your WordPress site. It also offers an option to create and add a contact form to your post and pages. Although you don't get the visual form builder experience like other contact form plugins, it is still a great option.
For this, you need to go to the Jetpack settings and activate the Contact Form module. Then, you will be able to add contact forms directly to your WordPress posts or pages. In the block editor, you will find the contact form block under the Jetpack section. If you use the old classic editor then, you can see the 'Add Contact Form' option above the text editor.
Features:
Create unlimited simple contact forms for your WordPress site.
Drag and Drop Form builder is easy to use with no advanced settings.
No need to worry about spam because it is backed by Akismet.
Option to add required form fields and edit the form label according to your needs.
Pricing: FREE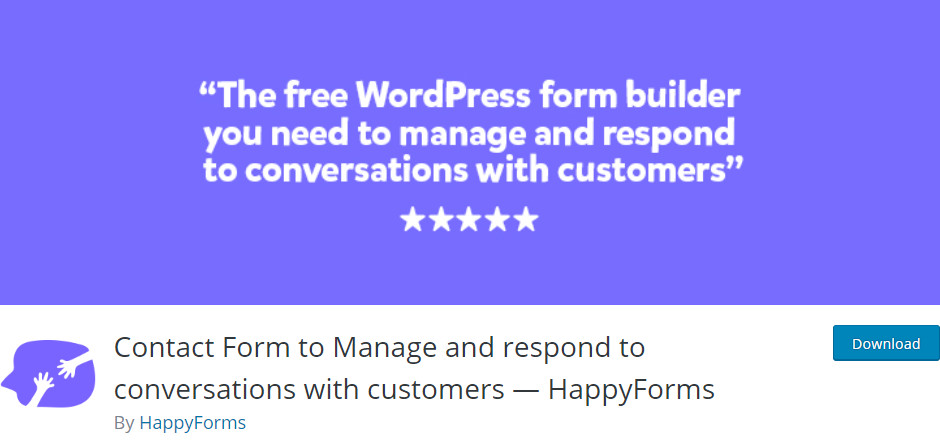 HappyForms is quite different from the other WordPress contact form plugins listed above. It does not offer a custom form builder and drag and drop feature. The plugin lets you create forms with the WordPress Customizer. So, WordPress users can easily learn how to create forms with this form builder.
Instead of dragging and dropping to add fields to your forms, you can simply click on the field. You can see the live preview of your contact form as you create. It allows you to get an idea of how your form looks in the frontend. The plugin is available completely free. And, it offers amazing features to create any type of forms such as feedback and survey forms. But, you can upgrade to pro plans to enjoy more functionalities. 
Features:
Offers spam protection with built-in anti-spam HoneyPot and integration with Google reCaptcha.
Allows you to send a success message to users after form submission.
Option to redirect to a different page after the user hits the submit button.
Powerful form fields such as rating, scale/slider, website link, etc to create efficient WordPress forms.
Pricing: FREE (Pro plans start from $49)