A forum is a place where people with similar interests meet up and and connect. With the growth of the Internet, it's easy to have online forums that cost very little money to set up. They serve as a platform to share ideas and allow members to participate in a community. If you're using WordPress, it's easy to add communities and forums to your website with the many WordPress forum plugins available.
Forums not only help a website communicate with its readers but also help readers talk to each other. Education, online businesses, and niche sites for recipes, crafts, wine, arts, and technical subjects can all benefit from them. Forums are simple to set up, too. Once they get going, you can get as involved as you want or stay away from it, chipping in now and then only to moderate. It's totally up to you. Forums can also be customized and monetized and can serve as a place to receive some feedback or advice.
Free Plugins
There are a number of free plugins that can help you add a forum to your website, right from the very basic but highly efficient bbPress to many feature-rich plugins. You can take your pick depending on the specific needs of your forum.
bbPress
bbPress is a great plugin for adding a forum to your WordPress website. It uses the same core as WordPress to build your forum, and so it integrates easily with WordPress. It follows the same coding practices as WordPress and so works smoothly with WordPress as well as with all WordPress themes. You won't need to modify it to fit any theme.

It's not too rich in features as it's built to be lean and fast, but there are many add-ons that can hugely extend the plugin's functions. With a one-click install, it's simple to set up, and you can manage and moderate everything from one central account. The templates are customizable, so you can get your forum to look the way you want. You can source content for your forum with RSS feeds, as well as help users to create their own forums and generate content. It comes with built-in support for Akismet, so you can keep spam at the door.
bbPress is the plugin you need to add forums to posts and pages and to allow readers to leave a comment or to start a conversation. It is a great way to start a new topic, to encourage readers to join the comments section, and to allow interesting discussions to develop.
BuddyPress
You cannot speak of bbPress without referring to BuddyPress at the same time. BuddyPress is a social network plugin that provides a base for forums to take off. Similar to bbPress, BuddyPress is an official WordPress plugin that follows WordPress coding standards. It easily integrates with WordPress and works with most WordPress themes and plugins. With the plugin active on your website, you can create groups and rely on a number of extensions that add to functionality. Registered users can create profiles, social connections, activity streams, private connections, and much more. You can also opt to reward any activity with points.

Like bbPress, BuddyPress is also kept intentionally lean, leaving it to users to add only the extensions they need. The plugin is available in many languages. If you have the multisite feature enabled on your website, using a bit of code, you can get the plugin to globally track blogs, posts, comments, and even custom post types.
WP Symposium Pro
WP Symposium adds an entire networking site to your website, so you can create groups and forums, such as clubs, schools, support sites, gaming sites, and dating sites. It's compatible with most themes and plugins and is highly customizable, allowing you to change the layout, buttons, text, and more. You'll be helped by the many shortcodes to get the design the way you like.

The plugin is compatible with WPML, and you can change the language of the text content. Once the plugin is active on your website, visit the settings page of the plugin and click on the Add Profile Pages button. The default profile page is complete with an edit profile option, where you can change your avatar and start forming friendships. Thereafter, you can add as many forums as you want by clicking Add Forum. Registered users can thereafter participate in activity streams and receive customized email alerts.
If the features in the base plugin are not sufficient for your needs, you can try the premium add-ons. Some of the functions that these extensions add are private messages, forum subscriptions, image and YouTube attachments, galleries, events, profile security, Facebook integration, and an option to choose who you want to share any activity with.
CM Answers
CM answers is the plugin for you if you want to build a Q and A community on your WordPress website. With the basic plugin, you can quickly set up a Stack Exchange–like forum. It'll help you set up a community, support forums, and customer support. It integrates easily with most WordPress themes, comes with customizable templates, and supports many languages.
The plugin keeps count of views and answers. The site admin can moderate questions and answers, receive email notifications, restrict user capabilities, and create multiple forum categories. They can also customize questions and answers, filter any unwanted content, and add answers besides keeping track of user actions within the forum. Readers can sort questions, vote on questions and answers, upload multiple files, engage in private messaging, subscribe to specific categories and topics, and receive alerts when there is fresh content.
The more attractive features, such as the ability to choose the best answer, profiles, comments, and social media login, are available only with the premium version. Anonymous posting is allowed with an add-on. If you want to look for negatives, well, your forum is limited to the Q and A format.
DW Question and Answers
DW Question and Answers is another plugin that can add a complete Q and A type forum to your website, much like Quora. It gives your site an SEO boost as the user-submitted content is also indexed by Google. The plugin supports multilanguages, uses reCAPTCHA to cut down on spam, and notifies activity by email. You can add categories and tags to the questions and filter, edit, or delete a question.

Users can answer, comment on questions and answers, vote on the comments and the answers, select the best answer, search using keywords, and follow specific questions or answers. Multiple shortcodes are available, and it's possible to make a question sticky and make questions or answers available only for private viewing.
It can help create a support forum. Many premium add-ons are available for functions such as embedding a question.
wp-Foro
wp-Foro can help you build both small and large forums. It offers three different layouts—a simple layout with forum and topic lists that show topic and post author avatars, an extended list that shows the next level of information as well, and a question-and-answer layout that serves as a discussion board. With these, you can build a community similar to Stack Overflow.

The bulletin board can be customized for color, style, and settings and comes with options to fit in with your theme. You'll also find a built-in user group system with a user rating system based on the number of posts. The drag-and-drop feature makes management easy, and moderating the forum is easy as well with moderation tools on each topic. Users can create beautiful profiles, become members, and vote up or down any question or answer.
It is a perfect platform to ask questions and receive answers, and add-ons are available for embeds, ad manager, private messages, and more. The plugin is responsive with built-in SEO, a cache system, and anti-spam. It also helps to migrate data from different forum plugins to itself.
Asgaros Forum
Asgaros Forum is a lean, fast, and simple forum plugin with which it's easy to set up a lightweight discussion board. All you need to do is create a new page and add a shortcode; then, you'll have a forum running in minutes. To have access to the forum, add the page that you create to the menu. Thereafter, you can manage posts, topics, and guest postings, create subforums and user groups, and make the forum searchable.
From the user edit screen on the WordPress dashboard, you can ban users. Besides, you can track activity within the forum, upload files, moderate, grant permissions, and access stats. The plugin supports many languages and multisites and is developer-friendly with many hooks and filters.
Simple:Press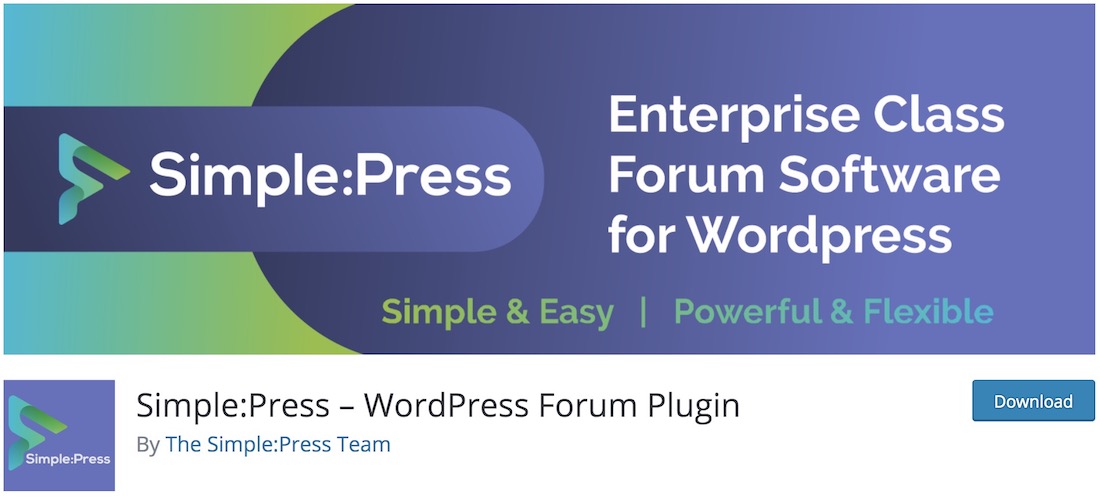 Simple:Press is an all in one WordPress plugin that you can get your hands on without paying a fee. Keep in mind, even though the tool is entirely free of charge, it still comes with heaps of features. You can now comfortably approach the creation of a forum that will call for a great addition to your website or blog. With numerous treats and amenities, you will have no trouble tailoring the forum to your needs to a T.
In the bundle, you will find all sorts of stuff, like forum groups, sub-forums, custom avatars, restrict user access, post moderation and rankings. You do not really need anything else other than Simple:Press to successfully manage and maintain a WordPress forum. It works with all WordPress themes, multi-site networks and easily integrates with other plugins if need be.
PeepSo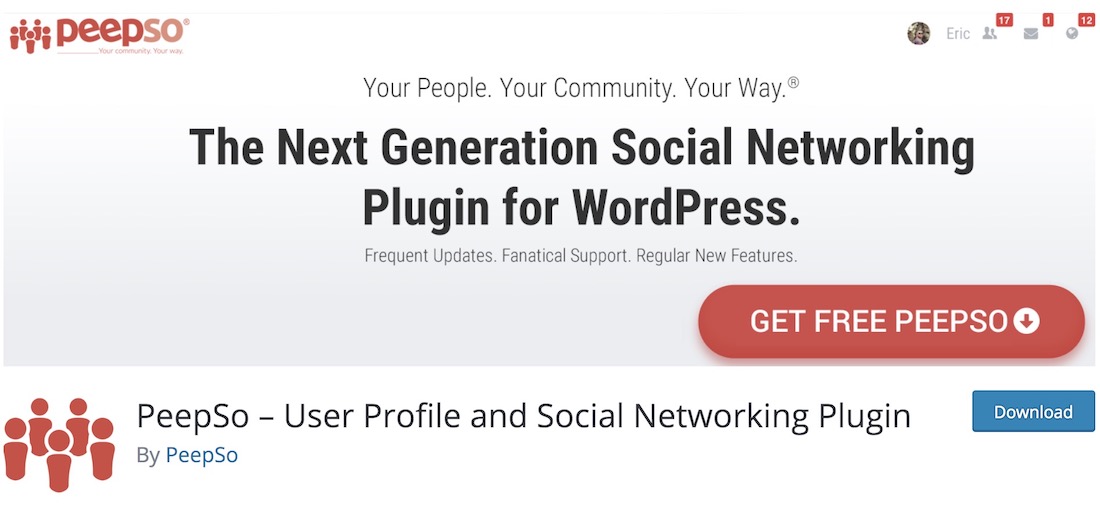 PeepSo is something a little different compared to the WordPress forum plugins that you find in this collection. It is a spectacular solution for building your very own social network. With PeepSo, you can now create a modern, clean and very appealing to the eye social network within your WordPress website. How cool does that sound? Instead of hiring a coder and a designer and paying a hefty fee, you can now make it happen with a simple, yet powerful plugin instead.
The features of PeepSo are endless. And you can always take things to a whole different level by upgrading to the premium plan. However, with the free version, you can start immediately and even keep using it forever if it suits your needs. Front-end user profiles, custom reactions, blog posts integration, email notification, real-time user notifications, built-in security and RTL support are some of the specialties of PeepSo. Style it accordingly and go live in little to no time.
AnsPress
AnsPress adds a proper question-and-answer system to your WordPress website very much like Stack Overflow or Quora. Instead of building an entire site, you can also add a page to an existing site. It can be used with any theme and with any type of website, but that's not the only way to use this plugin. It can also be used as a FAQ site for a company's internal QA board or a support ticket forum. Fast and developer-friendly, it supports multilanguages, shortcodes, reCAPTCHA, email and push notifications, and more.
It also allows tags, categories, labels, comments, featured question, sorting options, voting on questions and answers, user profiles, and a points-based reputation system.
Discussion Board
Job boards, school websites, technical forums, e-commerce websites, and any community forum will find Discussion Board useful in adding a helpful forum to their website. Once you activate the plugin, it will automatically create pages and insert shortcodes to have a working forum attached to your website. It allows you to permit users to log in and register on the front-end and cuts down on spam by requiring new users to click on a link on their email to complete the registration process. To further control spam, you can make use of the anti-spam fields in the registration form. Besides, you can register new users in a specific role, assign various levels of access to different roles, and block registrations from specific emails.

The plugin comes with simple styles to match any theme, includes shortcodes for topic archives, recent topics, and log-in form, and allows you to include or exclude any icons. Users can make edits to their comments. The pro version of the plugin adds additional features like multiple discussion boards, set status for topics, categories, and tags, image uploads, user profiles, and the WYSIWYG editor.
Vanilla Forums
Another free forum plugin is Vanilla Forums. Not only does it permit a great degree of customization; it also promotes member participation with a reward system and allows members to moderate the threads. Vanilla also offers paid hosted services for forums and communities. It provides a native mobile version that's compatible for viewing forums on mobile devices.
Site admins can manage the forum right from the WordPress dashboard. Users, too, will find the interface a friendly place to interact. The plugin includes curation features and makes use of blog traffic to grow the forum. It serves as an integrated comment and forum community that increases your readership.
Premium Plugins
When it comes to premium plugins, there are a few that are rich in features. Besides, some users may prefer to purchase premium plugins, mostly for the better levels of support that they typically receive. Here are a few plugins that you can try.
Sabai Discuss for WordPress
Sabai Discuss for WordPress is minimalist and is essentially a Q and A forum, but it is rather similar to a proper forum and has the potential to build up into a knowledge base. It can double as a helpdesk portal for WordPress. Anyone can create profiles and ask questions at the front-end. Others can chip in with answers and comments and attach files to questions, answers, and comments. The comments appear inline. It is search-friendly, helping users with autosuggest options.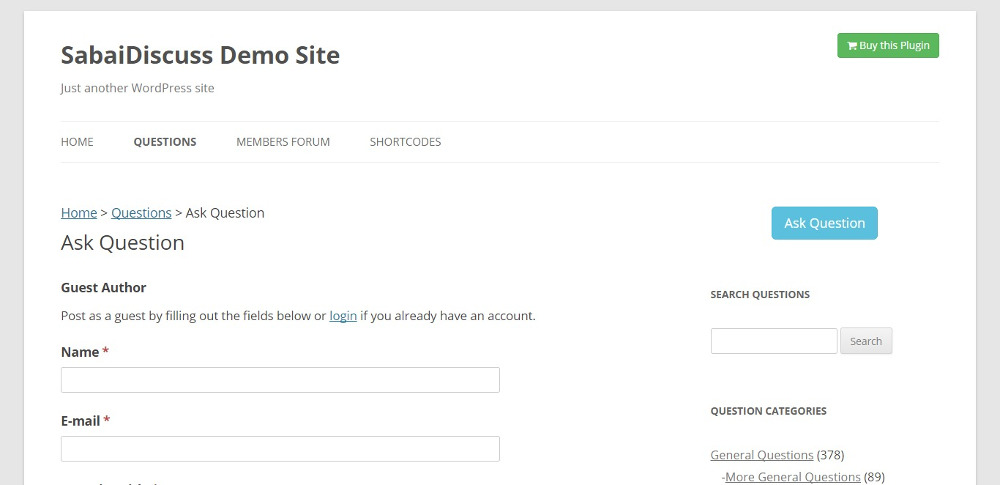 Questions and answers can be categorized and filtered using custom fields with a visual form editor. You can configure the plugin for over 40 different permissions, such as reputation and role. It's possible to set up private RSS feeds for members only, allow guest posting and search, and import and export files with the help of a CSV importer/exporter. Moreover, you can install multiple instances of the plugin. It is Ajax-powered and packs in many shortcodes, widgets, and template files.
Simple:Press
Simple:Press is a free third party plugin that can scale to match the needs of any forum. It comes with a huge plugin library, which you can use to add functions. The plugin is light and fast and enables you to create subforums and moderate comments. It integrates with many plugins and services, like Share This, BuddyPress, MyCred, Slack, Sitemaps, Gravatars, and TinyMCE. The many themes and templates make customization easy.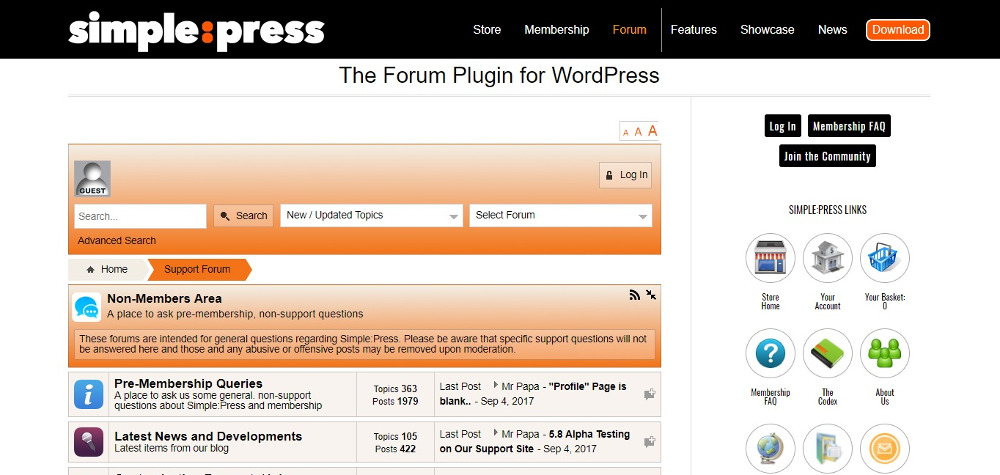 It's possible to create public and private forums, stick them with ranks and badges, and implement a permission system. You can create powerful user groups, enable private RSS feeds for members only, and store components outside of the plugin. Besides, you can use image thumbnails and enlargements, custom smileys, and custom icons for groups and forums. Comprehensive search options, forum stats, optional support for WP shortcodes, and email notification of posts to admins are all available with the plugin. Also, if you register as a member, you gain access to the plugin's support forum for a one-on-one help as well as discounts to the library of plugins.
Simple Forum
Simple Forum is a responsive bulletin board that helps forum members stay in touch. It bundles in three user roles—admin, moderator, and member. The forum reflects one of three modes at any point of time—private, public, and maintenance.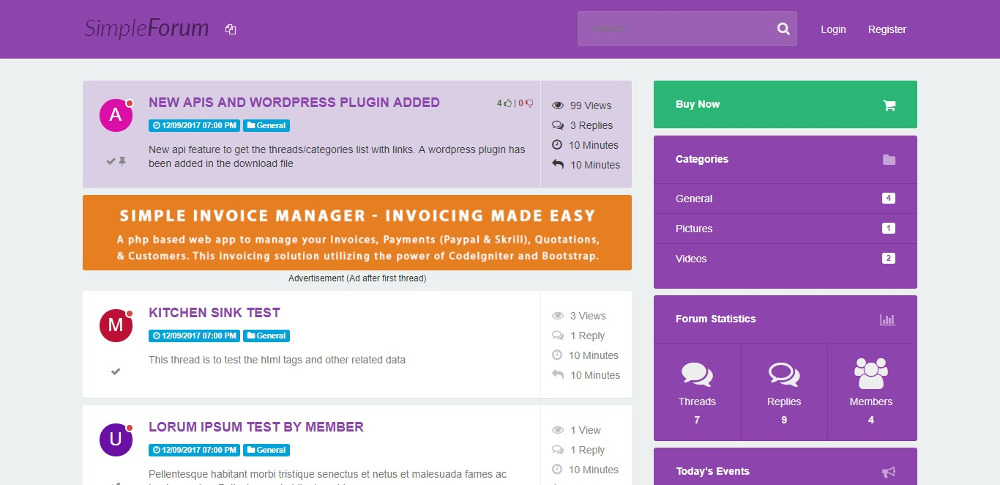 Custom fields are available, and you can create fields for any category with slug and description. Not only categories, you can add pages, too, with slug and description. It's also possible to make the forum threads sticky, restrict users who can view them, and retain threads as active. Admins get to use three editors—HTML, markdown, and bbcode. They can also create users and badges and assign badges to users. The plugin is multilingual and permits ads in four ad areas. The forum can have eight different styles, and from the settings page, you can adjust a great number of details.
Other admin-friendly features include email template files, forum statistics, list of logged-in users, and list of users celebrating birthdays today. Users can log in with their social profiles and search within the forum, as well as award a thumbs up or down to threads. Other user-friendly features include user registration and reset user password option, user avatar, and links to social profiles.
DW Question & Answer Pro
If you are interested in adding something slightly different to your website, skipping the traditional forum thing, DW Question & Answer Pro is the plugin you should check out. Hence the name, it is a tool that creates and questions and answers type of a page, similar to Quora or Yahoo Answers. With the tool, you can create an entire web space based around it, or you can add it as an extension to your existing website. The choice is yours.
The features of DW Question & Answer Pro are outstanding, offering you to create a complete Q&A style website in a snap. Also, without any prior coding experience. Some of the goodies include question form, voting, views counter, email notifications, instant search and reCAPTCHA to avoid spam. Furthermore, DW Question & Answer Pro plugin also comes with two custom shortcodes and seven widgets. It is fully compatible with any WordPress theme out there, giving you a chance to integrate it flawlessly.
Building up a community or a forum is a great way to build up an audience for your website. It can keep your website in a reader's radar and improve SEO. The plugins in this list should help you add a forum to your WordPress website. We'd love to hear about your experience with these plugins. If we've missed any quality plugin, we'd like to know about it in the Comments section below.