For a musician, nothing beats a gig in a venue packed with people singing along to every word. However, if your website isn't up to snuff, the throng of people you envisaged may well end up a mere scattering in reality. The solution is to choose the right theme for your music website, but with so much choice available, you could be caught in a proverbial feedback loop.
Your wish list of desired functionality will be pretty long, and it's vitally important that a theme ticks all of the right boxes. A solid media player is an absolute must, and if it has the capability of playing your music sitewide, even better!
Powerful events functionality for promoting your gigs is just as crucial, as is a way to display your discography. Finally, while a means to sell your merchandise and music is a nice bonus, it's not absolutely necessary when there are a myriad of choices available from the WordPress.org plugin directory.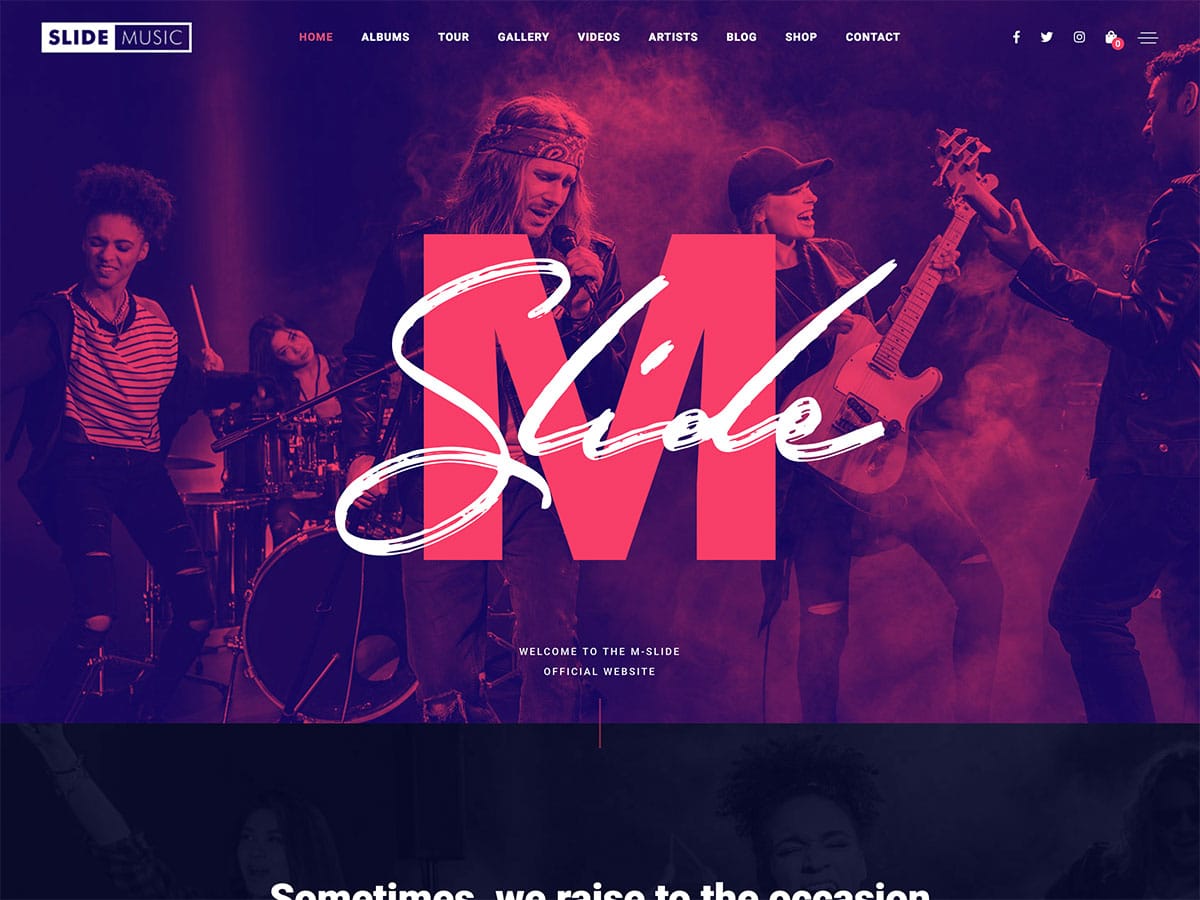 If you're a professional musician, you'll want your website to be a gig-generating, album-selling, groupie-gathering machine of epic proportions. As such, it's important to choose a theme that both showcases your talents, and makes it simple for fans to buy your products. In both of these regards, Slide certainly hits a high note.
This theme comes with a variety of page templates and post types for discographies, band member profiles, upcoming events, concert footage, and more. The bundled WPBakery Page Builder plugin lets you drag-and-drop site elements such as headers, menus, text modules, and more with ease. Slide is optimized for high-speed load times out of the box, and its responsive design means it will look rocking on any device.
When it comes to gorgeous aesthetics, Slide truly raises the bar. You have the option to add changeable full-screen backdrops, custom logos, slider galleries, social media buttons, and more. Slide is also fully compatible with WooCommerce, so you can sell albums, tickets, apparel and more directly from your site simply.
Combining a wealth of customization options with awesome pre-built page layouts, Slide is a quality theme for just about any music site. It should certainly make your shortlist!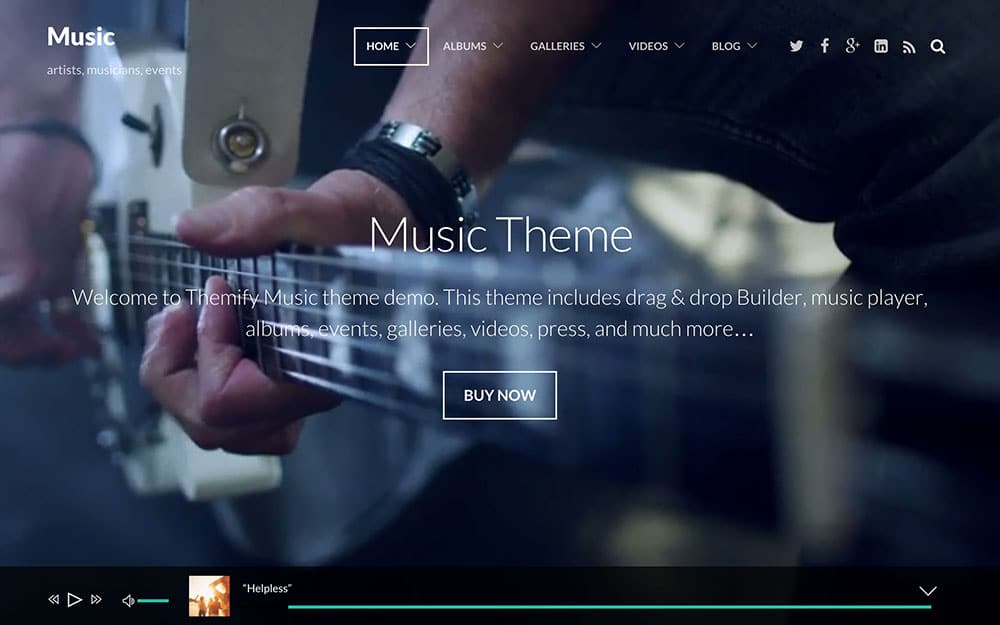 Music is a beautiful theme created with artists, musicians, managers and app developers in mind.
Fully responsive and retina ready, it gives your audience an excellent viewing experience, no matter what device they're using. The custom share badge enables visitors to share blog posts, albums, videos, photo galleries and more.
You can build an unlimited number of page layouts using Music's drag-and-drop feature and, without using a single line of code, you can customize your site's logo, background images, colors and Google Fonts. A full-width video background is also included.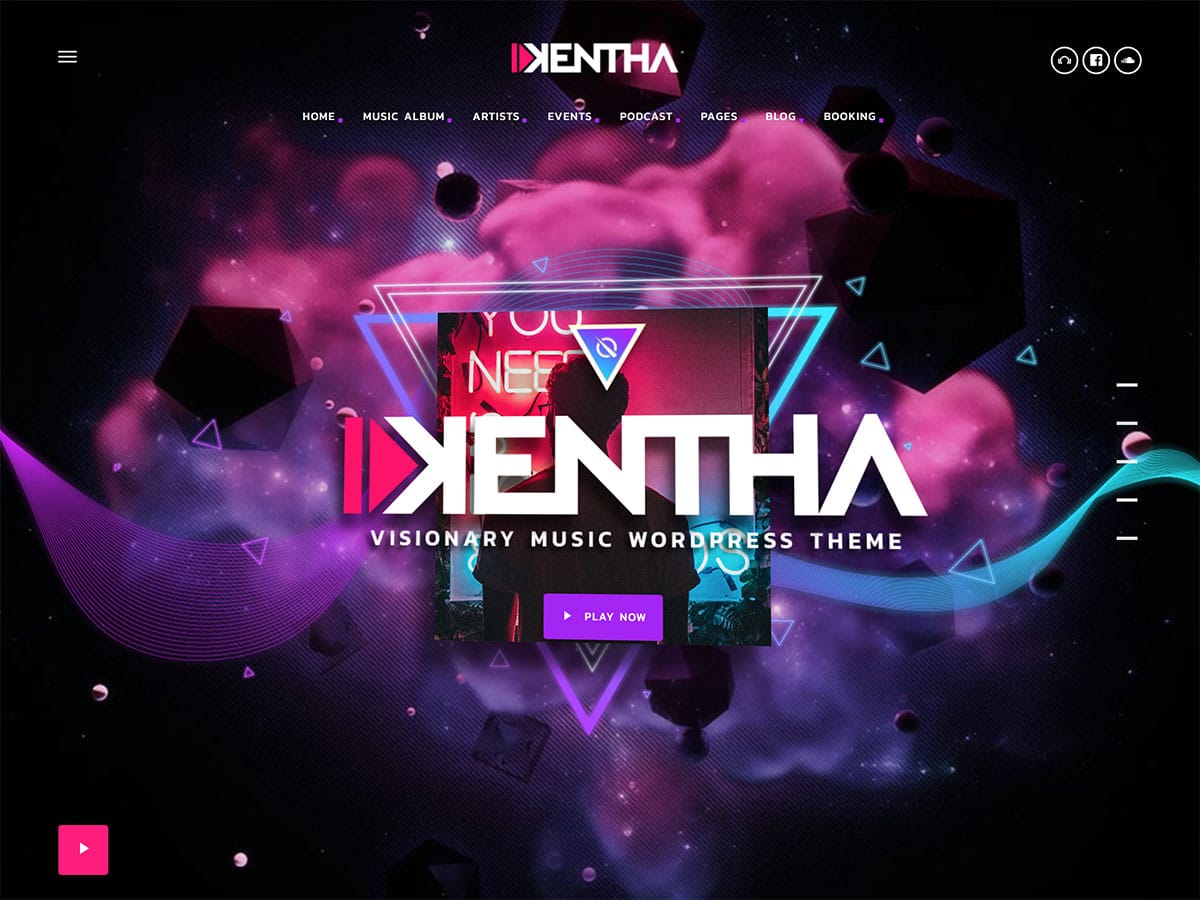 Arguably, the very best music is an all-around assault on the senses. With that in mind, your website should also look to provoke your visitors (in a good way). Kentha could be the theme to help you do just that.
On the surface, Kentha has a loud and brash appearance that remains consistent throughout practically all of its 30 pre-built demo layouts. If there's a design that takes your fancy, it can be installed with one click. Plus, the bundled WPBakery Page Builder plugin will let you drag and drop elements into place, meaning you can create a layout matching your exact requirements.
There are plenty of other features included to help you build your music site. For example, there's a full-featured music player, and many customization options for creating event and profile pages. However, where Kentha really shines is in its e-commerce capabilities. It offers extensive WooCommerce support, and may be the only music theme available that integrates Add to Cart buttons directly into your playlists.
Overall, Kentha is a promising theme for musicians with a desire to sell their work. The integrated Add to Cart buttons and other music-related features help to push Kentha ahead of its competitors, meaning you should check it out pronto!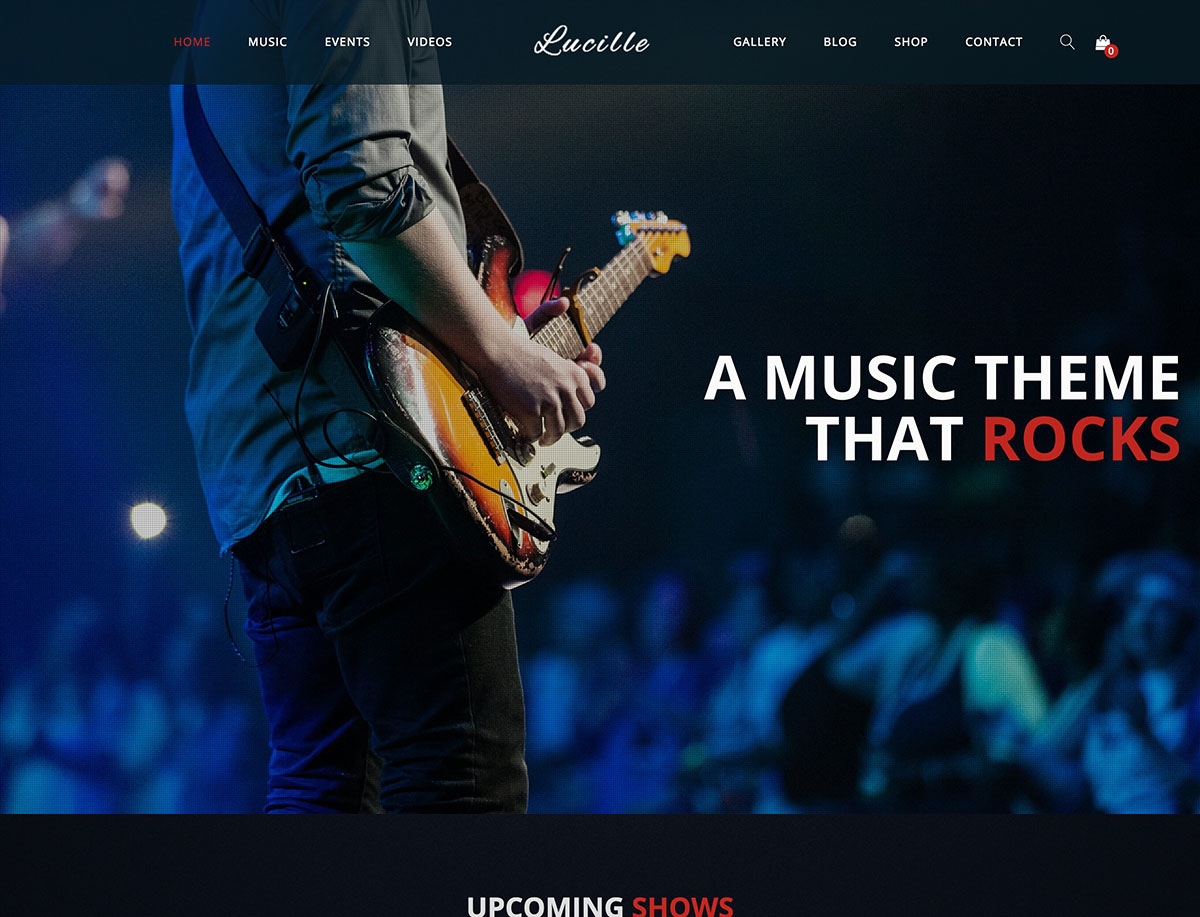 When you're creating a website to showcase your music, you probably aren't after a complex page structure. You want visitors to find what they seek immediately – whether that's your music, upcoming gigs, or something else entirely. To help you out, Lucille enables you to offer the maximum amount of information without overwhelming the reader.
This theme's default home page is a complete package, offering visitors a way to view your gigs, music, and images without navigating elsewhere. Of course, your site has to look good too. With that in mind, Lucille includes four demo templates, with more on the way. Each has subtle differences that may suit your particular needs. If you'd like to customize the layout further (or create your own), the theme comes bundled with the Visual Composer drag-and-drop page builder plugin.
Lucille also includes some thoughtful functionality that's tailored to musicians – something that can be hard to find, even in this type of theme. Two custom post types enable you to add events and your discography, and the resulting pages will look both clear and easy to read.
There's a lot of competition when it comes to music themes, but Lucille is a standout option. It's worthy of your attention, both for the specific functionality it includes and for the design options it places at your disposal.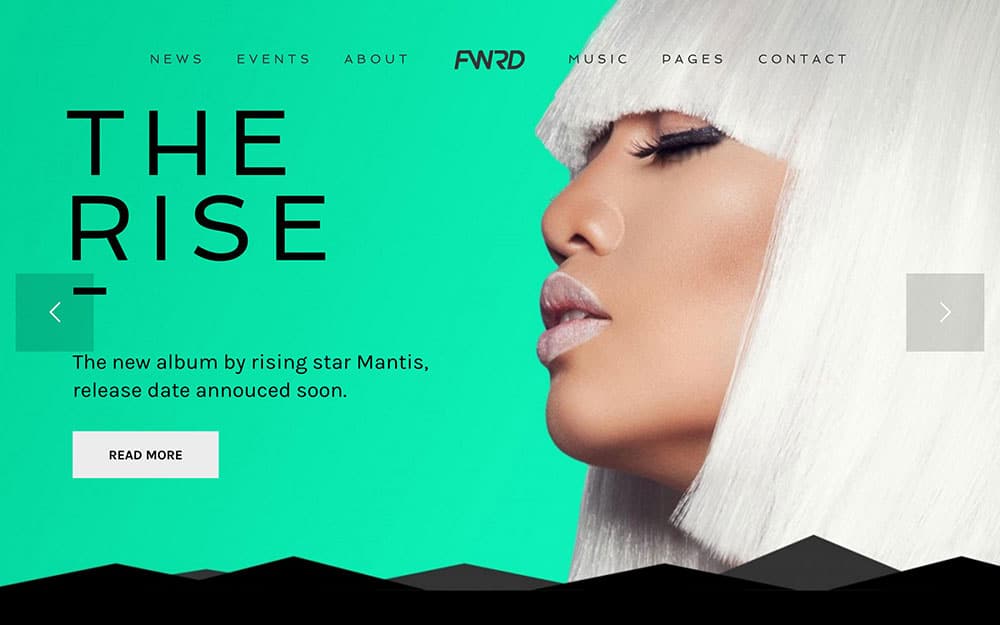 FWRD is a powerful and stylish theme that showcases your music through media such as SoundCloud and Vimeo. It also includes an online shop for selling everything from vinyl, to t-shirts, to downloadable MP3 tracks.
With FWRD it's easy to create a discography page that displays albums in grid fashion across up to four columns, with the possibility of embedding tracks or videos for sampling. And if video plays a large part in your work, you will really appreciate the theme's elegant grid option for displaying music videos. Get your fans excited for your upcoming tour with an events page that includes a countdown clock until your next gig, a single column list of your concerts in chronological order, and useful information on single event pages (including the venue's location, an image of your tour poster, and a link to where fans can buy tickets).
When you get started with FWRD you are given one-click access to four inspiring demos, but the richness of this theme invites a truly creative approach to building your website. From slick parallax scrolling to a rich variety of layouts for showing off your music, concert tours, and merchandise, this theme enables you to build a powerful and impressive homepage for your band.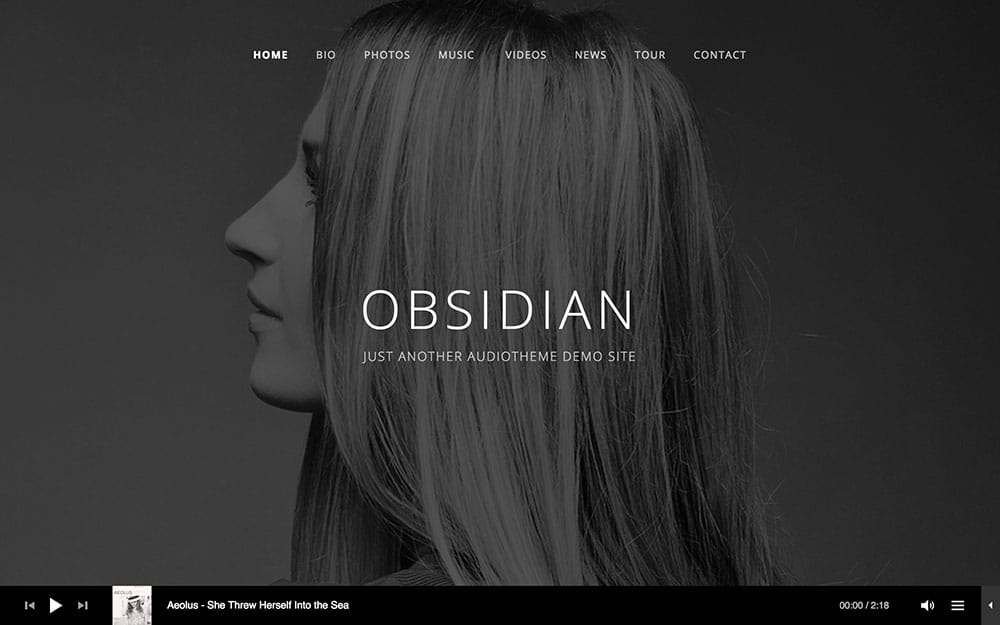 When looking for a theme to complement your music, you may find some have features that don't seem to bear your visitors in mind. With Obsidian, every feature has been built for your fans.
The Obsidian homepage is dominated by your logo, tagline, and a full-screen background image. Extensive color palette and opacity options coupled with 30 handpicked fonts give you plenty of customizing power, and if the bundled fonts don't suit your style, the theme also includes Typekit support accessible via the Customizer.
Obsidian's developers have crafted a stylish page for viewing your gigs. Along with adding standard event details – to which you can add a ticket price and purchase link – a Google Map will be automatically embedded based on the address you enter. A clever addition that isn't found in many other themes is subscription to calendars, so your fans have no excuse for missing your gig.
Obsidian includes the CueBar audio player plugin, which is mainly used within a sticky footer, complete with a playlist view toggle and minimizer to keep the player out of the way of your content. CueBar also powers track previews in the discography pages, and song titles link to a track page where you can add lyrics, download links, and even tablature.
Obsidian has been created by a developer who is putting the fans of your music first by giving you superb design and features coupled with solid functionality. If you're looking for a no fuss theme with plenty of power, try Obsidian.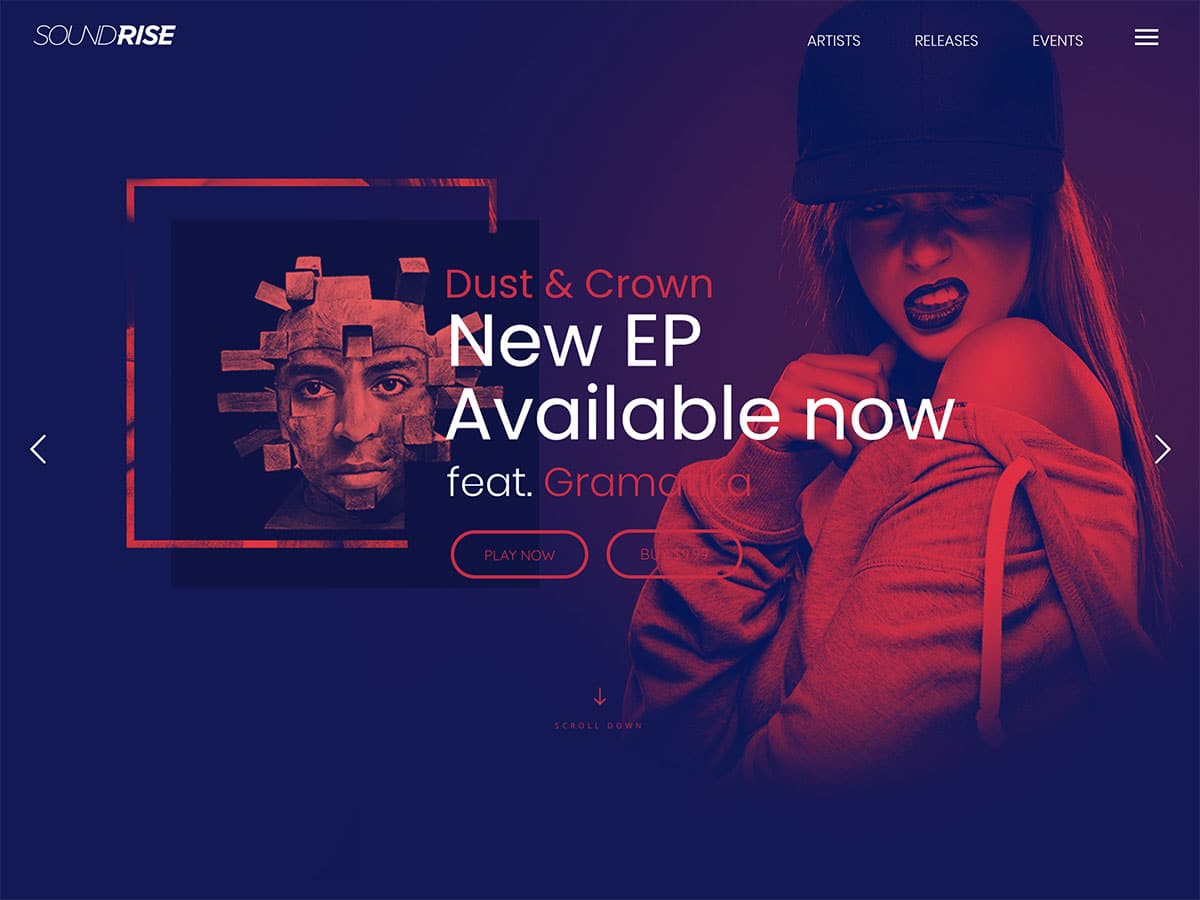 The 'music industry' encompasses a broad spectrum of artists, promoters, record label executives, and much more. If you're not necessarily at the front of the stage, you'll still need a solid theme for promoting those who are – which is where SoundRise comes into the picture.
Out of the box, this theme offers seven different templates depending on your role within the music industry. They're all packed with features to help you promote what you do, bolstered by the bundled WPBakery Page Builder and Slider Revolution plugins. As such, with this theme you'll have the most powerful solutions at your disposal to create, tweak, and optimize your website's layout.
There are also music-specific features that you're sure to love. For example, there's a continuous music player (including a 'sticky' display option), and a custom post type that lets you display individual artists. The latter in particular is ideal for record labels and management companies.
SoundRise is a well-thought-out solution. It includes elements industry heads will love, as will the musicians they look after. All in all, it's a worthy part of your shortlist, and may help cut your search for a theme short!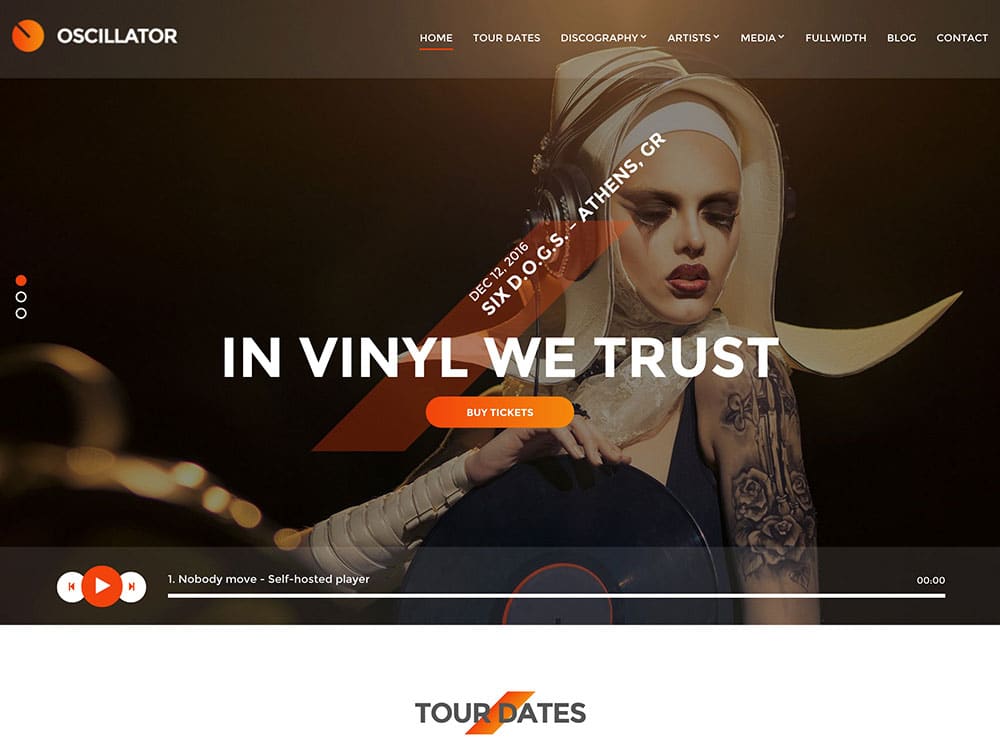 Successful artists often rely on high quality promotional efforts in order to thrive, but time is often in short supply and promotion is often restricted to nothing more than a couple of social media posts here and there. Oscillator could be your savior – a theme that enables you to take full control of your events promotion.
Full-width and retina ready, Oscillator enables you to make your upcoming events a priority to your audience. With it you can create a bold landing page style website with a drag-and-drop interface using custom content widgets and a choice of striking color schemes.
A full-screen slider showcases the artist or event and gives your audience a clear call to action with a stylish animated button. Clicking it will take visitors to one of six custom post types – the most important ones being an artist's page, a discography, and an events page.
The events page is most impressive, with a prominent link to Google Maps, a large event image that opens in a lightbox, and a countdown timer alongside the date, time, and venue details. If you like curating an event rather than just a putting on a gig, this will be right up your street.
Oscillator also includes a streaming audio player and custom widgets that enable you to display live tweets, Instagram feeds and more.
If you're looking for a simple to customize yet powerful theme that prioritizes your event, Oscillator should be central to your promotional efforts.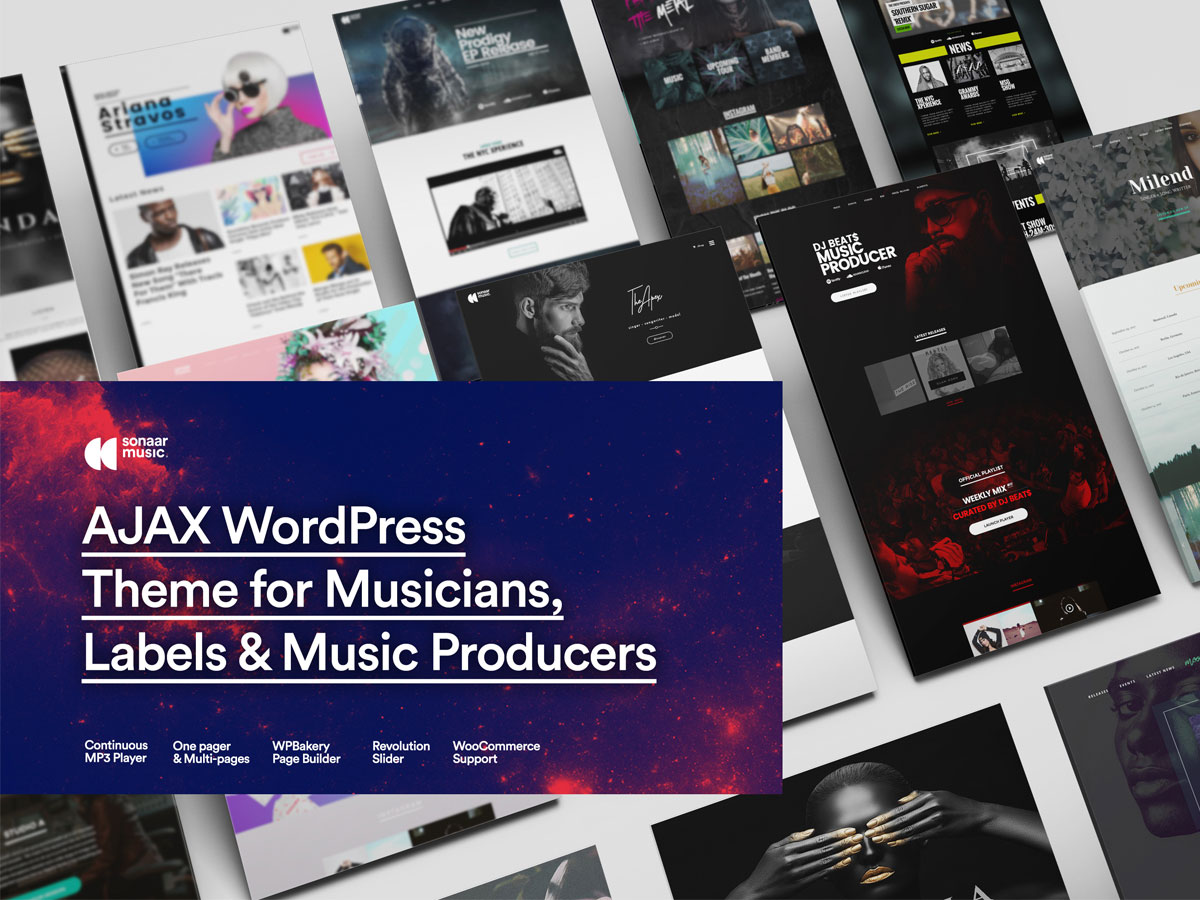 While there's definitely a trend of vintage or retro sounds across the entire music spectrum, most new artists will need to present themselves as modern and cutting edge to succeed. The same can be said for your website. With the wealth of themes at your disposal from the Sonaar theme shop, you'll be in safe hands.
On paper, Sonaar's themes offer many elements you'll find in other music industry solutions. For example, there are a number of different pre-built layouts available, depending on your chosen niche, along with a wealth of additional handy features. There's a continuous music player, a playlist manager, an events management system, and support for multi-artist setups. There are even integration options for Spotify, SoundCloud, Instagram, and BandsInTown – which is ideal for those with a strong social media presence.
However, where Sonaar's themes really stand out is their layout design. This collection is one of the first on the market with dedicated 'blocks' that work alongside WordPress' new Gutenberg editor. With these modular blocks, you won't require a dedicated page builder plugin. All you'll need are the options within the Customizer. This is a game-changer, and means that your website will be using WordPress' very latest technology (future-proofing your design in the process).
So while the included themes in Sonaar's collection have some standard, general features, their Gutenberg-compatibility makes them stand out from the pack. We recommend checking out the entire shop, and seeing what these themes can do!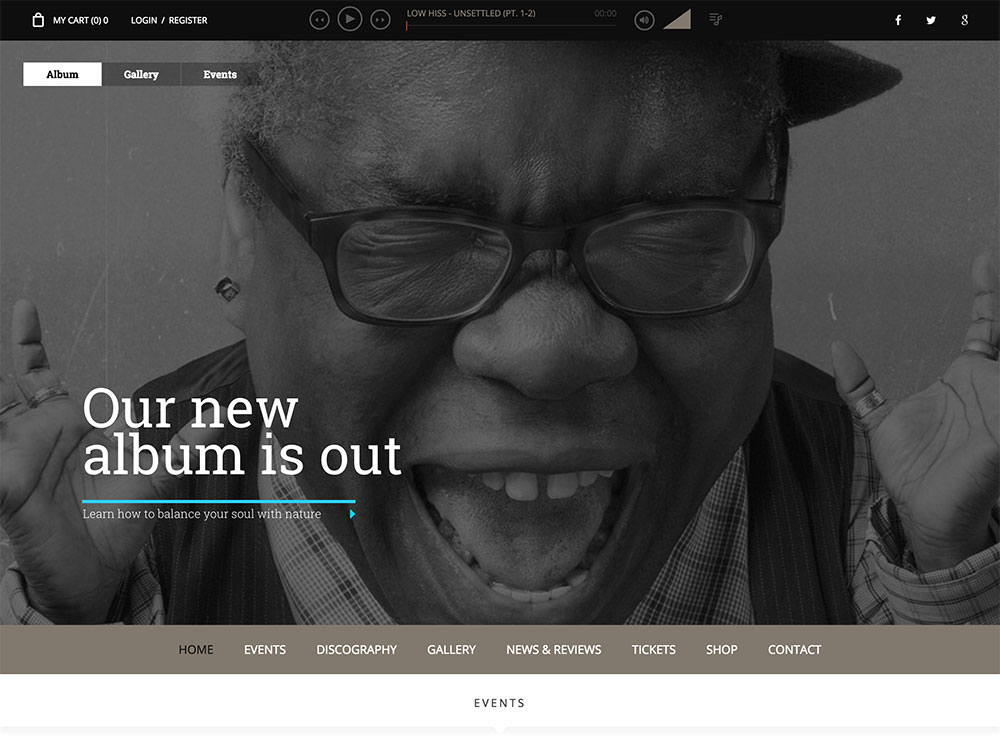 To succeed in music there are three elements to conquer: getting fans to the gig, selling them merchandise and, of course, the music itself. Some themes only focus on one or two aspects, forcing you to supplement your website with third-party plugins. If you're looking for a theme that is devoted to each element equally, take a look at Superstar.
With Superstar your music is heard straight away with a sticky header that displays a site-wide audio player that links to your SoundCloud playlist, keeping your music in one place.
Getting fans to events is crucial, and Superstar caters to this via a dedicated page that places your event details and a map front and center. There's a prominent link to your ticket seller, but the theme also offers WooCommerce support to handle ticket and merchandise sales directly on your site.
Superstar also includes the full-screen Slider Revolution plugin and built in custom content shortcodes to display events lists, galleries and more on any page. Also bundled with Superstar is the Visual Composer plugin to design your page to your exact requirements. The developer also offers 24/7 premium support, so help is always at hand.
If you're looking for a theme that gives importance to all aspects of your music, check out Superstar.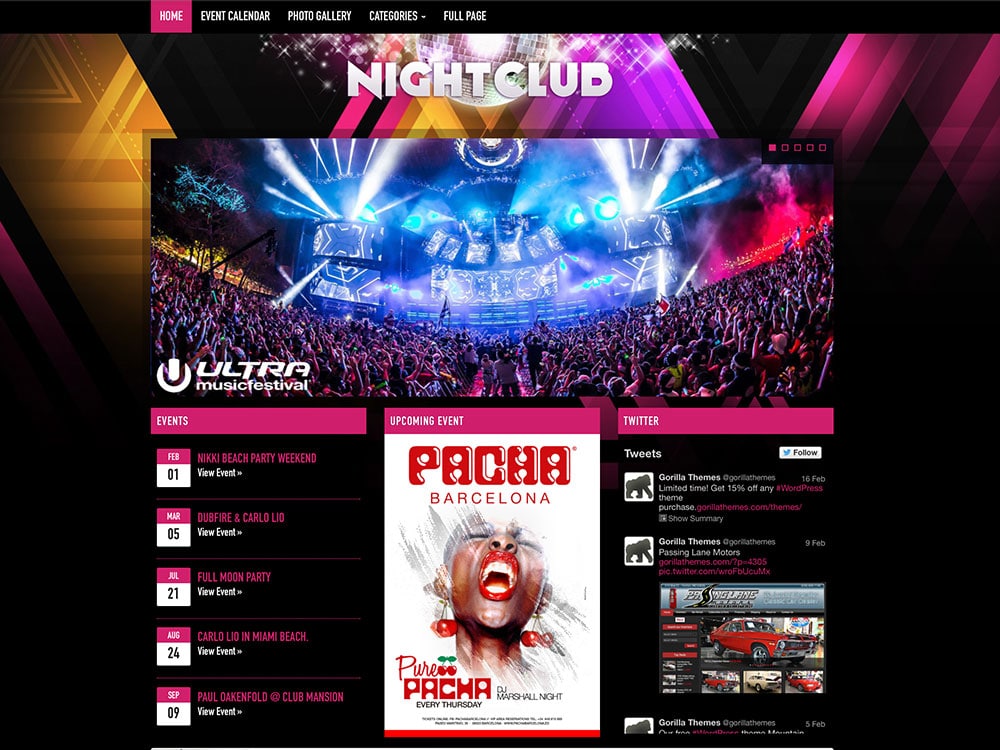 Events organizers, nightclubs and bar owners often have myriad social media accounts to update people on upcoming events, and it can be a struggle to incorporate them all into a central 'hub'. Nightclub enables visitors to see social media updates across multiple platforms and find your next event.
This theme offers a three column design that focuses on what's happening across your various social media accounts. You can add a Facebook page widget and a Twitter stream widget with minimal configuration, so whatever is going on with your events, your visitors will know about it. There is no included music player, but by importing a playlist into the included SoundCloud widget, your listeners can hear any upcoming artists all from one place.
An included event scheduler is accessible from the Dashboard; it enables you to add event information, image galleries, video (with YouTube and Vimeo integration), and a venue map.
There are tons of available color styles for the background, header, buttons, and other theme elements to make your site your own. A slider is included too; its settings are accessible via the Dashboard, enabling you to showcase those extra special events.
If your focus is more on the event rather than the artists involved, Nightclub is the theme for you.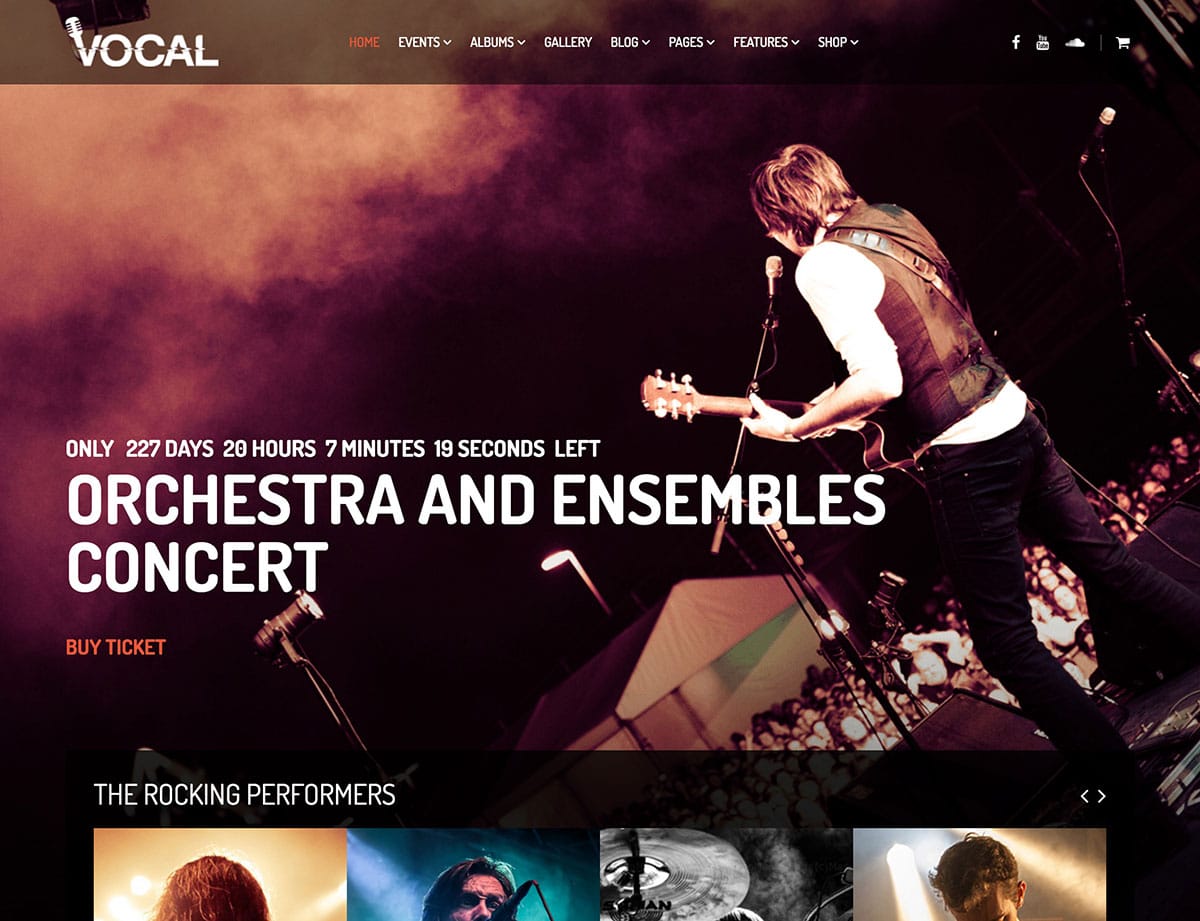 A special artist offers much more than just great songs – they also radiate a carefully-crafted image that can compel listeners to buy their records. As such, your website should offer substance and style, or risk losing your visitor's interest. From top to bottom, Vocal is stunning.
This theme includes much of the same functionality as the others on this list: a full-screen slider (courtesy of the Slider Revolution plugin), a powerful events manager, and a built-in audio player. However, it's in the presentation that Vocal really sings.
Default font choices are quirky yet easy to read, and each element manages to stand out without overcrowding the page. In addition, the upcoming events widget displays a carousel of events rather than a list, and each event manages to pack a wealth of information into a compact size. It's a clever approach designed to reduce the amount of time a visitor spends navigating your site – leaving them more time to purchase gig tickets and records.
Overall, we like Vocal because of its modern visuals and thoughtful design. It's a definite contender for your cash, and well worth your consideration.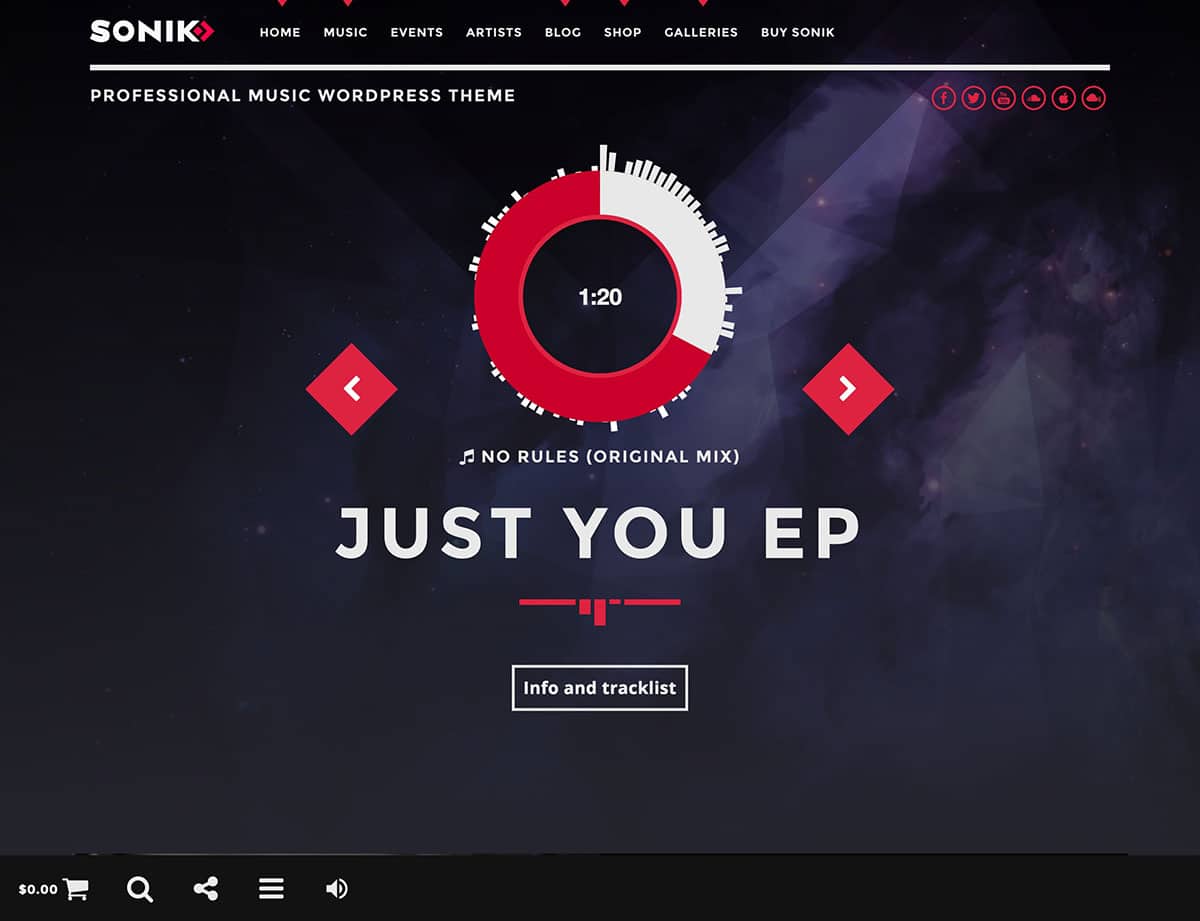 Bold, brash, and almost punkish, SONIK attempts to engage your senses with bright colors, chunky typography, solid functionality, and some choice animations. The question is: can it deliver?
SONIK isn't just for musicians. It includes templates catering to bands, DJs, and radio stations. It also includes 12 post types covering staff and team members, galleries, music charts, radio channels, and much more. For customizing your layout further, you can utilize the Visual Composer plugin, choose from over 600 Google Fonts, and display a neat 'starfield' background on your pages.
The discography pages are pretty slick too, with the cover art fading into view on the selection screen, and the individual pages showcasing your tracks with a near full screen header. In fact, animations are prevalent throughout, as exemplified by a cool looking 'audio bar' animation that is used as a separating element in various locations throughout the theme.
SONIK is a slick theme, and although it may be a little too busy for our tastes, that's a purely subjective assessment. Simply put, it includes almost everything you'll need when creating a modern music website, and for that, it's worthy of your attention.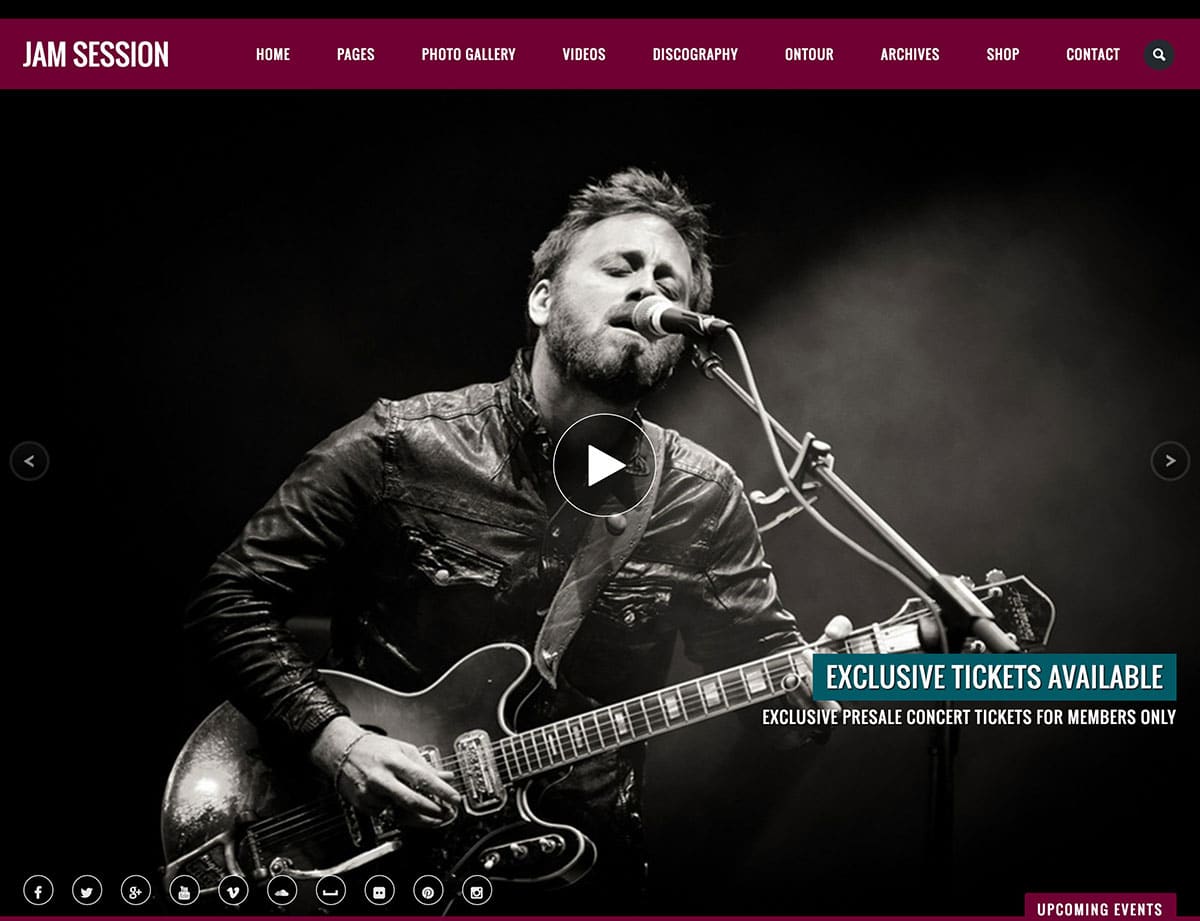 JamSession is a unique music theme.
With a very colorful demo that makes seemingly contrasting colors work together seamlessly, JamSession has bold serif typography that accentuates the solid color swatches the design uses for its design background.
Fully responsive, JamSession comes with 5 post types: standard, album, event, photo, and video. A powerful music player and video support for YouTube and Vimeo videos are included, plus a contact form with reCAPTCHA verification. 5 custom page templates: gallery, video, discography, event, and archive are included, along with support for social media integration and translation ready files.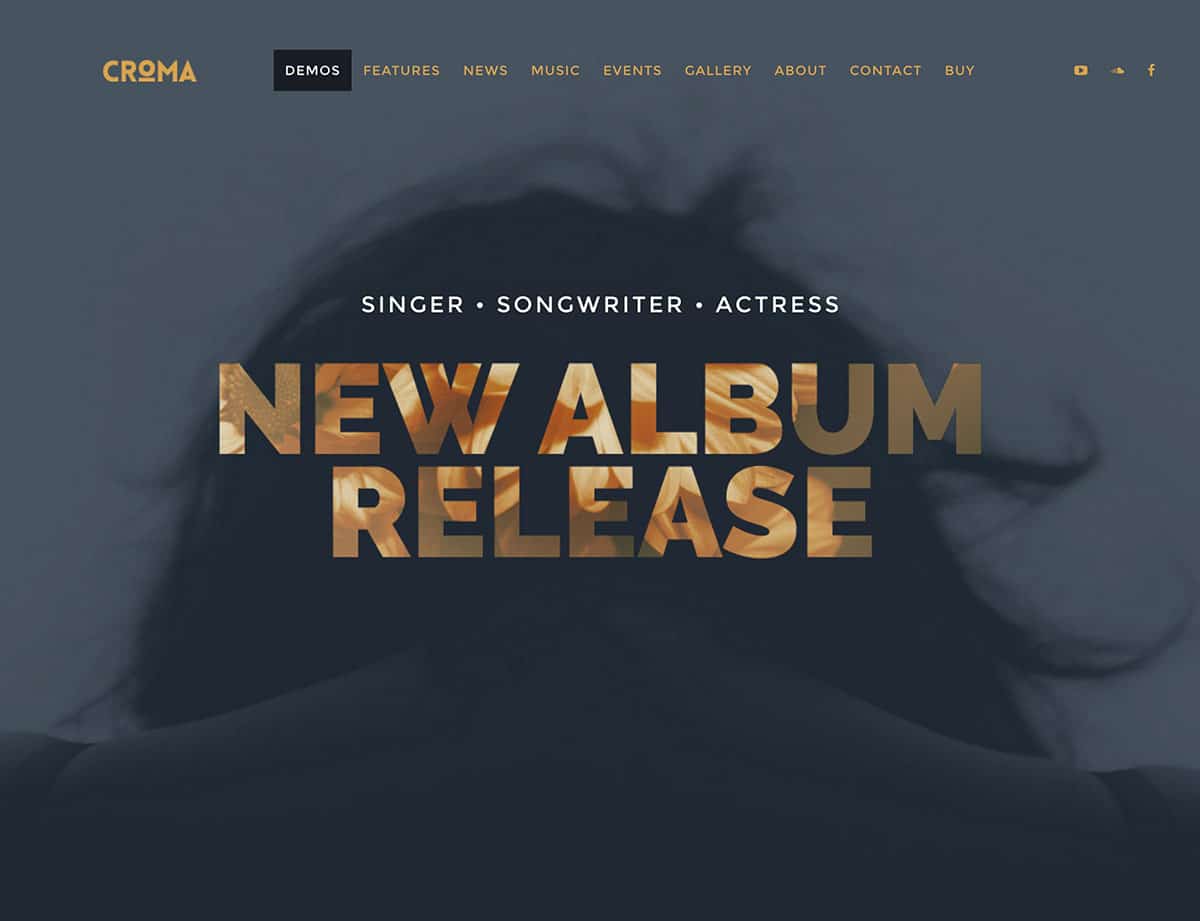 Like all music that stands the test of time, the very best songs are simple and direct – and your website should be no different. The minimalist Croma theme is the perfect choice for placing your music front and center.
There are six demos to choose from, each with subtle differences, but they all display a full-screen slider – enabling you to prominently showcase your latest releases or upcoming gigs to visitors. Aside from the slider, the demo layouts are simple and basic, but can be tweaked using the bundled Visual Composer plugin.
Croma's real selling points are the built-in events manager and audio player. Your events can display the time, date, location, and ticket information – and an eye-catching rollover animation displays a countdown timer to the start of the event. As for the audio player, its waveform display is stylish and you can add cover art, lyrics, and reviews to your tracks. If you have music on SoundCloud, Bandcamp, or MixCloud, it can be embedded throughout your site using a custom widget.
In a nutshell, Croma is a solid solution for showcasing your talent, and it's going to suit those looking for a minimalist design that enables their music to take center stage.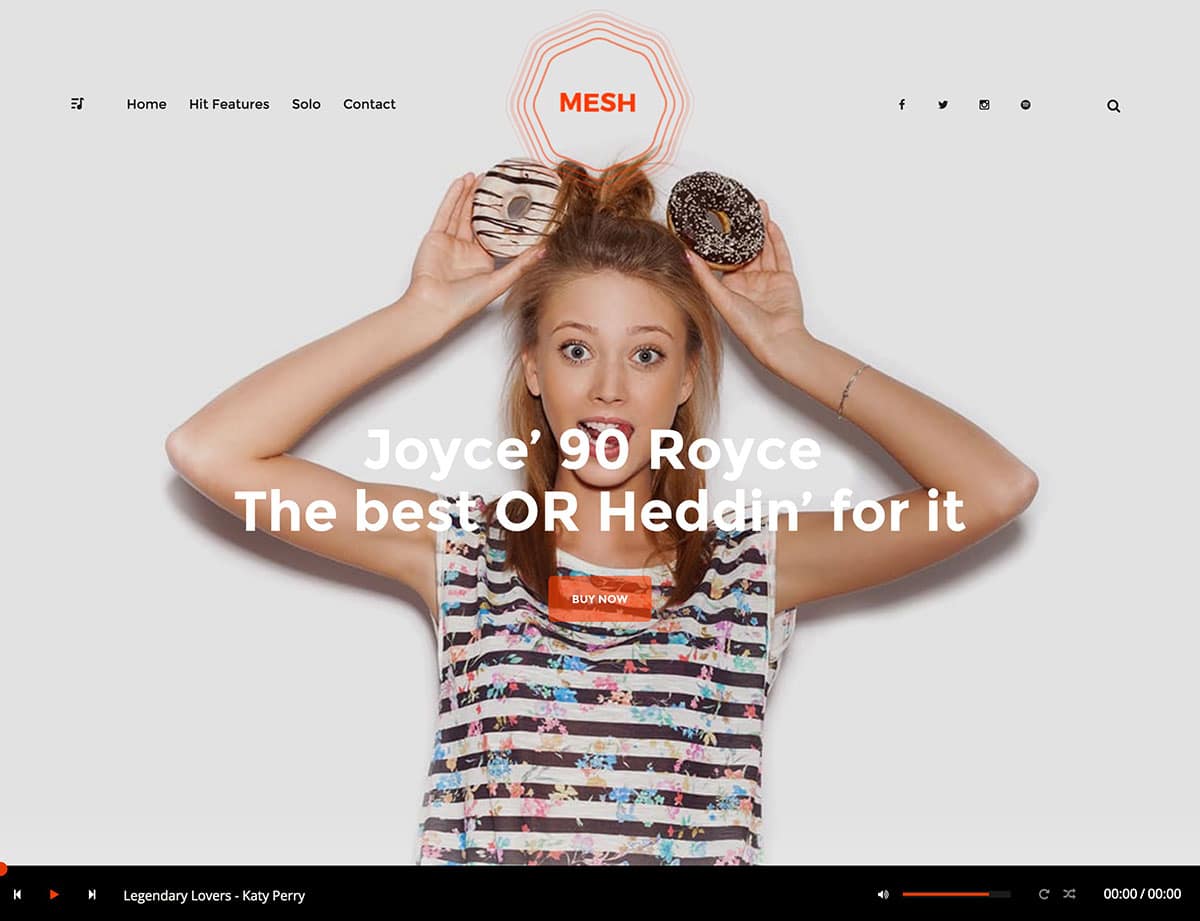 Most of the themes on this list cater to musicians. That's not a bad thing, but there's much more to the industry than the star on stage. Mesh is a theme that caters to the entire music industry, rather than just musicians.
Mesh's attempt to be all things to the entire music industry is evident in the wide range of demo sites available. There are ten altogether, encompassing niches such as radio stations and festivals in addition to an artist layout. Out of the box, they all look vibrant and modern, but if you have your own design in mind, Mesh comes bundled with an adapted version of the Visual Composer plugin.
The theme also includes a site-wide audio player – a feature we love because it enables your visitors to listen to your music uninterrupted while browsing. Monetizing your music is no problem either. The built-in audio player not only displays cover art, but also includes the option to display a Buy Now link right next to the Play button.
There's so much more that Mesh has to offer – such as a powerful events system, social sharing buttons, and MailChimp integration – that we'd need another ten paragraphs to cover it all!
While general purpose themes can sometimes lack focus, there's no danger of that with Mesh. This theme will appeal to anyone within the music industry wishing to promote their music, events, and services in style.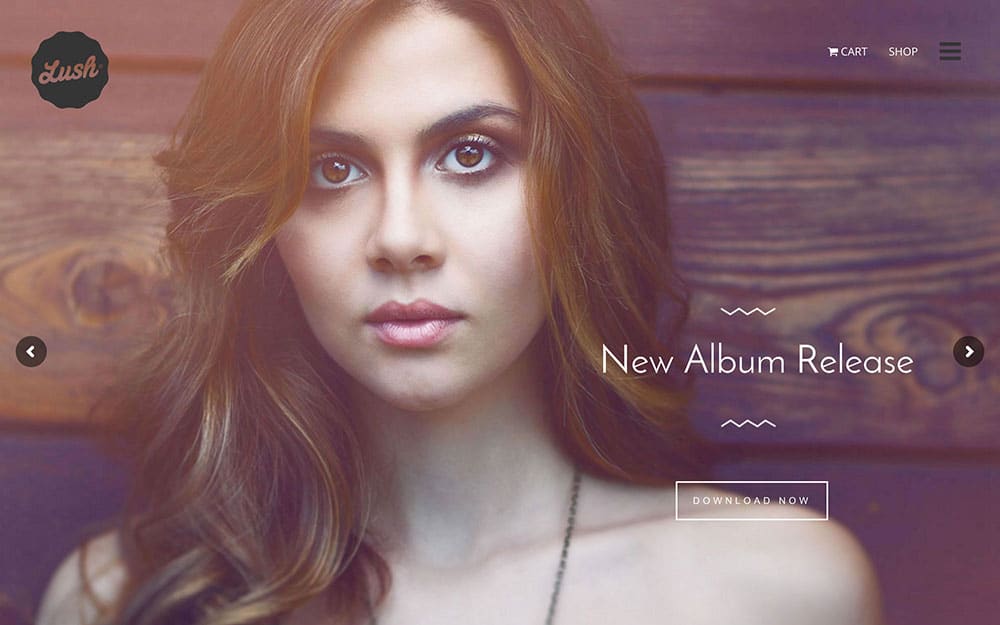 After you've taken months to craft and record your music, the next step is showcasing it with an inspiring website. If your design skills are lacking and you'd like a site that wows your fans as much as your music does, check out Lush.
This theme's homepage is dominated by a striking full-screen background image (available with or without a parallax effect), courtesy of the included Slider Revolution plugin. If you want to really impress visitors then you'll like the 3D push menu, which can slide in from the side of the screen and offers two more striking animation options for good measure. The overall effect is impressive.
A lot of effort has gone into the events pages – the events list itself is chunky, and the rollover countdown timer is a smart feature that gives events a sense of urgency. Opening the event itself reveals a huge custom poster image, and you can embed photos, videos, and an audio player into each event.
The discography page is also feature-packed. For each entry you can embed videos and music players (courtesy of SoundCloud, MixCloud or BandCamp), add lyrics and reviews, along with an all-important link to your WooCommerce-powered online store.
Lush's name is apt – the developers' efforts to create a high quality theme are clear, and if the gamut of color and font choices aren't for you, both a child theme and the Visual Composer plugin are included to help you get your hands dirty. With a one-click demo content import option and an interactive Dashboard walkthrough called Sidekick, whatever you need in order to get up and running has been catered for.
If you're looking for a theme to stun your visitors visually and aurally, look to Lush.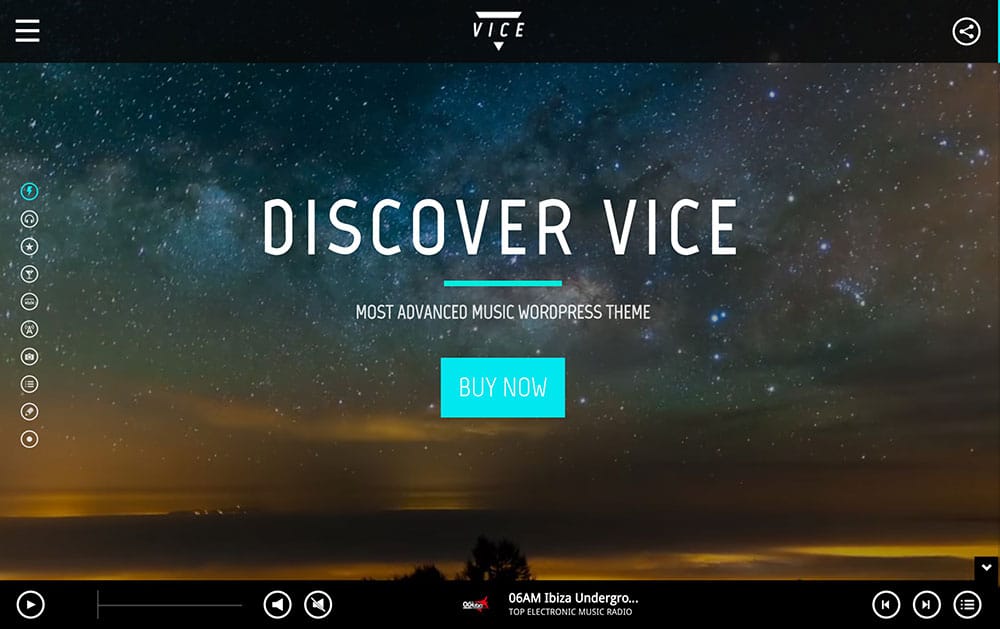 Vice is a fully responsive and retina ready full-width theme which enables you to showcase artist photos and videos of your greatest gigs via custom backgrounds.
In terms of creating content, ten module types (including sliders, carousels, and galleries) can be added to an unlimited number of sections. Whether you need to tell your audience about your latest release, an upcoming event, or showcase your images and videos, you can do so easily with five custom post types. Landing pages are a breeze to create as well.
Vice gives you both a horizontal menu – with 120+ bespoke icons – and a slide-in menu to keep navigation out of the way of your music.
Your music is of course the most important thing, and with that in mind, Vice also includes a site-wide and cross-page music player – meaning your visitors can listen to your latest album no matter which page they're browsing.
In a nutshell, Vice can enable your website to match your musical vision. Along with email support within 24 hours, in-depth documentation and video tutorials to get you up and running, just about everything you need to create an amazing music website is at your fingertips.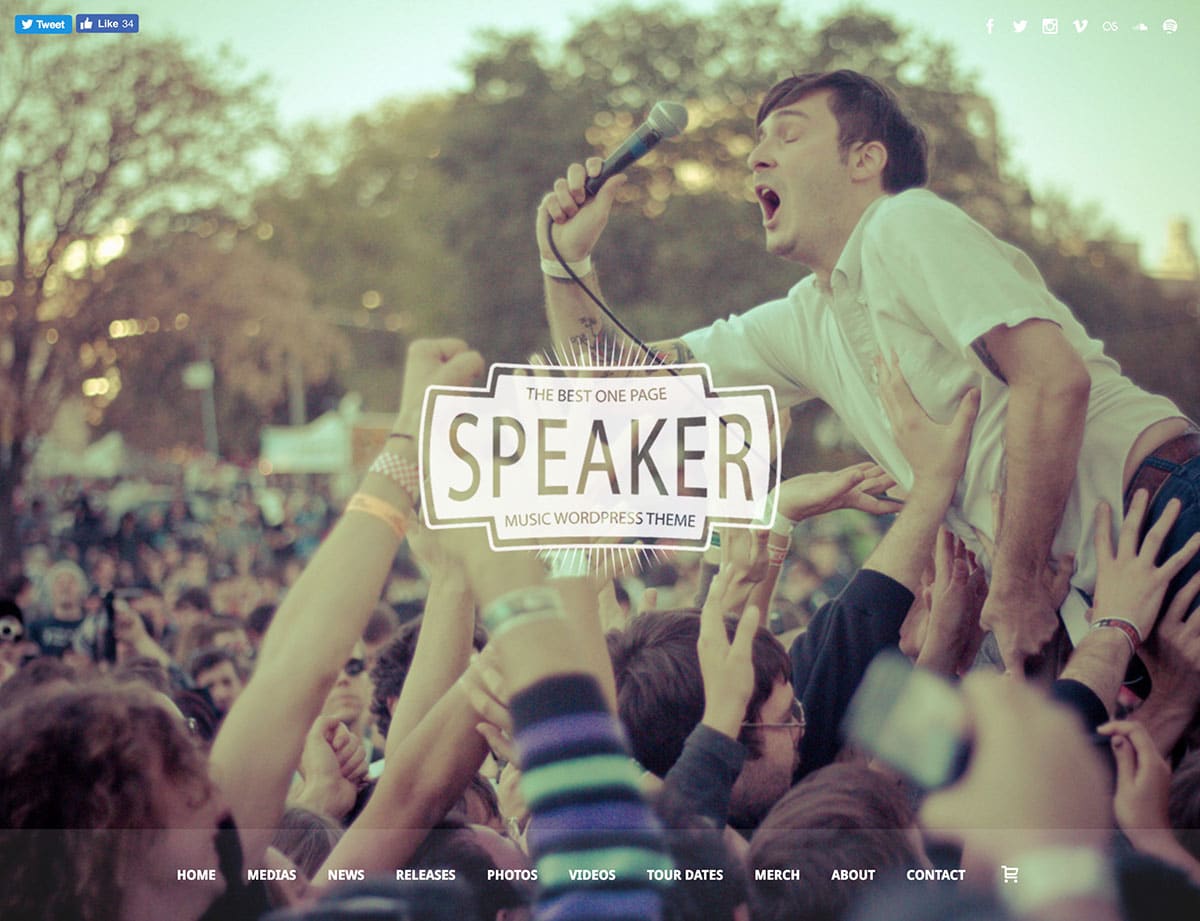 Speaker is a stunning WordPress theme perfect for musicians and musical bands.
Built on the rock-solid Wolf framework, Speaker takes advantage of the one page design trend to give your website an exciting new look (although a multipage website is still an option). The fullscreen design looks to be quite wide, and the parallax effects are beautiful. Video backgrounds are an option for any of your pages' sections.
If you go for the one page structure, you can reorder the sequence of the page sections using the same interface WordPress uses to build navigational menus. Many custom plugins are built into the theme that allow you to post videos, tour dates, releases, and music networks to your website.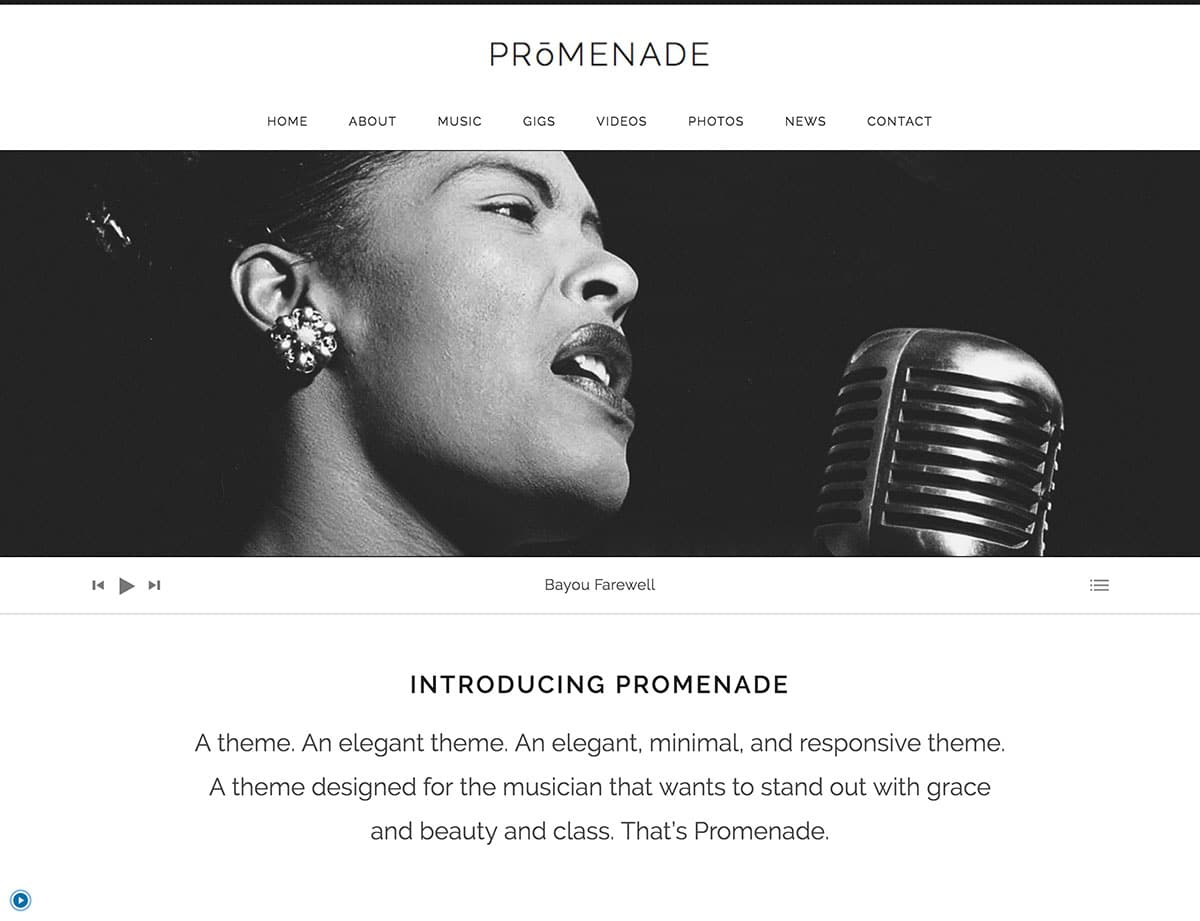 Promenade is an elegantly designed theme release from AudioTheme.
Promenade's design makes great use of white space. There's plenty of breathing room within the design for visitors browsing through. YouTube and Vimeo videos are supported by the media library, and the home page comes with plenty of options to feature your most important content.
The theme helps you to connect with your visitors by allowing you to send out very specific details of your next tour, complete with venue information and maps. Footer widgets, custom social icons, and more also feature in this theme.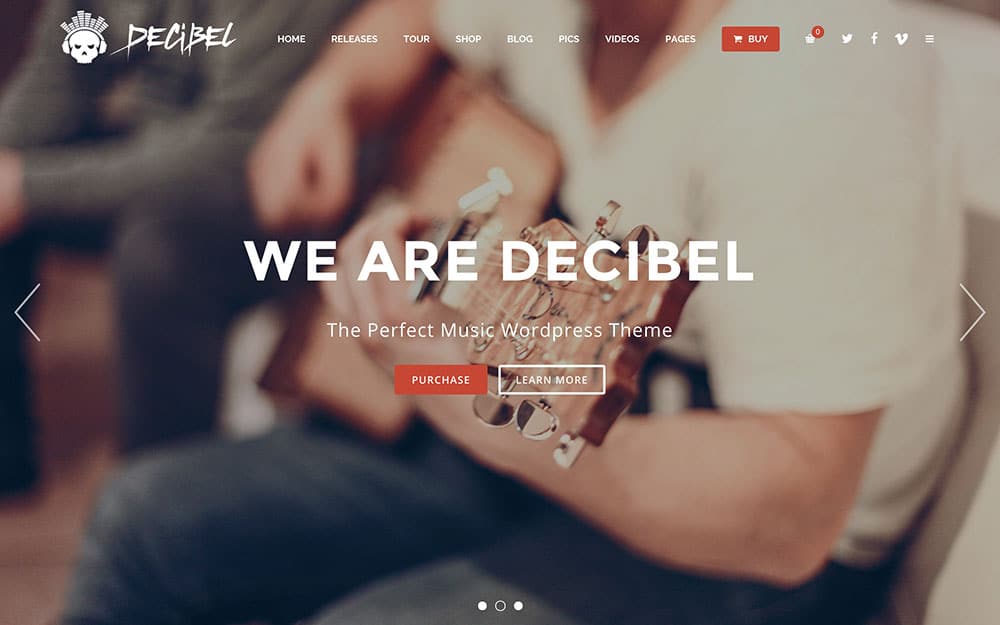 The music on your website is important, but just as important is cultivating your image and getting people to click that all important Buy Now button. If you prioritize your image nearly as much as your music, take a look at Decibel.
A full-width theme that makes a striking introduction, Decibel offers full-screen parallax background images and video backgrounds via the included Slider Revolution plugin. It adopts a landing page layout for its homepage, meaning that your latest release is featured front and center; ready for that all important call to action.
Decibel includes a custom cloud-powered music player – you can add your music to playlists from SoundCloud, BandCamp, and other sites without worrying about storage. It also offers WooCommerce support, so you can sell your merchandise straight from your site.
Additionally, Decibel benefits from Google Fonts, a vast swathe of color options, and over 50 social icons – even the most unique branding can be catered for. Pages are built via a drag-and-drop interface, with the included Visual Composer plugin enabling you to structure your pages to meet your exact requirements. A child theme is also included so that future theme updates you make don't play havoc with your tweaks. For those that would rather get up and running straight away, the content seen on the demo website can be installed with one click.
Decibel focuses equally on your music, your merchandise, and your look – a theme for the musician that thinks of everything.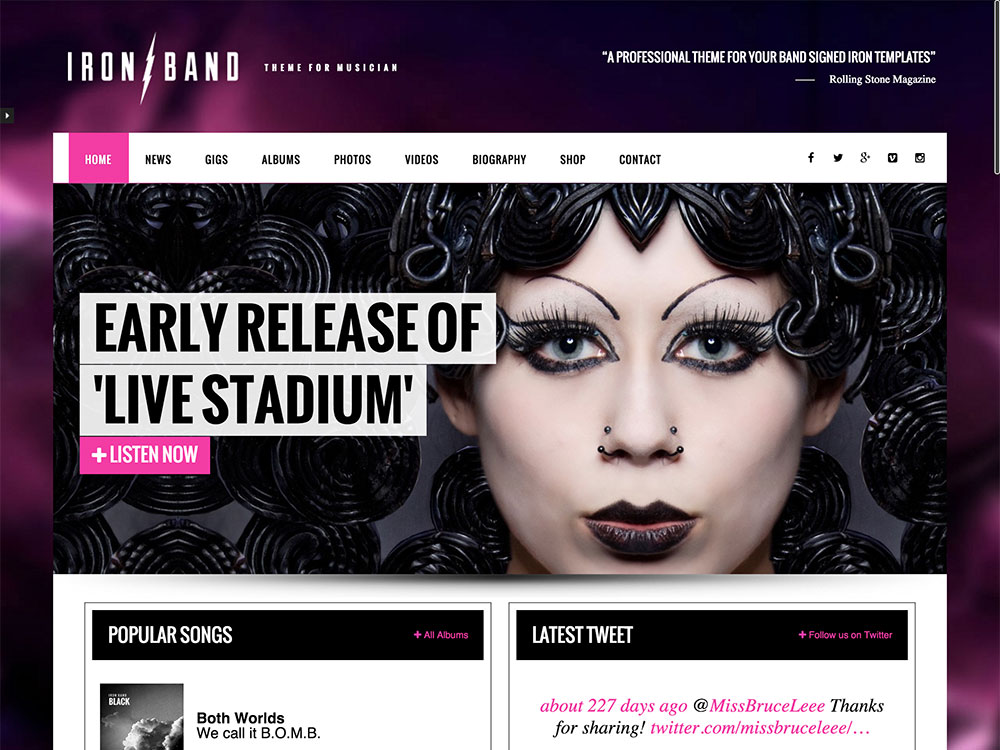 IronBand is a sensational music WordPress theme.
IronBand almost takes after a news or magazine theme in that it flashes big, bold typography all over the design. Yet, the vivid colors and multiple column structure help to hold all the design elements down and in place. Sticky navigation and a couple rollover & scrolling animation effects make the design even more appealing.
The theme includes social media integration for SoundCloud, Vimeo, YouTube, Twitter, and Facebook and a very functional theme options panel. Fonts, colors, and image sizes can all be customized to your liking. 7 preset color schemes, an mp3 player, over 600 Google Fonts, and a home page layout manager help IronBand to really take things to the next level.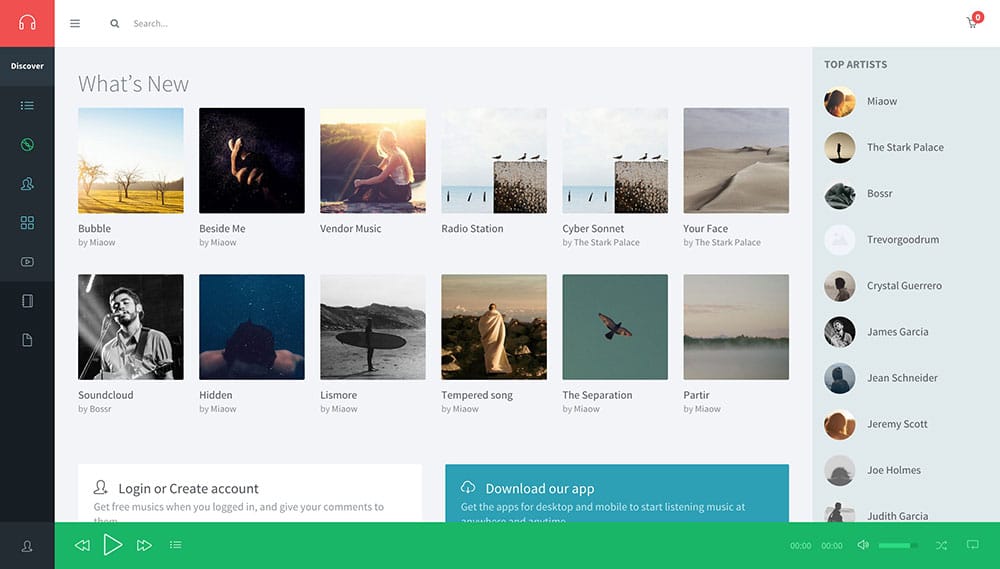 If you're a DJ running club nights or a promoter looking to create a 'scene', you've likely worked with countless bands and musicians. But with nowhere to showcase their talent, musicians on your bill may not be heard until the first song on the night. If you're after a theme that can feature the artists heard at your events and sell their music to customers, Musik is well worth consideration.
Using the popular Easy Digital Downloads plugin, Musik's main focus is on selling music to customers. Various options on the horizontal navigation bar filter your collection by genre, artist, album, and newly added music. Rolling over the artwork for each entry reveals a purchase link and preview button that plays the track in an audio player within the sticky footer, which saves user preferences for volume, repeat and shuffle settings.
Musik has separate pages for events and video galleries, and offers color customization for the logo, header and music player. With four page templates in total, there are plenty of options available for displaying content, and if you like the look of the demo data, the developer offers a one-click install.
If you know a lot of artists and want to sell their music in one place, Musik could well be the theme for you.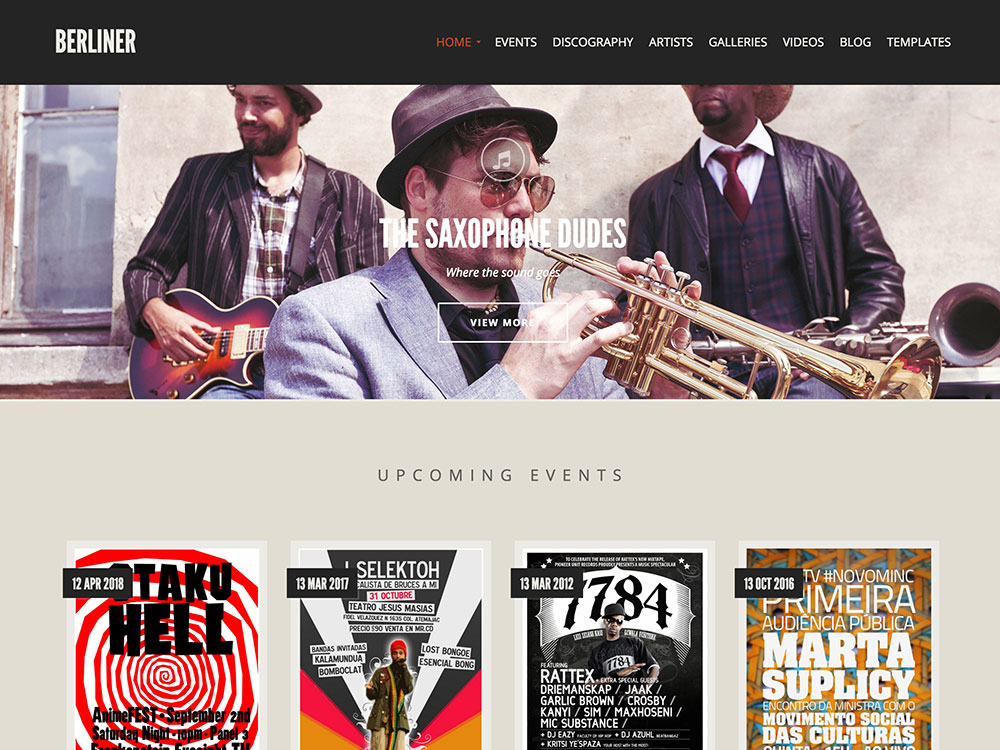 Berliner is an awesome music theme suitable for DJs, bands, nightclubs, and anyone in the music industry, really.
Its sleek, engaging design provides a pleasant viewing experience, and it comes equipped with a sophisticated custom audio player, supported by SoundCloud.
This theme is localization ready, cross-browser compatible and fully responsive, so your content can be translated and look great on any device. The Google Maps plugin enables you to share your tour schedule and the details of each individual gig.
Berliner is a beautiful, fully functional WordPress theme; perfect for taking a music website up a notch.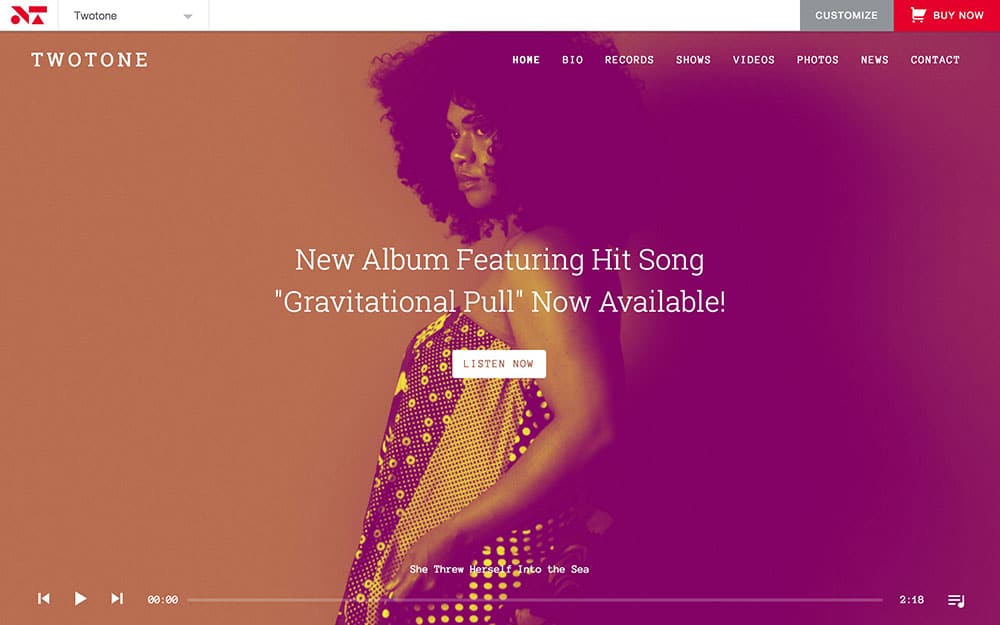 You may be forgiven for thinking that Twotone is a repackaged version of the Obsidian theme, but while there is a lot of similarity, the differences are worth considering.
Twotone is for those in search of a stark design. The front page template offers the option for a full height header along with a 'hero section' for adding a call to action. When setting header images, Twotone enables you to define one site-wide image, custom images for each page, or random images. Below the header is a two column widget area which can be used to display your upcoming gigs, a discography, or any part of your site's content.
Unlike Obsidian, Twotone places the site-wide audio player within the header. When using anything other than the full height option, the audio player is positioned in the dead center of the page, placing your music center stage.
Twotone has a similar color palette and opacity settings to Obsidian, along with the same 30 handpicked fonts and Typekit support. They also share the same style of events pages – with Google Maps support (automatically embedded based on the venue address) and a thoughtful option for fans to add calendar reminders. Discography pages are again similar, with each album or single opening a preview page, and each track having its own page to display lyrics, tablature, social share links, and external links for purchasing your music.
All in all, you may consider Obsidian and Twotone to be twins, but where Twotone differs most is its focus on your music with the centered audio player. If your music needs to be front and center, Twotone could be the correct choice.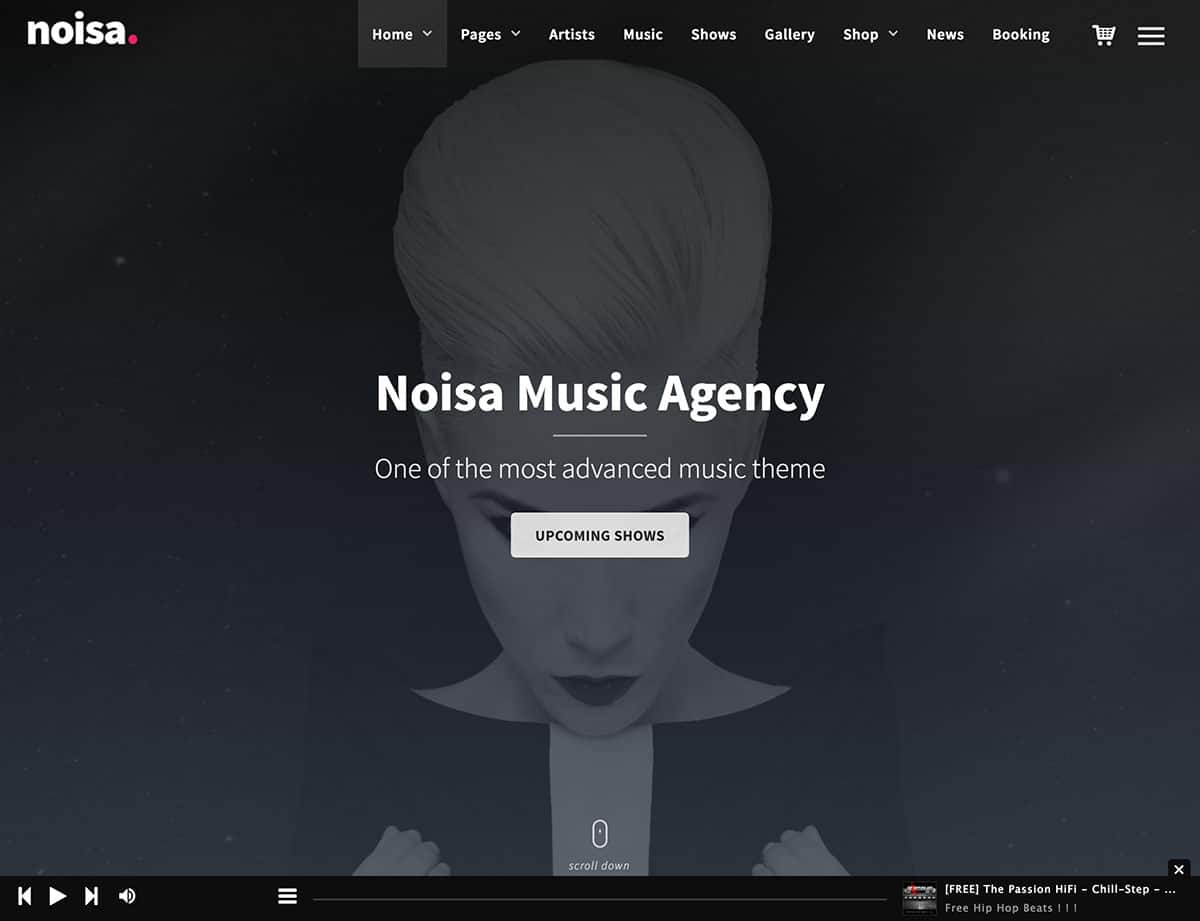 While musicians stand in the limelight, behind the curtain there are countless others pulling the strings to make the artist a success. Noisa is a theme that focuses less on the artist and more on the machine driving them.
Quite simply, this theme looks absolutely gorgeous – especially on high-resolution displays. The default color scheme is dark and moody, and fonts are crisp and readable even on mobile devices.
Noisa includes virtually everything you'll need to promote the acts on your roster. The bundled Visual Composer plugin includes widgets to display tracks, albums, and playlists anywhere on your site. There are also six custom post types, including a striking artist profile page that displays upcoming events, album releases, an artist gallery, and a biography. Finally, there's a built-in events manager to showcase the upcoming gigs of all artists on your site.
Noisa goes straight to the top of the charts. It's ideal for record labels who wish to showcase their artists with a modern website. This theme is definitely one to add to your shortlist!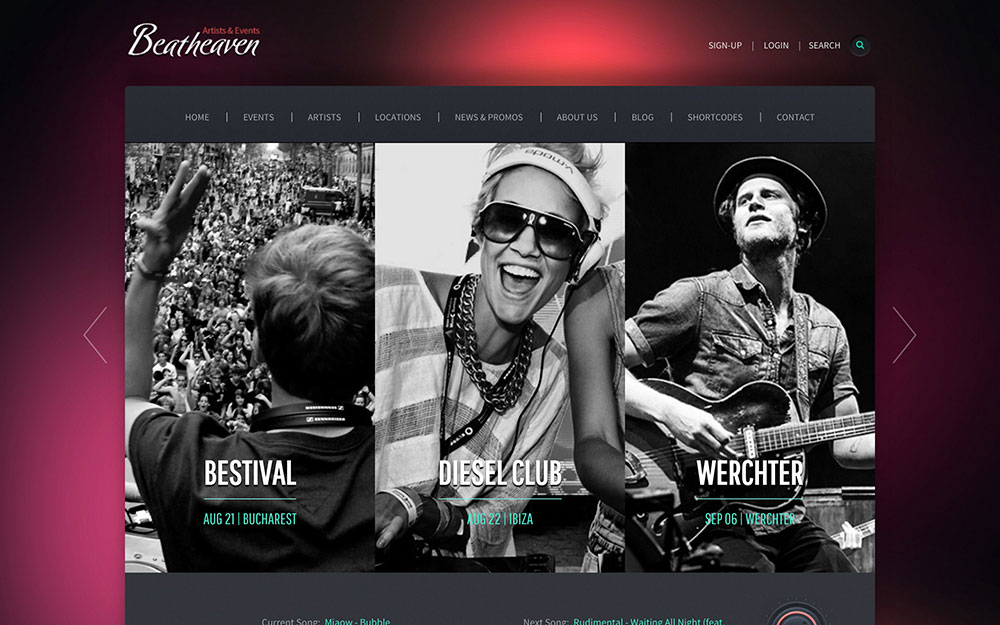 Beat Heaven is an excellent WordPress theme for artists or event planners who want to compose a world-class music website.
You can easily customize everything from theme colors to backgrounds via the admin panel, and there are three built-in sliders available for showcasing events and images. The demo content is also built into the framework and auto installs, making your website look exactly like the online preview – without any additional work on your part.
As Beat Heaven is fully responsive and retina ready, your content is sure to look great on any device.
Applause is a glamorous one page theme with appealing parallax effects and vivid coloring.
Applause's navigational menu bar is quite thick and floats along with you at the top of the page as you scroll. The design for featured events on your home page is both detailed and aesthetic at the same time.
5 post types are included:  event, audio, gallery, video, and standard. The $13 Unlimited Playlist plugin has been included in the theme purchase package free of cost, as is a stylized Ajax contact form. The 360UI music player, Google Web Fonts, and demo content are also available for use.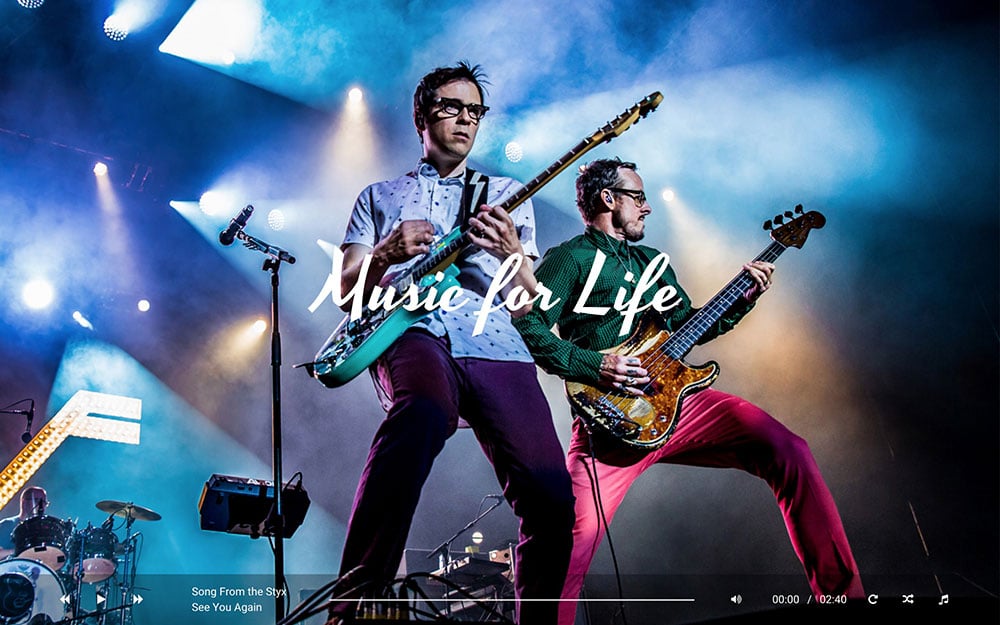 Hugo is a stylish, feature-packed theme suitable for any musician or band's website. As you'd expect, the theme is responsive out of the box and comes with five default skins for the user to choose from including light, classical and pastel variations. More skins are expected with future updates.
Hugo supports Google Fonts and Font Awesome integration and comes bundled with the Visual Composer plugin and Master Slider plugin. Considering Visual Composer alone usually costs $34, Hugo's $49 price tag is something of a bargain.
Hugo also ships with a custom music player to play uploaded files though the player doesn't persist across pages when users are browsing. With the theme set up to favor single-page layouts, this isn't likely to be an issue however.
Events listing and countdowns are both supported and Hugo also offers integration with iTunes and Google Play Music. Front-page feature sections can also be accompanied by beautiful parallax background image effects, though you'll need to keep an eye on image optimization to keep page loading times brisk.

Chords is a beautiful WordPress music theme with a design that's pure eye candy.
Chord's demo comes in three variations — Solo, Rock, and Radio — and all of them look absolutely scrumptious. Much of this has to do with a thin, vibrantly colored border that runs around the edges and corners of the entire design. Add rollover animations, amazing typography, and easy customization to the mix, and you've got yourself one of the best designs in the industry.
Chords comes with a home page layout builder and management for events, discography, and artists. PSDs and HTML files are included in the package, along with custom widgets, 6 custom post types, and WooCommerce & WPML support.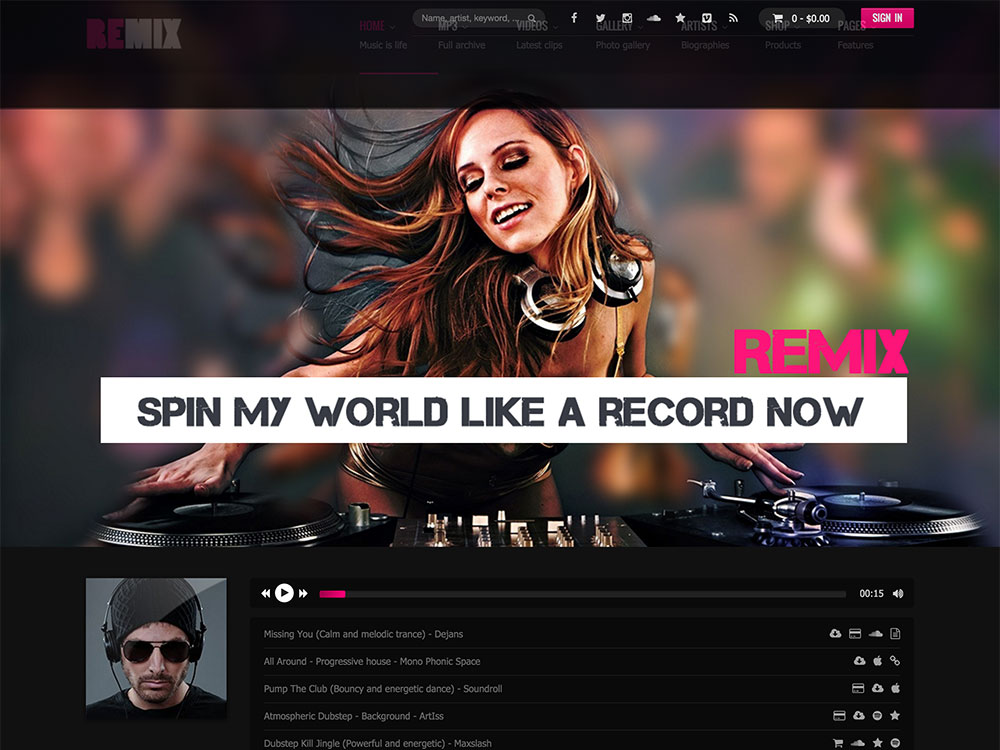 Remix is a snazzy music theme with great functionality.
Remix's design makes great use of the dark look, with a default black background and purple & white typography. Everything about the design screams "funky" and new. The theme comes with both boxed and fullscreen variations of its design.
The real treasure, however, lies in this theme's functionality and capabilities. Along with a responsive layout and 12-column grid system, you get Visual Composer ($25 normally) and Revolution & Master Slider ($41 combined) free of cost in the purchase package. The theme also allows you to easily embed tracks from SoundCloud, Shoutcast, and other similar sites stylishly and easily. 17 custom widgets, jQuery Nicescroll, 660 icons, 600 Google Fonts, and 7 layered PSD files are also include.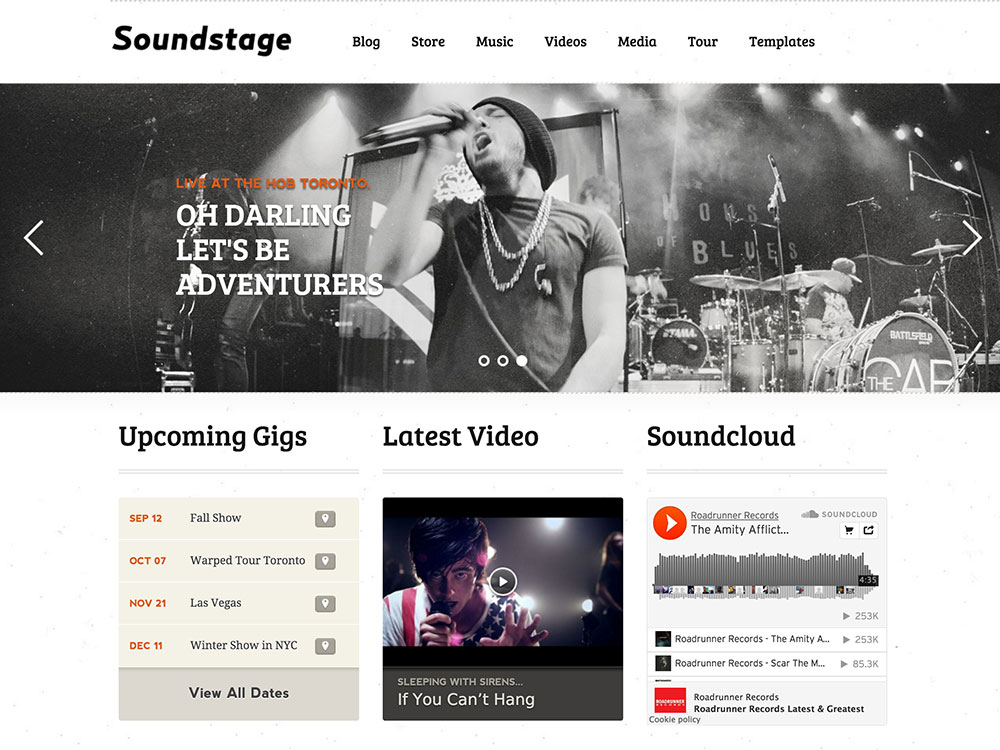 Soundstage is a great WordPress music theme to ensure any band makes an awesome first impression online.
Its impressive slider and slick home page layout will make your website pop. Your audience can listen to your music while they peruse your content with the MP3 feature, and this theme will also pull in your YouTube videos for fans to view straight from your site.
There is a custom-built manage system within the dashboard to add gig dates easily, so your followers will always know where to find you.
It is integrated for WooCommerce to make selling merchandise or concert tickets easy. You can also manage the retail side completely within your WordPress back-end.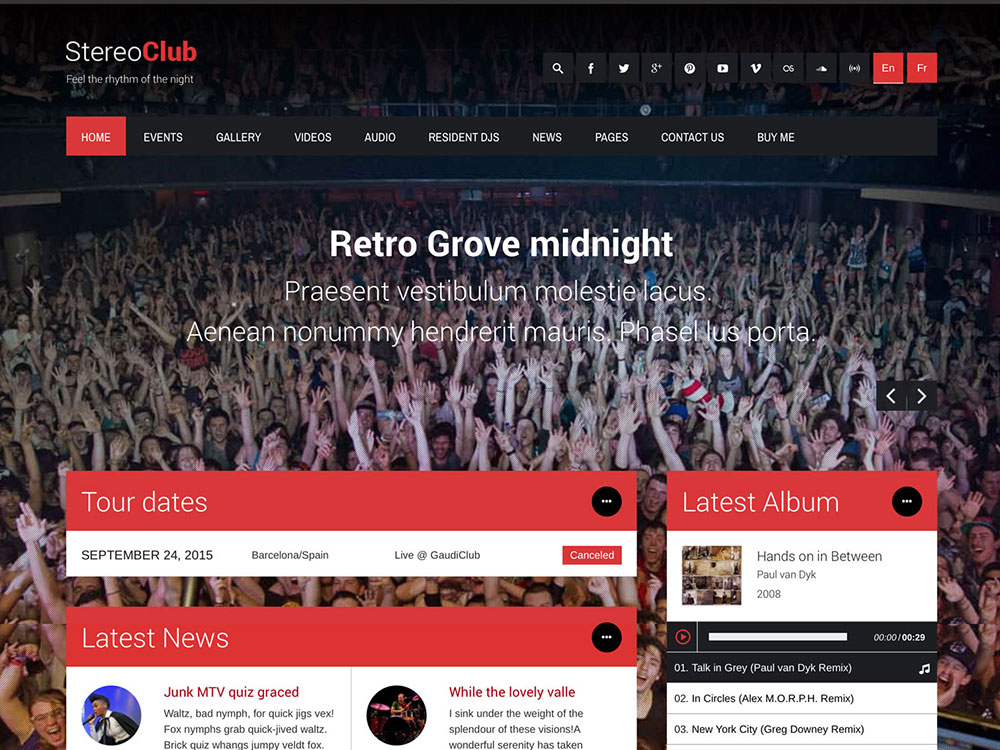 StereoClub is a sleek, modern WordPress music theme ideal for a nightclub, outdoor concert venue or band.
There are numerous color options available to align your site with your branding, and the built-in MP3 player is great for showcasing music. This theme is fully responsive and cross browser compatible, so your content will look amazing on virtually any device.
You can easily build a multilingual site with this theme without the need of any extra plugins. Social networking buttons come included and there are built-in custom buttons for fans to share a latest event or single.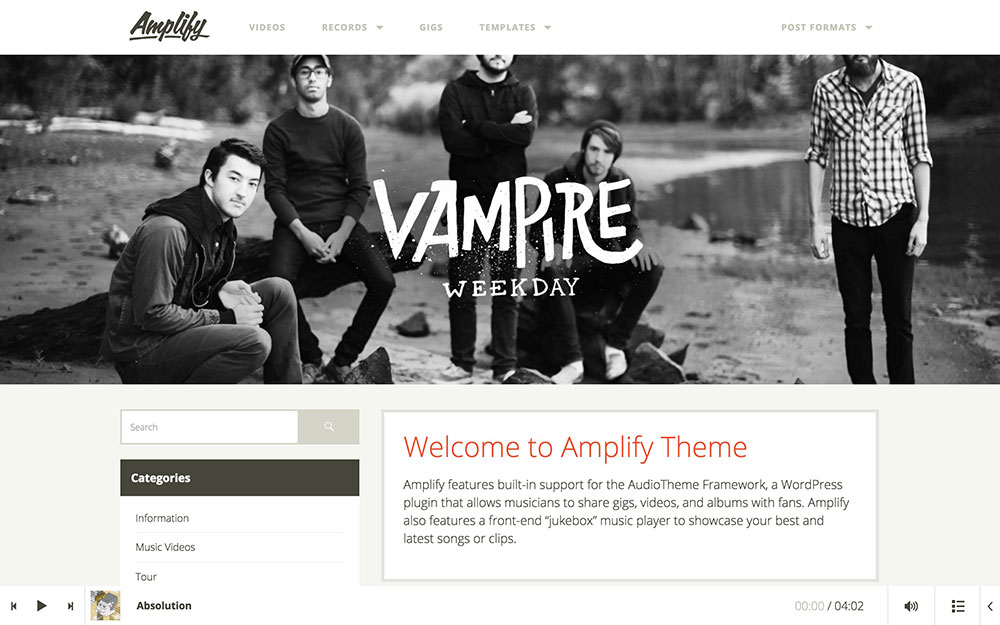 Amplify is a beautiful theme release from UpThemes.
Amplify's design is a lot more traditional than most of its contemporary themes in the music space. With unbreached structure and proper widgetized areas, Amplify puts a new spin on the original WordPress theme design.
Amplify comes integrated with the AudioTheme plugin. It holds functionality that includes gig management, discography, video support, galleries, and much more. Multiple responsive layouts are built into the the advanced theme options panel.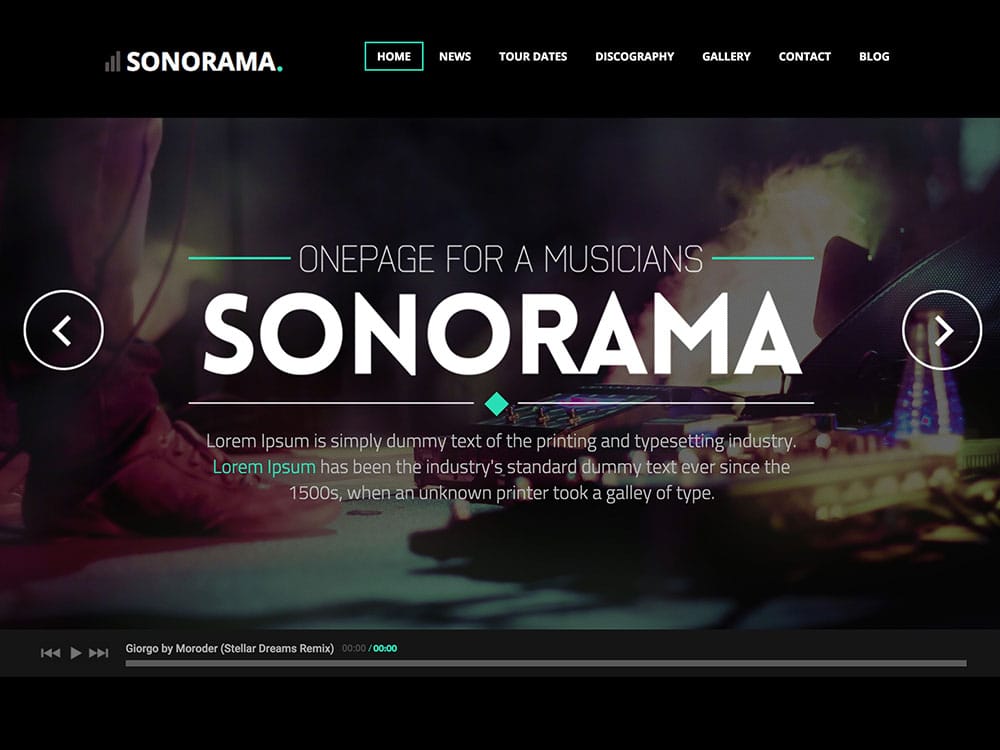 Sonorama  is a one page theme for musicians that takes advantage of the layered design trend.
Sonorama is a very dark theme, with a pitch black background and complementary colors governing the design. Two layouts — image slider and video background — are possible. The "buffering" symbol displays while the Sonorama page loads, just like with YouTube videos.
16 preset color skins are included in the theme along with a very visual page builder that allows you to create new page layouts in mere minutes. 100% responsive are cross-browser compatible, Sonorama comes with clean code and a retina ready appearance.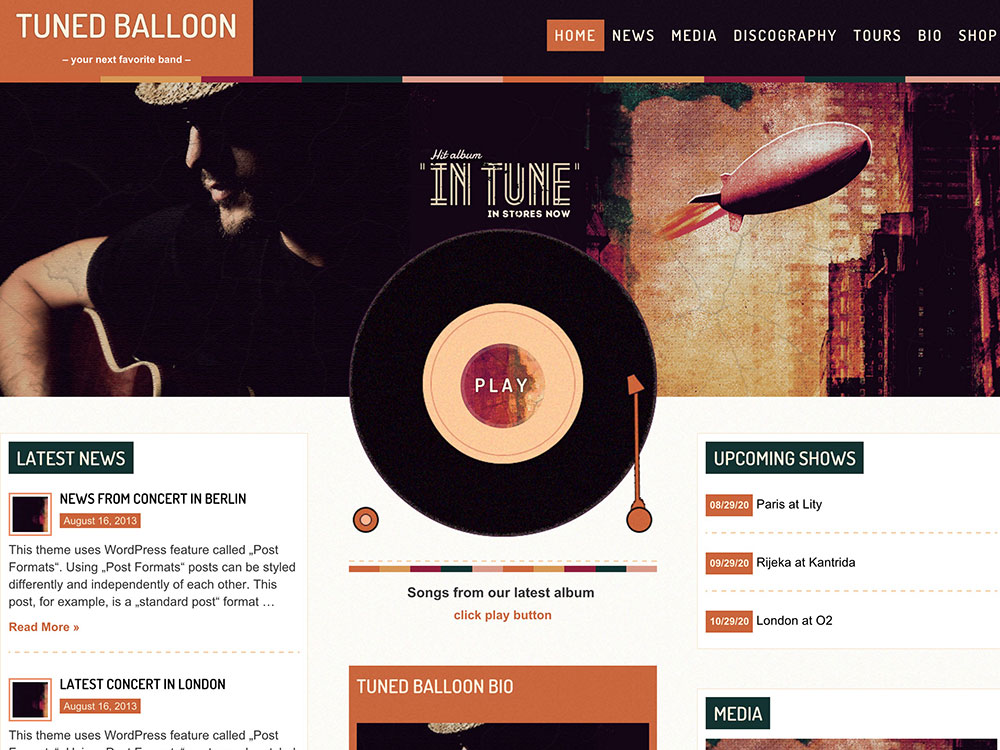 Tuned Balloon has a beautiful, minimalist design that keeps the focus on the content.
This music and band theme has a fully-responsive, flexible layout that looks great on any device. You can easily customize your site, change the main or background colors, and add your band's logo.
There are plugins for displaying video and supporting WooCommerce, so you can sell merchandise on your site directly. There's also a content form plugin so you can keep in touch with your audience.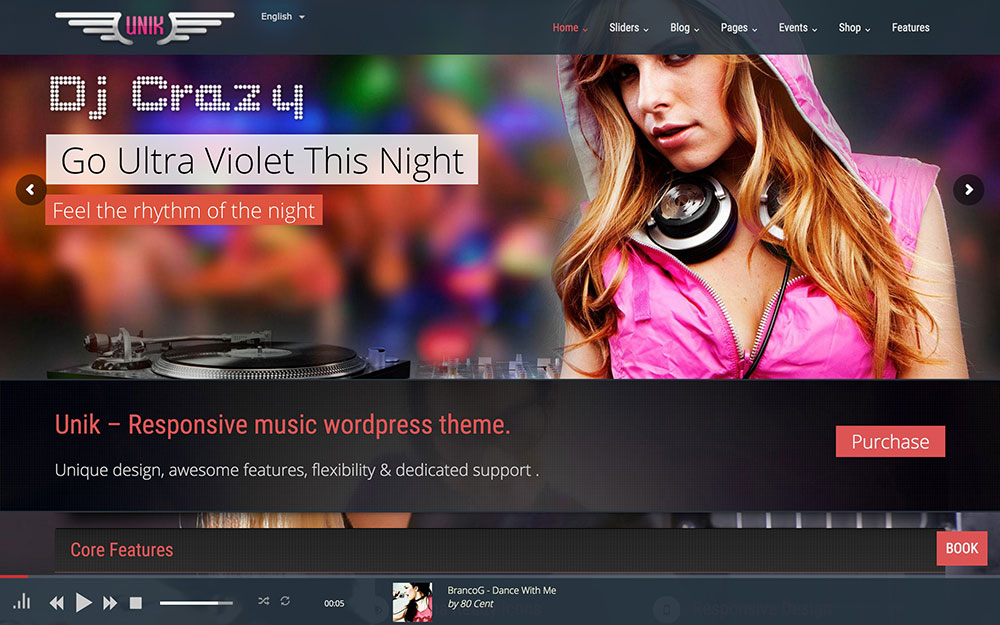 Unik is an attractive, lightweight music theme.
Unik's glamorous design incorporates multiple colors and shades. It also comes with neat animation effects as you scroll down, with sections of the home page flying in from every corner of the design as you scroll down. Perhaps the theme's most unique feature is the mp3 player at the footer.
Unik comes with styling for WooCommerce, unlimited sidebar options, Layer Slider ($18) and Slider Revolution ($19). Three different mp3 options and online booking forms are included. Multiple page layouts, over 50 parallax animations, 500 Google Fonts and 400+ icons are also available for usage.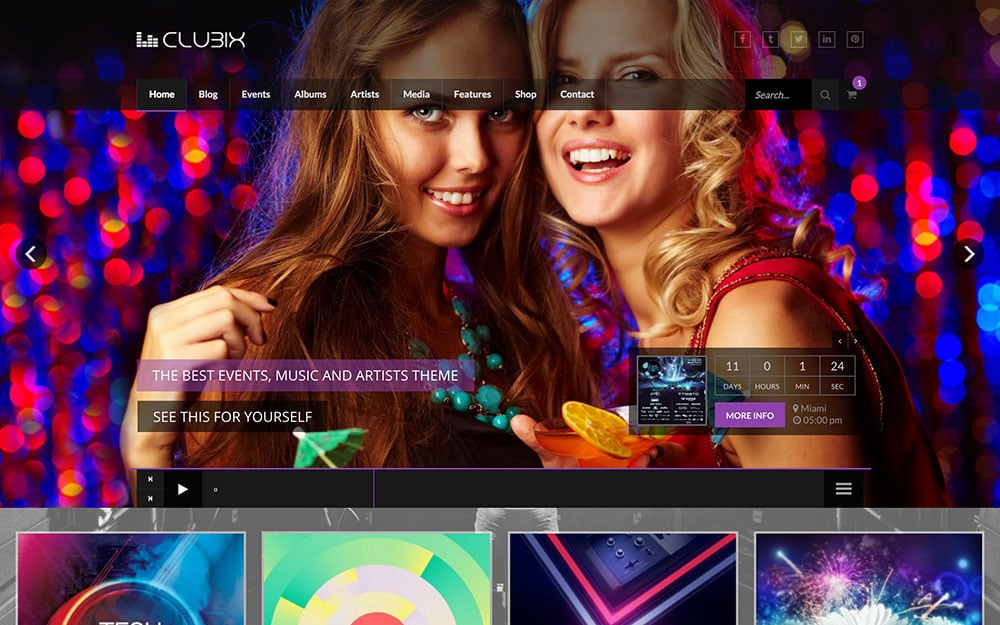 Clubix is an amazingly functional and fashionable WordPress theme.
100% responsive, Clubix has a beautiful design. You'll find both wildly irregular design elements and solid structure in the home page design. Several sweet scrolling and rollover animation effects make Clubix even more appealing.
The theme comes with an mp3 and radio player. The purchase package also comes with Visual Composer as a free bonus. Clubix's far-reaching event management capability allows you to even setup recurring events, with you only having to officially publish the event once. Revolution Slider, translation-ready files, and styling for WooCommerce and Contact Form 7 are included in the theme.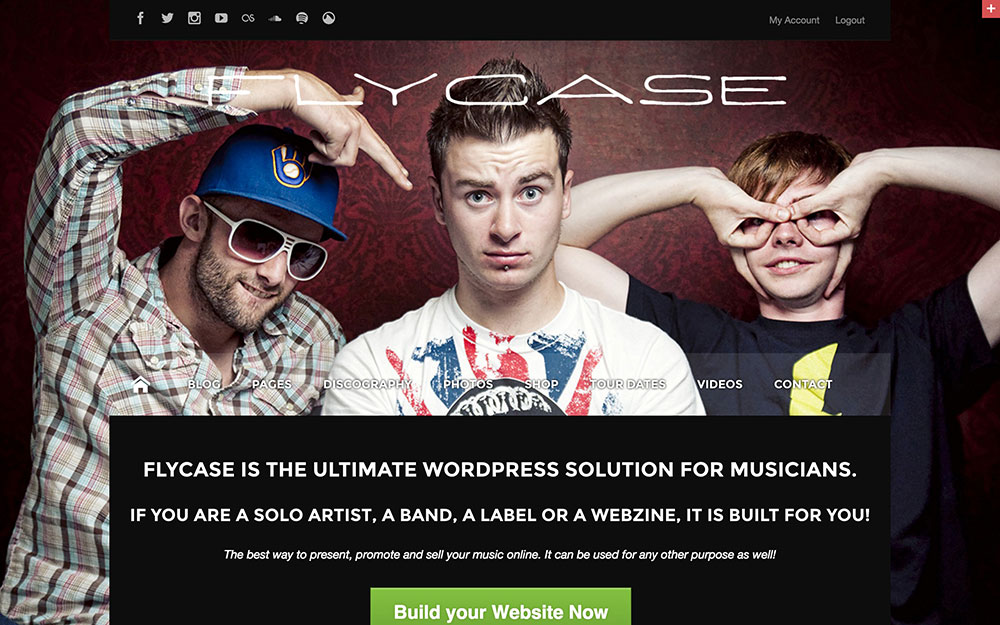 FlyCase is a very capable music theme with an attractive design.
FlyCase's design has a weird knack to it that somehow helps to focus the reader's attention on what's important: the content. Everything in the design seems to somehow flow towards the center, which is where the actual content is. It's a great effect that will help your visitors stay on track and browse efficiently.
The fully responsive theme comes with WooCommerce integration, Revolution Slider ($15 value), 5 preset color schemes (all of which are viewable in the demo), 27 custom social icons, and 2 different lightboxes. Solid documentation, XML demo content, and a child theme template are included in the package to help you get started.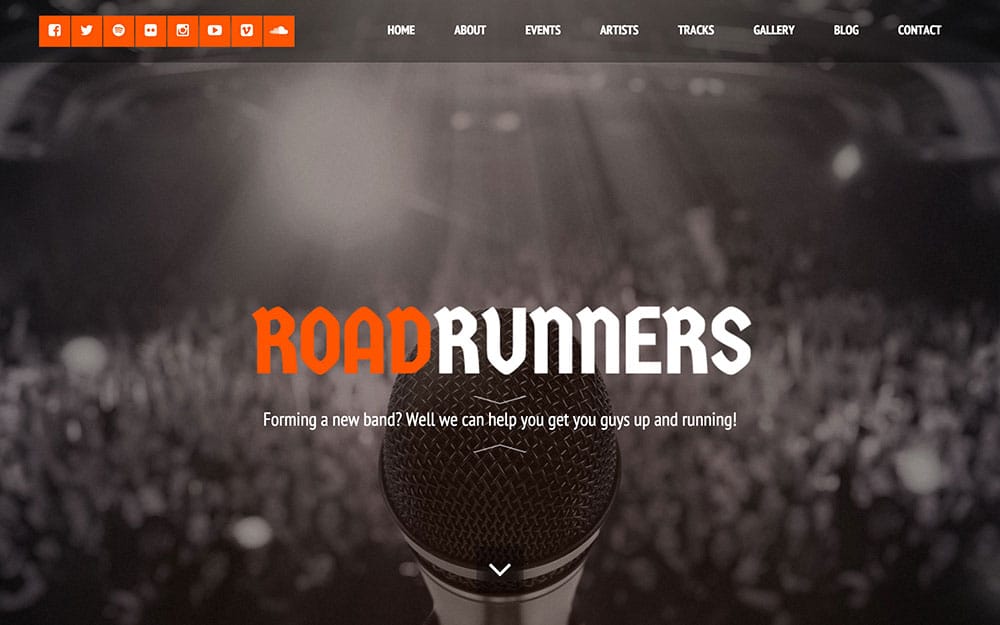 RoadRunners is a gorgeous music theme.
RoadRunners takes full advantage of the one page design trend. Although the design lacks a serious sense of structure, the theme's appearance is still fabulous. As you scroll down the demo you'll see various animation effects for the content come into play. Not all of these are all that great, however — some come a little later than they should. Delayed content can easily bore your visitors.
RoadRunners is a very lightweight theme, and comes with little extra functionality. Besides a small set of handy shortcodes, it has custom post types for events, artists, testimonials, galleries, blog feeds, and contact forms.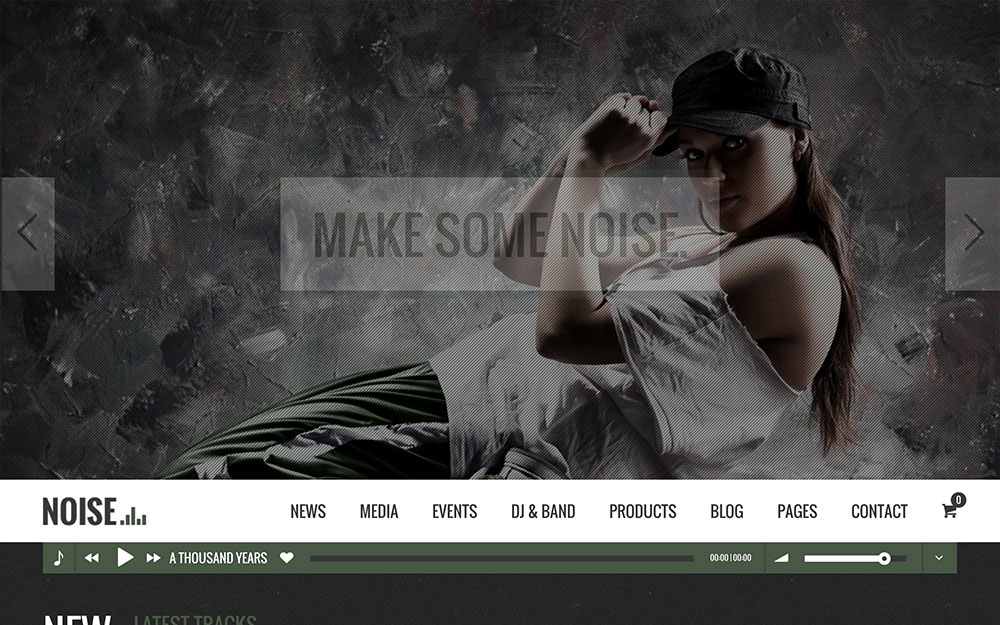 NOISE is a sublime WordPress theme for musicians and DJs.
The first feature you'll notice in NOISE's design when you hit the demo button is its "slide to unlock" feature. On the demo's home page, the user has to click and drag a bar a little ways horizontally across the screen to be given access to the actual website content. An impressive and unique feature, no doubt, but it's also something that could potentially be viewed as trademark infringement. Additionally — that slide to unlock feature is there for a reason on smartphones (so that you don't accidentally hit random buttons when the phone is in your pocket and you're sitting down). On a website, there's virtually no reason for a slide to unlock feature, which could possibly lead to decreased user engagement and a high bounce rate. Even still, you have to admit: slide to unlock is a pretty awesome way to keep things interesting on your website.
The rest of the design, however, is impeccable. Large white typography complements the dark shades of the background. NOISE isn't lacking on the functionality front either — you get multiple CSS3 and Ajax scrolling animations, a spectrum analyzer to visualize music that plays on your website (perfect for DJs!), a built-in rating system, a social media sharing plugin, and code optimization for SEO and speed. NOISE is a great theme for the price.
MusicPlay is a user-friendly, elegant music theme with great functionality and support.
MusicPlay's design is very structure and quite pleasing to the eye. As you scroll down the demo and hover your mouse over the thumbnails of featured tracks/albums, you experience a couple nifty animation effects. There's lots of breathing room and white space in the boxed design as well.
7 post types are available for use in MusicPlay: DJ mix, album, artist, photo gallery, video gallery, event, and standard. The theme options panel is up to date and easy to navigate, coming with advanced typography and coloring options. Several text and video configuration tutorials are available to help you to kick things off with this theme.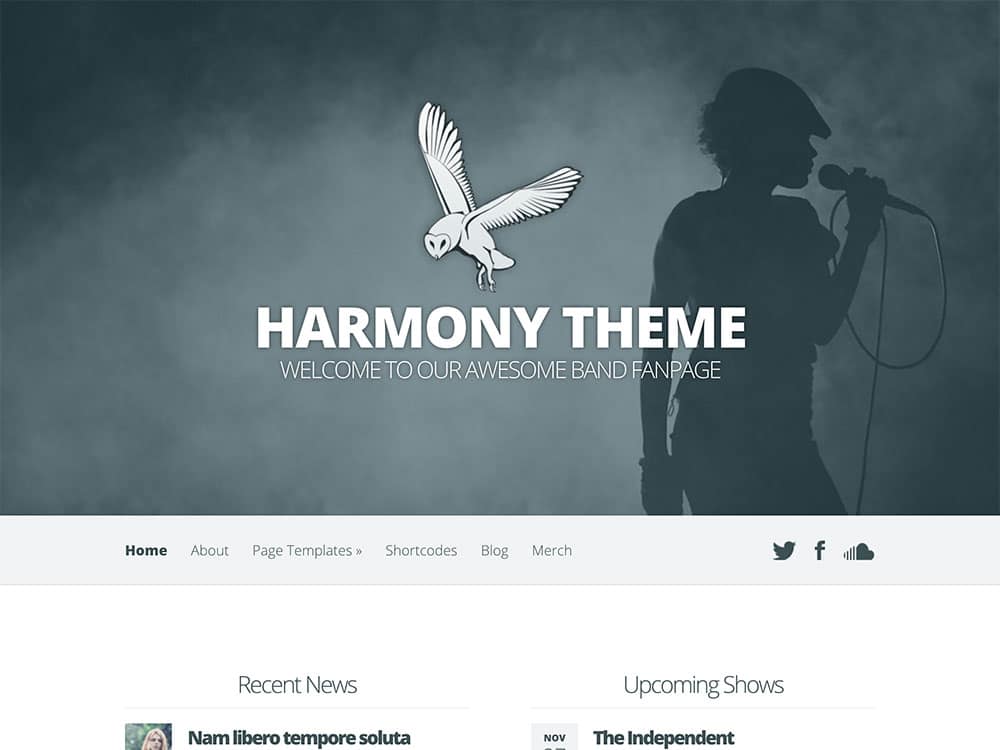 Harmony is a clean, versatile WordPress music theme ideal for any band and musician.
This theme has all of the features that a band would need already included. Harmony has the ability to play songs, handle your upcoming events, upload photo galleries and sell merchandise right on your site.
There is a perpetual updates feature to ensure that your site stays live without any work on your part. Harmony is localized for easy translation and is cross browser compatible to ensure anyone can view your content on any device without distortion.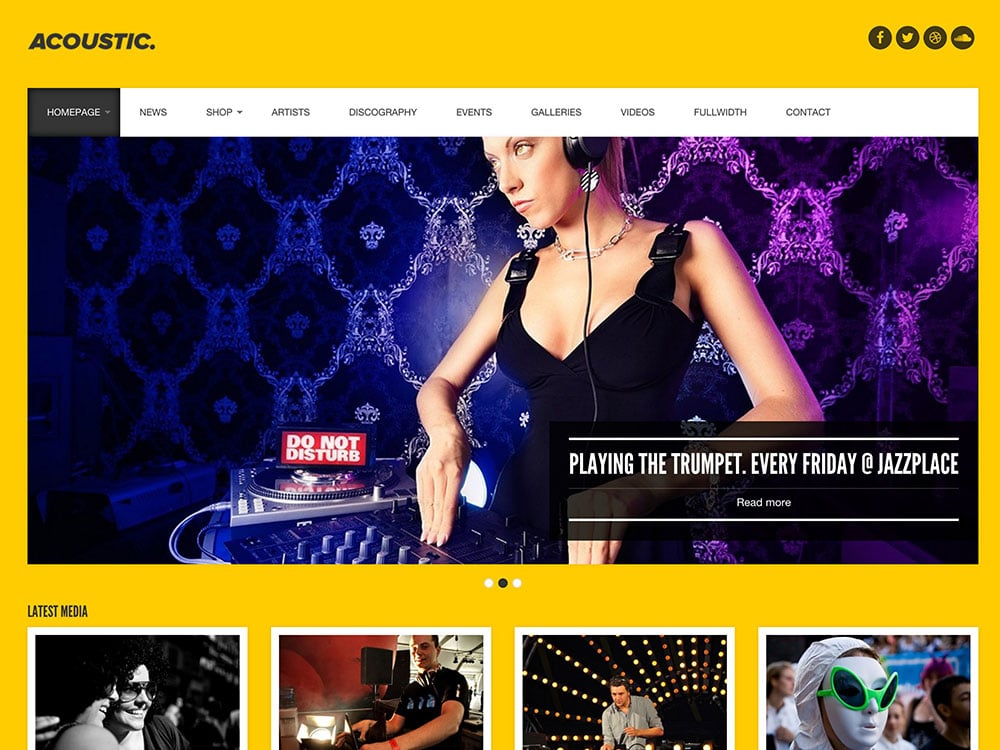 Acoustic is a hip WordPress theme perfect for those in the music industry. It doesn't matter if you are a DJ, solo artist, band, club owner or music producer, this theme is designed to promote your music brand.
There are custom post types for everything. From the slider management (which includes video support) to the discography management that now comes equipped with Taxonomies, this theme has it all covered.
There are specialized widgets available for single artists and bands. The image galleries come with optional photo captions for you to describe your content, too.
LA-BAND is a creative WordPress theme for musicians and artists.
LA-BAND's design appears to be very spirited and and zestful — that effect is at least in part due to the designer's choice of default color. Shades of red, grey, and black govern the design, which includes lots of white space, side navigation, and flat typography.
The theme comes with demo content to help you kick things off. The advanced theme options panel is branded, and the custom shortcode generator has 12 functions up its sleeve. 25 preset color skins are available to choose from, along with the normally $15 Fullwidth Audio Player. 16 custom website templates, 4 custom widgets (Flickr, Footer Contact, Twitter, and Video), and 3 post types (standard, gallery, and image) are also included.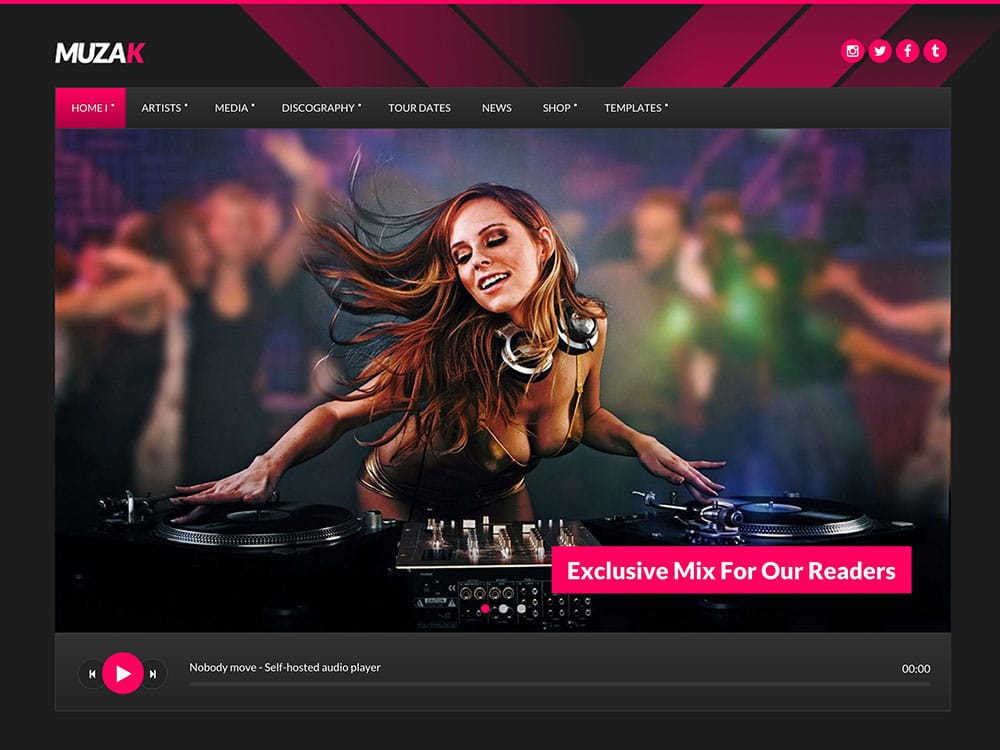 Muzak is a great fit for anyone involved in the music business, especially musicians and DJs.
This theme's clean and sleek design provides easy navigation for your site's visitors. And you can easily keep your audience 'in the know' by adding details for upcoming events with the built-in Events Management feature.
The Discography Management feature is ideal for sharing music with your fans. Videos can also easily be uploaded to your site or pulled in from YouTube or Vimeo with the Video Management feature. This theme also comes equipped with WooCommerce, so you're ready to sell products if you want to.
Replay is a wonderful music theme with a sensational design.
Replay takes on a very modern look. The default slider in the demo is simply outstanding, displaying up to 3 clickable slides at one time. The music player is also well designed, with a call to action button next to the track progress bar.
The theme comes with 6 custom post types (album, gallery, release, artist, slide, and video), 2 sliders (Ribbon & Fade), 7 custom widgets (ad, newsletter, social media, selected posts, selected galleries, selected videos, and upcoming events), and 9 page templates (blog, artist, release, event, gallery, video, left/right sidebar, and full width).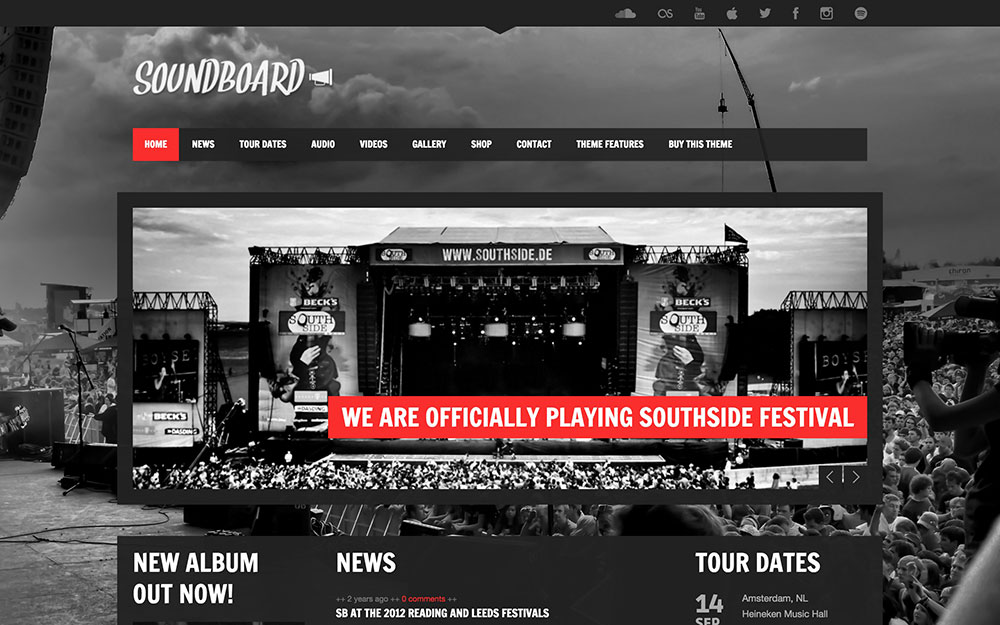 Soundboard is a fashionable music theme with great features.
The design for the boxed in content area hits just the right width. The 3-column structure also works quite well, giving you the ability to display many different types of content (blog posts, events, songs, etc.) right on the home page, helping you to keep your visitors browsing your site. The red and black coloration, although somewhat typical, is pulled off quite nicely.
Soundboard comes with a comprehensive interlinked system to manage your albums, events, and tour dates. The theme supports Vimeo & YouTube videos, and is also stylized for the WooCommerce plugin. Two skins — light and dark — are included for you to kick off design customizations.