Are you looking for a calculator plugin or cost estimation form for your WordPress website?

There are many types of WordPress Calculator plugins to calculate prices, measurements, dates, form fields, and more.

In this article, we have chosen some of the best calculator plugins for your WordPress site.
Why use a calculator plugin in WordPress?
If you're selling services online, calculators are a great tool to attract people to your site. Used correctly, calculators can help you collect leads and email addresses.
Why do you need traffic, leads, and email addresses? The opportunity to convert more paying customers!
There are many types of calculators you can install on your WordPress site (more on that below). Unless you are a good programmer, you'll need a plugin to help create one.
Don't worry though. Chances are you'll find a great WordPress calculator from this list. Many of them are free or free to try. And some of them are able to handle much more than you expect.
With that in mind, let's dive in!
Zigaform WordPress Price Calculator & Cost Estimation Form Builder is a flexible plugin that will allow you to create both simple and complex calculations including simple quotes, loan payment calculators, price estimation quotes, price estimation forms for your customers. You can use any maths formula to calculate the price of the product or service based on user's input option chosen. 
Zigaform offers a simple and easy to use platform for creating beautiful and powerful estimation forms. it allows you to create an estimation forms simply by dragging and dropping the elements. it is fully responsive that works well with all types screen including desktops, laptops, tablets, and mobile devices.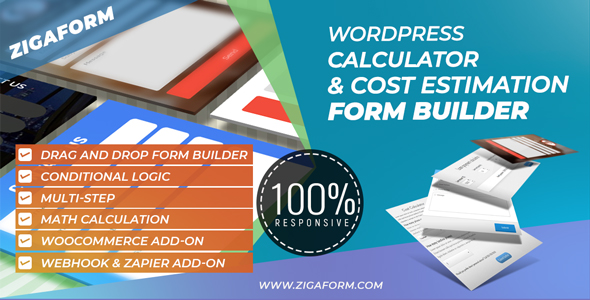 Features
Visual & drag and drop form builder
Custom calculations
Email notifications
PayPal integration
42+ types of fields included
Conditional logic for fields
Responsive design
Use any currency symbol
Multi – step form builder
Re – Captcha support
Accept operations with dates
Price
This plugin is available for free on WordPress.org and premium version will cost you $39 from codecanyon.net
You can easily create an online calculators for both yourself and your customers.
Easily add basic form elements like checkboxes, dropdown menus, radio buttons etc. with only a few clicks



MAIN FEATURES
Any number of calculated fields can be added
Easy and visual calculator interface
Use checkboxes, dropdown menus, radio buttons and input elements for calculator
"Dublicate" button to duplicate a form
Create up to 3 calculators for your needs
Copy and paste the shortcode of the window anywhere
Grid style
Configuring calculator styles
Create custom formulas for calculating
Stylize the result of the calculation
Multiple calculation results for a calculator
uCalc is a service that helps you create and maintain calculators to estimate services and delivery costs as well as build booking, review, feedback, and event registration forms. No special knowledge and operational fees are required. You can create a calculator by just dragging the blocks and putting together simple formulas like A+B=C. You are provided with the embed code that needs to be added to a website powered by any platform. The built-in calculator is edited through the service.



The builder has the following benefits:
Ready-to-use templates and a collection of elements: a slider, button, drop-down list, checkmarks, contacts collection, date picker, etc.
Completed orders notifications are sent to the owner or manager of the website via email or SMS
Results with the opportunity to apply a promo code are sent to clients via email or SMS
Design customization: background and text colors, fonts and color customization of the elements
Display of several results, for example, with and without a discount
Recognition of any currency and measure (weight, size, volume, product unit)
Option to illustrate every element
Widgets on the website automatically adapt for smartphones and tablets
The Responsive Mortgage Calculator is a jQuery widget and shortcode that's designed to fit easily into any theme, on any device, at any size. Just what every "Real Estate Agent on the go" needs.



FEATURES
The calculator allows your website visitors to estimate their mortgage payments by entering:
the total cost of the home,
a down payment amount,
an interest rate (fixed rate),
the amortization period,
and they can select a payment period, either monthly, bi-weekly, or weekly,
beautiful popup summary with chart and amortization schedule.
WP Cost Calculator – if you're searching for a smart, simple tool that allows you to easily create price estimation forms to give your clients the opportunity to get information about your services and products costs you are in the right place.
WP Cost Calculator helps you to build any type of estimation forms on a few easy steps. The plugin offers its own calculation builder. Moreover, you can create an unlimited number of calculation forms and insert them on any page or post.





8 Different Calculator Elements:
○ Input Box
○ Dropdown Box
○ Switch Box
○ Checkbox
○ Range Slider
○ Quantity Box
○ Textbox
○ Horizontal Line
6. Product Options and Price Calculation Formulas for WooCommerce – Uni CPO
Uni CPO – WooCommerce Options and Price Calculation Formulas is a fully featured plugin that creates an opportunity to add custom options for a WooCommerce products as well as enables custom price calculation based on any maths formula.



MAIN FEATURES
Visual form builder – design the look of your form in easy and smooth way!
Custom product option types – 10+ different types!
A possibility to use non option variables (NOV) – synthetic variables which can hold both a specific value or a
maths formula as its value
A possibility to use wholesale-like functionality for your NOVs – different values for different user roles!
A possibility to use virtually any maths formula for the price calculation of your product
A possibility to add formulas conditional logic – apply different formulas under different circumstances!
A possibility to create fields conditional logic – display/hide certain custom options based on the values of
other custom options and/or NOVs
A possibility to use custom price tables (via Non Option Variables functionality), set product price based on one or two custom options!
Integrate with ShipperHQ or Boxtal and let them use the calculated weight of the ordered item and request the real shipping rates!
…and many many more!
At last, we hope this article helped you discover the right calculator for your WordPress website.  Add them to help deliver more useful information to your audience, boost engagement, and generate new leads for your site.