Now, depending on what software you use, you can integrate with email and marketing automation software, automatically enrich lead data with more contact properties, automatically sync touch points to your CRM, and even personalize form fields and placement based on website behavior. 
There are tons of options out there, though. To demystify the selection process and help you select a tool, here are 15 WordPress form plugins.
The Best Free WordPress Form Plugins
1. Zigaform – WordPress Form Builder

Zigaform is a flexible and Ultimate WordPress form builder plugin which allows you to build responsive forms on few minutes using a simple yet powerful drag-and-drop form creator. Also it provides amazing form elements and skin live customizer that makes you to build professional forms. Also it provides an administration section where site admins manage tons of form options. It's really easy to customize and you don't need programming skills.
Zigaform is a 100% mobile responsive contact form solution, so your contact forms will always look great on all devices (mobile, tablet, laptop, and desktop).
Build complex forms with conditional logic. You can automatically hide or show fields or entire pages in your form based on selections your users make. Check demo samples
Key Features:
Drag and Drop Interface
100% responsive form
Smart conditional logic.
Highly customizable
Easily customizable form editing
2. FormCraft
FormCraft is WordPress form plugin that focuses on ease of use and design. Basically, they make sure all the forms made with FormCraft are as stylish and beautiful, and you can make them that way with ease.
It's responsive, somewhat customizable, and includes email notifications so you don't need to log in to monitor your lead generation process. The premium version has a lot more features, such as conditional logic, auto-save form progress, form analytics, and more. The free version is somewhat limited, but again, it's easy to use and makes nice looking forms.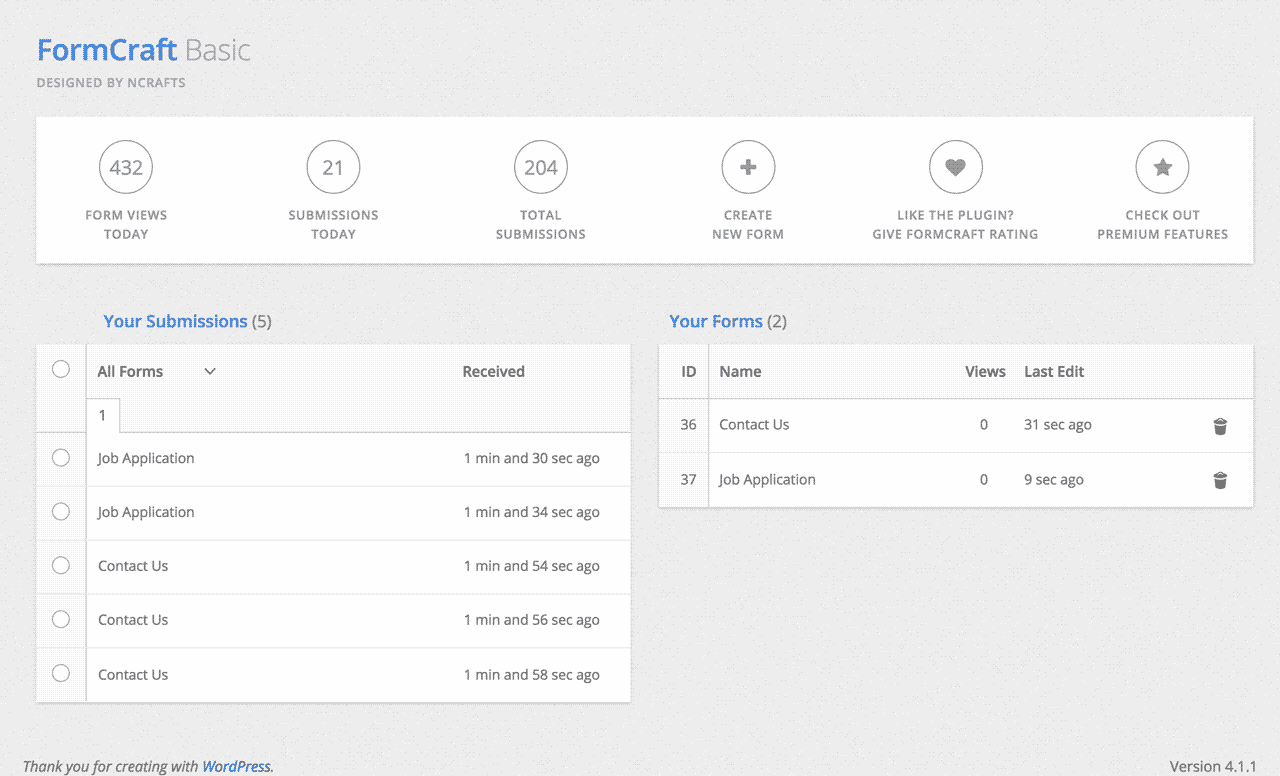 3. Qu Form
Qu Form is another WordPress form builder that bills itself as "advanced." It's primarily a drag and drop editor that can build out a variety of form types, from contact us forms to billing forms.
This one comes with most features you'd want, including multi-page forms and smart branching logic, and it's also pretty customizable on the style and design side of things (also pretty easy to do so).
Plans start at $29.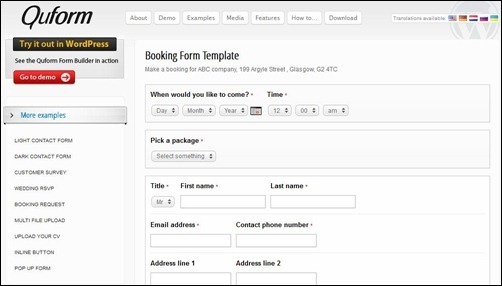 4. Ninja Forms
Ninja Forms is one of the more powerful WordPress form builders. It's free. It's easy to use. It's got no limitations on form fields, forms, or submissions.
It also has several native integrations with popular email service providers as well as payment processors, so you can easily sync of your systems and automate much of the administrative process usually inherent with forms tools.
It also contains a pretty easy to use drag-and-drop editor.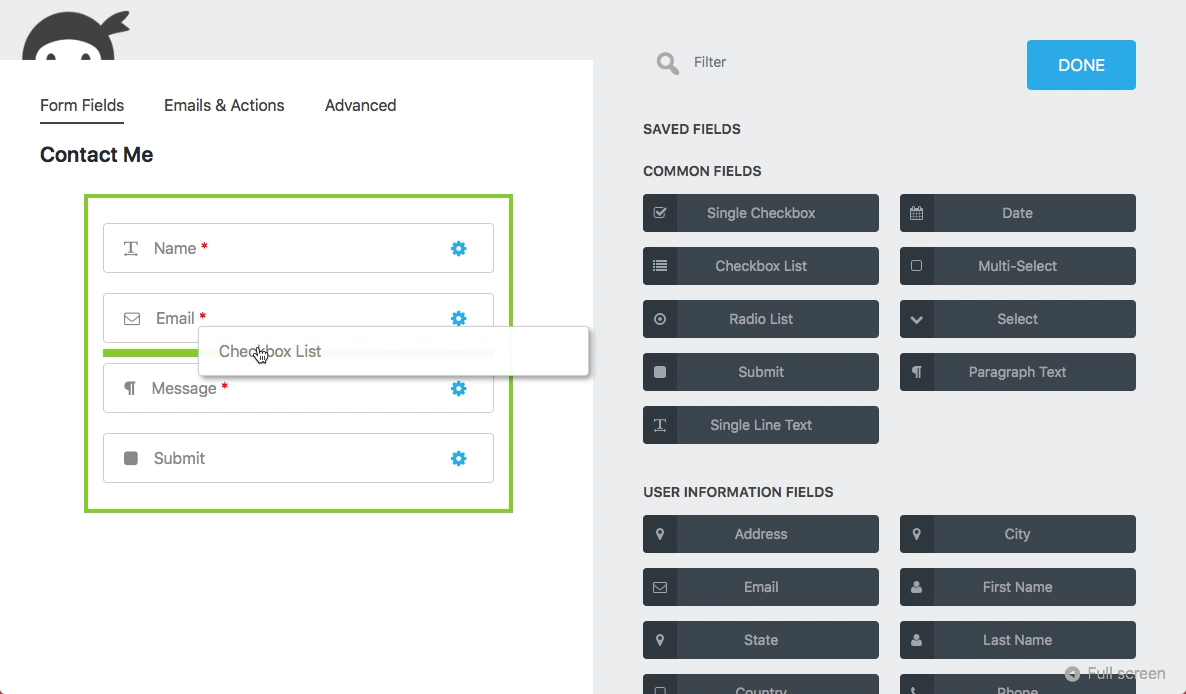 5. Jetpack's Contact Form
Jetpack is a popular WordPress plugin that comes with many templates. It's actually made by Automattic, and it includes more than just a form builder. Some of its features include:
Site stats and analytics
Automated social media posting and scheduling in advance
Elasticsearch-powered related content and site search
SEO tools for Google, Bing, Twitter, Facebook, and WordPress.com
Advertising program that includes the best of AdSense, Facebook Ads, AOL, Amazon, Google AdX, and Yahoo
Simple PayPal payment buttons
Its WordPress contact form feature is relatively limited in scope, but if you're already using Jetpack and just want something simple, this is a good place to start.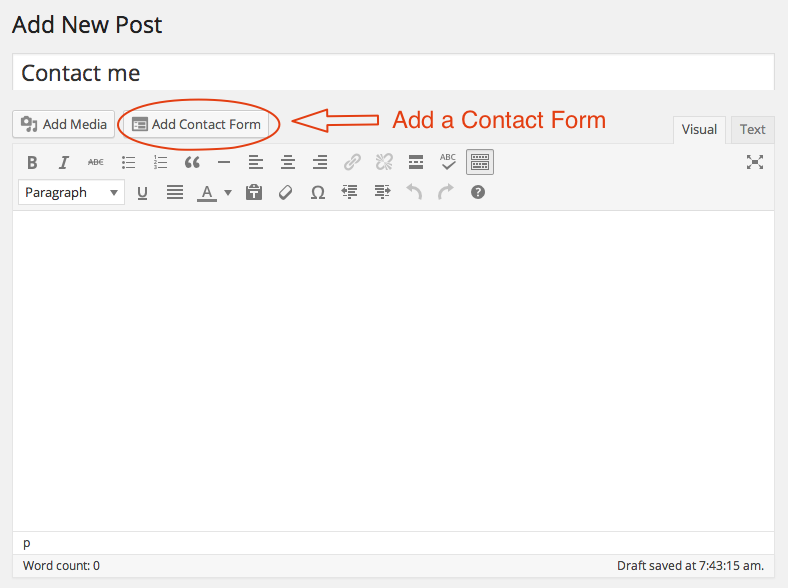 6. Form Maker
Form Maker by WebDorado is an easy to use and intuitive form builder. It has a drag and drop editor, and they have several functionalities for their forms, including questionnaires, contact forms, surveys, and quizzes.
The free version, however, is limited to seven fields. Their integrations are somewhat limited as well.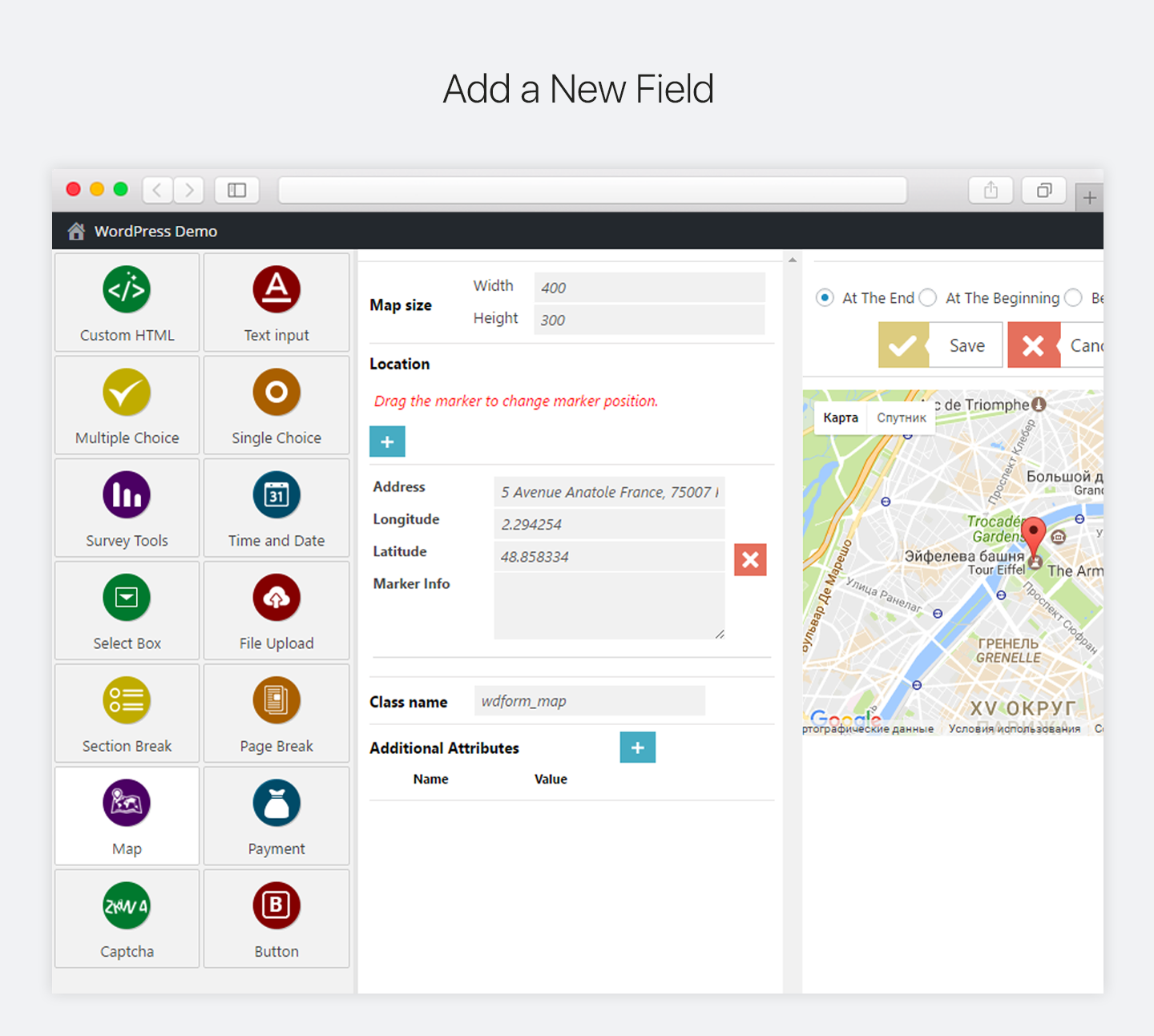 7. Contact Form 7
Contact Form 7 is one of the most popular WordPress form plugins. Its main focus (no surprise here) is on contact forms.
The big benefit is that it is super simple to create contact forms and deploy different forms across your site. The downside is that its use cases are limited compared to other WordPress form plugins.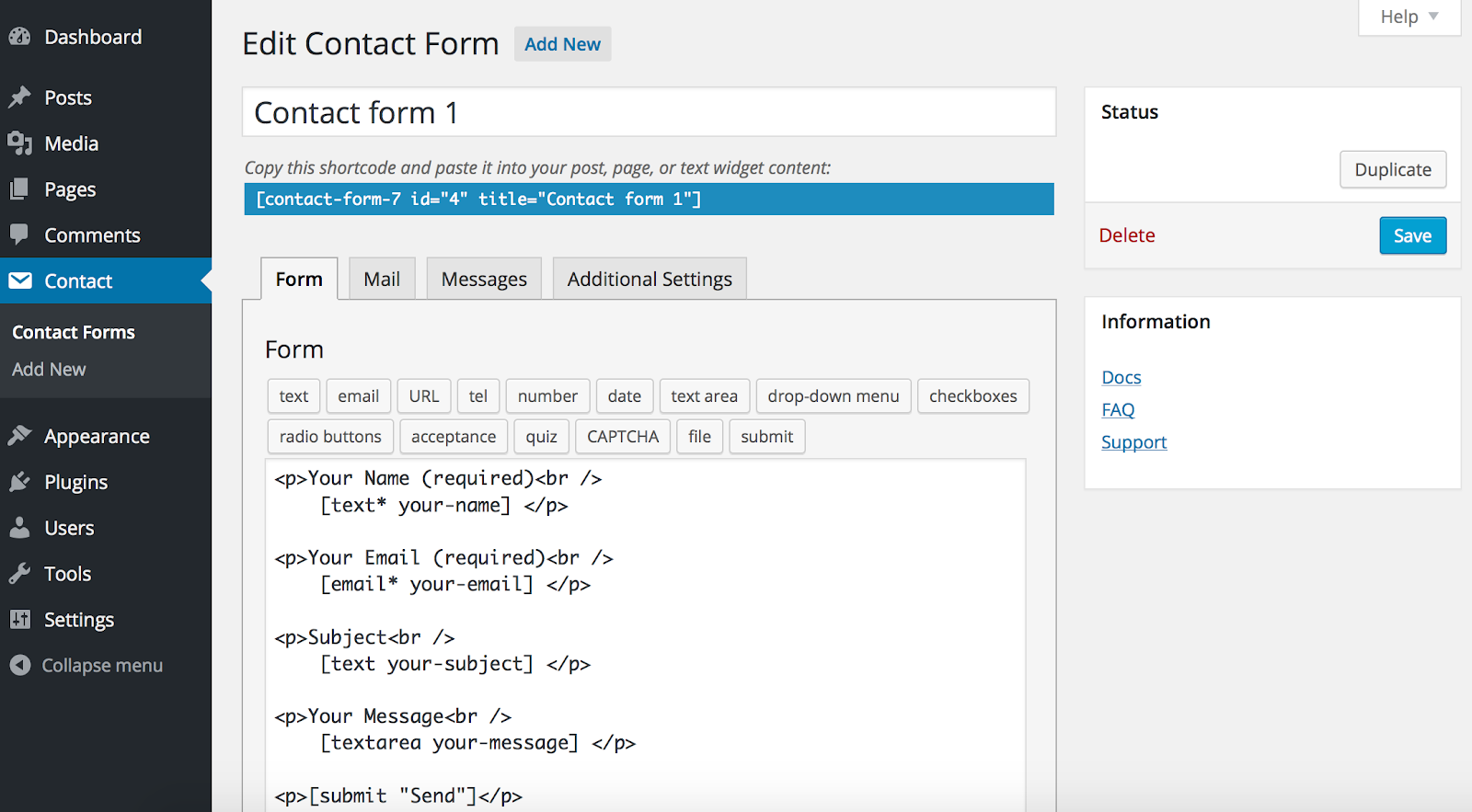 8. WP Forms
WP Forms is another widely used form builder that offers advanced branching logic, customizability, and a drag and drop editor.
They emphasize their ability to work across many use cases, and offer templates and ready to use workflows for payments, contact forms, registration, subscription, and more.
As far as I know, they don't offer any free plans, but they're basic plan is $49 per year.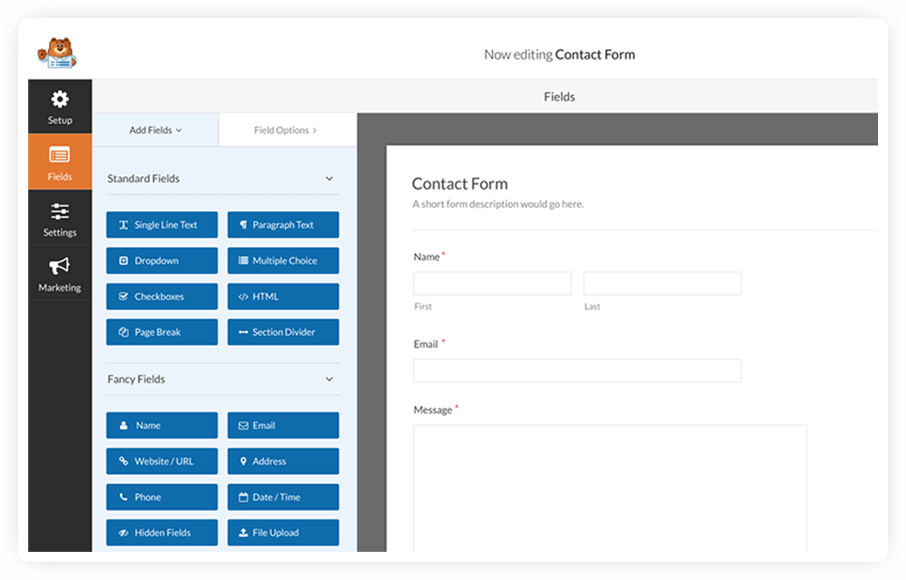 9. eForm
eForm, but WPQuark, is probably one of the more feature rich solutions for WordPress forms.
They have advanced implementations for most common uses cases, notably their eCommerce setup which includes full checkout and payment flows and native integrations with Stripe, PayPal, and WooCommerce.
There's no free plan, but it starts at $38. This is a form builder if you have highly specific feature requirements and a desire to tweak things so they're precisely the way you want them. It's not necessarily the easiest tool to use.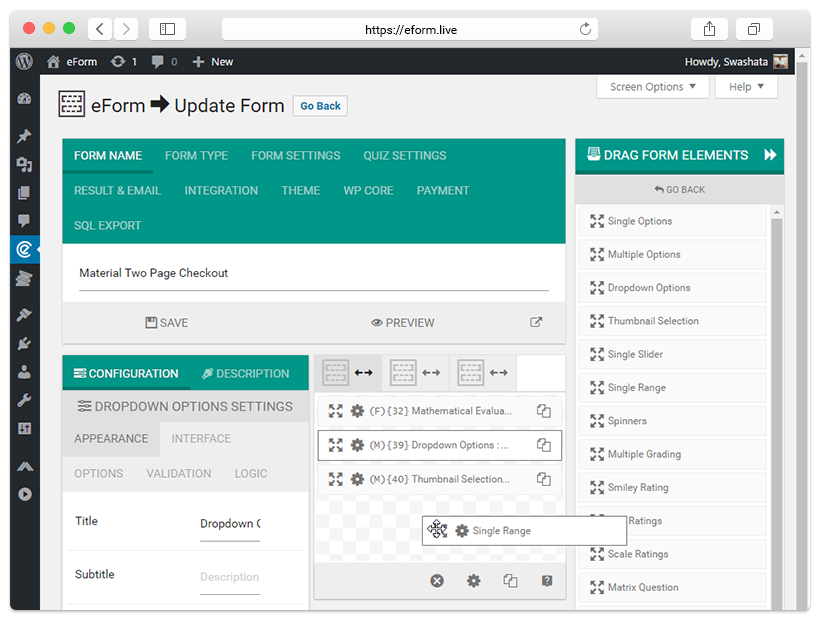 10. Gravity Forms
Gravity Forms is quite a powerful option for a WordPress contact form builder.
With Gravity Forms, you can build out multi-page/multi-step forms, create rules to limit which domains are acceptable on your forms (excluding gmail and competition for instance), and schedule forms to be implemented during a set time period.
In addition, they offer a deep integration library with email software, automation software like Zapier, and payment processors like Stripe and PayPal so you can accept payment with your forms.
In my experience, Gravity Forms is a bit complicated from the end-user perspective. Setting up custom integrations and even some basic design options can be somewhat difficult to set up, but if you want something highly customizable and advanced, this may be worth the effort.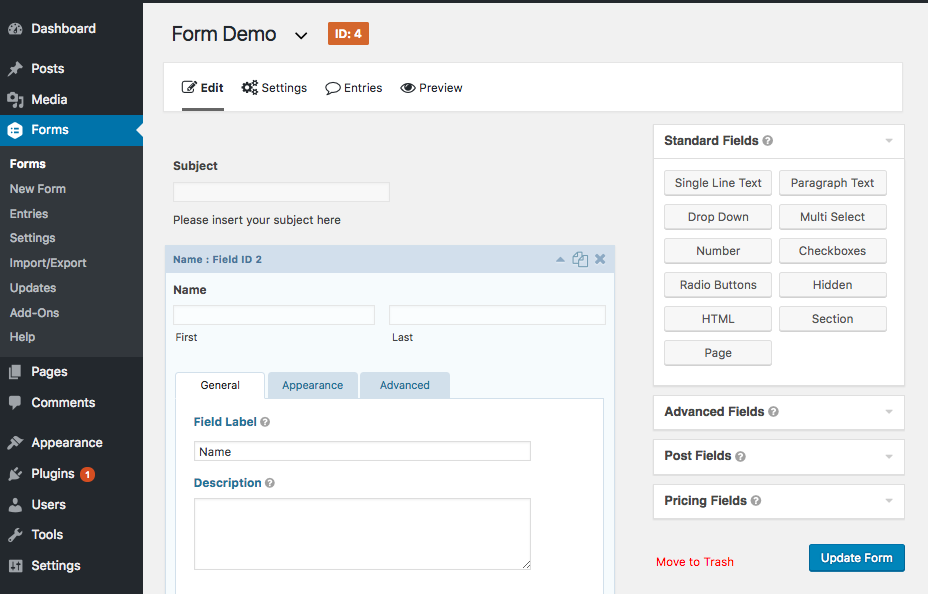 11. Visual Form Builder
Visual Form Builder is a WordPress plugin that allows you to build and manage many different kinds of forms for your website in a single application. It's easy to use for non-developers, and you can build a pretty nice looking form without writing any PHP, CSS, or HTML (though it doesn't hurt if you can hack together some CSS).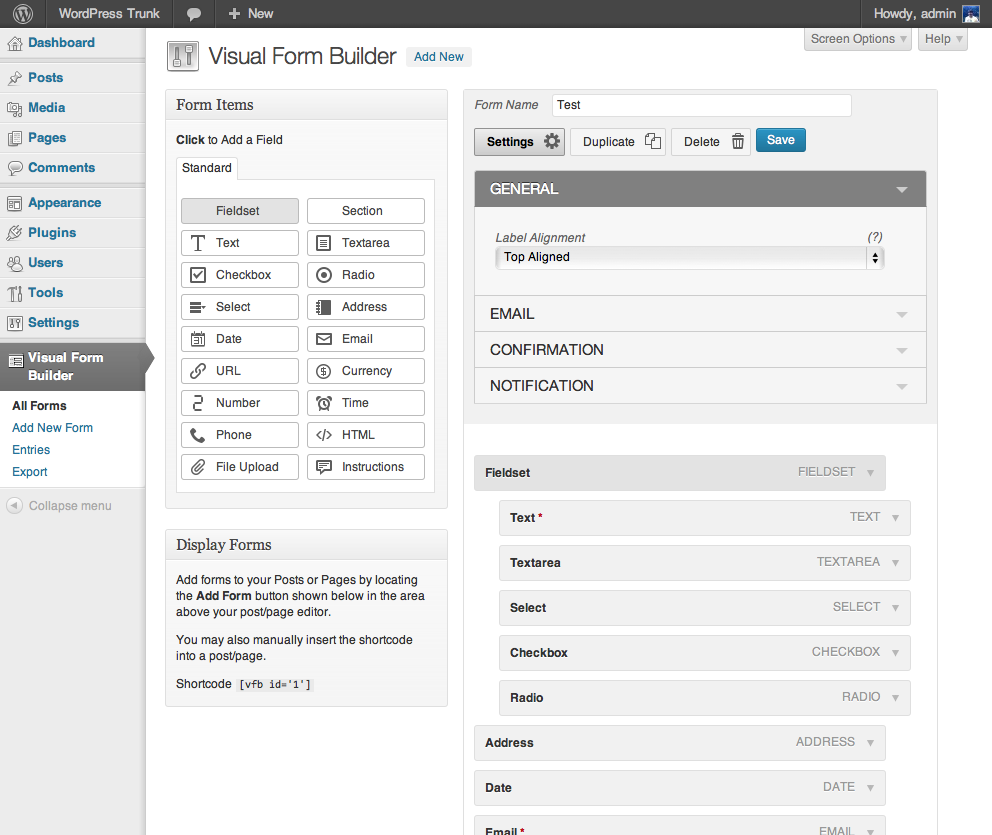 12. Caldera Form Builder
Caldera Form Builder is designed to be responsive and to have an intuitive, visual creator.
It's got tons of native integrations as well as conditional logic and smart spam detection. There's no free plan, though. Prices start at $14.99 per month.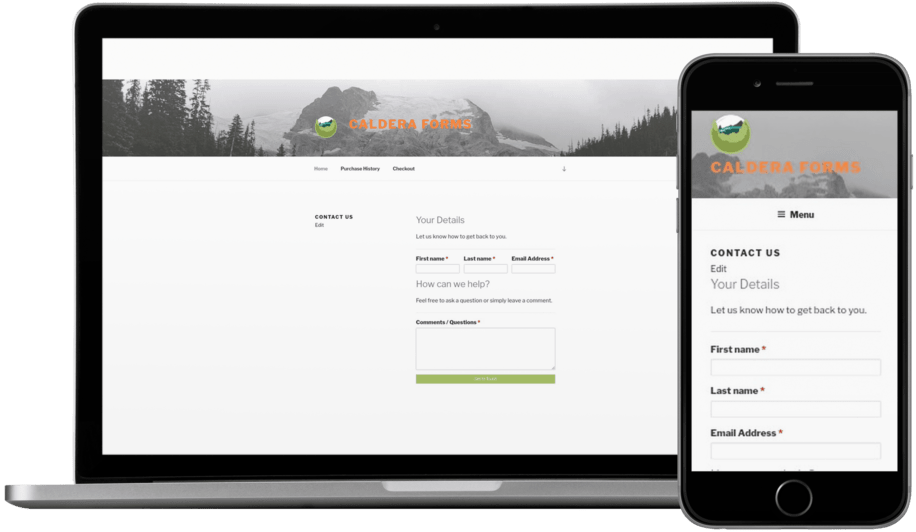 13. Formidable Forms
Formidable Forms prides itself on simplicity; it's got a nice drag and drop visual editor, easy and automatic email notifications for form submissions, and all your basic pre-built form templates.
This is one of the easier tools to use and set up, but it's a bit limited in its feature set (though to their credit, they have tons of add-ons you can download depending on what you want to do with your online form).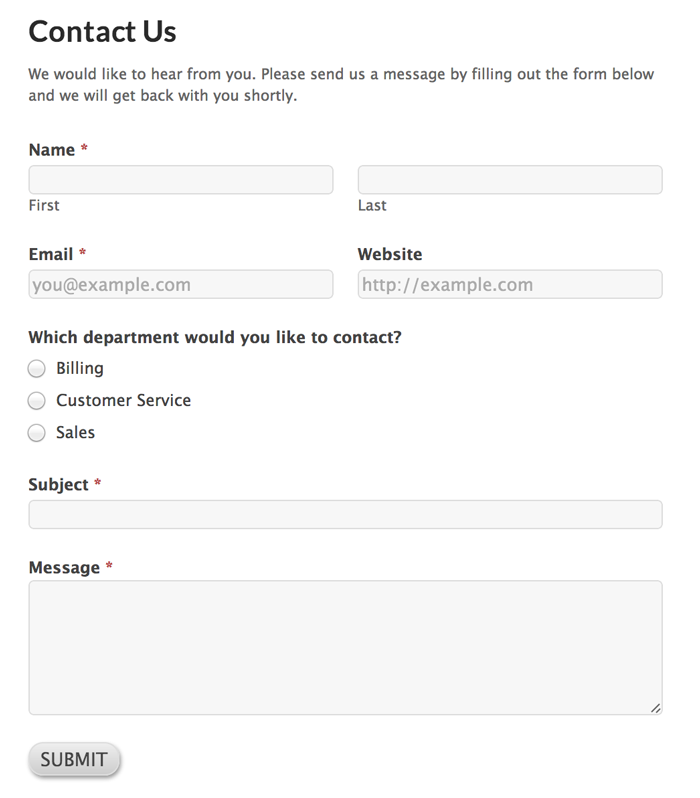 14. Pirate Forms
Pirate Forms is easy to set up, includes Recaptcha and SMTP, and has all the basic field properties you'd expect in a WordPress contact form.
The free version is super limited, though. To get multiple forms, or even basic integrations, you have to upgrade to pro.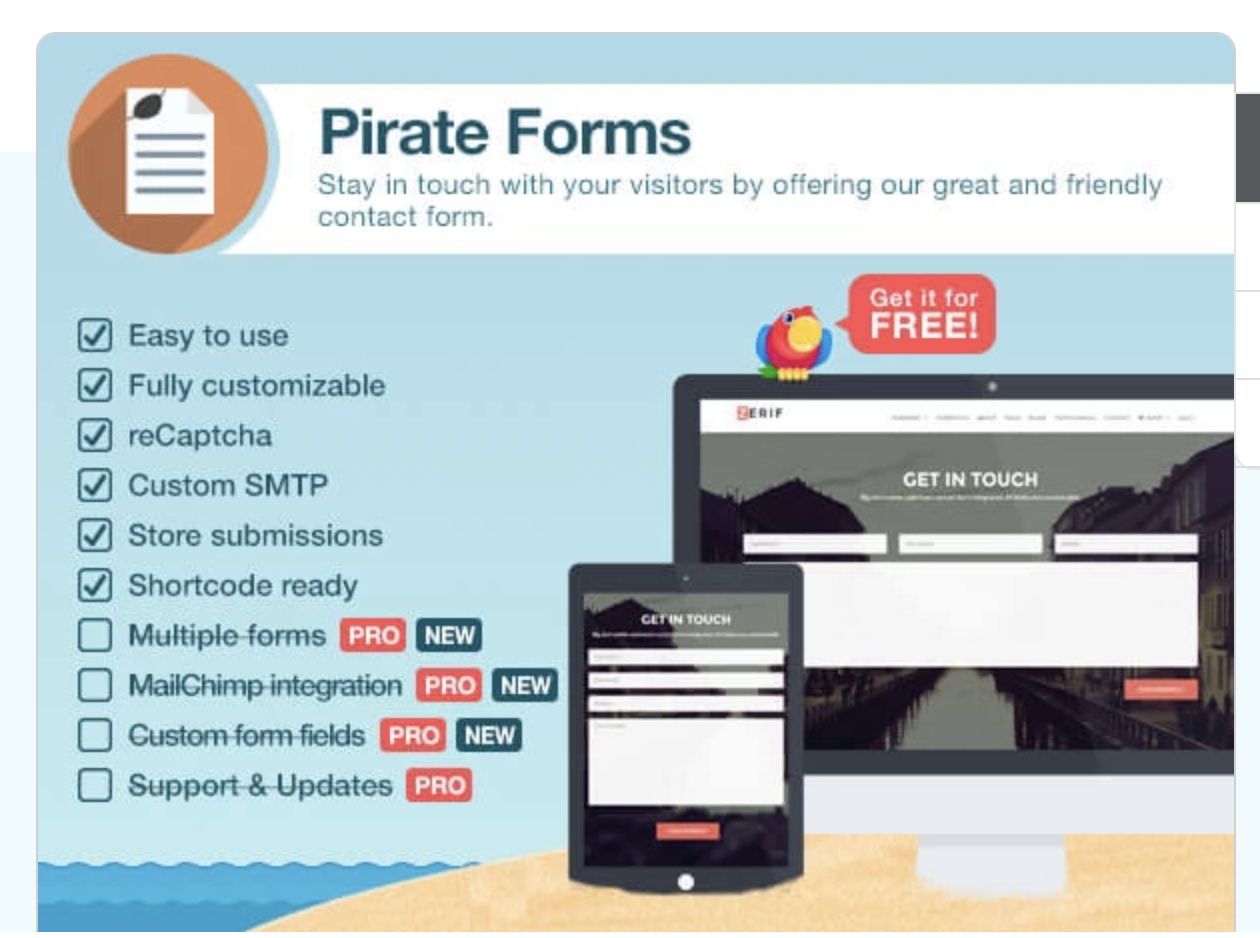 The options are endless for WordPress form plugins.
The choice is ultimately up to you which one fits your personal workflow and your specific website needs. Most form builders include the basics – popular contact properties like email and name, multiple forms across your site, and some native integrations.
It just depends how simple versus customizable you want things, or if you care about things like automatically enriching your leads or analyzing their website behavior.