To get in touch between you and your clients without giving personal email address form plugin is most important. Trusted WordPress Form Plugins allow you to get support help to your clients or visitors in a perfect way. In this post, we would like to share a unique list of most useful and popular 16 trusted and best WordPress form plugins for your WordPress website. Trusted WordPress Form Plugin are very important for any types of trendy companies or business to create secure contact forms.
The great showcase of secure form builder plugins for WordPress. All of these WordPress form plugins are highly qualified, easy to customize and also have well designs.
Best WordPress Form Plugins
Here's the ultimate list of best WordPress form plugins for you. You can protect the users privacy and make sure secure contact.
1. Zigaform – WordPress Form Builder

Zigaform is a flexible and Ultimate WordPress form builder plugin which allows you to build responsive forms on few minutes using a simple yet powerful drag-and-drop form creator. Also it provides amazing form elements and skin live customizer that makes you to build professional forms. Also it provides an administration section where site admins manage tons of form options. It's really easy to customize and you don't need programming skills.
Zigaform is a 100% mobile responsive contact form solution, so your contact forms will always look great on all devices (mobile, tablet, laptop, and desktop).
Build complex forms with conditional logic. You can automatically hide or show fields or entire pages in your form based on selections your users make. Check demo samples
Key Features:
Drag and Drop Interface
100% responsive form
Smart conditional logic.
Highly customizable
Easily customizable form editing
2. eForm – WordPress Form Builder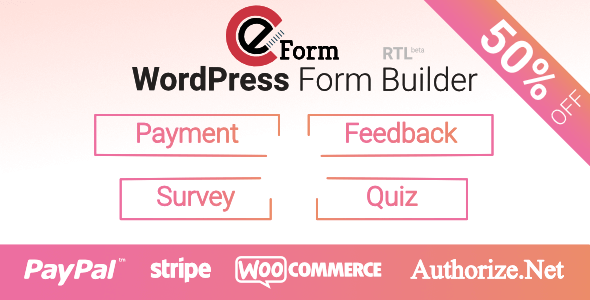 FSQM Pro a premium WordPress Form Builder, is a plugin which can help you collect Feedbacks, Surveys or host Quizes in your WordPress Blog. Using it, you can create unlimited forms with custom themes and collect user submissions. All user submissions are stored inside the database which you can analyze, edit and/or print. The user can also track/see their submission (obviously if you wish to) through a page. Registered users will have an option to track all their submission through a central page.
3. Exporter for eForm – Reports & Submissions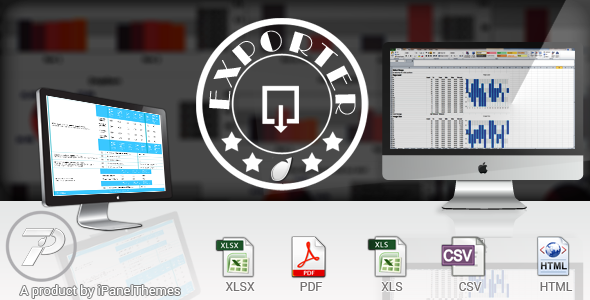 Exporter for FSQM Pro is a premium addon to the popular WP Feedback, Survey & Quiz Manager – Pro plugin. It adds the ability to exports reports to XLSX, PDF, XLS and/or HTML files. Also, it enables you to download the submissions under any form to a RAW CSV file for manual analysis.
4. TotalPoll Pro – Responsive WordPress Poll Plugin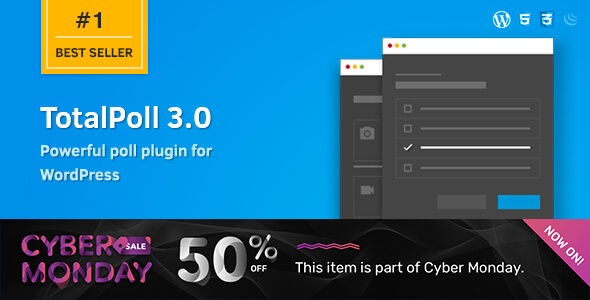 TotalPoll is a wordpress plugin that let you create polls and integrate them into your posts and pages or even having them as a widget in any widget area, You can quickly and easily create your own poll by following some simple steps.
5. Quform – WordPress Form Builder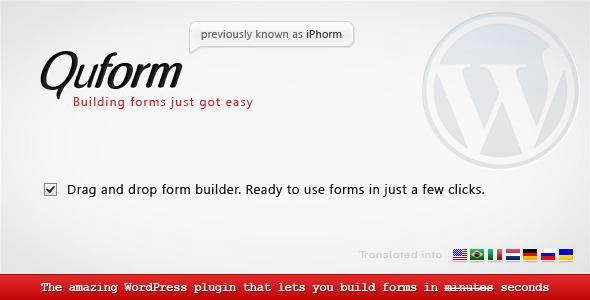 Quform is an advanced WordPress plugin that allows you to quickly and easily build multiple forms with total control. If it's a complex quote or booking form or just a simple contact form, Quform will allow you to do this without touching any code. In a few clicks you will have a fully functional form.
6. WP Cost Estimation & Payment Forms Builder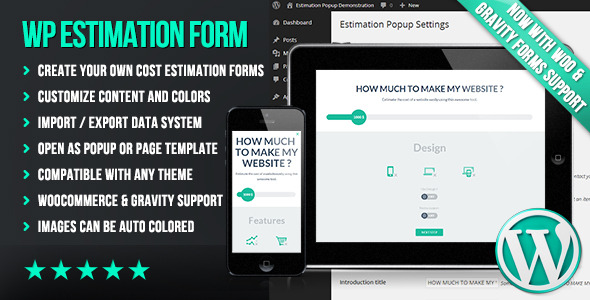 Create easily your own flat and responsive cost estimation popup form on your wordpress website .
This can be used to sell any type of service or products: applications, websites, graphics, pets, lunar fragments …. or anything else.
7. Paypal for Arforms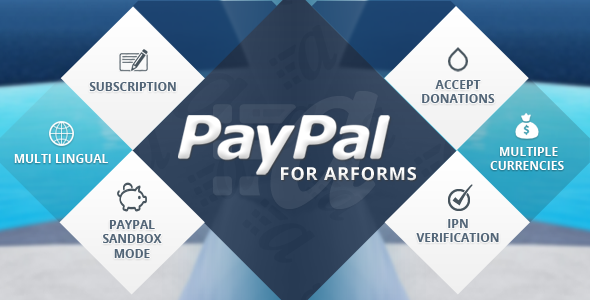 Start accepting paypal payments on your wordpress site in 5 minutes! This is very simple solution for users who want to simply start to sell products online quickly OR taking donation/contribution on your site.
8. Event Booking Pro : Forms Manager Add on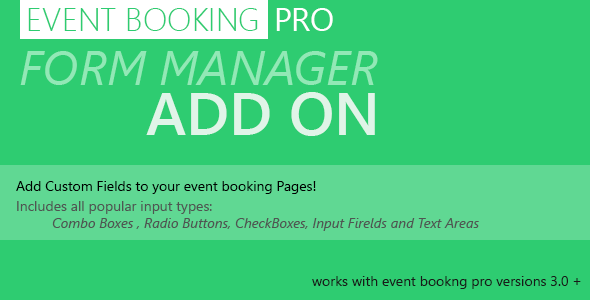 Create custom Forms using an easy to using interface. These Forms can be used for your events! You can customize how they look too!
9. Contact Form 7 Auto Responder Addon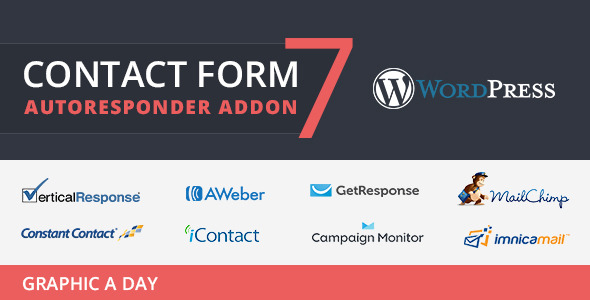 Contact Form 7 Auto Responder Addon is a plugin which completely transforms contact form 7 plugin into a lead generating and list building software. Normally CF7 sends the inquiry(content) to the email, but our plugin not only does this but it also sends the inquiry to autoresponders like aweber, mailchimp, getresponse, imnica mail, icontact, constant contact, vertical response and campaign monitor.
10. Groups Gravity Forms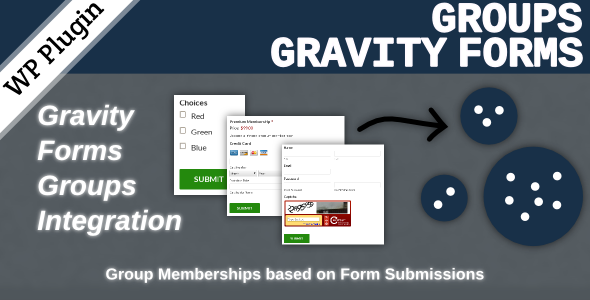 This extension integrates Groups with Gravity Forms. It allows to add users to groups automatically, based on form submissions.
11. Storage for Contact Form 7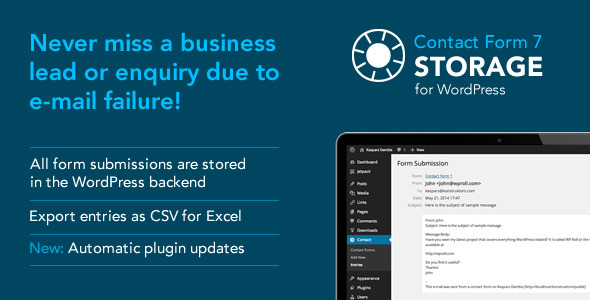 Contact Form 7 Storage plugin stores copies of all Contact Form 7 submissions (including attachments) in your WordPress dashboard. All form entries and leads will be stored safely even if your e-mail goes down or e-mail messages go missing or get deleted.
12. AIO Support Center – WordPress Ticketing System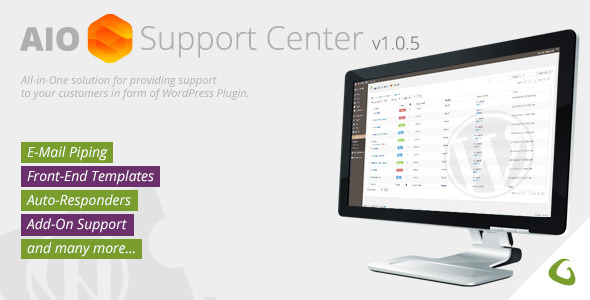 AIO Support Center is powerful, but easy to use ticketing system for your WordPress site.
13. FormCraft – Premium WordPress Form Builder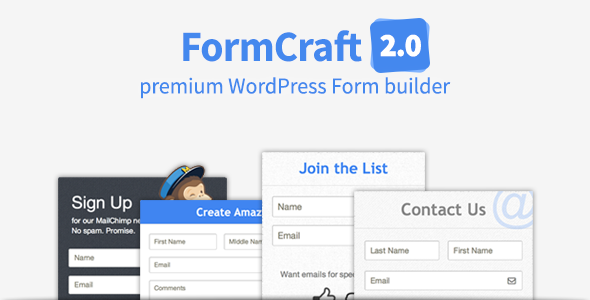 14. Usernoise Pro Modal Feedback & Contact form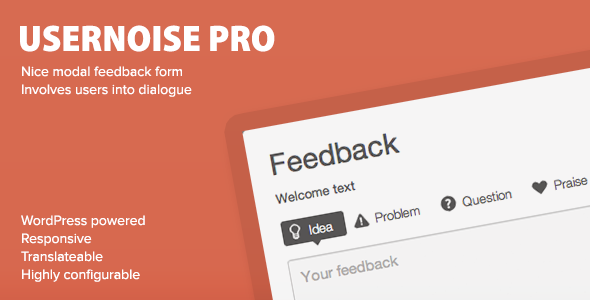 Usernoise Pro is a minimalistic WordPress plugin for gathering and discussing users feedback thus engaging them into communication.
15. ez Form Calculator – WordPress plugin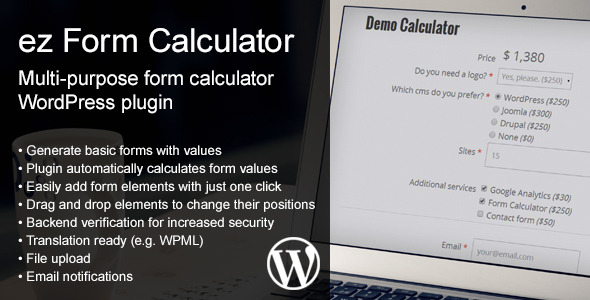 ez Form Calculator is a WordPress premium form-generating plugin. You can simply create a form calculator / cost estimator for both yourself and your customers. Easily add basic form elements like checkboxes, dropdown menus, radio buttons etc. with only a few clicks. Each form element can be assigned a value which will automatically be calculated.
16. Mapped contact form pro WordPress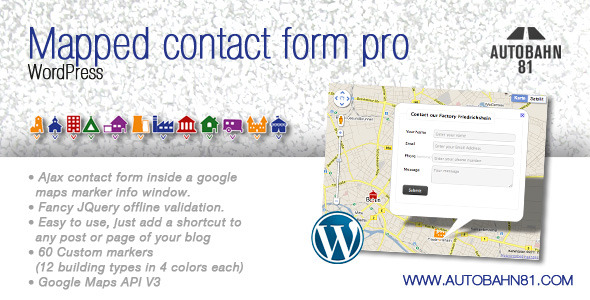 A ajax contact form inside a google maps marker info window. Works for one or multiple locations. A different email address for every location can be configured. If only on location is on the map, the info window with the contact form opens when the map is loaded.