Whether you're a fashion blogger, designer, or store, you'll need a strong online presence. A beautiful website can help you showcase your work and promote your content. However, free fashion WordPress themes that offer quality can be hard to come by.
There are still some excellent options to choose from that will suit any niche. All of these themes are fast and responsive, so your content will look optimal on any device. Some of them also boast useful blogging features to help you promote your work and monetize your website.
In this article, we'll give you an overview of the best free fashion WordPress themes that you can easily customize even with no coding experience. Let's go!
Being a popular fashion blogger, you can't afford a theme that slows you down. Astra is an elegant yet lightweight theme that will help you reach a wider audience.
It takes pride in being lightning-fast, thanks to its high-quality code. You can choose from various starter websites, which you can easily customize to your specifications. The theme is also compatible with popular page building tools such as Elementor and Beaver Builder, so you'll be ready to launch your blog in no time.
Astra is fully responsive, making your website look its best on any device. It's also search engine optimized, with built-in Schema markup to maximize your marketing efforts.
All in all, if you want a versatile fashion theme that looks beautiful and is optimized for speed, Astra comes highly recommended. With over a million users loving it, you can't go wrong with this theme.
If you aspire to be a must-visit website for online fashionistas, you need a theme that will help you create a boutique-like experience. Enter Shopstar!
This stylish theme is the perfect combination of an online store and a fashion blog. It's compatible with WooCommerce, and its clutter-free design will help you display your products in a stylish way.
Shopstar is easy to customize and integrates with popular free plugins such as the SiteOrigin Page Builder to help you get your site up and running fast. You'll also be able to feature your latest work with tools such as the Recent Posts Widget Extended plugin.
Overall, Shopstar is a simple e-commerce and blogging theme, perfect for an online fashion boutique. If you need a no-frills, classy design for your project, give this theme a try.
Stylish, modern, and clutter-free — many fashion magazines aspire for these qualities. If you're looking for a theme that would satisfy these requirements, Elegant Magazine might be worth your consideration.
This theme boasts features necessary for any contemporary news portal. It lets you organize your content and display your posts in a variety of ways. For instance, you can use the carousel feature or highlight posts in the header. You can also use the Customizer options and widgets to tweak the layout as you like.
Besides streamlined content organization, every magazine theme should also support best SEO practices. This theme certainly fulfills this requirement, with its search engine optimized code that will help you maximize your online reach.
Overall, Elegant Magazine is exactly what it says on the tin. It gives you all the tools you need to launch a stylish fashion magazine, organize your content, and reach a wider audience.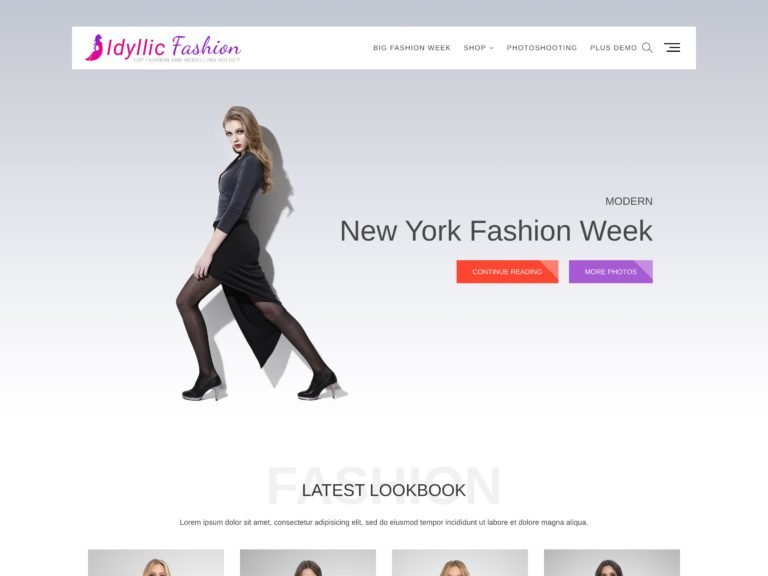 A hard-working professional of any niche will eventually need a website to showcase their services. That's where Idyllic could help — a versatile theme to represent your fashion business.
This theme gives you practically all of the features you need to build a professional website. For instance, it enables you to create multiple sections on the front page and add your logo. You can also customize it to match your color scheme and add stylish galleries to showcase your latest creations.
Idyllic is compatible with many other plugins such as WooCommerce, Jetpack, Contact Form 7, and more. You can also add widgets and sidebar features, so you'll be able to make the most out of your website. Plus, it's translation-ready so that you can reach a global audience.
To summarize, if you need a theme to help you launch your fashion brand, image consultancy, or modeling agency website, Idyllic can undoubtedly help.
Delicate, feminine, and clean — if these are the qualities you expect from a fashion or lifestyle blogging theme, Cressida is an option you should consider.
This theme is easy to set up and comes with various customization tools. You'll be able to highlight your posts, promote specific categories, and choose from multiple footer and header widgets. You can also use sliders, banners, and numerous sidebar options to fully showcase your work.
Cressida is designed with bloggers in mind, so rest assured you'll be able to feature your social media channels. Plus, it's RTL-ready, so you can reach a wider audience even if they speak in a right-to-left language that requires different formatting.
All in all, Cressida is a beautiful theme that would suit a fashionista or lifestyle influencer. Its versatile post highlight features make it a worthy contender for your blog.
An ultra-responsive and retina-ready theme will make your content shine on every device. That's where Olsen Light — a lightweight fashion blogger theme — comes in.
Olsen Light comes with a one-click demo import, so you can get your website up and running fast. You can easily customize every element of your site and add various widgets to enhance its functionality. Plus, the theme is compatible with popular page builders such as Elementor, Divi, and Beaver Builder.
Olsen Light is optimized for speed and SEO, so you'll be able to maximize your potential and reach a wider audience. Besides, the theme works seamlessly with plugins such as WPML, Yoast, and Mailchimp, giving you all the tools you might need to bring your blog to the next level.
Overall, this is a well-coded, versatile theme for any fashion blog. If you want a clean design and superb performance, this might be an excellent choice.
When running your fashion website with multiple authors, it helps to have a functional yet straightforward theme. Ashe is an elegant, multi-author theme for all your needs.
It comes with many customization options, enabling you to tweak all the elements to your liking. You can add your logo and a header image, and draw your readers' attention with a sleek full-screen slider. What's more, you can use your favorite page builder, such as Elementor or Divi, to work more efficiently, without any clunky integration.
With Ashe, you can set up a mobile-friendly web store, thanks to its WooCommerce support and responsive design. It's also translation-ready and coded with the best SEO practices in mind so that you can reach your audience in all languages.
All in all, Ashe is an excellent, multipurpose theme that will suit many fashion bloggers and online shops. It's lightweight and retina-ready, making it a perfect modern theme for a variety of uses.
If you're a minimalist at heart, you'll appreciate plenty of white space to showcase your key content. Cenote certainly fits that description.
This theme will help you keep things neat and organized. It's easy to set up with a demo importer plugin, letting you launch your site in no time. You can also tweak all settings to your liking, choose from different layouts, and customize colors and headers.
Cenote enables you to showcase various forms of content, from blog posts to audio and video. It's also translation-ready and has a threaded comments feature, making it an optimal choice for an interactive yet minimal blog.
Overall, Cenote will appeal to many bloggers due to its simplicity. If you want your fashion content to truly shine, this theme might be the one.
Suppose you're a serious fashion blogger who intends to turn their passion into a business. In this case, you need a theme that can help you take your project to the next level. Blossom Fashion is a powerful, chic theme with plenty of tools to get you started.
Blossom Fashion is a striking theme with a modern and clean look. You can easily customize it with a few clicks and choose from over 600 Google Fonts and various widgets. The design will adapt to any device, helping you reach all audiences. You can also set up a video header to grab your visitors' attention.
If you intend to monetize your blog, this theme will help you do that. The advertisement widget will enable you to place ads on the sidebars and control your ad revenue. The theme is also compatible with WooCommerce and integrated with social media for maximum exposure.
To summarize, if you're a business-savvy fashion blogger, Blossom Fashion might be the theme for you. With its monetization features and useful widgets, you'll be able to engage your audience and generate extra income too.
To run a successful online store, you need a theme that gives your visitors the best shopping experience. Woostify can help you leave a lasting impression and turn window shoppers into returning customers.
It was built with WooCommerce in mind, so the features that can help you boost sales are ready and waiting. It's optimized for top performance and ultra-fast speed, and you also get access to pre-built demos to get you up and running quickly.
Woostify gives you options for various product page styles, listing layouts, and even multi-step checkouts. It also supports popular plugins for product wishlists and swatches. Plus, it's compatible with the popular Elementor page builder plugin.
All in all, Woostify is a perfect theme for any fashion store owner. If you want to boost your conversions and minimize bounce rates, this theme can certainly help.
If you're a blogger on the go, you'll understand the importance of mobile-friendly designs. Blossom Pin is a fully responsive theme that will help your content shine on all devices.
This versatile blogging theme comes with attractive customization features that won't slow down your website. For instance, you can choose from over 600 fonts and 20 custom widgets and create sleek sliders. You can also engage your audience with a video banner, making it a perfect theme for highly visual blogs.
Social media-savvy users will appreciate its extensive integration with all popular networks. You can also include widgets to display your profiles on the sidebar. Plus, you can place ads to monetize your blog.
Overall, if you're a fashion blogger looking for a responsive theme, Blossom Pin might be your perfect choice. Your content will look excellent on any device, with many useful features to engage your audience.
Elegant, classy, and feminine. If these are the features you expect from a fashion theme, you're in for a treat! Blossom Feminine boasts all of these qualities while being robust and functional.
The theme is easy to set up and customize without a single line of code. You can choose from over 600 Google Fonts and easily change your theme color to achieve the look you want. You can also extend your site's functionality with 12 custom widgets such as a Pinterest feed, category slider, and sponsored ads.
This theme is coded with top-notch performance and SEO in mind, so your website will load quickly and remain stable. It's also WooCommerce-compatible, so you can build a fully functional store or sell merchandise too.
As the name suggests, Blossom Feminine is perfect for displaying that aesthetic on your website. However, it also comes with powerful features to help you build a robust fashion blog or online store, so it's well worth checking out.
If cute, feminine themes are not your thing, you might want to give Writee a try. This bold yet straightforward theme will appeal to bloggers who believe that less is more.
Writee makes a statement with clean lines and the effective use of white space. It comes with a responsive design so that your site will look excellent on any device. You can also choose from various templates and post formats, including video and audio, to display your content with style.
Writee is not overloaded with fancy features, so it's not as versatile as some of the other themes listed here. Still, its purpose is clear — it's a personal blog theme designed for an optimal reading and viewing experience.
All in all, Writee manages to make an impression. In particular, minimalists or sustainable fashion bloggers might appreciate its simplicity and clean elegance.
If you're looking for an elegant design that's responsive and fast loading, Vogue might be worth your consideration. This theme will suit an online store, especially one specialized in women's apparel.
Vogue comes with a WooCommerce design included out of the box, so you can start selling your products immediately. It's also easy to customize and gives you a choice of multiple header, footer, and blog layouts. Plus, it's compatible with the Elementor and SiteOrigin Page Builder plugins, so you can finalize your website with your favorite tools.
The theme is coded with best SEO practices in mind. Therefore, you'll be able to maximize your reach thanks to the theme's responsive features and SEO-friendly design.
Overall, Vogue might not be the most striking e-commerce theme. Still, it might appeal to many fashion store owners, so it's worth giving it a try.
Many fashion themes follow the same cookie-cutter look. They tend to be feminine, which might not suit all users. Orchid Store offers a more generic take on a fashion store theme. Therefore, it can adapt to any niche.
This theme is based on WooCommerce, so you can expect all the features to help you build a fully functional online store. It will particularly be well suited for retailers who intend to diversify and include multiple product categories.
Orchid Store is easy to customize and contains dynamic elements to make your products look more appealing. You can also extend your site's functionality with various widgets, which you can drag and drop to their respective areas. Plus, the theme is compatible with the Elementor plugin.
Although Orchid Store is not a typical fashion theme, it is one that stands out. As such, it might appeal to online retailers who want to achieve a more unisex look. 
If you're a fashion designer or stylist, you need a statement website to market your skills. Enter Fashion Designer — a sophisticated theme that will help you stand out from the competition.
This bold theme boasts a duotone color scheme with gold undertones, making it perfect for luxurious brands or experts in the beauty industry. You can also apply your own branding and customize all colors and fonts if you prefer. You can showcase your services, portfolio, and even testimonials, making it an excellent choice for a business website.
Fashion Designer is well-coded and mobile-friendly, so your page will load fast on any device. Plus, you'll be able to boost your SEO efforts and maybe even utilize a compatible translation plugin for maximum online reach.
To summarize, Fashion Designer is an excellent choice if you're looking for a professional theme to launch your business. It's particularly suited to fashion designers, but it will appeal to other service-based professionals, too.