In this article, I'll show you how to select the best contact form plugin for your WordPress website based on the following criteria:
I hate making the wrong technology choice, only to find out 8 months from now, I need to make a big switch — or a costly one.
What kind of site are you installing this contact form plugin on?
What is your skill level with WordPress?
Ease of use
Free vs. Paid
Support
Ecosystem
Once you define your immediate needs in a contact form plugin, how do you pick between the seemingly overwhelming choice of contact form plugins out there? For one, this guide aims to help you narrow it down, but second, you might want to take a look into the future.
That's right, take a look into your magical crystal ball — where will your website be in the future?
For instance, your quaint little knick-knack store probably isn't doing any serious list building right now, but are you at least considering it for the long term? What about making a transaction on your website, through credit card? I don't know about you, but I hate making the wrong technology choice, only to find out 8 months from now, I need to make a big switch — or a costly one.
Taking the time to determine your short-term & long-term goals for a contact form plugin might sound silly, but contact form plugins are what I consider, the "technological glue" for your blog or business.
Why you should trust this review
I've been building WordPress websites for nearly a decade and I've used nearly all of the plugins outlined in this article, and I know some of these developers personally. Including: Josh Pollock, James Laws, Syed Balkhi, and Carl Hancock.
All of them, with the exception of Gravity Forms, can be found in the WordPress repository. You can review each of their user-submitted reviews, support issues, and update history. It's a great place to get a sense of How to find the right WordPress plugin. While Gravity Forms is sold commercially on their own website, it is still one of the most recommended and well-known contact form plugins in the market, and is released under the GPL 3.0 license, as stated here. (http://www.gravityforms.com/terms-and-conditions/)
I have also witnessed a majority of the commercially available plugin authors sponsor WordCamps, of which includes: Gravity Forms, Zigaform,  Ninja Forms, Formidable, Jetpack, and WPForms (through Awesome Motive their parent company.)
It's important to select a plugin where the authors are active and give back to the community. All plugins on this list, from my experience, have done really well at that.
Some links in this article will contain affiliate links. If I didn't trust the software, or the parent companies behind them, I would not include them. Making a small commission off of recommending good software to you, helps me keep the lights on around here.
Website owners demand more from a contact form
Contact forms can do a lot, or a little for your WordPress website. Forms go beyond getting a note from your visitor, or contact information from a hopeful customer. Here's how a modern-day contact form plugin stacks up:
What you think a contact form does
Sends you a  visitor's name, e-mail, number, and a comment or question.
Modern contact form plugins go beyond that:
Accept a donation
Connect to your e-mail marketing platform (like Mailchimp)
Send leads to your constant contact account
Register users to your website
Accept online resume and applications
File uploads
Post WordPress content from the front-end
Configure online quizzes
And a lot more
Years ago, contact forms were fairly basic, allowing most website owners to capture basic form fields for the purpose of e-mailing (or calling) someone back. However, as the web became more complex, websites became more than just a blog or basic brochure site, and now contact forms are a lot more powerful. A majority of forms now act as the bridge to accepting data input from a user, and triggering a new action or pass that data on to a 3rd party API integration. No longer does it have to be your Gmail inbox, but now it can be funneled right into your customer relationship manager account.
What you should know before evaluating contact form plugins
Earlier, I noted, that contact form plugins go beyond the simple act of "contacting" many beginners in WordPress might expect. Out of the seven plugins I looked at, only Jetpack contact forms walks away with the easiest to use badge, for two reasons: there aren't lot of features and the form builder is simple.
Contact form plugins have become increasingly complex over the years because website owners expect more from their website. Payments, and syncing data to the cloud are just the tips of the form plugin add-on iceberg.
If you wanted to pick a form plugin based on add-on count alone, Gravity Forms would win. They have 36 supported add-ons, which is more than any other form plugin provider.
Formidable has the highest count when you factor in their 3rd party plugins, but I don't consider 3rd party plugin providers in this round-up. I'm only considering, and recommending, supported add-ons directly from the company you're licensing support from. Ninja Forms also has a high add-on count, but at the time of this writing, only 17 add-ons of their 40+ collection are compatible with the current version 3 of their software.
Add-ons by the numbers:
Gravity Forms: 36
Formidable Forms Pro: 21 Pro add-ons
Caldera Forms: 20 add-ons
Ninja Forms: 17 add-ons (Version 3)
WPForms: 11 add-ons
Using Form Builders
It's fair to say there's no one-size fits all when it comes to contact form plugins.
Each of the contact form plugins in this article bring their own opinion to building forms in a WordPress website, and that should be very important to your selection. Each contact form plugin has their own twist on form building. Sleek and modern, or, traditional and utilitarian.
It's not just about the form that shows on the front-end of your website, but what you used to build it. Each is opinionated in their approach, and you may be more comfortable using one over another. Again, consider the size of your website (i.e. how many forms) or how many sites you're supporting that will require you to spend time building many forms in the WordPress admin dashboard for hours.
Zigaform: The most intuitive and friendly (even fun!)

Zigaform is a flexible and Ultimate WordPress form builder plugin which allows you to build responsive forms on few minutes using a simple yet powerful drag-and-drop form creator. Also it provides amazing form elements and skin live customizer that makes you to build professional forms. Also it provides an administration section where site admins manage tons of form options. It's really easy to customize and you don't need programming skills.
Zigaform is a 100% mobile responsive contact form solution, so your contact forms will always look great on all devices (mobile, tablet, laptop, and desktop).
Key Features:
Drag and Drop Interface
100% responsive form
Smart conditional logic.
Highly customizable
Easily customizable form editing
Price: $29 | Get Zigaform Now
Alternatively, you can start with Zigaform Lite for Free.
Ninja Forms
If I were to pick a form plugin based on being the most intuitive and friendly, I'd give my vote to Ninja Forms. I'd categorize myself into the poweruser group of WordPress users, so I enjoy builder interfaces that feel much more "app like." Ninja Forms brings the user into a slick new interface for form building, and away from the traditional WordPress admin. It's smooth and buttery, and leaves you feeling like all of WordPress should be this way.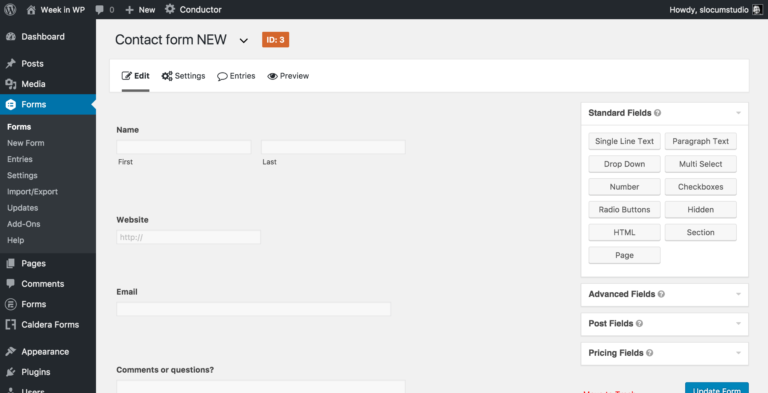 Gravity Forms: Tried and true
Gravity Forms has a no-nonsense form builder approach. While they've made enhancements over the years, it reminds me of Apple's Macbook — iterations make minor refreshes over the years — but look & feel isn't bleeding edge. This isn't a bad thing either. I'm sure with such a large install base, pushing the needle by moving things around could cause a bit of a headache.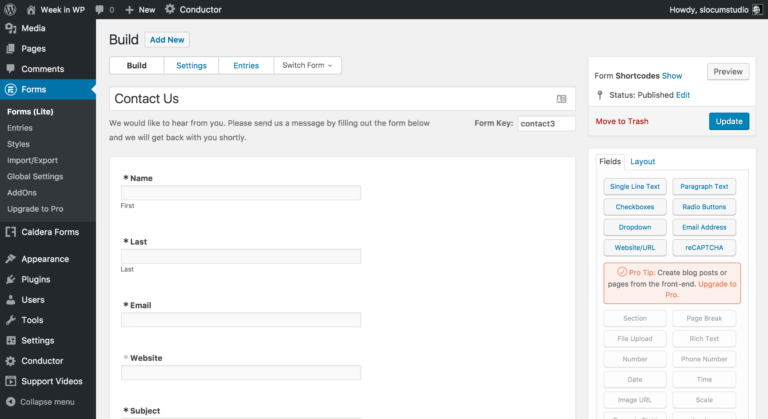 Formidable: Made for form designers
Formidable forms gives us a really powerful form field design options in their free plugin. This is a welcomed feature, especially in free (Ninja Forms has an add-on for this), for anyone that needs help making their forms look perfect. No need to edit the code under the hood, you can simply select the font sizes and colors to adjust.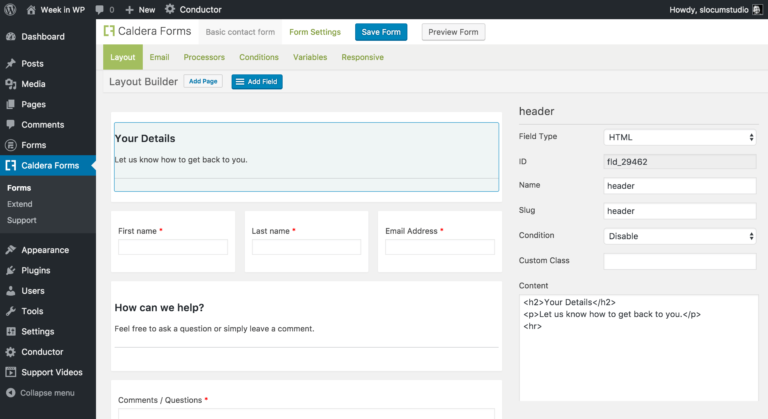 Caldera Forms: Made for developers
Caldera Forms, to me, feels like it was built for the developer community in mind. It's a smart move, since most folks putting together more complex WordPress websites consider themselves poweruser to developer centric. Their builder also lets you set up columns inside the form, great for those more complex layouts.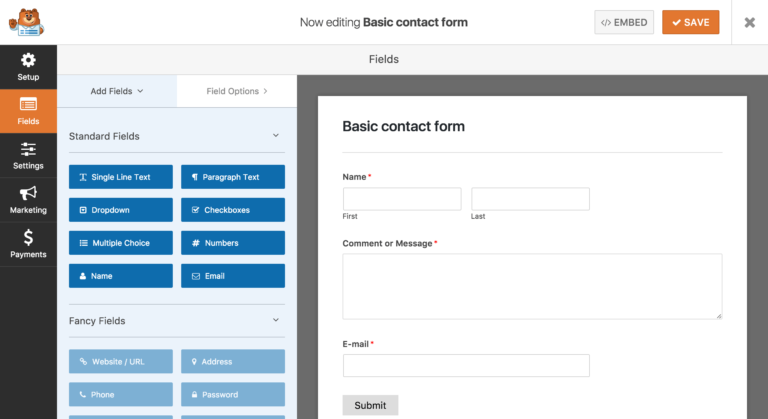 WPForms: Made for marketers
WPForms comes from the team behind OptinMonster, so you should expect that it's easy to use for the end-user. It feels more like a traditional SaaS application, which is no surprise given the team behind it. I liked it, it was familiar, and not over the top — except for the upsells. If you click into a pro feature, through the free plugin, you'll be reminded with a pop-up that you have to pay to play.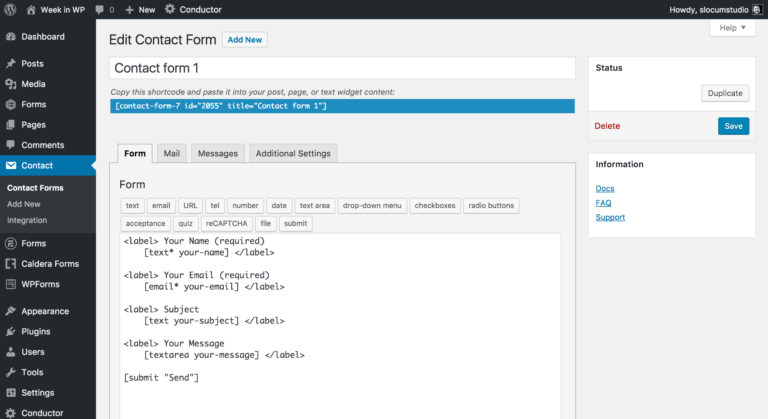 Contact Form 7: Made for purists
Contact Form 7 has been around since the dawn of contact form plugin time. It's probably why it's the #1 choice for contact forms in WordPress.org. Don't expect any fancy bells & whistles, and prepare to roll up your sleeves a bit. Though the plugin has made some minor improvements, you still find yourself typing into an edit box to create field labels and clicking some mundane looking icons to put everything together. Modern builders take care of this heave lifting. That said, it's still a customizable builder that doesn't have a lot of technical overhead, and that's a plus.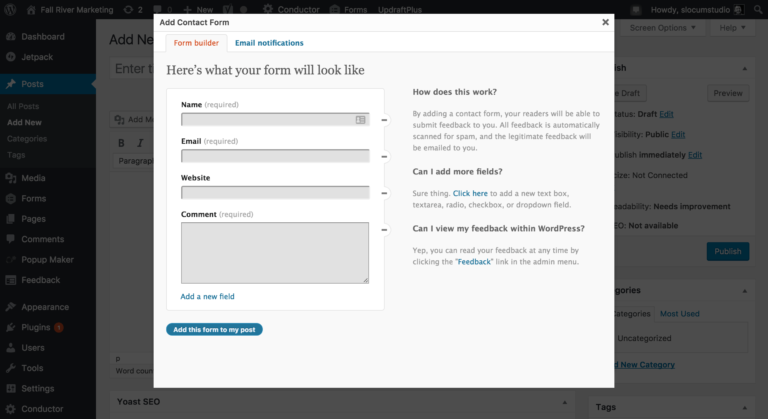 Jetpack contact forms: Made for Jetpack'ers
The most basic and easy to comprehend form "builders" on the market. I'd even argue that it's not much of a builder, but a pop-up screen that allows you to throw in a few basic fields, and tell it where you want the form submission to go once processed. No fancy drag and drop, no deeper workflow settings — your basic down to Earth, basic contact form, delivered through Jetpack.
Getting support
Saving support for last probably isn't the best idea, but here we are.
It's important that you understand how and where you will get support for your contact form plugin. I mentioned earlier that I only recommend plugins that I deem favorable to the WordPress community. That is to say, I've seen these companies interacting with users, supporting WordCamps, and overall have a positive impact around the community.
That does not mean that they actually provide great support. This guide doesn't measure the effectiveness of their support, but where and how it's defined.