Finding a decent social media sharing plugin for WordPress is more difficult than it should be.
Crazy isn't it?
There are thousands of plugins in the WordPress repository yet I've found myself switching plugins far too often.
It shouldn't be this way though.
It should be easier for us to find a functional social sharing plugin that does what we need it to.
Then there is the all important element of getting support when we need it.
The truth is that the right social plugin is out there for you. I've included my personal go-to social sharing plugin in this list along with some other plugins that I'm sure you'll love.
Whether it's adding social share buttons, follower counts, encouraging social shares or monitoring social shares in WordPress – there's a plugin here for you.
Let's dive in:
The best social media sharing plugins for WordPress
1. Social Warfare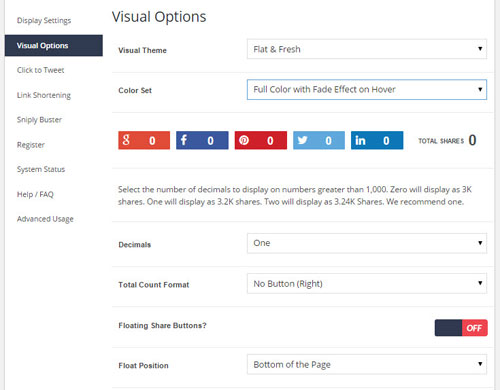 Social Warfare is now my go-to social sharing plugin for WordPress.
This plugin makes it easy to add visually stunning sharing buttons to your blog in a variety of locations – you can add share buttons above/below your posts, via shortcodes and even floating share buttons.
And it gets better: you also get access to a number of powerful features that can give you a massive boost in social shares.
One customer reported a 300% increase in social shares when using this plugin.
Here are a few features that could explain that level of growth:
Firstly, you can upload Pinterest-specific images and descriptions. Pinterest has huge potential for driving traffic in certain industries but the problem is that most default images that are shared when your visitors hit the "Pin" button aren't the right size.
I've noticed that when using tall images on Pinterest, I get a lot more traction than when I share shorter images. So, with Social Warfare you can create a Pinterest friendly image and upload it to your posts.
This won't interfere with your regular featured images at all – awesome!
Secondly, you get the option to add tweetable quote boxes within your content and there are a bunch of smart designs to choose from. I've used these in the past with great success.
There are a bunch more too, this includes – custom tweets, hiding low share counts and a lot more.
Features:
Support for popular social networks.
A number of eye-catching themes.
Support for Twitter Cards (not essential as Yoast SEO provides Twitter Card support)
Display total and individual share counts.
Display share counts only when above a specified number.
Display floating share buttons.
Add "click to tweet" boxes within your content.
Add custom tweet text for individual posts.
Display popular posts widget organized by share counts.
Upload Pinterest specific images and descriptions to your posts (great for boosting Pinterest traffic).
Tracks social shares with UTM tracking code (see exactly how much traffic this plugin is sending your way).
Pin it button.
Supports Pinterest mentions.
Fully mobile responsive.
Price: Starts from $29/year (cancel anytime).
Note: A free version is available with basic features only. I've opted to go for the premium version because it includes social share boosting features such as the unique Pinterest images (and a lot more). It also allows me to customize the color and style of my sharing buttons.
2. Monarch
Monarch is an incredible social sharing plugin created by the team at Elegant Themes.
This plugin boasts some impressive features, it allows you to display share counts after they reach a certain number which is great for avoiding negative social proof.
In addition you can display social icons in your sidebar or other widget areas and you can monitor social shares in an impressive looking interface.
There are also several interesting placement options which include triggered popups and fly ins – these are designed to help you encourage social shares.
The plugin is well optimized and built with speed in mind but it still has all the important features you will need to encourage social shares.
But, the biggest selling point for this plugin is the value you get out of an Elegant Themes membership.
As well as Monarch, you also get access to a list building plugin, page builder plugin and a bunch of eye-catching WordPress themes.
Features:
Support for popular social networks.
Multiple display options such as above/below posts and floating share buttons.
Choose when share counts are displayed.
Easy to use interface.
Popover and fly in share boxes to encourage sharing.
Display social media icons in widgets or with shortcode.
Track social shares, likes and follows with built in statistics.
Price: $89/year (cancel anytime and get access to other plugins as well as 80+ WordPress themes).
3. Sumo Share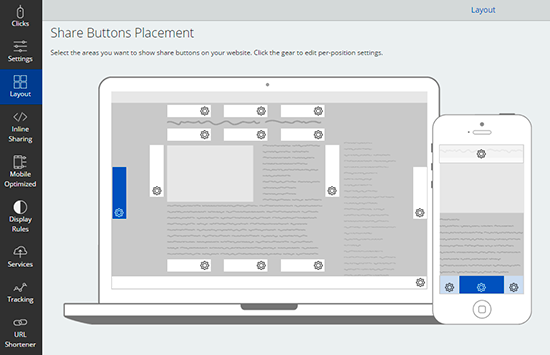 This isn't your typical WordPress plugin.
Sumo is a suite of apps designed to help you grow your traffic. While you can use these apps with any site that supports HTML, they have a specific WordPress plugin which makes setup extremely easy.
The app that allows you to add social sharing buttons is called "Share", and it performs brilliantly.
There are a huge number of places that you can add your social buttons to and it's all done by a clickable interface. Just click on where you want them to go. You can select a different placement for mobile devices too.
While Sumo comes with a large number of features, I particularly like how you're able to order your social sharing buttons by which networks are getting the most shares.
You also get access to basic analytics data showing you how many people are clicking on your share buttons – this can help you figure out which networks are most popular with your readers.
Features:
Supports a wide range of services including Facebook, Twitter, LinkedIn, WhatsApp and more.
Easy-to-use interface.
Customize size and other aspects of your share buttons.
Huge number of options for placement of share buttons.
Choose various button placements for mobile devices.
Display rules allow you to choose which posts/pages your share buttons are added to along with other filtering options.
Significant control over how share counts are displayed – for example, you can choose to hide individual counts and show total counts, or only display counts over a certain number.
Additional apps available to grow your traffic, shares and email list.
Price: Free. You can upgrade to unlock advanced features on this and all other Sumo apps starting at $20/month (paid annually).
4. Easy Social Share Buttons For WordPress
Easy Social Share Buttons For WordPress is possibly the most feature packed plugin I've ever come across.
You get access to a wide range of placement options and visual designs for starters.
There are also plenty of customization options for the visual designs and the plugin supports plenty of social networks.
You can manually place social share buttons, set share counts to be displayed after a number of your choosing along with plenty of other features.
My only issue with this plugin is that it takes a while to find your way around the user interface.
But that's a bit of a double edged sword because the upside is that you get access to far more features than in any other social sharing plugin.
I've listed some of the main features below, but there are so much more besides these.
Features:
Support for 45+ social networks & bookmarking sites (including WhatsApp, Telegram, Viber and more).
22 different locations to add your share buttons.
40+ built-in templates.
11 counter positions and 6 total counter positions.
Social fans counter & widgets.
Popups and fly-ins to encourage social shares.
Support for shortcode placement.
After share actions.
Customizable button text.
Built in social metrics.
Supports any custom post types.
Mobile optimized display.
Compatible with WooCommerce, JigoShop, WP eCommerce and Easy Digital Downloads.
Free add-ons such as post views, Facebook comments and Google AMP support.
Social buttons a/b testing feature.
Social media followers sidebar widget.
Built-in email subscription option (currently supports MailChimp and a few other popular providers).
Price: $19.
5. MashShare

MashShare offers a clean yet eye-catching solution to deploying social share buttons.
This plugin first gained popularity because its buttons look so similar to those used by Mashable.com.
There's a free version with some great (but somewhat limited) features, and you have the option of purchasing add-ons to expand those features.
It's active on 70,000+ websites and gets some great reviews on the WordPress plugin repository.
I love that you can hide share counts below a certain number but I'm not a fan of the 'fake share counts' feature.
Some of the add-ons available for MashShare are particularly useful. For example, there's a 'Select and Share' add-on which will display share buttons when users highlight text on your website. Along with a 'Click to Tweet' widget add-on.
Features:
Supports only Twitter and Facebook – additional networks available via their add-ons
Most shared posts widget
Option to hide share counts below a certain number
Eye-catching share count animations
Twitter Cards support
Open Graph support
Supports short URL's via Bitly or Goo.gl
Mobile responsive feature available as add-on only
Price: Free core plugin with paid add-ons
6. WP Social Sharing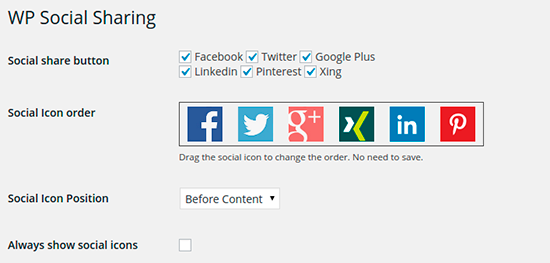 WP Social Sharing allows you to easily add sharing buttons for 6 of the main social networks.
This includes the likes of Facebook, Twitter, LinkedIn and Pinterest.
In the settings you will find the option to automatically display these share buttons. You can choose whether they appear on posts, pages, media and custom post types.
This plugin is simple but effective!
Features:
Supports 6 of the main social networks.
Allows you to customize social button text.
Resizes for mobile devises.
Add Twitter usernames to your tweets.
Add share buttons using shortcode.
Price: Free.
7. Custom Share Buttons

The full name of this plugin is "Custom Share Buttons with Floating Sidebar".
Not the most straight-forward name, but the plugin itself provides an easy solution to adding basic share buttons at the top of your content, or at the bottom.
You can choose whether it's displayed on your home page, pages, posts or categories/archives – giving you a nice amount of control.
My only issue with this plugin is that the floating share buttons are only mobile responsive in the pro version of the plugin. But you do have the option to disable these buttons for anyone who visits your site with a mobile device.
Features:
Supports popular social networks such as Facebook, Twitter, LinkedIn, Pinterest and Google+.
Choose whether to display share buttons on your home page, pages, posts or categories/archives.
You can choose to hide the floating buttons for mobile devices which is helpful since the floating sidebar isn't mobile responsive unless you purchase the pro version.
Price: Free.
8. Swifty Bar
Swifty Bar is completely different to every other plugin on this list.
While it still does the typical social sharing stuff – it's how it does it and the other features that make it stand out.
This plugin displays a sticky bar at the bottom of your posts.
This has all of the usual social sharing buttons on but it also displays your post title, # of comments, author name, previous/next posts, time to read and category.
Since this plugin isn't specifically a social media plugin – its sharing functionality is somewhat limited. But, it's got all the basics and provides other cool features.
The plugin is mobile responsive but it does remove things like post titles, categories, and author names when viewed on mobile devices. It does, however, keep social share buttons in place.
Features:
Supports Facebook, Twitter, Google+, LinkedIn, and Pinterest
Share counts are displayed for your shares
Option to add Twitter via @username to your tweets
Option to disable any networks you don't want to use
Option to disable share counts
Mobile responsive
Price: Free