WordPress has served a very valuable purpose over the years – a robust, customizable content management system that was essential for the wave of blogs and niche websites that emerged over the decade. The significance of WordPress cannot be amounted to words – just as Facebook & Twitter have changed many parts of the world, ushering an era of social activism, giving the ability of raising a voice and making a point to the general citizens; WordPress has made it easier to host a blog of your own, giving your opinion a voice and perhaps giving you the ability to have your opinion heard by a few thousand people if not millions.
Thousands of developers work on WordPress, but there are a thousand more working on plugins for the platform – these give options to customize your WordPress experience however you wish, there are no limits to this. WordPress wouldn't be half as powerful as it is today if it wasn't for the plugins support that was built into it at such an early stage of its life. That's what has allowed WordPress to dominate most of the competition. So clearly, plugins are essential to the experience – they can do a multitude of things that are not by default built into WordPress, and there are no limitations to what they can do.
One such type of plugin is used to enhance the menus on your WordPress blog. A menu plays an important role in computer user interfaces – they are generally accepted to feature everything your interface if capable of executing. In case of a website that means it is a dumb-sitemap. A way for you to direct your users onto the pages you want them to. More like a filtered funnel where the users can pick which hole to go through.
WordPress Mega Menu plugins allow you to customize this menu experience more than WordPress offers by default, giving you the ability to provide your users with an enhanced experience while they browse through your blog. We are going to list a bunch of these WordPress mega menu plugins – these mostly do the same thing, but each has something unique to offer. You can obviously pick the one with features that fit best with your requirements.
Top WordPress Mega Menu Plugins
---
1. WP Mega Menu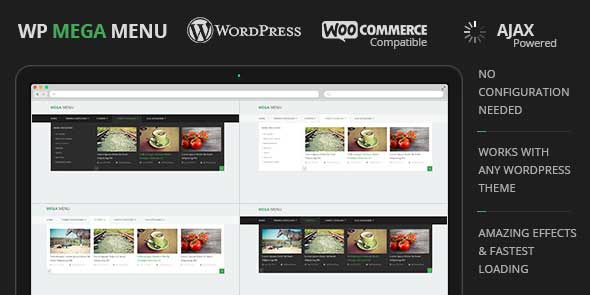 WP Mega Menu is another premium WordPress plugin for creating and displaying attractive mega menus on your website. As this WordPress mega menu plugin supports any theme, you can rest assured that it will work on your site. Thanks to the highly optimized AJAX-powered coding, enabling mega menu will not have any impact on your site's performance.
There are 3 attractive menu layouts to help you get started. You can use custom backgrounds and choose the background position. It is also possible to choose any of the several loading effects. There is no setup involved in using the plugin, it works right out of the box.
2. Hero Menu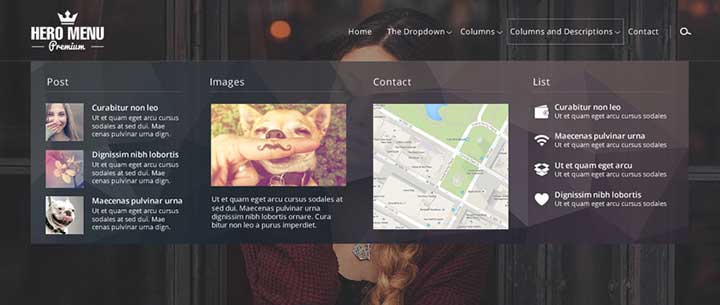 Hero Menu is a feature-rich WordPress mega menu plugin which makes it very easy to create fully responsive mega menus for your WordPress site. The drag and drop menu builder will be very useful in creating the exact layout you want. You can choose any of the 60 colors presets or create a custom one from scratch.
The plugin comes with 270 elegant icons and complete Google Fonts support to decorate the menu. As the plugin works perfectly with WooCommerce, you can add single items, products categories, etc. to the menus as well. Your mega menu will work on all modern browsers including IE9 and newer versions.
3. WP Floating Menu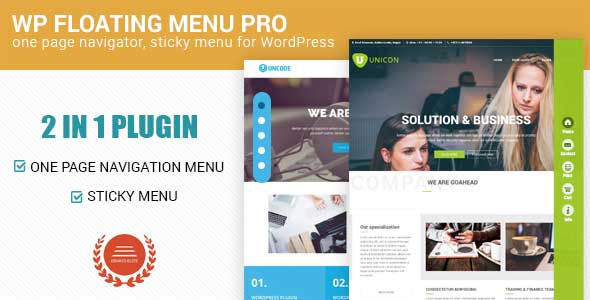 WP Floating Menu Pro is a premium, multi-purpose WordPress plugin for creating different types of beautiful navigation menus. You can use the plugin to create both a one-page menu and sticky menus. The plugin comes with 13 elegant menu templates to help you get started quickly. It is also possible to style different menus for different pages/sections of your website.
The mega-menu WordPress plugin allows you to enable or disable the floating menus for mobile screens. You can use all the icons of Font Awesome and Dash icons for the menu items. There are 7 different positions to show your menu. The multi-lingual plugin could be easily translated into other supported languages.
4. Mega Menu by WooRockets.com

Mega Menu by WooRockets is a responsive WordPress mega menu plugin with a full on menu builder for the webmasters. It is highly customizable with custom CSS support allowing you to make your menus look exactly how you want them to. It also has inbuilt support for Google Fonts library, adding more options for you to tweak.
5. Max Mega Menu

Max Mega Menu is mostly free, but it does feature some really cool features hidden behind a paywall. The free version though is quite a thing – it is responsive, supports a number of customizable transitions and features a built-in theme editor so you don't have to play around with CSS. It also has a very low memory footprint, reducing your load times and giving a more responsive experience for users on low-end devices.
6. Suppamenu (Lite)

Suppamenu makes it easier for you to customize the mega menu, with a variety of options to tweak – you never have to touch a piece of code. By default it comes with 10 themes to pick from, but you can tweak one for yourself if you like. It is responsive, but it does have a paid version with some nice features. It all depends on what you require from your WordPress mega menu plugin.
7. Big Voodoo Mega Menu & Related Links Menu
Big Voodoo is a unique one – it lets you add custom HTML inside the menus, so you can have widgets or shortcuts inside the menus with custom HTML giving you infinite possibilities with customization – as long as you know what you are doing. There is one little problem though – the people who made the plugin no longer offer support for it, so if you break something you would most likely be on your own.
8. UberMenu – WordPress Mega Menu Plugin

UberMenu is not a free WordPress mega menu plugin, however, for the price you pay you get the ability to customize the menus however you like. Not just CSS with this one – it lets you throw custom HTML at it, or even shortcodes. It provides you with a robust experience that you know will not disappoint your users. It is completely responsive and even has proper touch support for mobile users.
9. Supermenu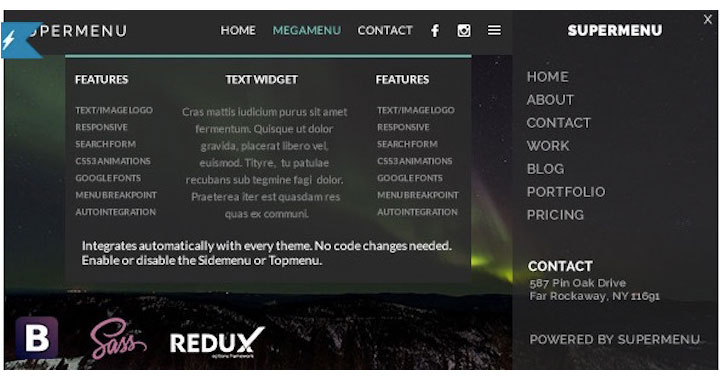 Supermenu features multiple menu layouts and the ability to not only customize how it looks, but also customize how it behaves. With an insane amount of options, this paid plugin offers you the flexibility you might be looking for, with powerful tools to back it up.
10. Mega Main Menu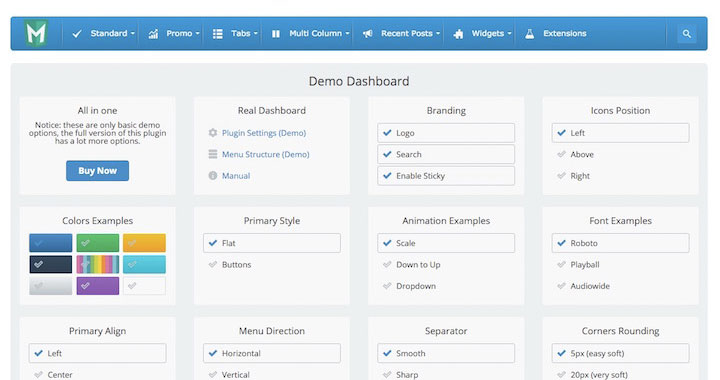 Once again a paid mega menu plugin for WordPress, Mega Main Menu offers a simple yet powerful and customizable option to serve your mega menu needs. It supports over 600 fonts from the Google Fonts library and comes with more than 6000 vector icons you can use to make your experience look more professional. All this while keeping the ability to add widgets and limited customization of HTML and CSS.
11. WP Sticky Menu Plugin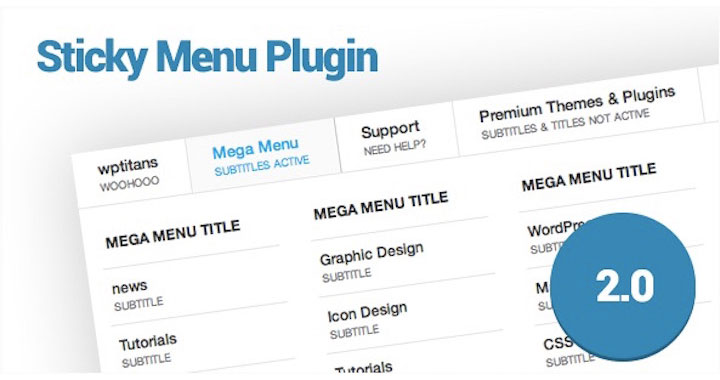 WP Sticky Menu is a highly responsive and optimized WordPress mega menu plugin, with full mobile support and 20 different styles to choose from. There's also a variety of animations to choose from – you have to remember though, the more features you add, the more complex the code gets which also means optimizing it gets harder. On the other hand, optimization is necessary to keep the load times low. This is a paid option, but what you get is a highly optimized option, rather than one with insane customizations.
12. Sky Mega Menu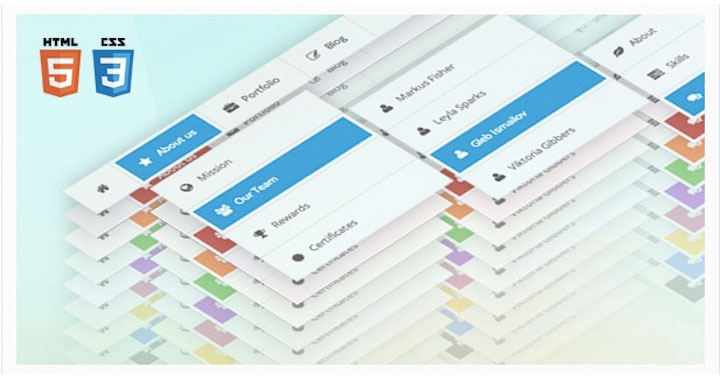 Sky Mega Menu is once again a paid plugin that offers you a variety of themes and animations to choose from, with options for the placement of the menu – and all that with full mobile support. It also comes with over 350 vector icons you can use and a proper documentation with over 30 examples that you can use to make your life easier.
13. Superfly

Supefly is a responsive vertical mega menu plugin for WordPress with full support for touch screens and support for shortcuts and custom HTML. You can even change how the menu behaves, and pick from dozens of animations made solely with CSS. Almost everything can be customized. It is quite possibly the most popular plugin of its kind – all this comes with a price though.
Any Other Mega Menu WordPress Plugin?
That's only a few of the WordPress mega menu plugins you could possibly get, the options are endless and the possibilities are infinite. At the end – if nothing satisfies your needs, learn some web programming languages and make your own plugin exactly as you like it. That's the beauty of WordPress – you are in control, it only provides a foundation to make your life easier.
source: wpdean.com