If you operate a restaurant, you need a top-notch website to show off your business to prospective diners. Because so many people search for where they are going to eat their dinner or order their business lunch online, having a solid website will help your business in the never-ending battle for better position in search engine rankings.
A good restaurant website drives eager new clients to your tables thanks to fully customizable menus and integration with the highly-rated and almost-universally featured OpenTable reservation and booking plugin, so your customers can make reservations directly on your website and forgo the old hassle of calling you to book a place.
Apart from restaurant and dining-specific extensions and plugins, all of the themes in this collection give you exemplary design, developer-friendly backend panels, and a world class UI/UX for your customers. All of these themes come backed by highly-rated customer service, so if you encounter any obstacles, you don't have to go it alone.
There are many outstanding restaurant themes here and you're bound to fall in love with one of them. Happy hunting!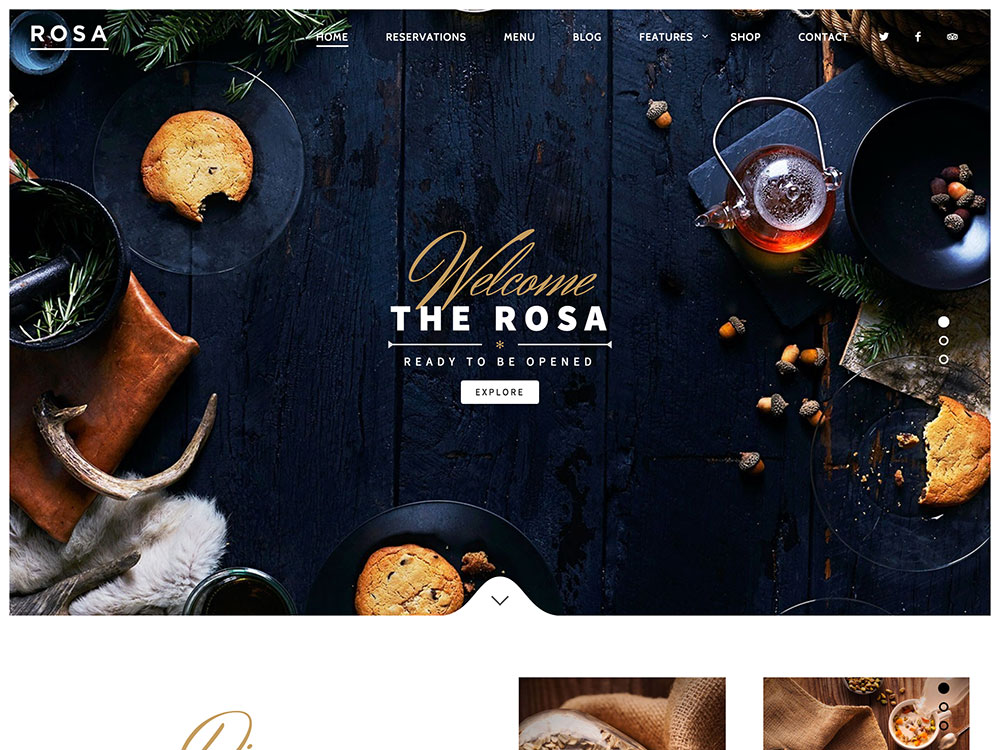 Rosa is highly customizable and perfect for restaurateurs who want to show off their cuisine on a website that looks as delicious as the food they serve up.
Using custom-designed shortcodes, with this theme you can easily construct menus complete with sections, product titles, descriptions, and prices. Integration with OpenTable makes it easy for your customers to book tables themselves without having to call your maître d'. If your establishment also sells products such as cookbooks, hand-made pasta, or roasted coffee in bulk, you will really appreciate being able to set up a fully functional online shopping cart using the WooCommerce plugin. And you can really develop a loyal following with your customers by creating a recipes section with glossy photographs to give people a reason to visit your website even if they won't be making a reservation for dinner, which is a great way to establish your reputation and improve your website's standing in Google.
Rosa's intuitive menu setup provides for a simple, elegant navigation experience that keeps the focus on the food you bring to the table. This photo-centric parallax theme comes with near-limitless color, icon and font options to match your restaurant's aesthetic. And a rich gallery feature ensures that every single dish on your menu is displayed at high resolution.
When it comes to showing off your restaurant, Rosa is a beautiful and easy-to-use theme that gets the job done.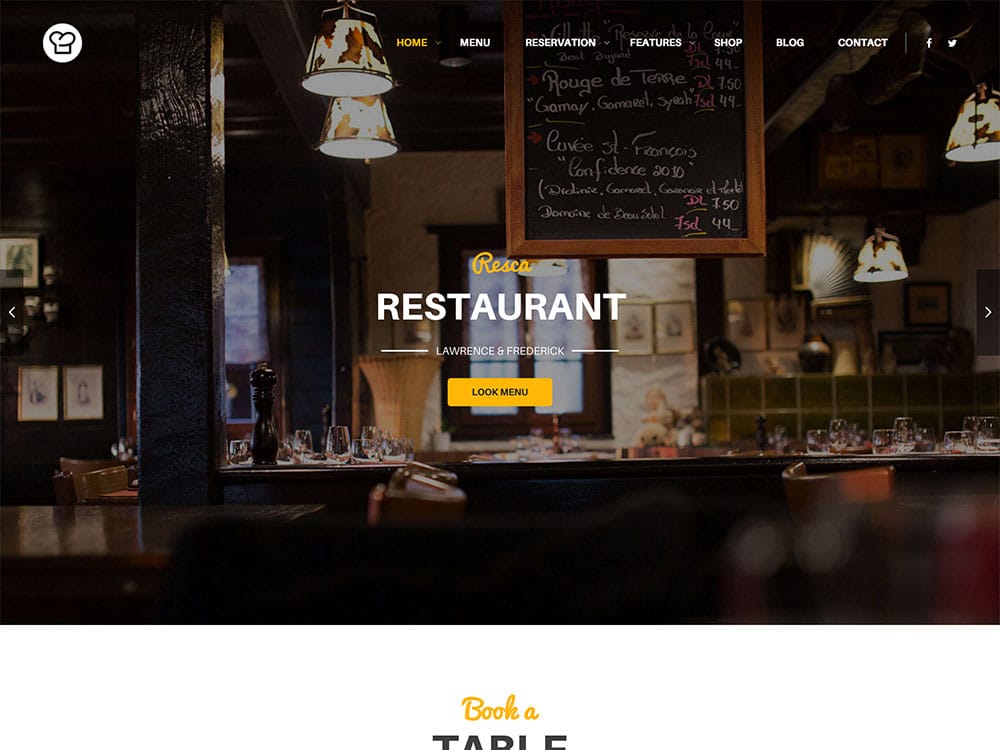 This friendly, welcoming theme comes loaded with customizable options and is a great fit for restaurants, coffee shops, and other dining establishments.
Resca's smooth parallax scrolling experience will make navigating your website a joy for your customers, with dynamic text and hundreds of color, font and icon options available for you to pick out the look that best represents your business. Building a menu for your restaurant – complete with vivid photographs of dishes, seasonal menus, daily specials, as well as accompanying drinks menus or suggested wine pairings – is easy. Your customers will be able to book reservations for dinner directly on your website thanks to integration with OpenTable, the most popular restaurant booking plugin available. A well-designed blog enables you to keep customers up to date with new recipes on the menu, special themed dining evenings, and whatever other goings-on you feel like sharing.
One unique feature designed just for this theme is the inclusion of an events calendar, which is perfect for your establishment if you offer cooking courses or feature live music or other entertainment. It even includes a countdown clock so your customers know exactly how much time they have left to purchase a ticket! And as you would expect, more typical functionality – such as compatibility with the WooCommerce plugin to meet any e-commerce needs you may have – is present too.
Resca is the ideal theme choice for the multifaceted dining establishment that does more than just serve food or drinks.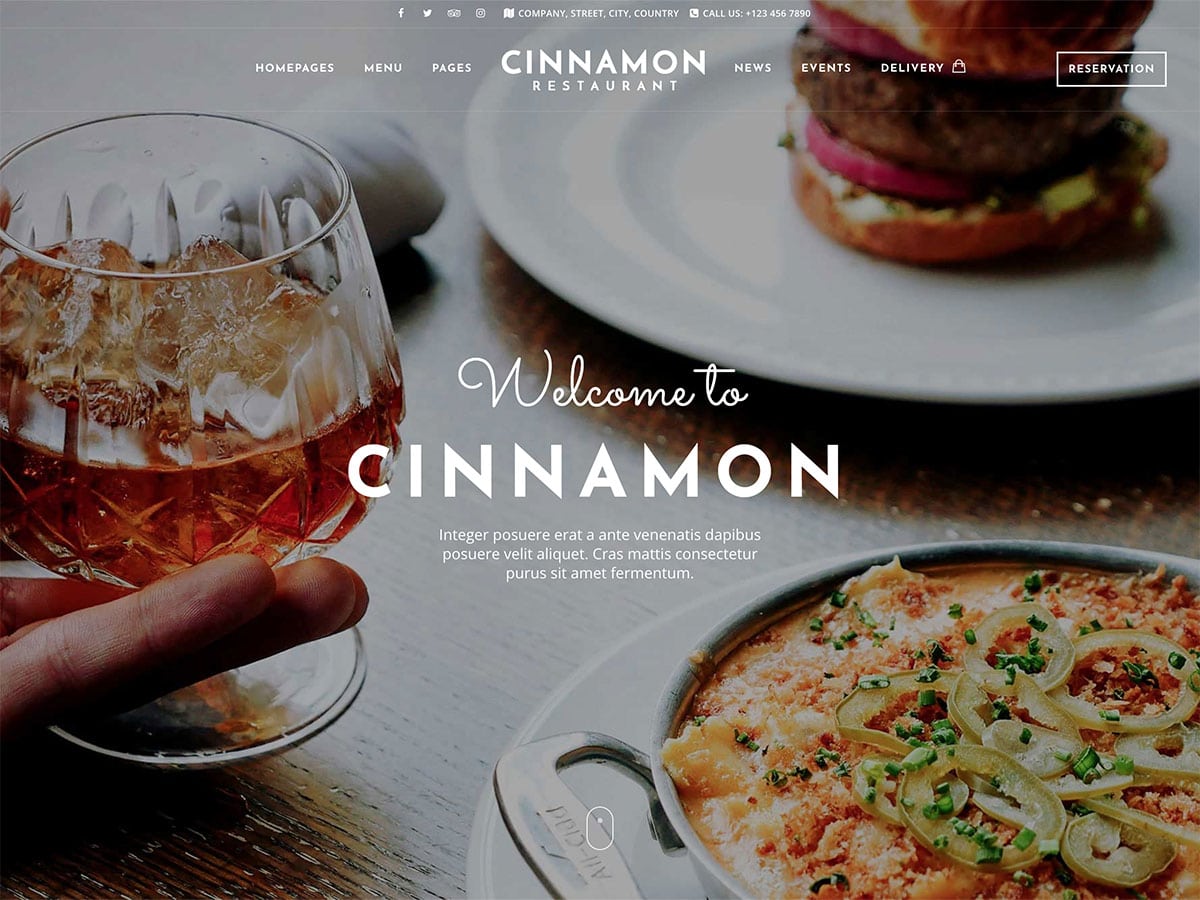 It's crucial for your restaurant theme to instantly whet the appetite of your visitors. However, it's equally important for your theme to establish a comfortable, charming atmosphere just like your restaurant. With Cinnamon, you can have your cake and eat it too.
Cinnamon offers a smorgasbord of food menu layouts, header types, table reservation options, and much more. It's also fully-responsive, and offers support for building one-page websites.
The theme also comes with a powerful built-in page builder. This makes it easy to add your specials menu to the sidebar, create event calendars, add feature-specific shortcodes to your pages, and more. Cinnamon is also WooCommerce compatible, so your diners can pre-purchase their meals with ease.
If you're looking for a restaurant website theme that's sure to tantalize, Cinnamon is a standout option. It's intuitive, feature-heavy, and can be customized to suit your restaurant to a 'T'.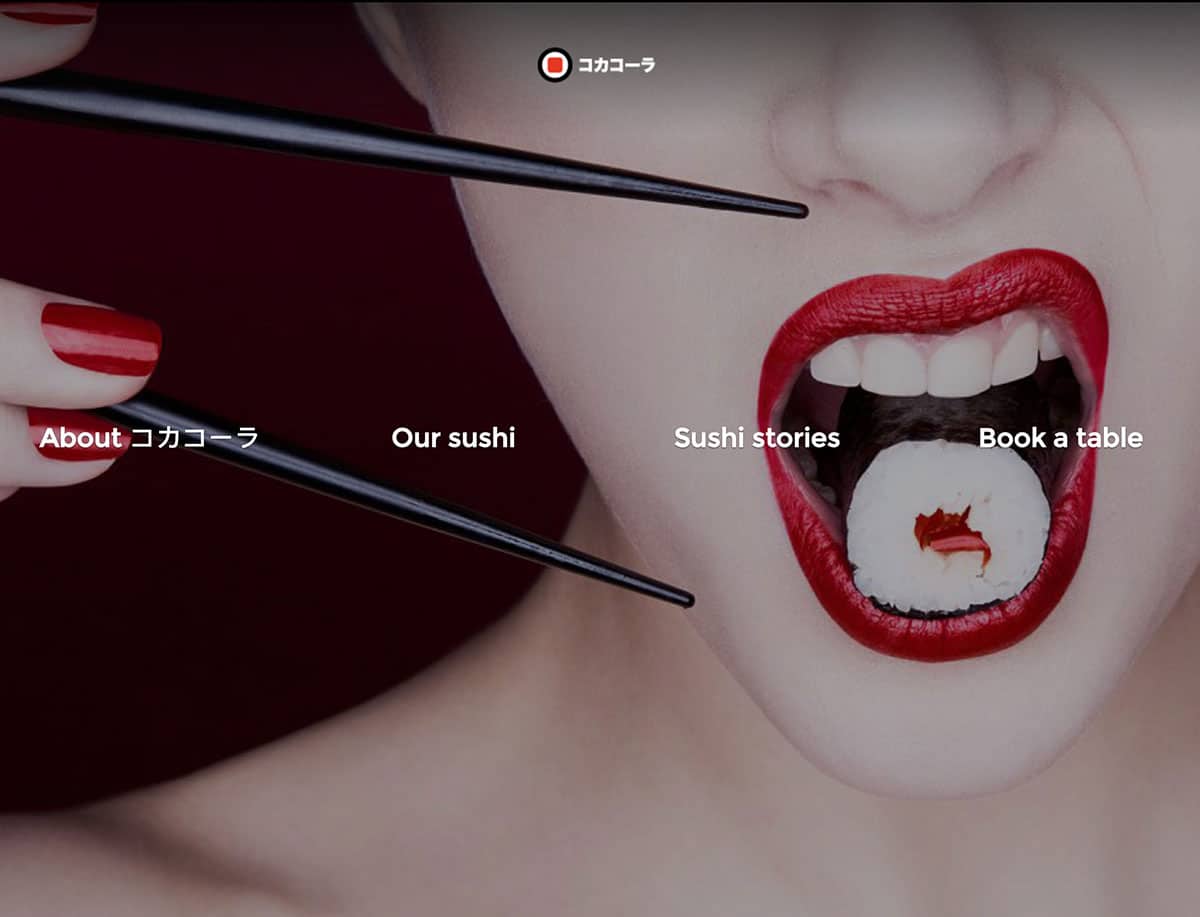 Potential customers are increasingly likely to check your restaurant out online before they give it a try, so it's key to create a website that shows off your food and experience. Ambiance is designed to help you make the perfect first impression.
Most importantly, Ambiance has nearly all the features you'll need to create and run a successful restaurant website. There's an easy-to-use (and simple to edit) menu manager that will display your items in a format customers can browse at their leisure. If they like what they see, those same customers can make online reservations right through your site. A number of pre-built demos help you prominently display other key information, such as contact details and opening hours.
Ambiance is a solid beginner-level theme, since it makes setting up your site a simple task with no coding required. However, it also provides powerful advanced features, such as a full-screen slideshow and a masonry gallery. Since Ambiance was designed with a mobile-first approach, your site will look good and provide a strong user experience, no matter what devices your customers are using.
If you're looking to create a stylish, modern restaurant site that sells customers on your unique experience, Ambiance just might be the theme for you.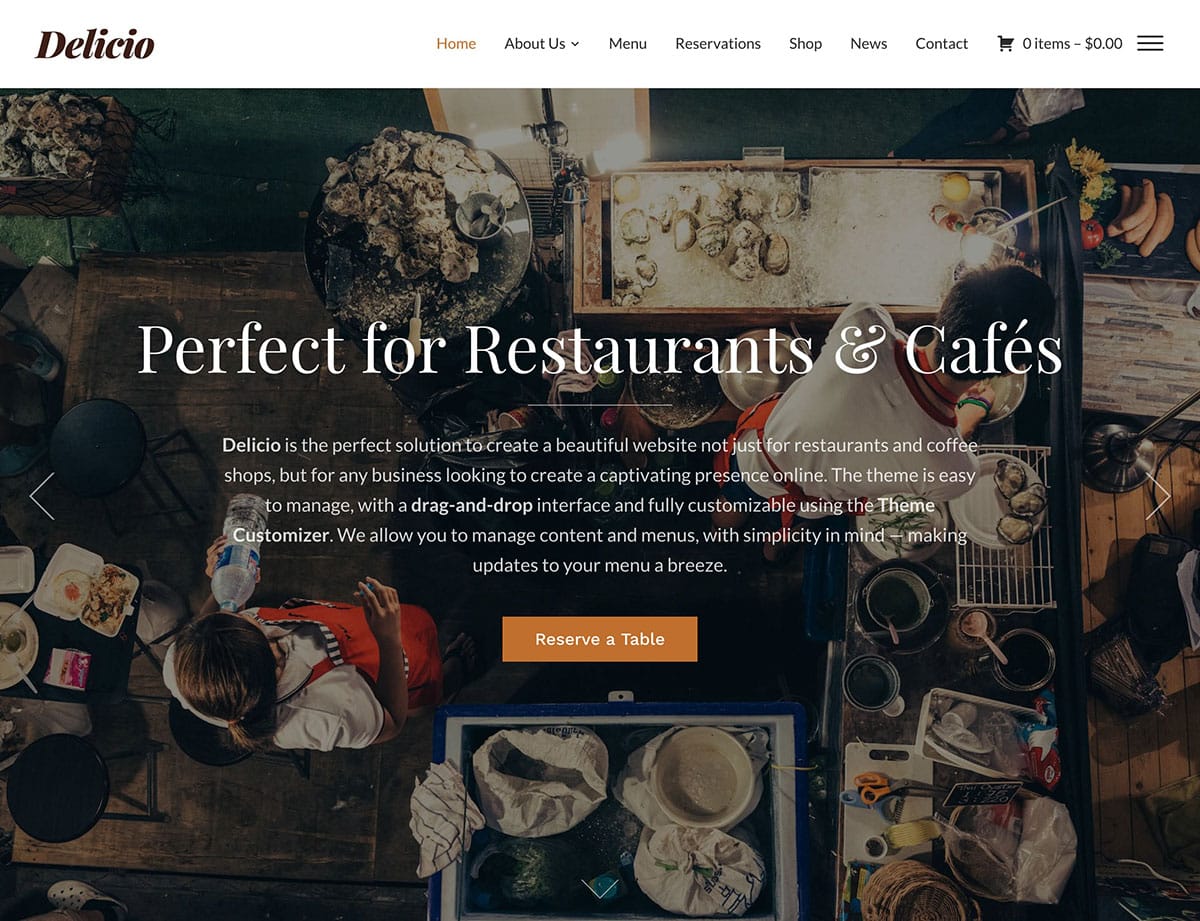 First impressions are important, and when looking for your restaurant online, your website is likely going to be your maître d'. With that in mind, you may need a theme such as Delicio – one with flexibility in design, and essential functionality through bundled plugins – to charm your potential customers.
Delicio's overall design is classy and a little understated. Practically any layout can be designed with a drag-and-drop page builder (including one-page layouts), and a wealth of design options can be found within the WordPress Customizer. There's the option for a full-screen slider to create prominent calls to action, and the bundled Restaurant Reservations plugin enables visitors to book a table directly from your site. Menus are also created from an in-built dashboard tab, and similar to layouts, items can be dragged and dropped into position.
However, not everything was as pleasing as Delicio's design options. The overall page scrolling was jerky, and the frame rate really dropped when opening the vertical navigation menu. It's definitely something to consider if you're looking to road test the theme.
Scrolling issues aside, Delicio certainly packs a punch, and its impressive functionality and bundled plugins could make it the perfect match for your eating establishment.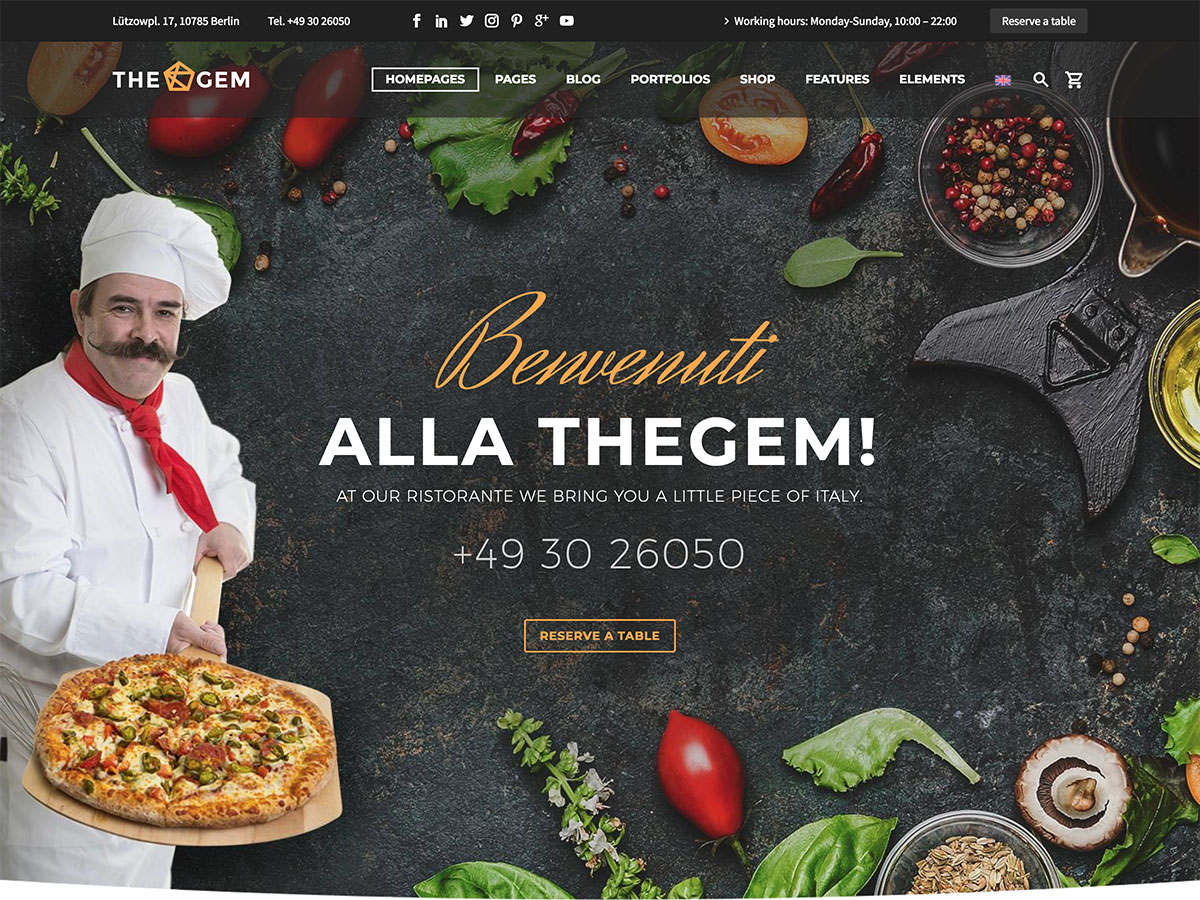 Given how many restaurant business there are online, standing out needs to be a primary concern when building your own website. A quality theme such as TheGem can help, by improving both your site's User Experience (UX) and usability.
It's worth mentioning that TheGem is a multipurpose theme, rather than something that's niche-specific. However, it's no less effective at helping you create your restaurant website, especially as it includes two different demo layouts to choose from. These demos can be tweaked to match your requirements using the versatile customization options, or the bundled Visual Composer page builder plugin.
As you'd expect, that plugin can also be used to create layouts from scratch, which means you're not reliant on a template to implement functional design. For instance, while the Ristorante demo provides a quality one-page design, you could take things further by reordering the page elements, or adding new sections that are more relevant to your business. Ultimately, there are a lot of tools here that help you keep visitors on your site, and then convert them into customers.
TheGem is a perennial frontrunner when it comes to WordPress themes in general, and we'd suggest that it's also suitable for restaurant owners and food outlets. It's certainly a worthy inclusion on your shortlist.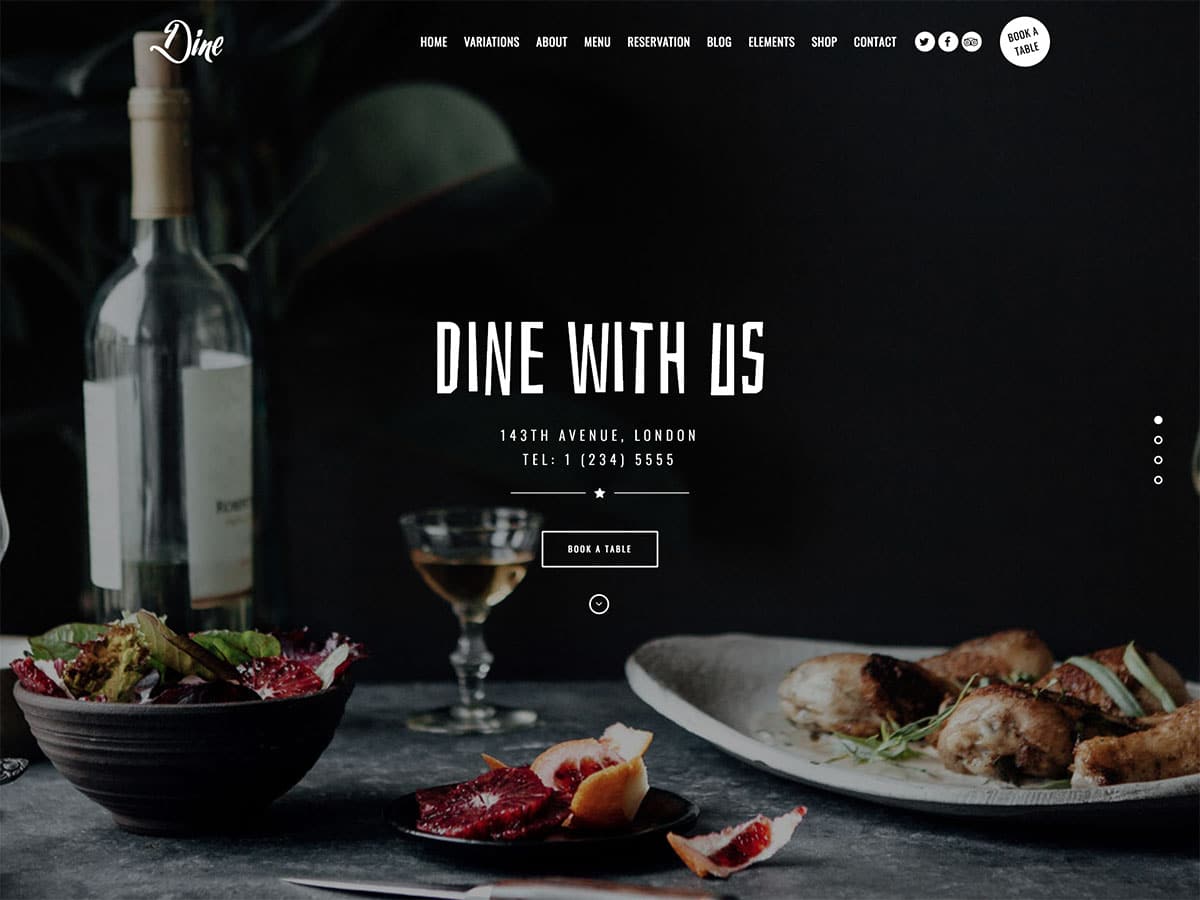 You'll want your restaurant theme to showcase your menu's most mouthwatering offerings upfront, then make it easy for diners to book a table. Dine epitomizes this approach, combining an easy-to-navigate layout with plenty of room for images.
The theme comes with eight pre-built demos for your website's layout, each of which can be imported with a single click. If you want to tweak these layouts to achieve a custom design, the bundled WPBakery Page Builder plugin will help you.
When it comes to visuals, Dine really shines. You have the option to showcase your fare with carousel images, parallax backdrops, image lightboxes and more. Dine also offers a wide variety of header layouts to choose from.
Dine is an outstanding restaurant theme for appealing to diners on the go. Regardless of the status of your establishment, this versatile theme should make your shortlist.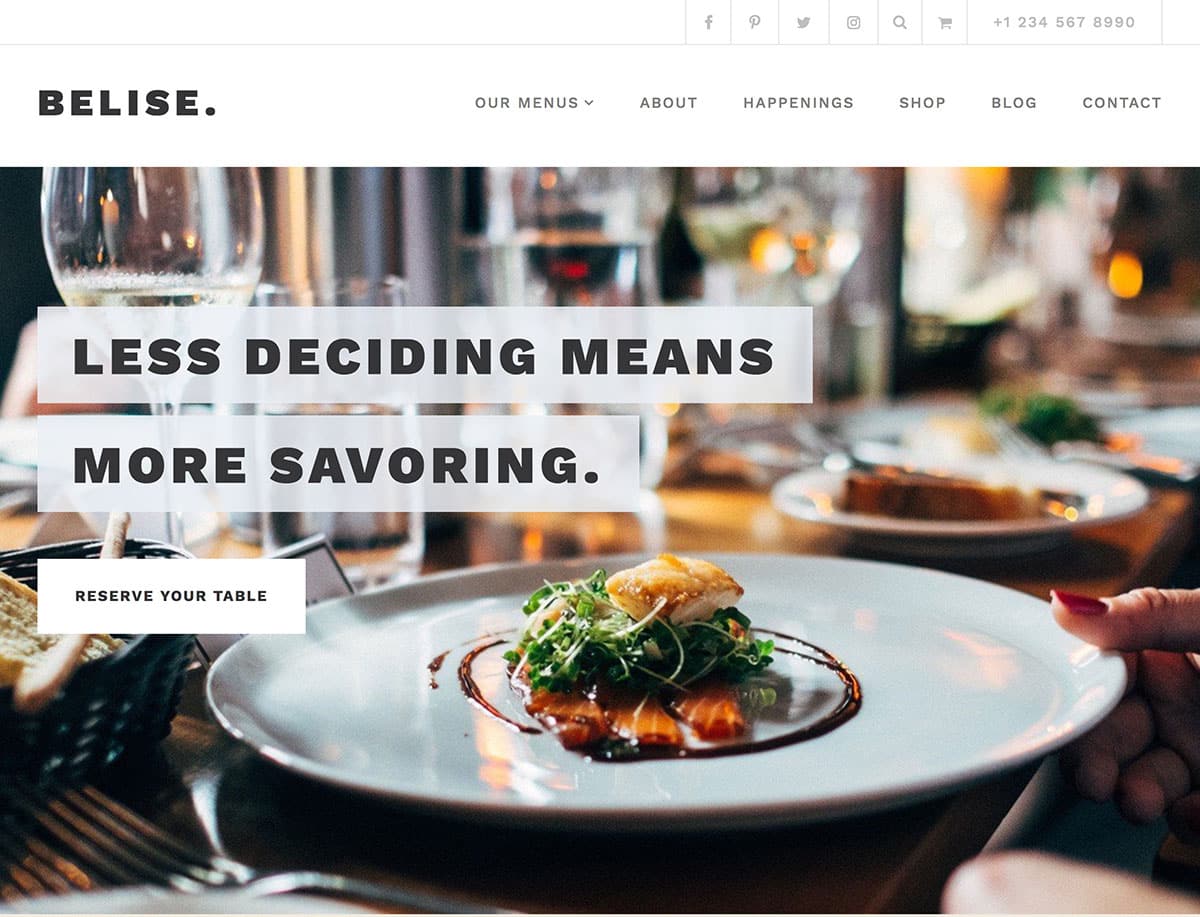 Chances are, you want your food service website to put the focus on your restaurant and what makes it unique. Fortunately, Belise is a highly-customizable and minimalist theme that can make this task simple and achievable.
Belise provides your site with a simple, clean appearance that lets your food and other products stand out. At the same time, it's flexible enough to accommodate almost any vision you might have for your site's layout and design. You'll have access to plenty of options for fonts, colors, backgrounds, and more – and editing these elements is simple thanks to Belise's live customizer.
As befits a restaurant theme, Belise also offers plenty of the features you'll need to provide your customers with an excellent user experience. For example, there's a built-in menu that can be organized into categories and easily filtered. You can also add an events page to keep your customers informed and promote your upcoming schedule. In addition, Belise has the technical features you'll want to look for in any strong theme – it's responsive, SEO-friendly, translation-ready, and optimized for speed on all devices.
In short, Belise is a balanced choice that covers nearly all of the necessary bases for creating your food service website. It's flexible, customizable, technically proficient, and still easy to use – with or without coding experience.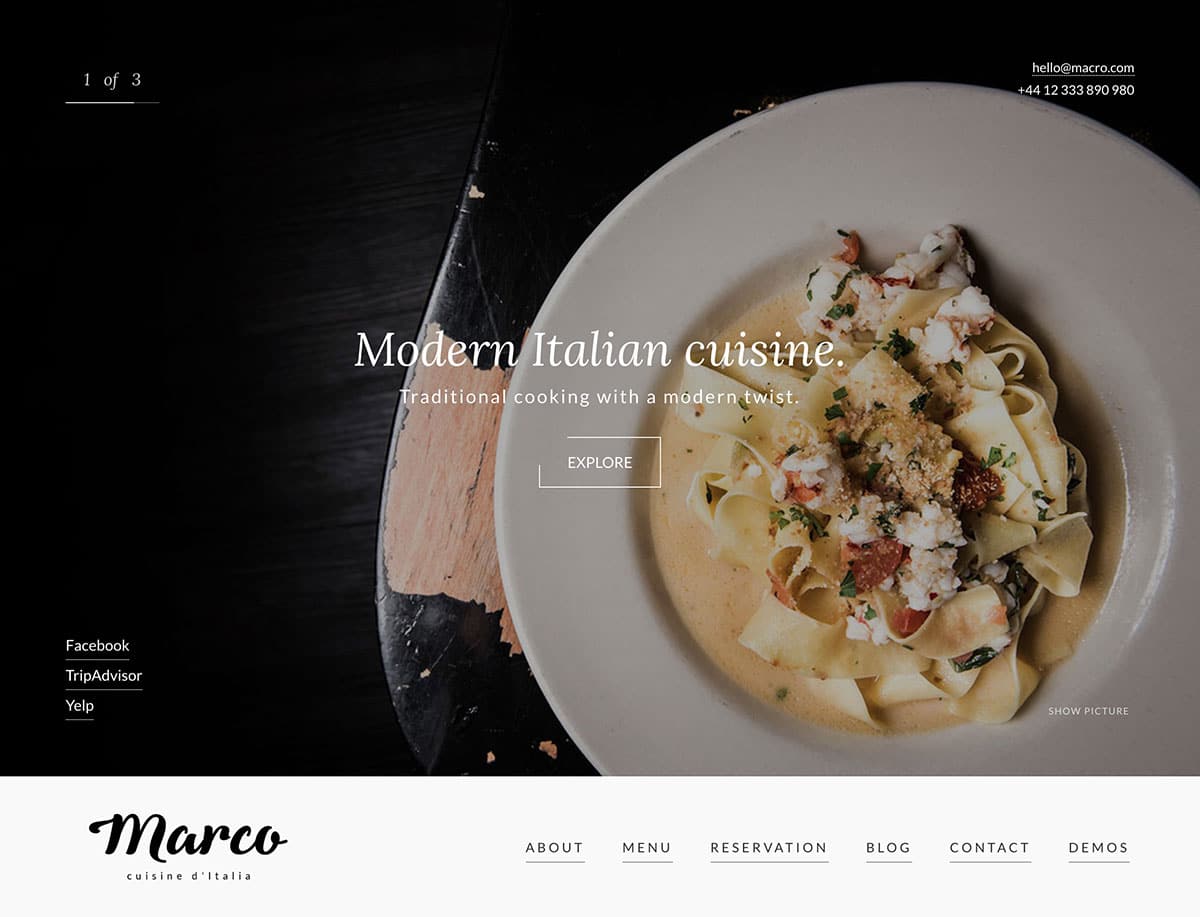 If you're looking to create a modern, stylish restaurant site, but have little time to devote to the process, Marco could be what you need. This theme enables you to get your site up and running quickly, without sacrificing design quality in the process.
Marco offers plenty of demo content that can be easily imported, which means you can simply tweak the starting pages to your own requirements and go live in a matter of minutes. However, it's also possible to make bigger changes and customize just about any aspect of your site to fit your unique vision.
Either way, Marco provides you with most of the key features you'll need for any food service site, such as a dynamic menu with filters and featured items, as well as several online reservation options. You can also add contact information, galleries of your products, and even a blog.
Chances are, you want to build a website for your restaurant that provides an excellent user experience while requiring little effort on your part. Marco is a smart way to get your site personalized and online rapidly, so you can focus on running your business.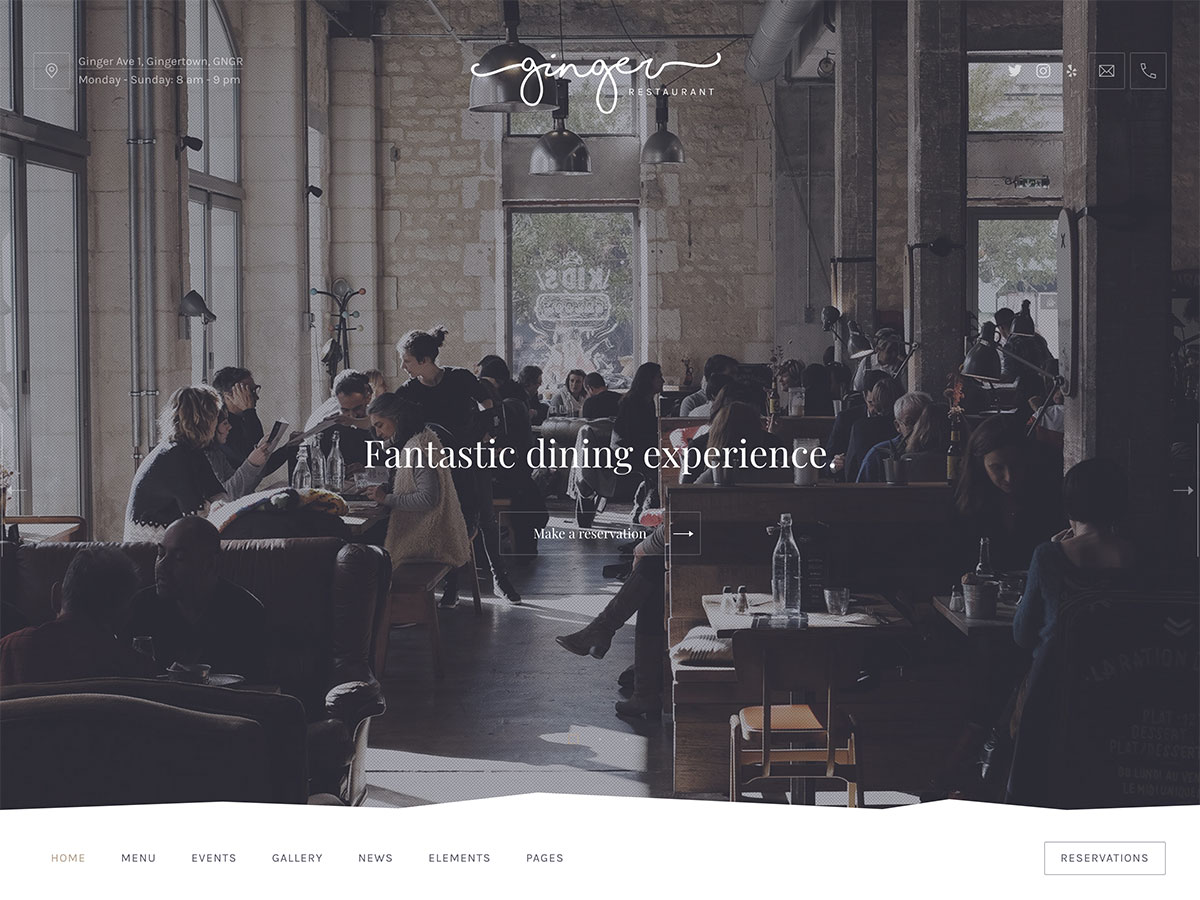 It's obvious that a good restaurant theme will let you showcase your culinary offerings in the most gorgeous way possible. However, it should also make it clear to visitors that your brick and mortar establishment is comfortable, relaxed, and a great eating spot. Ginger makes this process simple and straightforward.
This theme comes with 12 one-click demos, with layouts catering to bar-and-grills, gastropubs, cafes, and even bakeries. It also contains features for showcasing upcoming events or specials at your restaurant, and includes a sumptuous array of menu layouts. Ginger is also fully compatible with a number of popular page builders, although none are included with the theme.
Ginger comes with a built-in, easy-to-configure reservation management system, and is also fully responsive, letting users view your offerings and make their bookings regardless of their preferred device.
As far as restaurant themes go, Ginger is one of the most versatile, user-friendly, and gorgeous options available. It's great value for money, and should form part of your shortlist.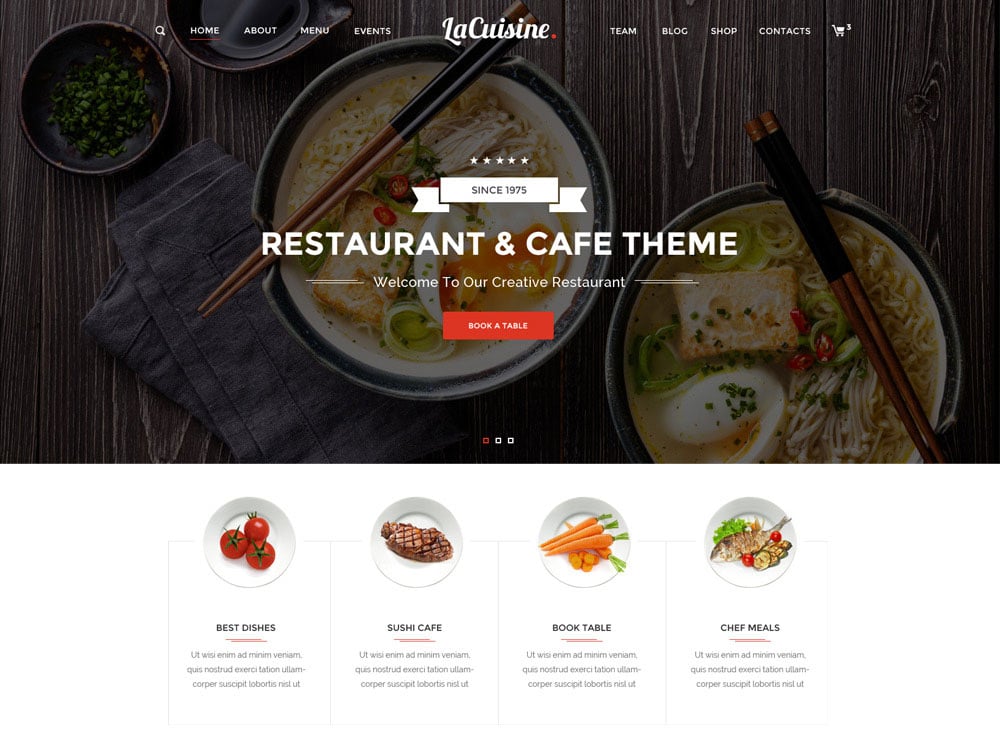 It's important that your restaurant's website makes your customers feel at home – if your patrons consider your establishment to be welcoming, you'll find more tables are booked. This is a job made much easier with a theme such as LaCuisine.
On first impression this theme looks the business, with clean presentation and easy to read default fonts, and along with the bundled Visual Composer plugin, you'll be able to create almost any layout to match your requirements.
While table bookings can be incorporated into your site with the bundled (and excellent) Restaurant Reservations plugin, it's the in-built menu builder that really shines. Menu items look great, with the ability to add prominent images of your food next to each item. Clicking through to an individual entry also enables users to leave reviews or pre-order food before they arrive.
Ultimately, your restaurant demands a website with a welcoming vibe and a clean, well-designed layout – and it's all possible with LaCuisine.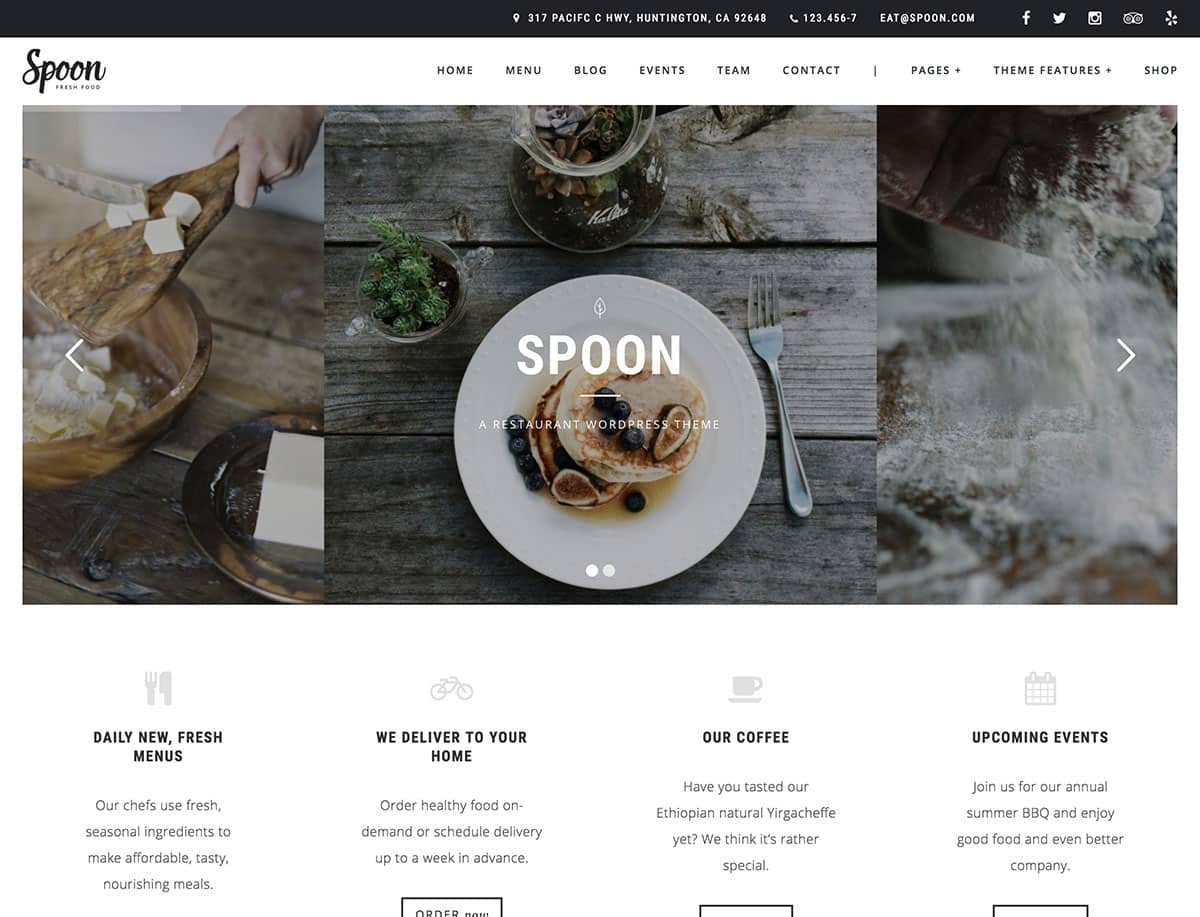 Every restaurant and food service website has unique requirements that need to be catered to. Spoon offers a ton of customization options, enabling you to easily pick and choose those that are important to you and your customers.
Whether you're running a restaurant, bar, coffee shop, or food truck, you'll likely benefit from offering an online menu. Spoon enables you to create a practically unlimited menu, organize it into categories, and customize its appearance to your taste. You can also display upcoming events for your venue, and the theme will automatically sort those events by date and delete them after they've happened.
It's even a cinch to sell your products online, since Spoon is compatible with WooCommerce and includes style sheets that help you match the style of your WooCommerce store to the rest of your site. Other features include the ability to switch between a one-page or multi-page layout, the option to display Google maps, and an easy way to incorporate key business information at the top of your site. There are also plenty of color and font choices, a selection of shortcodes to help add elements almost anywhere on your site, and many more features.
Overall, Spoon is a solid choice for a food service website, because it offers most of the features you'll need while still enabling you to personalize and tweak it to your heart's content.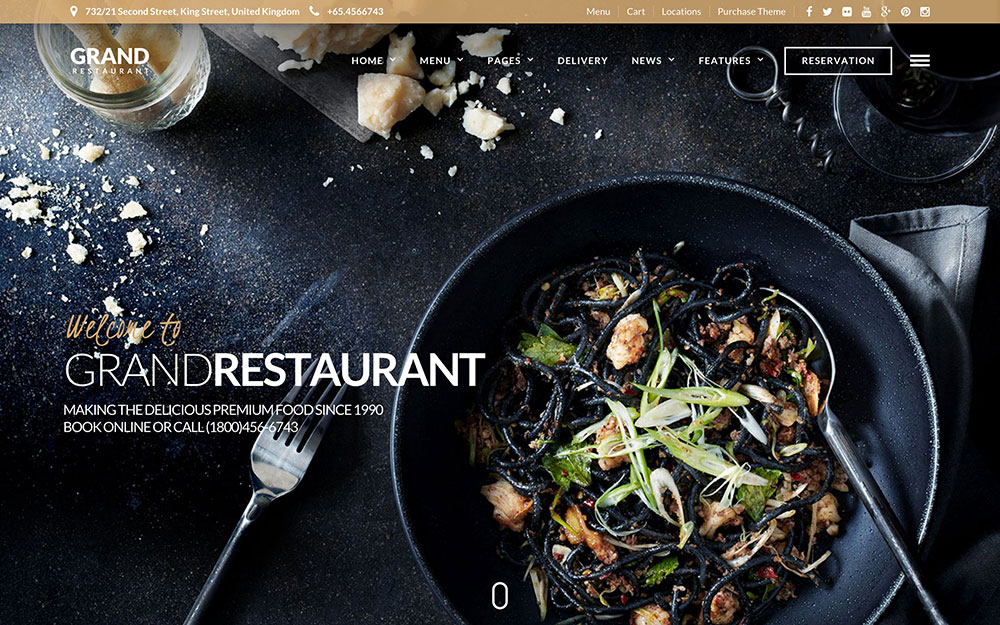 As the name of this theme implies, Grand Restaurant was created with ambitious, high-caliber eateries in mind, but unlike a meal at a Michelin-starred bistro, this theme is actually within your price range.
Five separate demos give you plenty of inspiration from the moment you decide to work with Grand Restaurant. The layout is striking, with the focal point clearly intended to be on the food; fullscreen embedded images are standard. Furthermore, offset images and overlapping display text give this theme a sharp, bold look.
The dominant ethos of Grand Restaurant is to let the food speak for itself, with a grid menu particularly suited for showing off all of the beautiful dishes that your restaurant makes. While there is a strong emphasis on form, there is still quite a lot of functionality on offer. If your restaurant operates in more than one location, you can easily embed multiple maps onto your contact page. Integration with the ever-popular WooCommerce plugin enables you to easily offer online orders and delivery services. And in case you want to share recipes or important news with loyal customers, seven different blog layouts give you plenty of flexibility to come up with the right setup for your business.
If you want a theme that lives up to the elegance and panache of your high-end dining establishment, Grand Restaurant is an excellent option.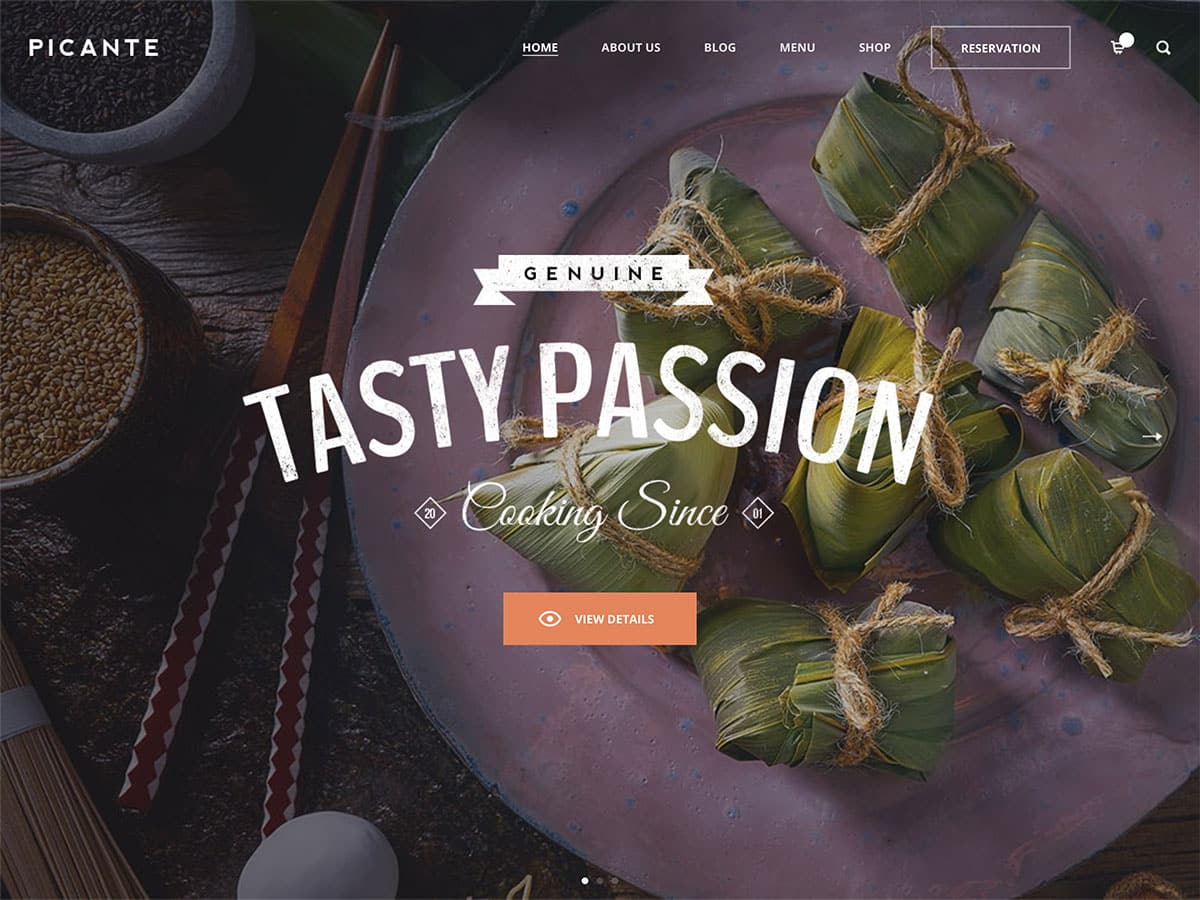 There are a lot of restaurants and related businesses across the globe. This can make it a real challenge to stand out from the crowd. For that reason, you'll want to build your site with a theme that permits plenty of customization – such as Picante.
Picante makes it pretty simple to design a restaurant site that is unique and stylish. There are a number of templates with differing looks and layouts to get you started. You can then use the live visual builder to tweak each section and page until it meets your requirements. Plus, there are pre-designed header and footer options that can be similarly chosen and personalized.
Of course, your restaurant theme also needs to include features that reflect its niche. In this regard, Picante doesn't disappoint. You'll get built-in reservation functionality, which you can use to display your availability to customers and let them make reservations through whatever channels are most convenient for your business. There's also a feature that lets you easily show off your menu.
Picante is a fairly straightforward theme – it doesn't include anything too radical or unusual. However, it covers all the basics required for a restaurant theme, is beginner-friendly, and with an attractive, modern look. In short, this is a theme that will serve your restaurant's website well.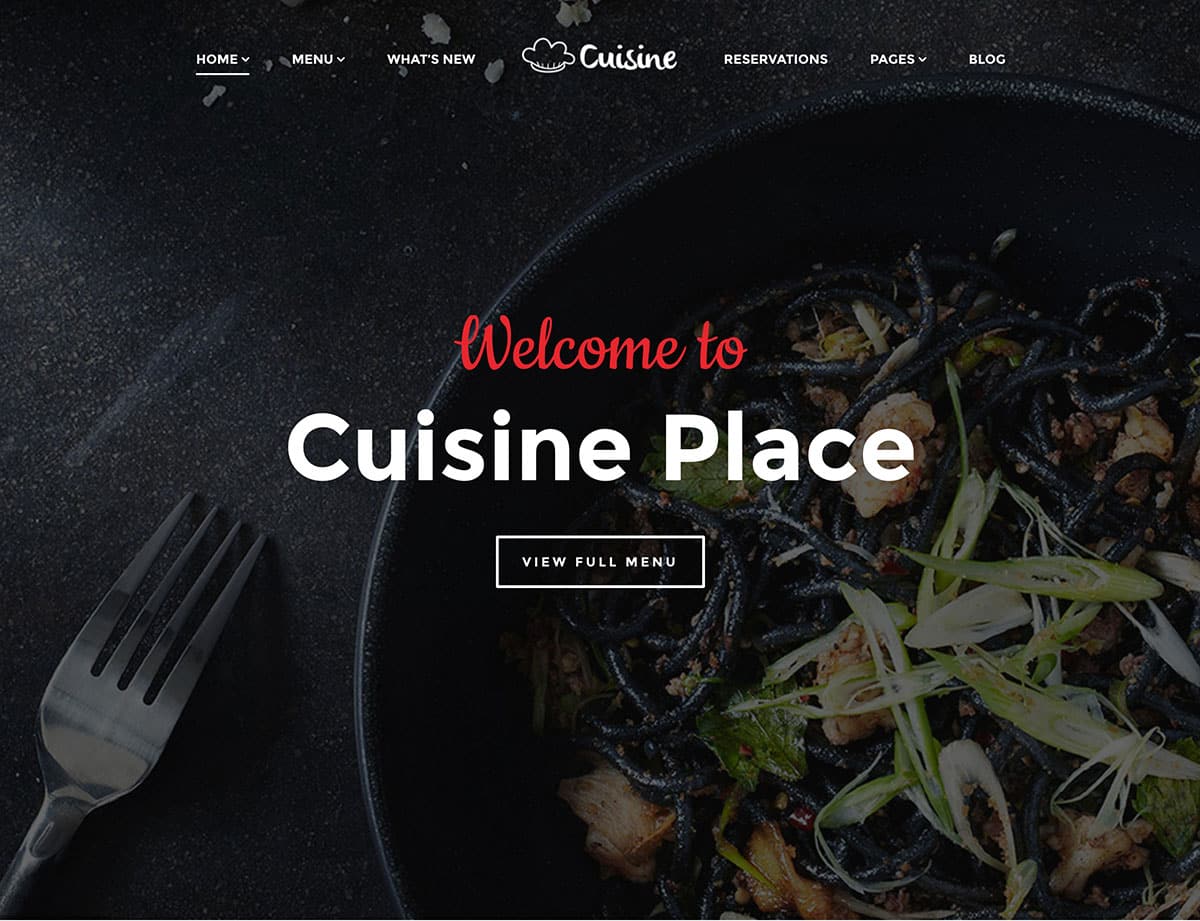 Let's face it – given the amount of fast food we eat, we're a society fueled by instant gratification. Sure, savoring every bite is pleasurable, but it's often the 'straight to the arteries' appeal of a hamburger that gets our pulses racing. While your restaurant's menu no doubt offers more refinement than a cheap burger, with Cuisine your website can add the necessary impact to impress your customers.
Cuisine's design is based on a landing page layout. By utilizing the bundled Slider Revolution plugin you can showcase full-screen images of your most mouth-watering dishes, along with prominent calls to action.
Also, by employing an add-on from the bundled Visual Composer plugin, you can display a collection of the dishes you're most proud of, complete with a pronounced zoom effect. There are three home page layouts to choose from, and by employing another Visual Composer add-on, you can display an eye-catching and gorgeous-looking menu.
While Cuisine doesn't include any true reservations functionality, it's hardly a drawback given the third party options available. If you're looking to impress your visitors by displaying images of your food prominently, you'll definitely want to give Cuisine a whirl.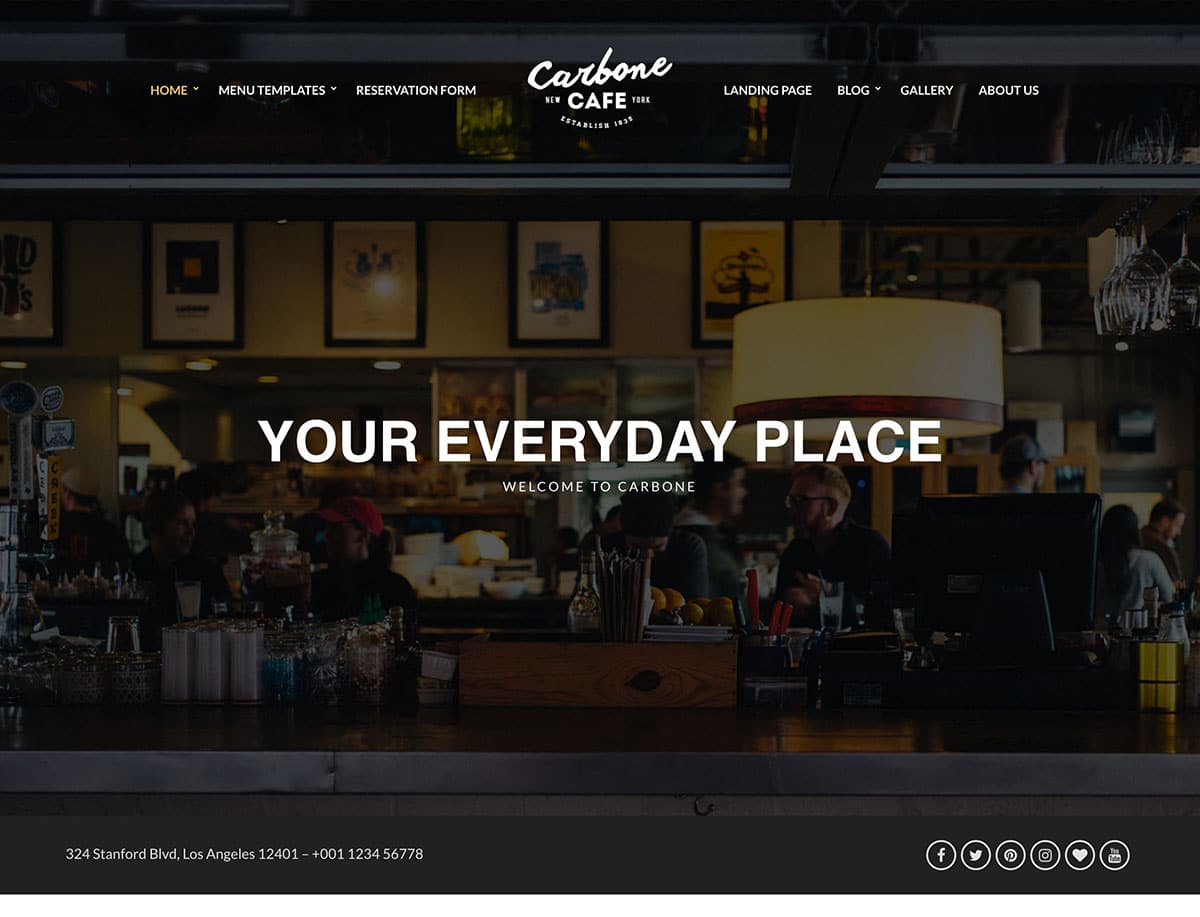 The very best themes are often targeted at a specific niche or industry, while still offering the flexibility you'll need to put your individual stamp on your site. Carbone does a solid job of balancing these two considerations, since it gives you a variety of customization options while remaining focused on the features you'll need for a food industry website.
Most effective restaurant, bar, or cafe sites begin with a user-friendly menu. Carbone has you covered there, with a dedicated menu template that includes options for categorizing and pricing your items. There are also various ways to offer a reservation page for visitors, including a simple form and integration with popular services such as OpenTable.
When it comes to designing your website, Carbone offers support for multiple page builders so you can make changes through a simple drag-and-drop interface. In addition, Carbone includes a live customizer that enables you to personalize and brand your pages. The resulting site will be responsive, SEO-friendly, and fast. Carbone was also built with a close eye on mobile performance, which is key since many customers will use their phones or tablets to check out your site.
While Carbone isn't the most flashy option for your restaurant site, it's a solid choice that includes almost all of the features you'll need to create a unique site, while also providing plenty of flexibility for customization.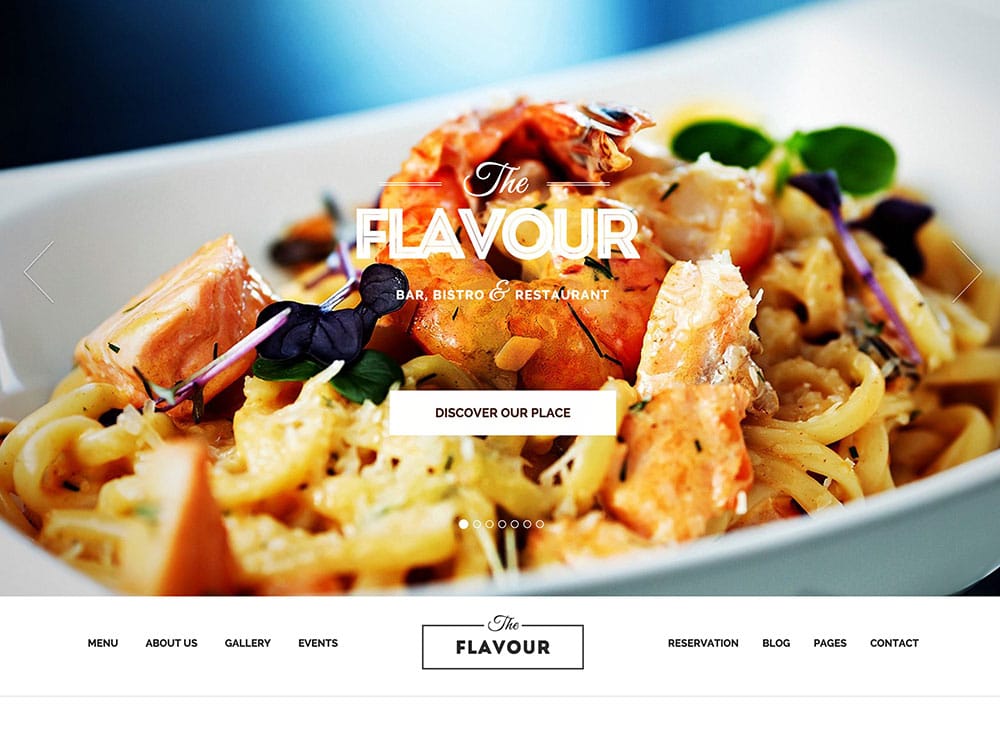 The Flavour is a delectably modern WordPress theme ideal for a bar, bistro or restaurant.
This theme is fully customizable and super simple to use. You can change colors, backgrounds and more, directly from the admin in as little as a few clicks. It also comes equipped with powerful features like being able to receive reservation requests directly in your WordPress admin. You can approve or reject them, as well as communicate directly with your customers through your dashboard.
The HTML5 animated slider is the only one you'll need to showcase your mouthwatering creations, especially since The Flavour is both fully responsive and retina-ready.
Downtown
Downtown is a fantastic looking theme with a lot of stylish elements that are bound to impress visitors.
As you would expect the theme is fully responsive, and Downtown isn't short of practical features either, including a reservation form, filterable menu, recipe pages, custom widgets, built-in shortcodes, Google maps and more.
But it's the little touches that make all the difference in this restaurant theme; from the hover effects on the menu items to the zoom effect on meal photographs as the user hovers over them. And in the sections of the site which really count for a restaurant theme — the menu and then reservation form — Downtown excels.
In short, Downtown oozes class. If you're an upmarket restaurateur and want to reflect that fact in your website, this theme is definitely worth a look.
More Info / Download Demo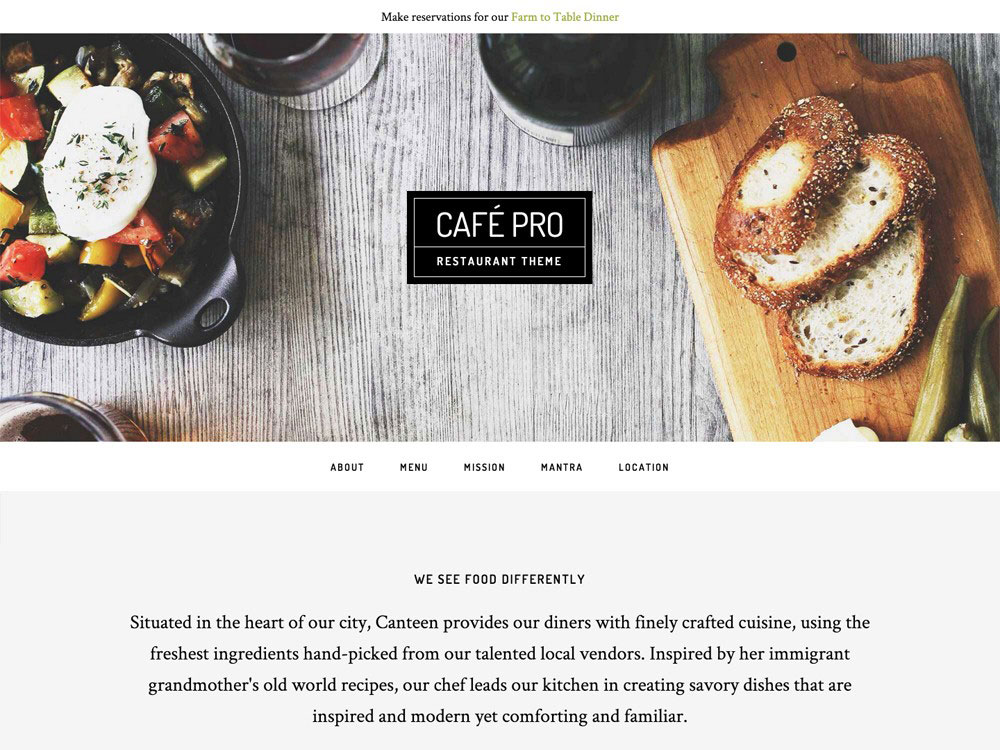 StudioPress have built up a reputation for creating well-coded, stunning themes over the past few years, and Café Pro is no exception.
As you would expect, this theme has been built with cafés in mind, although it could work for restaurants too. The stock background photographs aside, Café Pro's basic design has a somewhat rustic feel to it, although it definitely retains a sense of modernity. The parallax effect – which can sometimes come off as gimmicky – is beautifully utilized to bring attention to the background imagery while still enabling visitors to focus on the content.
With the above in mind combined with the assurance of top notch support from a well-established theme provider, Café Pro is definitely a firm recommendation.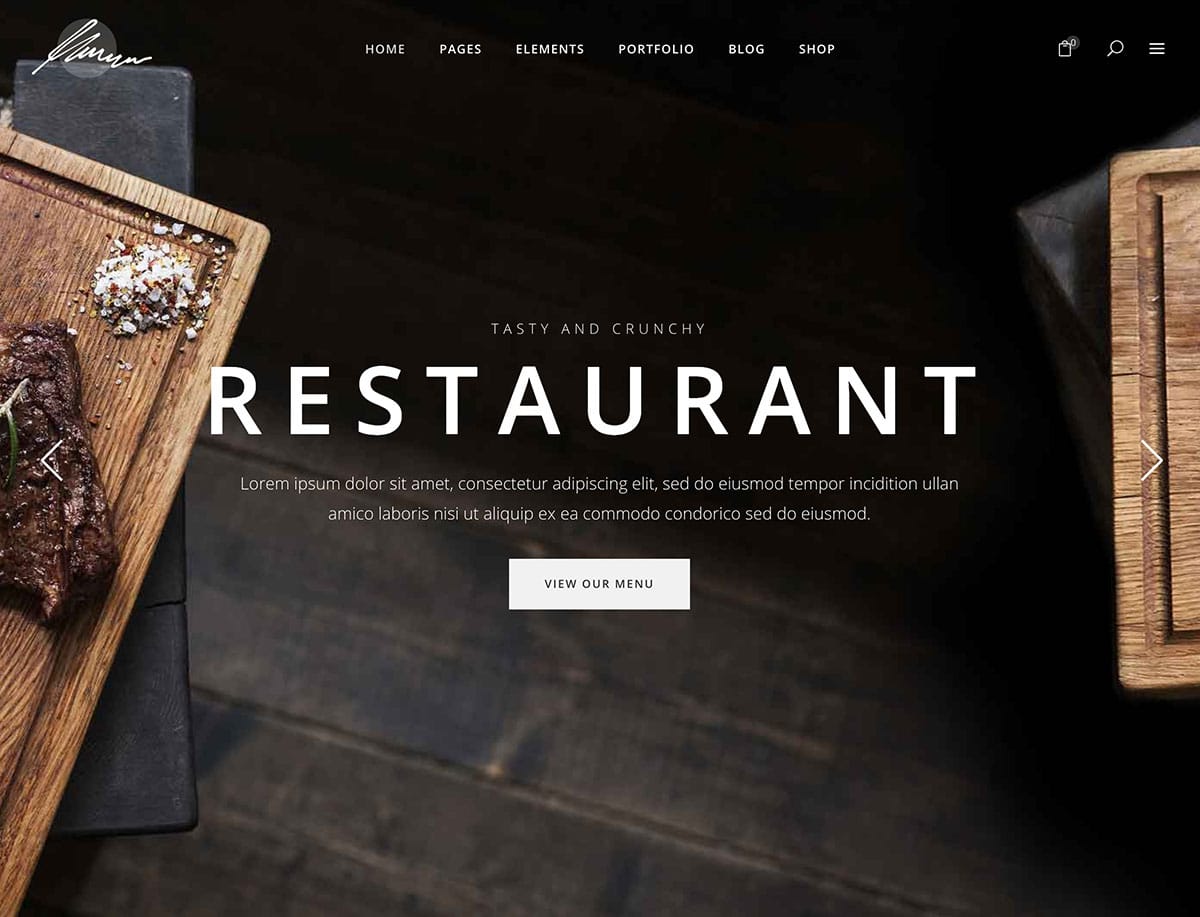 It goes without saying that aesthetics are important for any website, since attractive and well-designed pages draw can visitors in and even encourage them to get out their wallets. This is particularly important for a restaurant site, which is why Savory puts appearance first.
Savory offers 12 unique home pages to get you started, each designed to attract customers and show off your food or location. You can customize these demo pages as much as you'd like, or simply add your own content and leave the default style intact. You'll also get access to sample content for other parts of your site, such as your menu and contact information.
If you do choose to make changes to the layout and design of your site, Savory makes the process straightforward. There are plenty of useful widgets and shortcodes to help you along, as well as various options for headers, footers, galleries, and more. You can even incorporate your social media feeds, to get customers talking about their experiences with your business.
Overall, Savory is an easy-to-use theme that offers the customization options you need without over-complicating its features. With it, you can quickly build a site that wows visitors and encourages them to give your restaurant a try.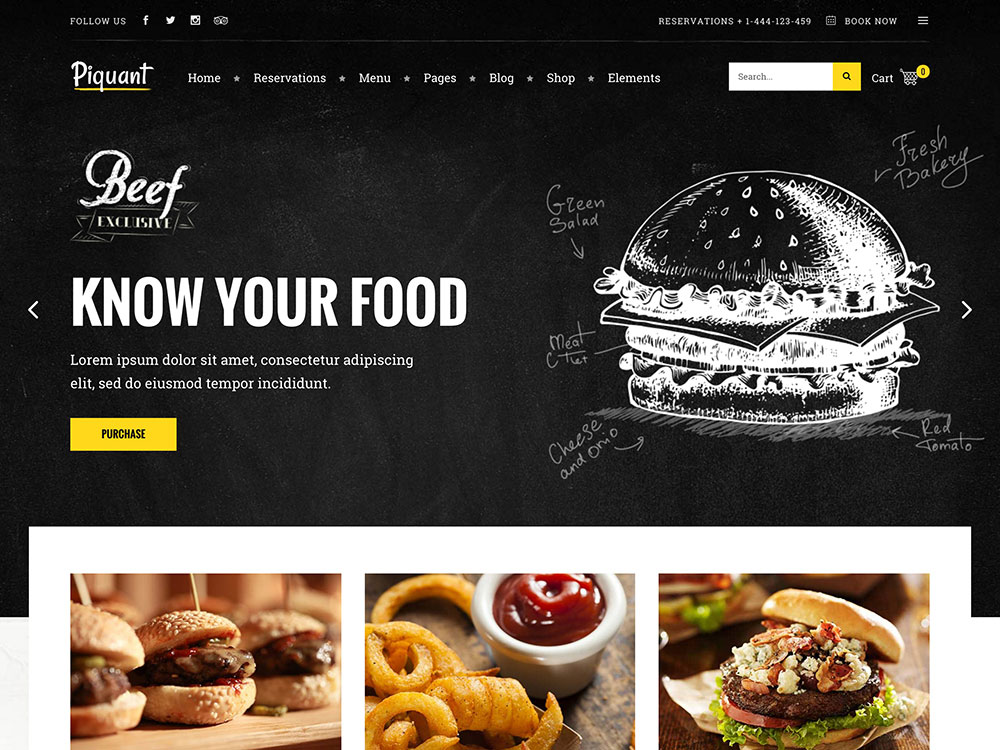 With six different homepage styles to choose from and a great blog to show off everything from recipes to seasonal menu change announcements, Piquant is a svelte theme for restauranteurs who are serious about interacting with their clients and keeping them in the know.
Piquant doesn't mess around; this theme is all about bold black and white design, taking inspiration from diner blackboards announcing the specials of the day. But its no-nonsense aesthetic belies a sophisticated and well-thought out experience. You can make reservation booking the focus of your homepage and add beautiful CTA buttons and other elements, or you can lead off with your latest seasonal menu, or even condense everything onto a single fullscreen page for a more streamlined look.
Our favorite features of this theme are less specific to the restaurant experience itself (not that the customizable menus and image galleries aren't wonderful). The blog includes six different kinds of posts, so you can ruminate on an inspiring Julia Child quote, announce the hiring of a brilliant new pastry chef, or include an image gallery that shows off the newest quinoa starter you've added for the winter menu. Piquant also comes with WooCommerce integration, so if you have any wares to sell online such as cookbooks or novelty chef's hats, you can create a shop on your website in a snap.
If you're looking for a theme that has class and character and you plan on keeping your customers in the know about the latest goings on (and possibly encouraging them to buy a cookbook or reserve cooking classes with you), Piquant makes an excellent choice.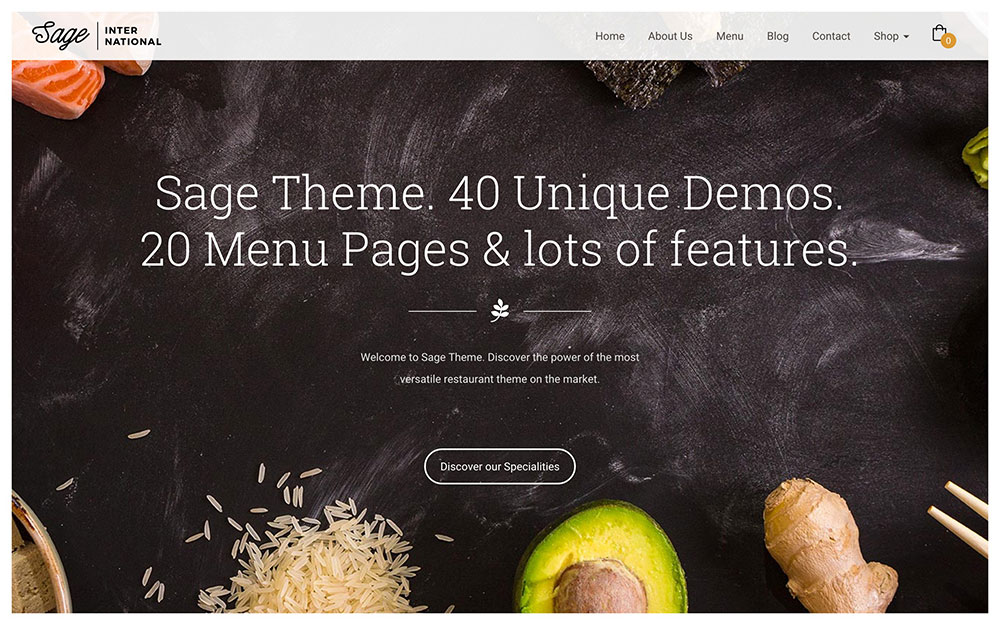 Sage comes with 40 restaurant-specific demos ready to be installed for a highly refined out-of-the-box experience; or alternatively, you can tweak the many customizable features available to suit your tastes.
The developers behind Sage don't hold back, offering you 40 different fully loaded demos that you can easily adapt for your own eatery's website. Every kind of restaurant imaginable – from to Mexican to vegan – is catered for with its own demo, in case you don't feel like getting your hands too dirty with building an entire website from scratch.
Unlike walk-in customers – who have the benefit of smelling your cuisine from a block away or browsing through your dinner menu as they happen to be cruising the neighborhood in search of a good place to eat – online visitors aren't as easily swayed by sensory overload. That's why it is so important for you to choose a website theme that conveys the mouth-watering power of your food, and Sage gives you the capacity to bombard visitors with a cornucopia of beautiful imagery. Thanks to a drag-and-drop menu and homepage creator you can give your customers a visual tour of your kitchen: high resolution image galleries of every single dish you prepare and embedded fullscreen videos that take them on a tour of your griddle, herb garden, or wherever the magic happens. But you can't get by on looks alone, so 20 unique menu pages let you craft the perfect looking menu that plays to your eatery's strengths and shows off the best your kitchen has to offer.
Don't know how you want your restaurant's website to look like? Sage is a great choice. Have the perfect website in mind and want a theme that's powerful enough to handle your demands? This could be the one for you too.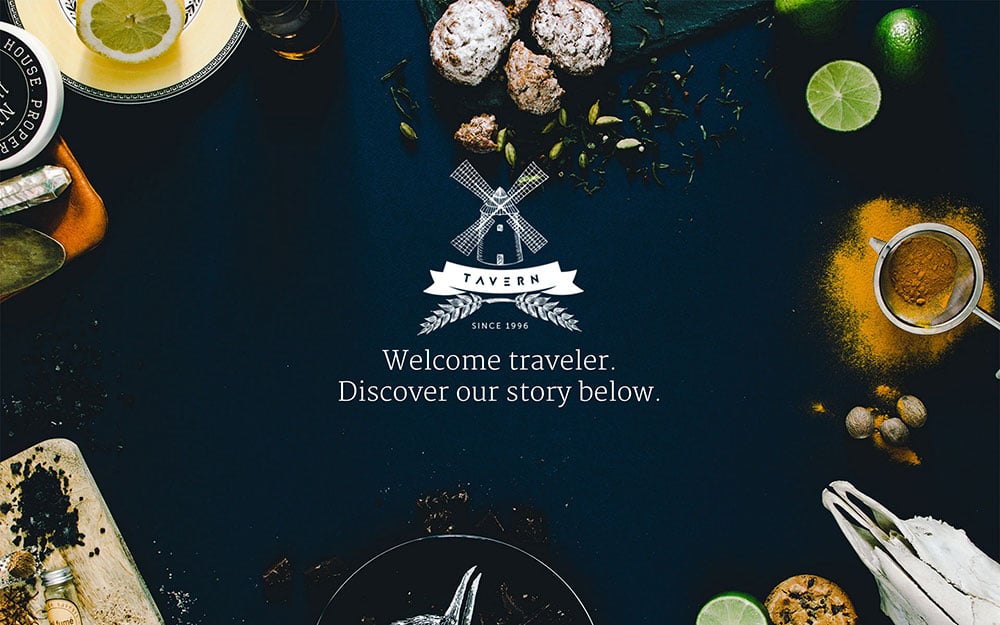 Tavern is a warm, appealing theme, flexible enough for any restaurant or eatery, including bars and cafés. Engaging without being too busy, Tavern draws in visitors with a full-page image and an invitation to discover more. It is retina-ready and fully responsive, with a nice balance between content and large images. The enticing images of food adorning the menu section make a pleasant contrast with the elegant parallax effects in this modern, minimalist theme.
A quick scroll down the home page reveals features you would expect to find on any restaurant site worth its salt: a reservation system using the OpenTable plugin, and links to the menu and contact information. Sections are also included for your restaurant's history and other services you offer. As far as customization goes, you can design your pages however you want with the Visual Composer plugin and a variety of skins, demos and layout options.
Tavern has everything you need for a simple, welcoming website that does more than just introduce your restaurant. It supports the WPML plugin for translation, and is cross-browser compatible for ease of use. You can also sell products via a product grid display with the WooCommerce plugin.
To give visitors and patrons a warm welcome to your eatery, consider Tavern.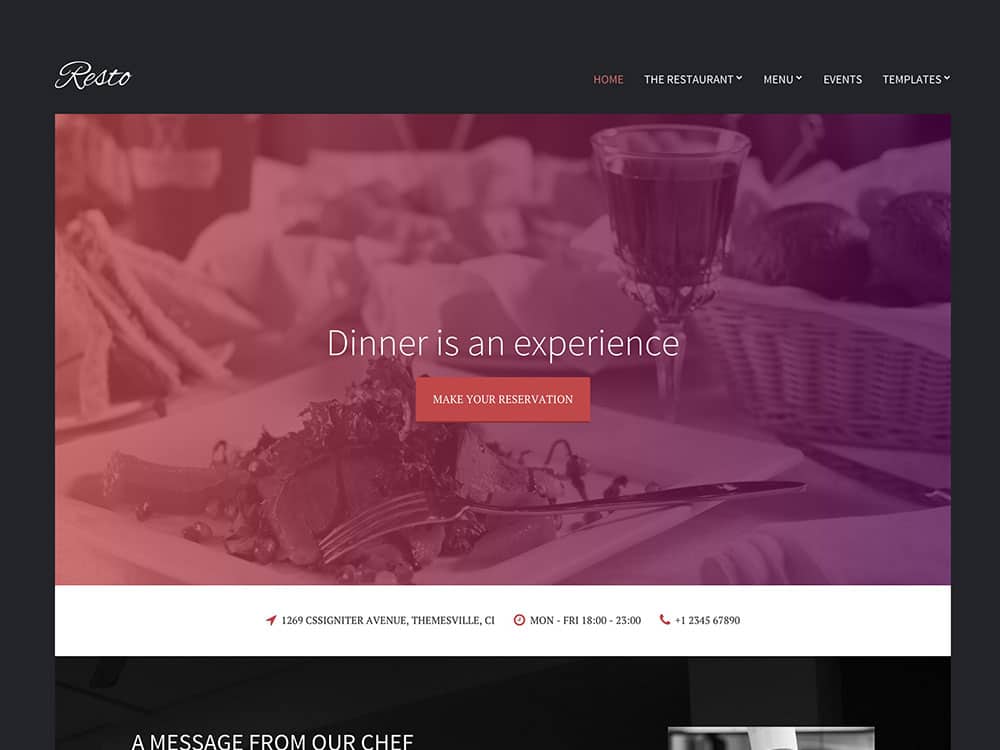 If you're looking for a restaurant theme that looks great and offers simple customization features, Resto could be the option for you.
The theme itself is simple yet striking, utilizing clean lines and plenty of color to attract visitors. The homepage menu item hover feature (which overlays the image with the name of the dish) is a classy touch, and the dedicated menu page looks just as good.
But it's in the customization features that Resto arguably shines the brightest. The homepage can be edited via a drag-and-drop display, menu items can be easily managed via a custom post type, and events management is a cinch. Furthermore, as Resto is a CSSIgniter theme, it comes packaged as standard with comprehensive theme options, custom shortcodes and multiple color schemes.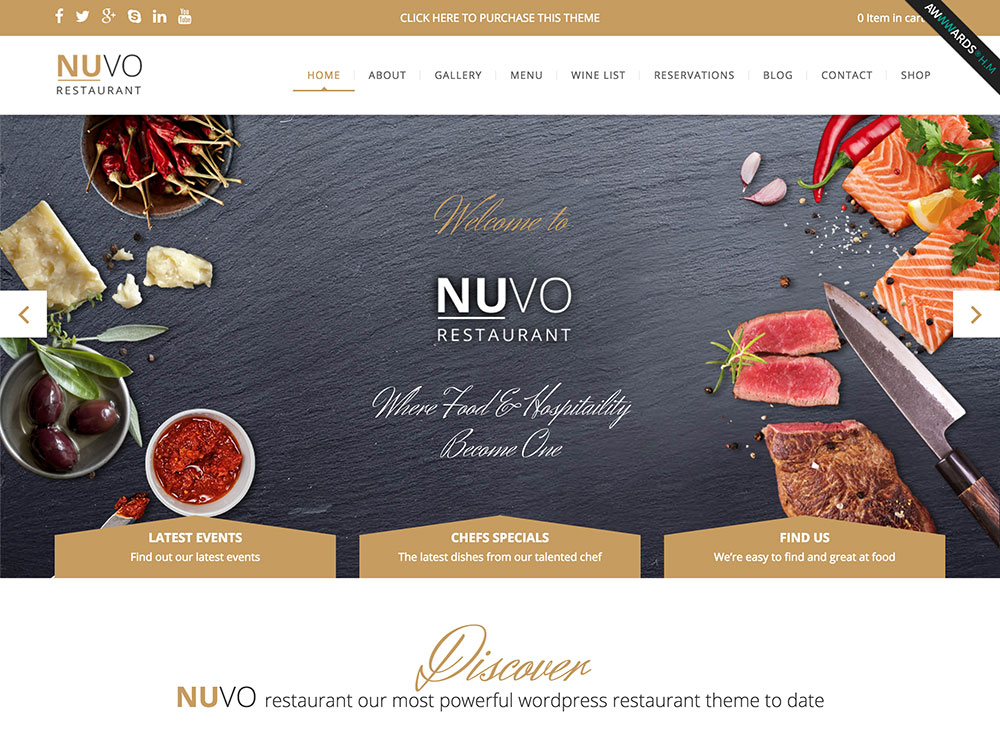 NUVO is a seriously classy yet flexible theme. Browsing through the demos gives you a sense of what is possible, as the developers have created examples of how the theme can be used for restaurants, cafes and bistros – not to mention the one page option if you're not ready to put a fully-fledged website together just yet.
NUVO is an image-heavy parallax theme, and although it is responsive, ease of functionality is not as you would ideally like on smaller devices. Given that many people will tend to peruse your menu or make a booking on their small-screen smartphone, this may not be ideal.
Having said that, NUVO is a theme that is designed to stun, and on desktops and laptops, it achieves its aim. It is the kind of design that would suit even the most high-end establishments.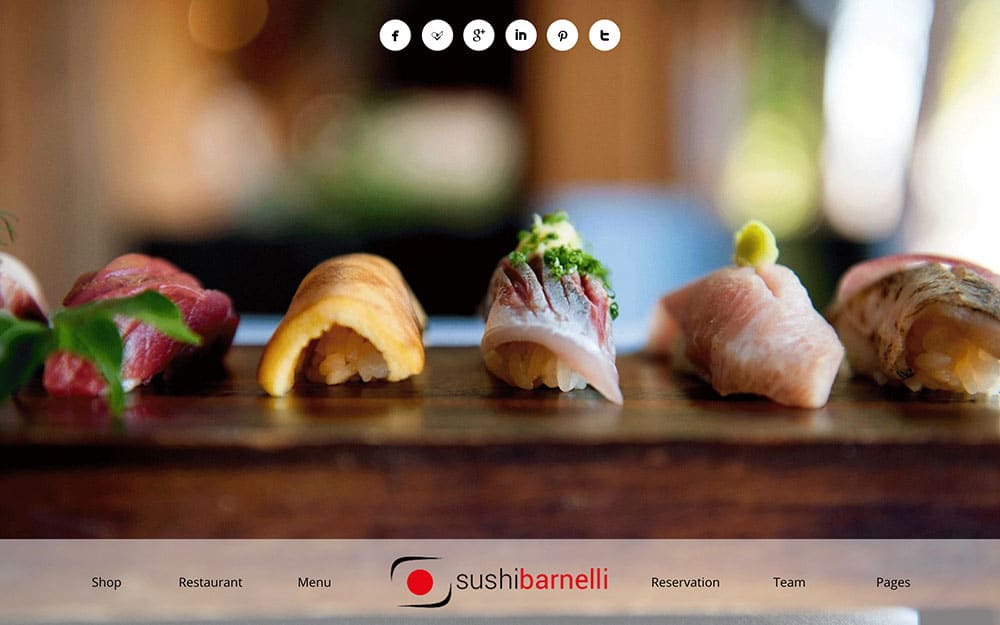 Barnelli is a clean and minimalist WordPress restaurant theme and provides an excellent backdrop for small restaurants, fast food eateries and kebabs.
This highly responsive theme comes equipped with many great features. Visitors can view a menu on any device with ease. Included are a full-width slider and three different menu styles. The reservation form makes it easy for guests to save a seat. It's a well organized theme with a built-in calendar to showcase upcoming events. It also comes with a working contact form.
Barnelli is cross-browser compatible and well documented if you run into problems or questions about how to do something.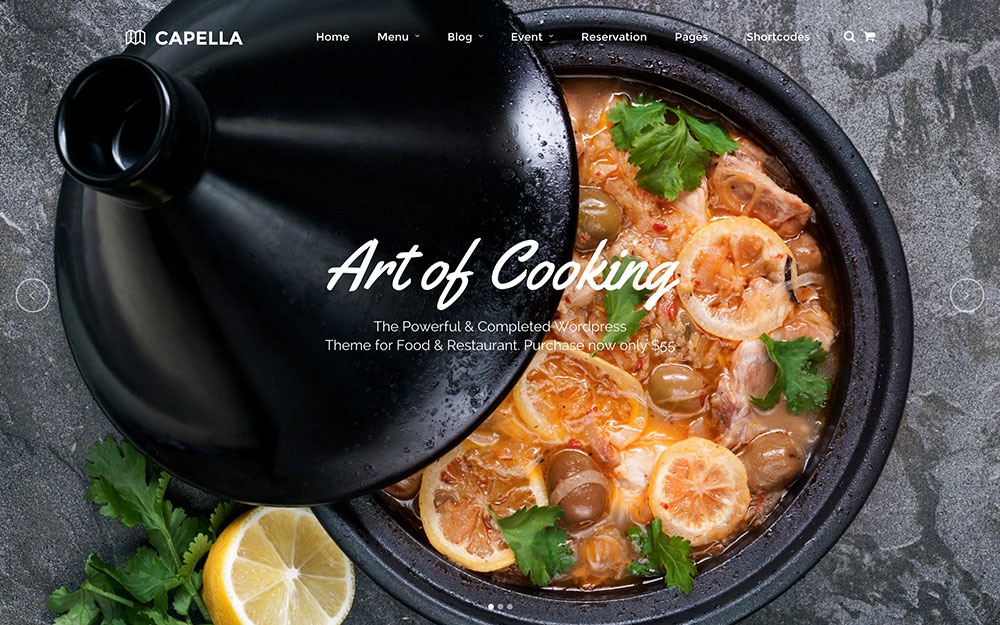 Capella is an appetizing restaurant WordPress theme with a powerful theme options panel.
Capella's fullscreen design is highly attractive. It involves bands of dark, fluid colors that accentuate a very structured and patterned design. The typography is alternately stately and funky depending on its placement, which helps to contribute to the allure of the parallax background.
The theme comes with several features that make it front end user-friendly, which include reservation and contact forms. 3 food menu layouts are built-in along with filterable event management and social media integration. Ajax search, off-canvas mobile navigation, 20 gallery templates, and the $15 Revolution Slider are included.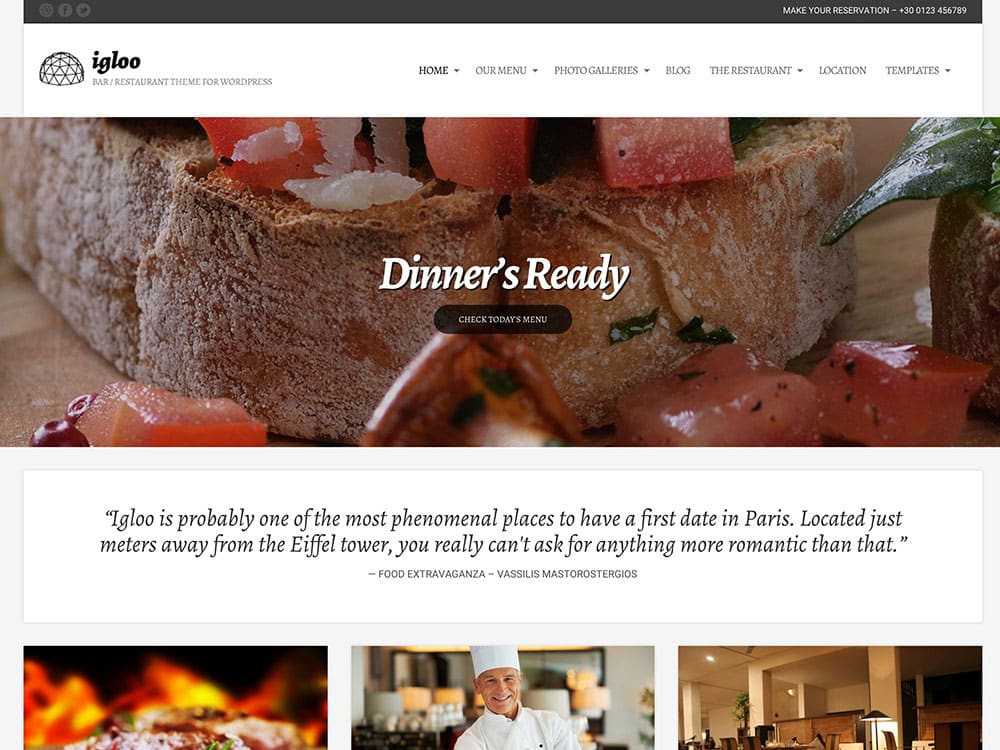 Igloo is a great restaurant theme with an elegant design.
The developers' goal was to offer a simple yet aesthetic solution for you to get your site up and running quickly. They used WordPress best practices to make it future proof, and they also offer a forum for support in case you get stuck with anything.
There are nine templates and many color variations, allowing you to customize as little or as much as you'd like.
Igloo is fully responsive and localization is included – almost anyone anywhere should be able to view your restaurant and peruse your menu easily.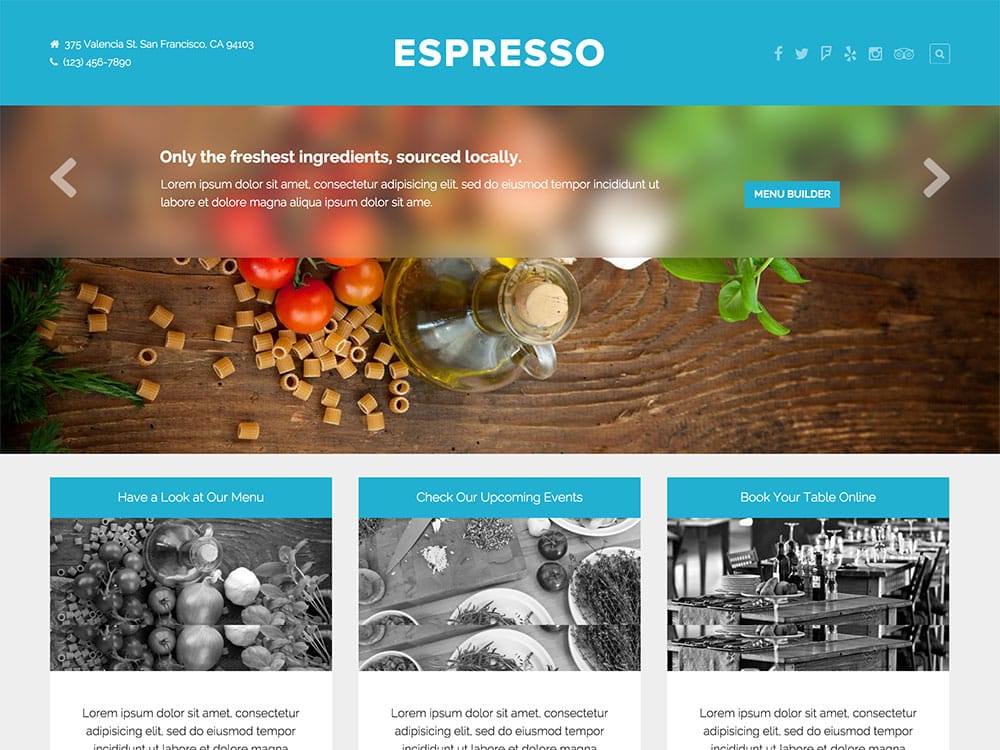 Espresso is a WordPress restaurant theme perfect for a coffee shop, bistro or cafe with its exclusive menu builder and events calendar support.
The Visual and Live Composers make page building a snap – you can change the color, font and styling in mere seconds to suit your brand.
This theme is completely responsive, making it viewable without frustration on virtually any device.
Included at no extra cost are the Envira Gallery, Slider Revolution and Visual Composer upgrades. It's also fully supported by WooCommerce if you want to set up your own store.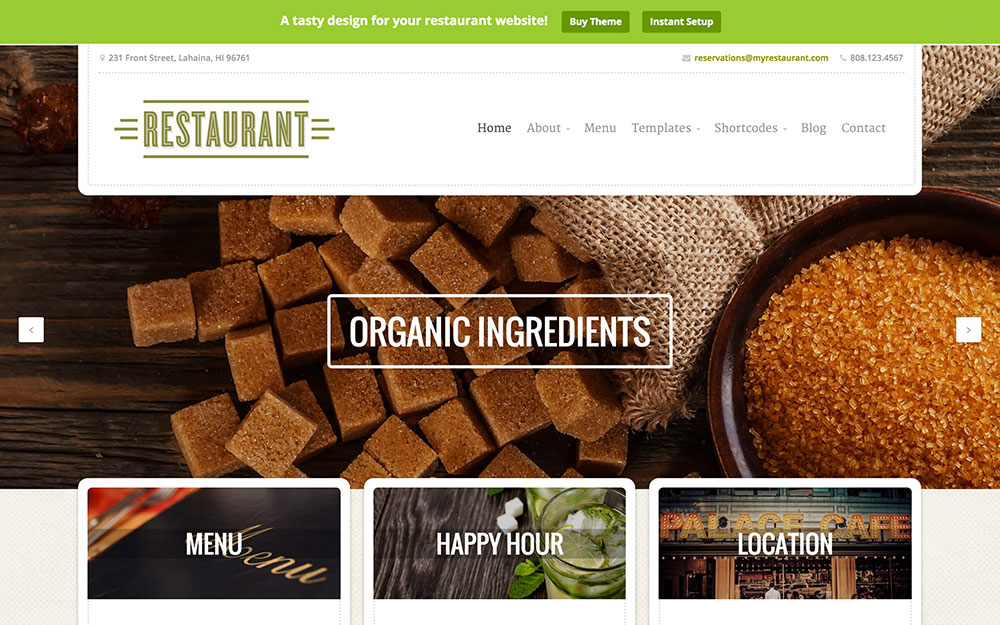 Restaurant, despite its somewhat obvious name, is a restaurant WordPress theme with a wonderful design and creative capabilities.
Restaurant's home page design incorporates elements from many different types of themes: tiled featured posts, heavy dependence on large images, and a rounded structure. Although there isn't too much of it, the placement and positioning of the white space ensures that visitors have ample breathing room.
The theme comes with custom post and page templates that take care of menu items, portfolios, and recipes. A full-width slider and parallax-enabled thumbnails are included. Stylized for the Gravity Forms plugin, Restaurant is fully responsive and comes with a simple theme options panel, multiple custom shortcodes, video support, and numerous sidebars.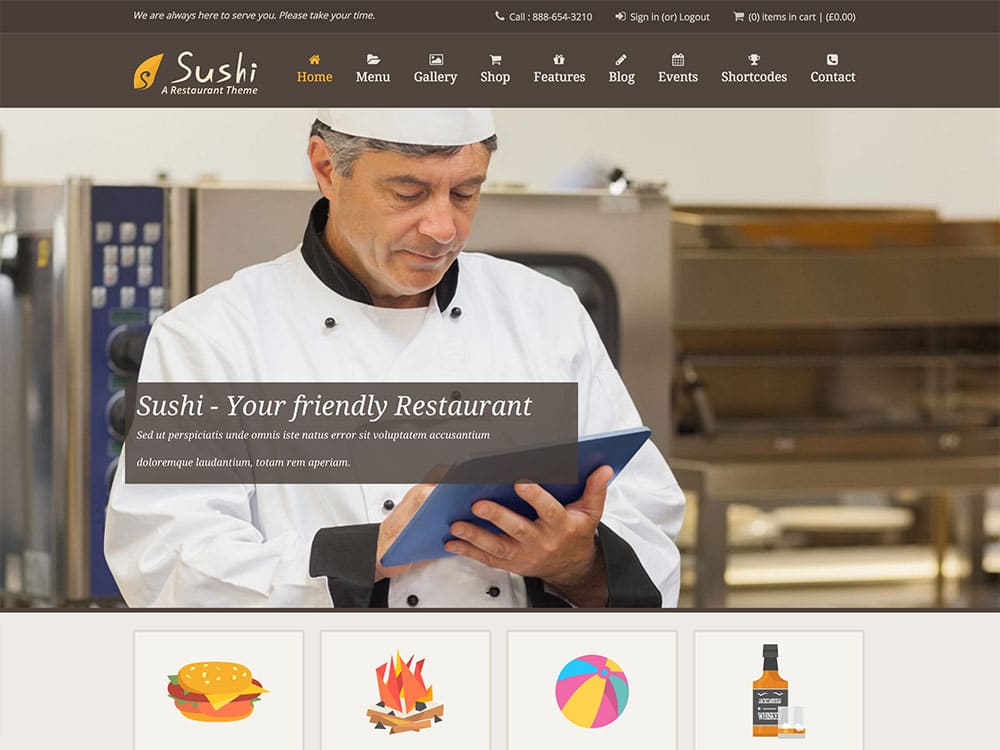 Sushi is a premium WordPress food and restaurant theme.
Its powerful admin panel and mega menu make it a standout among the competition. The customization options are many in number but easy to implement. There's an "Import Dummy Data" button to view proposed changes in one click. There are two menu template pages and five custom widgets included.
This theme is WooCommerce, WPML and MailChimp ready. The Revolution and Layer Sliders are included at no extra cost to you.
Sushi is 100% responsive and looks amazing on virtually any device. The theme is also translation ready, meaning you can reach most anyone, anywhere.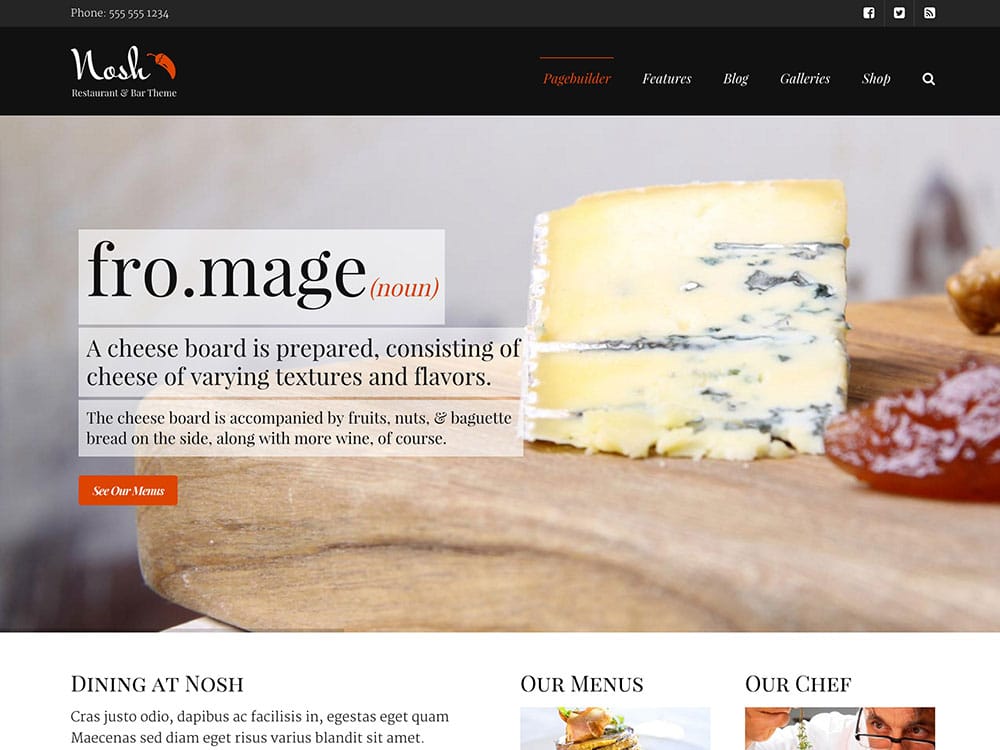 Nosh is an exciting new restaurant theme that's sure to provide visitors with a unique browsing experience.
Nosh's fullscreen design is completed with multiple scrolling animations, ample white space, and more. The demo allows you to preview the theme in multiple styles of coloration and screen size. Two skins are built into the theme.
Nosh comes with numerous tutorial videos to help you configure the theme. The responsive, retina-ready design is powered by an intuitive admin panel that allows you to choose from 40+ layouts and 600+ typography options. The purchase package is bundled with 6 free and premium plugins all free of extra charge, one of which is the normally $15 Revolution Slider.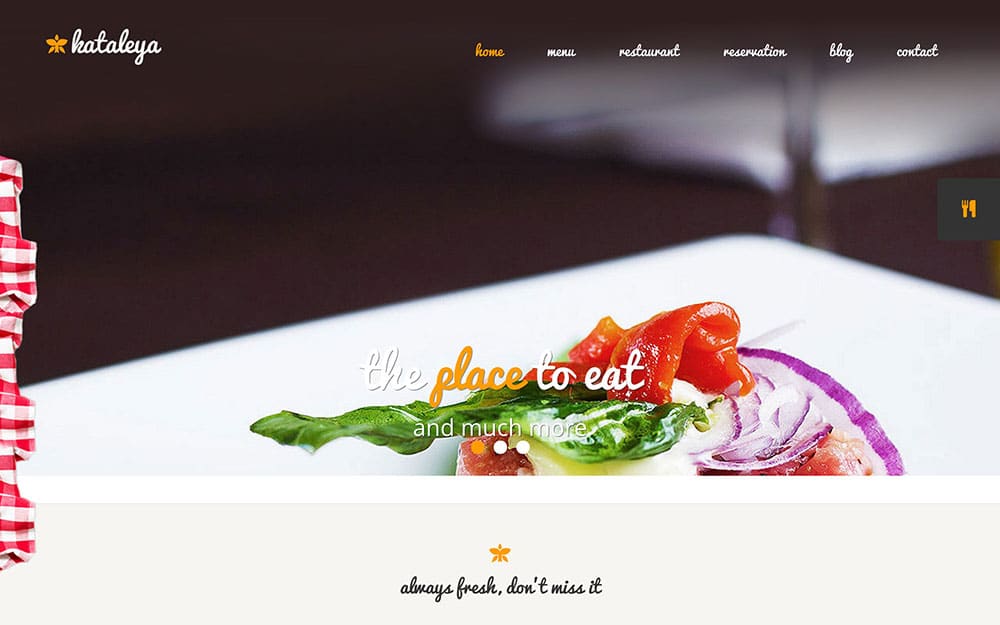 Kataleya is a remarkable theme with a distinctive design and desirable functionality.
One thing that's especially unique about this restaurant theme is the fact that it centers everything. Each of the 3 prebuilt layouts center the headers, item text, and more. This singular style contributes to the overall charm of the design.
Kataleya's design is so specialized for the restaurant niche that it comes with 3 layouts that are built for 1) a normal restaurant 2) a pizzeria and 3) a coffee shop. Visual Composer and Layer Slider are included free of cost, along with multiple masonry, grid, and column styles for your blog feed. PSD files, an online ordering mechanism, and a custom reservation management plugin are also built into the theme.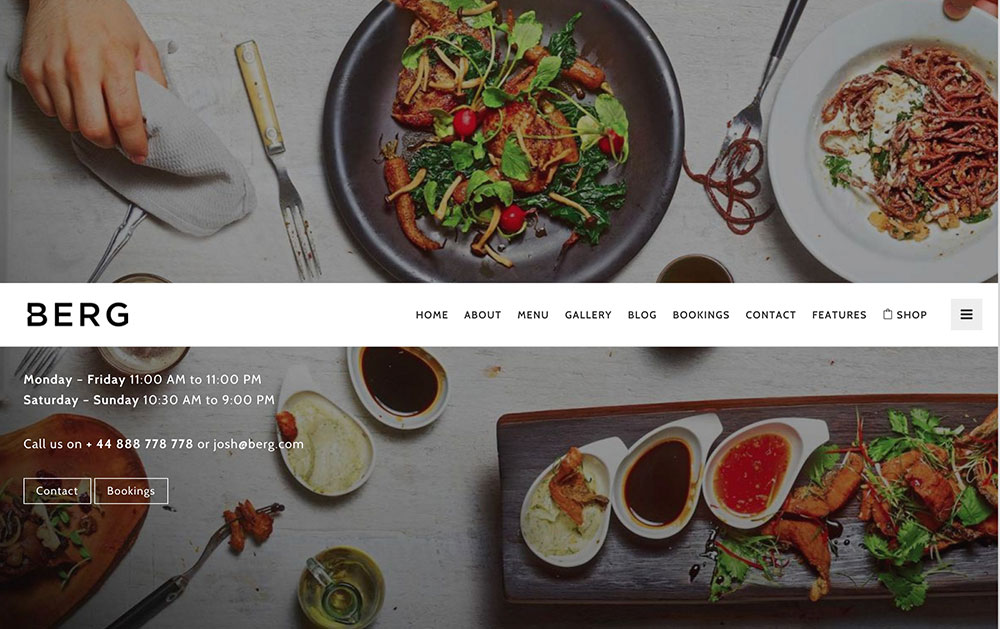 Berg is a theme that you might love or hate. Objectively speaking, it's a good looking theme, with the use of full-width imagery and simple and effective navigation.
On the other hand, it implements features that one might consider distracting. On the homepage, the background image 'follows' the mouse cursor; an effect that might leave one feeling slightly nauseous (which would be most inappropriate for a restaurant's website). And hovering over the Menu navigation link exposes a sub-header, the functionality of which is not immediately obvious.
But if the above doesn't bother you, Berg is a theme you can't really fault. It looks great, functions well and includes all of the features you would typically expect. So take a look and decide for yourself.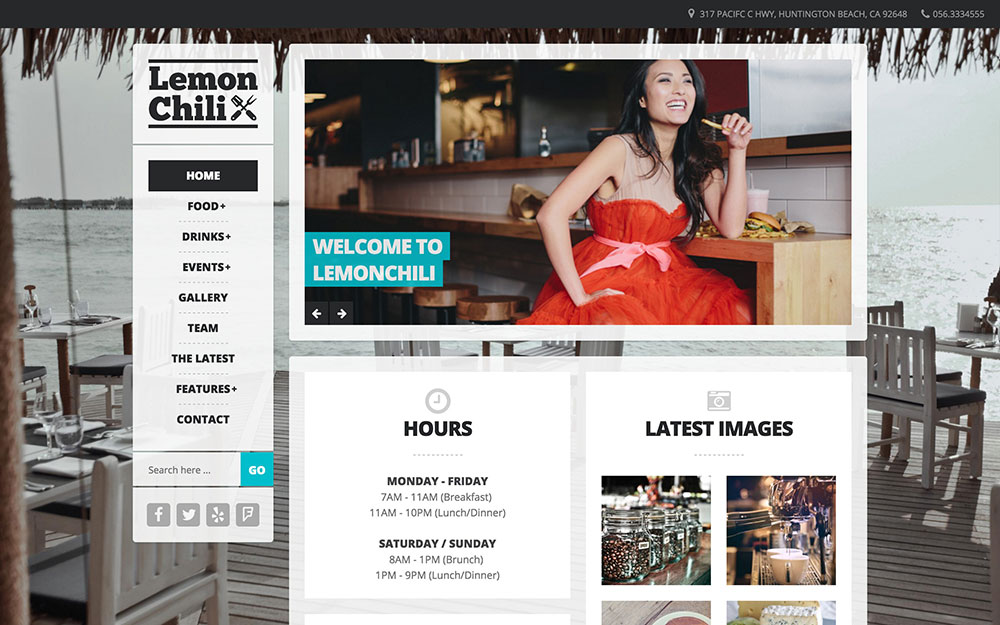 LemonChili is a great theme for those that can't stop creating new dishes or drinks. You can construct as many menus as you'd like to showcase your ever-growing fares.
This responsive WordPress theme makes it easy to view your restaurant, bar, cafe or club's website. There are light and dark versions ensuring you can draw attention to exactly what deserves it. Or you can upload a custom background to personalize it even more.
Additional theme highlights include gallery, events, and team pages, as well as seven custom widgets. This theme is translation ready and can be easily integrated with Google Analytics.
Your contact info appears prominently at the top of the page. There is even the option to link your address to Google maps. On mobile phones your visitors can call your business with the tap of a finger.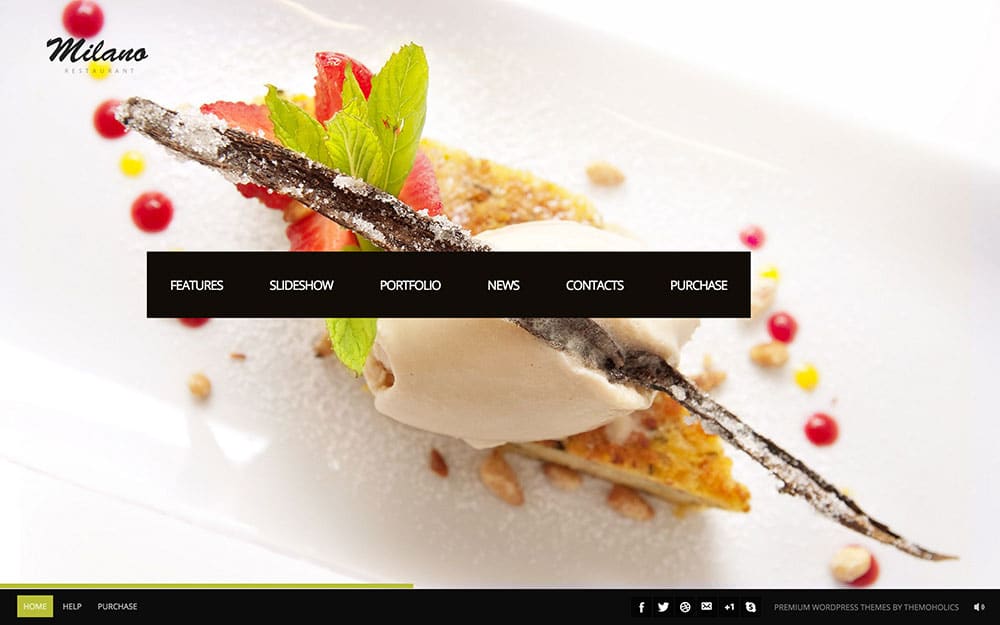 Milano's matchless design and settings make it perfect for hotels, restaurants, photographers or other creatives to showcase their business or works. Simple customization options means you don't have to mess with code.
This theme will instantly captivate your audience and is fully responsive for pleasurable viewing on any device. It comes equipped with video background and sound support that don't start over as you change pages. There is also dynamic 3D animation for sidebar posts.
There are practically unlimited colors to choose from for content and backgrounds. Additionally there is a custom slideshow, various layouts and advanced typography. It's easy to install in just a few clicks.
Current users are impressed by its beauty, helpful documentation and ease of use. They report getting lots of positive feedback from site visitors.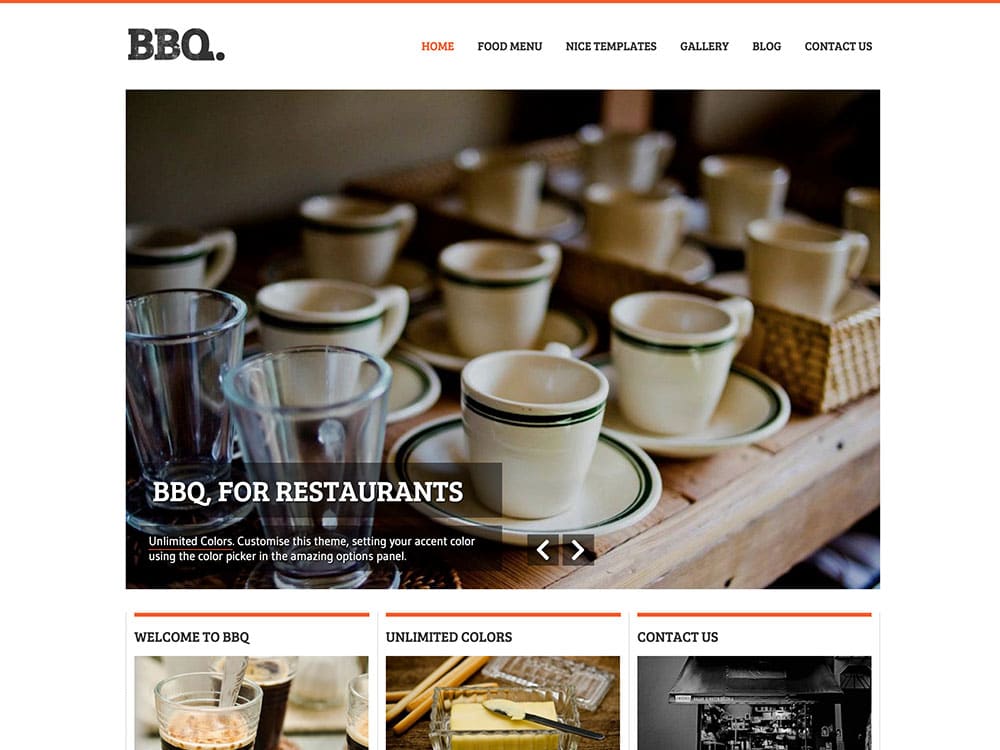 BBQ is a lovely restaurant WordPress theme with a delicious, responsive design.
BBQ's design is very structured and follows a specific multiple column pattern. Its orderly nature contributes much to the rest of the design, which is heavily reliant on empty white space accentuated by shades of vibrant, contrasting colors. The sans serif typography complements the other elements perfectly, and the large home page slider is a nice touch too.
Over 500+ Google Fonts and a color picker are included in the theme options panel. Two menu templates, a stylish contact form, and custom post types for food menus, home info boxes, and feedback from customers are all included in the theme's capabilities. BBQ is a great theme for the price.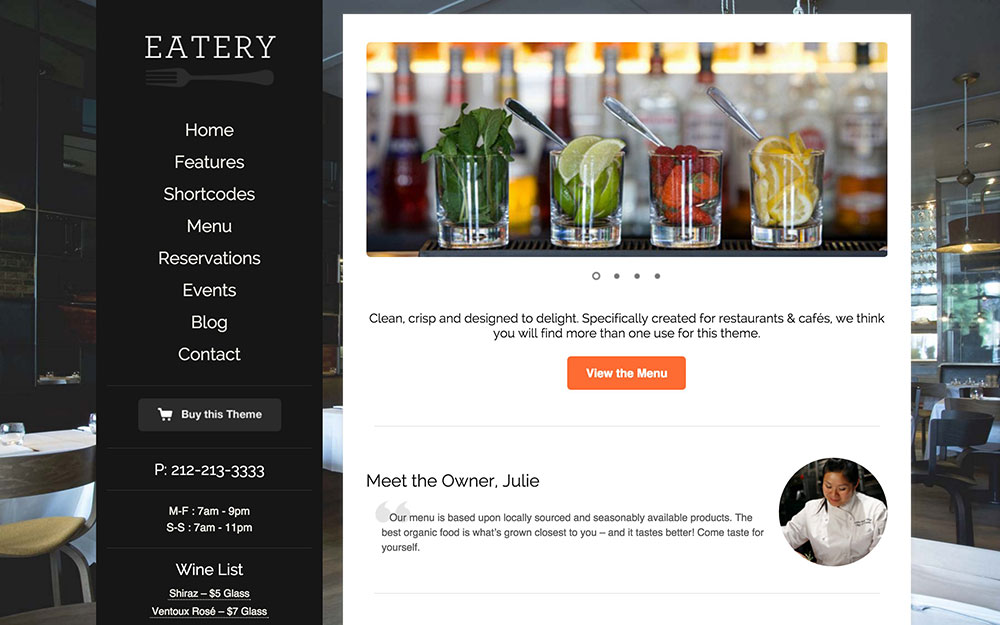 Eatery is a WordPress restaurant theme that was specifically created for restaurants and cafes, but can also be used for additional business types.
The theme's clean and bright design comes equipped with six unique skins to showcase your establishment. The color picker allows you to complement your brand nicely. There's a wide variety of Google Fonts to choose from and plenty of easy to use shortcodes to make customization quick and efficient.
Demo content is included to begin crafting your website in minutes. There is great support if you get stuck. This theme has been cross-browser tested and is fully responsive. It is also compatible with WPML for a multilingual audience. Anyone, anywhere should be able to peruse your menu with ease.

White Rock is a WordPress restaurant and winery theme sure to impress.
The custom widgets will display your contact information, opening hours and Twitter/Flickr feeds. Best of all, your feeds will be pulled in automatically, showcasing your latest tweets and photos without any extra work on your part. There are custom menu templates and easy color customization.
This responsive theme is retina ready and can be translated into any language ensuring guests worldwide can read through your menus in their native tongue. The included demo content and detailed help file will guarantee that you'll get set up in no time.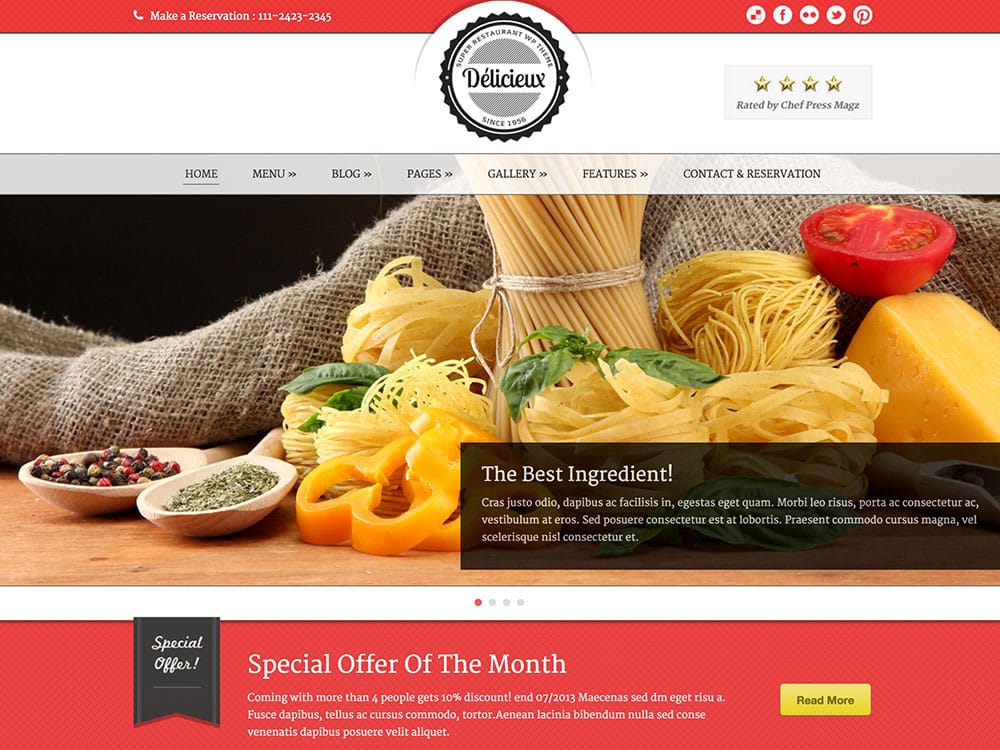 Delicieux is a premium WordPress restaurant or retail theme.
The live color changer helps you to visualize color variations with the click of your mouse. The drag-and-drop page builder allows you to add your content with ease. Easily upload your own logo, fonts or backgrounds. The advanced admin panel makes all of this a snap.
The theme comes optimized for SEO and with localization support. It's also fully responsive and cross-browser compatible. The extensive list of features includes social media integration. Additionally, there is a helpful video tutorial for getting you set up with the demo site.