WordPress is a superb platform for magazine sites. Many well-known news and magazine sites – such as Variety, BBC America, Quartz, Fortune, CNN, Reuters, The New York Times, and TechCrunch – use WordPress to achieve their powerful and beautiful designs.
Below we've compiled a list of the best WordPress magazine themes to help you create a powerful and unique site for whatever niche you're in. All the themes listed below are fully responsive and highly customizable. Most of them offer a variety of color options, fonts, widgets and great plugins. Perhaps most importantly, they are easy to set up and customize.
Check them out! We hope you find the perfect theme to create the next big magazine site.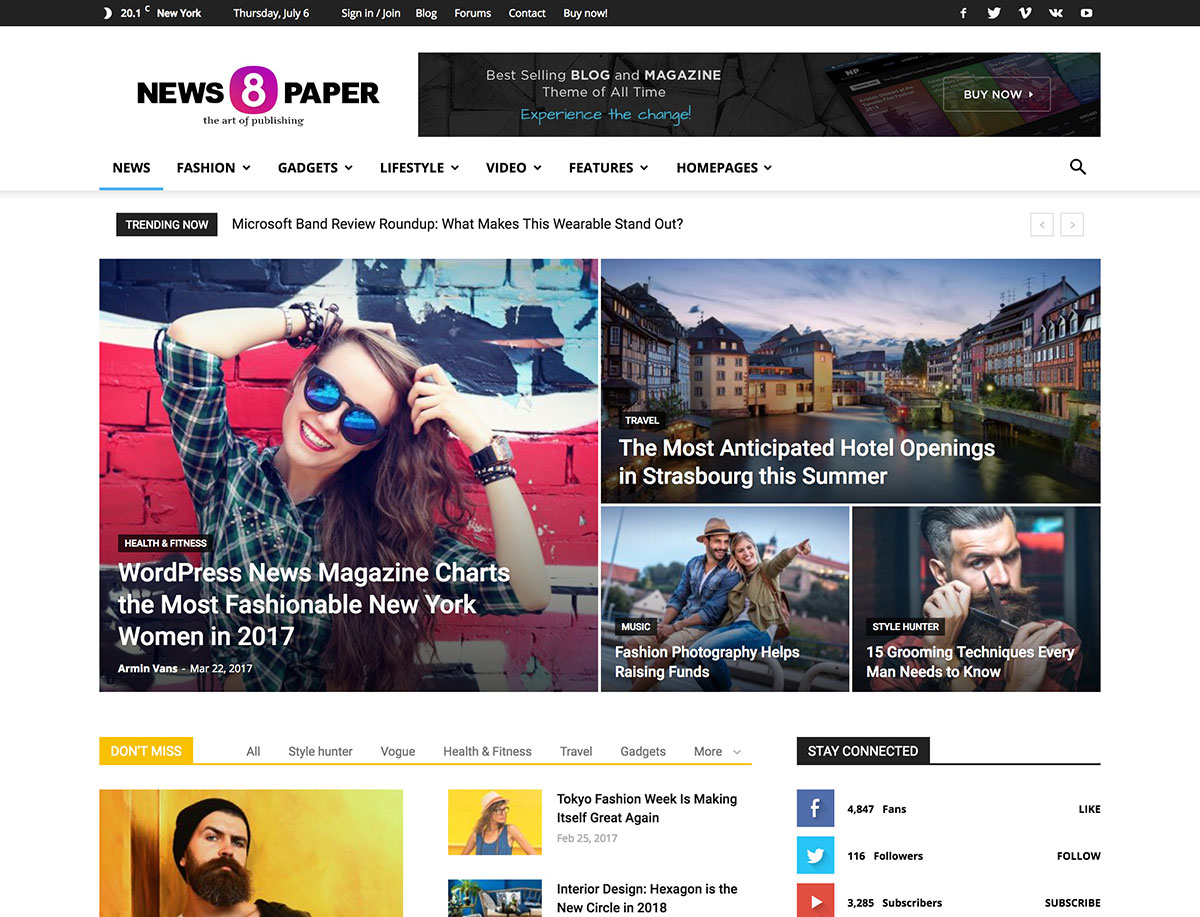 Finding a suitable user-friendly theme for your magazine website can be tough. Fortunately, Newspaper could be all you need for high-traffic websites, such as blogs and magazines, that frequently post across multiple channels.
This best news and magazine WordPress theme currently has over 56,000 happy customers. Layouts can be created in two ways – either through the specially crafted tagDiv Composer page builder or with the Visual Composer plugin, which comes bundled with the theme. If you'd like to get your website up and running quickly, you can simply choose from over 50 unique pre-built demos. It's just as easy for you to build a website with Newspaper as it is for your visitors to browse through the finished product.
To tweak your design further, the built-in Theme Panel includes a plethora of options that enable you to fine-tune your site to your exact requirements. What's more, Newspaper includes several ways to monetize your site, and it's also fully optimized for Google AdSense. If that's not enough, it offers over 40 social media integrations – enabling you to share your posts on many platforms. Furthermore, Newspaper is a fast theme, flexible and optimized for speed. With the new custom tailored tagDiv AMP plugin the site's pages turn into a simplified mobile version.
All in all, Newspaper can be ideal for news-related websites with high traffic. It combines gorgeous elements with intuitive settings and will enable you to build almost any kind of online publication. It's a theme you should check out today!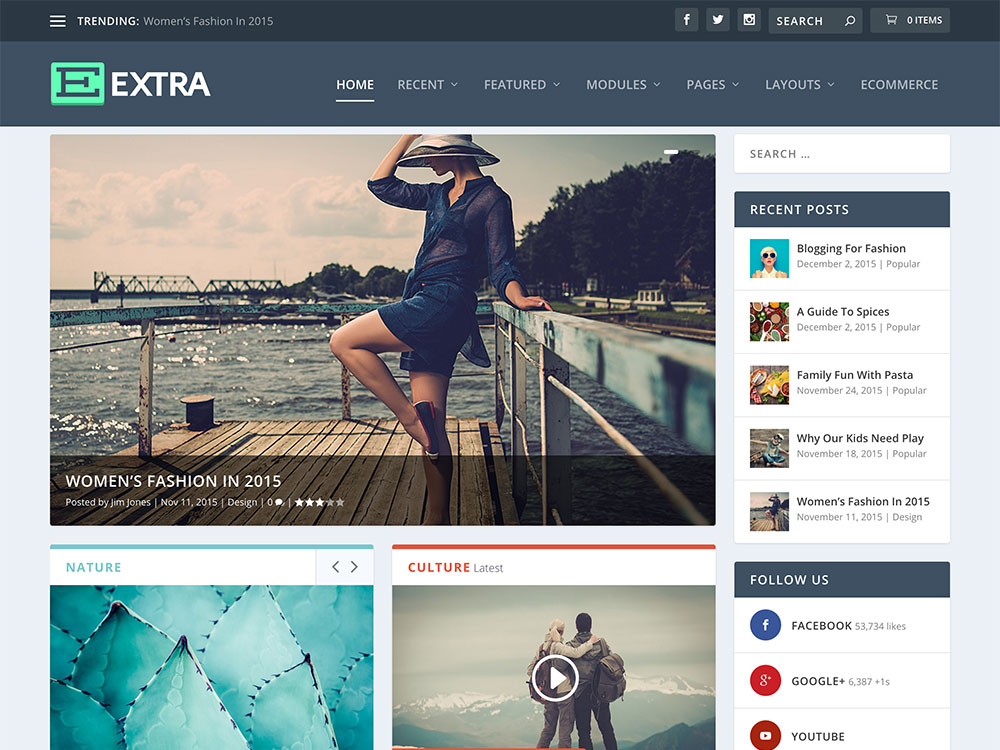 Extra is a stellar theme that utilizes drag-and-drop content building and stylish design for a great user experience, whether for an online magazine or other media website.
There are plenty of unique features in this theme to make it a solid choice for your website, especially if your focus is on media. Extra uses the advanced Divi Builder plugin as a fulcrum for creating layouts from your homepage to syndicated columns to image and video galleries and more. The spectrum for customization with this theme is vast; dozens of modules designed especially for media outlets give you plenty of options to build a website to your exact preferences.
There are over 40 unique content modules at your disposal, enabling you and your team to create standard news stories featuring text and accompanied by images or videos. If your website uses advertising as a platform for revenue, you can plug advertisements directly into your content stream rather than restricting ad placement to conventional locations on your page (such as sidebars or headers). Other extremely useful module options include call to action buttons to help boost subscriptions, 'person' modules that highlight key members of your editing team and/or regular contributors, and slider modules that support parallax as well as video backgrounds for a jaw-dropping user navigation experience.
There are also modules developed to support e-commerce, corporate websites, SaaS subscription pages, and portfolio sections for creative professionals or agencies. In other words, Extra not only is a standout theme for media publications, but is fully capable of being used as a theme for just about any type of website.
If you'd like to know more about this theme, you can read our in-depth Extra review here.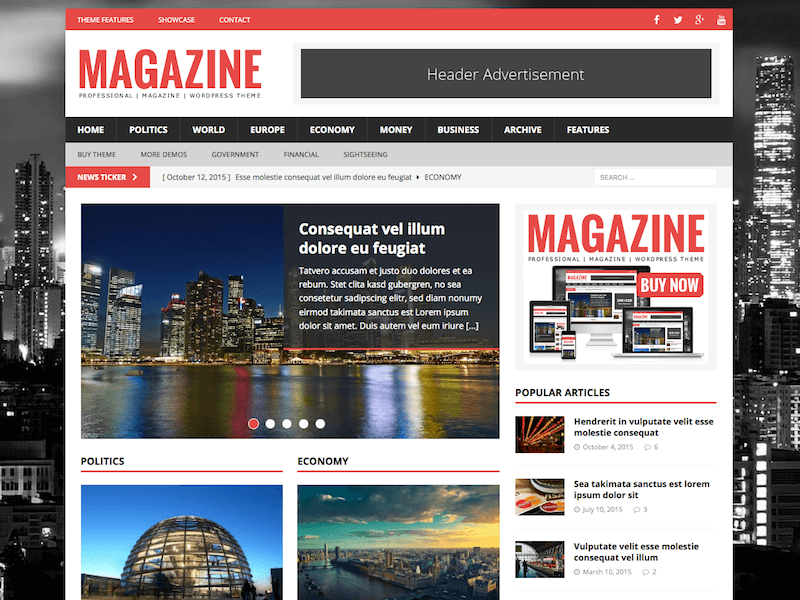 Magazine websites are often bustling with eye-catching content, but if your design isn't engaging, you may find visitors go elsewhere for their news. For a theme offering a clean design and a flexible layout, look to MH Magazine.
This theme comes with 26 widget locations available and a fully widgetized front page template to make use of the various built-in custom widgets to display your content, social media, YouTube videos, and more. There are also sections to display prominent advertising to your website's visitors.
Styling your page is possible with a selection of Google Fonts, a myriad of color options, and a custom logo uploader – so your site's branding isn't compromised by style restrictions.
MH Magazine also bundles the FlexSlider 2 plugin, allowing you to display important posts and articles prominently, and a jQuery news ticker – for shorter, yet important items of interest.
All in all, MH Magazine is a very worthy contender if you need an uncluttered yet flexible design for your magazine website.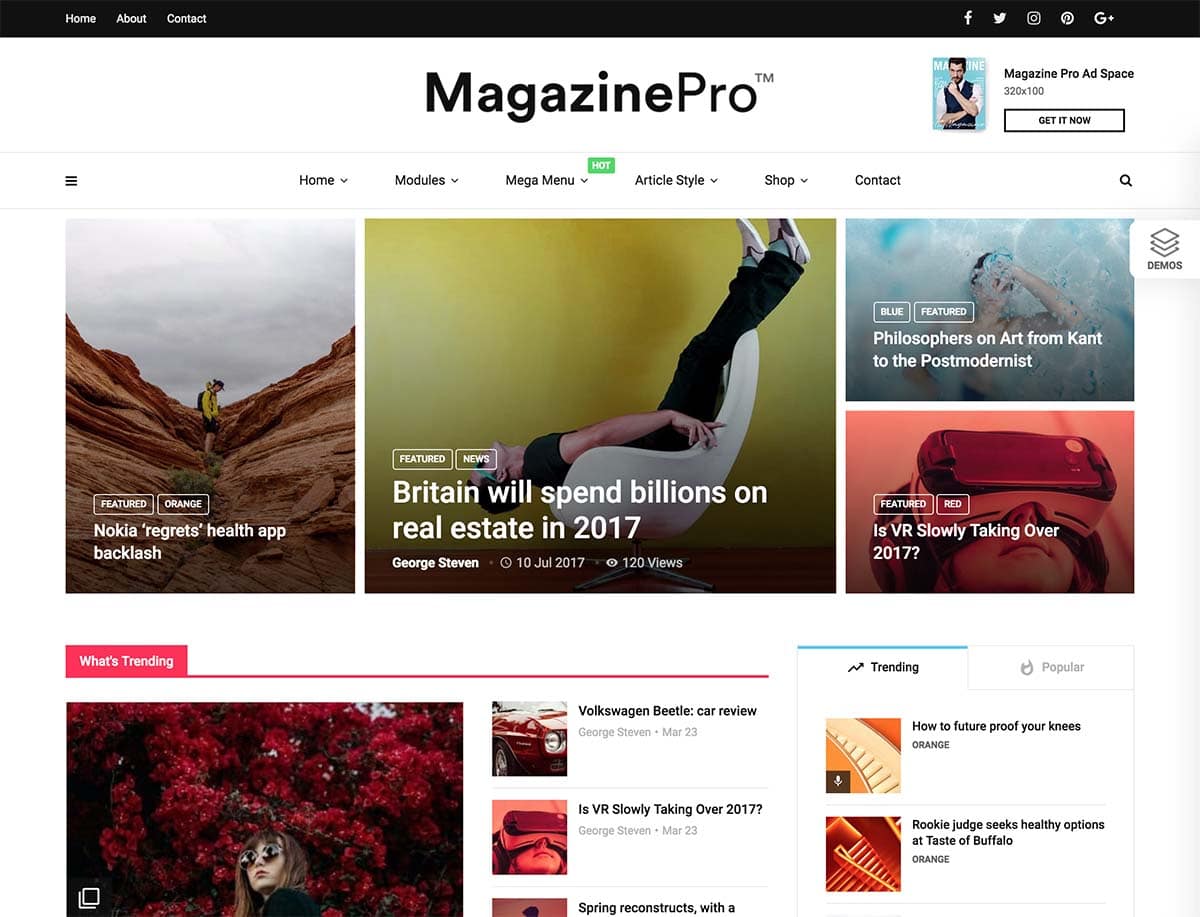 Running a successful magazine site means always putting your readers' needs first. That requires making sure their reading experience is a positive one, and trying to reach as many potential audience members as possible.
MagPlus is a targeted WordPress theme that knows what modern magazine websites need, and provides exactly those features. It is translation-ready and integrates well with multi-language plugins, for example, and it includes Right to Left (RTL) language options. This enables you to attract and serve readers from all across the globe.
Further, this theme is well-optimized for search engines, meaning that people will be more easily able to find your content. Once they're on your site, they'll have a great experience thanks to MagPlus' fast loading times. To make your own experience easier, this theme comes packed with a huge variety of pre-built layouts and elements, so you can build a site that reflects your style and niche.
All in all, MagPlus makes it simple to design a site that reflects your content, and is quick and responsive at the same time.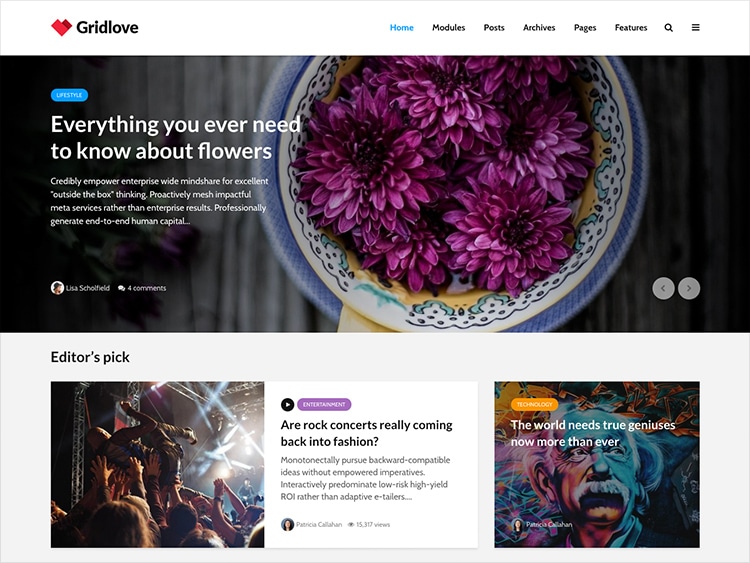 While there are no shortage of attractive magazine themes available, finding easy to use navigation and good aesthetics in the same package is a little more difficult. Fortunately, GridLove combines neat, flexible design with customization options to let you create a user-friendly layout.
For starters, the theme features a built-in intuitive drag-and-drop module system to help you create and organize your layouts. It also lets you customize your posts to your heart's content, featuring a great selection of layout and formatting types, fonts, and color schemes to choose from.
To maximize the monetization potential of your site, GridLove enables you place banner ads on individual posts or pages. What's more, you can highlight sponsored posts so that they stand out to visitors.
Overall, if you have a fairly large-scale publication with plenty of sponsored posts that need showcasing, GridLove could suit you. This, coupled with the built-in options to creating your layouts makes GridLove a great choice if you are looking to get more cash for your content.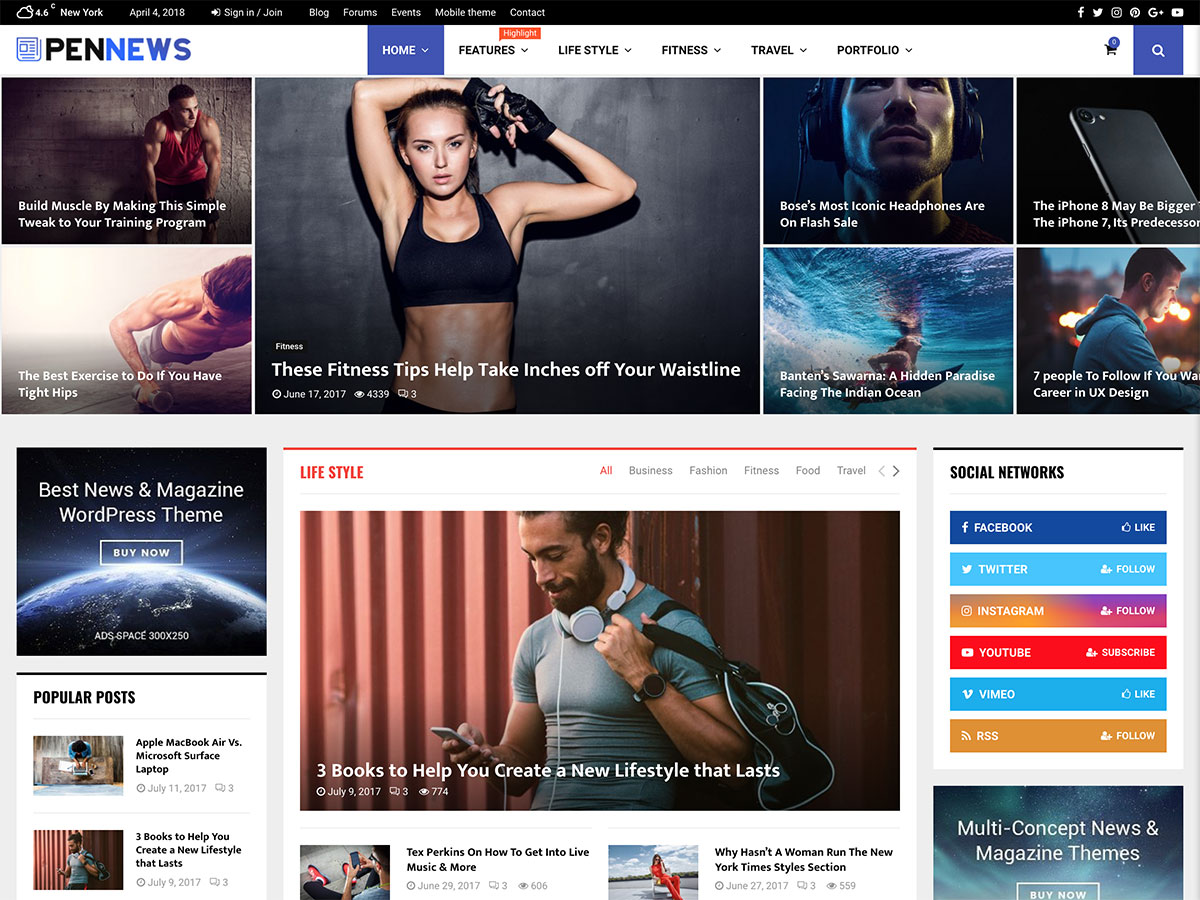 To maximize the readership of your online magazine, your articles need to be both attention-grabbing and extremely easy to read. Striking the optimal balance can be tricky, but with PenNews, it is possible to achieve.
To get up and running quickly, PenNews offers over 30 gorgeous demo layouts based around art, sports, fitness, and lifestyle niches (just to name a few). If you have unique layout requirements, the bundled WPBakery Page Builder plugin (formerly Visual Composer) makes this as easy as dragging and dropping elements in place.
What distinguishes PenNews from other magazine themes is that it blends high-customizability with streamlined optimization. For starters, the theme is Google AMP supported to help speed up your page loading times on mobile devices. What's more, you can create virtually unlimited in-feed ad sections, making the theme perfect for affiliate marketing.
Given the flexibility, power, and monetization potential PenNews offers, it's certainly worth considering. If you're looking to get a professional and scalable online publication off the ground quickly, PenNews is one of the best themes on the market.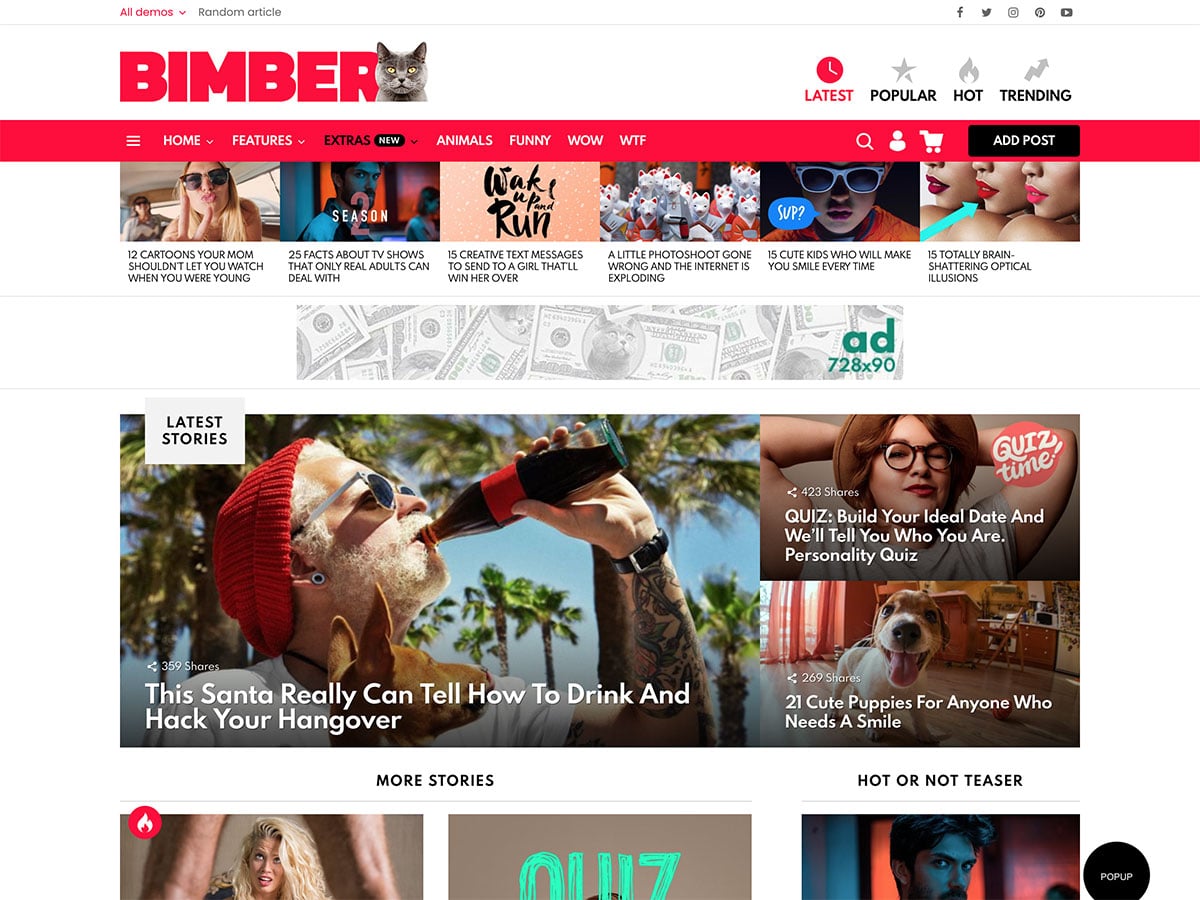 The internet permeates our daily lives, to the point where 'going viral' (or being 'internet famous') is a viable goal for many people. There's sound business strategy behind this desire, as the additional traffic can net you increased revenue. What's more, a dedicated theme – such as Bimber – can help you cultivate viral content easily.
This magazine theme is media-heavy – as you'd expect – with surprisingly small text. However, the default pages are easy to read and digest, which is important for the 'time on site' metrics that viral magazine sites live by. If you'd like to tweak the layout, however, there are plenty of options to help you do so via the WordPress Customizer. There are also a number of demos covering various magazine niches, so you can get up and running quickly.
There's plenty more on offer to help you create and publish viral content. For example, you can create polls, quizzes, and user-curated lists with the bundled Snax plugin, and you'll have a number of social sharing options courtesy of the included MashShare plugin. Bimber also integrates the myCRED plugin, giving you a ranking system that will keep visitors engaged with your content for longer.
There are many magazine themes worth considering, but none are quite like Bimber. This theme is ideal for those wishing to create, curate, and collate viral content!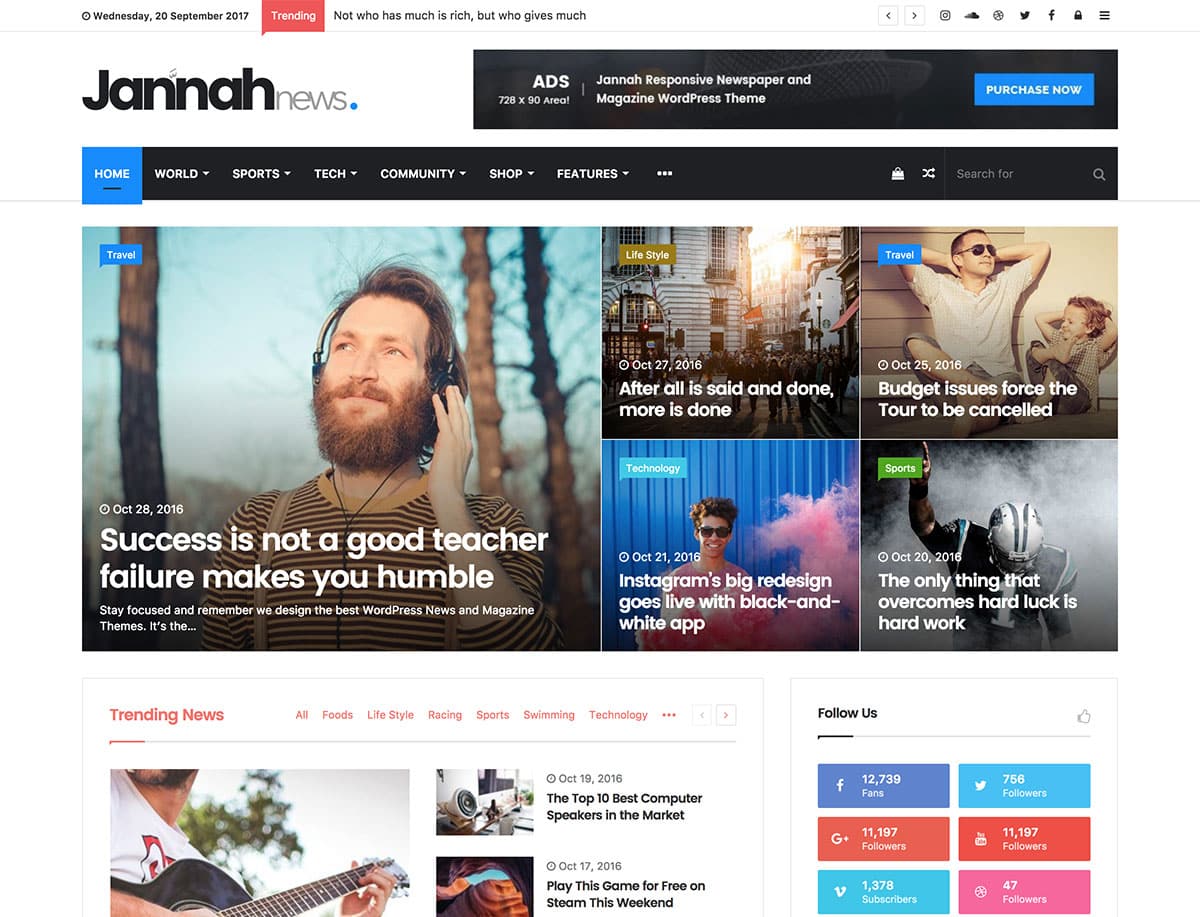 A key aspect of any magazine website is its ability to attract and keep each visitor's attention. Thanks to its wide variety of features, Jannah could be the ideal theme to help you achieve this goal.
Although many magazine websites have familiar layouts, this theme encourages you to change things up. Along with a built-in page builder, there are a number of layout options for your pages (all fully customizable), and almost 1,000 Google fonts to choose from. If you're in a hurry to get started, there are also over 20 niche-specific demo layouts, with more on the way.
While Jannah is strong when it comes to customization, there's a lot of additional functionality included to enhance your visitors' experiences. For example, you can offer readers desktop notifications, to provide them with up-to-the-minute news headlines. There are also elements designed to improve readability, such as 'hotspots' that help with navigation in long-form posts.
In fact, there's so much that comes out of the box with Jannah that we'd need an entire page to describe it all! Overall, Jannah has all of the required attributes of a standout theme – plentiful customization, a thoughtful feature set, and stylish looks.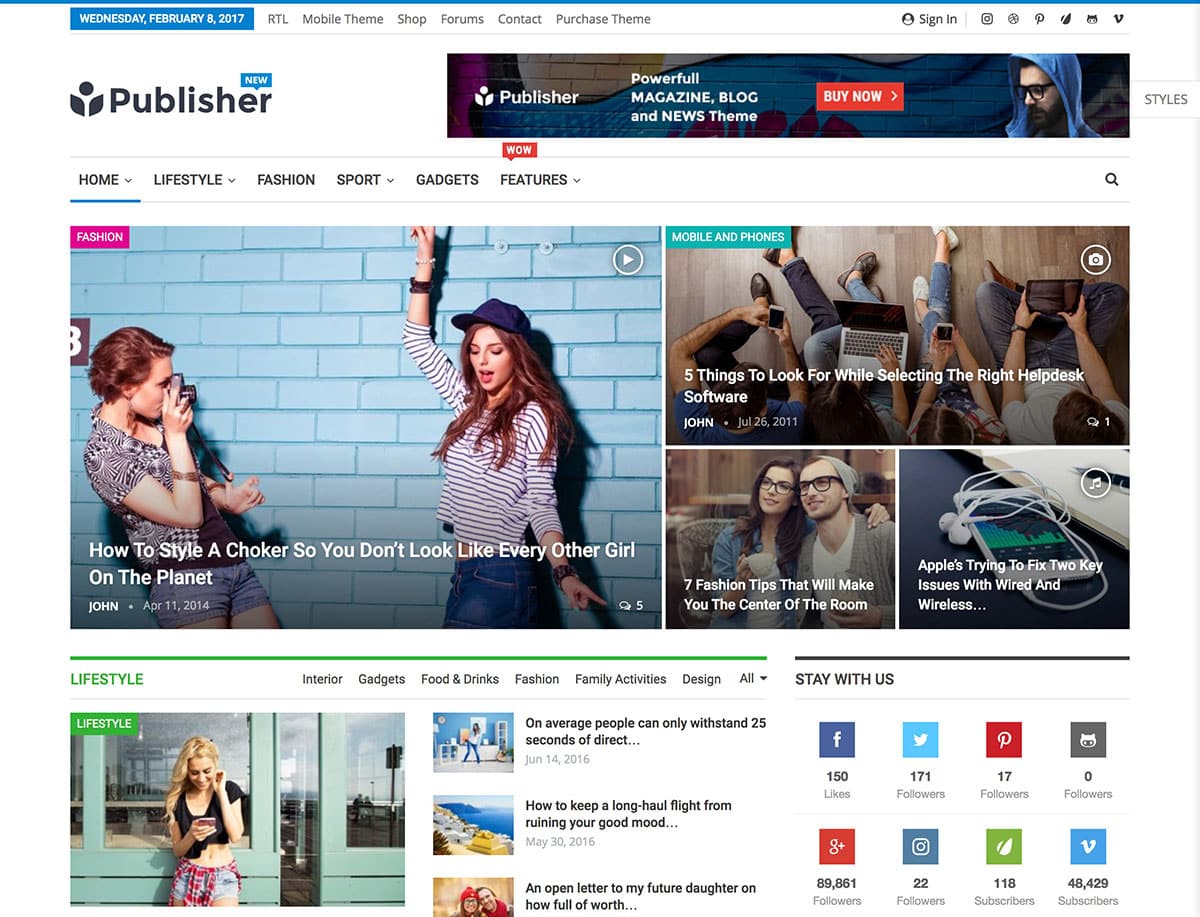 Publisher is a magazine theme designed to catch and hold the attention of potential readers. It's packed with enough content and options to get a stylish, user-friendly site going without any fuss.
The primary draw of Publisher is how many pre-made elements it offers. If you don't want to mess around with code or build a site from the ground up, you can easily customize this theme's many options to create something unique. It comes with over 90 pre-made home pages, and 13 templates for posts and articles. There are eight modifiable header styles, and several options for menus and sidebars. To get you started, there are also nine fully designed 'starter styles', including a couple of magazine-specific formats and others customized for sites about tech, fashion, and design.
All these features enable you to develop a site focused on your primary audience's needs and wants. A Publisher powered site will be modern and fully responsive, and will display important information in an eye-catching way. Various widgets make it easy to draw attention to social buttons and counters, subscribe options, and popular articles and categories. You can also include a 'trending news' ticker at the top of your site, to highlight the latest and most interesting content.
In conclusion, this easy-to-use theme is a good option for anyone who wants to put together a responsive, highly functional, and content-driven site quickly.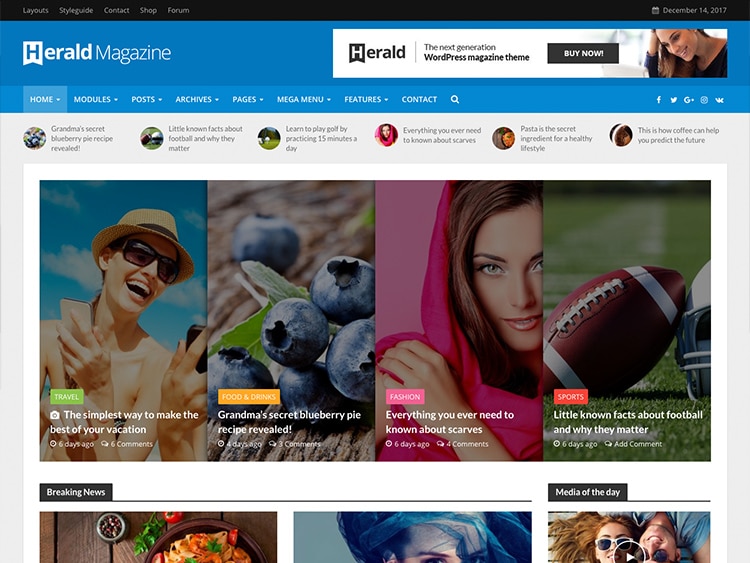 With so many magazine sites, it's crucial to grab your reader's attention right off the bat. To do this, you'll need bold visuals, a natural breakdown of content, clearly divided subsections, and lightning-quick loading times. Herald could provide you with an excellent way to achieve this.
While this theme features demos for fashion, sports, technology, and other publications, Herald works just as well as a news portal as it does a magazine theme. The scope for customization is huge, including over 500 different post layouts to choose from, as well as a number of custom post types, and support for high-definition logos and icons. Also, if you work with multiple authors, Herald makes it super simple to display their profiles, as well as the categories they are associated with.
The monetization potential of Herald is another major plus. Aside from enabling you to include banner ads, the theme features customizable modules to integrate aspects of e-commerce. Herald is compatible with the latest version of WooCommerce, and lets you add a cart to your site's header. Built-in social sharing buttons for Facebook, Twitter, and other popular sites are also included, making it much easier to grow your readership (and potential customer base).
In a nutshell, Herald is an excellent choice as it allows you to build an online magazine your way. In our view, it's excellent value for money, and well worth your consideration.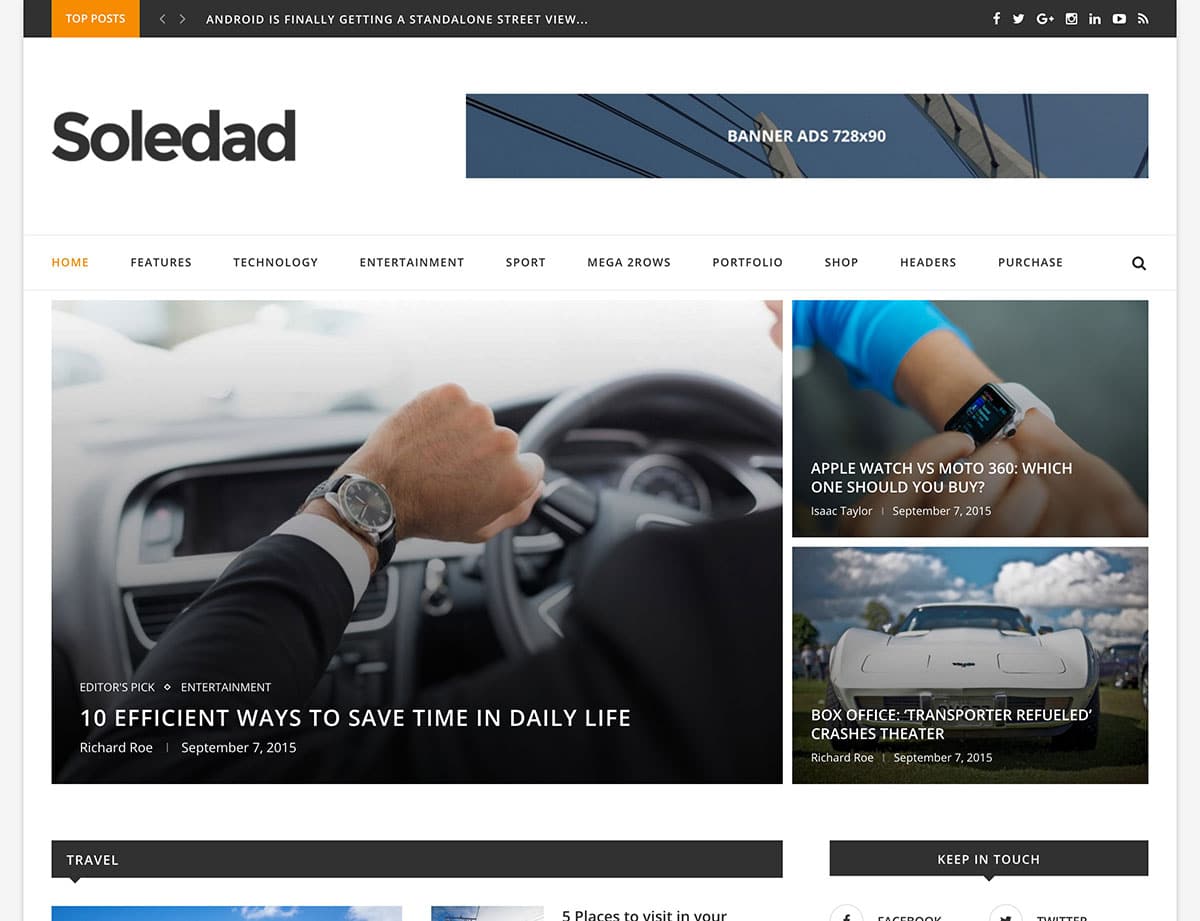 The relationship between text and visual media has always been vital in creating engaging and compelling content – and it's just as important for websites today as it was for formats in the past. For a theme that helps give focus to your media as well as your writing, consider Soledad.
There are six header layouts to choose from – including one incorporating ad space. The navigation includes two mega menu styles to display feature-rich content to visitors, atop which sits a news ticker that displays a quick overview of your latest articles.
Soledad also offers a slider for displaying prominent media and content at the top of pages, along with a SoundCloud audio post type. There are also a number of widgets for displaying your various social media accounts.
In a nutshell, Soledad is a solid choice for complementing your writing with prominently displayed images, video, and audio content, presented in a stylish magazine format.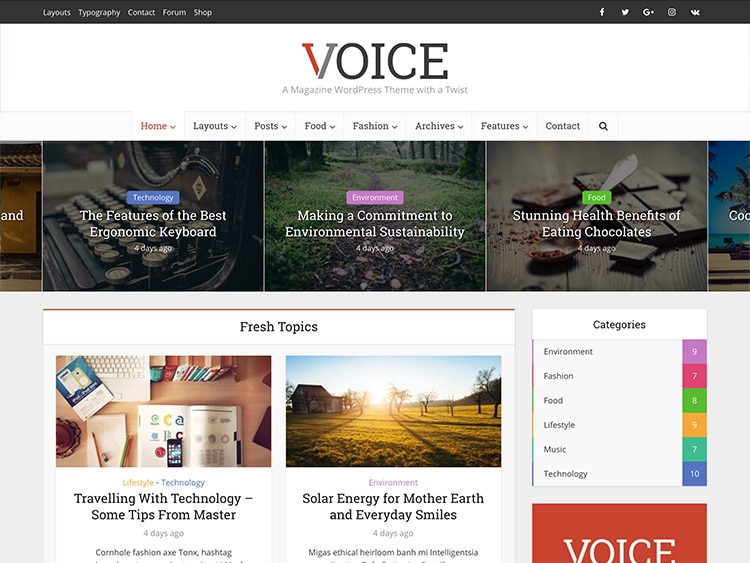 Voice offers a beautiful mixture of blog and magazine, perfect for a comprehensive online publication, but also flexible enough to be used as a personal blog.
As with other themes by the talented folks at Meks, Voice seamlessly combines user-friendly content creation tools with elegant and functional design. The excellent Advanced Theme Options Panel enables you to setup your website and begin posting blogs and articles in minutes. Practically unlimited branding options make customizing Voice to match your branding's style and color scheme simple and straightforward. With seven main layouts for your post listings and three more layouts for featured area posts, your magazine will look exactly the way you want.
Along with design and content creation features that come as standard with any great website theme, Voice features certain tools that were created specifically with online publications in mind. Smart post listings enable you to create as many topic-specific modules as you like, depending on how many different sections your publication has. Within each module, smart filters categorize posts, which drives your site visitors through to additional content they might be interested in. Because so many online publications rely on ad revenue, this theme's intuitive pagination design, JavaScript advertising widgets (which are compatible with Google Adsense and other advertising or affiliate marketing networks), and related posts plugin will ensure that your website's advertising revenue potential is maximized.
An intuitive user interface, streamlined aesthetic, and publication-friendly tools make Voice an excellent theme option for your online publication.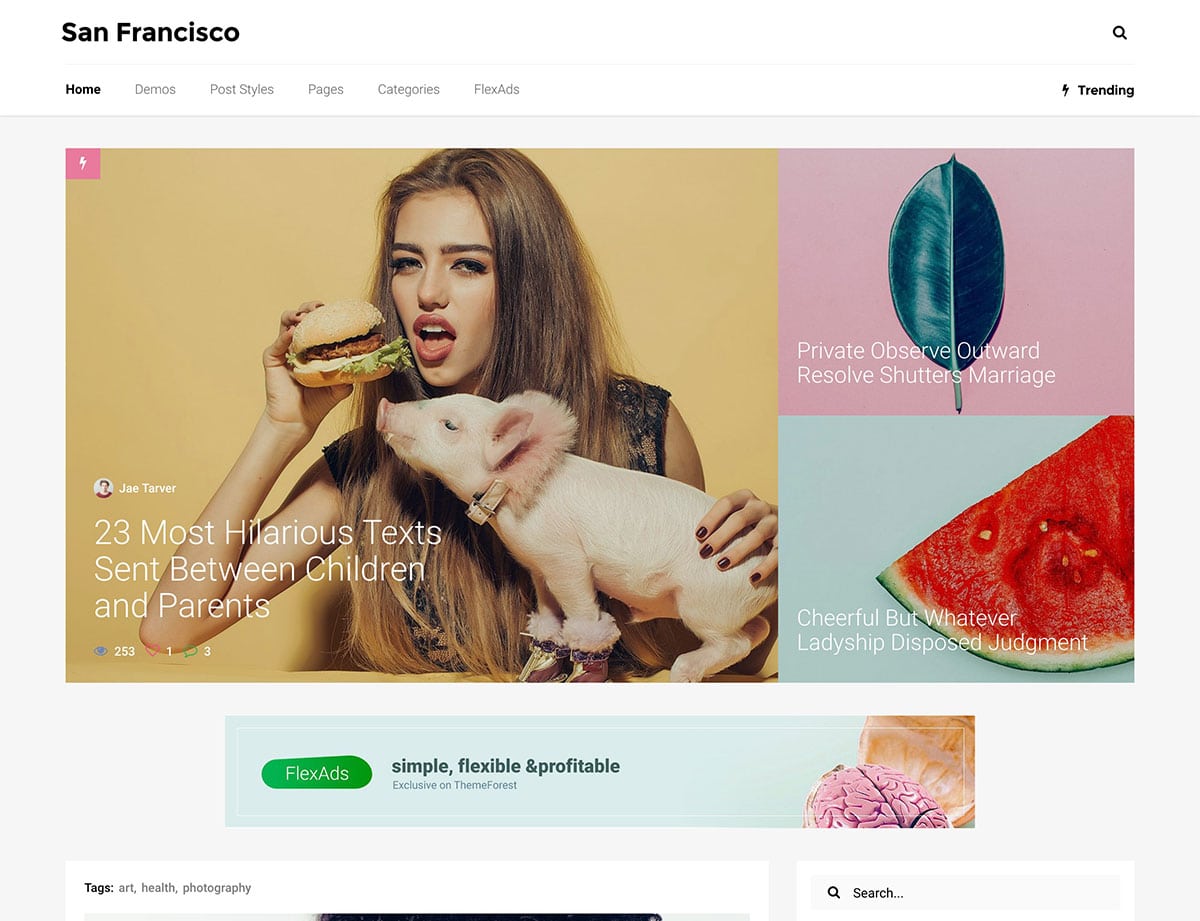 Choosing a suitable magazine theme is definitely subjective, but regardless of your specific requirements, there are some vital features you'll need. The developers of SanFrancisco recognize this, and have created a feature-packed theme that's worthy of your attention.
Let's start with the subjective elements. SanFrancisco offers ten demo templates (with additional demos on the way) covering all manner of niches and industries. If your particular niche isn't catered to – or you have your own layout requirements – a custom drag-and-drop page builder is accessible from the WordPress dashboard.
SanFrancisco also comes bundled with a number of plugins to help enhance your site – including everything you need to get cracking. For instance, the FlexAds plugin enables you to create and display ads in several areas on your site, and the SmartGIF plugin lets you showcase GIFs in your post's teaser images. The theme is also compatible with Google AdSense, and even includes a social sharing module for that essential social proof element.
It's a well-worn phrase, but SanFrancisco really does include virtually everything you need to create a high-quality magazine site. It looks the business, and the plugin bundle has been well thought out. Feel free to test drive the theme, but be warned – your search may end here!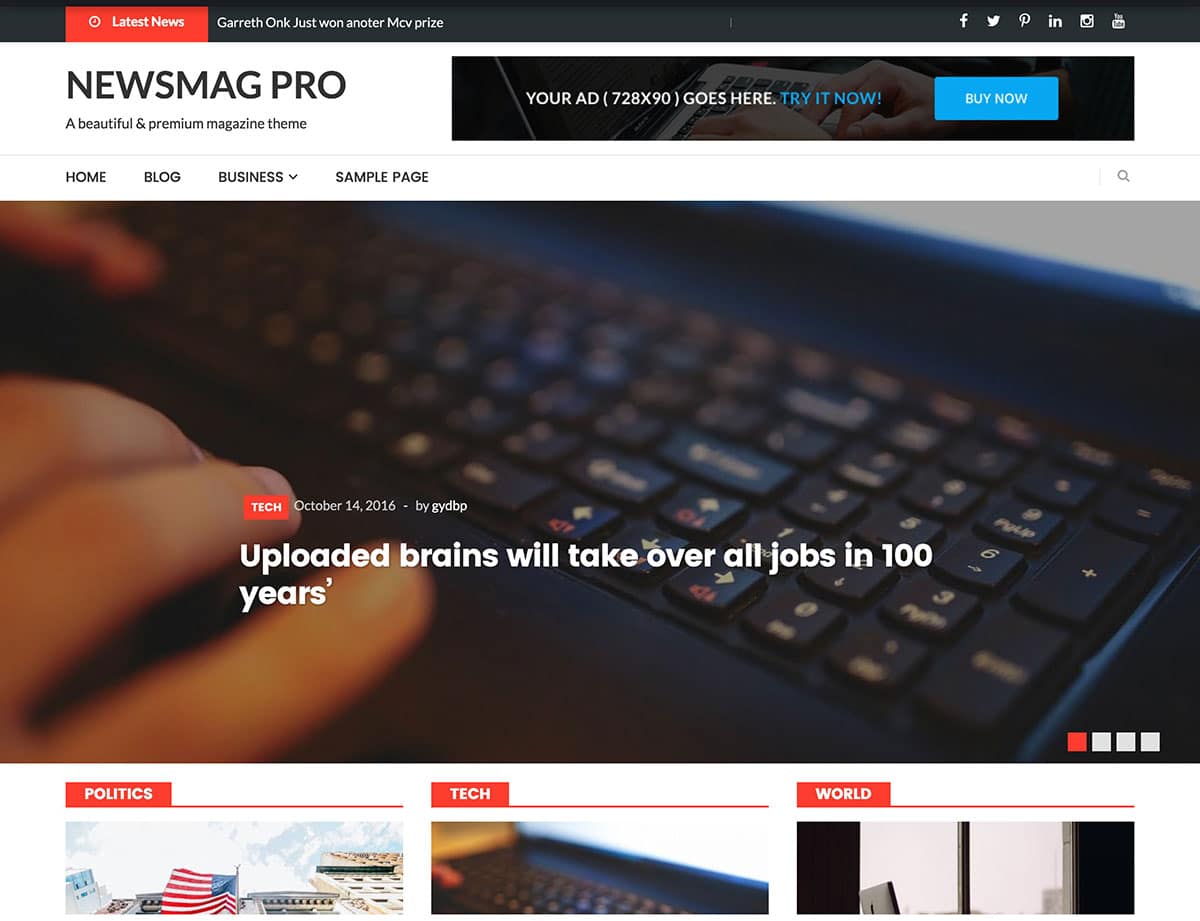 A good magazine theme should be laid out logically, offer a functional design, and above all, look captivating. While Newsmag PRO can place a tick next to the first two elements, it's the final requirement that leaves us with a lingering doubt.
It'd be too harsh to say that Newsmag PRO looks bland. After all, magazine websites are found in all manner of different niches. What's more, it offers a myriad of customization options. There's a full color palette and over 600 Google Fonts to help match your website to your brand, along with built-in Search Engine Optimization (SEO) settings to enable you to improve your search engine ranking.
In addition, Newsmag PRO comes bundled with a number of essential elements to help display your content. There's a post slider to display your latest posts, a news ticker for showcasing news snippets, and social media integration that enables users to share your content across the web.
Newsmag PRO isn't a bad theme by any means, but it's not a chameleon like some of its rivals. There's just no denying its utilitarian aesthetic – especially compared to its more modern-looking competitors.
If you appreciate a purely functional design, along with thoughtfully chosen features, give Newsmag PRO a whirl – it could very well be the right theme for you.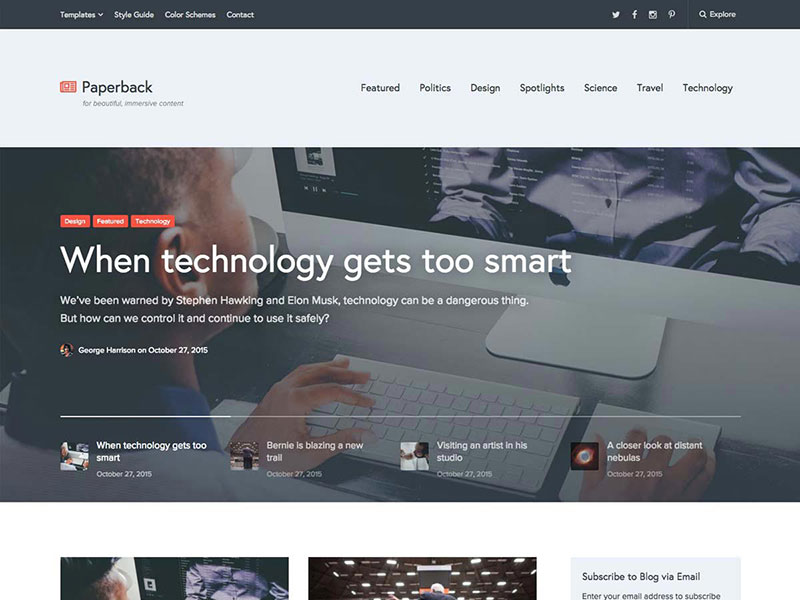 Create a visually stunning, highly organized and responsive magazine site with the Paperback WordPress theme.
Paperback's Featured Post carousel and Category Mega Menu features enable you to organize your content in an interactive way. The Featured Post carousel displays your best content in a smooth post carousel that is fully responsive across all devices, while the Category Mega Menu organizes your posts by category. Add to these some dynamic layout options, including an Infinite Scroll layout, and you're looking at a pretty sophisticated browsing experience.
Take Paperback's elegant design to the next level by making it your own. Its effortless theme customization tools enable you to create a personally branded site. For example, you can use several built-in color schemes as a starting point to create your own, and play around with numerous fonts (Paperback uses Typekit to provide you with premium fonts).
Overall, Paperback is a good choice for a magazine theme that is both content- and design-focused.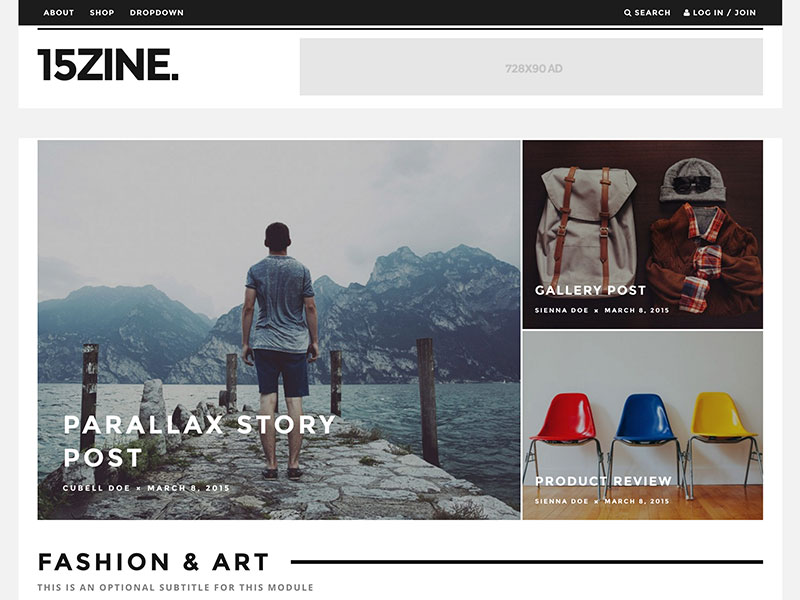 15Zine is a flexible reviews and magazine theme loaded with many useful features for your WordPress site. Anyone can easily and quickly set up beautiful pages using the drag-and-drop page builder and other easy-to-use customizable tools.
You can jazz up your posts using 15Zine's featured image style system, which offers plenty of featured image styles along with an eye-catching parallax option. Arguably one of the best features of this theme is the exclusive 'Trending' mega menu option, which enables you to showcase your most widely viewed posts of the moment.
15Zine, although very easy to use, is also cutting-edge. For example, the Ajax instant search function cuts down on time wasted filtering through content, and you can further monetize your site using the in-built advertisement system.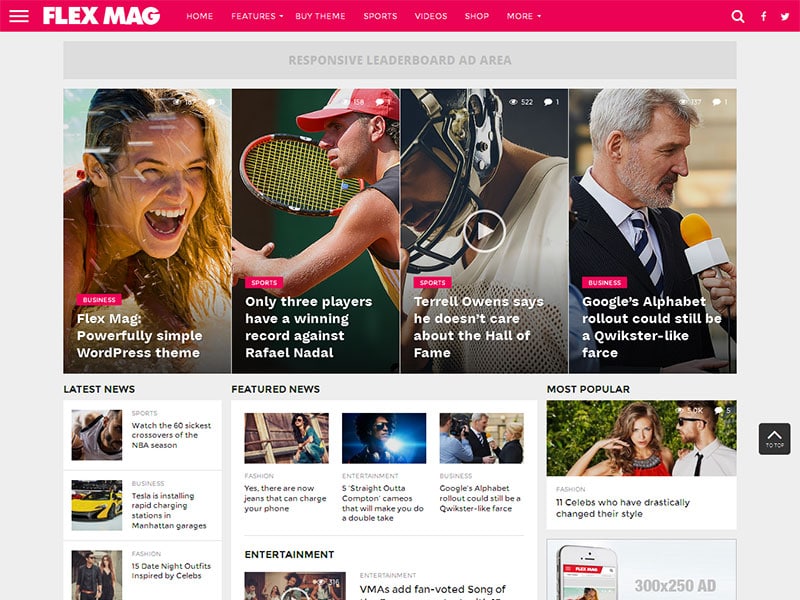 Simplicity and power. That's the promise of Flex Mag, a fully responsive and retina-ready news and magazine theme.
Flex Mag has many features, including nine different Featured Posts layouts to present featured content in any way you want, eight article layouts for your post pages, four preset skins (sports, tech, entertainment and fashion) and a custom skin to create your own layout, custom fly-out navigation that gives you Facebook-like fly-out navigation on all devices, and much more. One novel feature that has to be mentioned is the auto-loading posts feature – articles automatically load after one another in real time.
Other key features are drag-and-drop capabilities, myriad color options and ad unit spaces. You can enjoy versatility, power and simplicity with Flex Mag.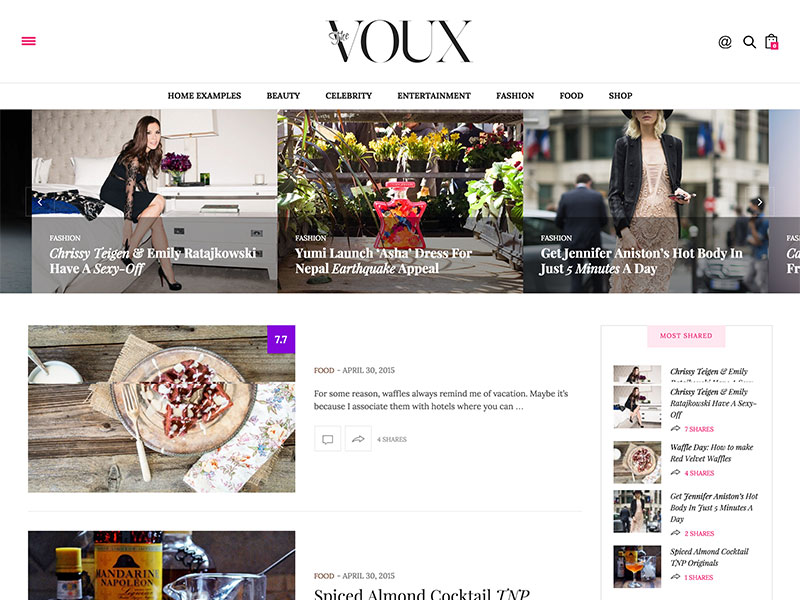 The Voux is arguably one of the most comprehensive WordPress magazine themes available.
As with other themes of its ilk, The Voux uses the excellent Visual Composer plugin to enable you to quickly and easily customize many design elements of your site. This means that you can create a unique site that is like no other, perfectly tailored to your awesome brand. Custom design elements include news blocks and a variety of widgets. Best of all, your sophisticated layout will look great across all devices.
In addition to the design customizability, The Voux offers key magazine site features. The Mega Menu feature enables you to use tags, categories or sub-categories as a menu source. Another great feature, among many, is the stylish Full Screen Galleries. This feature enables you to create picture galleries similar to those found on popular magazine sites such as People Magazine.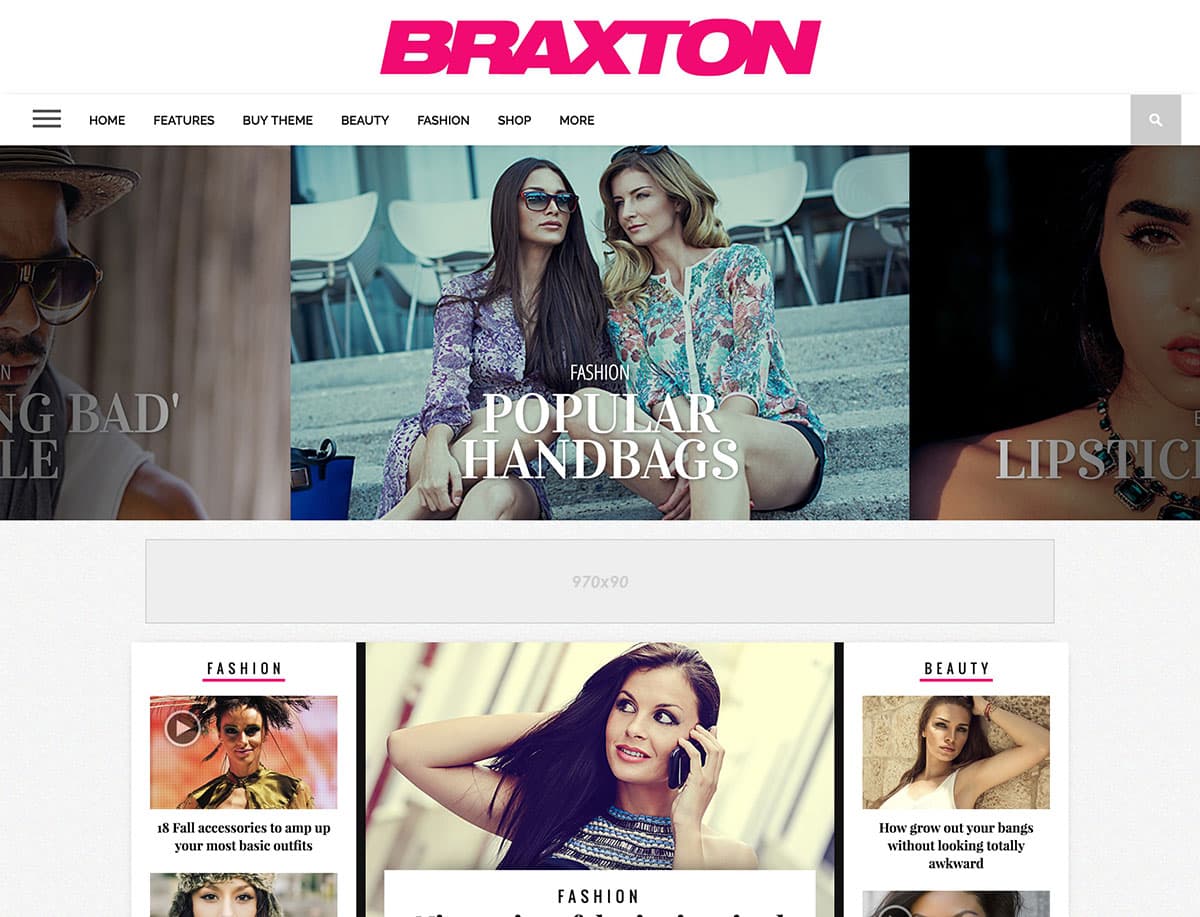 Braxton is a fully responsive magazine theme from ThemeForest that includes impressive fly-out mobile navigation and four different ad units. According to the theme's sales page, it was named one of the top 10 best paid WordPress themes in 2013 by Forbes.com. It's easy to see why, with the theme's beautiful design and functionality.
Braxton's headline fonts look like they were taken right off today's magazine covers and the theme's content organization mimics a table of contents. Braxton would make a great theme for a fashion or entertainment type of site. On the functionality side, this theme comes WooCommerce and bbPress ready, and features infinite scrolling, lazy loading and sticky menu bar.
Insight is a minimal, fully responsive and retina-ready WordPress theme that is fairly easy to use and customize.
Insight relies on various widgets and the Visual Customizer to help give your site a custom design. Using several widgets, you can customize various aspects of your homepage structure, such as setting background images and displaying full width posts. The Visual Customizer enables you to custom tailor your site using the three pre-built color schemes, or you can create your own. You also use the Theme Options panel to easily change almost every detail of the theme. For example, you can set your default post view to a grid layout, or you can opt for a regular blog post view with Featured Images.
Beginner or expert, Insight enables you to easily setup and customize an exquisite site.
NewsPaper is a beautifully designed and responsive magazine theme for content-rich WordPress sites.
The majority of Newspaper's fundamental features are aimed at organizing your content in a logical and visually appealing way. Use the Featured section to elegantly showcase your latest and best content, the Popular Categories section to help your visitors find relevant posts faster, WP Mega Menu to create an organized and easy navigation, and Author Boxes to credit contributors and help readers to find their favorite writers. There are more layout options and structures to help you organize your content.
In terms of design, Newspaper offers numerous customizable design options. Use the Options Panel to easily make changes to design features like fonts (630+ Google Fonts), icons, plenty of color options, backgrounds, advanced typography, and much more. You can also utilize a parallax scrolling effect to give your site a more modern feel.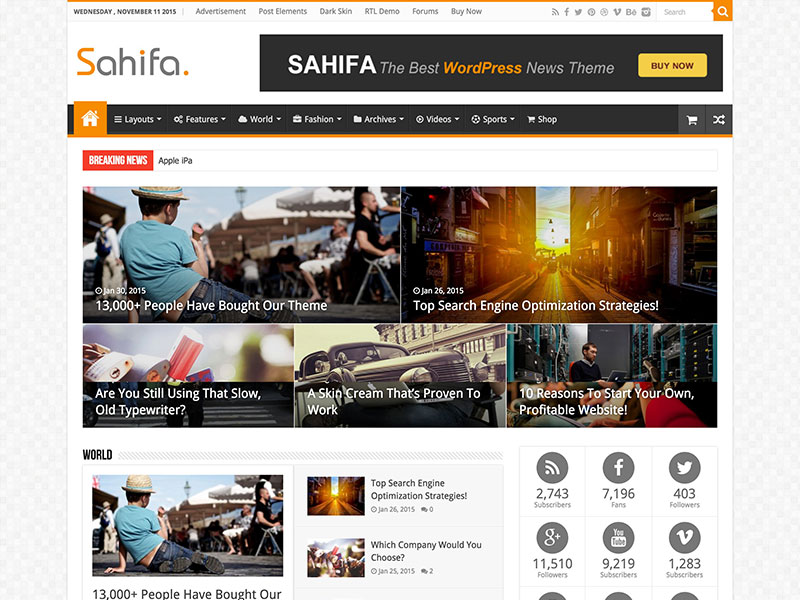 Sahifa is an elegant WordPress theme with a powerful admin panel that enables you to configure all theme settings and some 400+ design options.
The theme is simple yet powerful, with highly customizable features. Three site layout options are available: Framed, Wide and Boxed. You can easily change between the layouts to create a design that best serves your needs. Furthermore, the TiePage Builder features a drag-and-drop interface to easily customize your homepage with multiple block layouts. This flexibility extends to content and homepage slideshow layouts, 40+ shortcodes and page templates. Other design features include seemingly unlimited color schemes, 650+ Google Fonts, 35 custom widgets, a variety of sidebars and much more.
There is also a big focus on making content accessible and enjoyable for your user with Sahifa. The Ajax Live Search functionality enables your users to quickly and effectively search for what they're looking for. Other features like Mega Menus and Menu Icons make it easier for your user to navigate your site.
Sahifa is a simple and feature-rich theme that adapts to a variety of sites. Definitely worth a look.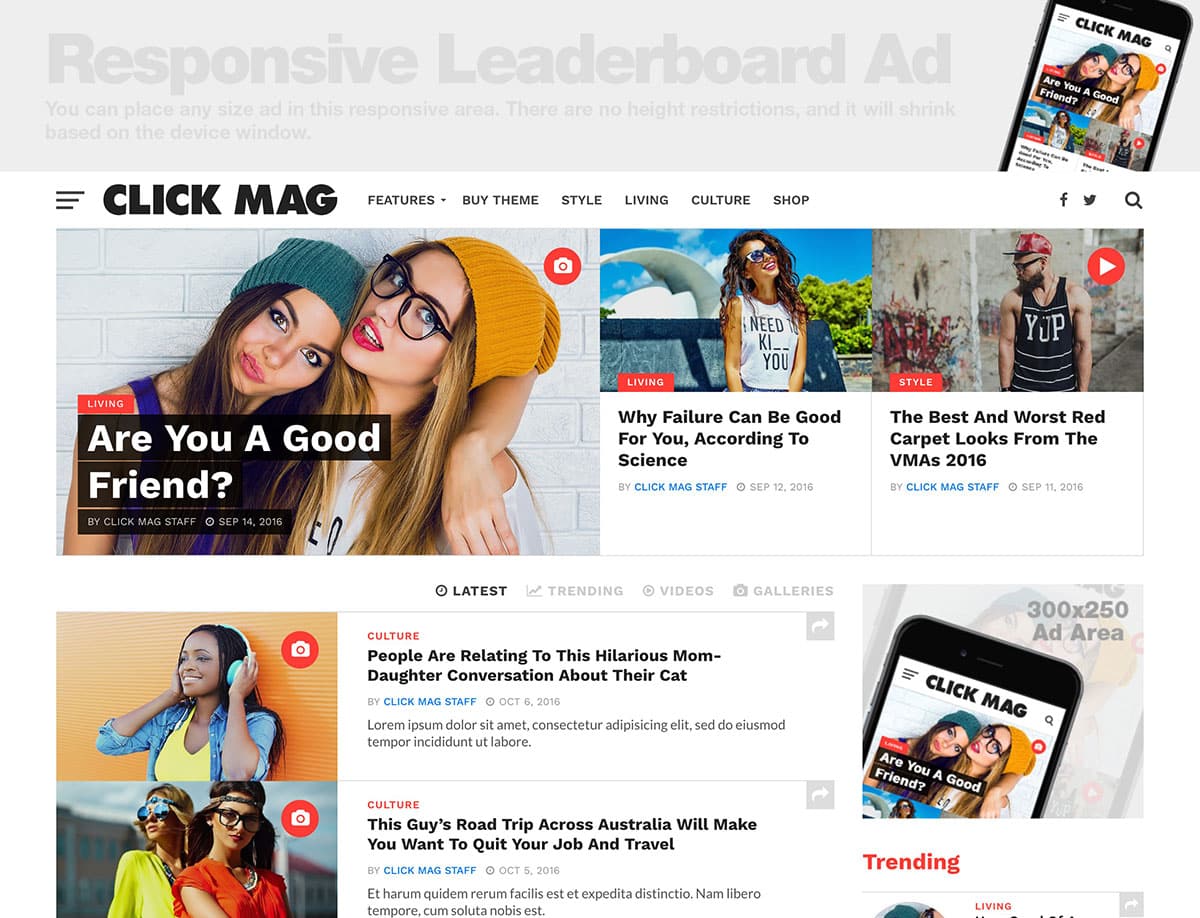 Click Mag bills itself as a 'viral theme', which is a good way to sum up this theme's purpose and design. It's intended for use in sites that want to maximize reader clicks, social shares, and ad revenue.
Most of Click Mag's features are designed to keep users moving through your blog or magazine site's content at a quick pace. You can easily feature trending posts, and insert a rotating image gallery of articles at the bottom of each page to entice visitors to read more. Both posts and pages can be organized into dynamic slideshows to make content more interactive. There are also a few bundled plugins that focus on driving traffic and increasing clicks. These include the Reviewer WordPress Plugin, which enables you to insert reviews and comparison tables into your posts, and the Theia Sticky Sidebar plugin, which increases the visibility and exposure of sidebar content.
Click Mag should help to drive traffic to your site with its implementation of SEO best practices and social sharing options. To take advantage of all this traffic, the theme offers plenty of ways to incorporate advertisements. The layouts have multiple ad locations in different sizes, and there are even ad-specific widgets. Arguably, this theme's primary goal is to provide maximum ad exposure through page placement and sidebars, and it shows.
It may be a relatively simple theme, but Click Mag succeeds at what it sets out to do – drive traffic and keep visitors on your site for as long as possible.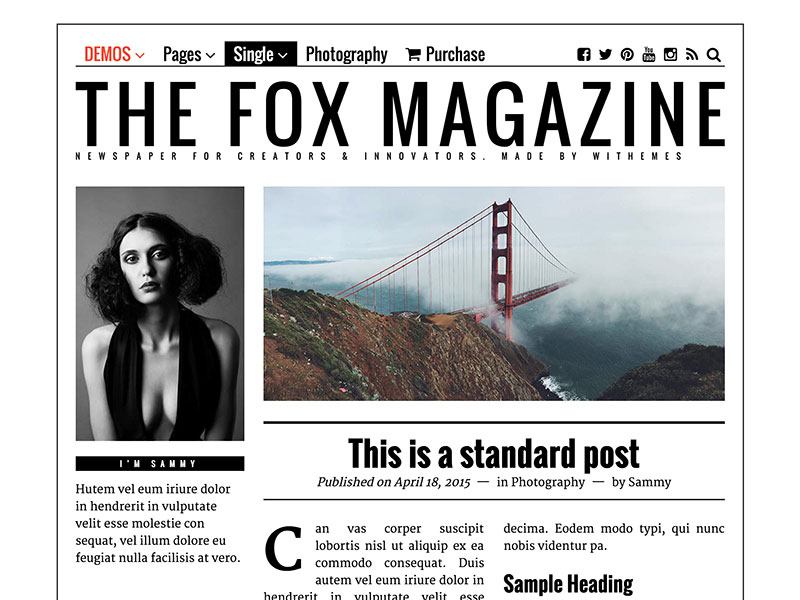 The Fox is a modern, flexible and fully responsive WordPress theme that gives you freedom to create a truly unique site.
The Fox comes with a variety of layouts to help you attain a distinctive design, including Real Newspaper, Grid Layout, Pinterest-like Masonry blog and Listing Layout. You can also choose a layout for each category. In terms of blog post layouts, you can use the customizer to change the default layout (a two-column layout like a real newspaper) to one-column traditional blog post layouts. You can also play around with image layouts. For example, you can insert a vertical image in your posts for aesthetics, or to make optimal use of space. The Fox certainly delivers flexibility when it comes to layouts.
Other design features include various fonts (Google, Typekit, or even your own), a drag-and-drop gallery, a selection of widgets, and much more. You have close to 100 options when it comes to design customization.
Although the features list may sound overwhelming, The Fox is an intuitive and easy-to-use WordPress theme.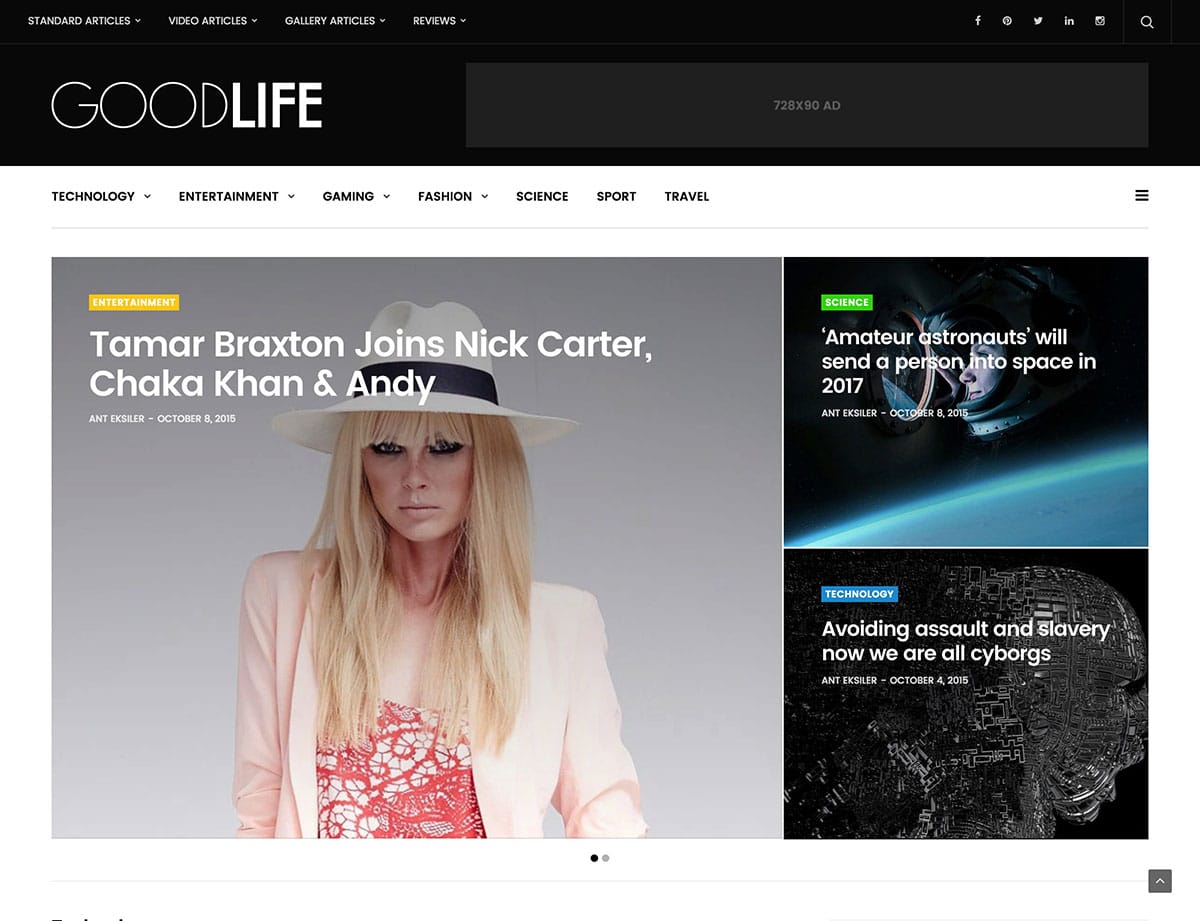 Print magazines may have lost some of their popularity, but the online versions are still going strong. If you're looking to build a stylish, modern magazine or news site – or if you want to improve on your existing site – check out GoodLife.
GoodLife is a highly customizable theme that comes with an array of layout options and other features. The theme has eight demo versions that are designed for different audiences and topics, such as sports, fashion, music, and video games. You can use these demos to get an online magazine or blog up and running quickly, and still ensure that your website looks appealing to readers. To further distinguish your site from the competition, you can select and personalize a variety of layouts for article, gallery, and video pages. Most of these layouts come with sections reserved specifically for advertisements, so you can more easily monetize your content.
Many other aspects of the theme are customizable, including the various sidebar options, multilevel drop-down menus, and menu icons. There are easy ways to prominently display popular posts and stories, and the available full-page sliders and post carousels will keep readers engaged with your content. Those readers can then participate and contribute thanks to GoodLife's full integration with popular social media networks. This theme is also fully responsive and features dynamic image sizing, so it will look the way you want it to on any device.
GoodLife is definitely worth checking out – it's a sleek theme with a ton of options, and it has a look and feel that will perfectly suit any magazine or news-oriented site.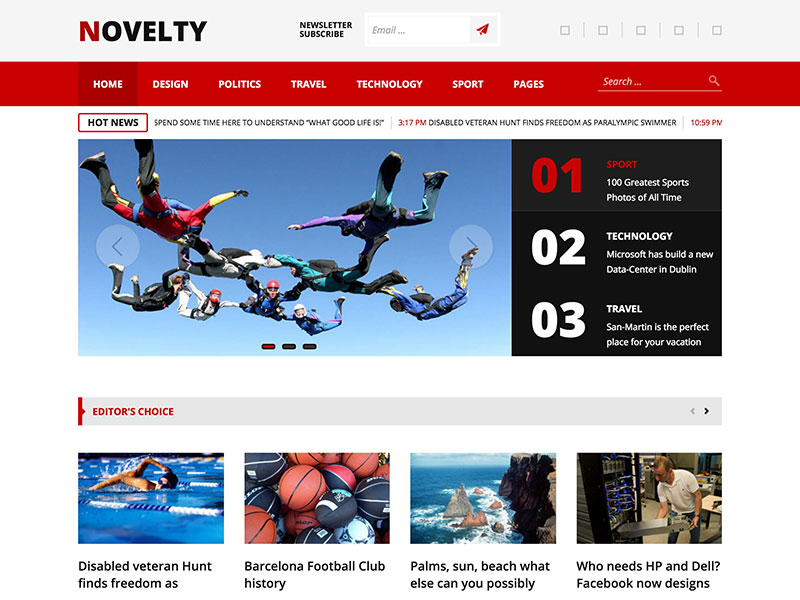 Novelty by Tesla Themes is a modern design that's fitting for news, sports or any other type of magazine content. Some of its top features include an image slider, tabbed widgets, featured posts, custom shortcodes, custom posts, social media integration and a responsive design.
Powered by the Tesla framework, this theme makes it easy for you to set up and customize your site to match the look and functionality you want, without the need for a lot of technical knowledge. The theme's demo showcases a "hot news" scrolling ticker on the homepage, which adds a breaking news feel to the site.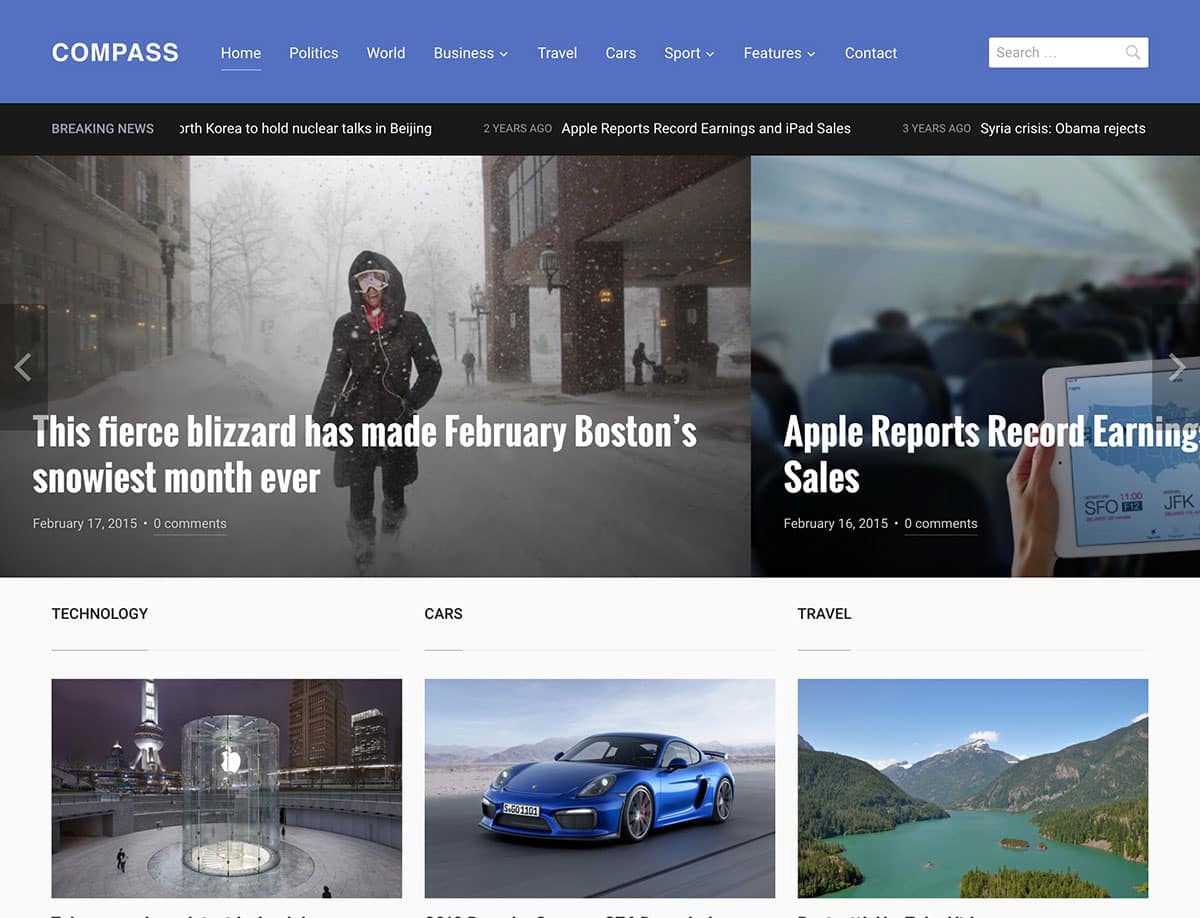 Retina-ready and responsive, Compass has a clean, simple design perfect for showcasing your online magazine content. The home page's slideshow gallery draws readers' attention to featured stories, while the ticker above it scrolls through recent headlines. Below the gallery, stories are neatly organized by category with plenty of white space, making the headlines and teasers easy to read.
With Compass you can structure the home page any way you like with the available widgets, and choose from a variety of colors, fonts and layouts for your posts and pages. You can also use the provided shortcodes to format columns, buttons and lists to your liking..
Furthermore, Compass makes it easy to develop your brand. You can upload your logo or even create one with the built-in editor. Add social media icons, search engine optimization and translation readiness, and your magazine content is ready to share all over the world.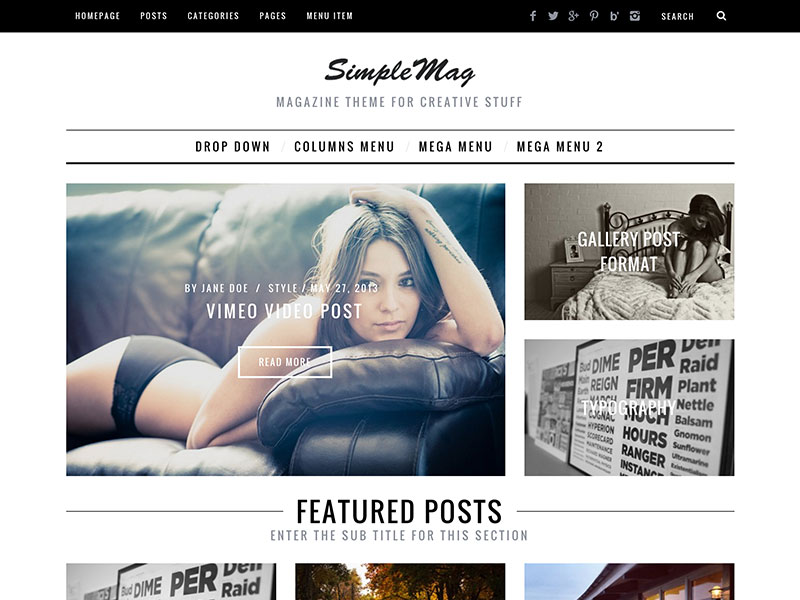 SimpleMag is a clean and minimal responsive magazine theme that puts focus on your content. Setting it up is easy, with a simple drag-and-drop page composer and configurable drop-down Mega Menu. For mobile devices, SimpleMag has an off-canvas navigation and sidebar to make the mobile experience even better.
With this theme you have the ability to lay out each category differently. You can include the slider, have two or three post columns or decide to show or hide the sidebar. SimpleMag has a built-in review system that lets visitors see a breakdown of your post content score. Finally, a self-configurable footer allows you to use one, two or three widget areas to include the content you need.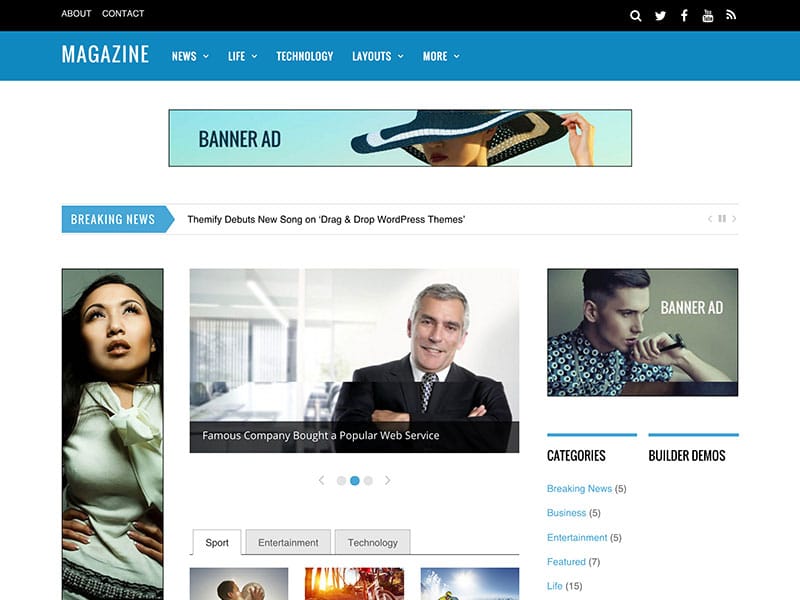 Magazine by Themify is a three-column responsive and retina ready theme with a lot of features. It has an impressive 42 pre-built layout options, mobile slide navigation, Mega Menus, widgetized areas for banner ads, icon fonts, social share buttons and more.
The homepage showcases a breaking news ticker that draws attention to important stories. Visitors can pause or advance the ticker as they want. Magazine comes with six color skins built-in, but you can also change the appearance of the site within the admin's styling panel. While the content alignment on the homepage is a little all over the place, it certainly gives you a number of ways to group and break up different types of content.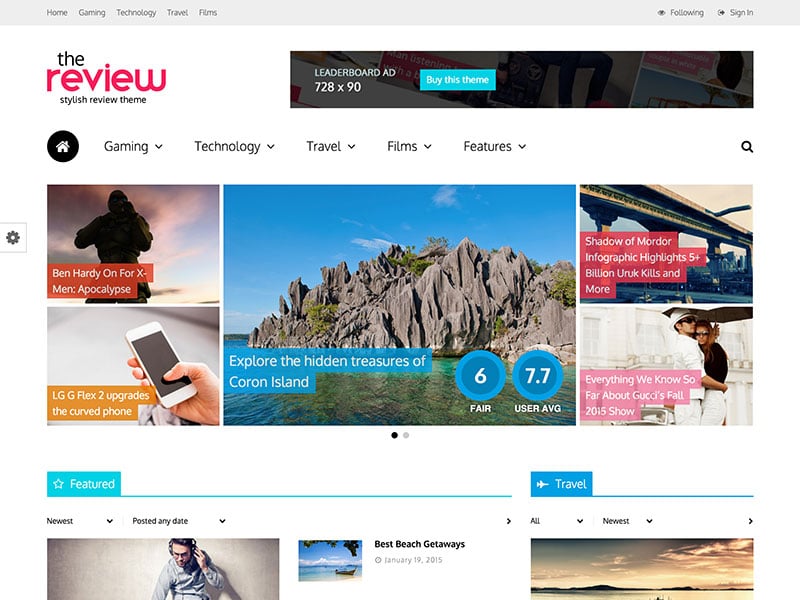 The Review is a fully responsive, clean and bold reviews and magazine theme. It comes with a beautiful rating system and a layout builder to help you build well-structured pages.
With The Review, you can use the bundled Visual Composer plugin to build page layout with relative ease. You can also choose whether you want to make changes on the back end or build pages on the front end and view your changes in real time. Users can write, edit and delete their own reviews via the front end for you to approve or delete; a priceless capability for review sites.
Other features that make The Review a fine theme are the portfolio showcase options, close to 400 icon fonts, multiple post formats, custom sidebars, multiple menu types, and custom widgets.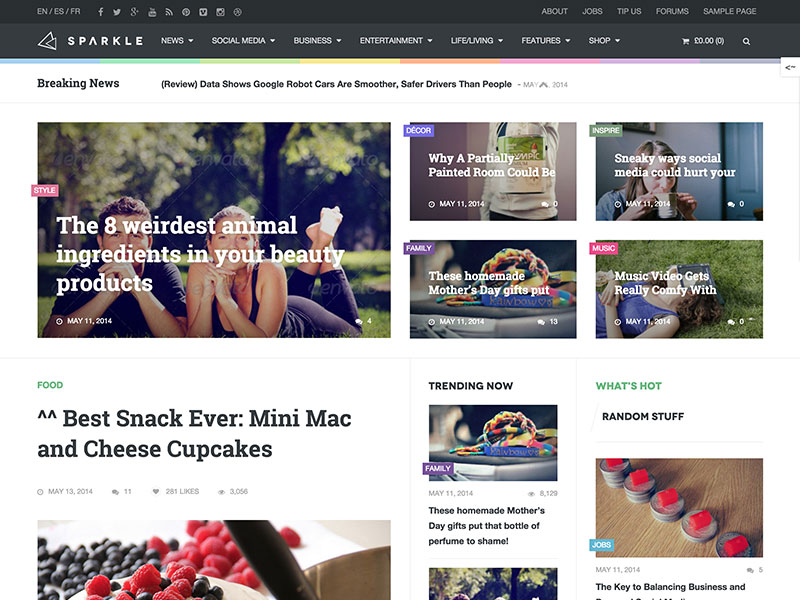 Sparkle is another smooth magazine theme with an elegant design that thrives on light coloring and plenty of white space. Sparkle comes with more than its fair share of nifty design elements and cool features. To start with, its navigation has mega menu capability and a neat design (plus, you also have the option to display the menu off-canvas). On the home page, the category of each featured post is easily understood courtesy of the highlighted tag that's appended to the post's thumbnail.
Sparkle comes with plenty of screencasts to help you start configuring the theme. You get a rating system, the $25 Visual Composer plugin included in the purchase package free of charge, and multiple post formats for your magazine.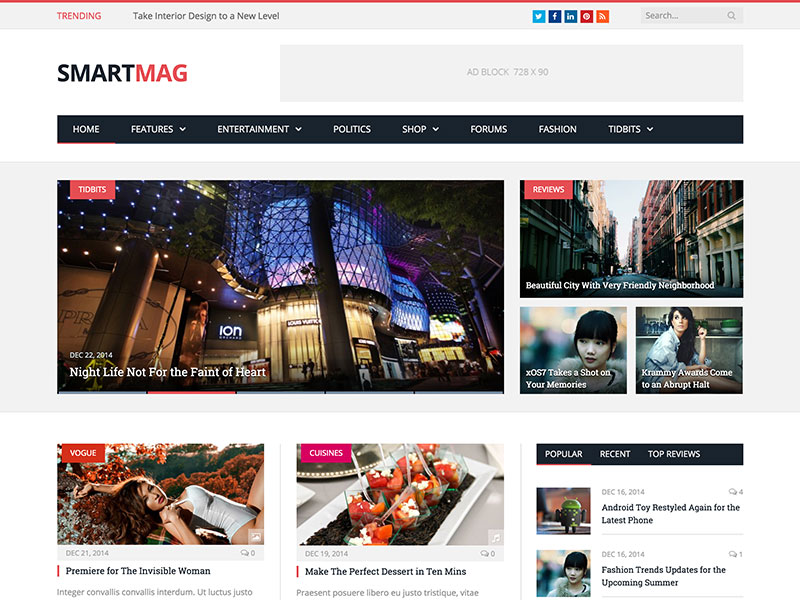 SmartMag is a slick magazine style theme with a clean and organized layout. It's responsive and retina ready, and comes with multiple blog layouts built in.
The theme's drag-and-drop page builder and simple demo importer make it easy for you to get your site up and running in no time. If you want to use background images with your theme, you can select your site to display in boxed layout or choose the full width layout if you don't want a background image. For those of you who want to incorporate reviews into your site, SmartMag includes a review system that can either use percentages or points to represent ratings.
MagXP
The MagXP responsive magazine theme by MyThemeShop comes with four homepage layouts and two single post layouts. The theme is WooCommerce ready, if you're interested in any eCommerce functionality. Depending on your content focus, you may be interested in the integrated review system that lets visitors add ratings and reviews to your posts and pages. This is a great option because these ratings will also show up in search results.
MagXP's drag-and-drop homepage builder and unlimited sidebar options give you a tremendous amount of flexibility to adapt the theme to your unique needs. If you're unsure of the layout you want, the theme includes demo content to fit a number of uses including entertainment, health, sports and more.
More Info / Download Demo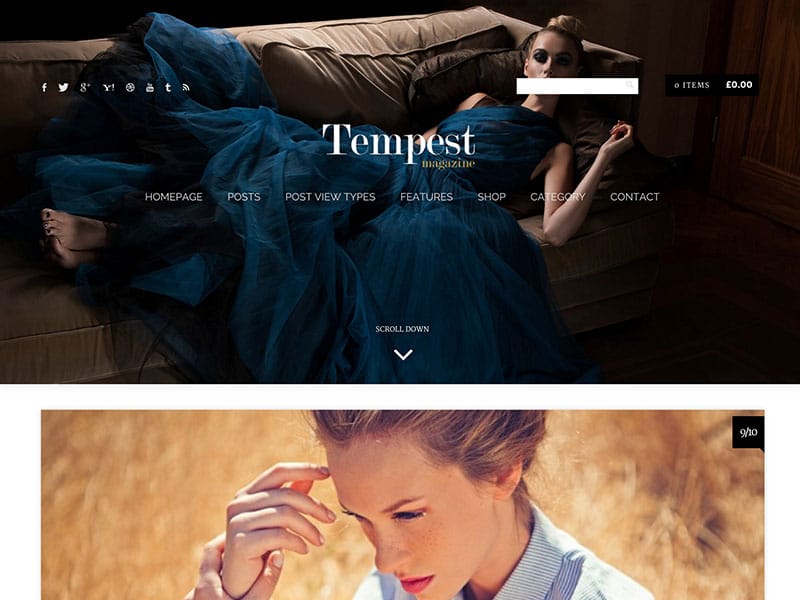 If you're looking for a magazine theme that has a more fashion forward look, then Tempest is one to look at. Different than many of the other magazine themes, it doesn't feature a large masthead or logo area, but instead integrates the logo and navigation in the middle of a full-page image on the homepage.
You can scroll down vertically to access featured homepage content, such as blog posts, WooCommerce products, videos or author bios. Tempest includes four custom post types, including video, galleries, portfolio and slideshow. The theme's powerful admin lets you create an infinite number of layouts using its shortcode plugin. This would make a great theme option for a fashion or design site, as well as a personal portfolio.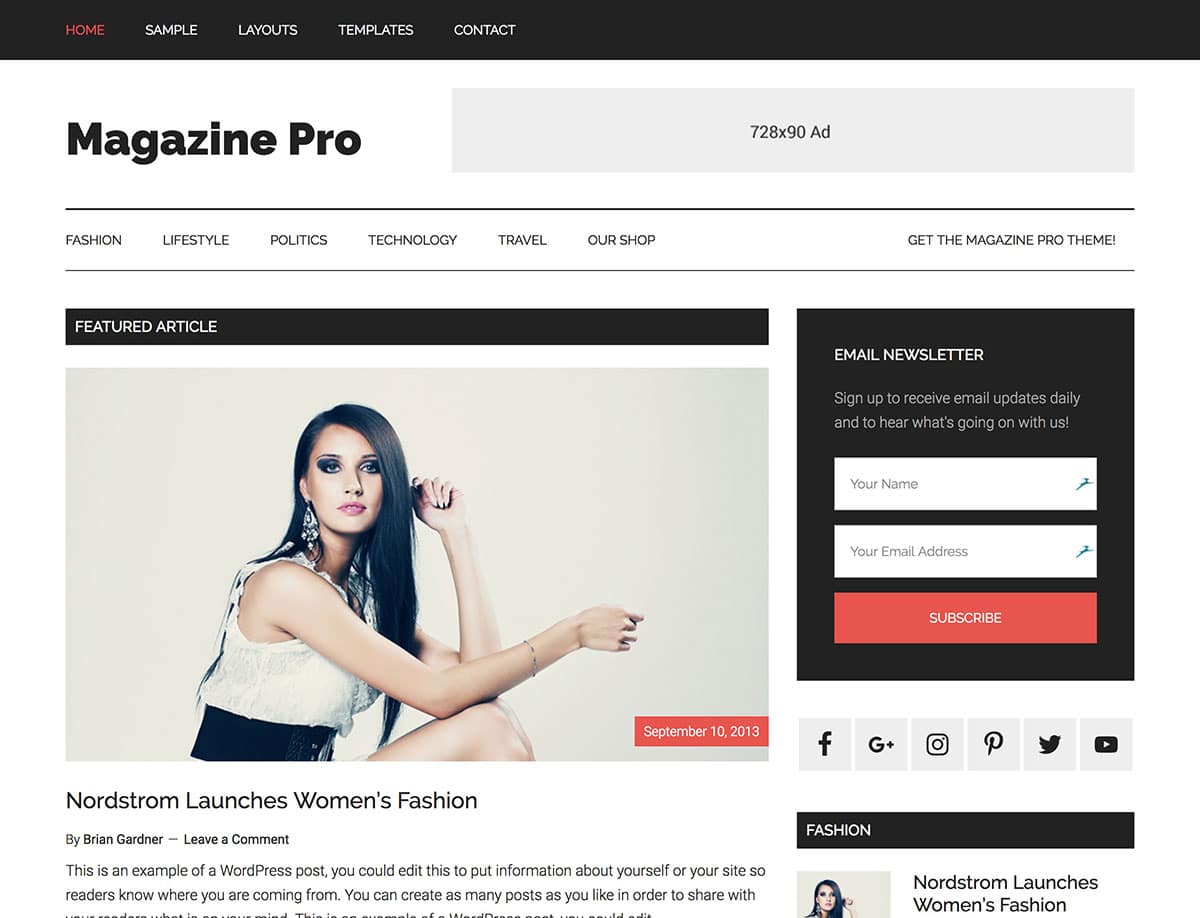 The Magazine Pro theme by StudioPress is a mobile responsive, fixed-width theme that's ideal for anyone looking for an easy-to-use publishing platform. Built on the powerful Genesis framework, it has a very clean and minimal design, simple black-and-white styling and a single accent color.
The theme comes with four accent color options, including blue, green, orange and red. Magazine Pro also has six layout choices that let you specify content and sidebar location as well as the ability to use full-width content. The theme is media ready, and gives you the ability to set featured images for your posts as well as a featured story on the homepage. They've also thought ahead and included optional ad locations for users who want to feature advertising on their site.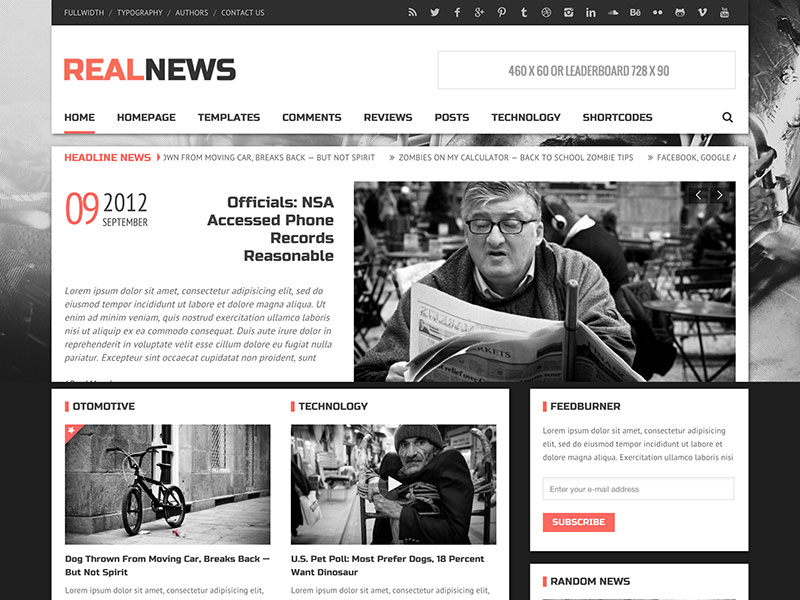 Realnews is a stunning black-and-white magazine theme that's attention grabbing, but doesn't take the focus away from the content. It's a responsive magazine theme that includes a homepage slider, so you can feature your top stories prominently.
It includes Visual Composer, which lets you easily create complex layouts, as well as the Taqyeem Reviews widget. Realnews has several custom widgets built in for video, Twitter, tabber, social counter and search. Unlimited sidebar functionality lets you set up different sidebar options for each post and page if you choose. You also have four post formats to choose from: standard, audio, video and gallery.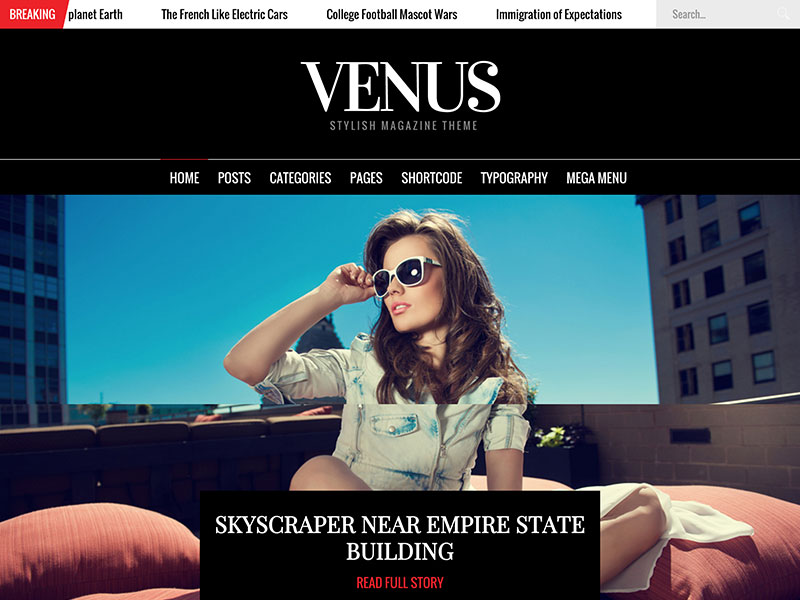 Venus has the privilege of being the first magazine theme on our list to feature parallax functionality. Responsive and retina ready, this theme has a slick fashion-forward design that pairs large images with background video to create a captivating presentation.
Venus has a drag-and-drop content builder and advanced theme admin panel that let you take control of your design and content without touching any code. Some of the theme's advanced functionality comes from built-in tools such as WooCommerce, Taqyeem, instant Ajax search and a breaking news ticker. Venus is the type of theme that can work well for a variety of uses. It would make a gorgeous corporate, creative agency or portfolio site.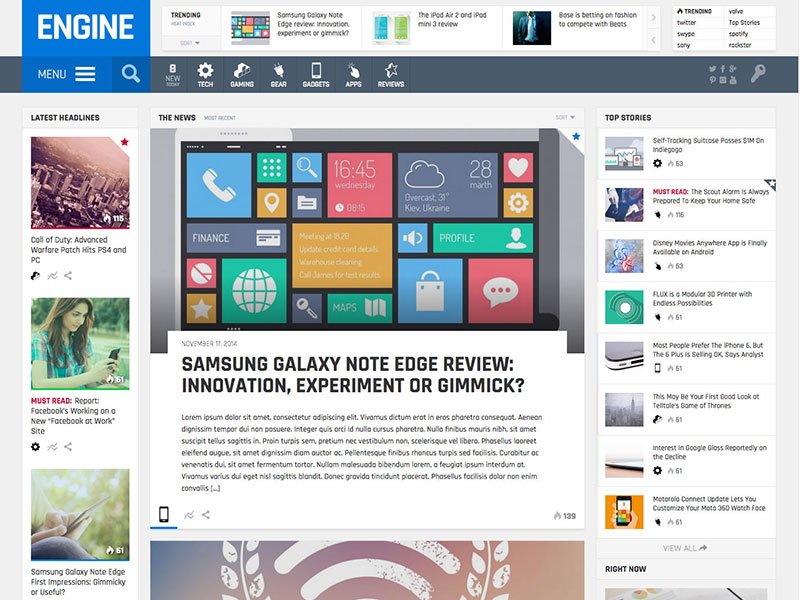 Engine is known for its drag-and-drop functionality and the ability to create unlimited 'mini sites' within your main site. In other words, it is a powerful WordPress theme filled with surprises for any news, magazine or professional blog.
Let's start with Engine's 'mini sites.' With this unique feature you can create category-based mini sites with unique logos, colors, backgrounds and page layouts within your main site. Speaking of category-based customization, Engine offers Mega Menus to manage and organize your menus down to category level. The theme is also highly customizable in terms of basic design elements; it comes with multiple color variations, over 650 Google Fonts, and tons of icons and custom widgets.
Additional features that make Engine an optimal magazine theme are Trending Topics (to identify and display your most popular posts), Comparisons (a one-click live comparing of posts/products on your site) and Reviews (to rate products and other items).
GoMedia
GoMedia is a clean and well organized magazine theme perfect for news websites, personal or community blogs.
The featured posts slider works great on your homepage and can display your most important or up-to-date articles for your guests to read. Choose from three post formatting options to add content via images, a gallery or video.
This theme comes complete with six custom widgets; Feedburner, Twitter, Flickr and more. The ad management feature will enable you to place various sizes of banner images on your sidebar, as well as add banners to other built-in ad positions with ease.
GoMedia was built using Twitter Bootstrap, a popular front-end framework. It has a fully responsive design and is cross-browser compatible. There is also localization support enabling you to reach a multilingual audience.
More Info / Download Demo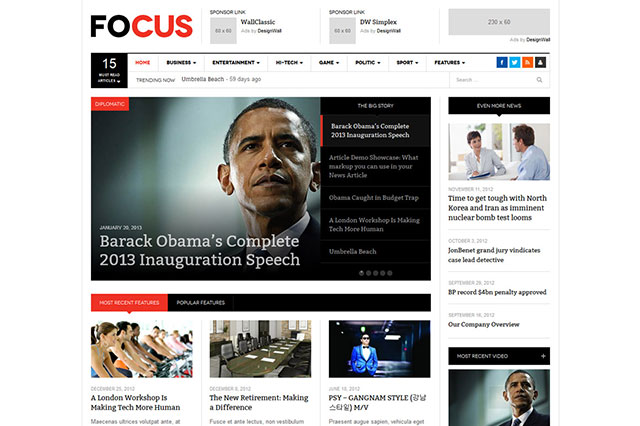 Ranked in 2013 as one of 20 stunning responsive WordPress themes by Mashable, Focus is absolutely gorgeous. It has a clean, grid-based design with a featured news slider and popular post ticker. While it would be equally as successful as a business theme, Focus seems to be made to showcase hard news and important content.
Focus includes six different category styles and integrates social sharing, print and email buttons in single posts. The impressive WordPress Plus Menu automatically updates to include the latest content into the navigation, which entices visitors to explore the site. Overall, this is a theme that any reputable news organization would be proud to use.
Splash
Splash is a stylish responsive magazine theme. It's WooCommerce ready and includes a built-in review system. The theme's powerful options panel lets you control everything from the logo to color schemes, ad management, fonts and more. Splash also includes a list of 350+ scalable vector icons to choose from.
A related posts module is built into the theme so you can display related posts with just one click. Shortcode options include buttons, lists, videos, columns, tab and toggled content, maps and more. Splash also comes with 12 custom widgets already installed, so you can get your site going right away without having to search for and load a bunch of plugins.
More Info / Download Demo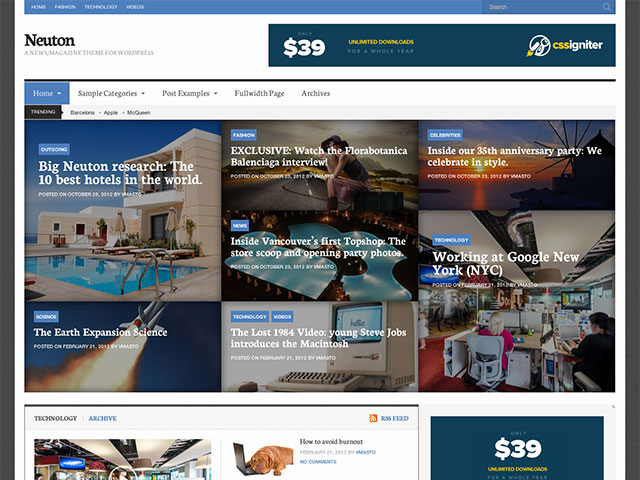 Neuton is a news and magazine theme by CSS Igniter that would make a great theme for travel, real estate or any other type of content where photography plays an important role.
The theme has a responsive design that includes what they call a "hero section" at the top of the homepage. This hero section features a group of posts and a bold grid layout. You could use this section to highlight your newest stories or feature a favorite from each content category. Located above that section is a trending topics area that you can use to promote your most discussed and viewed articles.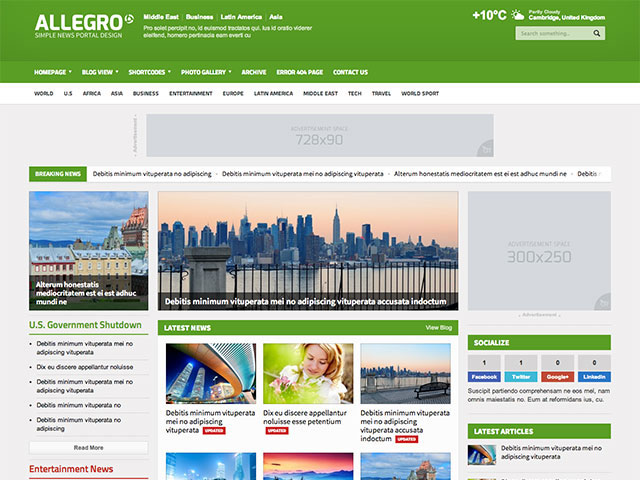 Allegro is a responsive news and magazine theme that has the look of a prestigious global news organization. It uses the Orange-Themes visual page builder that has a visual drag-and-drop interface and lets you move content blocks to create your desired page layout.
Weather reporting functionality is included with the theme, and automatically detects the viewer's country and city. For customization, there are a number of options including 25+ shortcodes, two optional sidebars, post category color styles and unlimited color combinations. To help you get started quickly, the theme includes demo content in a QuickStart package that loads all the data you need to get your demo site started right away.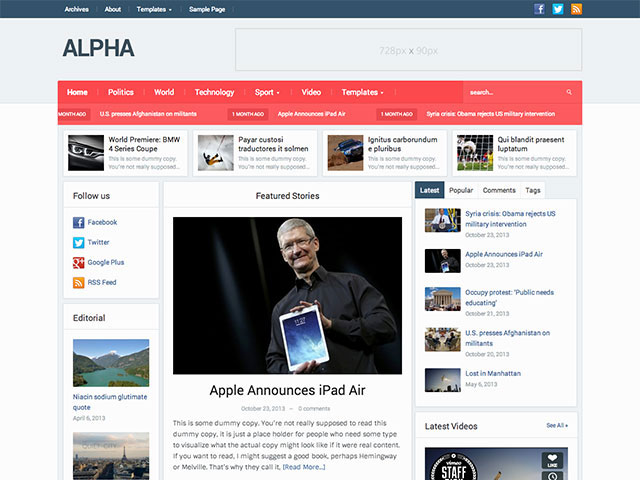 WPZOOM describes its Alpha theme as one of the most complex magazine themes from their collection today. It includes two skins: one for magazine and another for newspaper, each giving you completely different looks. Built on the advanced ZOOM framework, this responsive theme includes a featured slideshow, breaking news ticker, post slideshows and custom background and logo options.
Built-in page templates include blog, archives, full-width page and page with left sidebar. Alpha also includes custom shortcodes such as buttons, icon links, info boxes, various columns, list styling and social options. If you're thinking about including advertising on your site, Alpha has built several banner areas into the template as well.
More Info / Download Demo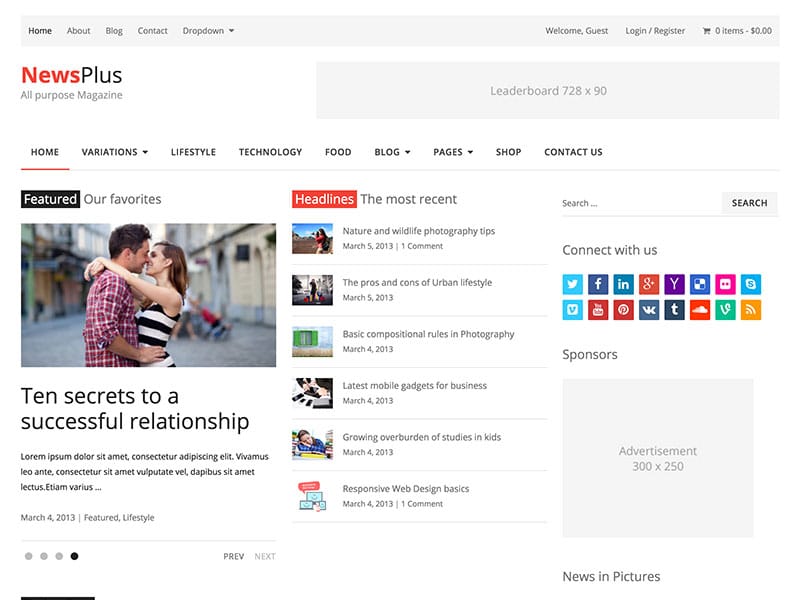 NewsPlus is an all-purpose responsive theme that's packed with features. The theme comes WooCommerse and BuddyPress ready, and has a clean design that's optimized for SEO and micro formats.
Using Flex Slider, you can create post and content sliders as well as post carousels. To maximize customization options, NewsPlus has individual page and post option panels. There are six custom widgets built in, including Flicker, social icons, recent posts, popular posts, custom categories and mini folio. Social sharing options are also built-in for Facebook, Twitter, LinkedIn, Google+ and Pinterest. To make installation and setup easy, the theme includes demo content in XML format as well as step-by-step documentation for installation and configuration.
WP-Clear
WP-Clear is a responsive magazine theme that includes optional banner advertising areas and a lot of options for content grouping. Some of the areas on the homepage are even reminiscent of CNN's website.
Whether you have a news or general magazine site, WP-Clear gives you multimedia options with its featured sliders for pages, photos and videos. There's a YouTube videos page template and a built-in author page if you plan on having multiple authors on your site.
This theme gives you a variety of customization options, with page layouts that can be set up with wide or narrow sidebars in and different combinations. It also includes a number of page templates, such as an alternate homepage layout, four different blog layout styles, portfolio page, sales letter and tabbed archives page.
More Info / Download Demo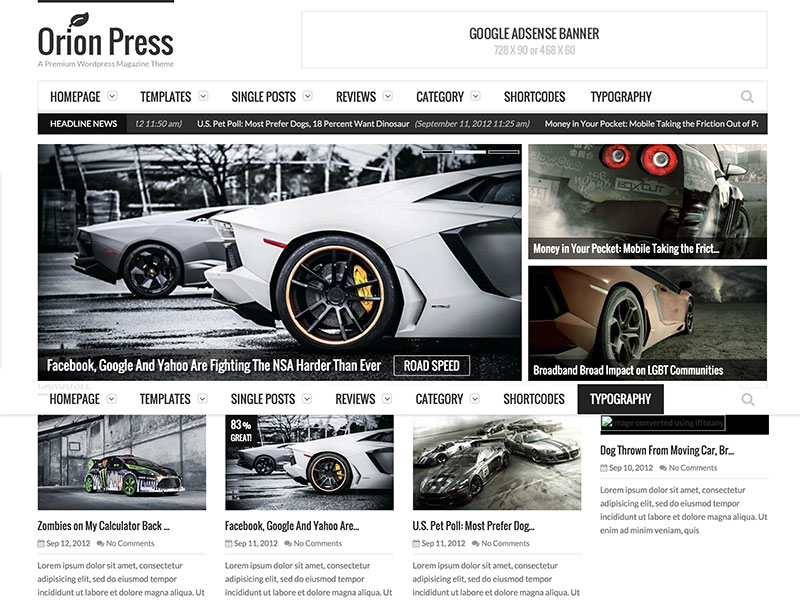 Orion Press is a responsive and retina ready magazine theme that has a cutting-edge design with a ton of options. The theme comes packaged with premium tools Taqyeem Reviews and Visual Composer. With Visual Composer, you can drag and drop content modules to easily build pages.
But you may not even need to do that, since Orion Press comes with seven pre-built homepage templates to choose from. Like some of the other themes on our list, this one includes support for optional ad banners. To accommodate different media, Orion Press lets you choose from video, audio, gallery and full width single post types.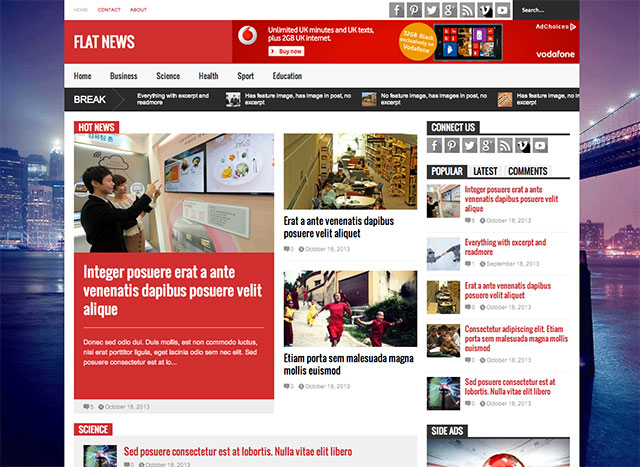 Flat News is a responsive news and magazine theme with a flat design and three-column homepage layout. You can easily change the homepage look and layout through the theme's builder tool, which lets you drag and drop widgets to set up your content areas.
Flat News has an integrated auto thumbnail picker that makes adding videos even easier. Additionally, the theme is set up with SEO best practices in mind, with optimized heading and title tags and rich snippet support. The theme's scrolling news ticker has the ability to display image thumbnails for each story, which is a nice touch.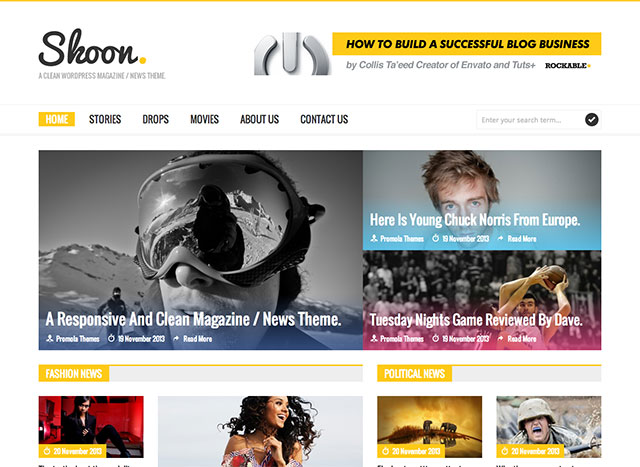 Rounding out our list of magazine themes is Skoon from ThemeForest. It's a clean and well laid out responsive theme that would also work well for photographers and creative agencies.
Although the theme's description is a little light on details, it does highlight that Skoon includes a custom CSS box, full width page template and 10 color pickers for different sections of the theme. For post formats, you have the option to choose video, audio or gallery. Built-in widgets include video, popular posts, social networking and Facebook. Skoon is Contact Form 7 ready and features both logo and favicon uploaders.