One page WordPress themes are valued for providing a visually appealing and straightforward user experience. Many businesses – particularly in creative industries – prefer one page sites because of their ability to present content in a logical, fluid-flowing and intriguing way.
Several WordPress themes out there offer professional-looking and highly creative single-page designs to cater to all types of businesses. Below you will find many of the best one page WordPress themes that can help you create the site you've always imagined.
Most of the themes mentioned here are fully responsive, retina ready and include visually stunning parallax scrolling effects. While their focus is on one-page layouts, many also offer multi-page site templates.
This list will help you find the best theme to take your business site to the next level. So what are you waiting for? Let's get cracking!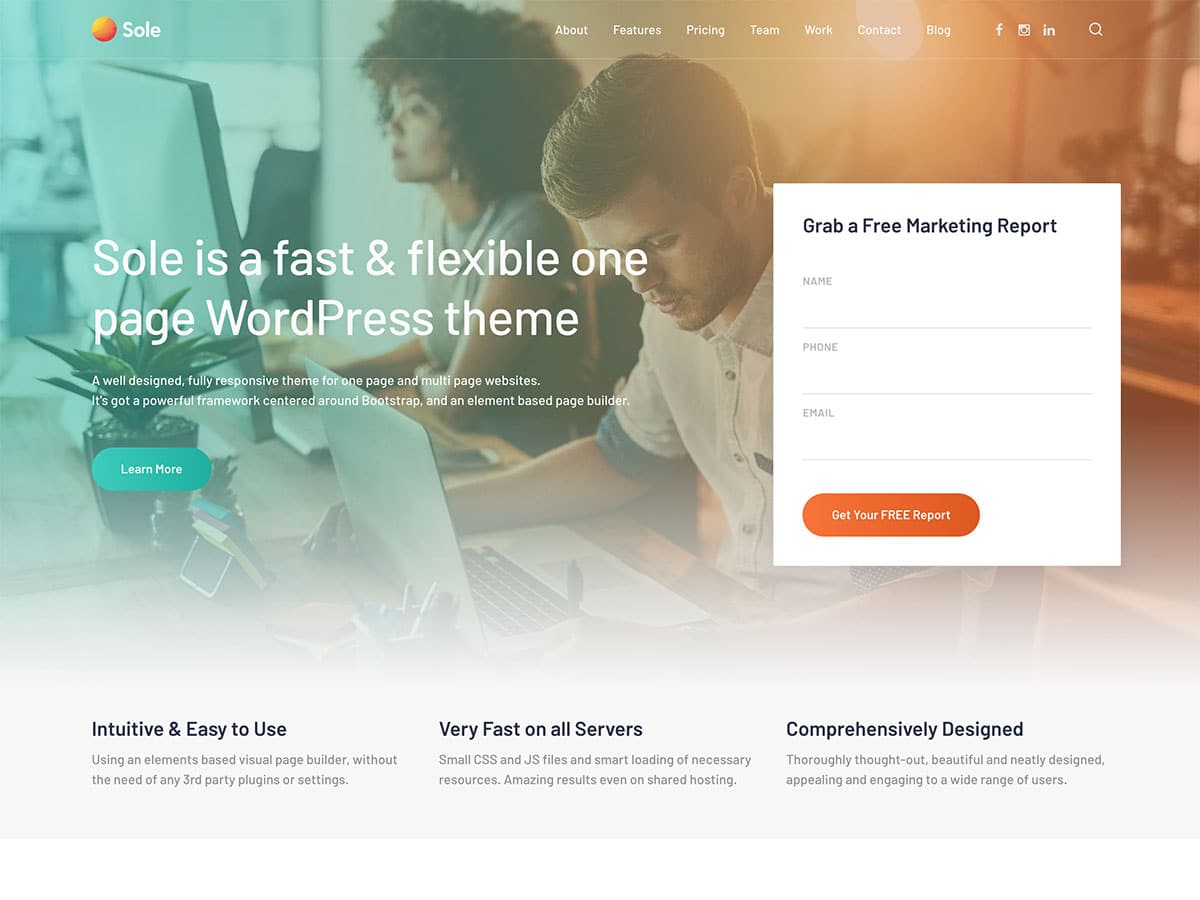 A one-page website is inherently simple when it comes to the various layouts you can use. However, that doesn't mean the structure of that layout has to be generic. With a theme like Sole, you'll have the flexibility to make your site as streamlined or as complex as you want.
Visually-focused businesses, such as creative agencies, will love the built-in grid builder that makes it easy to create a portfolio. Plus, the custom post manager will help you develop custom post types with ease. However, you'll find that this theme will suit startups and tech businesses most of all, a focus that's apparent in each of its six full-featured demos. These layouts are great for getting started on your design quickly.
After choosing a demo to use as a base, you can then tweak each element to perfection using the bundled Hybrid Composer page builder plugin. This tool provides over 70 distinct modules to help build your pages, with a vast array of customization options for each one. What's more, there are 12 different header styles to choose from. All of this means that a unique design and layout are right at your fingertips.
Overall, Sole is minimalist if you'd like it to be, but flexible enough to scale up as much as you need it to. We wholeheartedly recommend this tool, and consider it a frontrunner when it comes to one-page themes.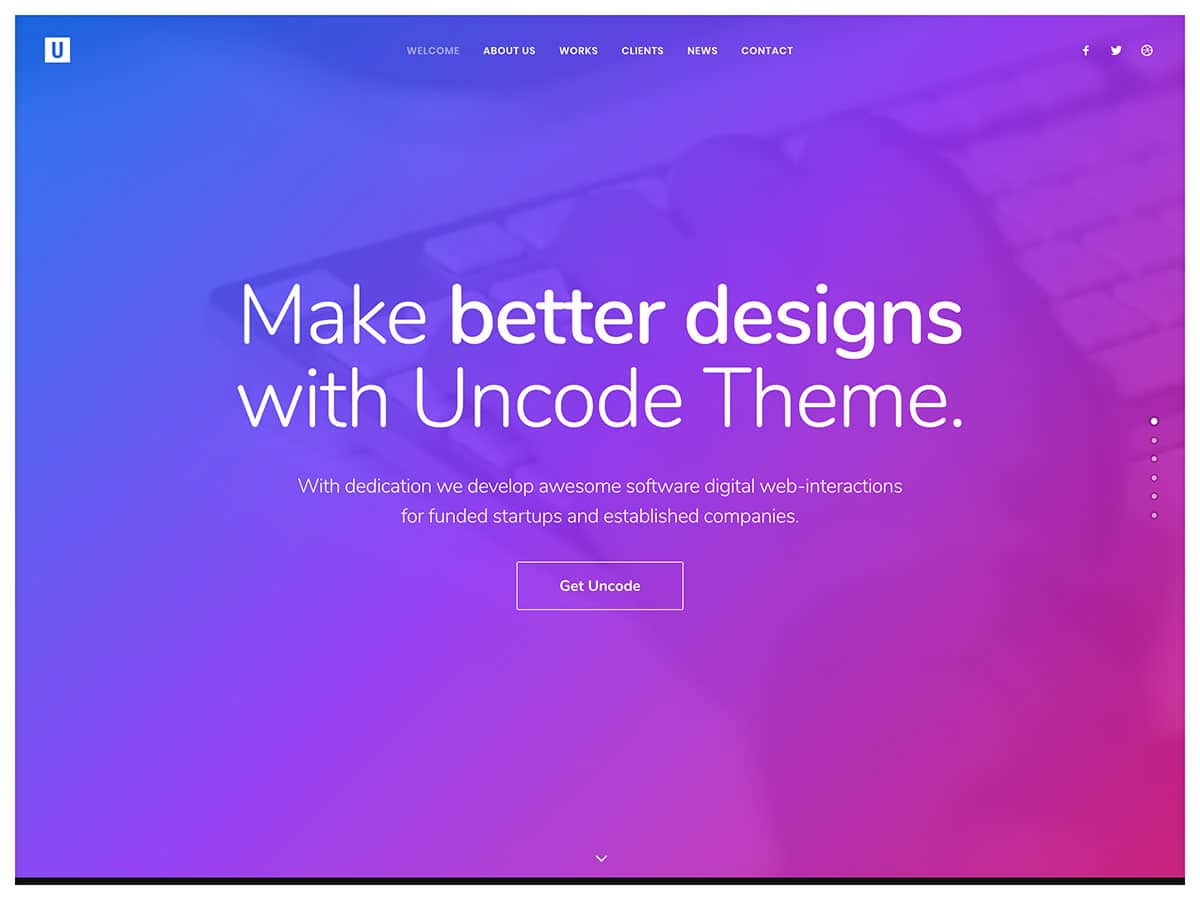 Planning out your site's layout is obviously an important task. However, just because you settle on a certain design now (such as a one page website), doesn't mean you won't want to change things up in the future. Uncode is a near-perfect theme for site owners who like to keep their designs fresh.
As you may have guessed, Uncode is a multipurpose theme that provides plenty of niche-specific templates, all of which are rich in functionality. One page designs are no exception. There are actually seven one page layouts available (called 'concepts' here). Each can be customized using the bundled WPBakery Page Builder plugin, or the myriad options found within the dedicated admin panel.
In fact, you're not even restricted to the classic scroll found on many similar websites. For example, Uncode now offers a 'Slides Scroll' option that lets users 'flick' through content sections with the swipe of a scroll wheel or trackpad. For sites with a lot of information to disseminate, this can bolster your usability significantly.
There's plenty more under the hood of Uncode, but to detail it all would require thousands of words just to give a brief overview. In a nutshell, Uncode is a standout choice for many different website styles, but for one page sites in particular it can be ideal.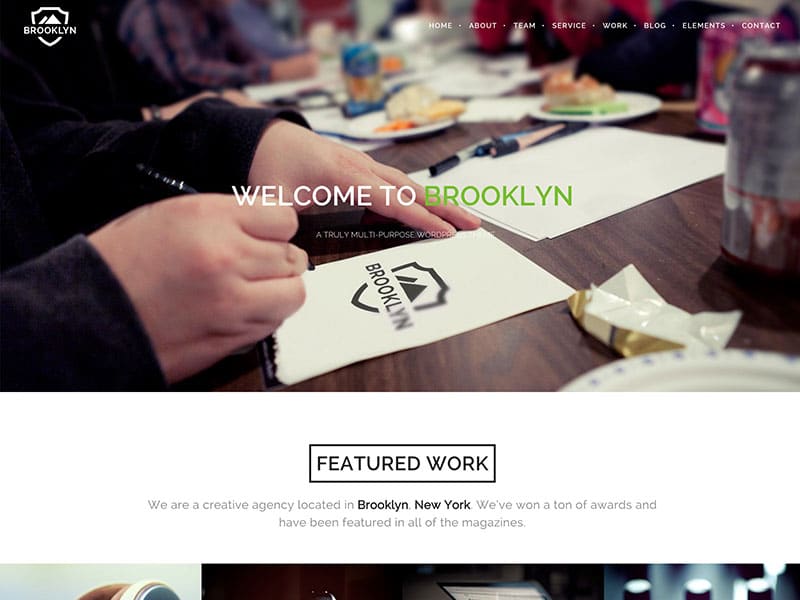 Brooklyn is a beautiful responsive one page WordPress theme with sleek typography, abundant white space and lots of features.
With Brooklyn, parallax scrolling effects, 8 different skins (all visible in the demo) and 7 different header styles give your website a unique look.
Additionally, Brooklyn comes with a built-in shortcode manager for easier shortcode insertion into posts and pages. The theme is translation ready and includes an advanced theme options panel. The normally $19 Revolution Slider is included free of charge, along with 3 other custom plugins and 365 Font Awesome icons in 8 different categories.
While Brooklyn is a true one-pager, it also supports multiple-page websites.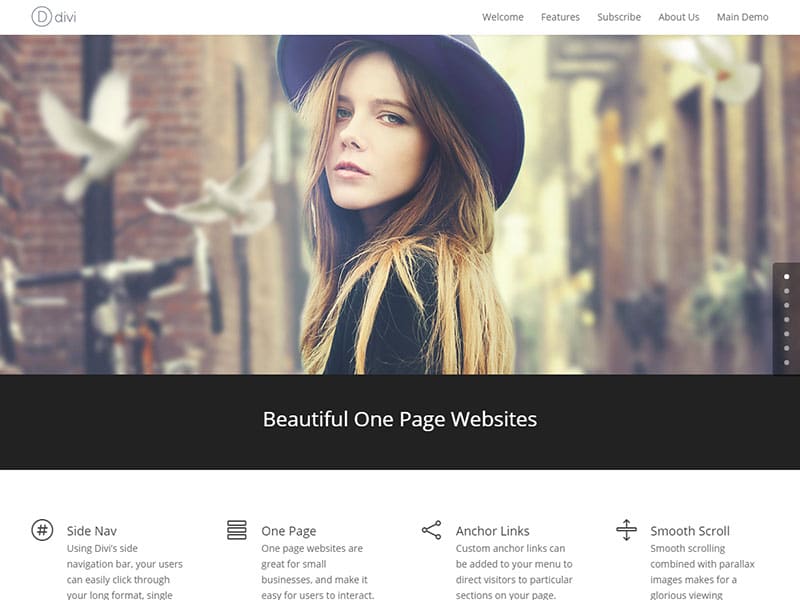 Divi (review) is a very popular release from Elegant Themes. Initially, the theme did not feature single page capability, but it has since been added in the 2.1 update available to all ET members.
The one page version of Divi features an interesting version of sticky side navigation (located on the left in the demo), somewhat similar to that of a slideshow. The top navigation, meanwhile, comes in different styling options. The Divi page builder is incredibly easy to use and straightforward — personally, of all the page builders I've ever used, Divi's has to be my favorite. With its simple interface, you can create, save, and load page layouts — even sell them to other Divi users in packages. Or, you can use any of the several premade layouts the Elegant Themes developers have already built into the theme.
Divi, like all other Elegant Themes, features the ePanel theme options panel, which allows you to customize every part of your theme's design and also its general SEO. Besides all that, you also get standard Elegant Themes features including multiple shortcodes, secure coding, solid documentation, and a very affordable price tag.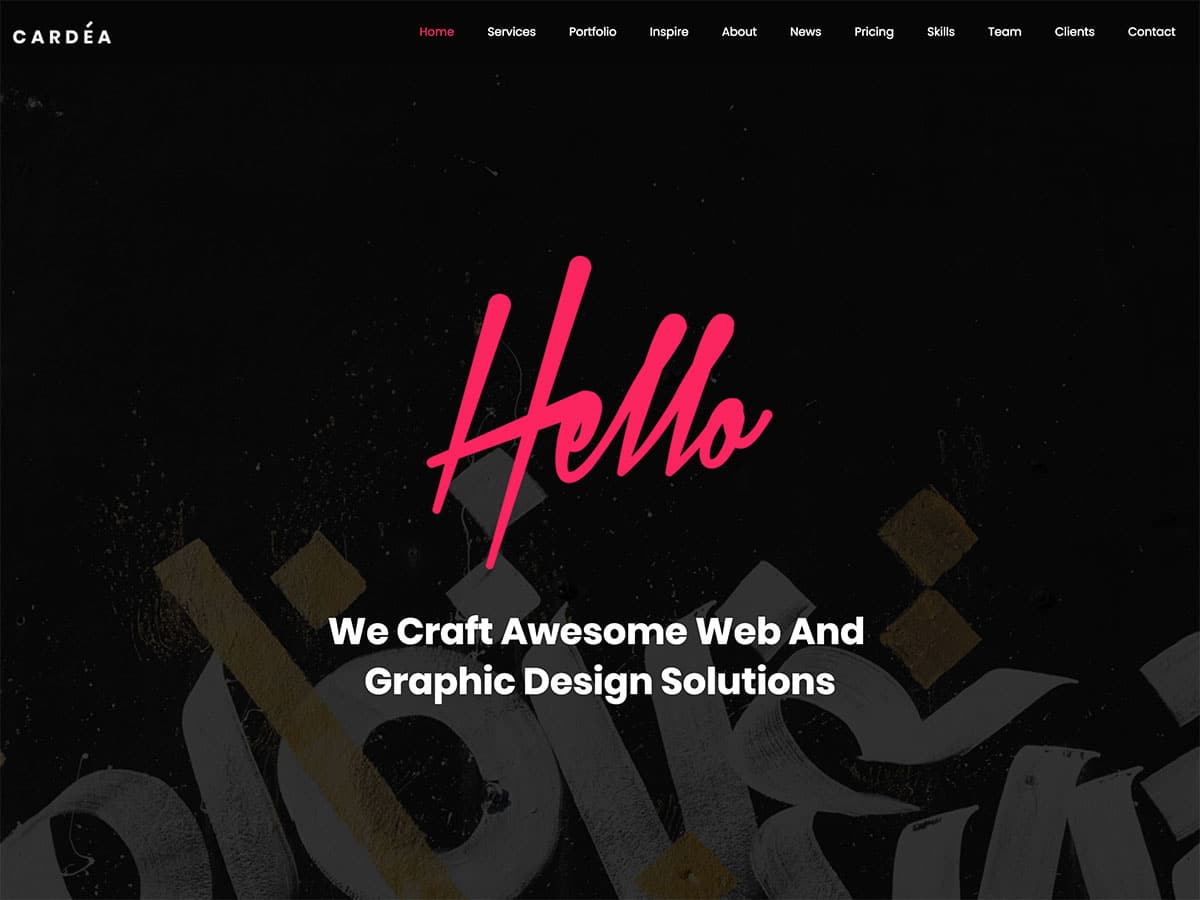 A one-page design is ideal for portfolios, since you want to encourage people to check out your work without overwhelming them. If that's your goal, you may want to check out the Cardea theme.
This theme comes in two styles (full color and dark), so you can choose the overall feel you want your portfolio to have. To actually design your single scrolling page, you can select from a list of pre-built sections. This enables you to provide information about your services and pricing, show off your portfolio itself, and more.
Cardea offers a number of other key features as well. It includes a dedicated portfolio post type, making it easier to display new work and projects quickly. There's also a team post type, in case you're not working alone. Plus, you'll get access to several handy scrolling and slider features, and even a shortcode generator.
As far as one-page themes go, Cardea is pretty simple. However, if you want a good-looking and functional portfolio and you don't want to spend a lot of time building it, this theme can get you up and running fast.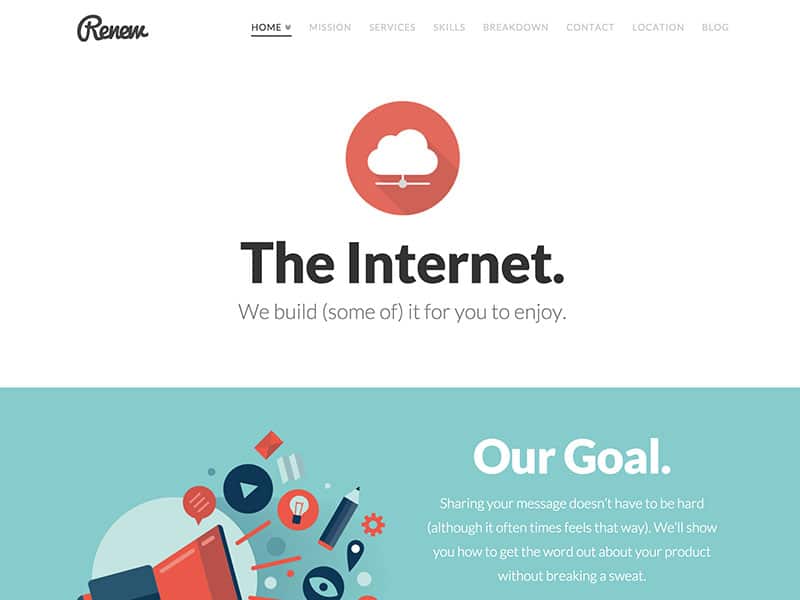 X (review) is, without a doubt, the most powerful WordPress theme in existence, with loads and loads of options and customization ability (and this shows up in the fact that its accumulated over 21,000 sales in its year-long tenure).
X can function as the theme for a website in any niche. It introduces a new type of feature known as "stacks": multiple unique styles of design built into a single theme. X currently has four stacks — Integrity, Renew, Icon, and Ethos — and more are on the way. Another unique aspect of X is that the developers have incorporated design advice from leading online marketing experts into it — X truly takes SEO, CRO, and other marketing strategies to the next level. The live WP customizer is completely revamped, and can be used to customize in live view practically every aspect of your design, right down to button sizes! Over 40 shortcodes are included.
It would take a whole article to write in detail about all the functionality X has to offer, but I'll try to keep it brief: unlimited sidebars, numerous page templates, HD tutorial videos + supporting documentation, WooCommerce styling and integration features, Slider Revolution, 7 custom post types, several custom widgets, 400 Font Awesome icons, a page builder, and over 600 Google Fonts, just to name a very small selection.
A one page navigation structure, which includes all the features of X, is easily setup thanks to the built-in options. At $64, X is practically a steal, and truly lives up to its slogan: "the last theme you'll ever need".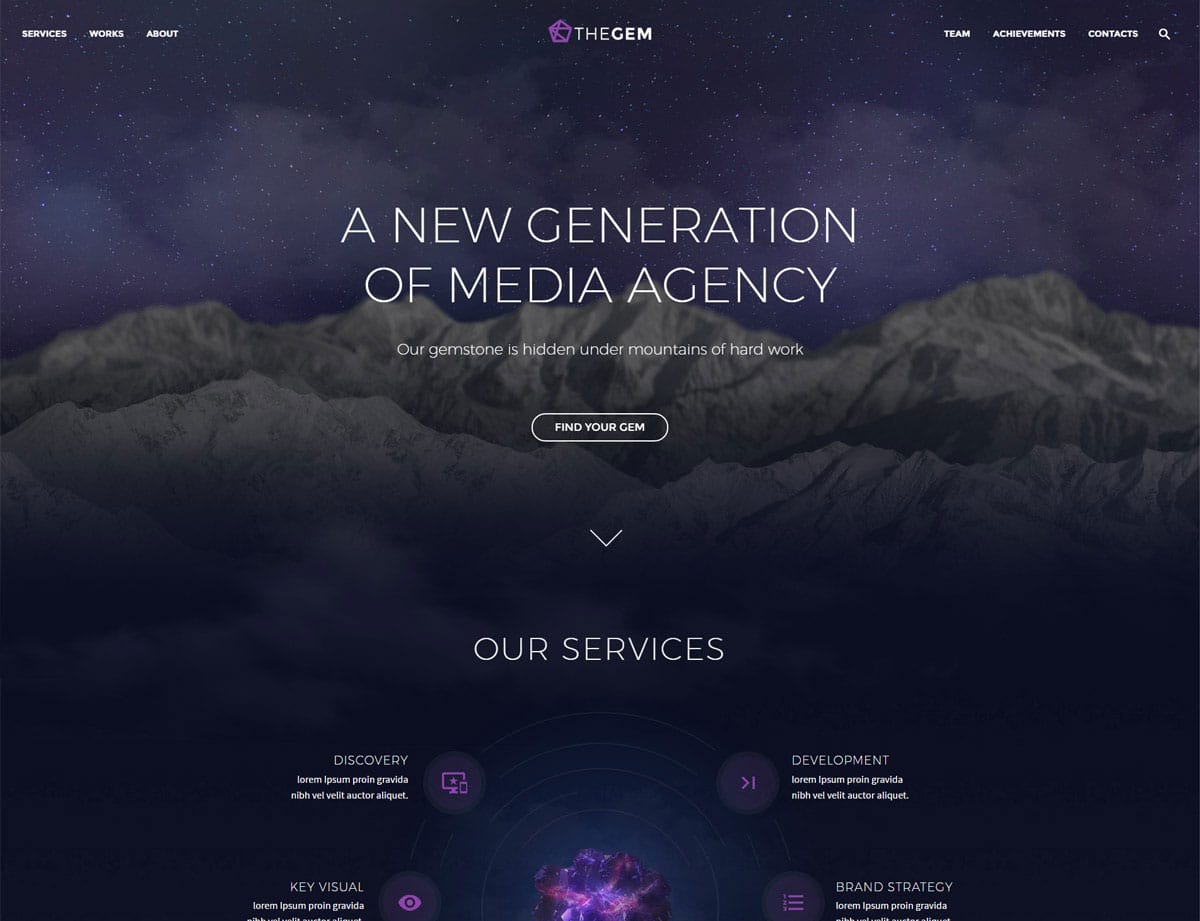 There are plenty of themes that can lay claim to offering a one-page layout, but none can offer the wealth of options and stellar functionality of TheGem.
All of the design elements you associate with a good one-page website are present in this theme: a full screen hero slider (which can be created courtesy of the bundled Slider Revolution plugin), a choice of six header styles, and the ability to create full-width sections utilizing the bundled Visual Composer plugin.
What's more, there are a number of customization options, including fonts, colors, and over 2,500 icons – each of which are also customizable.
It's a rare occurrence, but there's very little we dislike about TheGem. Scrolling is smooth, animations are tastefully implemented, and the functionality is on point. It's a solid contender, and could easily be the go-to solution for creating your website.
More Info / Download Demo
One-page websites can fulfil a myriad of responsibilities, but ultimately they should compel visitors to take action. One Page Pro is a new kid on the block, and offers a number of features to help you build a standout and flexible one-page website.
This theme employs a sleek yet vibrant design, with a number of customization options available via the bundled GoodLayers drag-and-drop page builder plugin. However, if you want to get up and running quickly, you can choose from one of three demos, and use a plethora of blog, portfolio, and gallery layouts (which can be further customized ). You can also include multiple sidebars, and use the built-in Genuis Wrapper to add images, HTML5 video, and many more elements to your pages.
What's more, One Page Pro includes a multitude of Google Fonts, and the ability to upload your own typefaces through a custom admin panel. Finally, the theme also includes a dedicated maintenance mode, to enable you to work on your website before it goes live.
Overall, One Page Pro is a solid theme that offers a number of thoughtful features. Given its price and feature set, it could be the ideal theme for you.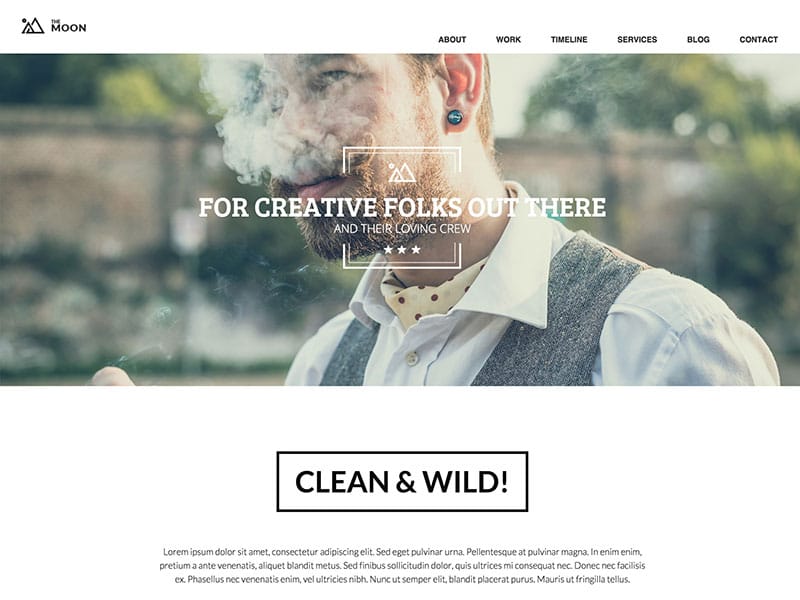 The Moon is a fresh, retina-ready and responsive WordPress theme designed with one person in mind – you, the creative. It has many sophisticated visual and technical features to create a beautiful and truly unique site. Even better, you can achieve this without inserting a single line of code.
The Moon offers several advanced features to present your brand in the best possible way. For example, the Visual Composer plugin enables you to quickly modify design elements via drag-and-drop functionality. Besides that, you can further unleash your creativity with the help of PixFlow Custom Titles (present your headings with style), flexible column grids (showcase your work in any layout you wish), and Multi Portfolio (create portfolios with various content layouts and styles). Other design options include 620 Google Fonts, plenty of color variations, 670+ icon fonts, optional premium plugins and much more. Overall, the theme comes with more than 50 features.
The Moon is one of the rare themes that gives users the freedom of complete customization combined with robust content management to create stunning one-page and multi-page websites.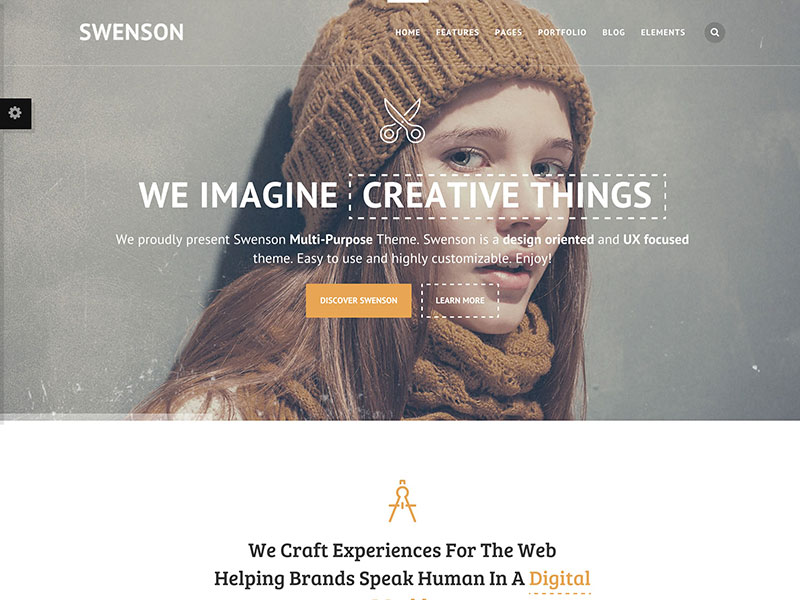 Swenson is a modern, clean and retina-ready WordPress theme that is perfect for creative agencies. It enables you to showcase your projects in a visually stunning way by providing you with several page and section layouts; the design is completely up to you.
This theme comes with 40+ components for the Visual Composer plugin, which enables you to drag-and-drop many different design elements or create your own designs to easily build a unique, fully responsive and professional website. The theme options control panel contains additional settings for other design elements such as color and fonts.
To further showcase your work and enhance your site, Swenson enables you to create unique grid layouts using the Advanced Grid Builder – choose from 40 available grid styles. You can also use the highly customizable Slider Revolution plugin to liven up your portfolio or project showcase. The theme also offers parallax support for smooth and performance-saving background animation in image sections.
All in all, Swenson is a wonderful option for anyone looking for a well-designed, easy-to-use and fully responsive WordPress theme to showcase their fantastic work.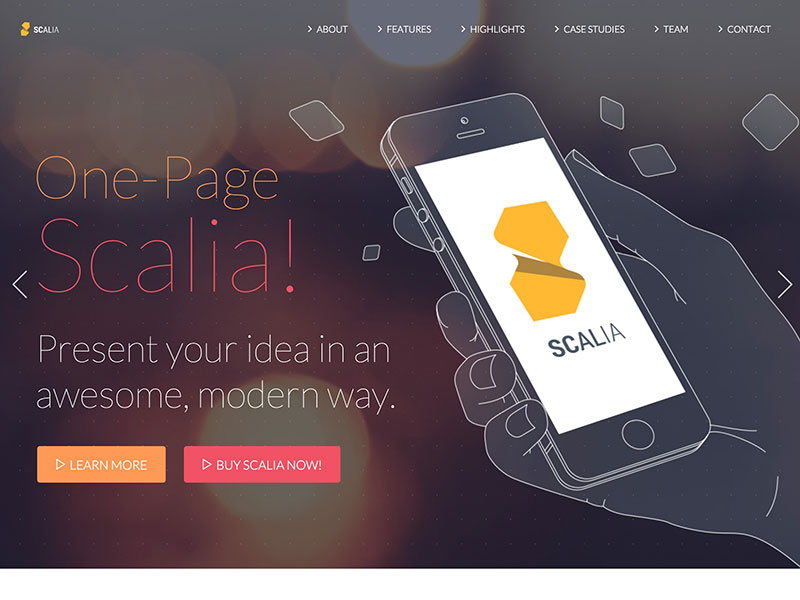 Scalia is a powerful WordPress theme for creative businesses which can help you build stunning one-page sites to showcase your portfolio.
The theme relies on a comprehensive list of shortcodes and the included Visual Composer plugin for building impactful websites. The shortcodes enable you to combine various design elements; from styled boxes, images and forms, to maps, alerts, full width areas and more. An option to add video backgrounds to your pages is also available. With the Visual Composer you can further customize page layouts and add other elements to make them even more appealing to your users.
Scalia comes with two premium slider plugins for incorporating slideshows in your pages – LayerSlider and Nivo Slider – which both enable you to create visually stunning and interactive media elements that will wow your visitors and potential clients.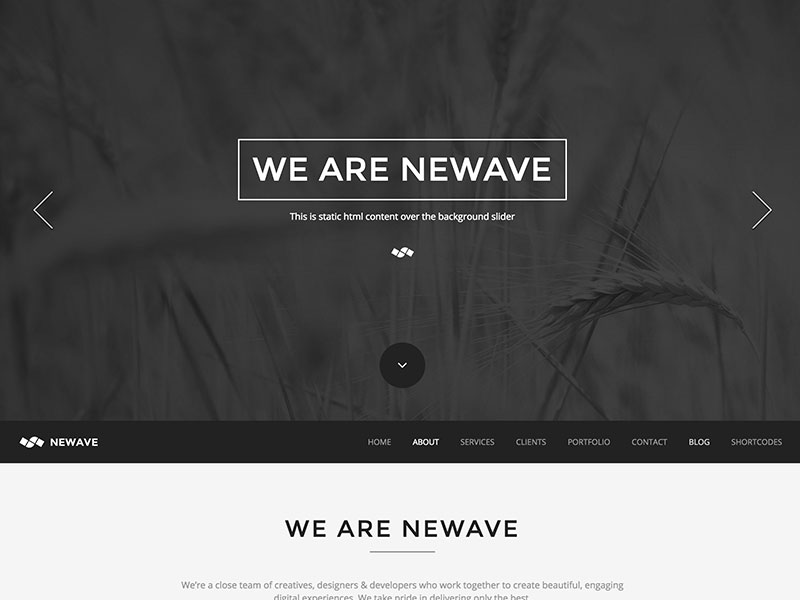 Newave is a robust single page theme, combining stunning looks with loads of features.
Newave comes in two completely unique layouts: Vineyard and Photography. Both have the same features and functionality, but different looks for different website niches.
The custom theme options panel is simple to navigate. You also get 4 ready-made header designs. It supports video backgrounds and is packaged with a versatile, customizable slider.
You can create progress bars, custom icons, counters, testimonials, normal & full-screen and much more with Newave's exhaustive list of shortcodes.
Sydney Pro
Sydney Pro – a flexible and contemporary theme – enables you to create beautiful, clean and professional websites with fully responsive capabilities.
Numerous customizable design options found in the theme make it easy to tailor your website to your needs. You can modify page layouts, colors, fonts and other styling options via the Theme Customizer. Aside from that, the Front Page Blocks feature enables you to arrange blocks of content as you please to create the desired look.
Sydney Pro has a lot of additional features to add extra value to your site. Put your branding center stage with full-width images, full-screen sliders and large image headers. Furthermore, you can add a parallax effect to any image section of your site to give visitors something additional to marvel at while scrolling through your content.
If you want a slick, modern WordPress theme that offers lots of design options, Sydney Pro is the way to go.
More Info / Download Demo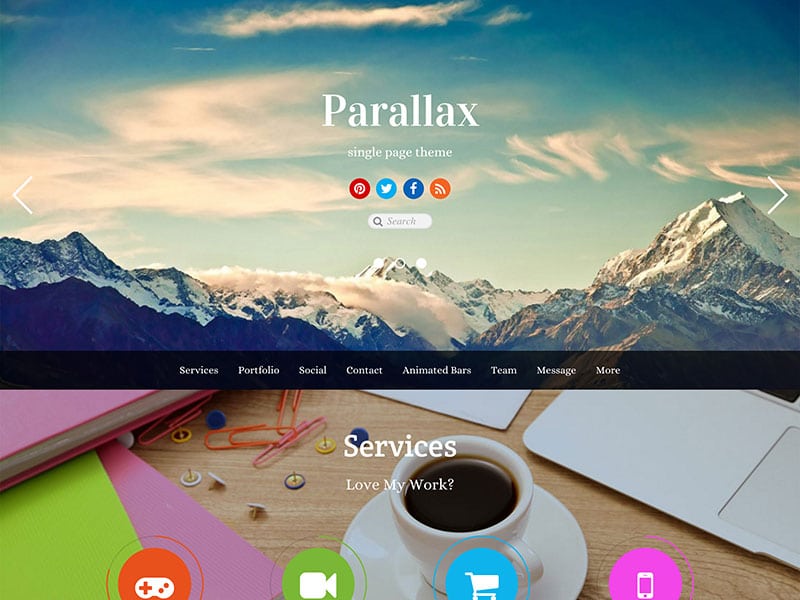 Parallax is a single page theme with a neat parallax scrolling effect.
Three different custom posts types – portfolio, highlight, and team (each comes with its own customization panel) – make Parallax an ideal choice to showcase your portfolio. Blog posts and portfolio items are expandable in the same page. You can also categorize each of your team members by their job title.
Each page gets its own navigation, header, or slider. Parallax features two types of layouts: grid and lists (up to four columns) – take your pick. Infinite scrolling is an option. All of that, combined with Themify's buy-1-get-1-free deal and 30 day money back guarantee, makes Parallax a WordPress theme hard to beat.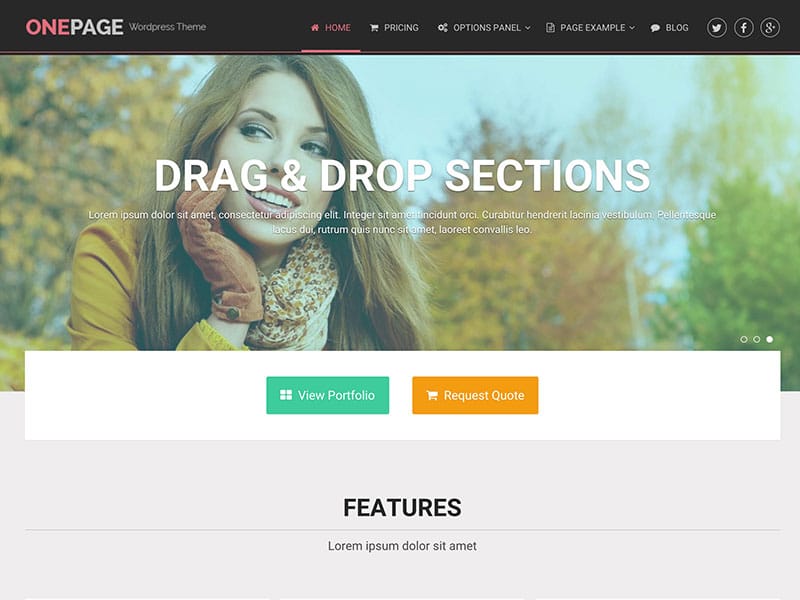 OnePage is ideal for a corporate site or can be used to nicely showcase a portfolio or freelance website. Don't be afraid to use it to take your blog up a notch too.
Duplicate the demo on your own site in as little as a few clicks. This theme is highly customizable and has numerous color options. The drag and drop feature makes building pages and adding content easy. It's also SEO-friendly.
The ultra-responsive design will make your website look great on any device. Included are sections for pricing tables, testimonials and portfolios so that you don't have to rely on third party plugins. This theme also integrates with Twitter so you can display your tweets on your site.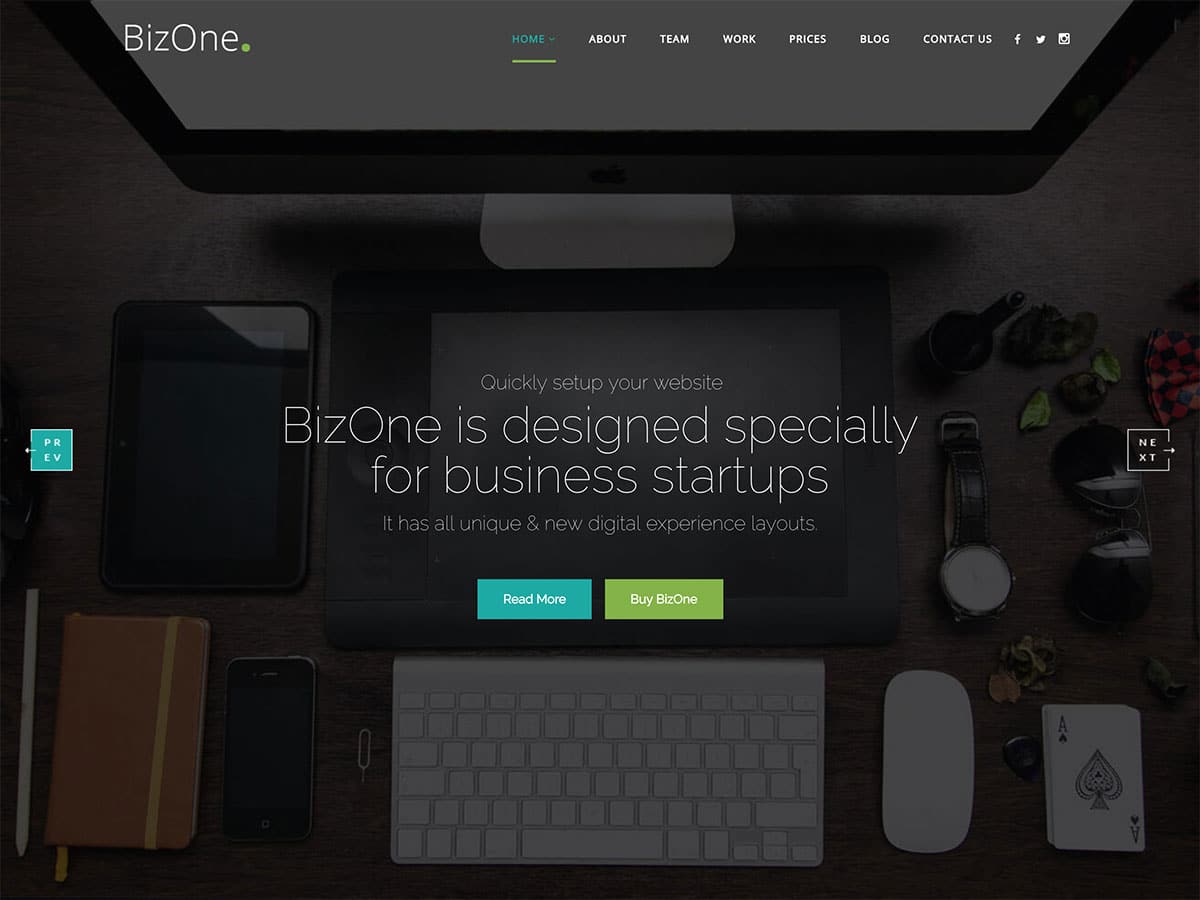 Starting a new business is stressful enough without having to spend unnecessary downtime finding the right theme. Enter BizOne – it could be perfect if you are a creative professional looking to boost the appeal of your portfolio on all devices.
Whether you want to emphasise bold graphics, key selling points, or a Call to Action (CTA), BizOne can certainly accommodate. Although it offers a relatively limited number of home page layouts, the bundled Visual Composer plugin and extensive customization options let you tailor each one to your requirements.
In addition, there are are a number of animations and visual elements to help enhance your site's look. For example, you can implement parallax scrolling, and via the bundled Slider Revolution plugin you can display full screen hero images complete with a CTA.
All in all, BizOne will enable you to make a solid first impression with potential customers. It's more than worth its price tag, and should be added to your shortlist pronto!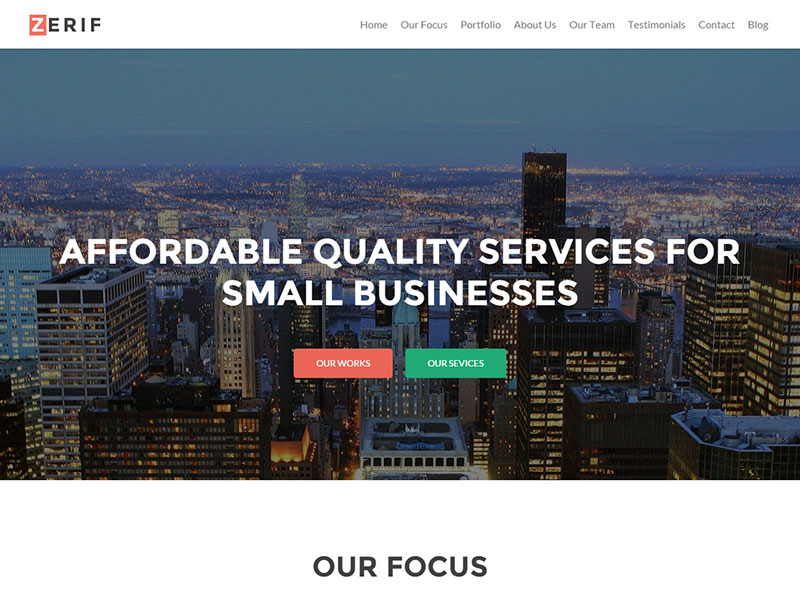 Zerif Pro is a one page parallax theme with a semi-flat design, making it easy on the eye when scrolling through the entirety of the page.
The theme's use of color keeps readers engaged throughout. This is supported by Zerif Pro's unlimited color choices, which helps you to brand your website as well as give it personality.
Personalization is a running theme with Zerif Pro. This is evident in its user friendly Theme Options Panel as well as its custom widgets, which allow users to create the exact website that they desire without having to use code.
Zerif Pro also comes with a range of colorful icons and animations, which complement the wide range of color choices perfectly, resulting in a fun and professional-looking theme.
More Info / Download Demo
Moesia Pro
Moesia Pro is a stunning one page theme, packed with features that make scrolling through it a really pleasurable experience.
Keeping readers engaged on a one page theme can be a challenge. Moesia Pro addresses this with its finishing touches, such as a wide range of smooth animations and polished About, Testimonial and Pricing templates. All of this results in a highly engaging theme, where each blocks stands out on its own.
Moesia Pro looks great straight out of the box, but customization is simple with its front page blocks which feature Dribbble, Instagram and Flickr functionality. This comes alongside 100 of the most popular Google fonts, so you can create the exact typographical style which you require.
More Info / Download Demo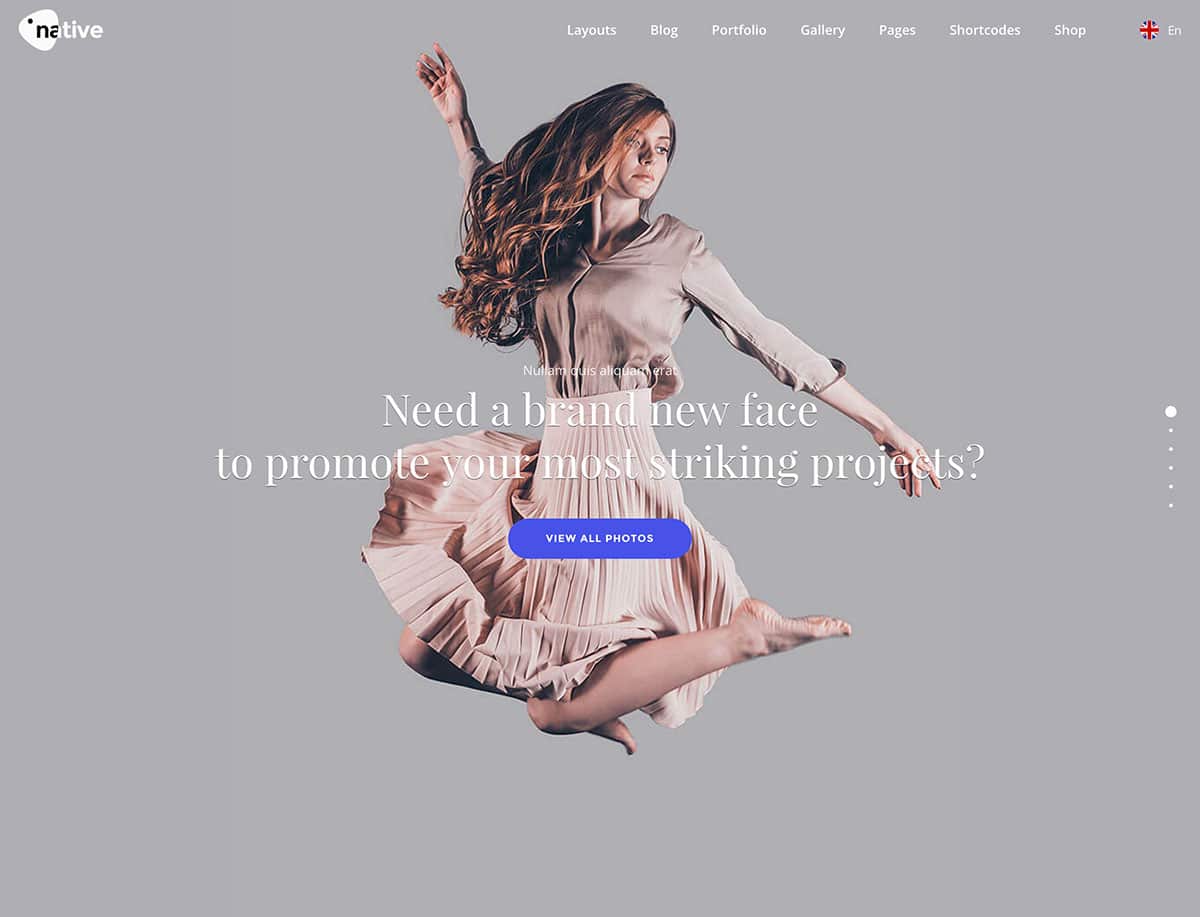 Minimalism is currently a popular design trend, primarily due to the focus it gives your content. With that in mind, Native offers a compact and user-friendly design that's ideal for showcasing portfolios and blogs, and it oozes simplicity.
This theme employs a minimalistic yet modern look that will appeal to designers, and there are a plethora of easy to install demo layouts to choose from (including some one-page options). While you don't have to customize these layouts if you want to get up and running quickly, you can tweak them to your unique requirements using the bundled premium Visual Composer. In short, Native is flexible enough to serve as the basis for your website, whatever the niche.
While Native is yet another option in a long list of one-page themes, it offers almost everything you'll need to deliver a standout site. If you're looking for a well designed one-page theme that offers comprehensive functionality for its price range, Native could be a solid choice for you.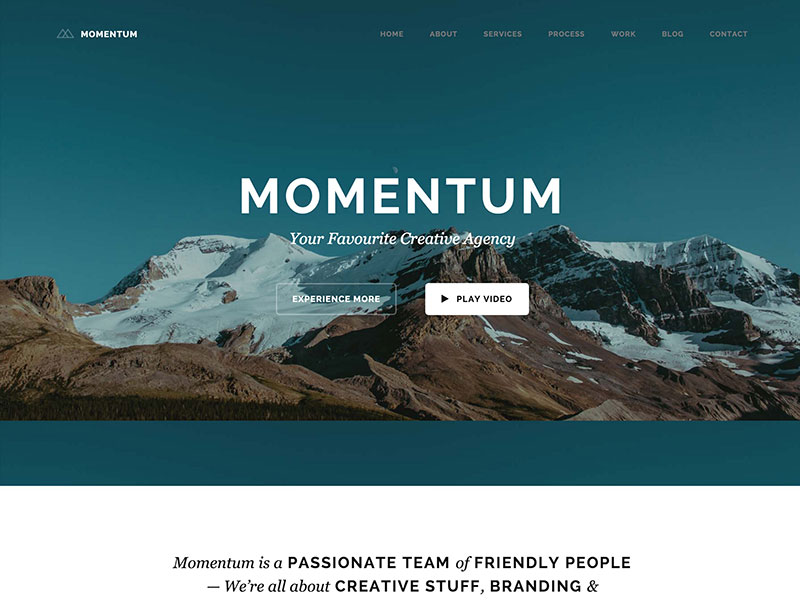 Because of its clean and minimalistic approach, Momentum is a perfect WordPress theme for many types of websites, but it is particularly suited for creative agencies and individuals. The theme is fully responsive, retina ready and offers plenty of features and settings to help you optimally showcase your work.
Momentum comes with dozens of typography, color, header and layout options as well as 400+ icons. With these tools, the theme enables you to complement your portfolio in subtle ways without being overwhelming. That way you can stay focused on your goal of building a successful business.
Although Momentum is simple in its approach, it has all the necessary capabilities for creatives and creative agencies to present and sell their work online.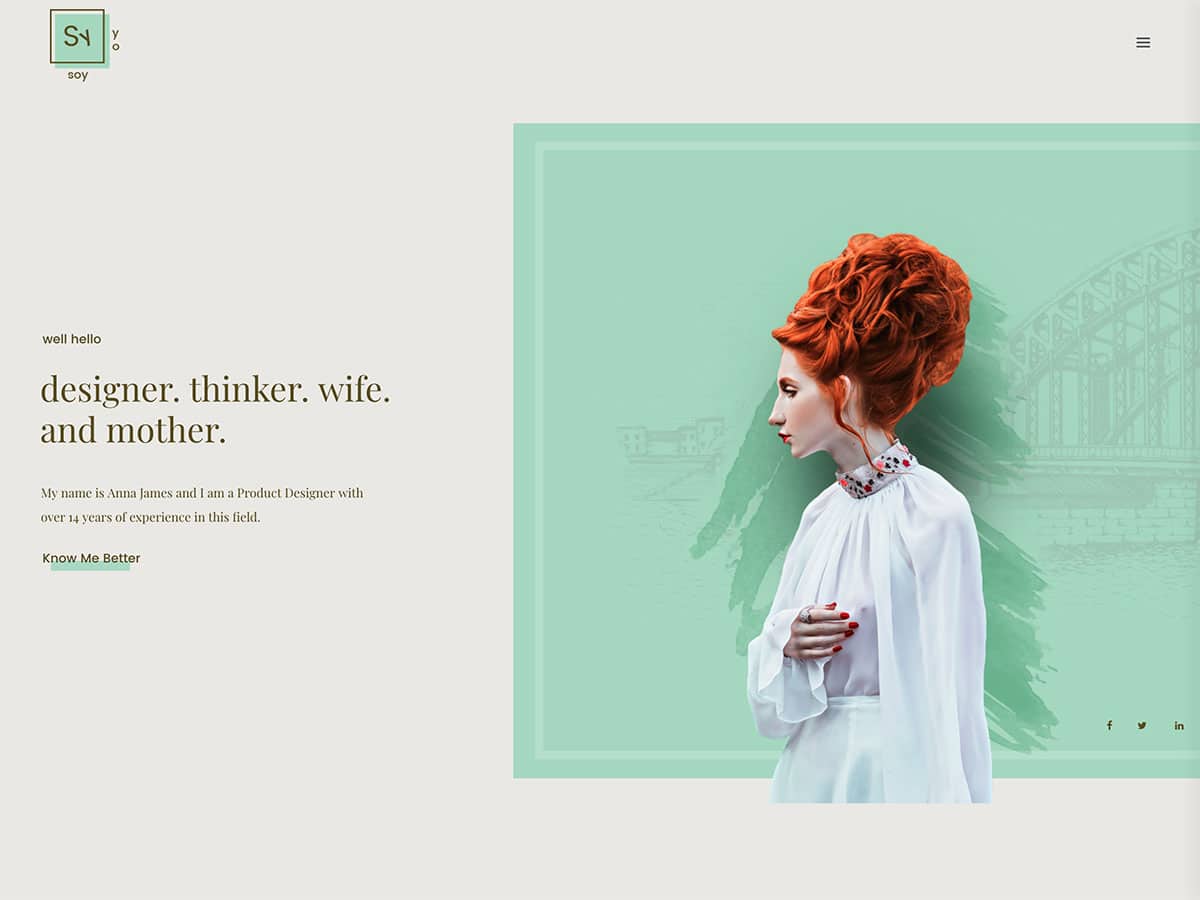 Given the specific look of a one-page layout, it's important that the theme you choose is versatile and visually appealing. In our opinion, it's difficult to top Composer.
With a virtually limitless array of header and menu layout options and 700+ Google Fonts, Composer complements your creativity. Unlike some other one-page themes, Composer offers a healthy number of demo layouts. However, you can also create or tweak layouts using the bundled Visual Composer plugin.
In addition, Composer is a standout choice for e-commerce users. It supports WooCommerce out of the box, and offers a huge number of eye-catching product showcase layouts to choose from.
On the whole, if you are looking for an efficient and flexible theme that will add value to your website, Composer is a strong contender.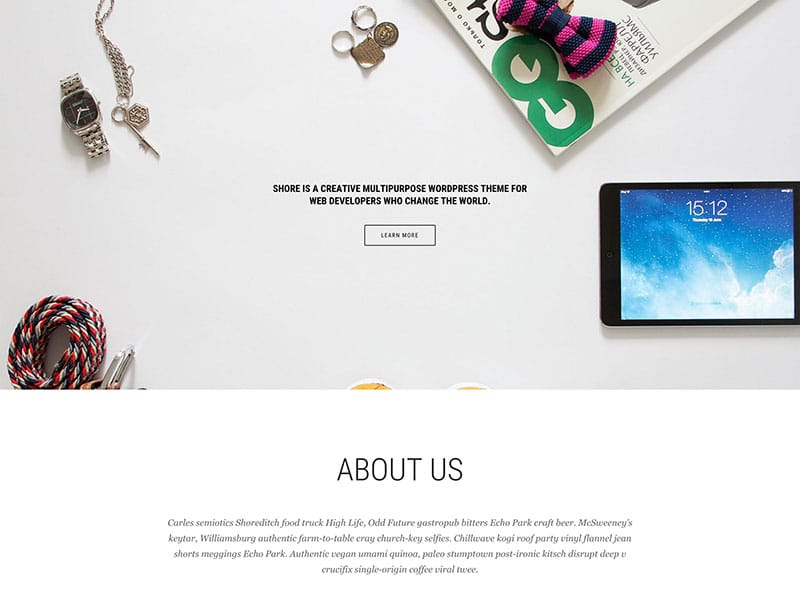 Shore is another creative WordPress theme which you can use to create just about any imaginable one-page website design with little or no coding knowledge.
For easy setup and customization, this theme comes with no less than three premium plugins built in: Visual Composer, Essential Grid and Revolution Slider. The Visual Composer plugin enables you to drag-and-drop design elements and page layouts in both the front end and back end. At the same time, Essential Grid offers customized page layout options and Revolution Slider does the same for all things multimedia. The slider plugin is also touch-friendly for showcasing your content on mobile devices and supports parallax.
Other features include rich typography, video backgrounds, 60+ different page design elements and more.
Shore provides the creatives among us with all necessary tools to present themselves to the outside world with a professional one-page website.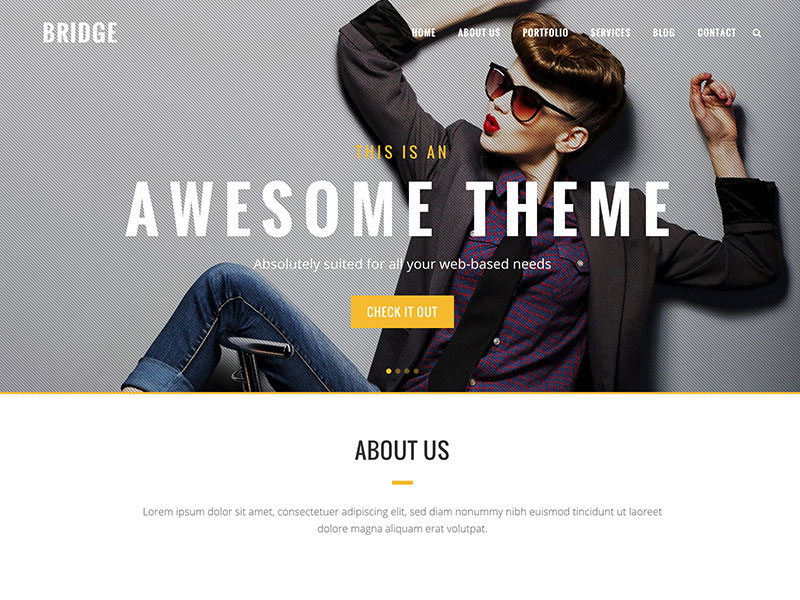 The Bridge theme is a versatile, responsive and retina ready WordPress theme capable of single-page and multi-page designs. Whichever option you go for, you'll have a variety of features at your disposal for building your dream site.
Among others, Bridge offers the following tools for easy customization: 80+ custom shortcodes, a large selection of layouts, colors, typography header and multimedia options, icon fonts and more. Liven up your site with animated transitions and video backgrounds and use the Visual Composer plugin to see changes on your site live and instantly. Support for fast parallax animation rounds off the feature list.
If you're looking for a quality theme that is both flexible and customizable, Bridge has got you covered.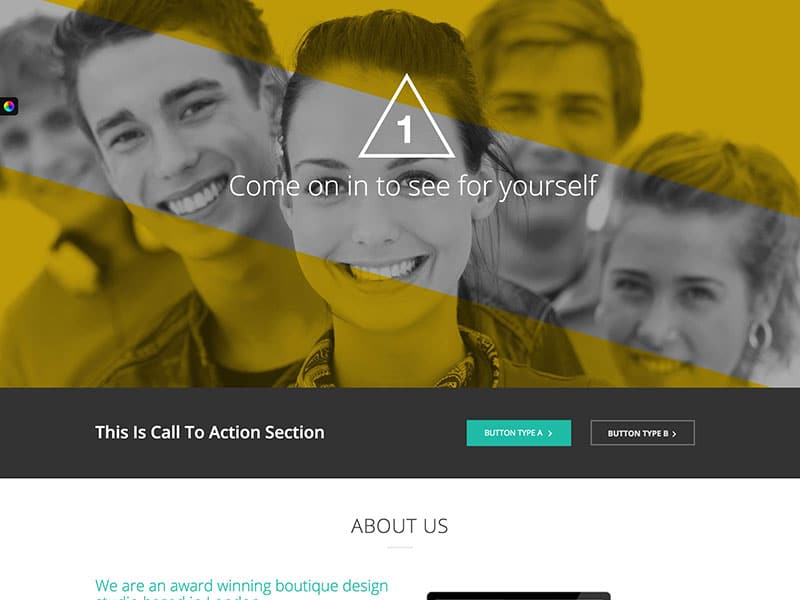 OneUp is a responsive WordPress theme supported by the Twitter Bootstrap framework. Like Visia (OneUp was created by the same designer, PixelEntity), OneUp comes with the ability to lazy load your images for faster page load speeds.
An advanced page creator can replace the default WordPress page editor, but you still have the option to use the latter. The page builder allows you to save and easily transfer content modules across multiple pages. Animated captions – image, text, and HTML based – liven up your images. The theme comes with a feature that allows you to crop your thumbnails. Galleries are created with drag 'n' drop. If you decide that you'd like to transform a section of content from a slideshow to a gallery, all it takes is one click.
OneUp comes with many different page types, including the recently created Feature, Stats, and Skills sections.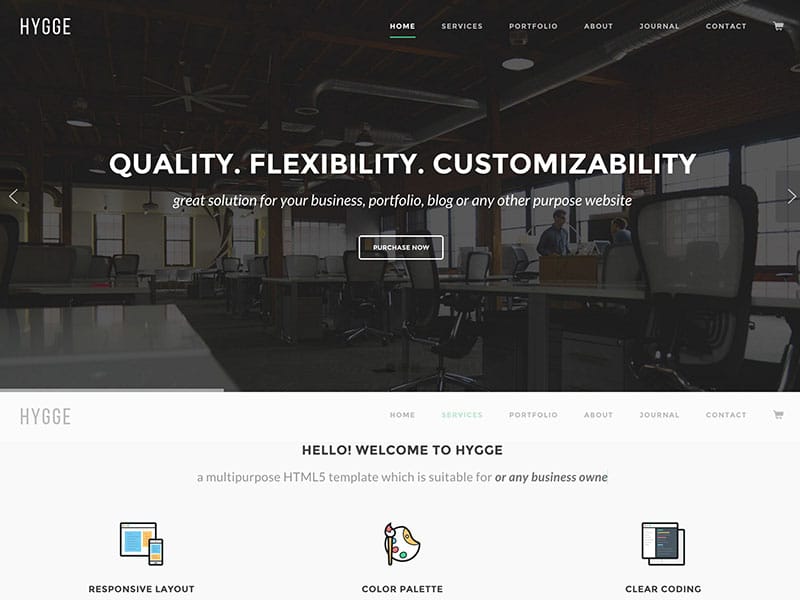 Featuring an elegant, clean, flat design, Hygge is the perfect WordPress theme to present yourself and your portfolio on a single-page website that can be easily personalized to encapsulate your brand.
One of the key features of this theme is the Visual Composer plugin. Its drag-and-drop interface enables you to conveniently drag-and-drop layouts and other design elements.
Further options for tailoring your site include color schemes, header and slider settings, parallax for images and videos, animations, and 1,000+ icons. Regardless of which one-page layout you choose, you can mix and match key elements from various designs to create the site that you find most appealing.
Overall, Hygge is an innovative theme for creating professional websites with a modern design.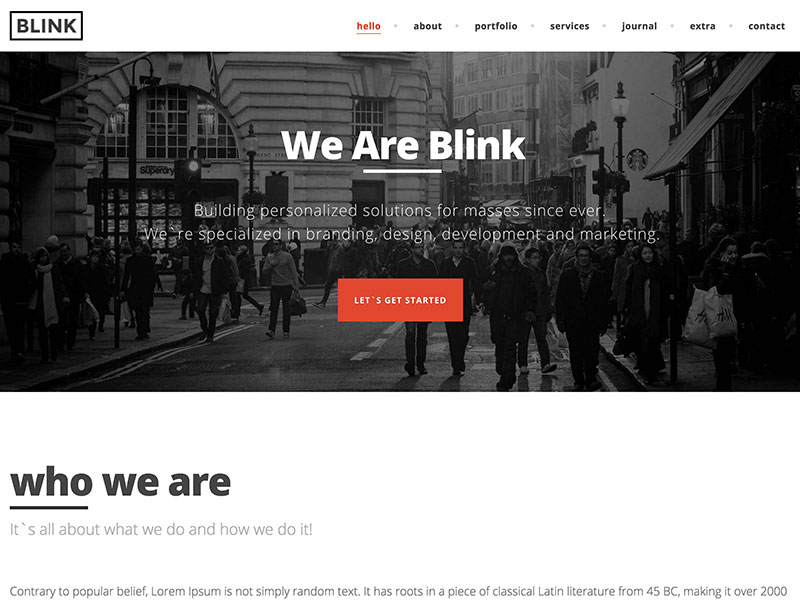 Blink is "built for all of your creative needs." This one-page WordPress theme is designed to provide a strong user experience and is perfect for all kinds of businesses and personal sites that are going for the bold look.
Like many powerful WordPress themes, Blink includes the Visual Composer plugin. It enables you to drag-and-drop various design elements and layouts to create a personalized site design. For those looking to showcase their work, Blink provides a modern presentation grid and five project variations to choose from. For an interactive site, the theme also comes with the Revolution Slider plugin to easily build a variety of custom multimedia slide shows. Parallax backgrounds and content animations enable you to enhance the overall look and feel of your site.
Other features include over 600 Google Fonts and a powerful theme options panel (in addition to the Visual Composer plugin). Blink enables you to unleash your creativity to build a modern and bold website.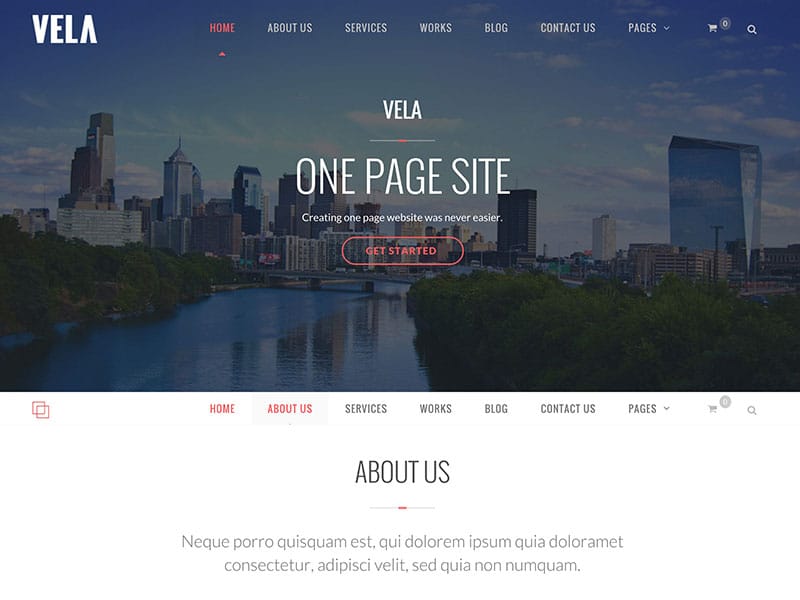 The Vela theme comes with a smooth and minimalistic design suitable for a variety of websites.
It helps you create a unique site that represents your brand to the outside world. The best part: absolutely no coding knowledge required. By using the Visual Composer plugin, you can drag-and-drop over 50 content elements to create stunning pages. These include a full-screen and parallax-ready slide, which can be fully customized. A multitude of separator styles for page sections enable you to build a truly unique layout. (You can see this exciting feature in action when you check out the theme details.)
Multiple color schemes as well as the option to create your own top off the feature list. Coupled with access to more than 500 Google Fonts, Vela enables you to create the site you have always dreamed of.
Juster is a clean, fast and responsive WordPress theme, perfect for all types of business and personal websites. It is easily set up and customized so you can fully focus on creating valuable content.
Juster's user interface enables you to tailor your site to your needs without a single line of code. The easy drag-and-drop functionality of the Visual Composer plugin gives you full control over many design and styling options, both on the front end and back end of your website. Other design features include plenty of color choices, 600+ Google Fonts, 350+ icons, header styles and much more.
The theme also comes with Slider Revolution, a premium plugin for displaying visual content in stunning ways. Beautiful parallax scrolling and optional video backgrounds round off the feature list.
Juster is well worth considering if you're looking for a versatile yet elegant website design.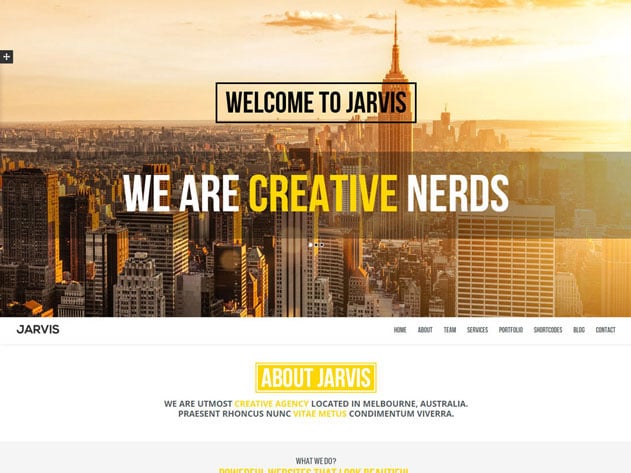 Jarvis is a beautiful one page parallax theme with numerous features. Jarvis offers infinite scroll options, support for the popular newsletter service Mailchimp, and 6 different styles for your navigational menu.
The theme comes with a variety of different colors, textures and patterns for the background of each page. Additionally, you get 12 different home page layouts with support for background videos. Over 240 Font Awesome icons are included with detailed support documentation to ensure a hassle-free installation.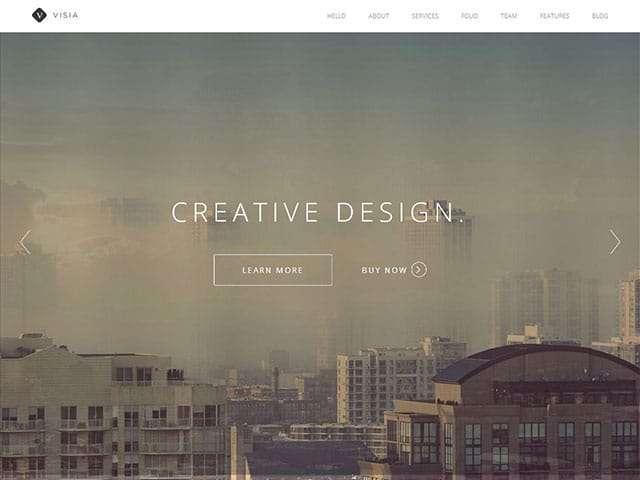 Visia is a responsive, retina-ready single page WordPress theme packed with features. Its unique portfolio is expandable.
Like most modern themes, Visia comes packaged with 1-click dummy text import. A slick new function allows you to crop your images and thumbnails right from the post editor. Gallery creation is made easy with drag 'n' drop ability.
Unlike most one pagers, Visia makes use of lazy loading. In other words, your images will load as users scroll down the page. This results in huge page load speed gains. An Ajax contact form, a shortcode editor and video support are included.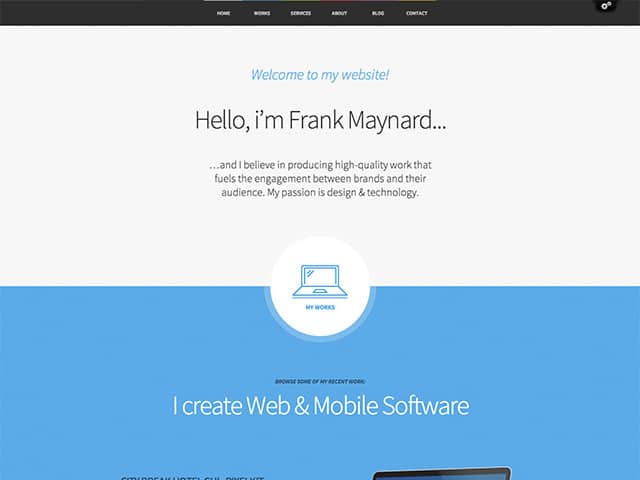 Freelancer is a responsive one page WordPress theme designed and created for (you guessed it) freelancers. Graphic designers, website designers & developers, writers and everybody in between will fall in love with Freelancer at first sight. The nifty theme features a jQuery image lightbox, custom widgets from ThemeFuse (the developer), an auto image resizing function, and more.
If you're a freelancer, a solopreneur, or even if you just need a personal website, take a look at this.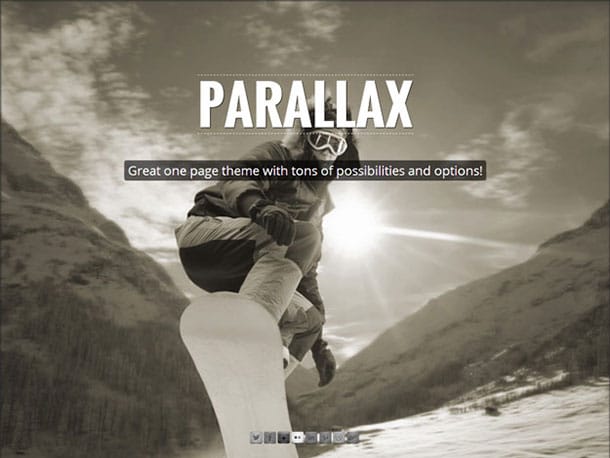 907 Parallax is a robust new one pager theme with some fantastic features. The home page comes in six different header options (Revolution, 3D, full-screen, and Flex sliders, and full-screen parallax or a video header). The $45 theme comes with $58 worth of premium plugins free – the Revolution slider, the Cute 3D slider, and ISOType (for masony layouts for your portfolio).
You can create an unlimited amount of parallax sections and an unlimited number of sidebars. With a shortcode, you can insert one of your custom sidebars anywhere you'd like in a post type. 907 is translation ready, with .po files included for easy translation. Galleries are created with a drag 'n' drop function, and portfolios are filterable by category. 907 includes new Font Awesome icons, an Ajax contact form, Ajax blog pagination, and much more.
It comes with a selection of 5 custom widgets: responsive video, recent comments, Flickr photo streams, and 125×125 or 250×250 ads. All things considered, 907 Parllax is a great single page theme at a fair price.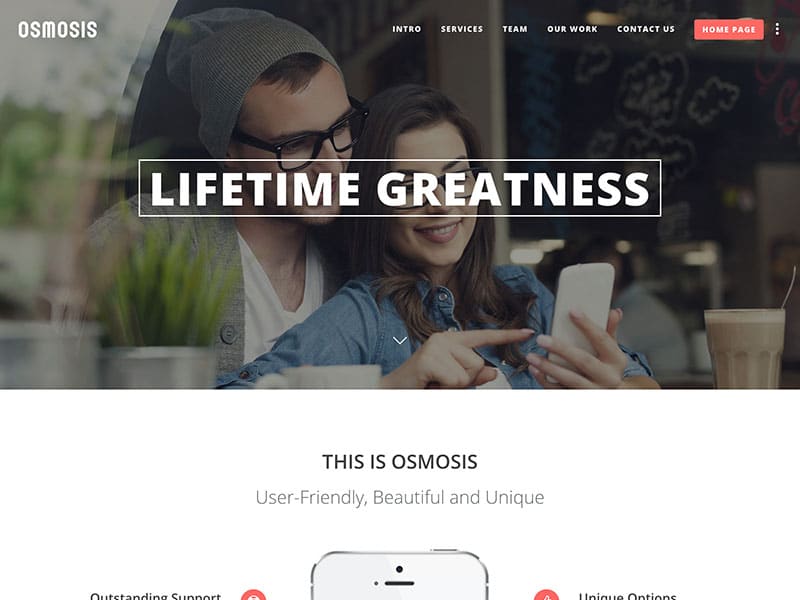 Osmosis is an elegant and fluid WordPress theme made with creative businesses and agencies in mind. If you are looking to build a vibrant yet elegant one-page site, look no further.
The theme offers multiple design options to quickly and easily create a beautiful website. The Visual Composer plugin gives you complete creative control over your site. Choose a beautiful full-width background for your header, build your own color theme, make use of the rich typography options, and showcase your work with the Revolution Slider plugin. These and many other features help your website stand out from the crowd.
Aside from that, Osmosis comes with a wide selection of subtle yet stunning content animations to provide additional levels of interaction and sophistication to your pages. The content remains at the heart of your site, yet is delivered with that extra bit of polish.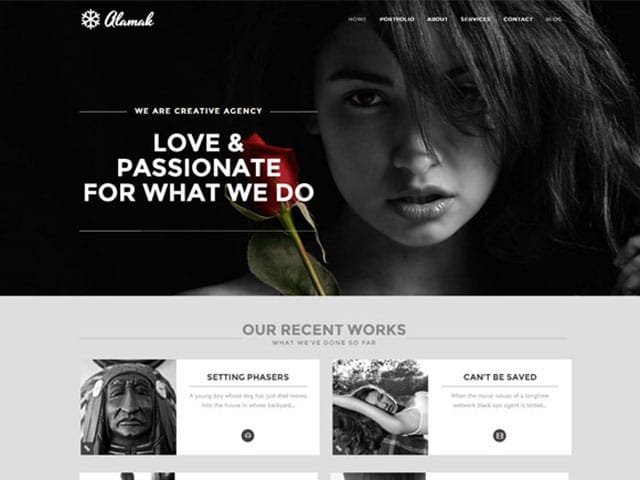 Alamak is a responsive single page theme built on Twitter Bootstrap. Alamak has a clean, unique look that distinctly separates all the elements of your home page layout with abundant white space. The home page layout can be built custom by users.
Alamak has an Ajax-powered portfolio (filterable) and pagination support. Font Awesome icons and two Google fonts (PT Sans and Montserrat) are integrated with the theme. Alamak focuses on simple, minimal design elements; the result is an astoundingly elegant look.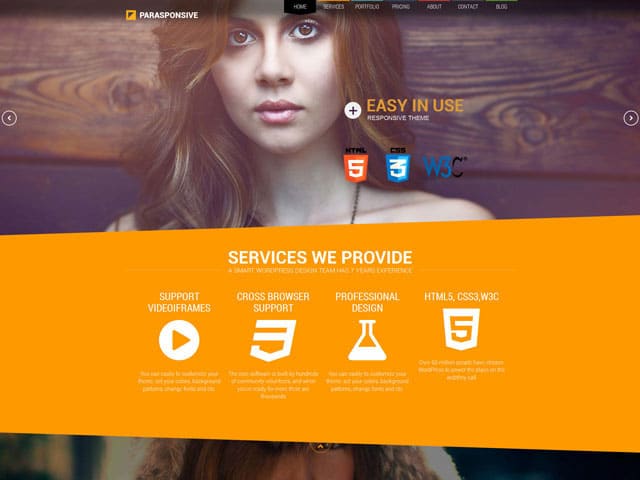 Parasponsive is a slick new parallax, single page, responsive WordPress theme with a number of different display effects. For starters, Parasponsive allows you to adopt 4 pre-made layouts: multi-color, single color, "sky", and developer templates. Each has unique coloration.
Also built on the Bootstrap framework, Parasponsive comes with the Parallax Layer Slider (normally $15) free. Isotope masonry portfolios, an Ajax portfolio loader and W3C-checked code feature in this elegant theme. Unlimited custom sidebars can be placed anywhere with the use of one of the very many shortcodes. A cool new pricing table that displays each package's features when a user's mouse hovers over a package is one of the unique features.
A new "team" section also has a new animation effect (his/her job title is displayed when mouse hovers over a team member's image). Parasponsive is completely optimized for lightning-fast page load speeds, with search engine optimized CSS, HTML, and JS code. It's a fantastic theme well worth its salt.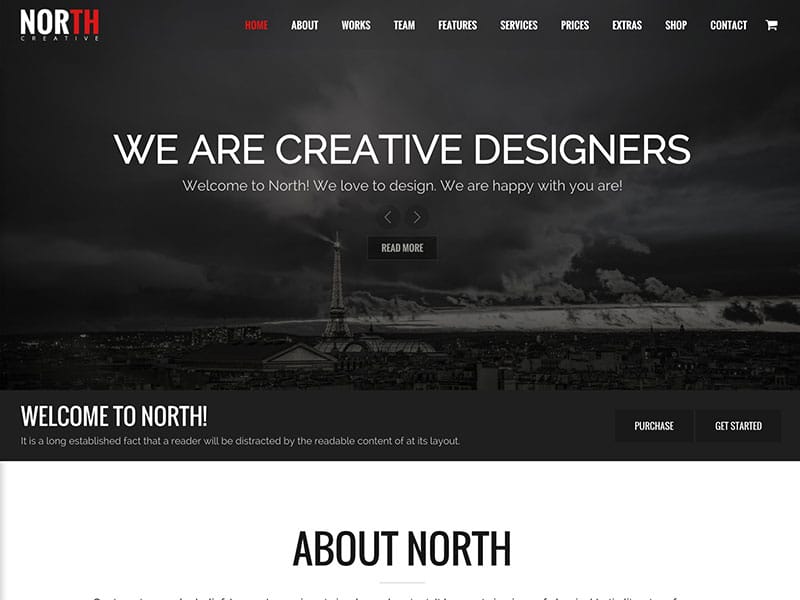 Many one page themes offer up a variety of different 'flavors', and North is no exception. In fact, the developers have created no less than 14 different styles, including various slider effects, image and video backgrounds, and a portfolio option.
So breadth of choice should not be an issue here, but how does North fare on the aesthetic front? In a word (or three): very nicely indeed. We have the usual full-width design and parallax effects to enjoy, but it's framed in beautifully minimalistic styling. The focus is definitely on whites, grays and blacks, which may not of course be to your taste (in which case, North is perhaps not for you).
From a functional standpoint, North performs as well as its counterparts, with a drag-and-drop page builder, slider functionality, theme customization, shortcodes and more.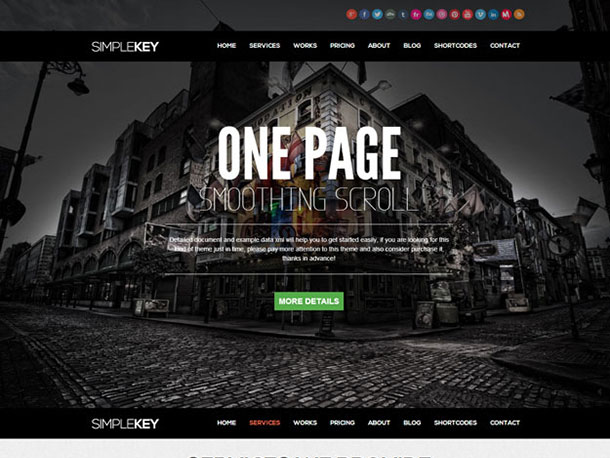 SimpleKey is a cheap, responsive single page theme with a nice design. Unlike most popular single pagers, websites that flaunt SimpleKey get a unique scroll bar on the right-hand side. Furthermore, while SimpleKey loads website content, it grays out the background and displays a counter in the foreground instead that shows what percentage of the website has been loaded. See it in the demo.
The theme includes 33 different shortcodes. Portfolio items are expandable and filterable, thanks to Ajax. The advanced theme options includes a panel you can use to easily customize your page background. All things considered, SimpleKey is a great theme for designers on a budget.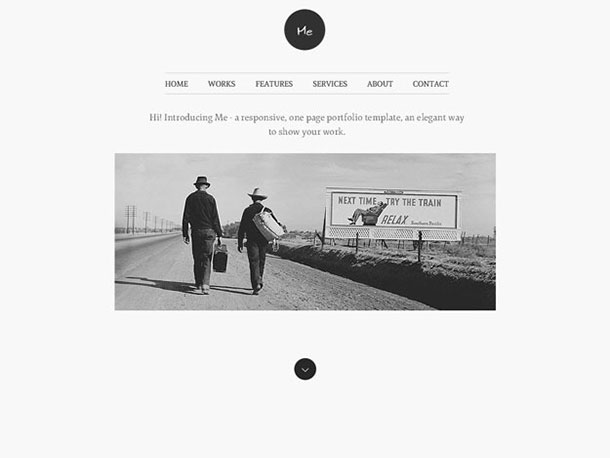 Me is a neat single page WordPress theme with a minimal design. Me is plain and simple, with a huge amount of white space. Typography is a priority, and over 70 different fonts are available and integrated with the theme. The demo even includes a customizer that lets you see what you play with menu & paragraph fonts and theme colors live.
A great user experience was one of the driving goals behind Me. It has retina-ready images, icons, and even background textures & patterns. Portfolios are filterable, and each item can be expanded with Ajax. The stylized contact form is unique, with no borders around each textarea.
Me works great for freelancers, solopreneurs, and possibly even large corporations and businesses.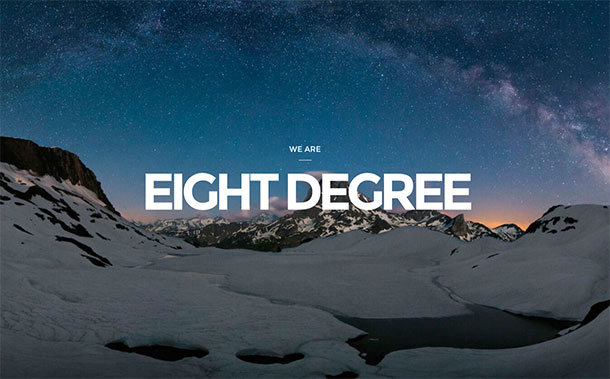 Eight Degree brands itself as "the ultimate single page parallax theme". Given the amount of competition out there, it's a bold claim, and such a claim deserves extra scrutiny.
With that in mind, a closer look at Eight Degree reveals nothing in particular that sets it apart from the competition. It's not a bad theme by any stretch of the imagination – it is as smooth and stylistic as many of its peers – but there is nothing that leads you to feel you are in the presence of a particularly compelling design.
You can expect all of the usual features, such as parallax scrolling, CSS3 animations, Google fonts, shortcodes and so on. It certainly doesn't skimp on that front. And while there is nothing that specifically sets Eight Degree apart from its peers, it is still a good-looking theme, and if it suits your particular requirements, is worth further inspection.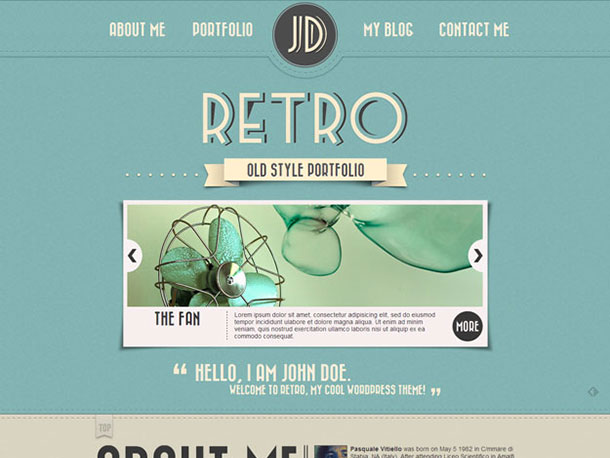 Retro Portfolio is a very unique single page WordPress theme, with a singular design. Note: "singular" is not equal to "bad". If anything, it's the very opposite — Retro Portfolio has a full, interesting design that's sure to keep your visitors engaged. The typography, icons, menu, and the page layout all contribute to a unified design.
A stylized contact form, several content animation effects, and more make this theme amazing. An Ajax powered portfolio is filterable, and each item can either be linked to an external website/page or can be expanded to let the user preview more details. In fact, Retro Portfolio even allows you to insert a YouTube/Vimeo video into the expandable lightbox for each portfolio item. Each page can have its very own custom widgetized sidebar.
A Nivo slider with a custom slides manager allows you to create galleries easily with a drag 'n' drop function. Retro Portfolio is affordable too, at just $30 for all those good looks.
SCRN is a plain single page WordPress theme that gets the job done. It's made for those who value an easy front end user experience over the newest designs, modern animation effects, or other cool tricks. Customizing the theme is simple and straightforward, uncomplicated to even those who've never worked with a line of code.
200+ fonts come integrated with SCRN — there's bound to be at least one that you like. Unlike most themes, SCRN also comes with easy Google Analytics, and Google/Bing/Alexa Webmaster Tools integration, so you can say goodbye to any plugins you used previously for that function.
Portfolios are filterable, and each item will expand into a larger lightbox preview, with YouTube/Vimeo support. All things considered, SCRN is utilitarian, functional theme at an affordable price.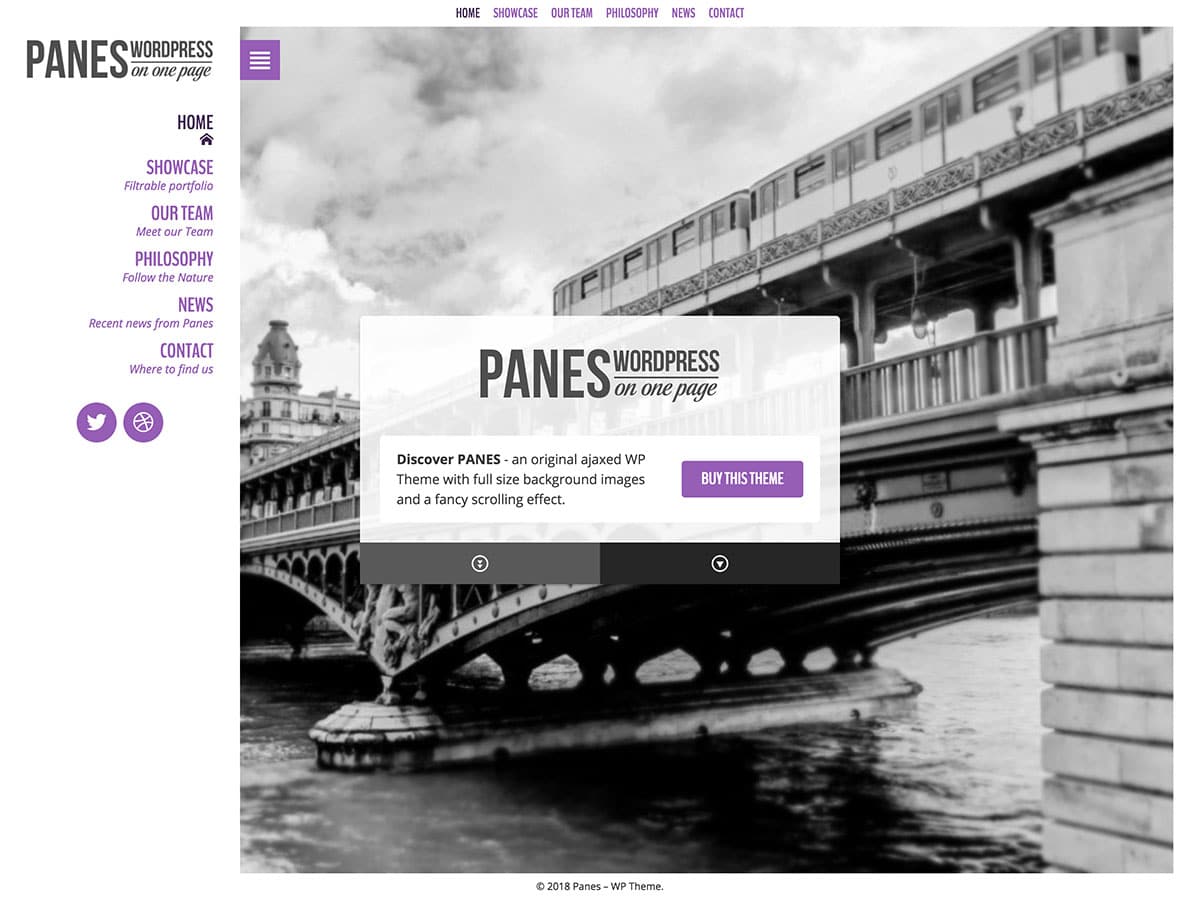 Panes is a very "untypical" single page WordPress theme, with some very singular design elements and scrolling effects.
Panes supports parallax scrolling. But not just any ol' parallax scrolling. With Panes, each design element on a page (like a team member, portfolio item, or blog post preview) can be rolled out with or without a parallax effect — pretty neat if you ask me.
Also unlike most WordPress themes, Panes has a very … lacking live demo. It doesn't actually allow you to see what a team member, a portfolio item, or a blog post preview actually looks like. All of those design elements are implemented with shortcodes, and the developers don't seem to have gone to the trouble to fill out the entire preview which is a pretty poor showing.
Still, Panes does have a lot of features, which makes it look great on paper. Ajax post loaders, keyboard navigation, easy 404 page customization, support for 10 social networks and a custom shortcode generator feature. With all that, Panes could quite possible be worth a second look.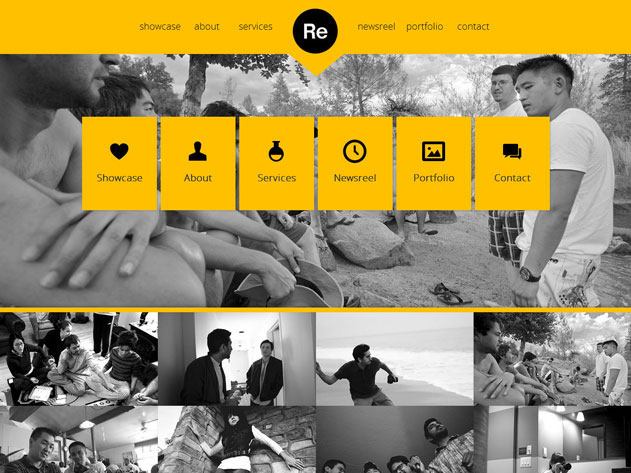 Renova is a sleek single pager that's just as alluring as it sounds.
Full-screen parallax-scrolled images and a filterable & expandable portfolio powered by the normally $15 Isotope script are included. The portfolio supports YouTube and Vimeo videos. An image showcase, tiled grid for you to show off specifically your photography skills (not a portfolio) is one of Renova's many unique features. The navigational menu is also worthy of note: big, bold, yet lightweight and easy on the eyes.
Custom testimonial modules and (here's where Renova gets really interesting) a timeline that allows you to show your visitors how your business has grown over the years both look excellent on the responsive theme. Each "service" section is a true work of art, with an enticing rollover effect.
Designova has created a one page WordPress theme quite worth the second glance.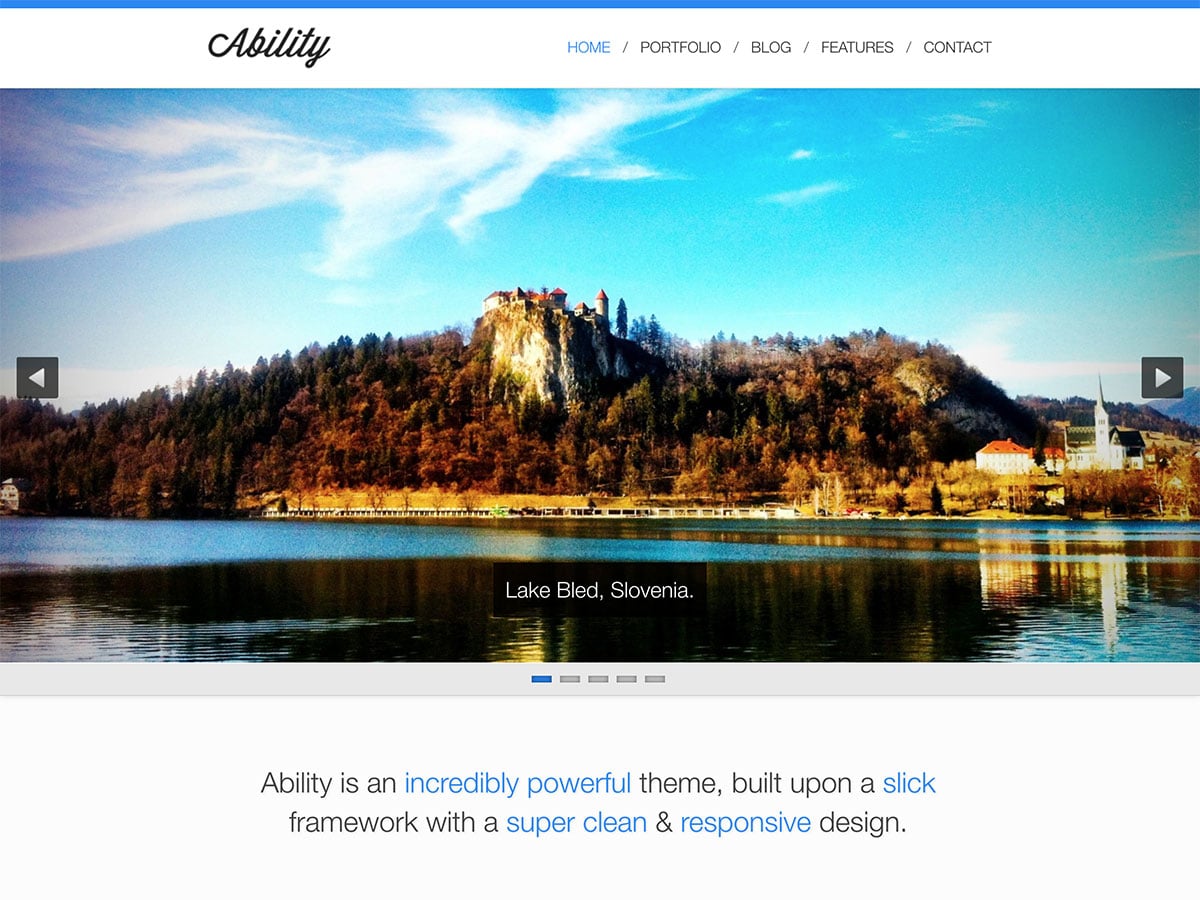 You heard the picture. Ability is incredibly powerful, slick, clean and responsive.
Built on the Swift framework, Ability has an awful lot of features tucked underneath its stunning design. A shortcode generator churns out over 30 different shortcodes. Alerts (colored content boxes), buttons, text highlights, dropcaps, accordions, toggles, and tabs are all possible. Three custom widgets (able to be displayed in 7 different widgetized areas) that showcase Twitter feeds, Flickr photo streams and videos are included along with 19 predefined portfolio backgrounds.
The advanced admin panel comes unbranded and integrated with over 400 Google fonts. A number of different post types (including self-hosted audio and video) allows you to get creative with your blog posts and website pages. Search engine optimized code ensures that your visibility in Google doesn't suffer either, while a filterable & expandable portfolio allows you to showcase your company's work neatly.
Ability also has a responsive audio and video player and its own contact form. Ability is a great single page WordPress theme with a ton of features.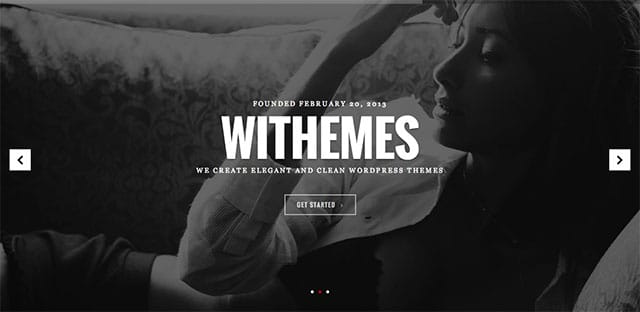 Norris is a sleek, elegant WordPress theme with a beautiful, eye-catching design.
Responsive and retina-ready, the theme comes with 14 different demo header styles, so you'll have an almost-exact idea what your website will end up looking like even before you start. The theme options panel controls over 100 options, which includes the 500+ integrated Google Fonts and several background images & textures & patterns.
The progress bars included in the list of 30+ shortcodes has a unique rollover effect — the bars only fill up when a user hovers his/her mouse over them. 400+ icons from Font Awesome, Icomoon App, and Entypo are supported along a colored lightbox. The theme is also consistently updated with new features.