Running a business is time-consuming, and at last count there were still only 24 hours in the day. Apportioning your time is important – otherwise your customer base goes elsewhere for their services, and all of your hard work is for nothing.
One of the aspects of your business needing the most attention is arguably your website. And while having an online presence is absolutely essential, you may struggle in finding the right theme for your needs.
Choosing a suitable theme for your business isn't hard if you know what to look for. A solid bundled contact form plugin enables customers to make contact with you, and a means of displaying your business and location information prominently is also essential. If it ties in with your business' approach, you may also want to assess a theme's social media integration. Finally, layout design flexibility is a good idea if you envisage a website redesign in the future.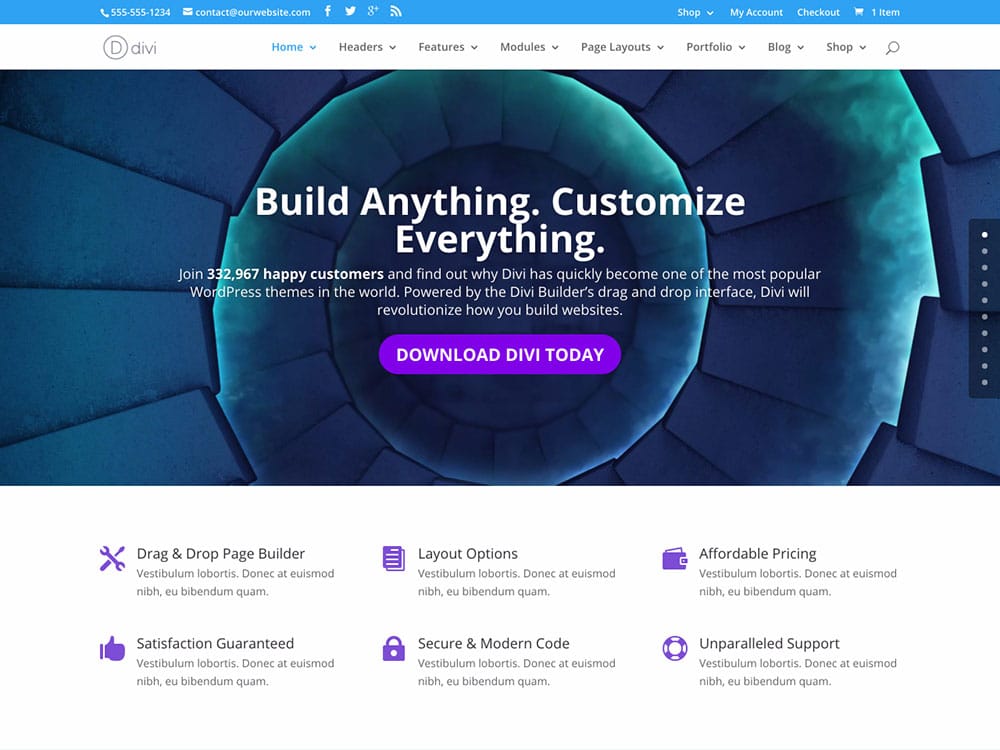 Divi is a clean, responsive theme that's versatile and easy to use. Suitable for both corporate and creative businesses, this Elegant Themes design gives you maximum flexibility. If the thought of theme customization makes you nervous, you can rest assured knowing that the Divi Builder lets you drag and drop elements to build pages without even looking at code.
You may not have the need to customize, however, since the theme ships pre-loaded with layouts for sales pages, FAQs, case studies and more. Integrated product page layouts and eCommerce modules let you get your shop up and running in a flash. Smooth, simple transitions give the theme finesse while maintaining a professional look.
Read our full Divi review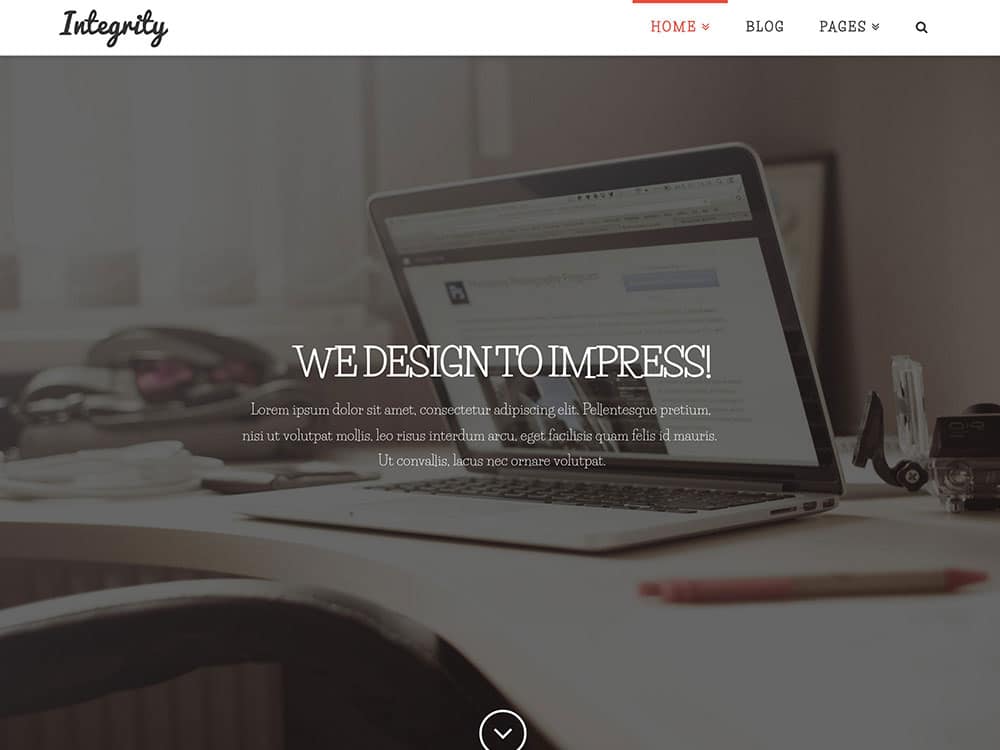 X is a feature-packed multipurpose theme on the cutting-edge of WordPress development. It comes with 4 totally different designs built-in (with more on the way) and is fully responsive. Read our detailed review of X to find out if it is the last theme you will ever need.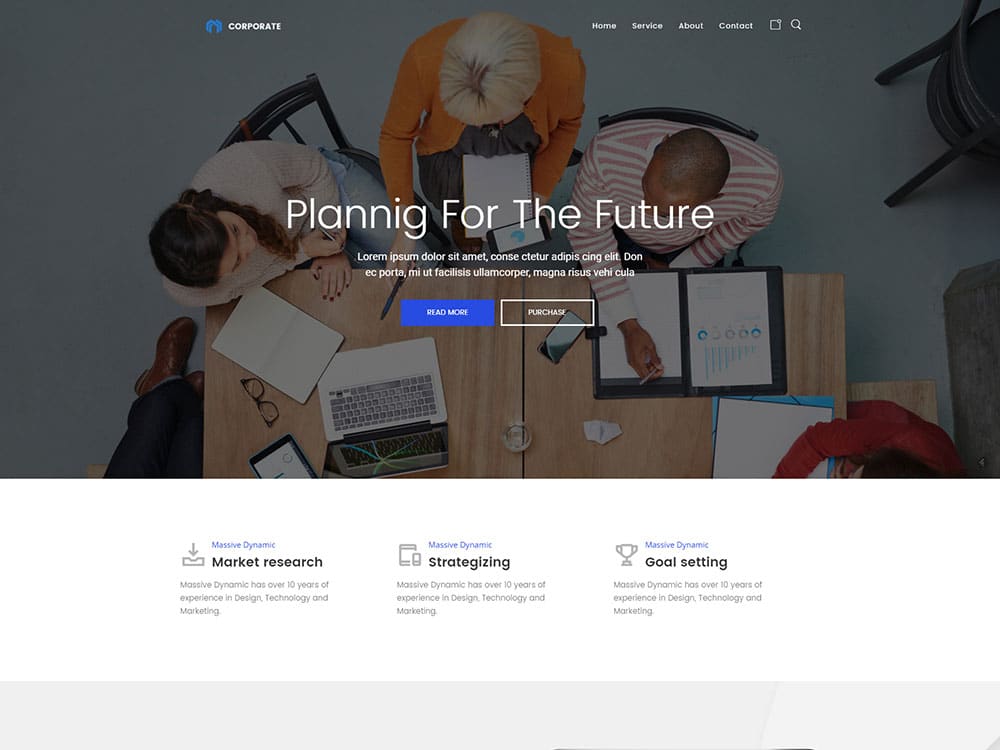 One aspect of a successful business is how it adapts to its chosen market, and a business website theme that does the same is guaranteed to be popular. For Massive Dynamic, it seems as though the future is going to be bright.
On first viewing, Massive Dynamic has a very Genesis-like design, complete with chunky headers, crisp typography, and good use of both full-screen image sliders and white space. Layouts are created with the drag-and-drop Massive Builder, and its flexibility – enabling almost limitless header and page design – is certainly a standout feature.
It isn't all roses, however. Massive Dynamic's scrolling is jerky and inaccurate – which may be a consequence of activating the theme's smooth scrolling option – but if this functionality is flawed, it may not be useful to many people.
That being said, with more than 70 shortcodes to help design your website, along with the spectacularly flexible Massive Builder at your disposal, Massive Dynamic is a definite front runner for your cash.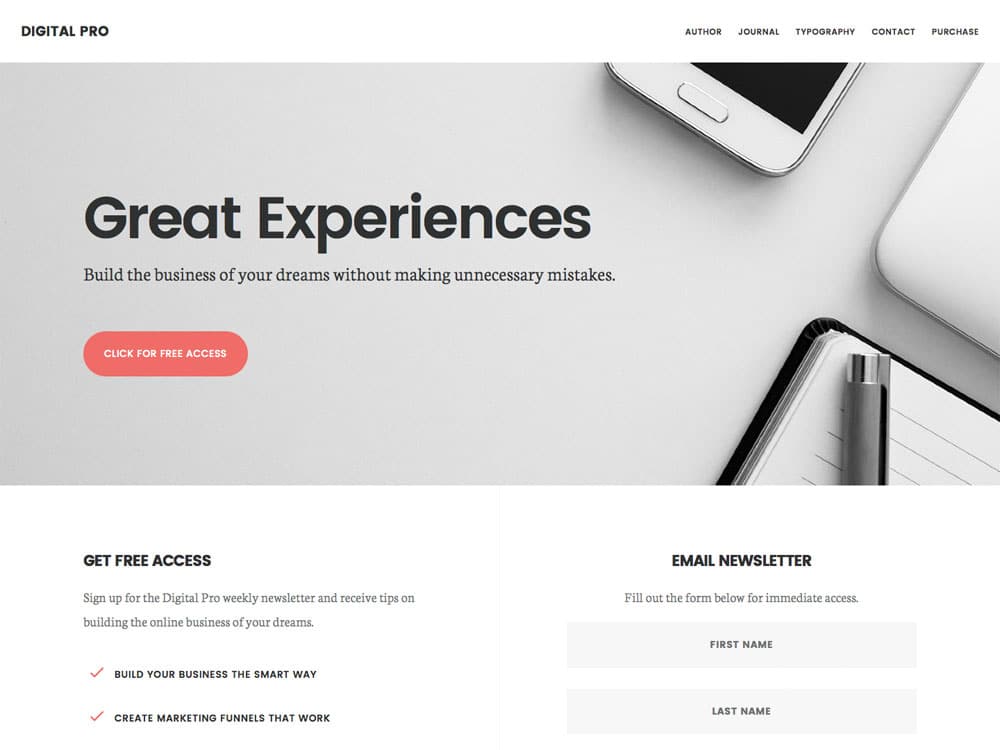 Businesses are often akin to a Swan – the furious pedalling underneath the water hides the graceful beauty displayed above. And like both your business and the Swan, your website should also look effortless to visitors, while having power underneath. Digital Pro is the theme to provide both.
Built on the Genesis framework, Digital Pro offers a number of layout options, all accessed from the Theme Customizer panel. The pages themselves make good use of white space, and typography is clean and clear to read. There are also a number of custom page templates and theme options to choose from if you're looking to get up and running quickly.
Overall, for businesses with simple needs, there's little to find fault with in Digital Pro – and its Genesis pedigree means you'll be getting a solid theme to base your website around.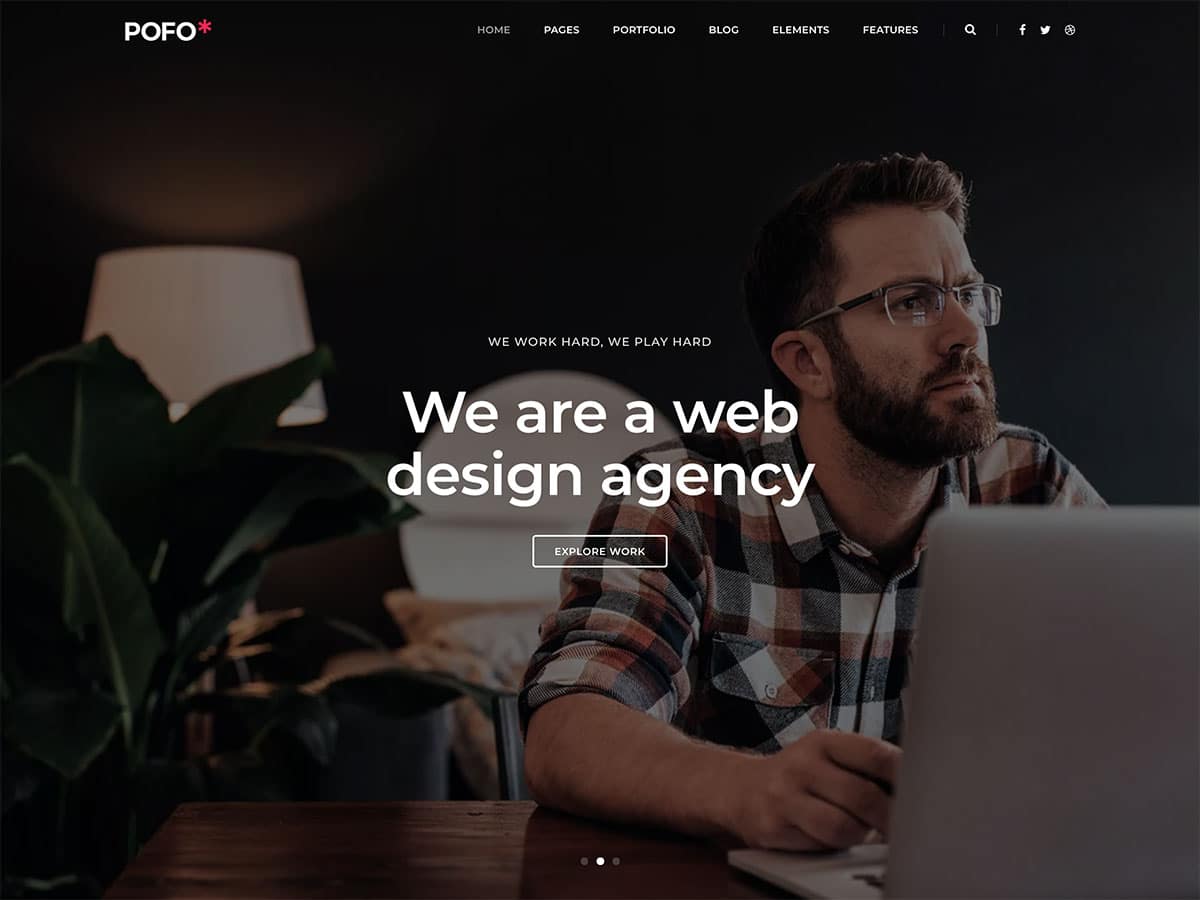 It's crucial for your business website to establish a first impression of professionalism. Bold imagery and a clean, minimalistic layout is a great way to achieve this – epitomized by POFO.
This fast, feature-heavy theme offers more than 25 demos and over 200 layout templates to get you up and running quickly. The bundled WPBakery Page Builder plugin lets you drag and drop layout elements such as headers, images, menus, and more into place with ease.
POFO is also ideal if you wish to add e-commerce to your website. The bundled WooCommerce plugin lets you set up a powerful storefront, while the theme is also compatible with the MailChimp plugin – great for rolling out an email marketing campaign alongside your latest product.
Overall, if you're looking for a flexible, intuitive, and lightweight business site theme, POFO is well worth considering.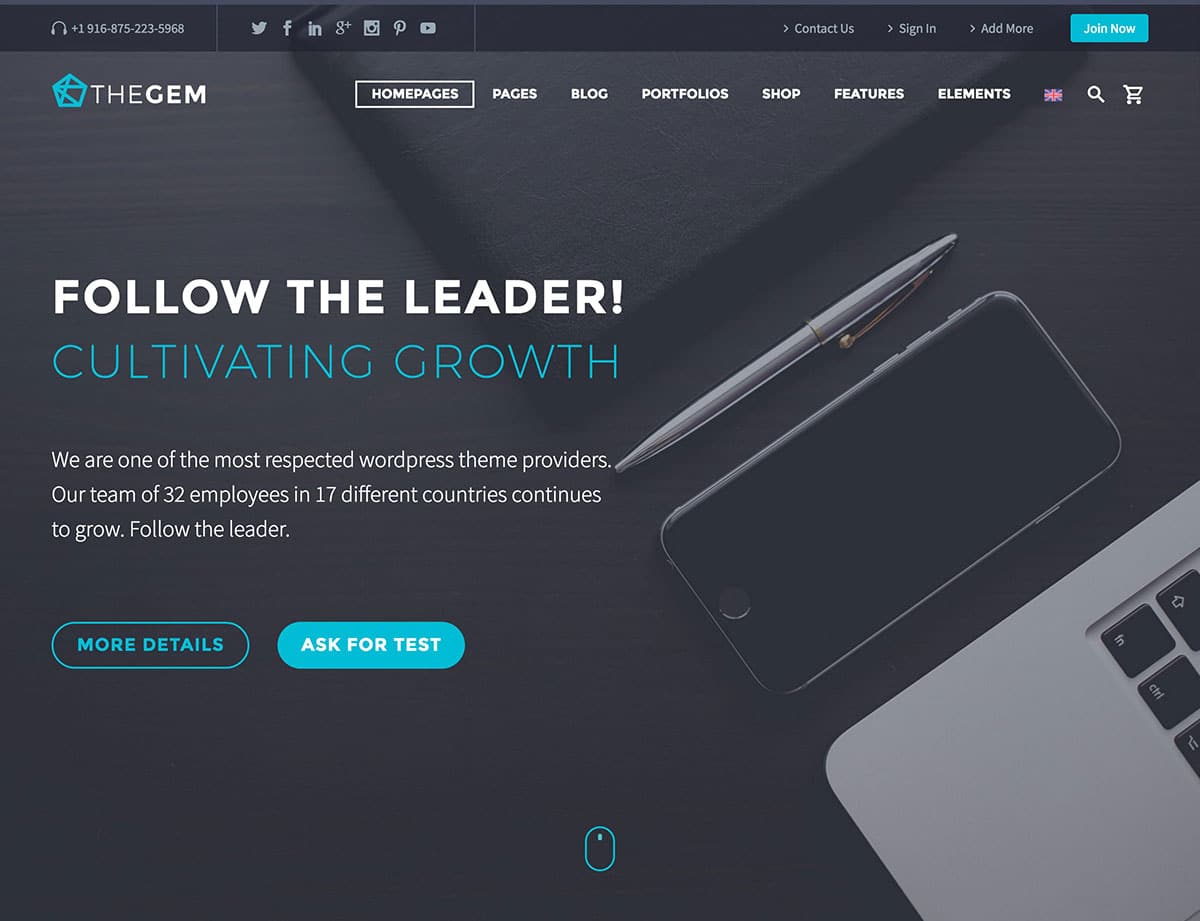 The connotations associated with the word "business" – sharp suits and boardroom meetings – aren't applicable to every company. TheGem enables you to promote your services, while staying true to the friendly approach you've cultivated.
Truth be told, TheGem can be either all-business or breezy and informal. By mixing and matching the functionality of the bundled Visual Composer, Slider Revolution, and LayerSlider plugins, almost any layout can be created. While TheGem is suitable for any kind of business, given the gorgeous-looking portfolio and site-wide animations, creative professionals will get the most out of it.
There's something refreshing about TheGem, and it stands out due to its informal default look. This is a true diamond, and is one theme that definitely deserves your attention.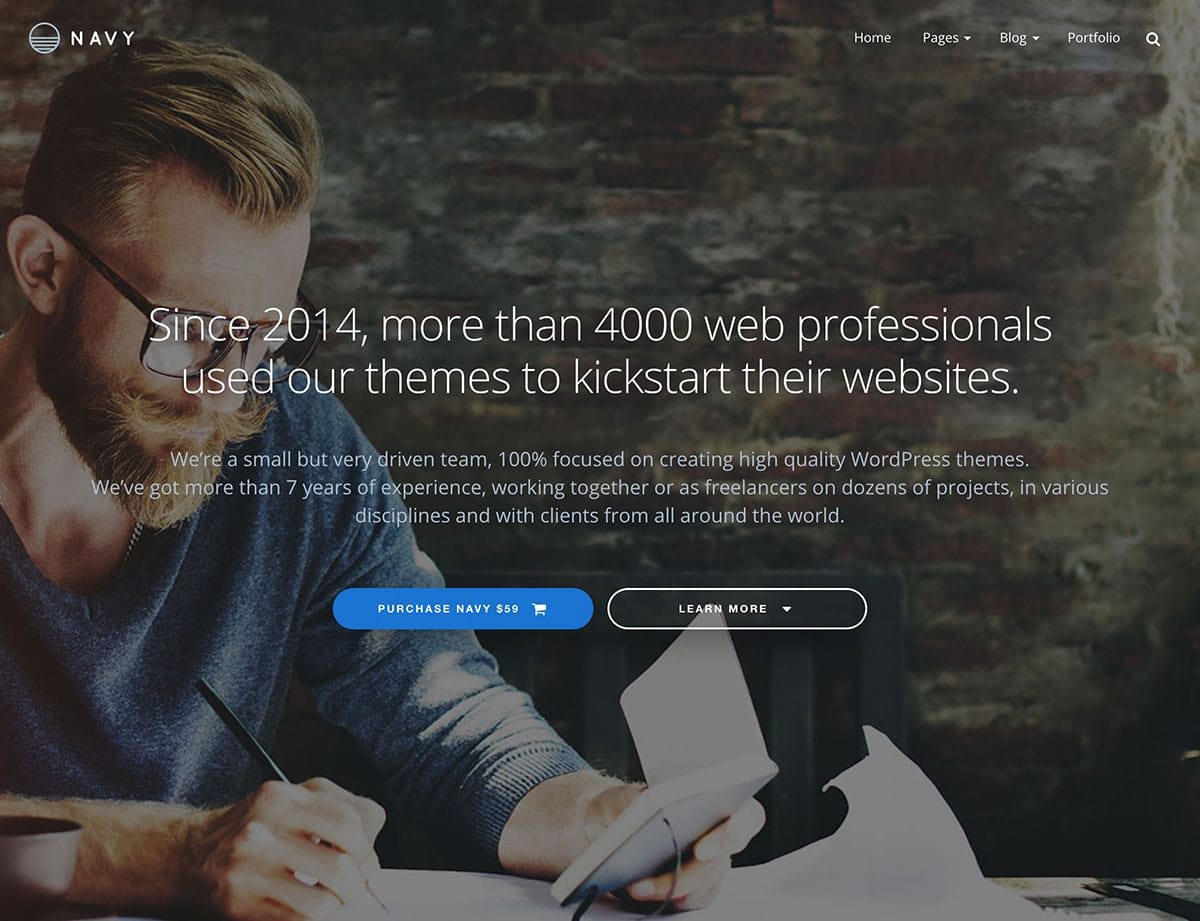 Navy is a multi-purpose business theme with a professional, approachable design. Hero images combined with white space, icons, and easy to read text result in a clean and sleek look perfect for any modern business.
Getting started is simple with 12 attractive, functional home pages ready for one-click install. There are also 22 page templates awaiting your content, including portfolio, shop, and client pages. If you need to customize the pre-built layouts or create your own from scratch, you can do so easily using the drag-and-drop Visual Composer plugin, which is included.
If you're looking to create a more unique look, Navy has lots to experiment with, including six header styles and a myriad number of Google Fonts. You can also add interest and intrigue with sliders from the Slider Revolution plugin, video backgrounds, and parallax scrolling. It also packs the Essential Grid plugin to help you further enhance and organize your site's layout.
Navy has definitely been designed with business owners in mind. With an intuitive design and template pages like testimonials, quotes, and pricing, building your business website can be a breeze.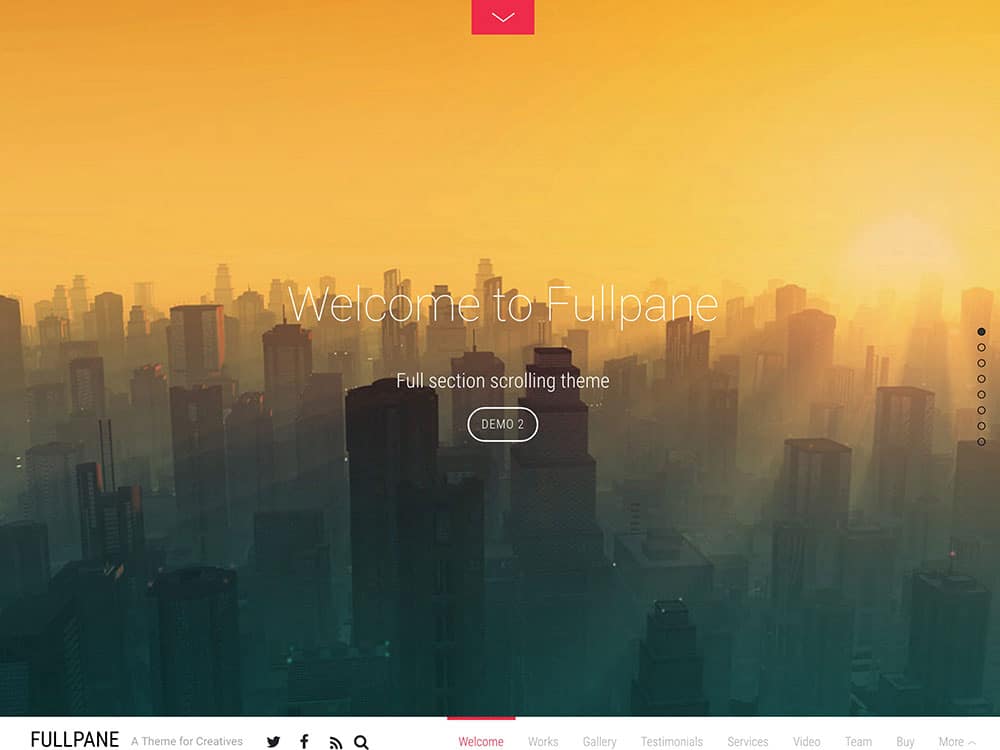 According to its description, Fullpane is a theme inspired by the Themify Parallax theme, the iPhone 5C and the JOBS movie site. It's a unique take on a vertical scroll site, in that each section snaps in place to fill the screen.
Since it's such a versatile theme, Themify provides several demos to showcase Fullpane's capabilities. While this theme's design might be overkill for a more traditional business, its advanced features and animations are well suited to personal portfolios or more creative companies.
As you would expect, Fullpane is responsive and retina ready. You can customize to your heart's content using the Themify Builder and any combination of custom menus, pre-designed post types and blog layouts.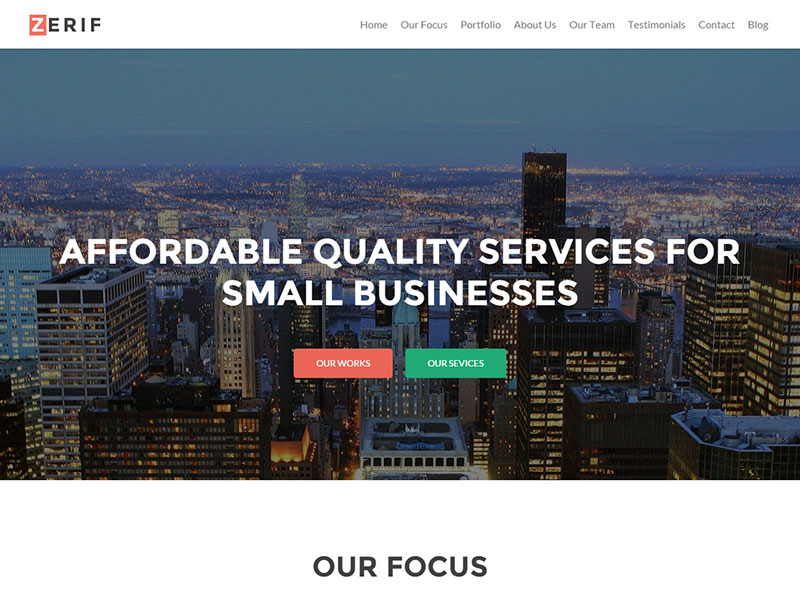 Zerif Pro is a clean and striking theme which manages to offer a professional look and feel while maintaining a personality.
The theme looks great straight out of the box, but it also comes packed with customization options to make personalization a breeze. You get an advanced Theme Options Panel where you can effortlessly update settings such as logos, colors and the layout without needing to touch any code. Alongside this you have access to unlimited colors and custom theme widgets, allowing to you achieve the exact look your business requires without having to spend an extra cent.
If however you do want to tweak the theme design a little more, Zerif Pro has been created with clean and validated code. This means that anyone with basic HTML knowledge can make design changes to the template, to create a truly unique website.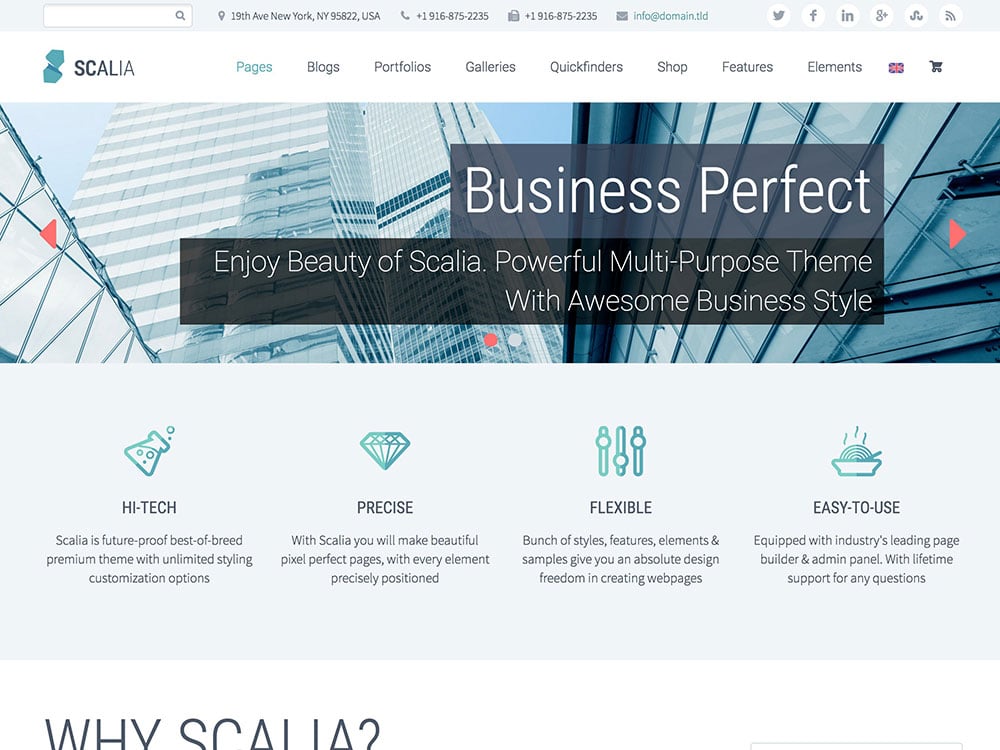 Scalia is a classy and modern multi-purpose theme with practically unlimited options for customization, making it an excellent choice for any business.
In addition to being responsive and retina-ready, Scalia has five basic design options: multi-purpose, shop, blog, parallax landing and one-pager (which is great for portfolios). It offers more than 150 page templates and layouts, as well as the Visual Composer page builder and several slider plugins. Scalia also includes plenty of shortcodes, widgets and other content elements. Besides all this, you can make your site memorable with full-width parallax effects and a flexible header and footer.
Scalia is configured for ease of use right out of the box, and provides extensive documentation and free support. Rounding out its offerings are the WooCommerce shopping plugin, search engine optimization, and WPML for translation readiness.
Read our full Scalia review
Moesia Pro
Moesia is known for being a beautiful, striking theme. Moesia Pro manages to take this up a notch with a visually stunning experience which will help you showcase your business with style.
First impressions for any business are important, and this is taken care of with Moesia Pro's full page header, which can be used for a static image, video or slider. This is complemented by the theme's highly polished animations which are usable throughout. These include number counters and graphs, which are perfect for showcasing data in a highly engaging way.
Looks aside, Moesia Pro has upgraded its front page blocks so that you can feature Dribbble, Instagram and Flickr, allowing you to seamlessly integrate your social networks into your website experience.
At only $59, Moesia Pro really is a steal. It offers a high-end looking website which is a considerable step up from Moesia, whilst still maintaining an effortless user experience.
More Info / Download Demo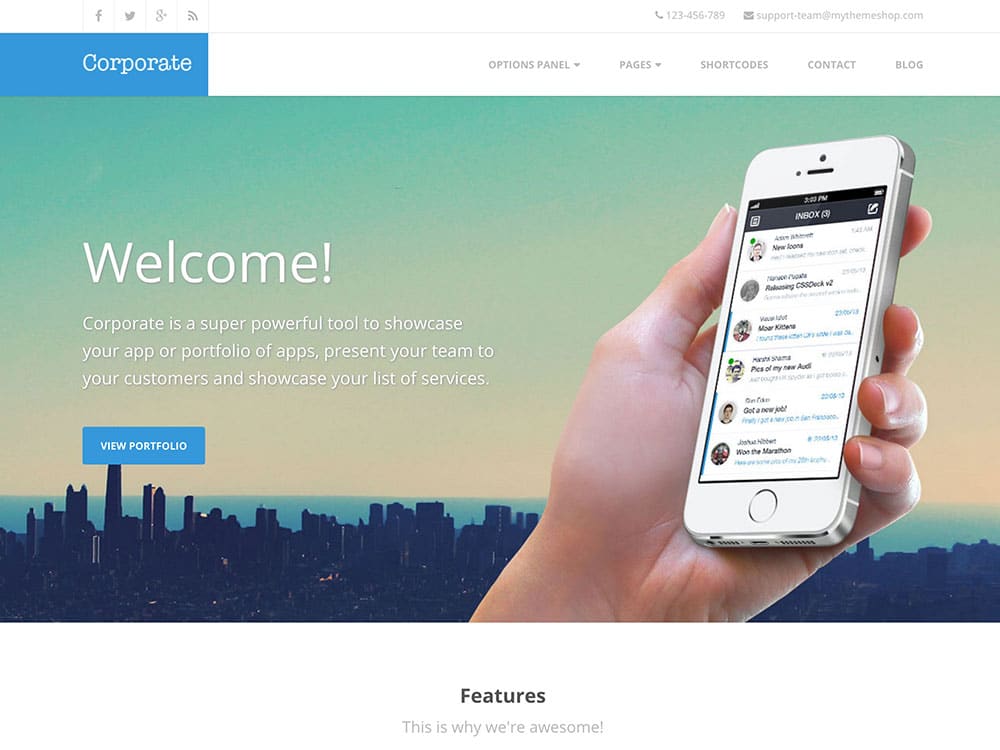 Corporate is a responsive theme for freelancers, agencies and corporations that want to grow their businesses. It can help you showcase your portfolio, team members and services.
The theme has a light, clean design and offers a number of customization options, including unlimited colors, sidebars and backgrounds. Among the usual content elements on offer are an animated 'experience display', pricing table, subscription box and contact form. Other additions include parallax scrolling, social media icons, FontAwesome icons, shortcodes, and a related posts widget.
It's compatible with the Mega Menu, Review Pro and Subscribe Pro plugins, and for those that like to get their hands dirty, it offers clean commented code for easy editing. Not only SEO ready, Corporate uses Schema integration for search indexing and has been optimized for readability and reduced bounce rate.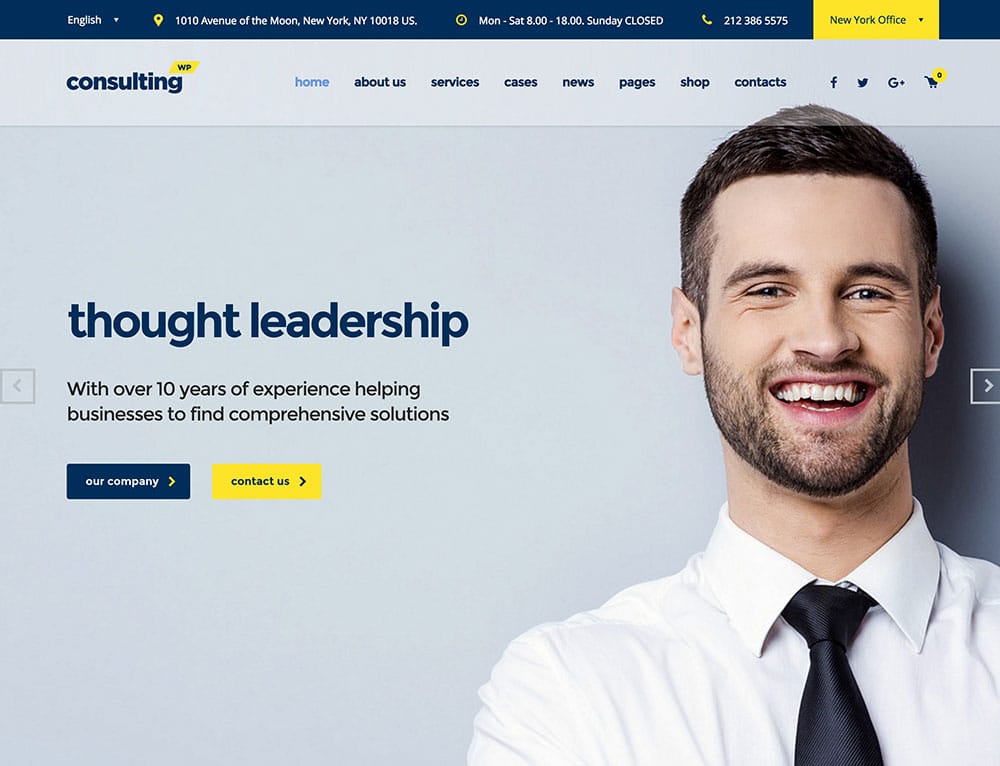 Consultancy typically requires solid people skills. You have to charm your client into siding with your expertise, while at the same time helping them deliver an improved service. With that in mind, the Consulting theme offers a bright, casual design that may help in bringing your stellar relationship skills to the fore.
This theme offers a relaxed approach to presenting your business. The default color scheme of yellow and blue, combined with chunky font headers and clear body text, makes for an easy to read website. Consulting offers nine demo layouts, and any of these can be customized further using the bundled Visual Composer plugin. Of course, it can also be used to create almost any layout you have in mind, and coupled with the bundled Slider Revolution plugin, you have a very powerful theme at your fingertips.
Overall, Consulting is a well-built theme that will appeal to those focusing on showcasing the human element of their business.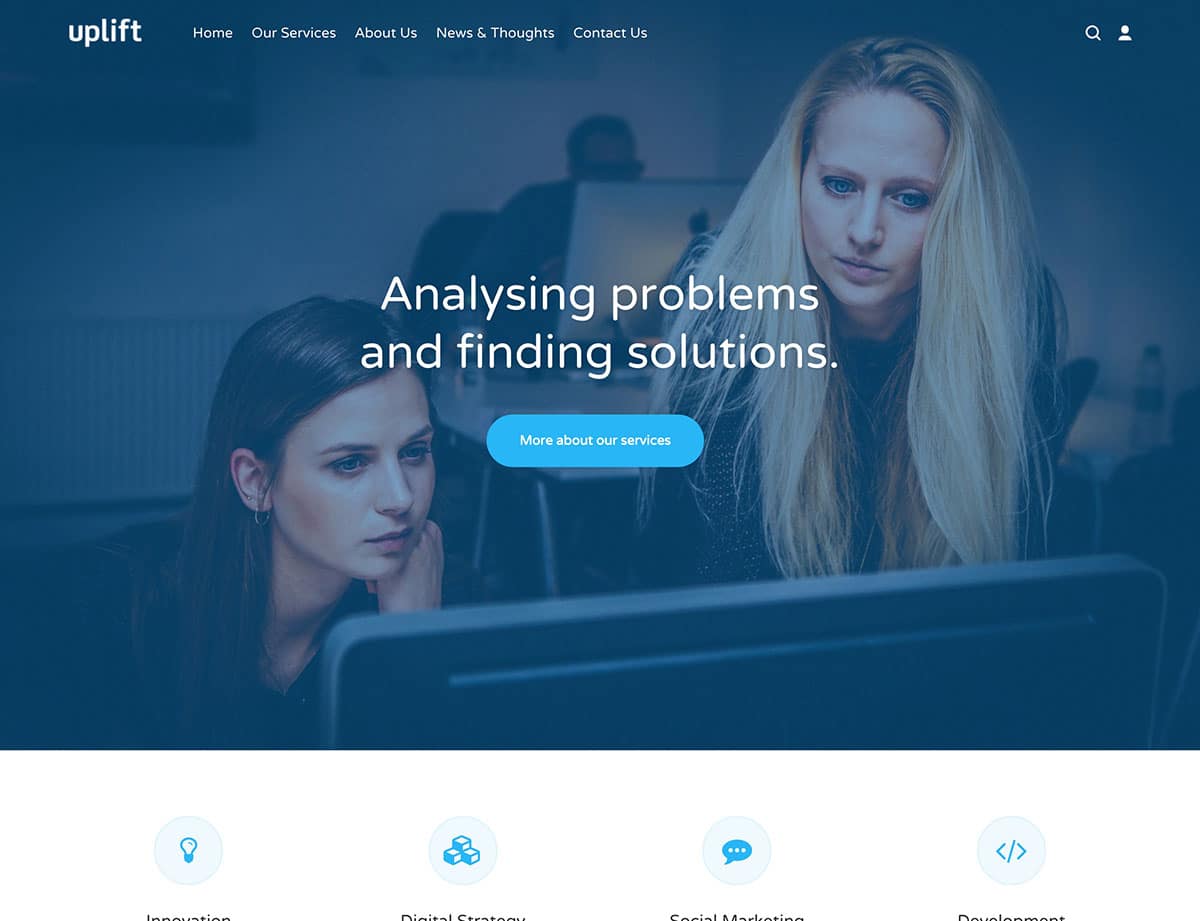 Creative service providers are often at the cutting edge of their fields. Whether you're a web developer, graphic designer, or tech startup, you'll need the right theme to put the focus on your business, with enough 'wow' factor to generate interest. In other words, you'll need a theme such as Uplift.
The first impressions of Uplift are that it's smooth to scroll through, with clear to read text. If they're our initial thoughts, they'll likely be the clients' too. While the default color scheme is rather monochrome – accented with only a hint of grey and blue – it can be altered using the built-in page builder. The drag-and-drop interface also enables you to create almost any layout possible, and will definitely appeal to those with a creative bent.
A unique and standout feature of Uplift is its animations – especially when displaying team profiles. Clicking on an individual member opens their profile in a slide-in menu; it's certainly not something we've seen in many other themes.
In summary, Uplift will suit a creative type looking to promote both themselves and their business with a modern and unique design.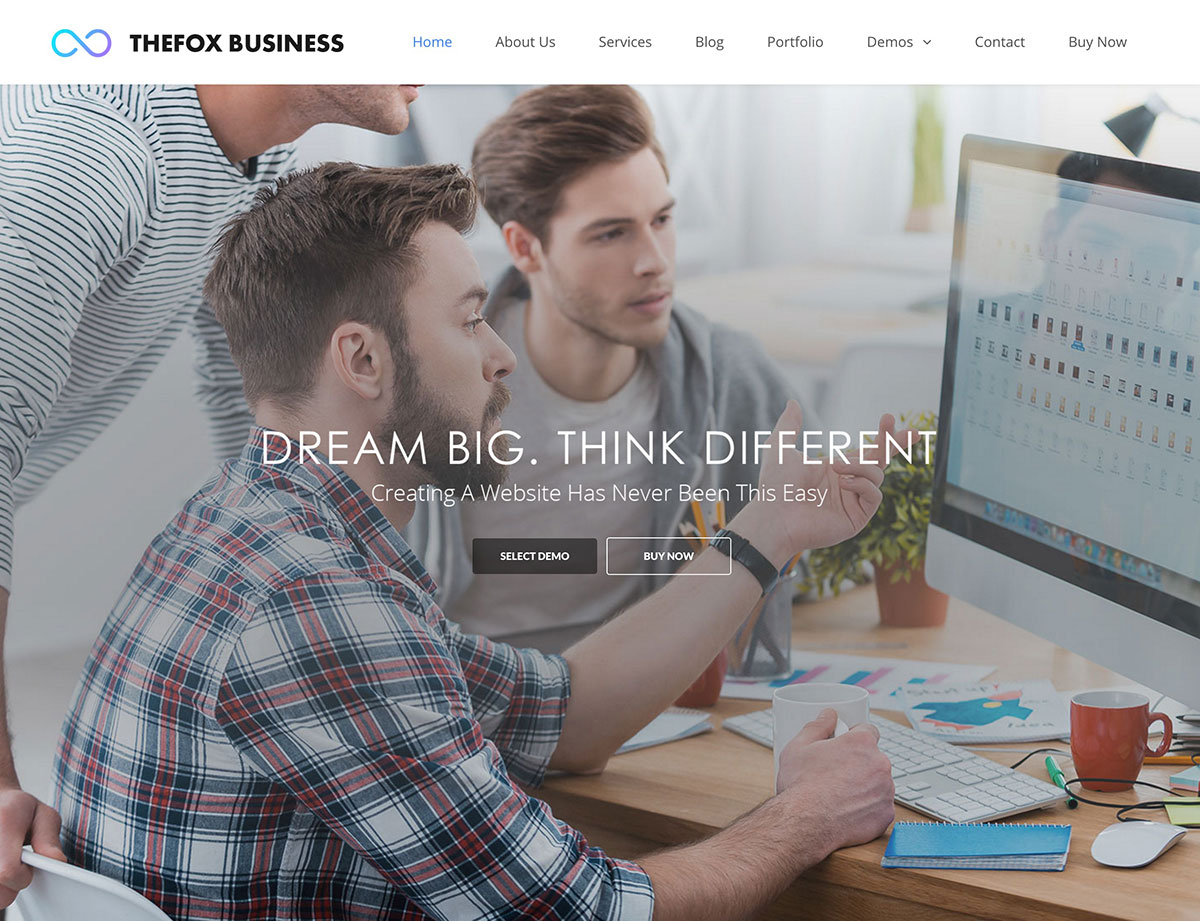 A business theme doesn't always have to offer a marquee plugin or feature to impress – often, solid functionality suitable for the task at hand wins the day. With TheFox, you'll not only get stellar foundations, but a modern design suitable for showcasing creative work too.
There's plenty in this theme to appeal to the layout tinkerers, with an extensive admin panel for tweaking all manner of design elements. TheFox has over 30 demos to choose from, and if you're looking for further layout customization, you can press the bundled Visual Composer plugin into service.
TheFox shines when presenting team profiles, About pages, and portfolios – each has more layouts available than many other themes we've seen, and there's no doubt that you'll find a way to present your staff and services to match your overall philosophy.
Overall, there's lots to like about TheFox – it's a well-designed theme that could be ideal for your creative business.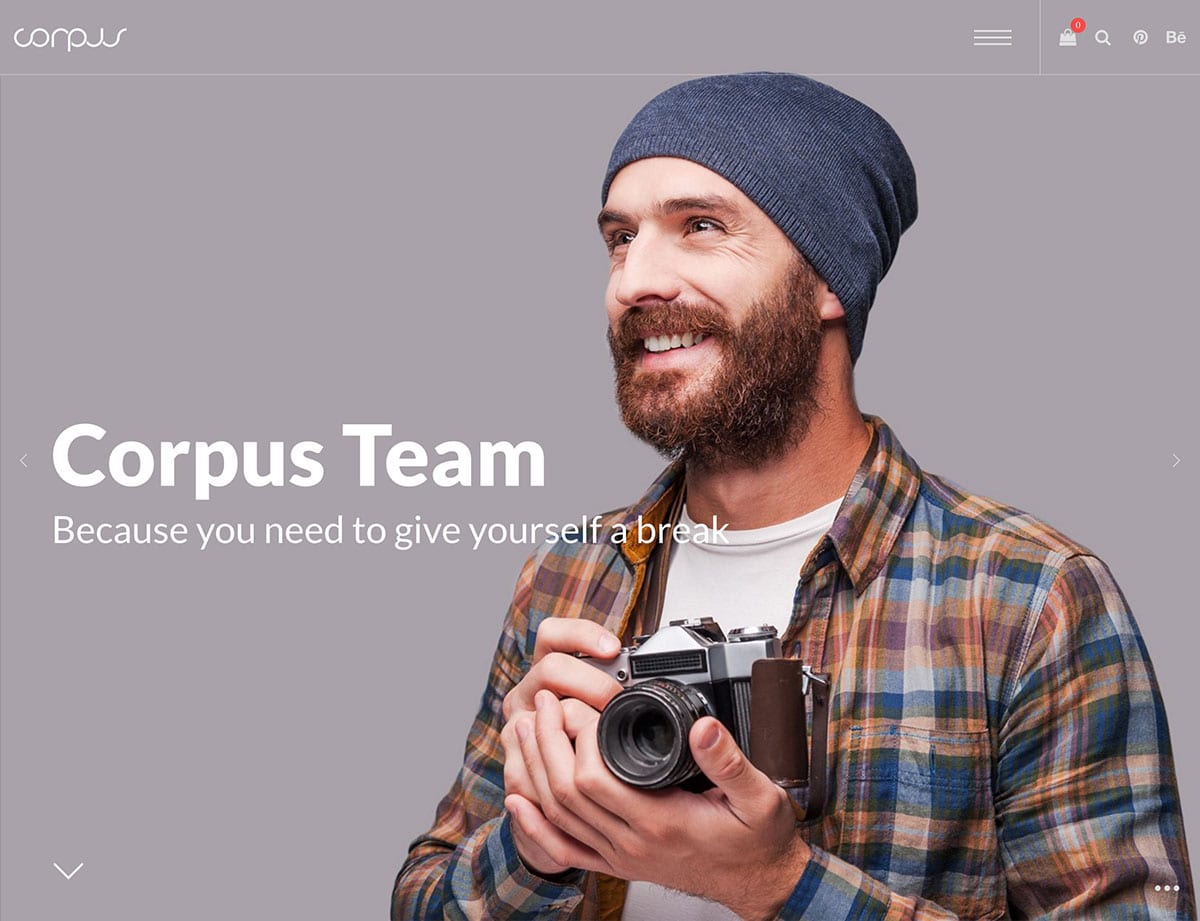 When looking to promote any creative service, the right theme is crucial for presenting your business as current and relevant. Corpus offers a stylish design – perfect for a business with a modern outlook.
On its surface, Corpus is similar to other well designed themes on this list, including some of the same bundled plugins. Layouts can be designed using the Visual Composer plugin, and pages can include full-screen, interactive sliders using the Slider Revolution plugin. However, it's the little things that help this theme stand out.
Corpus includes plenty of additions that can enhance your site. There are numerous animations throughout – when opening the navigation menu, for example – that look impressive. Furthermore, the inclusion of an additional slide-in menu for showcasing information such as your company philosophy or contact details is a stellar touch, and it isn't found in many other themes.
Finally, Corpus has gorgeous looking portfolio and team pages. Individual team profiles are bright and inviting, while portfolio items are large and prominent, with 'like' counters for each entry.
Overall, Corpus is well recommended for creatives seeking a cutting edge design to complement their work.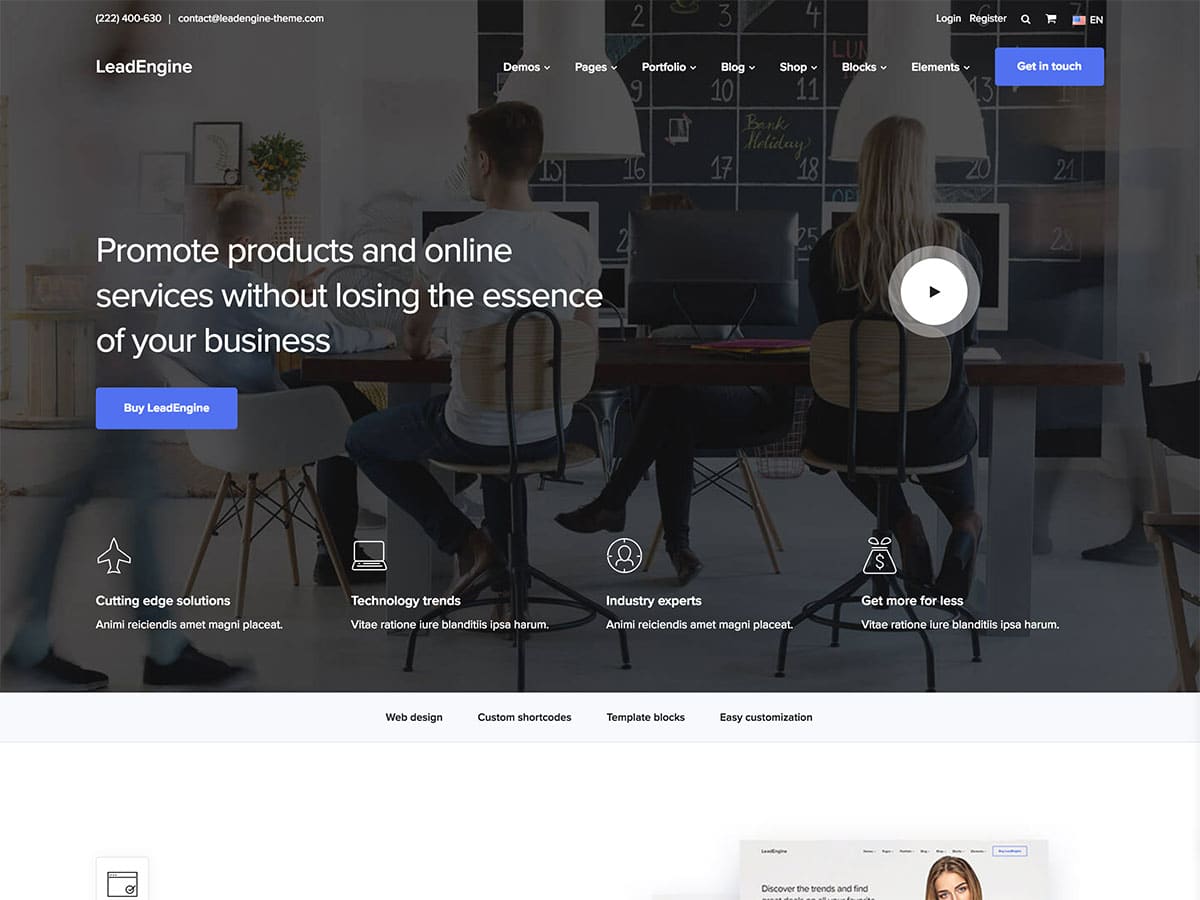 Your website can be a fantastic tool to help generate leads for your business. However, it's not going to be of much benefit unless you design it specifically for that purpose. Enter LeadEngine – a theme created to help you attract and retain your target audience.
To do that, LeadEngine focuses on providing you the tools you need to make a strong first impression. It comes with over 35 demo sites to get you started, each designed for a specific purpose or niche. Whether you're creating a landing page, crowdfunding site, or storefront, there's a demo pre-packed with the essential features and Call to Actions (CTAs) you'll require.
Once you've settled on a demo to get you started, there are several pre-built templates and elements you can use to customize each page to suit your needs. Plus, the drag-and-drop builder makes editing your site a pretty simple process. There's even a customized theme options panel, so you can make changes to the theme quickly.
All in all, LeadEngine provides an impressive range of options and features. If you need a business theme that's built with your specific industry or niche in mind, it's worth checking out the list of demos to see if one fits the bill.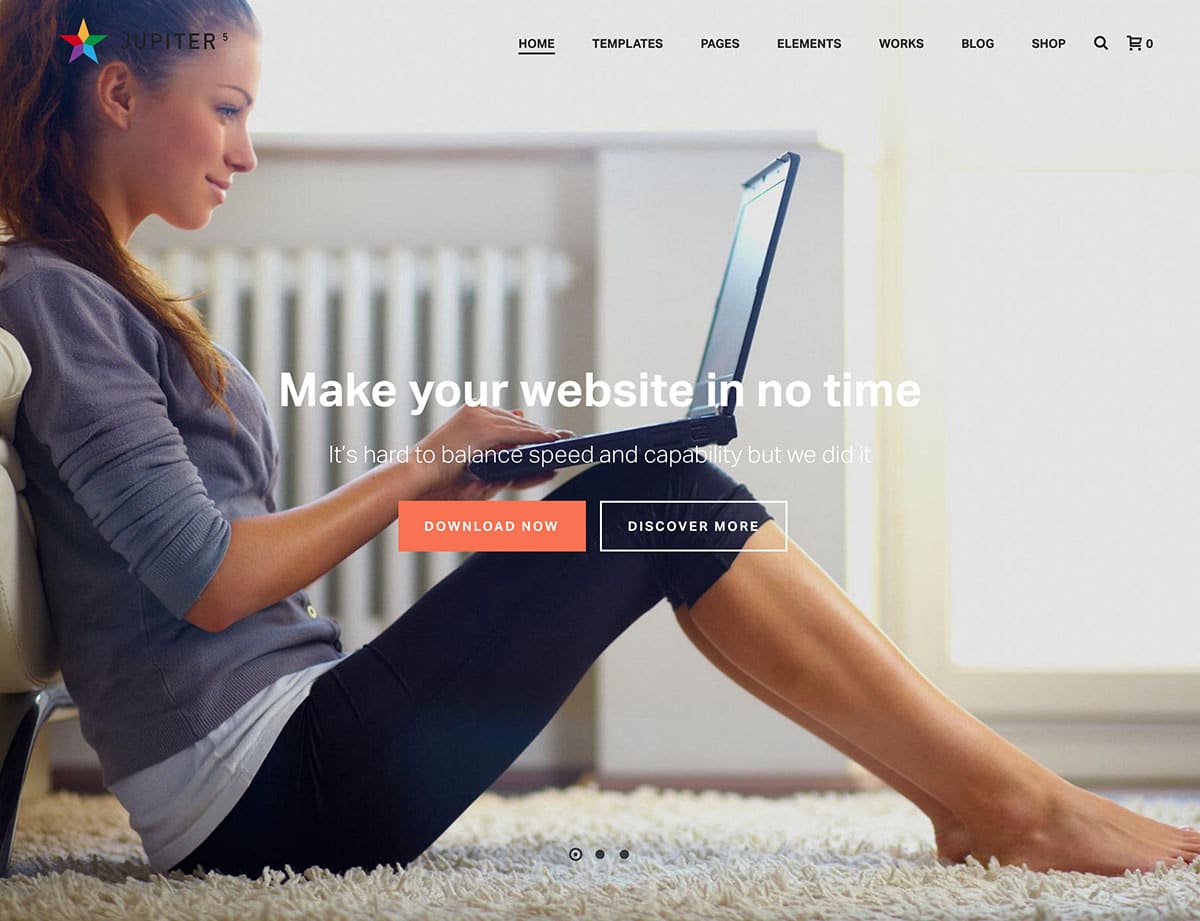 Simple, yet elegant – a recipe for success not only for businesses, but also for WordPress themes appealing to creatives. And with both of these elements present in Jupiter, just like its namesake, it's set to go stratospheric.
There's plenty to offer creative types with Jupiter, especially those working with visual media, such as graphic designers, filmmakers, and photographers. There's a gorgeous looking layout for case studies, which could easily be adapted to other types of projects, and the portfolio layouts are crisp and bold. Furthermore, your work can be prominently displayed with the bundled EdgeSlider plugin, enabling you to create full-screen displays with an engaging call to action.
Unfortunately, we found that Jupiter's response was slow and jerky when utilizing parallax scrolling, but scrolling otherwise was very smooth – especially when there was a lot happening on the page, which highlights its development under the hood.
In short, if you're creative and looking for a modern and stylish website, Jupiter's functionality could well win you over.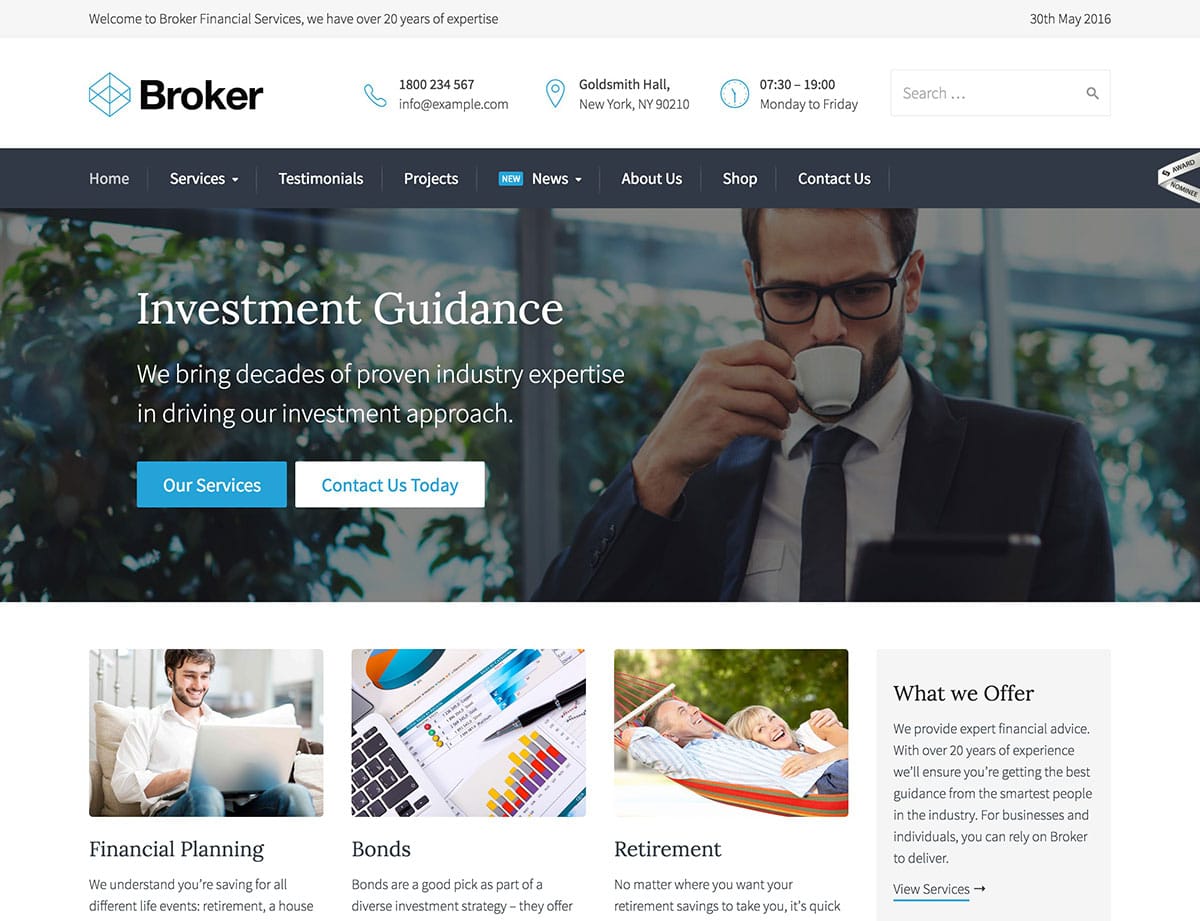 The finance industry is built on trust, and as such, it's vital that you choose the right theme to portray your business in the best possible light. To achieve this, Broker is one such theme we urge you to consider.
When it comes to functionality, there's nothing overly flashy or standout about Broker – and that's a good thing. This theme's value is in its overall look and feel, with its default font and color scheme complementing an understated design. Testimonial pages are clear, and case study pages are set out to focus on the challenges, solutions, and results you provide, rather than any superfluous information.
Overall, while there's not much flash with Broker, that's missing the point. If your business' currency is trust and dependability, this theme will suit you down to the ground.
While niche-specific themes can be useful, they often limit what you can add to your website. If you want more control over your business site's design, a multipurpose theme like Cesis may be a better choice.
Cesis is a general business theme offering demos that can help you get started in a number of different niches. These include photography, design, fashion, and more. It then offers a flexible front-end editor, which enables you to change the look and layout of just about every element.
In fact, there's a custom options panel containing over 90 sections worth of customization settings. You'll also get access to a lot of layout options, so you can create designs based around grids, galleries, carousels, and so on.
To be honest, Cesis doesn't offer a lot of unique or unusual features. However, if you want the utmost in flexibility and customization potential it can be a suitable foundation for your company website.
Zero
Zero is a flexible business theme – it's great for your blog, portfolio, photography and more.
A clean and minimalist responsive design helps to make your content pop on any device. The theme offers three different home page options to choose from along with some beautiful transition effects. There's a sticky menu, scrolling animation and numerous font icons to select from too.
The extensive documentation also comes with snapshots and step-by-step instructions so you can get your site set up and running quickly and customized to your exact style.
There are also a bunch of premium plugins included at no additional cost, including the Revolution Slider and Visual Composer. Furthermore, Zero is powered by the Tesla Framework, allowing you to easily customize your look without any advanced programming skills necessary.
More Info / Download Demo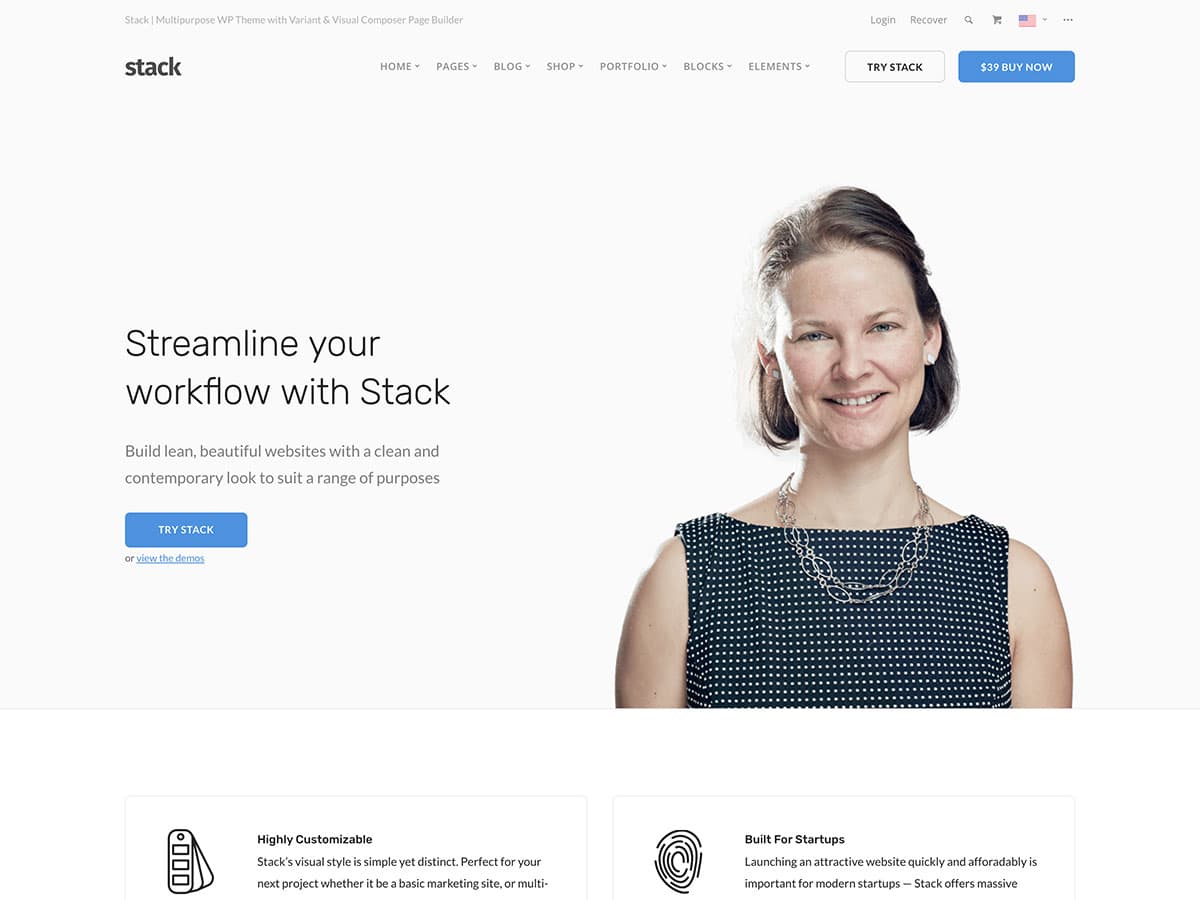 If you want to design your business site to reflect your company and its goals, you're going to want a lot of flexibility when it comes to customization. One of the best ways to achieve this is with a page builder-focused theme, such as Stack.
Stack incorporates a specially-designed page builder tool called Variant, which is exclusive to the theme. It lets you build complex pages and see the results right away, and offers more than 270 pre-built modules for you to work with.
This theme also includes Visual Composer, giving you plenty of options when it comes to design. You'll also get access to both a slider and an icons plugin, providing some modern options for building out your pages.
Stack provides a lot of demo content, and a selection of tools you can use to make alterations or create your own content from scratch. This is a theme that can help make your vision for your company's site a reality.

The7 is a responsive multipurpose theme that can grow and change with your business. Just looking at the numbers, this theme boasts two design styles, four header layouts, 600+ available fonts, unlimited background colors and 12 included skins.
If that weren't enough, The7 comes pre-loaded with the Layer Slider, Slider Revolutions, Visual Composer and Go Pricing Tables premium plugins in addition to WooCommerce support. As the demo shows, this theme is flexible enough to use as a business, creative, blog or shopping site.
Tons of shortcode options and styles let you design your site to suit your individual tastes. Whether you want parallax functionality, a landing page style design or a more straightforward layout, it's all possible with The7.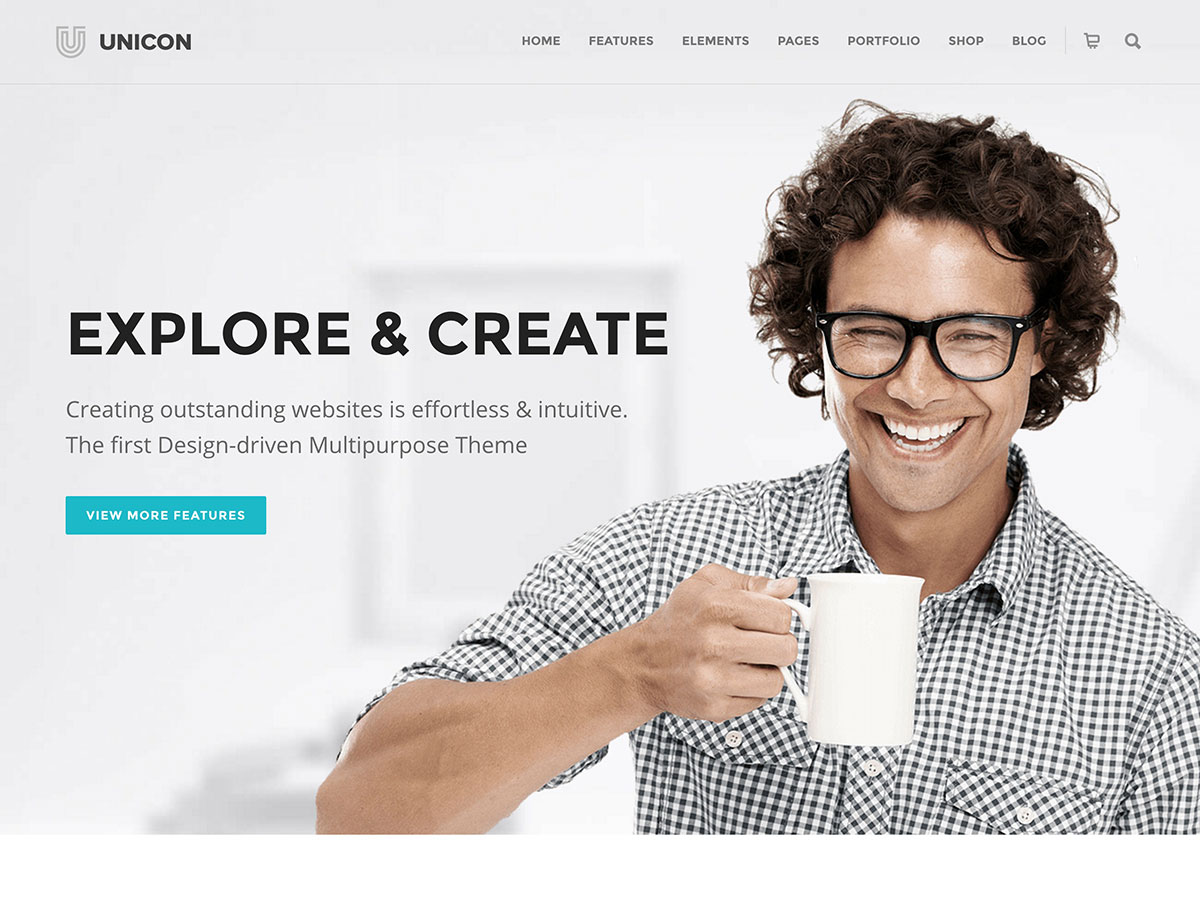 Dependable and trustworthy are two traits that should sum up any conscientious business owner to potential clients. For a theme that can help you realize a website that promotes those traits, consider Unicon.
In its default layout and color scheme, Unicon comes across as very solid without being overly stuffy. Its clean design and no fuss layout will definitely appeal to those who want to convince clients they're up to the task. However, you don't have to settle for a purely functional design – with the bundled Visual Composer plugin, almost any layout is possible.
Finally, portfolio page layouts are very modern and stylish, but think of them as case study layouts and you'll no doubt see how they can showcase your work to potential clients.
In a nutshell, for businesses looking to create a website that exudes dependability and with solid functionality to match, Unicon could fit the bill.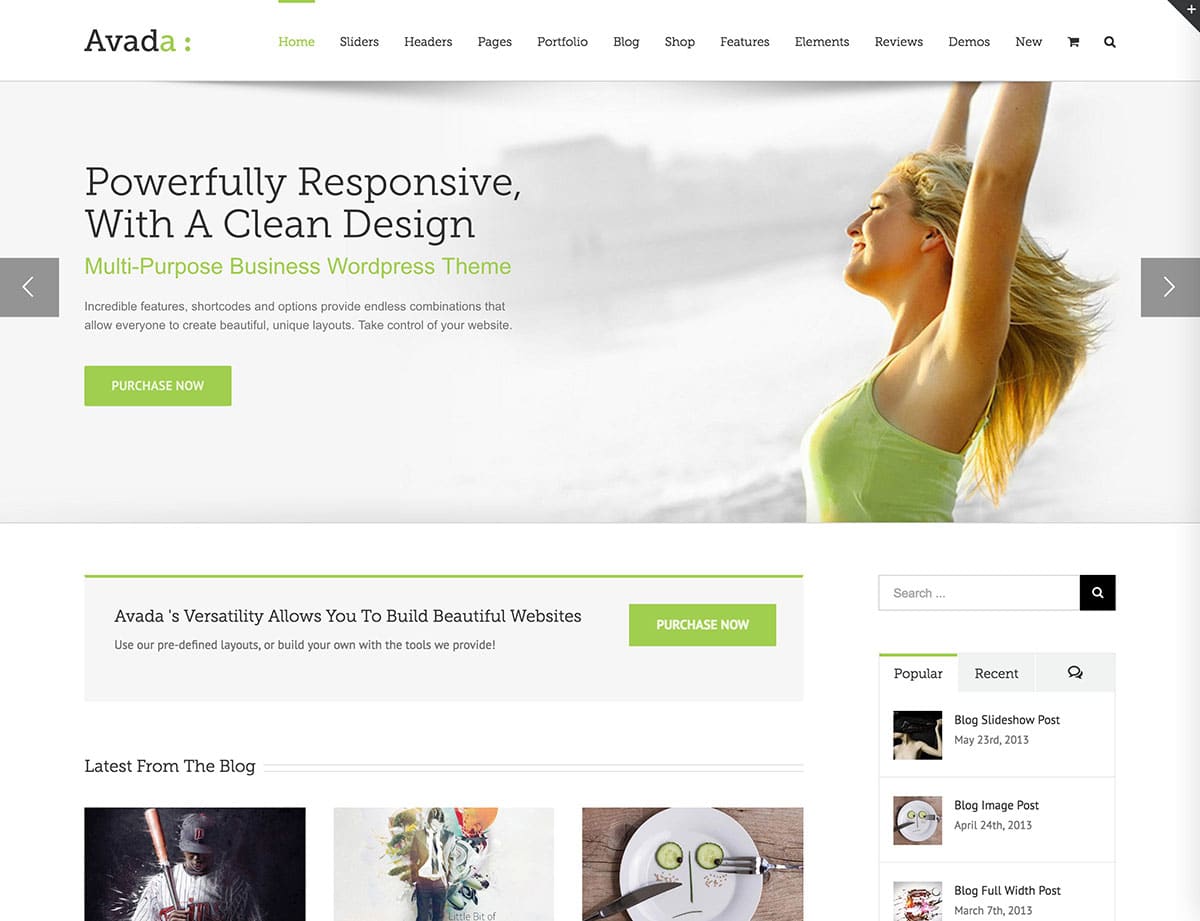 With more than 440,000 downloads, Avada is one of the most popular business themes around, and with good reason. It's WooCommerce enabled, so you can use it as a store. It's fully responsive and retina ready, has premium sliders and includes five header designs.
The theme's demo features an impressive 41 homepage styles and a multitude of page template options. If you're interested in including a portfolio on your site, there's no shortage of options there either. You can choose to have a classic layout, a grid layout and more.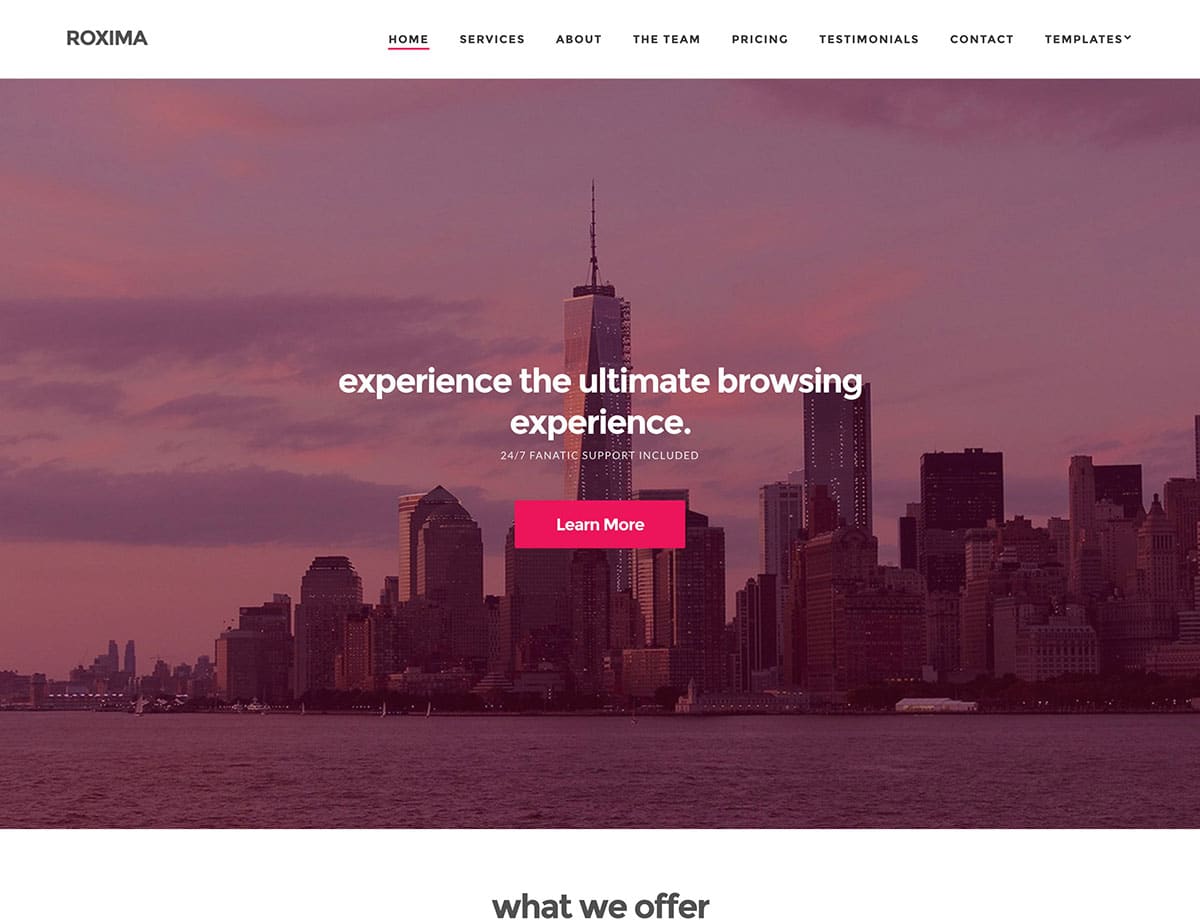 When it comes to increasing conversions and sales, landing pages are a proven commodity. With a suitable one-page theme such as Roxima, your landing page is your website – rather than just one cog in the wheel.
If you're familiar with one-page websites, the functionality of Roxima won't surprise you. Your layout is built using a drag-and-drop page builder, accessed directly from WordPress' Customizer, with a multitude of design options at your disposal.
While other themes look to enhance their functionality with bundled plugins, Roxima includes almost everything you need to create your website out of the box. Along with a number of custom widgets (including a pricing table), there's also a built-in custom slider – again accessed from the WordPress Customizer.
Roxima is a theme with power and flexibility that also offers a simple approach to building your website. If you have requirements matching its strengths, this theme should feature very highly on your shortlist.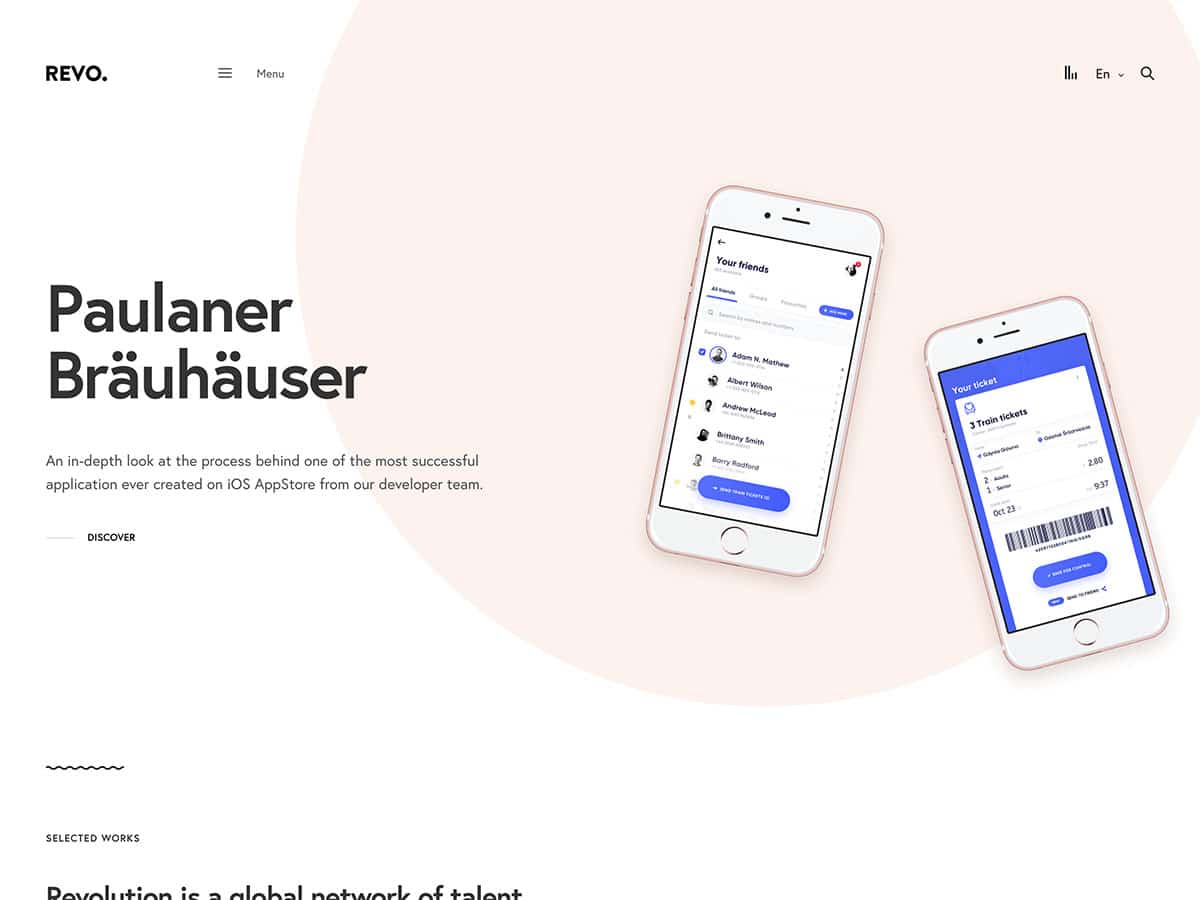 Sometimes, style matters more than function when it comes to building a website for your business. After all, you need to attract your target audience's attention before they can be exposed to your message. You can accomplish this with a stylish theme like Revolution.
Revolution helps you create an attractive and unique-looking site quickly. The wide range of pre-built demos are broad enough to work for a variety of niches. Plus, they offer a selection of styles and layouts to choose from, enabling you to pick something that matches the 'feel' of your business.
In addition, you'll get access to a number of elements for customizing your content, as well as portfolio- and shop-specific features. You can even add custom sound effects and music options, hover styles, marquee effects, and a lot more. To support all of this extra weight, the theme is well optimized for performance, and uses adaptive images.
If you want your site to stand out visually, you can't go wrong with Revolution. It's a theme that facilitates the design of an exciting, stylish company portal.

Enfold is responsive, retina ready, and allows you to install demo content with the click of a button. And if you like having options, you'll get more than you bargained for with this theme. There are so many potential combinations, you could easily redesign your site over and over without repeating.
The demo shows 11 different homepage designs, nine portfolio layouts, six blog layouts and a variety of page styles. Enfold's shortcodes, pre-loaded skins and layout builder let you customize even further. Functionality-wise, the theme supports WooCommerce, Form Builder, GravityForms and bbPress.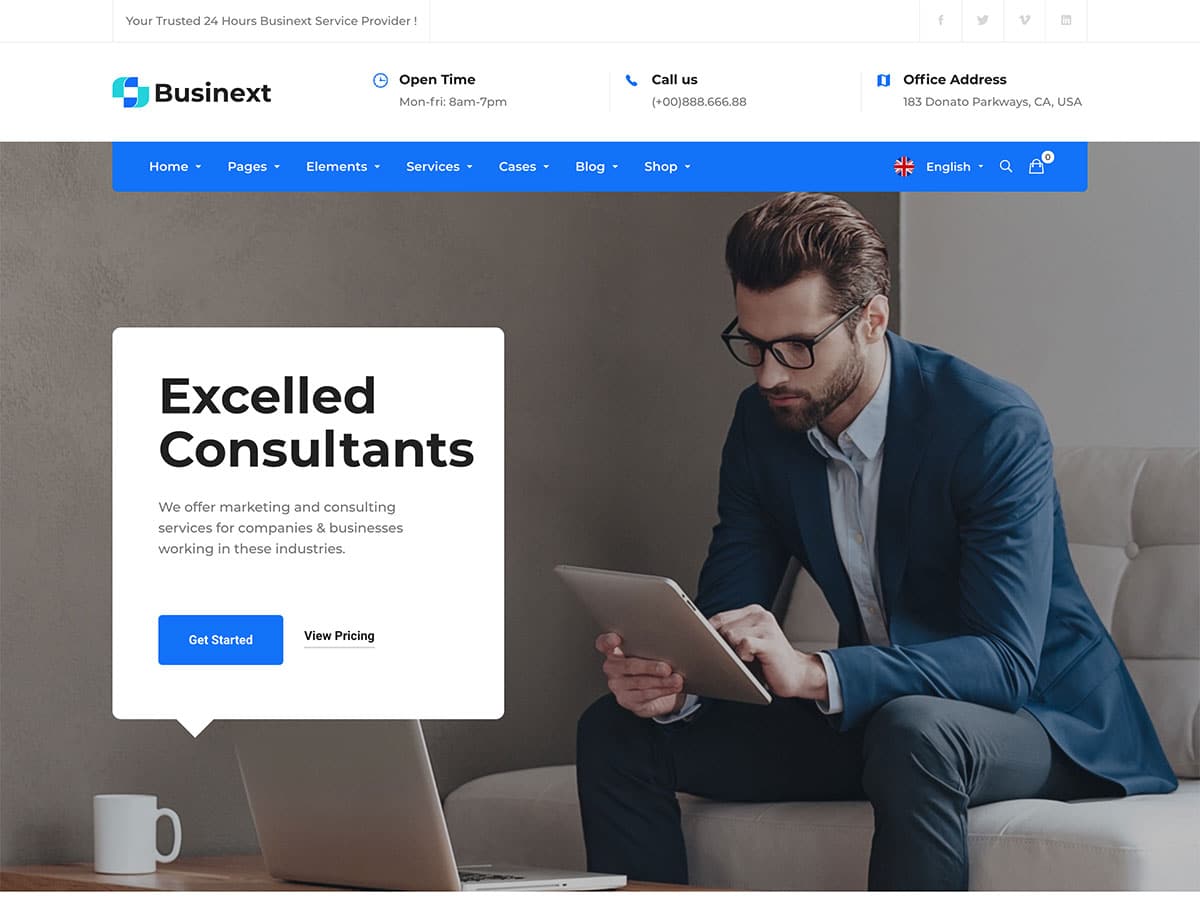 A lot of business themes are built with creatives in mind, which is great if you're in that type of field. However, if you're in the financial sector you may need something more straightforward and professional. That's when a theme like Businext can come in handy.
Businext can be used for many types of company sites, but is ideal for consultants, financial institutions, and similar niches. Among its 30 plus demo sites, it includes around a dozen that are focused on finance-based businesses. There are even demos specific to cryptocurrencies.
Along with these demos, you'll get plenty of layouts to choose from when adding key pages and sections to your site. For example, there are a number of case study layouts, as well as designs that help you show off your list of services. Finally, there are a ton of customization options, from the variety of header options to the numerous custom shortcodes.
Any business in the financial sector would do well to check out Businext. It's a no-nonsense theme that makes it simple to design a professional and information-based website.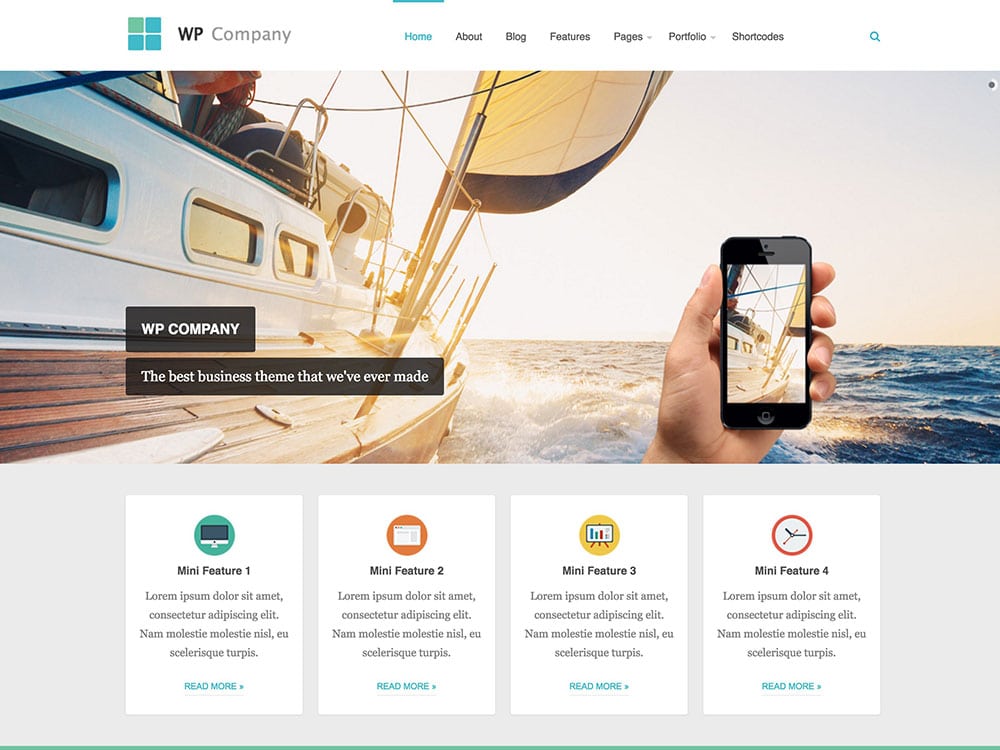 Company is a fresh responsive theme that combines modern user experience design with classic business sense. The theme's slider includes animated transitions that add pizzazz without going over the top.
If you want to use the theme to showcase your portfolio, you can choose to display your work in two, three or four columns. Portfolio items are sortable by category, and individual item pages have a project details section where you can specify client, skills and more.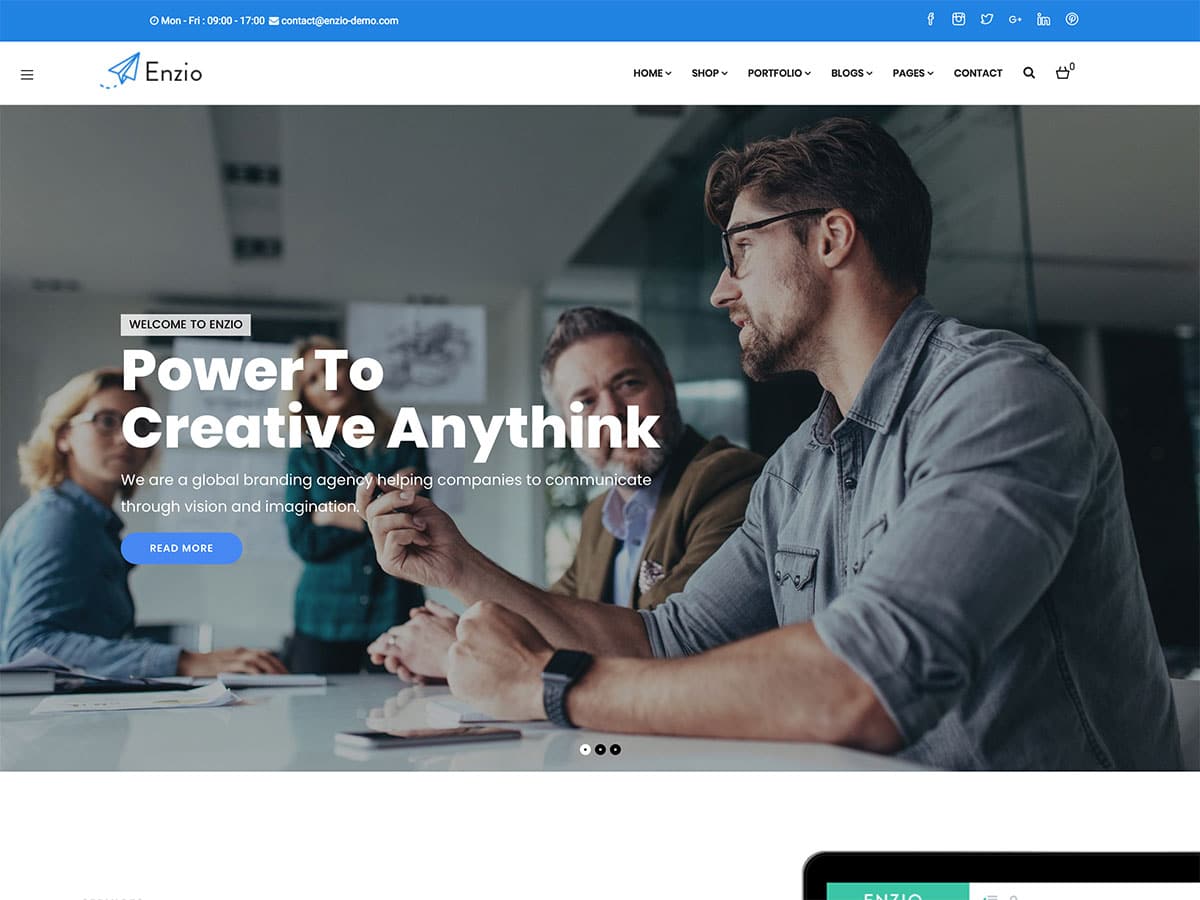 When you're shopping for a theme for your business website, you're not always looking for something from left field. Instead, a solid and reliable theme like Enzio can often fit the bill.
While Enzio doesn't provide many features you can't find elsewhere, it does bundle up all the most vital features your company site will need into one package. For example, it contains a variety of home page demos to choose from, along with plenty of options to customize colors, fonts, layouts, and imagery.
Enzio comes bundled with both the Visual Composer and Slider Revolution plugins – key premium tools that come in handy on any business site. It's also WooCommerce-ready, child theme compatible, and fully responsive. Plus, there's a lot of very detailed documentation that will help you get your site set up quickly.
While Enzio isn't particularly exciting, it provides a solid feature set on top of a modern, professional look. If you want something practical and aren't interested in a lot of frills, this could be the theme for you.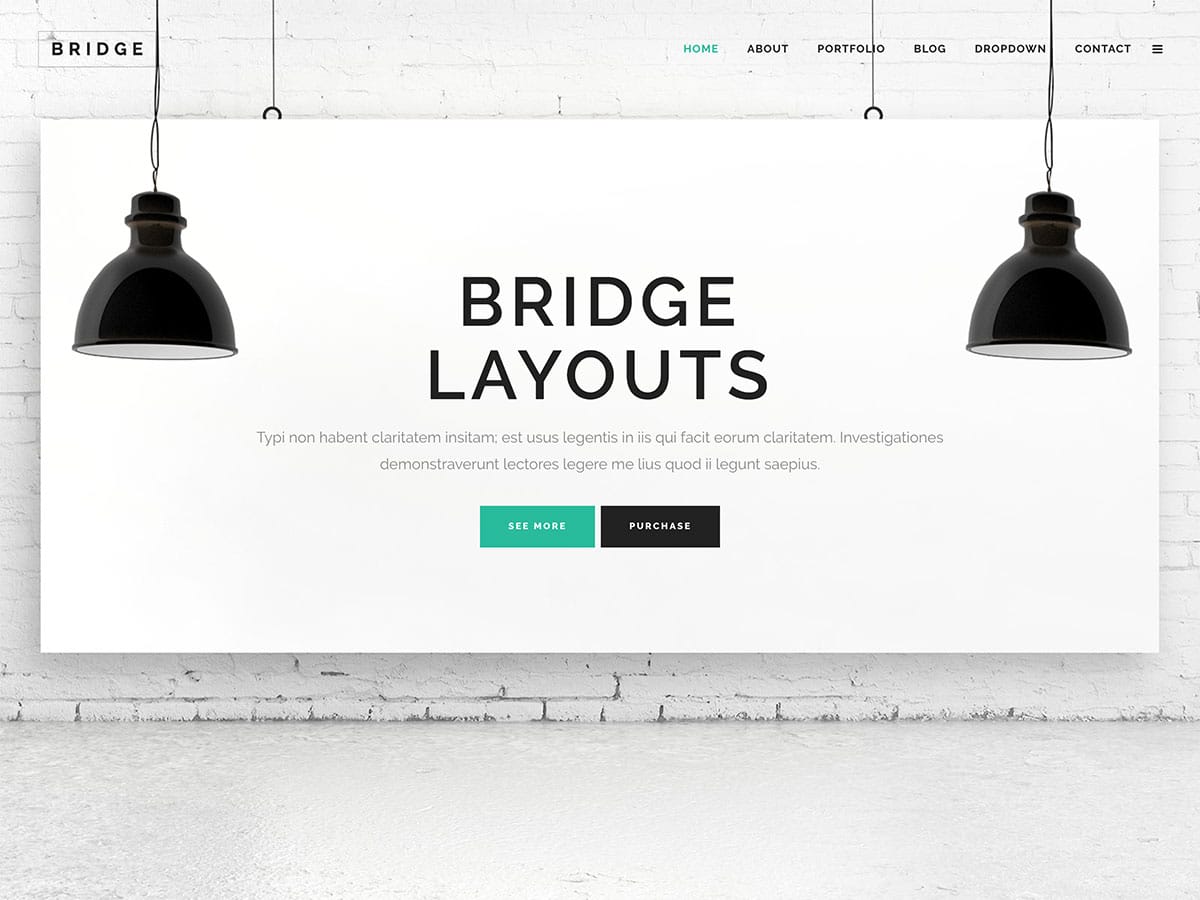 Some themes pick one thing and try to do it as well as possible. Others aim for providing the broadest possible spectrum of options. Bridge is a theme that falls solidly into the latter camp.
The first thing worth noting about Bridge is that it provides over a whopping 375 demo websites to get you started. This means no matter what type of business you're running, there should be something here that fits. You can create nearly any type of website with Bridge, although it's especially well suited for online magazines, blogs, restaurants, and anything involving listings (such as a real estate site).
You don't have to use one of these sites on its own, either. You can import and combine specific pages, and use the 24 included layouts to change up their appearance. This makes Bridge a strong foundation if you're looking to build a site to serve multiple purposes – such as a blog connected to a storefront.
Bridge is one of those themes that's easy to recommend for businesses of all types and sizes. You're bound to find plenty of options and features here to suit your needs, so we'd recommend checking this theme out.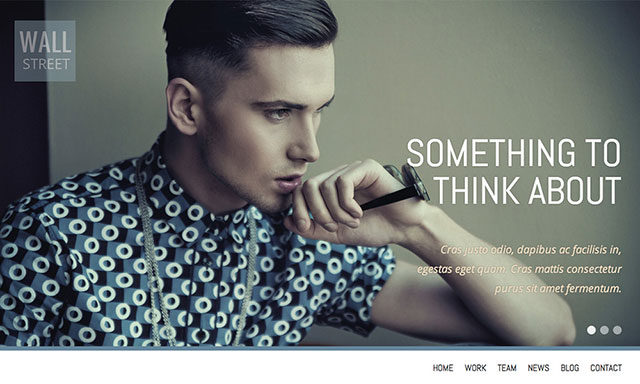 If you're looking for a theme that will turn some heads, Wall Street may be for you. Its slick parallax design, subtle animations and ample white space will position your company as a leader, not a follower.
Simple navigation and straightforward content presentation are the hallmarks of the Wall Street theme. In addition to being responsive and easy to customize, it includes post formats to accommodate images, video, audio, quotes, links and standard content.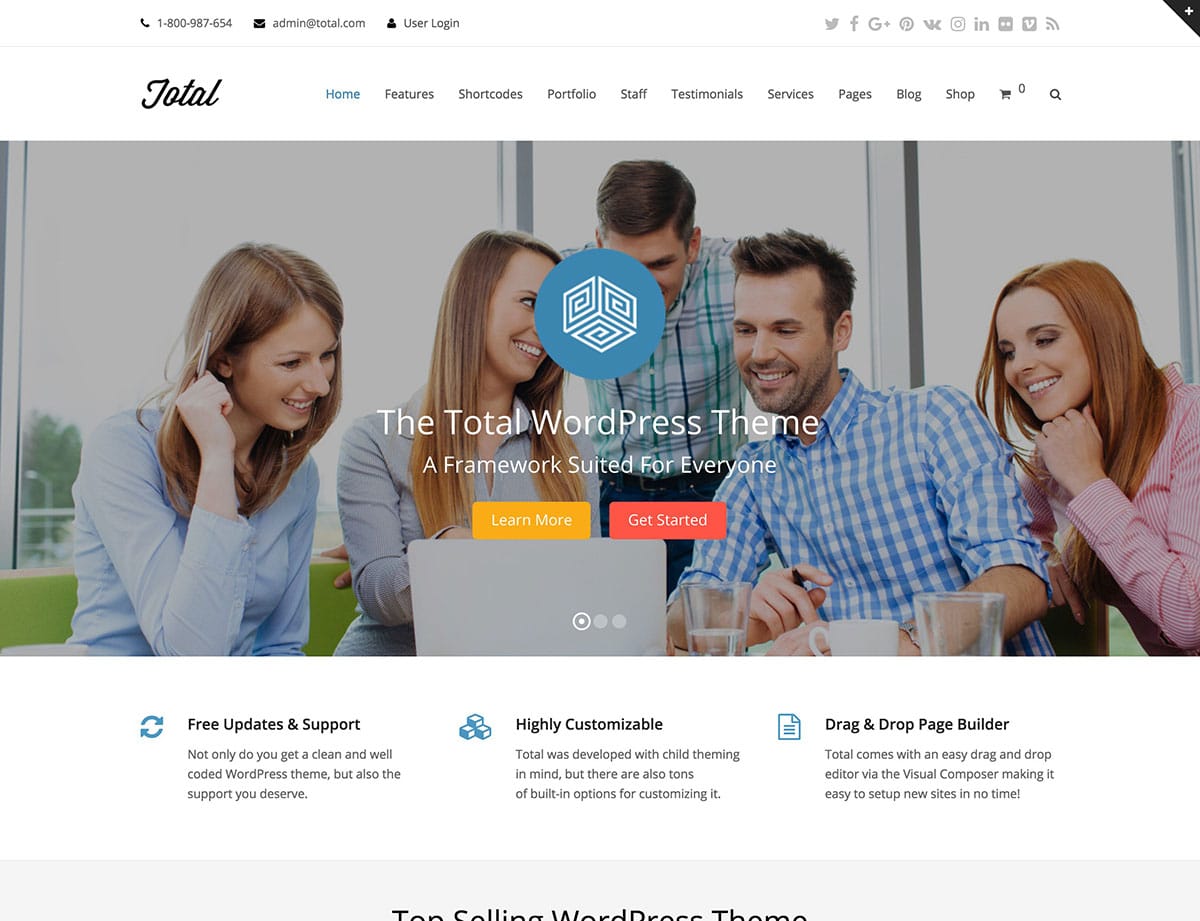 Total is a highly rated responsive multipurpose theme that integrates a lot of the functionality that today's online business needs. It has WooCommerce and bbPress integration, drag-and-drop page builder, single and multi-page layouts and a number of customization options.
The theme includes parallax image support in addition to three header styles and four page title display options. With Total, you can choose from six pre-designed color skins or design your own palette options. The theme also includes third-party tools such as Visual Composer, Layer Slider and Slider Revolution.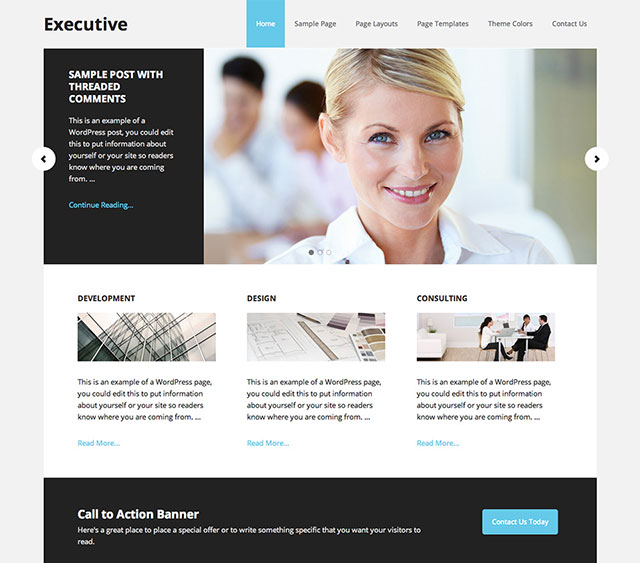 Executive Pro is a theme by StudioPress that runs on the Genesis framework. It comes with seven color styles, three layout options and lets you designate a custom background. It's a fixed width theme that is mobile responsive and developed with HTML5 markup.
Executive Pro is definitely a theme geared toward more corporate companies, with the standard top drop-down navigation, featured slider and three-column content areas. Page layout options let you specify whether you want to have full width content or include a sidebar on the left or right. For page templates options, the theme offers standard blog and archive pages in addition to portfolio and landing pages.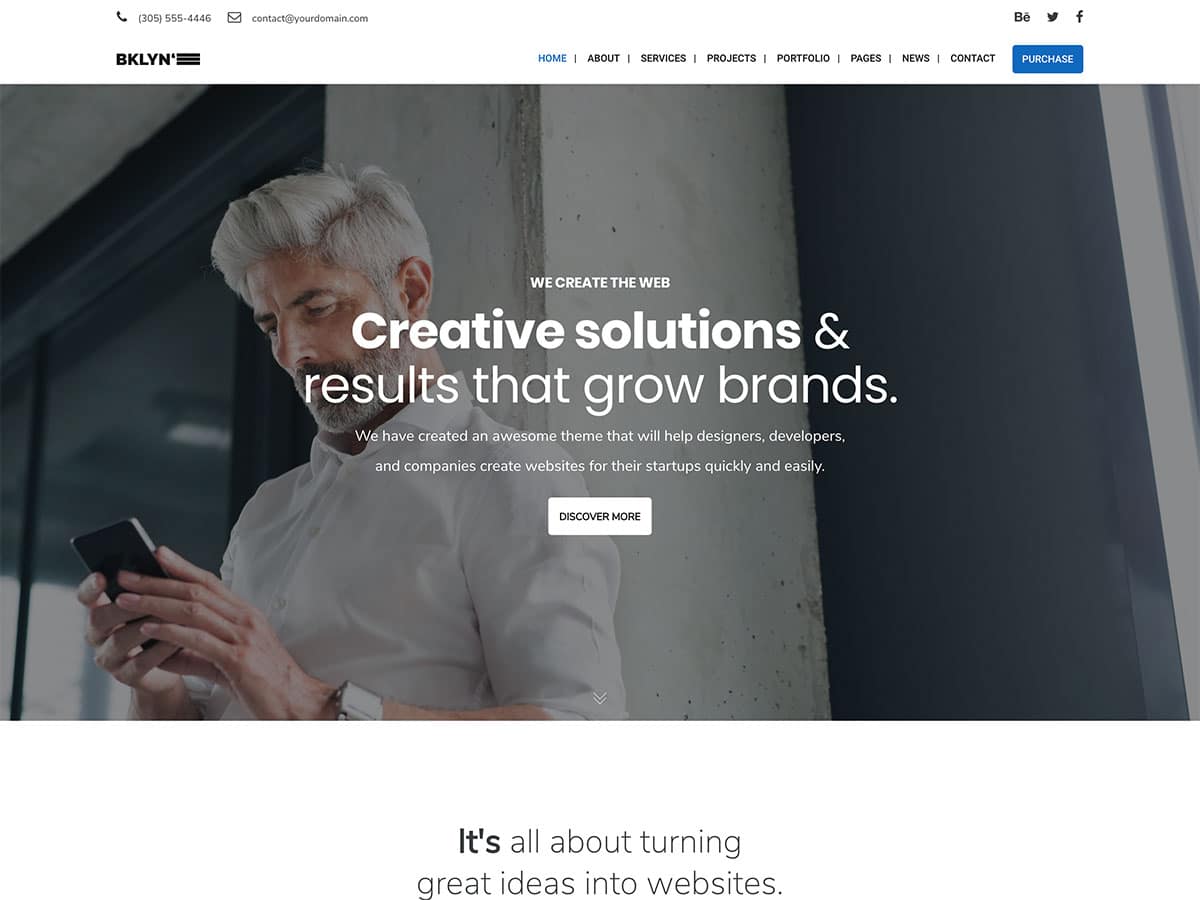 If you're running a solo or small business, you probably don't have much time (or budget) on your hands to design a website. However, you'll still want something that looks professional and well put-together. That's where Brooklyn comes into the picture.
This theme is a standout when it comes to providing the features you need to get your site live quickly. It includes over 40 pre-built demo websites designed for a wide variety of businesses and niches. All you have to do is pick one, add your own information and branding, and you have a sleek and compelling site ready to go.
Brooklyn offers quite a bit more in the way of features – you can create pricing tables, manage portfolios, and so on. So, while you can do well by simply tweaking one of the starting sites to fit your needs, this theme is also a solid choice for business owners who want to go the extra mile.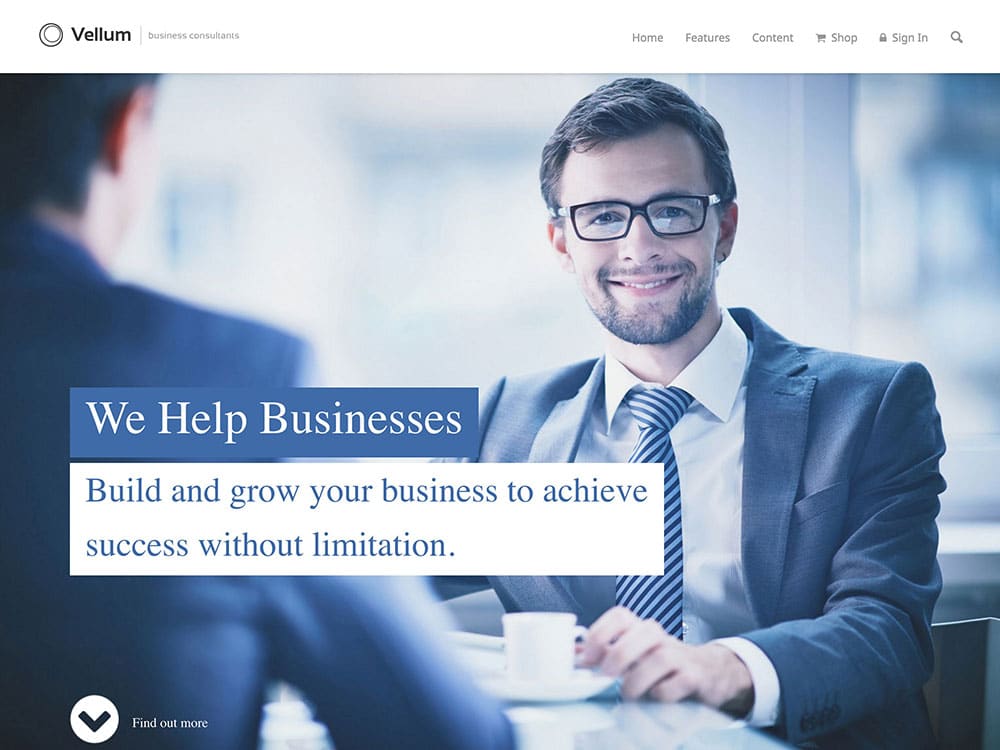 The Vellum theme lets you go from zero to launch in no time. Thanks to the theme's pre-loaded Starter Kits, you can pick a site type (from a list of 12) and import demo content with one click. Then all you have to do is replace the demo content with your own and you're good to go.
Vellum also comes pre-packed with third-party extras, including UberMenu, Slider Revolution and Visual Composer. Add those to the theme's custom audio player, unlimited styling options and contact form builder, and you have everything you need for your business site in one robust package.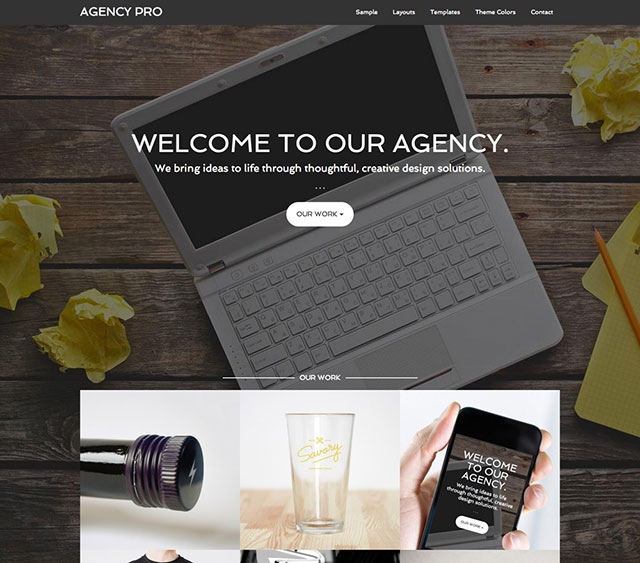 The Agency Pro theme by StudioPress includes the Genesis framework and is mobile responsive. It has five pre-loaded color styles, six layout options and the ability to designate a custom background.
Agency Pro has a fluid, light design that gives you the flexibility specify content and sidebar layout or choose full width content. Page templates include blog, landing page columns and archive.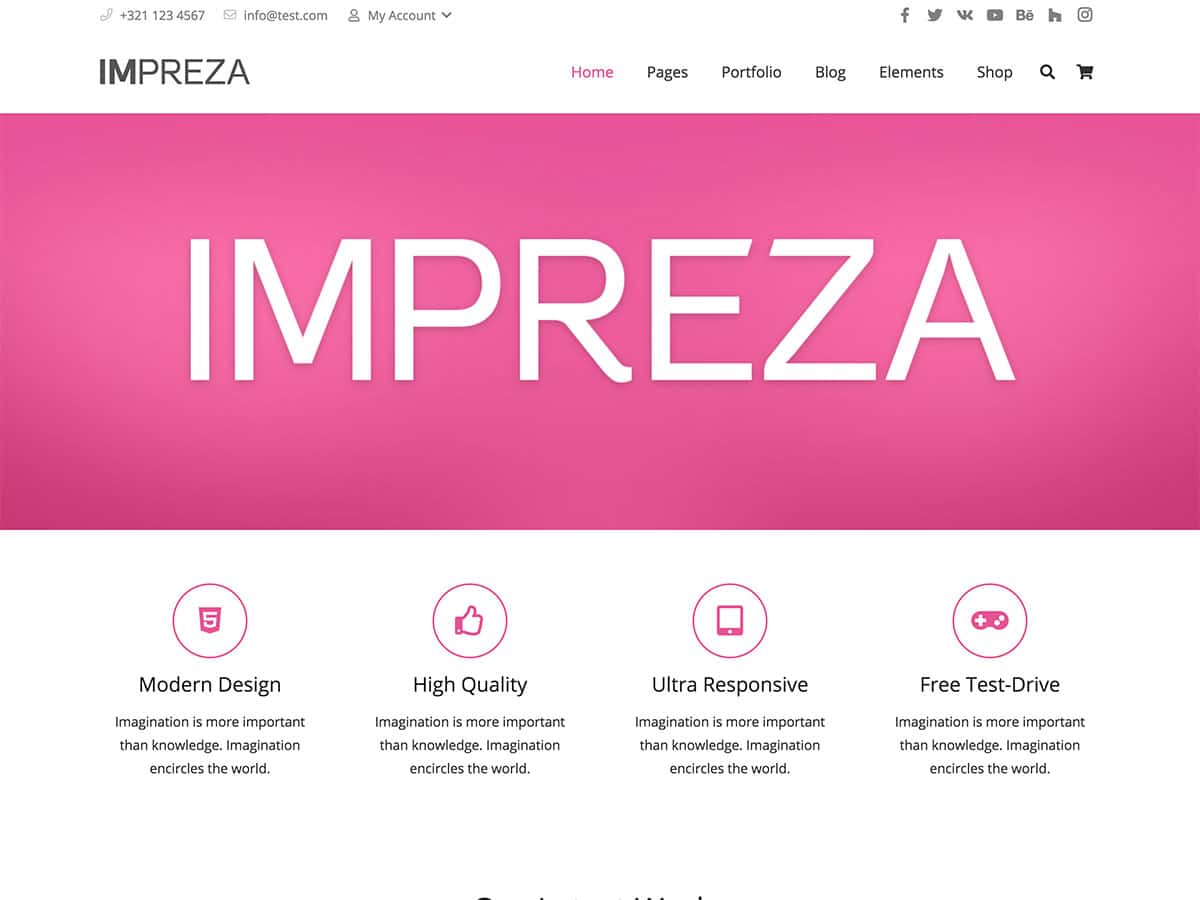 Impreza is a responsive theme that is retina ready and uses the built-in drag-and-drop Visual Composer. The theme comes with 10 default color styles, but you can customize it to your liking with extensive style and unlimited color options.
The theme is WooCommerce ready and supports horizontal parallax backgrounds. Adding to the value of this theme is the fact that they've also included the Slider Revolution plugin, so you can create an unlimited number of sliders to fit your needs.
Centum is a clean responsive theme that's reminiscent of some the themes from earlier days of WordPress. It doesn't get bogged down with a lot of bells and whistles, but provides elegant styling with some modern touches.
Packaged with the theme is the Slider Revolution plugin and WooCommerce integration. If you plan to incorporate a portfolio into your site, the theme includes eight different layouts that you can choose from. Overall, Centum is a breath of fresh air for those looking for a more simple business site without overdoing it.