These dating themes have been created to help you build a fully functioning online dating site with WordPress.
Dating WordPress themes not only have stylish designs that will help attract new users to your site. They're also powerful tools that have many of the essential features your users will expect to find. These features can include the ability for your users to create detailed dating profiles, send other users private messages, communicate through the discussion forums, and interact via chat rooms. If any required features aren't present in these themes, don't forget you also have access to the huge library of plugins available for WordPress.
Monetizing your dating site with these themes isn't a problem either. These WordPress dating themes give you the option of charging your users a fee for accessing your site. Recurring and one-time payments can be collected through integration with a membership plugin or a suitable ecommerce extension such as WooCommerce. If you'd rather not charge your members a fee, you can monetize your site by displaying adverts.
Other features to look out for when choosing a dating WordPress theme include support for a multilingual plugin like WPML. This will give you the ability to create an international dating site in languages other than English or more than one language. A good set of customization options will help you tweak the overall appearance of your site, while a drag-and-drop page builder tool can make it easier to edit any of the included demo content.
Building a professional dating website can be difficult. However, choosing the right dating WordPress theme can simplify the process considerably.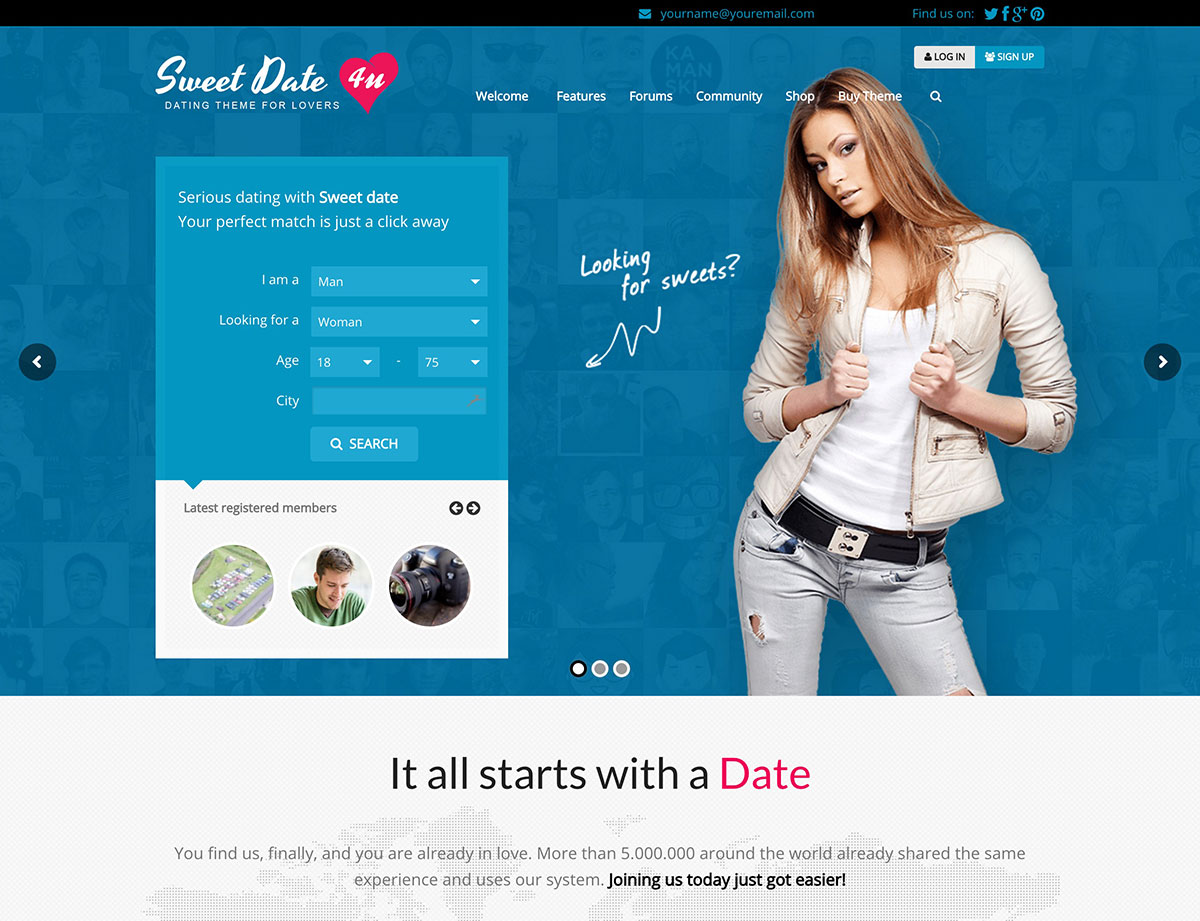 Sweet Date has everything you need to build a successful dating website using WordPress. By integrating the theme closely with BuddyPress, anyone who wants to build a community around their dating site, in order to help keep your members coming back for more, will find Sweet Date a good choice.
In a recent update to this dating theme, the developers have added integration with the Paid Memberships Pro plugin. This means offering your visitors' subscription based membership packages is now very straightforward.
For those who want to earn an income from their online dating service, monetizing your site with recurring payments collected via a choice of payment gateways, including PayPal has never been easier with Sweet Date and the supported plugins.
To make it as easy as possible for new users to sign up, and also for recurring visitors to login, this WordPress dating theme includes Facebook login and registration integration for a smooth and friction-free sign up process.
When it comes to visual appeal, this theme doesn't disappoint thanks to its Retina-ready status, and it's fully responsive design, which means mobile users will find using your site just as easy as those on full screen devices.
This is a feature-packed theme that really does have everything you might ever need for creating a powerful dating website, which has the potential to rival some of the best services out there, for a fraction of the start-up costs.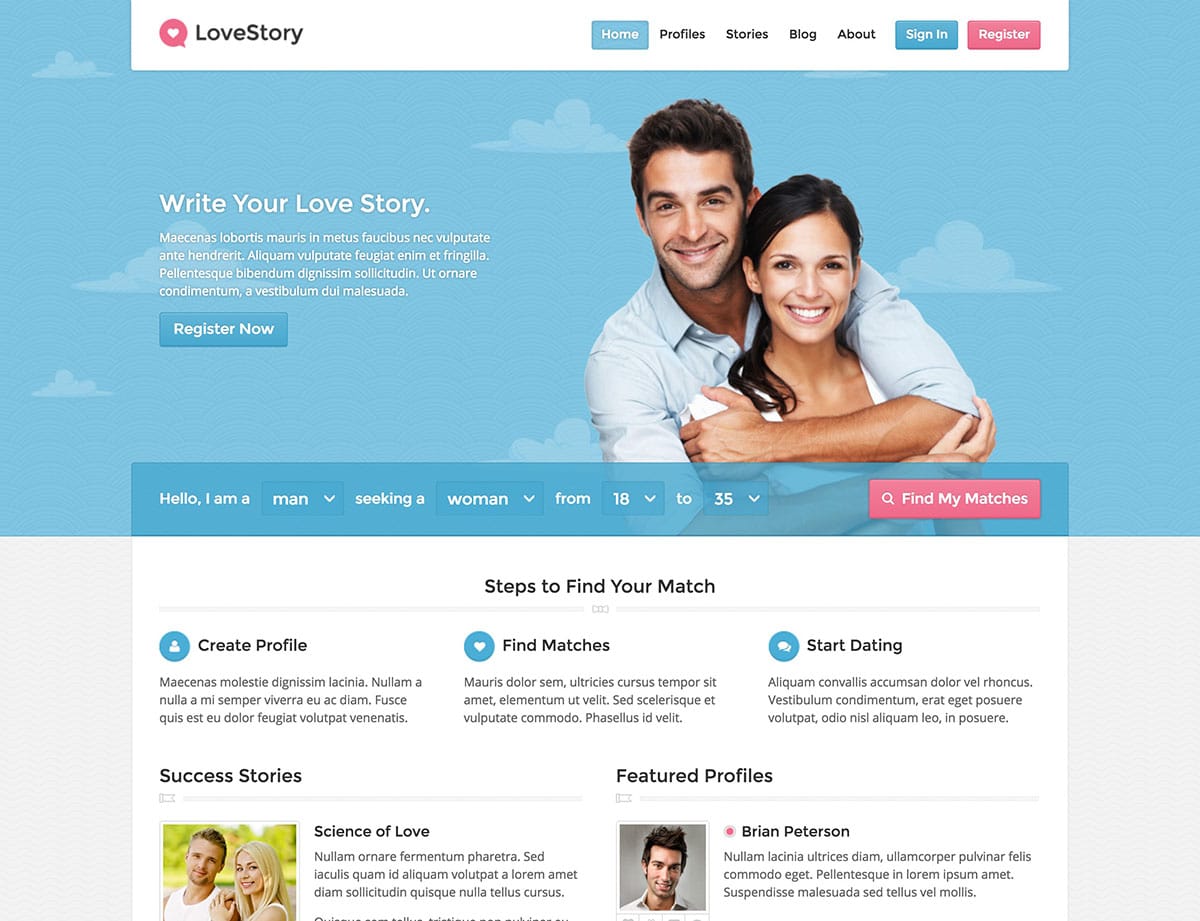 LoveStory is a feature-rich app theme which not only takes care of the look and feel of your website, but contains all the tools and features needed to build a dating website with WordPress.
Once installed on your site, your users can create extended profiles to showcase their most desirable features. They can also make use of the live chat service to communicate with other members in real time.
If you want to monetize your dating website and charge your users for access, the integration with the WooCommerce plugin makes taking payments very easy. Whether you choose to earn an income from your dating website or not, the LoveStory theme includes everything you need to setup detailed membership plans, offering users different levels of access depending on their needs and wants.
While LoveStory looks great out of the box, there is a change the default appearance settings might not be for everyone. If that is the case for you, thankfully the theme options make it very easy to change the appearance of any site using this theme to best suit the type of dating community you are targeting.
Due to its customizable nature, this theme would also make a good choice for a general community site, however for those looking for a dating site builder, it's hard to beat.
With a great search tool for filtering the user profiles, live chat and messaging features, and fully customizable membership levels, LoveStory includes everything you need to create a dating website, all in one package.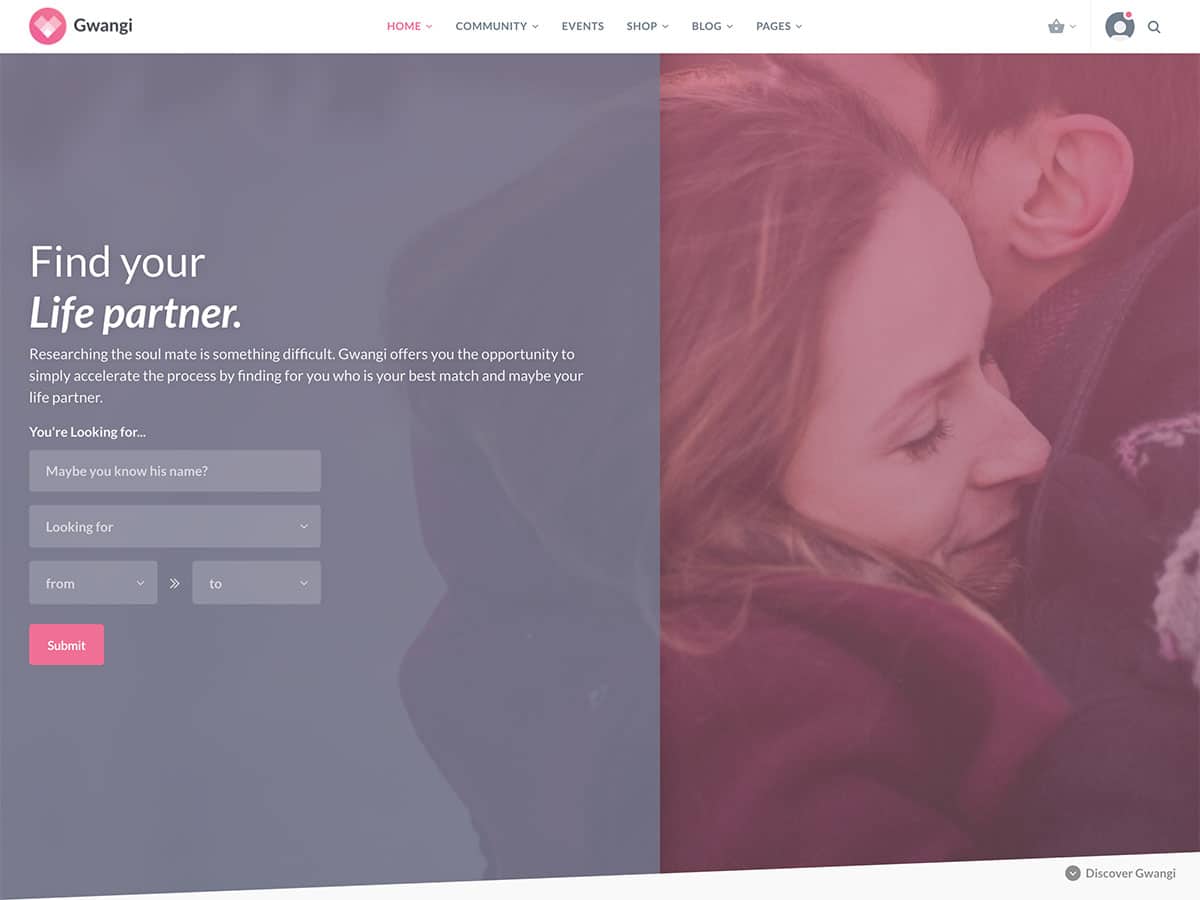 Gwangi is a WordPress theme that has everything needed to launch a dating site or an online matchmaking community.
In the Gwangi package, you'll find six different website demos to help give your dating website a look and feel that will appeal to your target audience. Each of the ready-made website demos includes a feature-rich homepage layout and set of templates for the inner pages your online matchmaking community might need. More website demos are on the way too, so keep an eye on the Gwangi website to stay up to date.
With Gwangi you're not just limited to the pre-built templates and designs for your WordPress dating website. Everything about this theme can be customized and that applies to its appearance and the way that it works. Most changes can be made through the WordPress Customizer, giving you a live preview of your website while you work on its design.  Gwangi also includes a varied selection of widgets that can be inserted into the posts and pages of your website, as well as the sidebars, to enable you to add useful elements to your site.
Monetization options aren't in short supply with the Gwangi theme either. You really do get full control over how you can charge users to access your site. The WooCommerce Subscriptions plugin works perfectly with this theme, giving you the option of collecting regular payments from your users. You can also charge for access to specific features of your site on a one-off basis, such as access to member profiles or private messaging. Displaying adverts on your site is another option, thanks to the ad placement features of this theme. Some of these monetization options do require additional plai plugins, so be sure to check the Gwangi sales page for the full details.
If you want to build a dating site with WordPress, Gwangi certainly has all the features you're likely to need.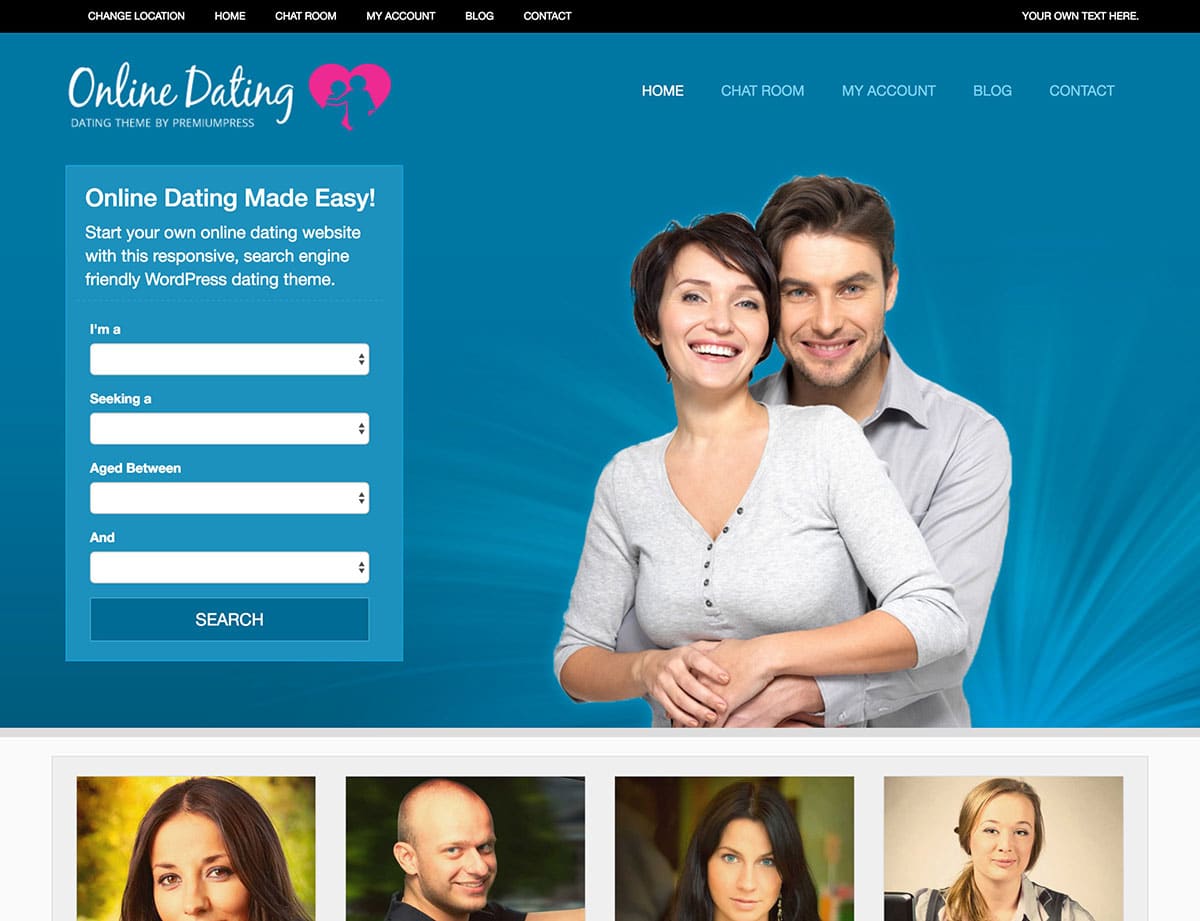 Dating Theme is from Premium Press – theme developers with a great reputation for building feature-packed application themes for transforming WordPress into a specific type of website.
A lot of effort has gone into making any dating website built using this theme as interactive as possible. The features that your users will appreciate the most include the built-in chat room, private messages, an online status indicator, and the ability to send gifts or winks to other users on the site. There is also a distance calculator for helping those in close proximity to each other get in contact, and the advanced search tool makes finding the right person even easier.
Site owners considering using Dating Theme should be interested to know it has many options for monetizing a site built with this theme. These options include the ability to offer membership and ad packages, setup listing enhancements to help users make their profiles stand out from the competition, and also the ability to charge extra for using multiple profile category listings when submitting their profile.
With the Dating Theme from Premium Press, site owners also get access to some useful stats on how their site is being used, as well as full integration with Google Analytics. The drag and drop homepage builder makes setting up the site to meet your vision very easy too.
The price of this theme also includes a selection of child themes which can be used to change the appearance of the site, while still retaining the same great features of Dating Theme.