These days, travel is serious business. Close to 10% of the world's entire GDP – something like $7 trillion – is created thanks to the travel and tourism industries.
With that in mind, if you have a travel or tourism related website, there's a lot at stake to ensure that your site looks great and offers a top-notch user experience for potential tourists and travelers who might be visiting your location in the near future.
That means using themes that offer features such as smart booking plugins for hospitality sites, sleek photo galleries to display images and videos, and the best navigation features to ensure a smooth viewing experience. Along with a generous array of travel-specific custom plugins and add-ons to complement the functionality of your website, there are also plenty of standard features that come with all of the themes we feature below. You can expect a plethora of beautiful fonts, color skins, and time-saving shortcodes. And of course, should you need help with setup or maintenance, all of these themes come backed by teams with a reputation for excellent support and customer service.
Travel Agency Themes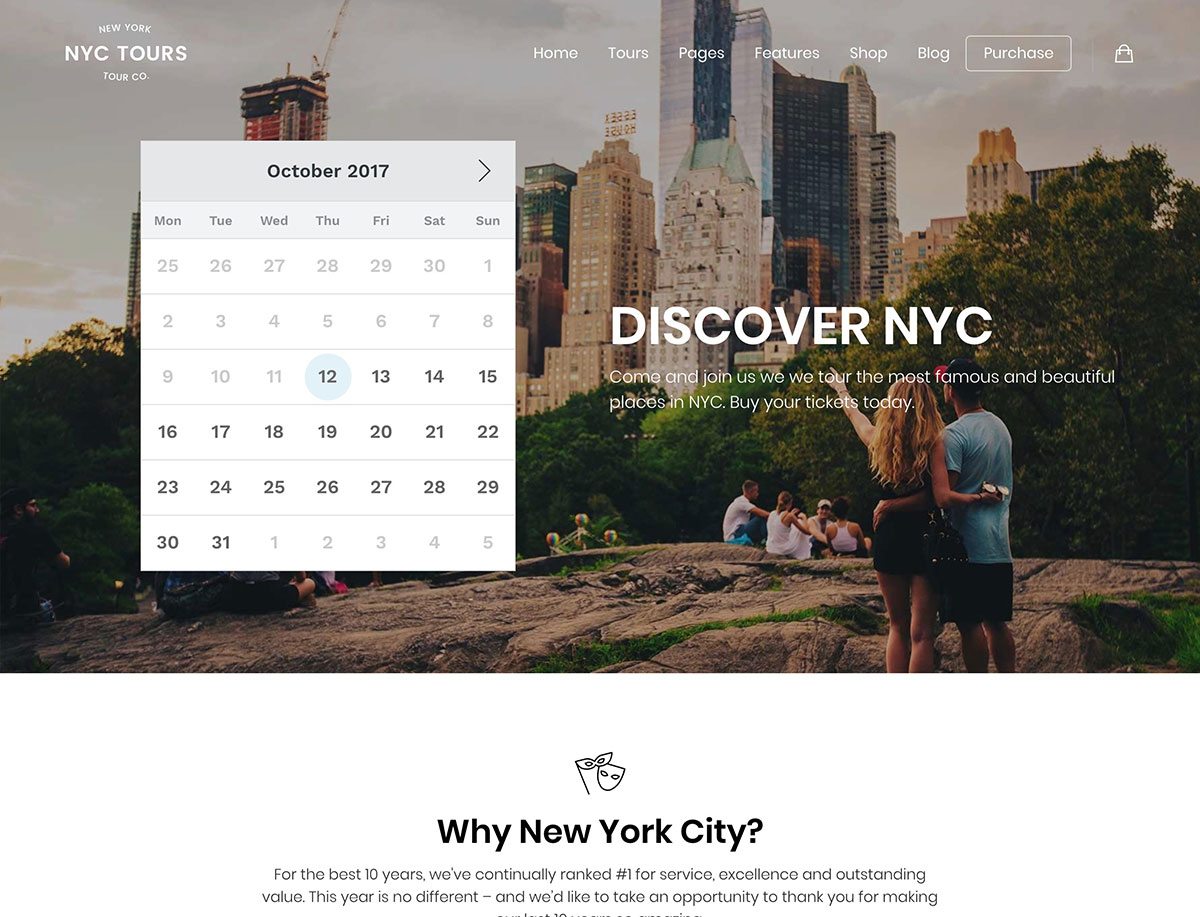 Without a captivating design, your tour or travel company website might not attract as much business as you'd like it to. With that in mind, Embark offers a modern and feature-packed theme for your travel site.
Embark comes with three demos to get you up and running quickly, which are tailored to a range of relevant niches. However, you can also create your own unique layout (and modify the demo templates) using the live, front-end, drag-and-drop page builder. What's more, there are over 20 page templates to help you design a comprehensive site, and more than 40 widgets you can use to offer additional helpful content on your pages.
The functionality doesn't stop there. Embark comes bundled with the Master Slider Pro plugin, to help showcase images of the various locations you're promoting. A powerful form builder is also included, along with secure PayPal integration out of the box. If that's not enough, Embark also provides a one-click guided installation process, to get you set up in less than three minutes.
There's an absolute wealth of features packed into Embark, and we'd need another few hundred words to describe them all fully! Let's just say that for setting up a tour or travel website, a flexible and versatile theme is a must – and Embark provides that and more.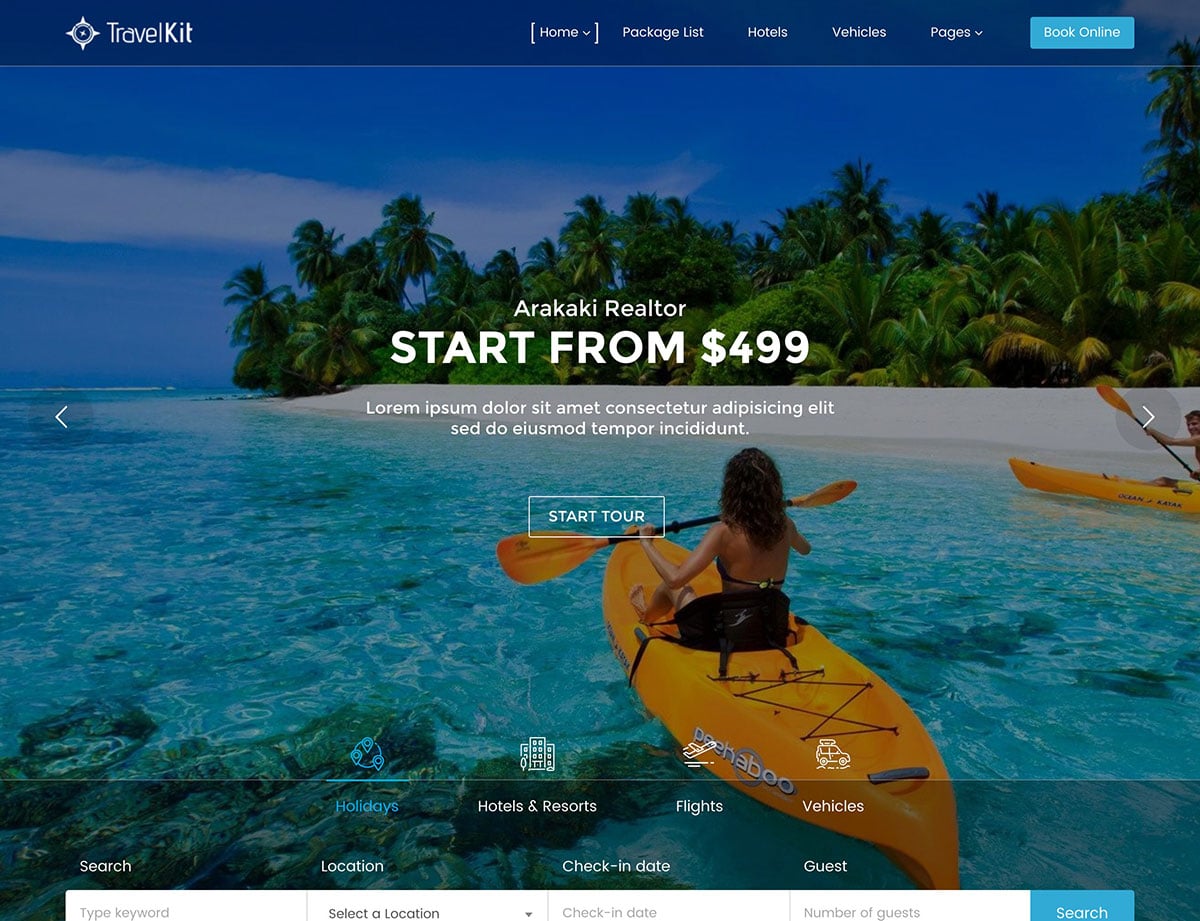 In design, solutions that encompass almost everything you'll need to get up and running are called 'turnkey' services. For travel providers, package holidays are essentially an agency's turnkey solution. It's fitting, therefore, that TravelKit is looking to position itself as a turnkey theme for your travel website.
It stands to reason that an agency offering complete holiday solutions needs a website with extensive functionality. TravelKit looks to get you up and running straight away with five demos each showcasing diverse designs. Regardless of the demo you choose, you'll be able to take advantage of a number of custom post types covering hotel reservations, flight bookings, and even vehicle hire. What's more, you can also create stunning photo galleries to show off your holiday destinations.
There are also extensive customizations on hand, such as a selection of Google Fonts, and a myriad of color schemes. In addition, you can build your layouts using the bundled Visual Composer plugin, which comes with over 20 shortcodes to help tweak your design to perfection.
A theme offering a turnkey solution for creating package holidays needs to deliver, and TravelKit succeeds. It's a solid theme for creating your travel website, and should definitely become part of your shortlist.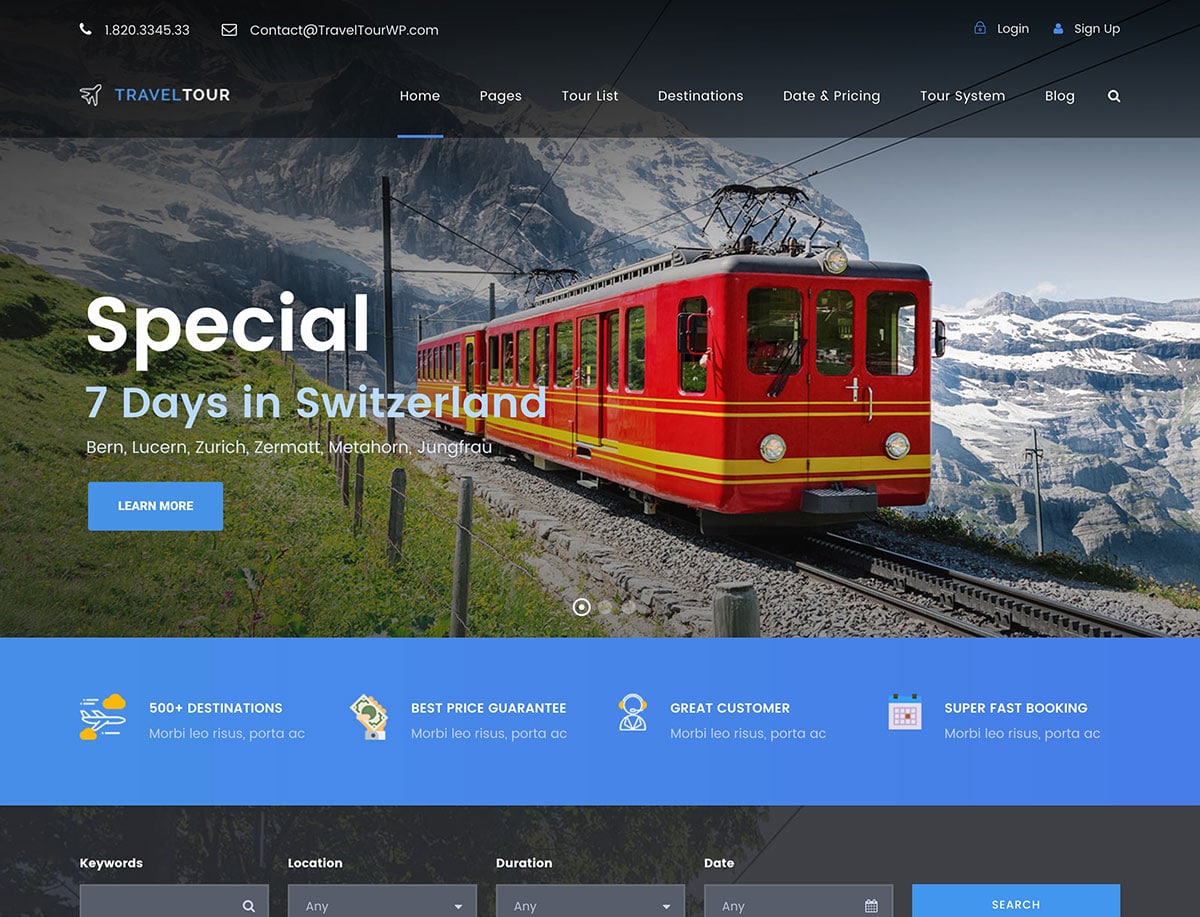 If you run a tour site, chances are you'd like to let your customers to book tours online. Travel Tour focuses on making that possible by enabling you to implement a flexible, user-friendly tour management system.
The entire booking experience is designed to be as smooth as possible. Travel Tour enables you to create and display several types of tours for customers to choose from, including one-day and multiple-day tours that can be set to recur. Visitors select the tours they want via an easy-to-use booking sidebar, and have access to various payment options including PayPal, credit card, and bank transfer. You can incorporate multiple pricing options, and enable customers to use coupon codes during their purchase. After they have chosen a tour, customers have access to a personal dashboard where they can view previous or pending bookings, see their receipts, save wishlists, and review past tours.
In addition to these client-friendly features, Travel Tour aims to make the customization experience just as simple. This theme incorporates the GoodLayers Page Builder, which enables you to build content on your site using a drag-and-drop system that displays your changes immediately. There is plenty of demo material to choose from – including headers, layouts, and menus – and you can use the demo importer to pick and choose what you'd like to keep from those examples. Once the site is up and running, you'll have access to an admin panel where you can approve or reject bookings easily, among other things.
Overall, Travel Tour is a focused theme that provides you with the tools you need to design and run a responsive booking site with minimal effort, while also ensuring a streamlined customer experience. We highly recommend it!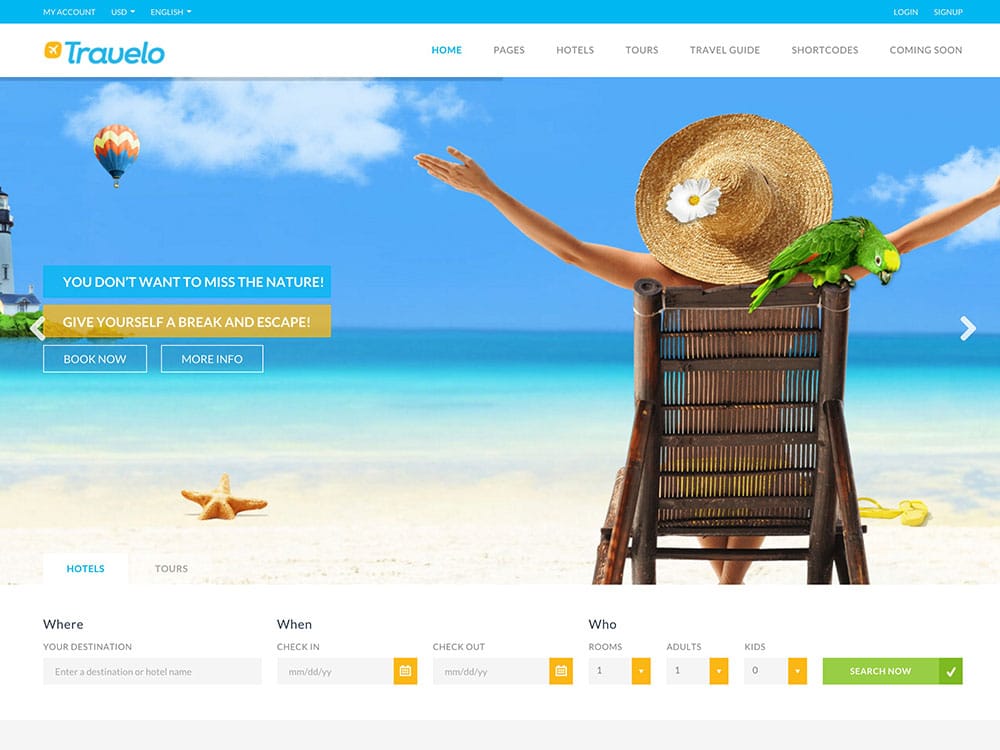 Travelo boasts a strong, and attractive, slider, along with a simple booking system for helping your visitors find the travel packages they desire. It works well with the PayPal payment system, and the responsive and flat design ensures that everyone can view it on tablets and smartphones. Not to mention, the more than 55 shortcodes keep your hands clean of any messy coding.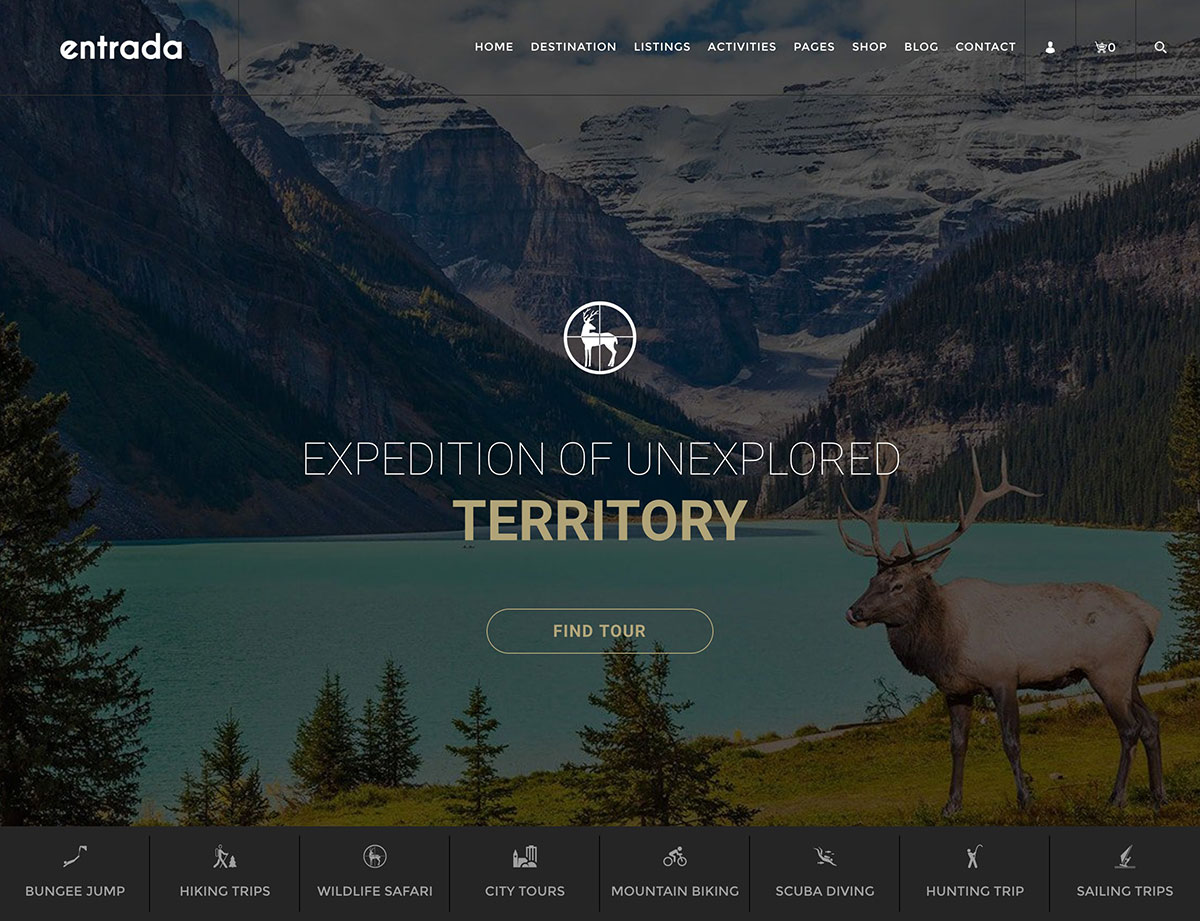 Sipping cocktails by a sun-drenched pool is only one aspect of taking a vacation; plenty of people like to take a well-earned break by getting in touch with their outdoorsy side. Entrada looks to meet the demand with a solid, well-thought out design.
This theme gives you the tools to get up and running straight away, with over 12 demo templates to choose from. It bears mentioning that a number of them are simply different variations on colors and header layouts. That being said, many of them are focused around offering search queries to the user, helping them find their ideal destination quickly. It's a thoughtful approach that many other themes don't offer.
The navigation is also user-focused. The secondary menu in particular runs prominently along the bottom of the screen, and displays icons alongside the various vacation categories. It's a neat touch, and it all stands to help users find their perfect travel destination – all above the fold.
In addition, Entrada comes bundled with two popular plugins to help create your layouts – Slider Revolution and Visual Composer. It's also integrated with WooCommerce and MailChimp, so all manner of user engagement is catered for.
While adventure breaks won't be for everyone, a well-designed website will certainly help sell your vacation packages. To that end, Entrada could be the theme to help. It's full of useful functionality, and is definitely worthy of being added to your shortlist.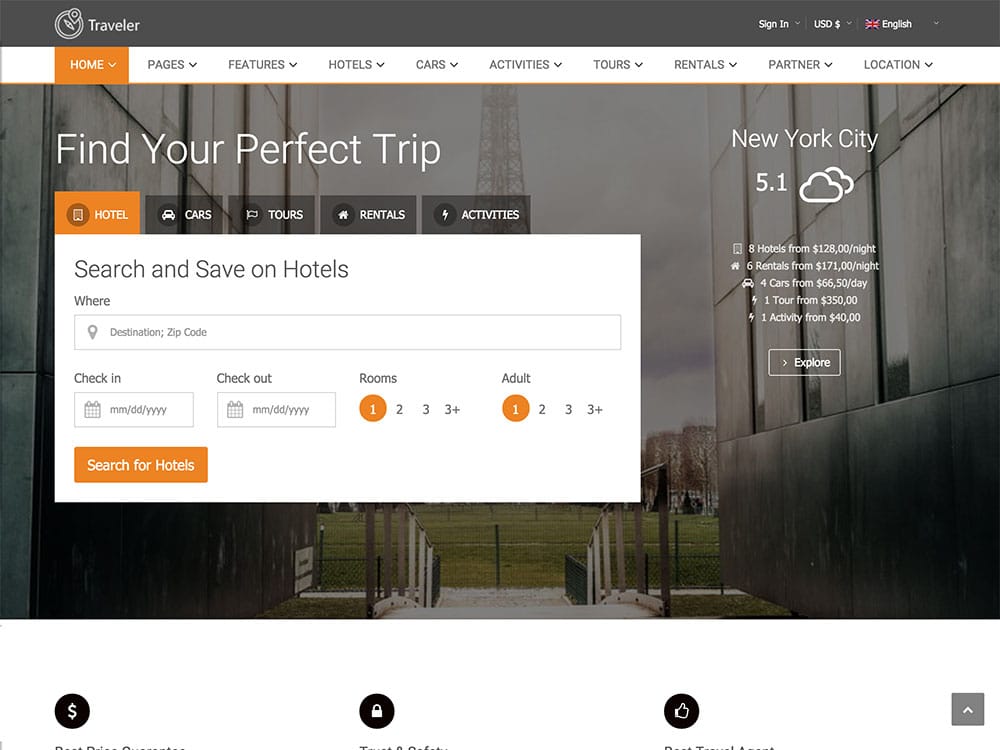 The Traveler theme, despite the generic name, offers an onslaught of layouts including options for video backgrounds, grid images and a testimonials editor. The theme integrates well with PayPal to accept donations or sell your own services. The smart search comes in handy for visitors who want to find a certain article or video. It's mainly designed for travel agencies and companies that cater to those interested in exploring the world. Beginners find it rather intuitive considering it comes with the Visual Composer plugin and a one-click install.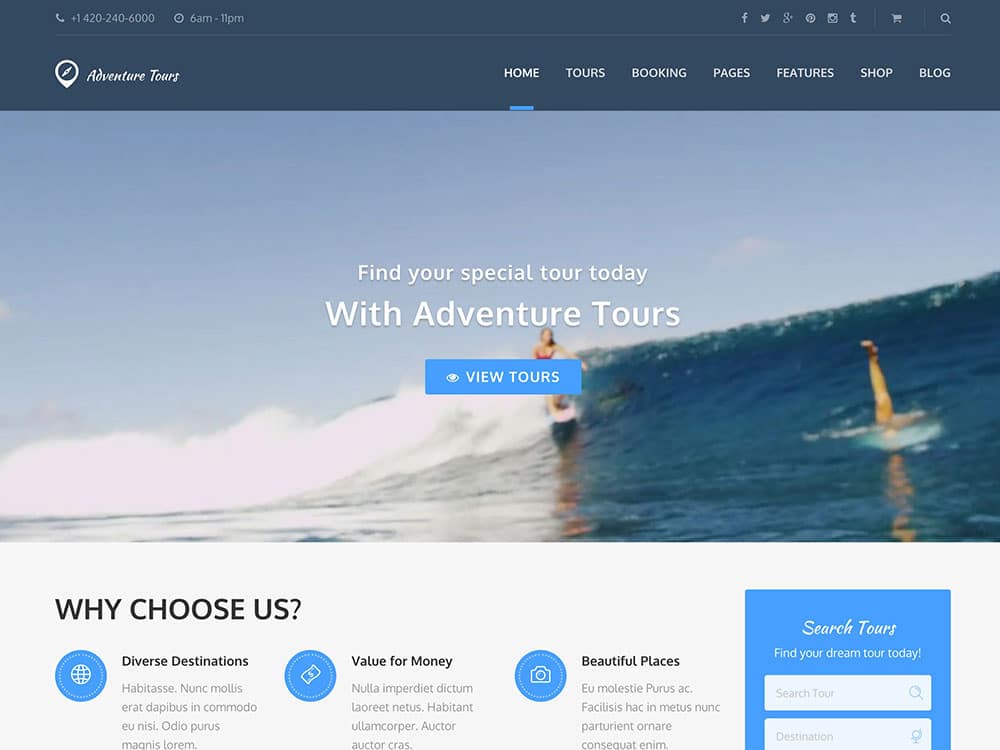 Adventure Tours is a useful theme for your travel agency or tour operating website, with a focus on offering various adventure tour packages.
A handy booking system should be central to any good travel website, and this theme's booking system comes with the right features for your visitors to book their next trip with you. You can easily schedule regular tours, set a limited number of tickets for sale, add multiple time slots, and present crucial information about tours. For example, if you offer on shore excursions for cruise ship passengers, you can present a chronological timeline of activities, add a map showing major points along the sightseeing route, embed photos and videos in a gallery to show them what they can expect to see, and include certification badges or endorsements such as highest rated, on sale, or limited seats.
Crucially for your business, you can add five star-ratings endorsements from happy travelers who've booked and gone on your Alaska haunted mine tour or Costa Rica whitewater rafting tour – if people hear that everyone else has had a good time, they are more likely to book with you.
There are lots of other great features of this theme worth mentioning. Before your clients book, the search engine helps them find the trip most suitable to their tastes, budget, and desired location. If John wants to take his wife on a romantic beach vacation away from the kids and the cold winter for a week, you can set filters to steer him to your package boutique resort in the Dutch Antilles rather than a ski holiday in the Colorado Rockies.
If sleek design and high functionality are priorities for your travel site, Adventure Tours is an excellent theme to choose.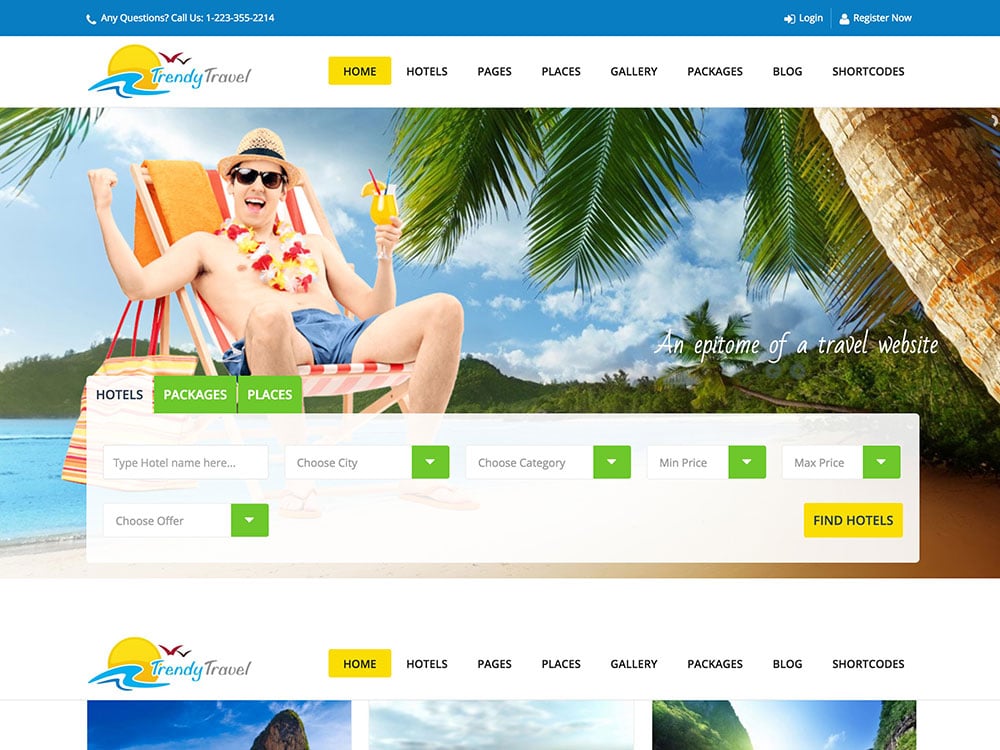 The Trendy Travel Theme integrates various features to provide a clean and lightweight website for travel agencies, hotels, tour operators, travel package companies and more. The banner includes an advanced search function, and the custom events calendar displays what's going on in certain areas. Several custom posts are available for designing pages that feature things like tour packages, holiday packages and gift packages.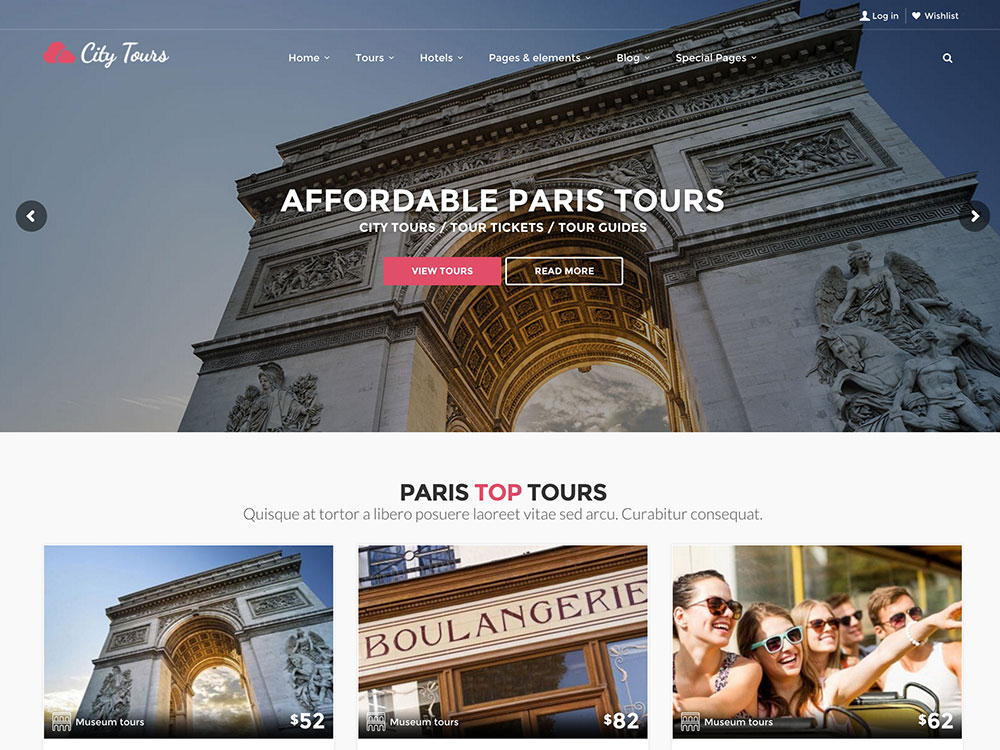 CityTours relies on an urbane, uncomplicated design that complements its primary purpose as an urban hotel and tour booking website theme. It's an especially good choice if you want a copycat Airbnb website (and there's no shame in that, really).
A simple yet elegant layout defines this theme, which is perfect for helping travelers look for a hotel or tour. The only ingredient you need to add is great package deals with hotels or tour groups; the rest is all taken care of for you thanks to well-thought out UI/UX development. Similar to Airbnb's search page, CityTours gives you the option to show results in a grid-like fashion with eye-catching images of all the properties or tours available for customers to choose from. Search parameters enable travelers to filter out their options based on a number of different variables such as price, five-star ratings, existing customer satisfaction reviews, amenities and facilities included, neighborhood or district, and more.
It would be unfair to say this theme is nothing more than a wannabe Airbnb; there are some unique features offered. You can add tourist guide profile pages that give your certified tour partners a place to make their pitch to potential customers. You can also add tour or itinerary timelines that give detailed descriptions of the places your customers will go and the things they will do. Also, a nifty invoicing tool gives clients easy access to receipts they can use for expense account purposes, which will come in handy when it comes time to pay taxes.
You should give this theme a serious look if you want a proven design scheme and a useful assortment of features for your travel business.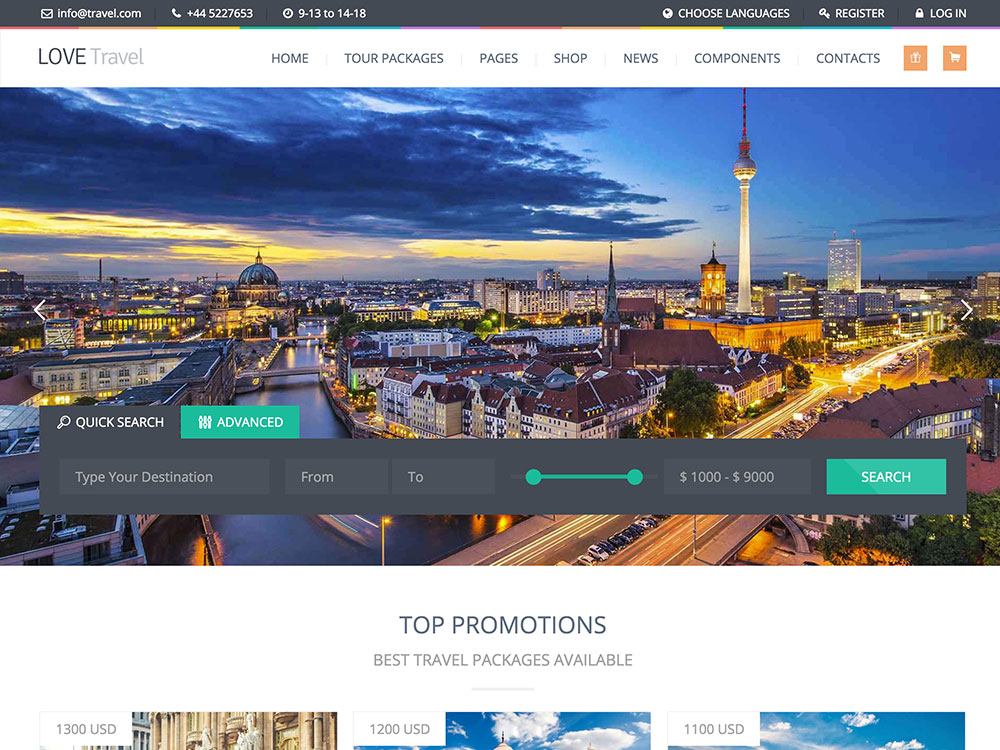 Love Travel is made for any travel-related service from hotels and resorts to honeymoons or cruises. The retina-ready and infinite scrolling theme comes with a great slider, travel custom post type, shortcodes, contact form, Fancybox images, a variety of animated effects and WooCommerce integration. It also has a fun built-in countdown page, mega menu support, a full-screen version and masonry or blog-style galleries to make the most of your content.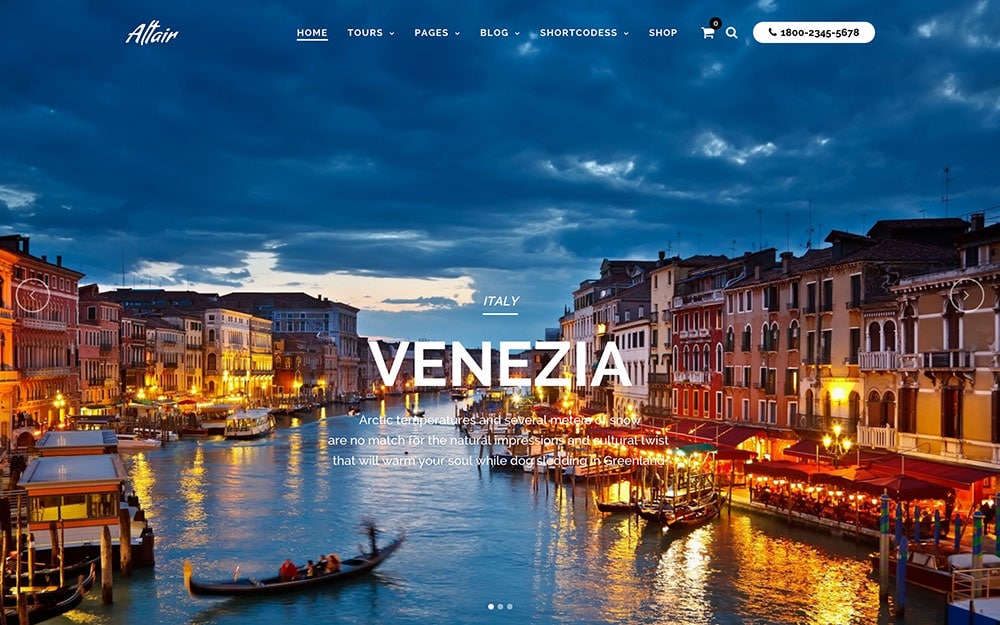 The Altair theme is an ideal solution for travel agencies and tour companies, since it provides both fixed and full-width layouts. The unique booking form helps your customers remember your company, and the advanced tour search feature allows customers to find tour packages that best meet their own preferences. The destinations pages are truly a standout feature, since they incorporate parallax sliders and beautiful content areas to engage people and convince them to go on an adventure.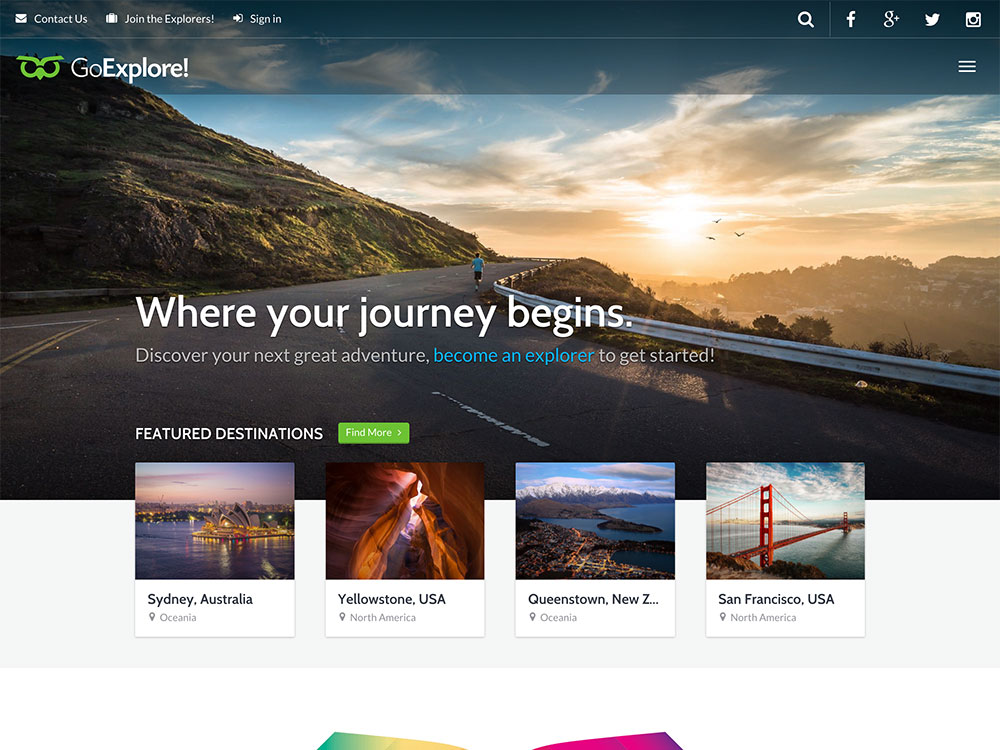 GoExplore! is an exciting theme (that's why it's got an exclamation mark) that puts graphics at the center of your travel blog or destination website, with an emphasis on community-based contributors.
If you want a really sophisticated travel blog theme, the travel destinations plugin, exclusively designed for GoExplore!, will be a treat for you as well as your visitors. Many major travel blogs such as Nomadic Matt feature travel guides written up for site visitors to browse as they like – it's a great way to build trust with your visitors and create an authority within a certain niche, such as budget travel in Europe or volunteer travel in Southeast Asia. You'll be able to easily categorize blog posts, travel guides, or even sponsored versus unsponsored blog posts for your readership to better and more easily consume. And you can include directories with a wealth of information on topics ranging from restaurants to museums to free activities and whatever else you would like to inspire people with.
It also really helps that this theme comes equipped to handle community-based feedback and contributors. Think of how Lonely Planet's website has lots of useful guides about pretty much every place on earth, written by paid contributors but also by enthusiastic travelers (like you). This theme gives you the option to do the same thing, enabling you to build an entire network of contributing writers who share their expertise on everything from island-hopping in the Philippines to finding budget flights from the USA to Europe.
If you'd like to get people excited about travel through blogs or articles but are not looking to create an online booking engine for hotels or tours, this is a really excellent theme to build your website with.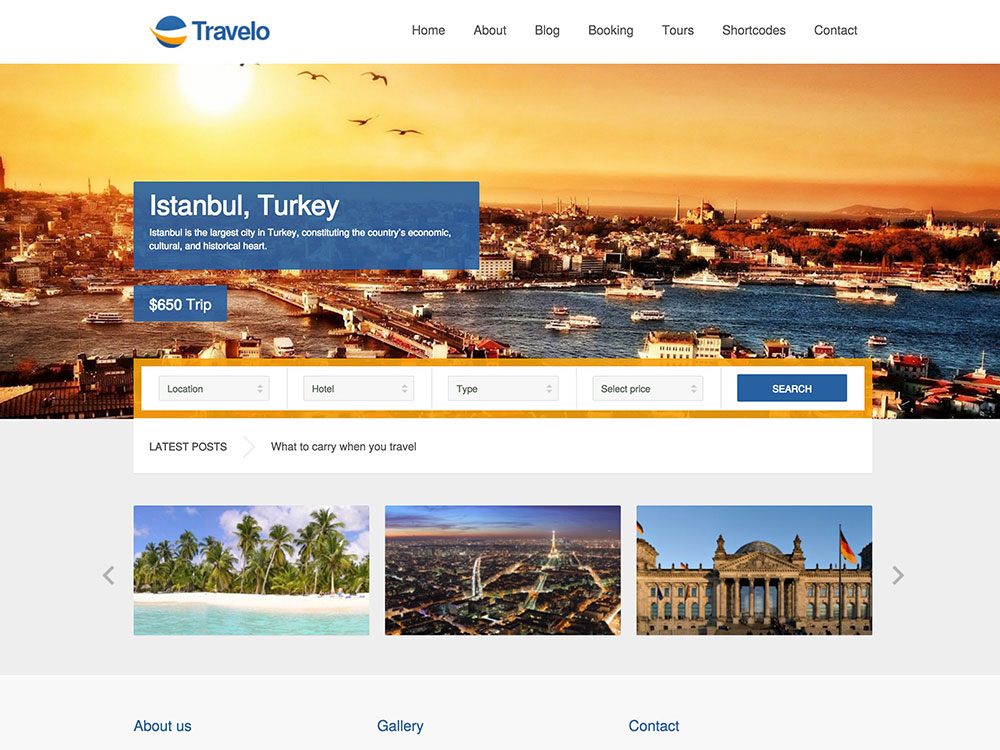 Travelo is designed with tourism professionals in mind. This responsive theme is packed with tools to make planning a trip easy with an integrated booking system, tour management and review and ratings. The theme includes five skin options and a highly visual user experience.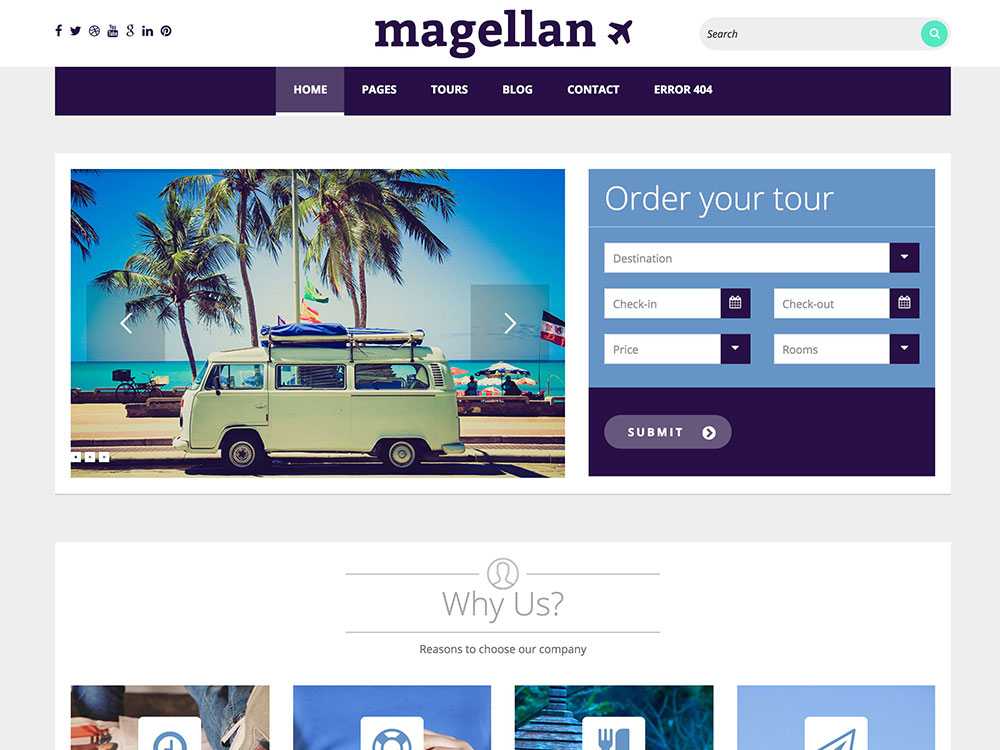 Magellan is a highly customizable theme with a modern, bold design. The responsive theme comes with plenty of features including custom post types, shortcodes, social media support, an AJAX contact form, Google maps, widgets and is WPML compatible. The theme is customizable in every way, including the option to add your own background or logo, social sharing streams, plenty of color options and custom widgets. The custom post types allow you to add elements for services, testimonials, team members and a calendar. As an added bonus, Magellan includes a weather widget so visitors can better plan their travel with you.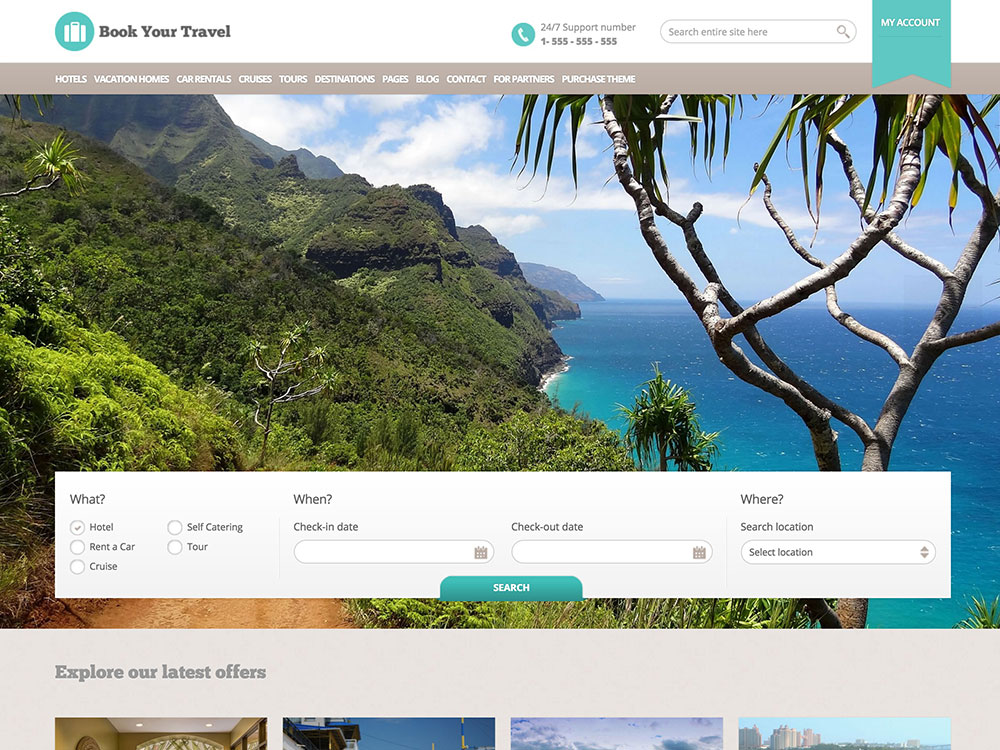 Book Your Travel is a responsive WordPress theme ideal for booking portals, travel agencies, hotels, bed and breakfasts, guest houses, villas, or even travel blogs. The theme features a super-clean modern style design and includes a fully working booking system. Book Your Travel also has a rating system, search, enhanced pricing and filtering tools included.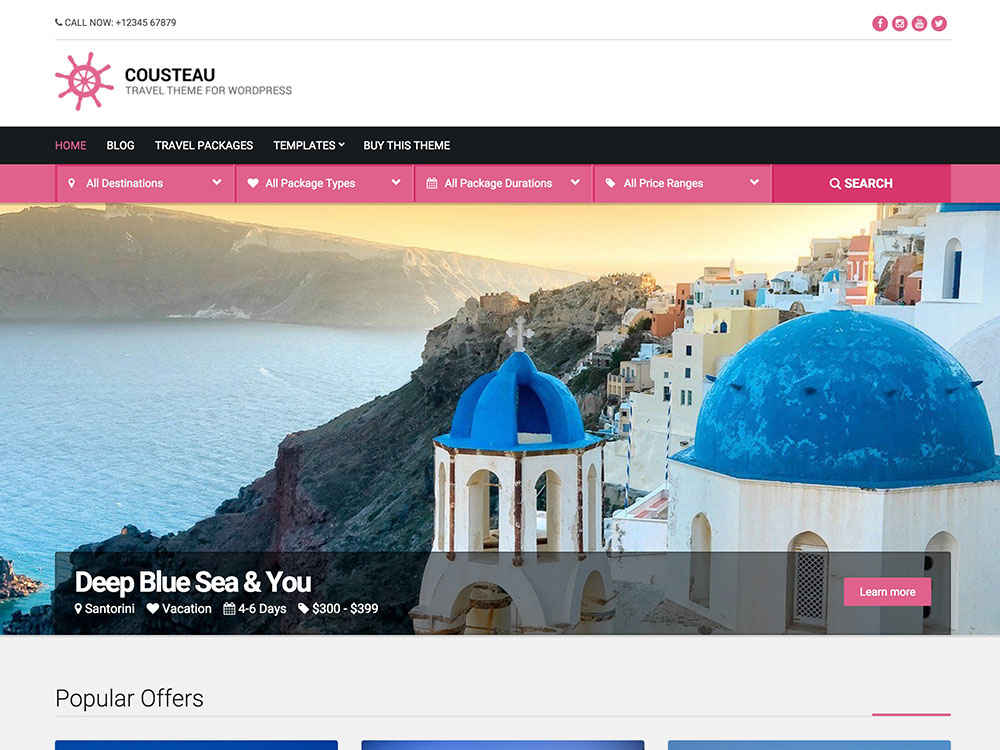 Cousteau is a responsive theme designed for travel agencies. The retina-ready theme is packed with travel-specific features including itineraries, pricing, categorization, maps and videos that all work right from WordPress admin. The theme also includes a custom filtering system, plenty of customization options, and plenty of standard features such as localization, shortcodes, custom menus and theme options.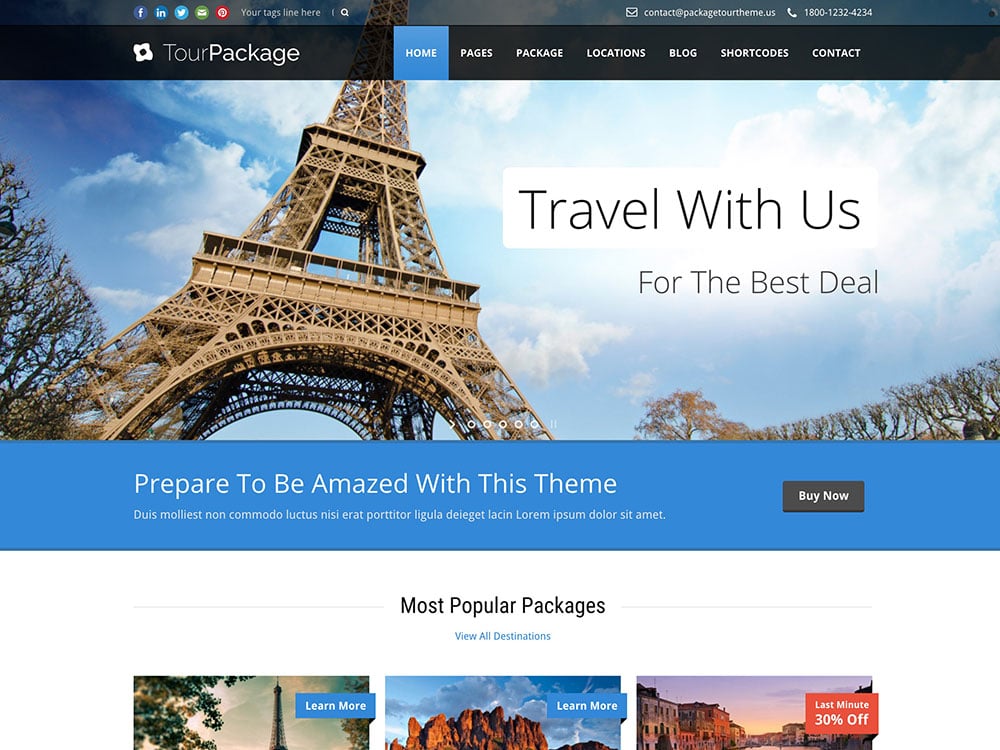 Tour Package is a fully-responsive retina-ready theme with plenty of agency-based tools. With a booking system, package filtering and localization support, this theme is all a business needs for a travel agency website. Tour Package also includes a hefty search engine optimization package and custom post types.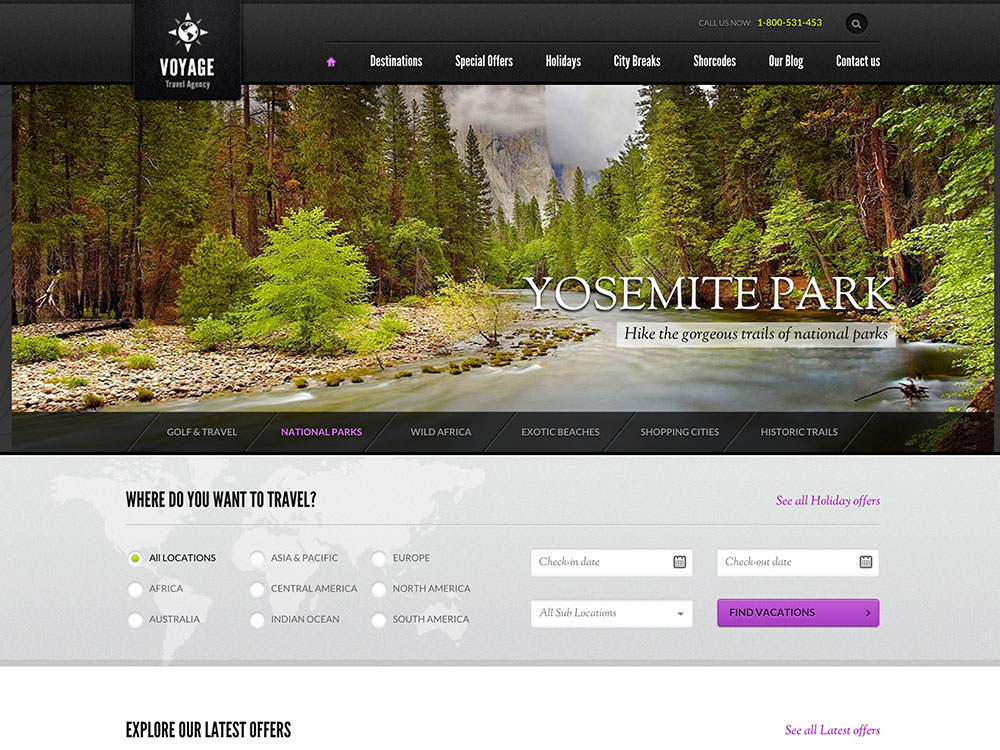 Voyage is designed for travel agencies and is packed with tools to help users create the perfect vacation, honeymoon or weekend trip. The responsive theme comes with powerful search tools and support.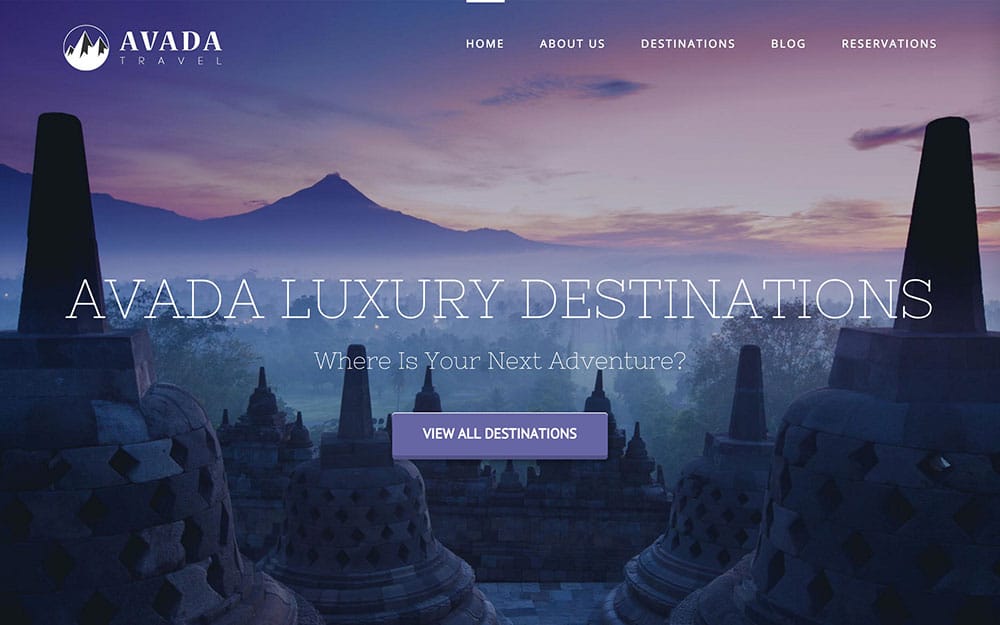 A powerful, beautiful theme with tons of potential to be used for just about any project, Avada makes a compelling case as the most complete theme in this collection.
One advantage of this theme's longevity is that many of the bugs that plague other newer themes have already been worked out; but more importantly, Avada's developers have had plenty of time to create a whole portfolio of demos that are available for you to download in their entirety, giving your developer a big head-start. In particular, Avada Destinations and Avada Hotel might be exactly what you are looking for.
If you run a travel agency or tour booking service you can create a reservations page featuring detailed information about hotel, flight, and tour bookings, with contact forms, FAQs and more easily added on as you see fit. A destinations list relies on a fullscreen image or video display and smooth parallax scrolling to wow visitors with high-resolution visuals and slick navigation. Mega menu functionality enables you to create everything from sidebar to transparent header to fullscreen clickable logo menus. You can customize menu navigation to include everything from spa and wellness to categorizing the different accommodations your hotel offers.
The minimalist elegance of this theme is an especially good fit for your niche luxury travel websites; the plethora of features make it deeply customizable, and the 185,000+ sales of Avada demonstrate that this is clearly a safe bet for your website.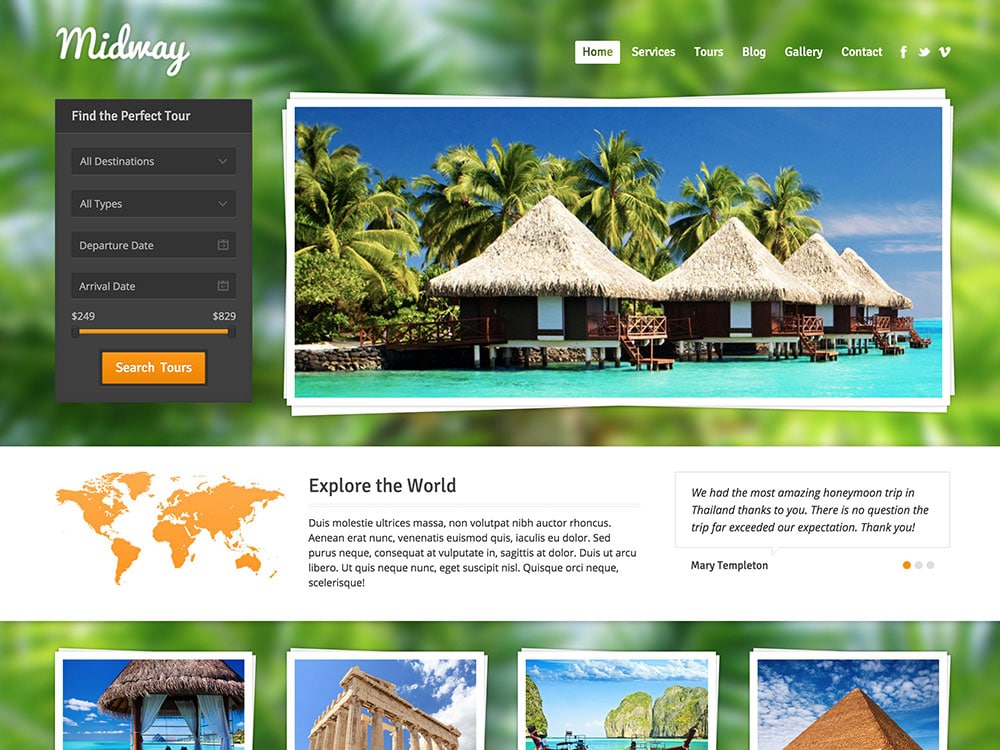 Midway is a perfect theme for any travel business. It is easy to use and customize and comes packed with powerful tools for managing, searching and booking tours. Customization is also a snap if you want to change elements such as the theme color.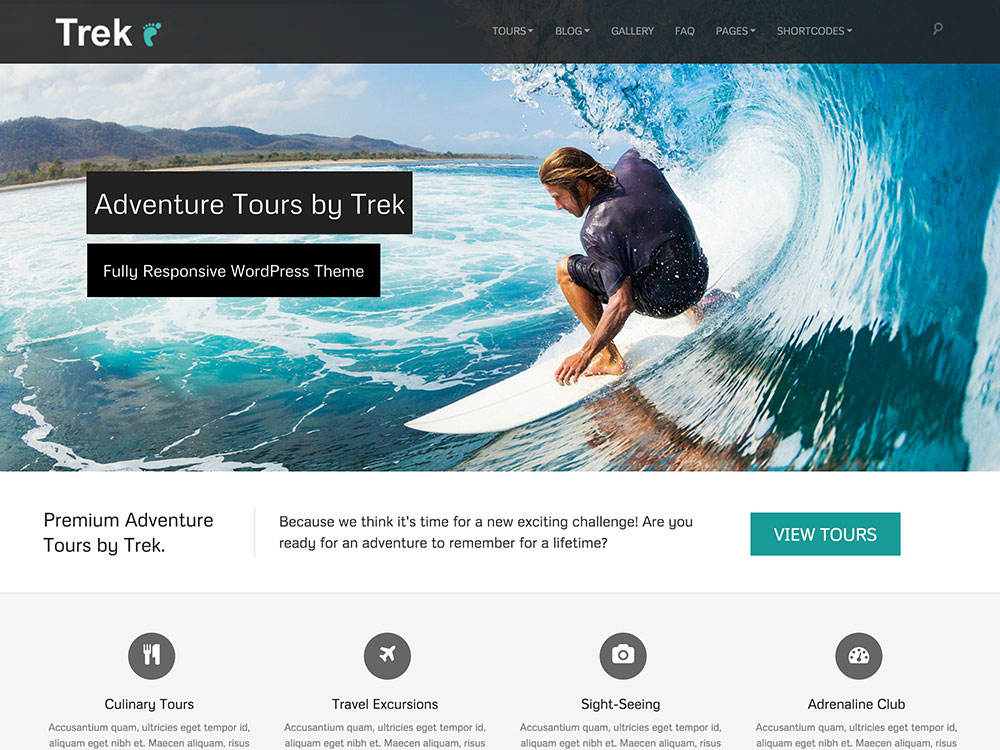 Trek is a fully-responsive theme with a simple design featuring large images. Customization is not an issue with an unlimited color palette, hundreds of font options and you can see it all in live preview mode. The theme includes PayPal integration to accept payments.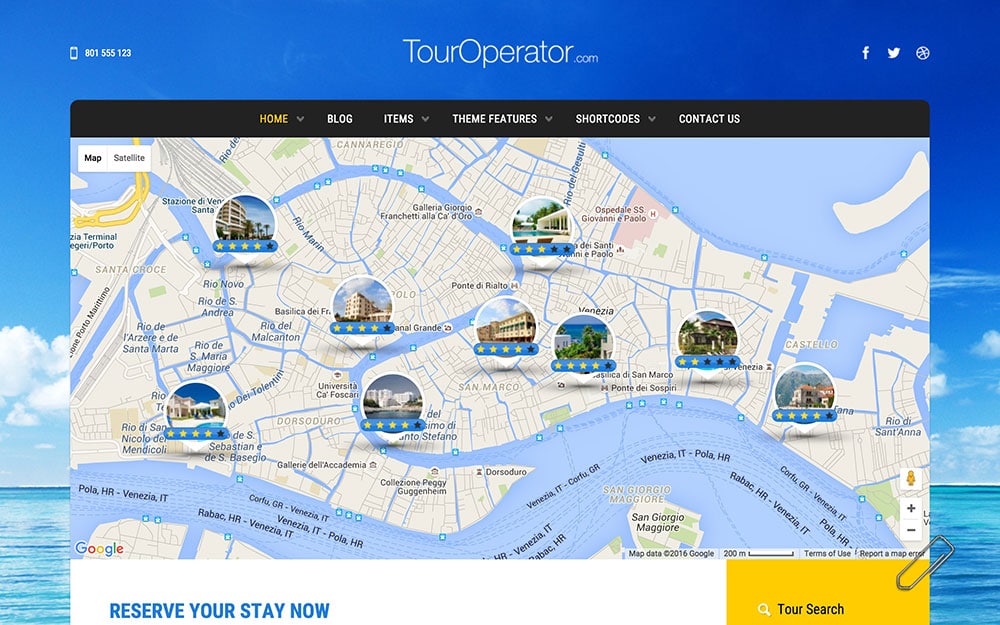 Tour Operator includes a simple and easy-to-use reservation system. The theme could be used to set up a powerful website for tour operators, hotel resorts, guesthouses, B&Bs, campsites or any other business that requires reservations.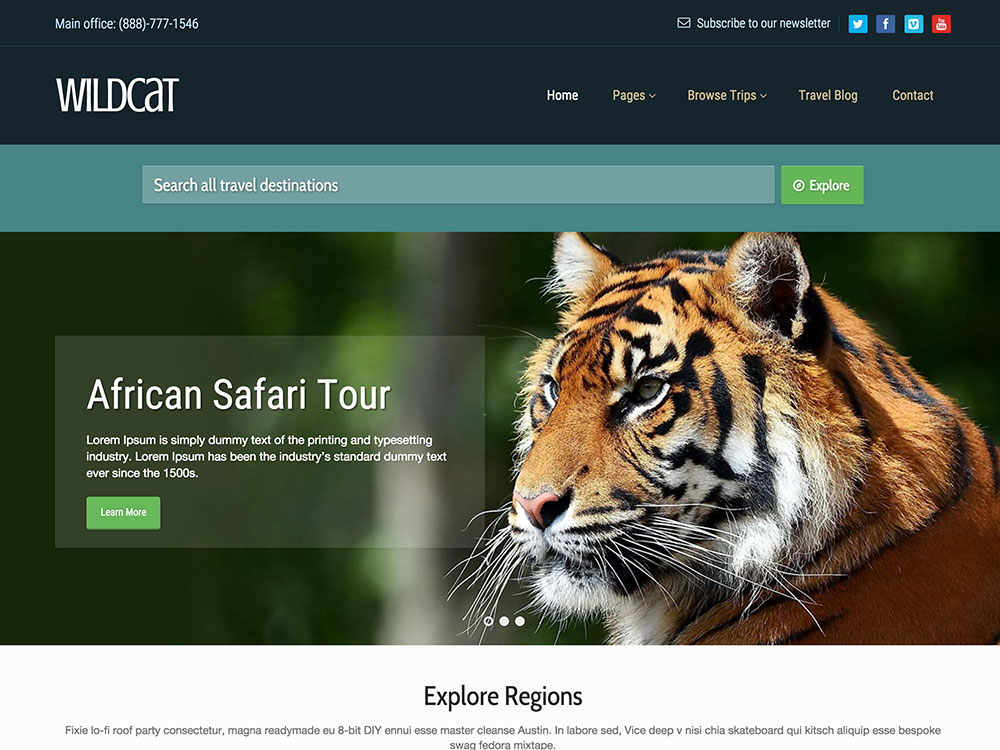 The Wildcat theme is designed for travel agencies and booking companies looking for a unique and intuitive search function. The majority of your site's focus goes straight to the search engine, and the wide-screen slider offers a chance to reveal striking images from destinations throughout the world. The easy color customization is always a nice feature, and the eCommerce-ready design makes it simple for monetizing your website. This is a responsive theme, and you can translate your article and pages so that everyone can understand them.
Hotel Themes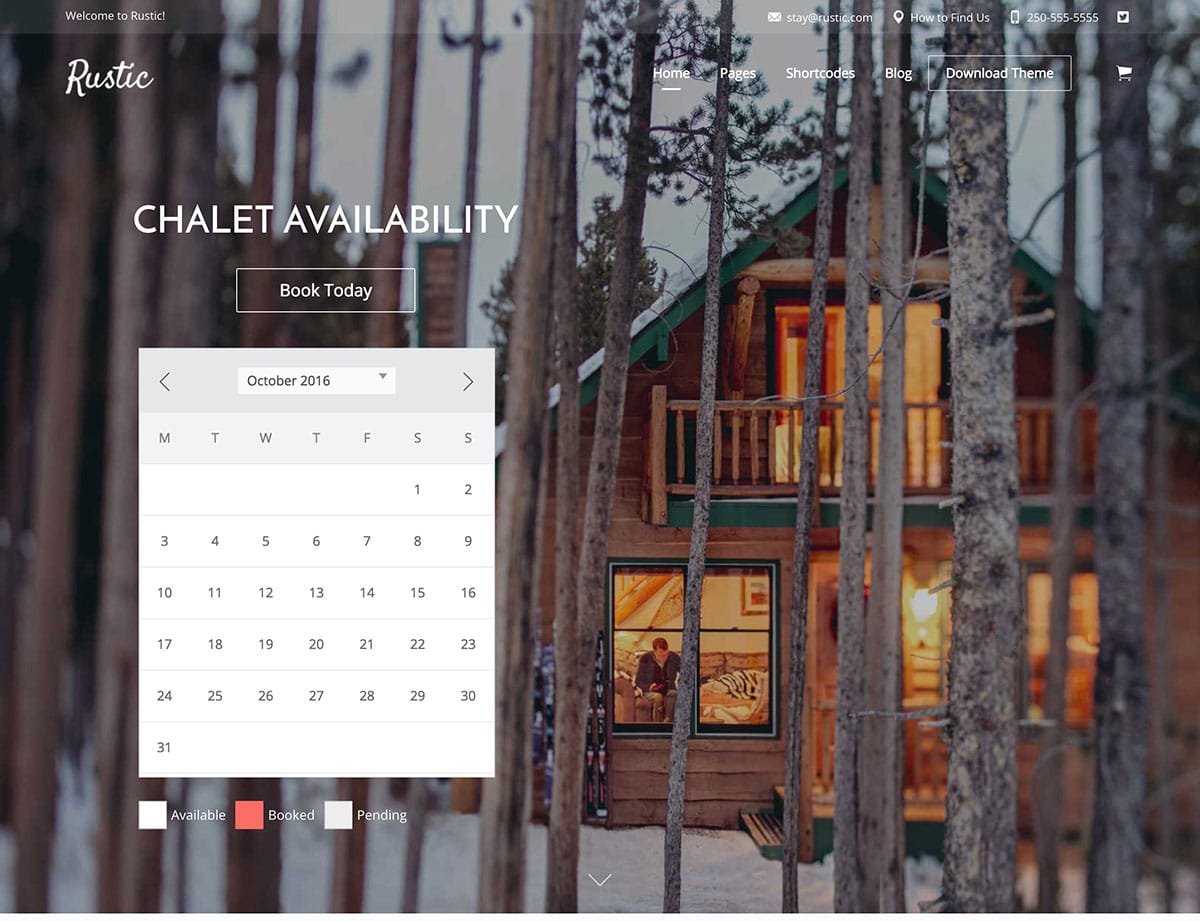 There are a myriad of options when it comes to choosing a suitable theme for your hotel or bed and breakfast. While choice is nice, you'll come across several "me too!" themes that only serve to saturate the market. Unfortunately, Bellevue suffers in this regard – not due to low quality, but from a lack of standout functionality.
On paper, there's plenty to like about Bellevue. There are seven demo layouts available – covering hotels, cabins, beach houses, and more – to help get you up and running quickly. And if you'd like to dive deeper with customizations, there's a drag-and-drop page builder built into Glossy's admin panel.
There are also a couple of bundled premium plugins – Master Slider and WP Booking System – that can enhance the functionality of your website. However, while the various inclusions are welcome, there's nothing here that can't be accomplished with other, more full-featured themes.
Bellevue is fighting a number of other themes for your attention, and therefore it may just be that your cash goes elsewhere. That being said, it's a well designed theme that can do the job of showcasing your hotel or bed and breakfast – if it can capture your attention, that is.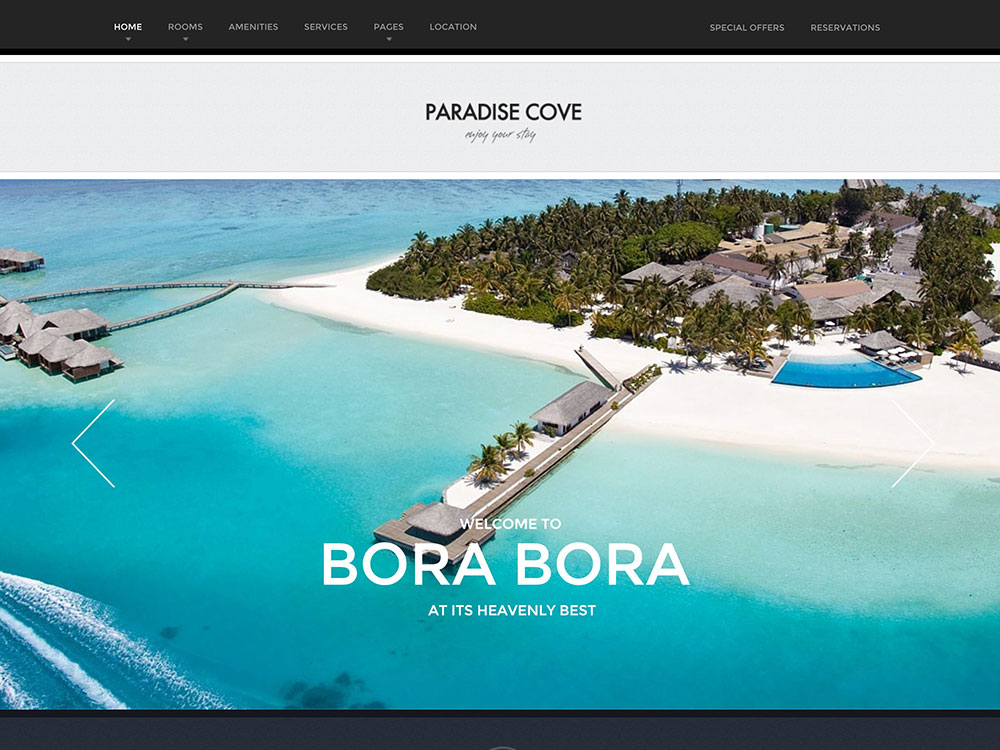 The Paradise Cove theme is designed primarily for hotels, with responsiveness and multiple sliders included. The three slider options provide fun animations, but they don't suck down your website resources, maintaining quick load times. Bring in reservations from your customers, and generate custom posts for items like room types, testimonials and amenities.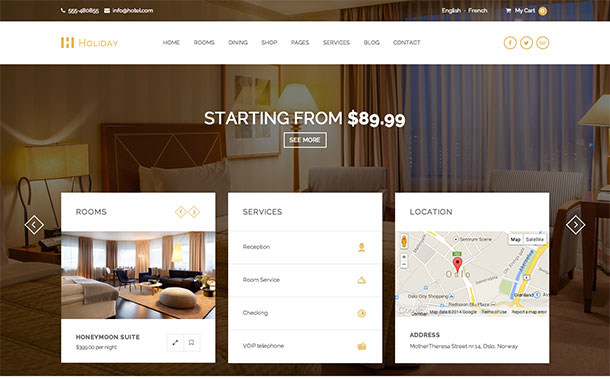 The Holiday theme is an option for hotels and motels seeking a custom booking system and WooCommerce compatibility. It comes packaged with room filtering so your guests can find the ideal budget and room style they want. The booking form builder helps you create a custom search module made just right for your own business. It also includes a booking database for you to manage past, current and future bookings with ease.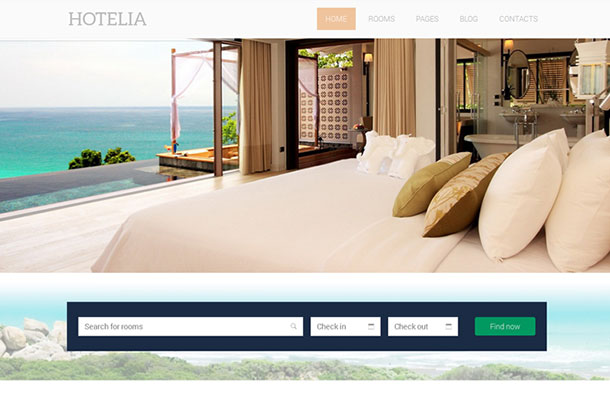 The Hotelia theme, from TeslaThemes, offers the quintessential layout for all types of hotels. The booking theme includes the Revolution Slider plugin and Visual Composer, so you don't have to pay for them at all. The Visual composer is perfect for helping beginners design a website, and the Revolution Slider plugin pulls in your customers with a stunning design. The stylish and responsive theme provides a video background and nice effects like a sticky menu, elegant transitions and hover effects.

The Santorini theme is designed to showcase your resort or hotel in style, offering a remarkable slider to display your destinations, and a responsive and retina-ready design so everyone can view the site just fine. The theme comes prepackaged with a custom booking form, but you can also integrate it with a third-party booking engine. The powerful theme options allow color customization, display modifications and more.
The Flawleshotel theme is a powerful choice for hotels and resorts looking for a theme that focuses on high-resolution images and a quick booking engine. The fully responsive theme has easy accommodation management for seeing which people are coming to visit, and the one-click install (with demo content) ensures you never have to start from scratch in your website design. The theme works with WooCommerce for the online booking process, and multilingual functionality is available.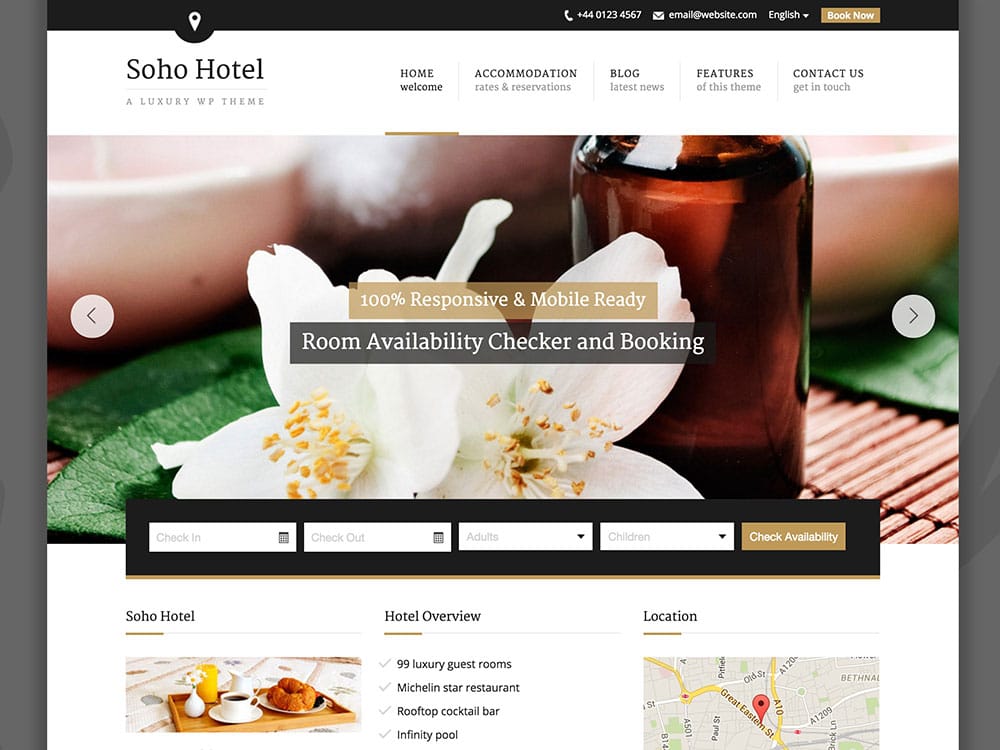 The Soho Hotel theme work nicely for any hotel interested in an elegant and functional design. The luxury hotel theme offers a sleek booking engine and an availability checker so your customers don't get angry about booking a room then not having it available. The seasonal pricing filters help you maximize margins. The payable deposits feature allows you to accept payments through PayPal or a bank transfer.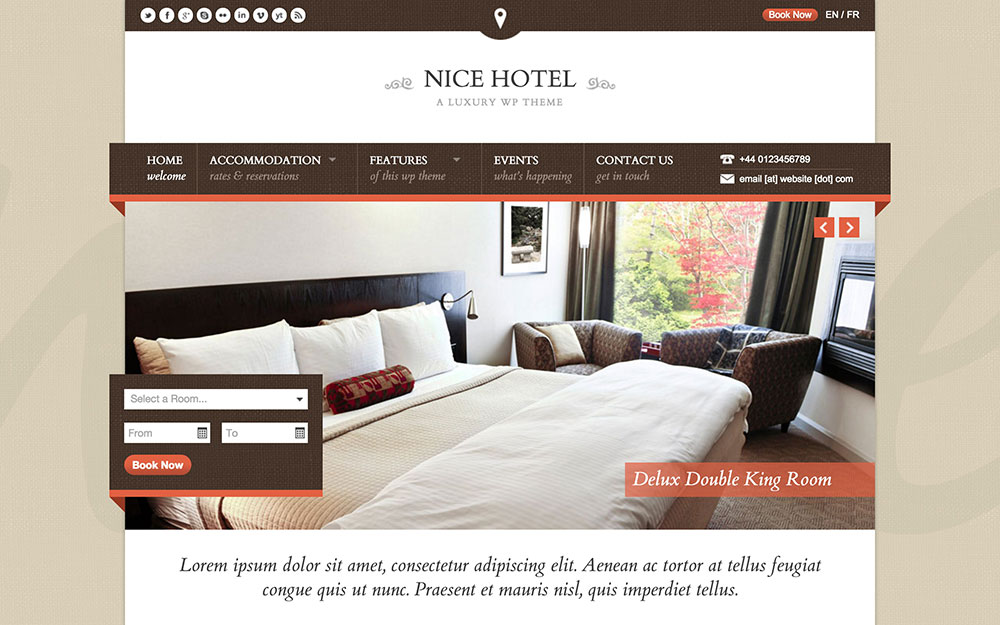 The Nice Hotel theme offers elegance and a plethora of features for all hotels and resorts. With multilingual support and a fairly powerful reservation system, your booking process becomes manageable and user-friendly. This option also comes packaged with an events page, your own blog, testimonial features and more. Not to mention, the theme includes four theme skins, and you can create your own as well.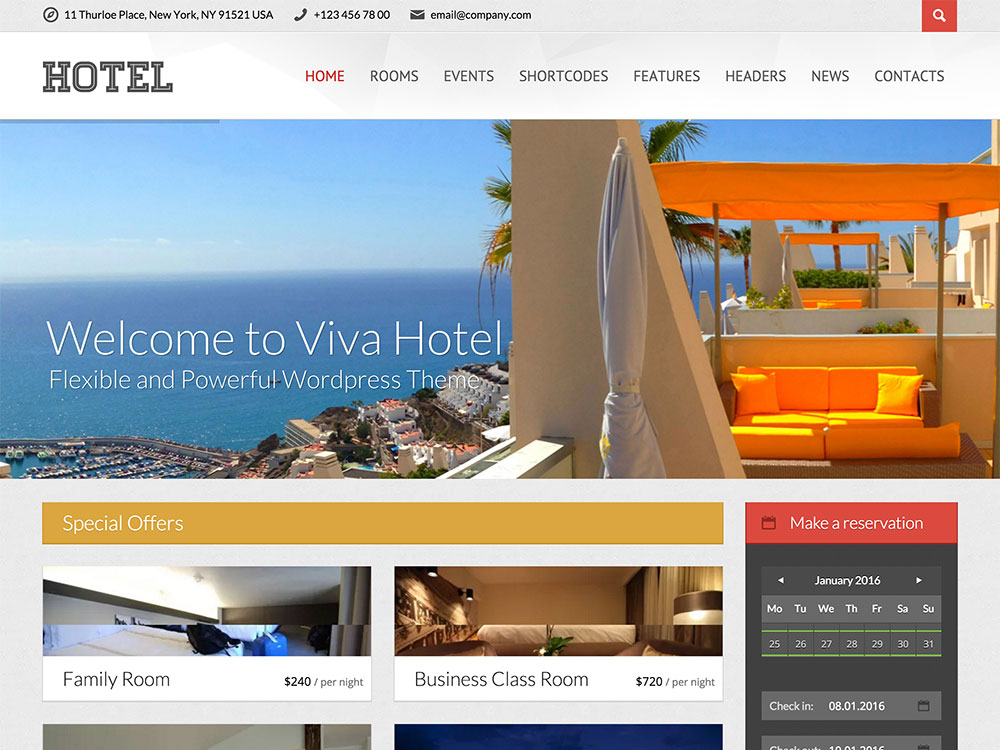 Viva Hotel is one of the more entrancing themes on the list, with huge slider photos and a booking module that stands out. The responsive design and advanced theme options ensure that you have everything needed to reach your core demographic. The reservation form is clean and quick to walk through, and the unlimited sidebars ensure that your site looks exactly the way you want. Along with an events calendar, custom widgets and Google Fonts, you can't go wrong with this one.

The Nation Hotel theme provides a responsive experience and a rather interesting homepage layout for your customers to find the booking engine within seconds. Made primarily for hotels and motels, the theme includes the Revolution Slider plugin to display your rooms and services. It stands out from the rest of the market by providing 46 theme options and 14 widgets, giving you the ultimate customization atmosphere.
Travel Blog Themes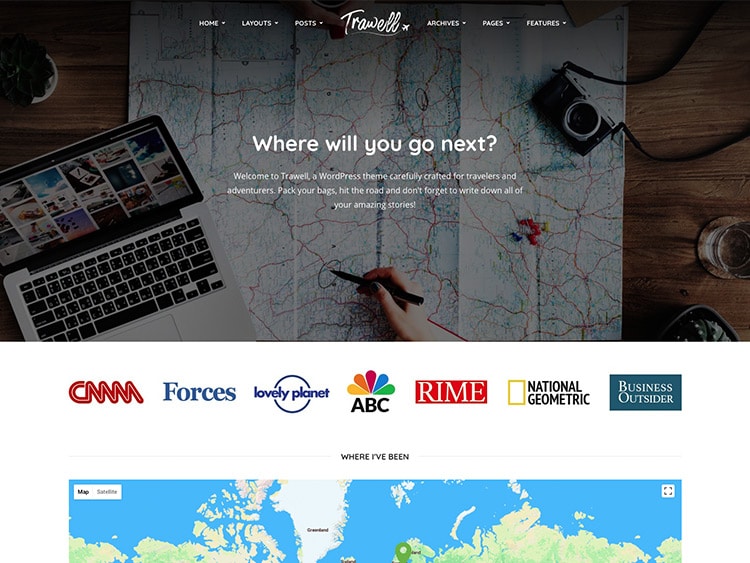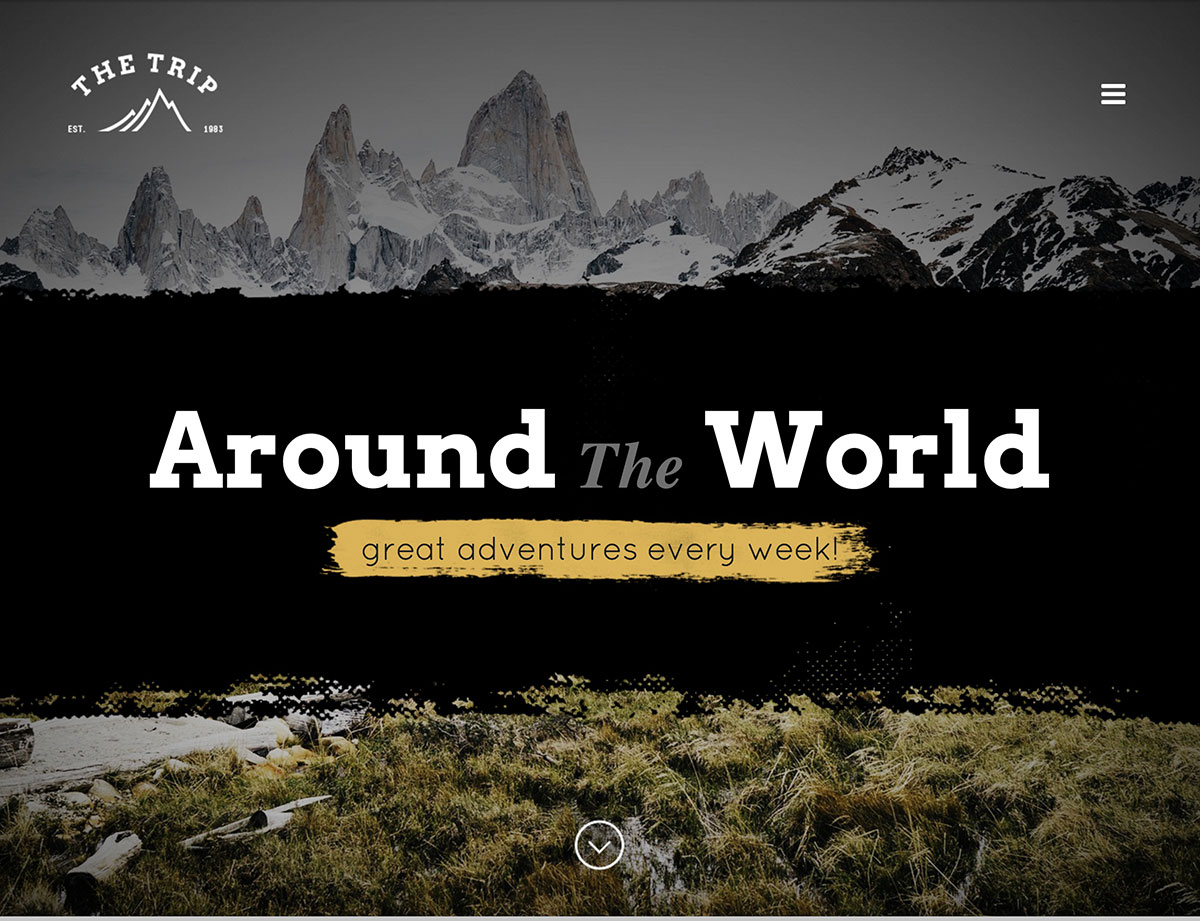 There are some who consider poolside cocktails, blaring heat, and relaxation to be low down on their list of vacation priorities. Adventure breaks cater to the outdoorsy crowd, and if you're looking to document your travels, you'll need to employ a suitable theme such as The Trip.
Unlike other themes on this list, The Trip is focused on your personal experience – essentially it's a travel blog theme. As such, it doesn't include some of the functionality found in other themes on this list. That being said, The Trip does include a custom drag-and-drop page builder, and also bundles both the Layer Slider and Slider Revolution plugins – perfect for creating full screen intro pages, prominent calls to action, and much more.
While the focus of The Trip is not the same as other themes here, it's no less of a contender for your cash if you're looking to document your adventure vacation. Given its built-in page builder and bundled slider plugins, it could be right up your street.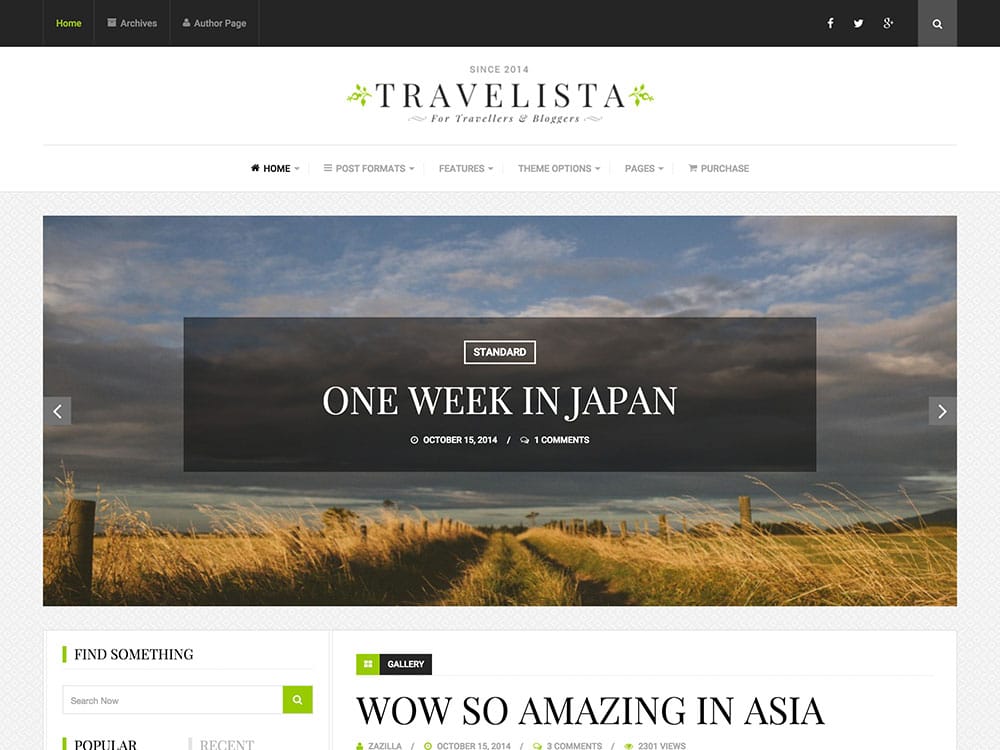 Travelista serves travelers and bloggers quite well, since it offers nine post formats for differentiating yourself from the competition. The elegant and responsive design delivers advanced theme options for customizing the way you want to display your travels. The theme also comes with unlimited colors and translation features, making it quick and easy to reach out to people in different languages.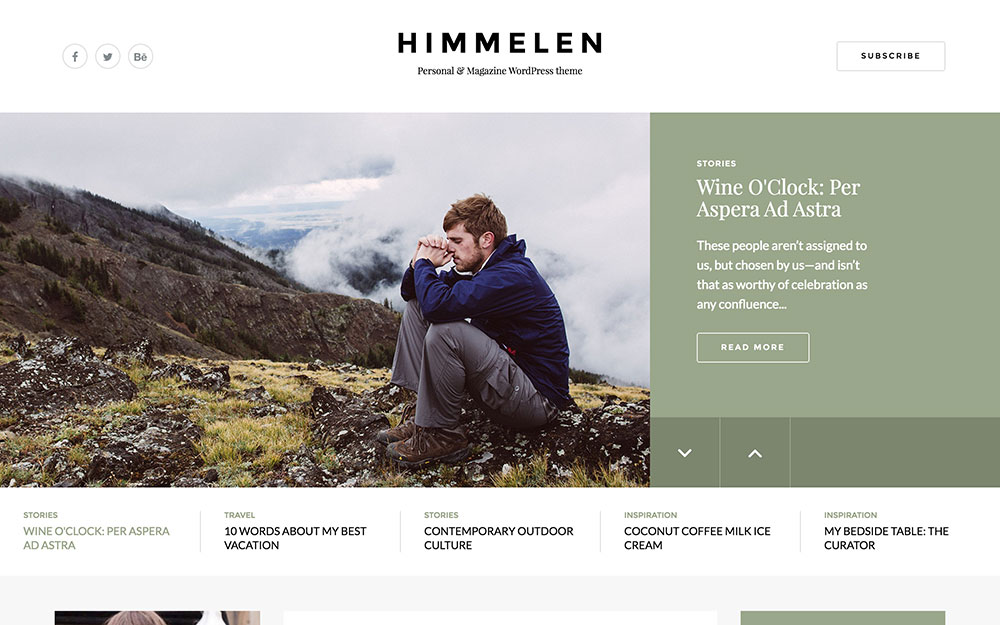 Himmelen sounds a bit like Himalayan, and this evocation of the rugged mountains is a fitting name for a theme that is well-suited for a travel blog or zine of epic proportions.
The stark charcoal gray and white of the demo version set the tone for a blog that delivers elegant prose, beautifully filtered images, and Pinterest-worthy inspiration posts to readers. The visual experience of Himmelen is gorgeous:  Simple arrows for scrolling through posts turn a darker shade when you hover over them; buttons are monochromatic and go from transparent to solid; images go slightly foggy when your cursor pauses on them. There are also nine different blog post styles ranging from header images to video and photo gallery posts if your work is less wordy and more visual, and navigating the galleries is a joy in itself. On top of this, perfectly balanced typography makes this theme beautiful to behold all the way down to the periods, commas, and semicolons. At the very top of the page, the header stays with you as you scroll downwards, making navigation simple and easy.
To better engage your readers, certain types of modules have been made just for this theme. A popular posts section shows off blog posts that your readers will be more likely to click on, based on parameters that you set. You can also show off Instagram-themed Inspiration and longform Stories sections that showcase quick short posts and more in-depth articles, respectively. If you feature contributing writers on your website, a bio section at the bottom of each article gives them credit where it is due.
With such an inspiring aesthetic and user-first design at the core of this theme, Himmelen is a fantastic pick for your next travel blog or magazine project.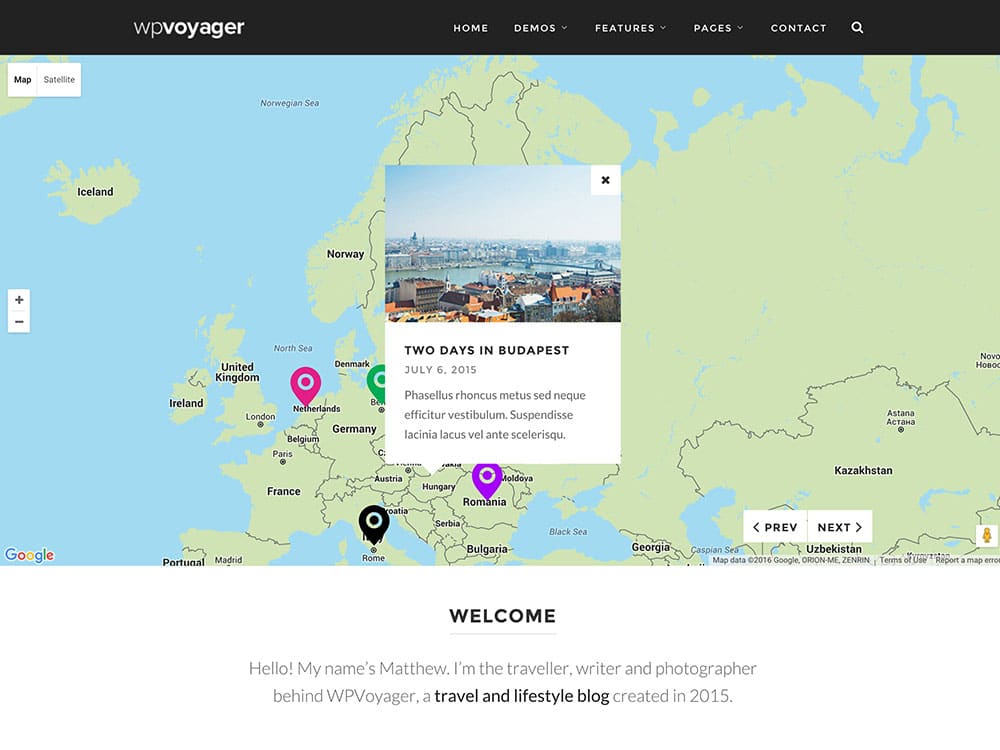 WPVoyager is a great choice for you if you have a travel blog and aren't looking for lots of bells and whistles other than a beautiful place to display your photography and writing.
You can tell this a travel blog because the map takes front and center as the header of your webpage – what else is a travel blog for, if not to show off the places that you have traveled? A simple header menu makes for great navigation across your website, plus easily embedded photos and videos to help illustrate your story.
While it's not going to win accolades for an avalanche of features, WPVoyager is a good choice if you need a blog theme but want to keep the design simple but cool.
The Passenger theme provides an easy way for travelers to share their stories and upload media such as photos and videos. The responsive layout blends well the the Soliloquy Slider plugin for displaying your most recent adventures. WooCommerce support assists in selling your own items, and the different page layouts are wonderful for branding your site. Not to mention, the theme customizer works well for any experience level, allowing formatted posts, custom headers and more.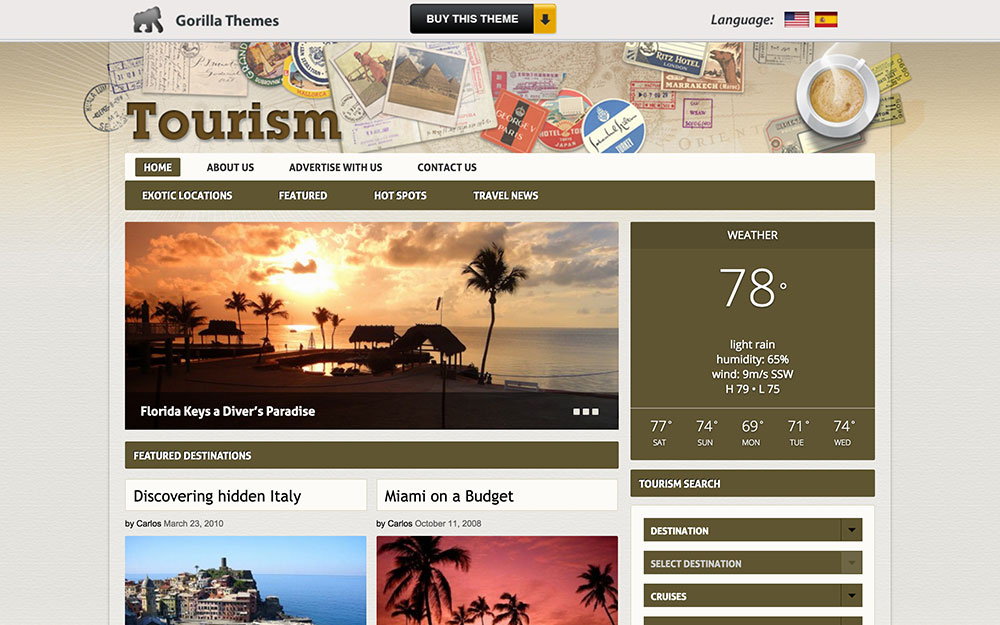 Tourism is a responsive travel theme with a powerful search module. The responsive theme would be ideal for a travel journal and comes with five color style options for customization. The theme has a distinct look that would suit a world traveler well.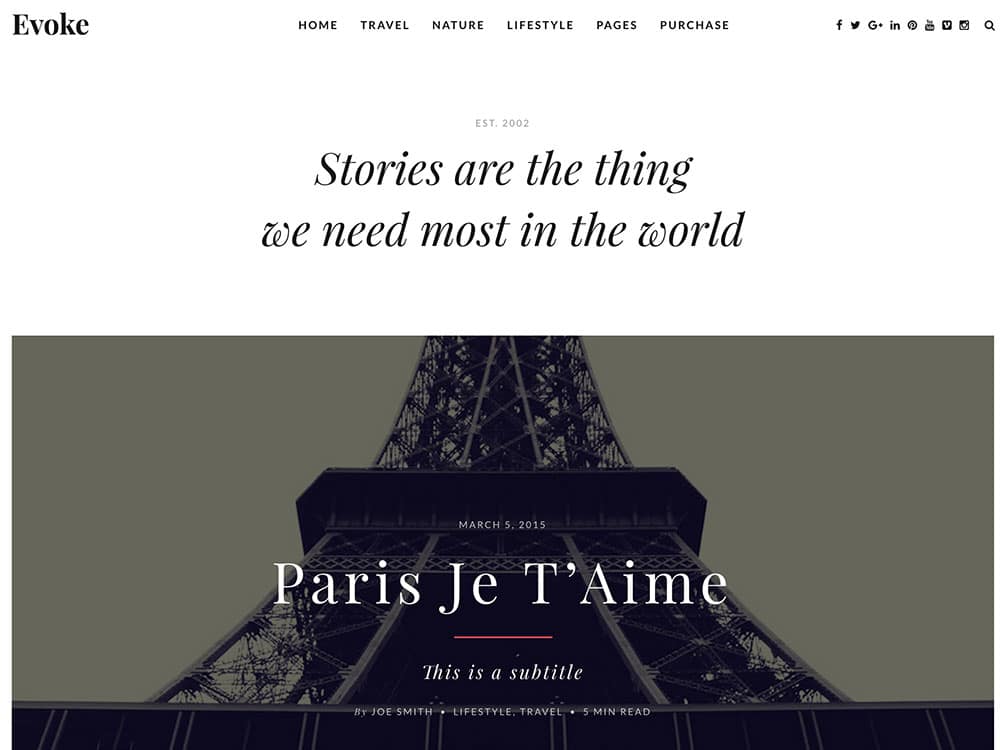 The Evoke theme is a modern and simple layout for sharing travel photos and stories. Any travel blogger would find this useful since it supports high-resolution photos, and the interface promotes the use of custom designs. Beginner web designers are welcome with this theme, since the settings for changing colors, post layouts and even your logo are simple and intuitive.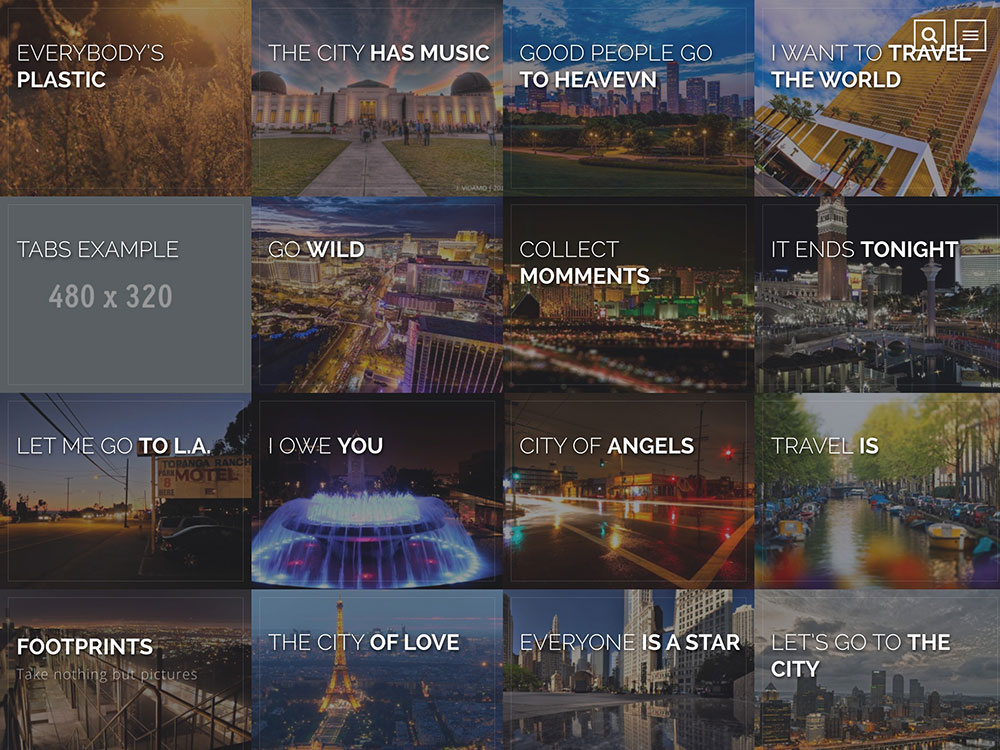 Travelogue has three layout versions, including video background, Revolution Slider and background image options. The responsive theme includes portfolio filtering to show off your best content. It's mainly built for travel bloggers, but we can see it used for other travel businesses as well. The NiceScroll animations add some flavor to your site, and the fully layered PSD files provide assistance to those with a little more design knowledge.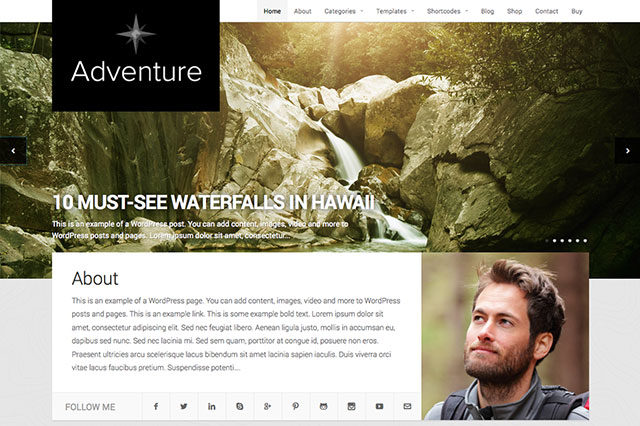 Adventure is a beautifully crafted, responsive and retina optimized WordPress theme designed for sharing life adventures. The theme was created with travelers, explorers and adventure related businesses in mind. Adventure features a beautiful full-width slider and a biography section for social media links and company information.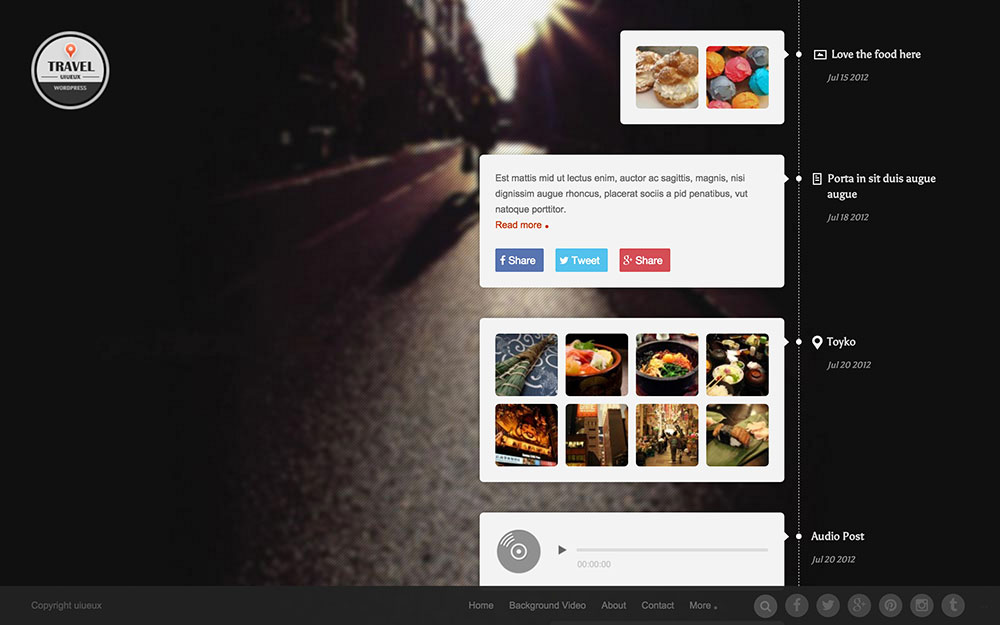 Travel is a beautiful full-screen theme that is a great option if you want to show off travel photography. The user interface is sleek and the design is striking and modern. The theme uses ajax scrolling and includes four post formats.
Other Travel Themes

Listify works well for those interested in building a directory for a certain location. Share cool things to do in your city or town, and provide a quick search function on your homepage for an intuitive user interface. The theme offers a stunning slider and video background feature, with WooCommerce compatibility for selling souvenirs. The theme powers a community for people to post and claim their own business listings, while you can moderate everything that goes through the site. With responsiveness and powerful settings options, you can't go wrong with this one if you plan on making a directory.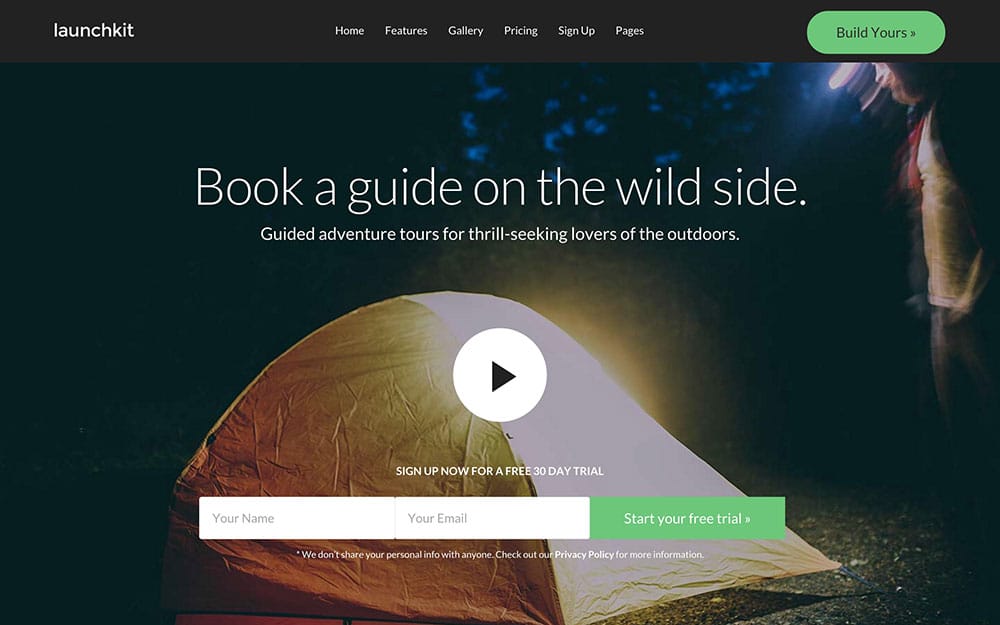 Launchkit is a marketing and landing page-centric theme that is flexible enough to look great as a one-page booking site for your tour or travel company.
This theme is full of different features that are well-suited to a travel niche booking website. You can lead things off with a bang thanks to fullscreen image and video display. Full parallax scrolling creates a dynamic visual effect that looks great as your visitors make their way down the page. Add popping photo galleries with pictures of all that you have to offer, plus high-contrasting CTA buttons that, with the right style of copywriting, should go a long way towards ensuring you have full bookings on all your tours.
Thanks to quality design and the inclusion of very effective plugins and features, this is a theme that doesn't need a lot of content to help deliver the results you need for your travel business.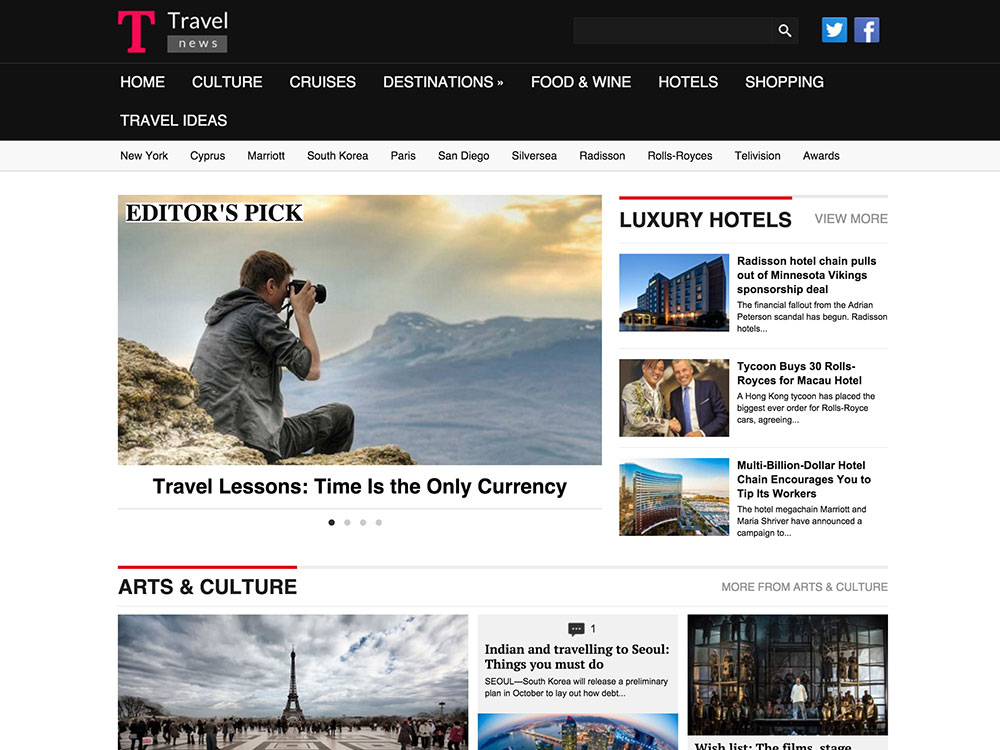 If you have a news or magazine website and publish content that focuses on travel, TravelNews could be a great choice for you, although there's nothing especially travel-centric about its features that distinguishes it from other great magazine themes.
Fundamental to a good online news site is a homepage layout that offers compelling front page news with big, bold graphics and eye-catching images or videos. TravelNews enables you to embed sliders for news feature and photo galleries and offers a solid header menu display that makes for easy navigation, plus optional sub-menu tabs that feature trending topics and headlines. Particularly suitable for publications is the inclusion of 13 different advertising slots to help you maximize your revenue.
Overall, this theme is a good choice for you if you want to run a travel-focused publication that is text rather than image-heavy. However, you will probably find more elegant and better thought-out magazine themes in our collection.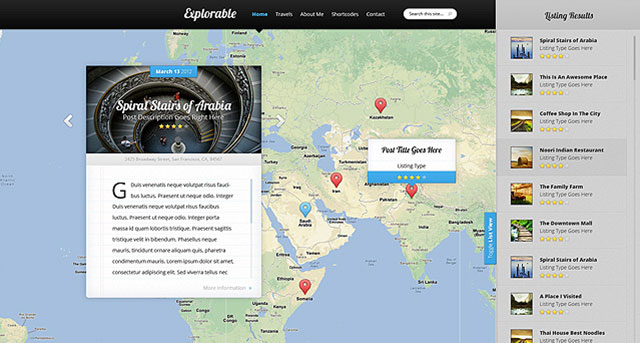 Explorable is a location-based theme that pins your posts on a map, to help your followers keep track of where you have been. Location-based listings make this theme a great tool for building travel blogs, local business directories and travel guides. Mapping is provided by Google Maps and the theme includes plenty of customization tools from color to search.
The Navigator uses Google Maps to create a location-based experience. The responsive theme is designed for travel blogs and guides and includes several theme options. It also includes a slideout widget panel and full-width page templates.