If you're involved in the movie industry or work in a related field, this collection of the best WordPress themes for filmmakers will help you create a professional website. The options here cover a wide range of purposes, including creating movie websites and sites for actors and directors as well as film studios, to name just a few.
These themes all have at least one complete website demo that can be imported into your WordPress site. Once the content has been imported you can quickly replace it with your own work to get your website ready for launch. Many of these themes actually have more than one demo so check them out to ensure you find the right design for your website.
The themes in this collection also have great video support, making it easy to import and display video content on your WordPress website. Some also have ticket selling capabilities as well as other ecommerce features that can help you sell merchandise, memorabilia, and even video downloads direct from your website.
So whether you need a website to market your film, promote your services and skills as a filmmaker or some other role in this industry, you're sure to find a suitable WordPress theme here.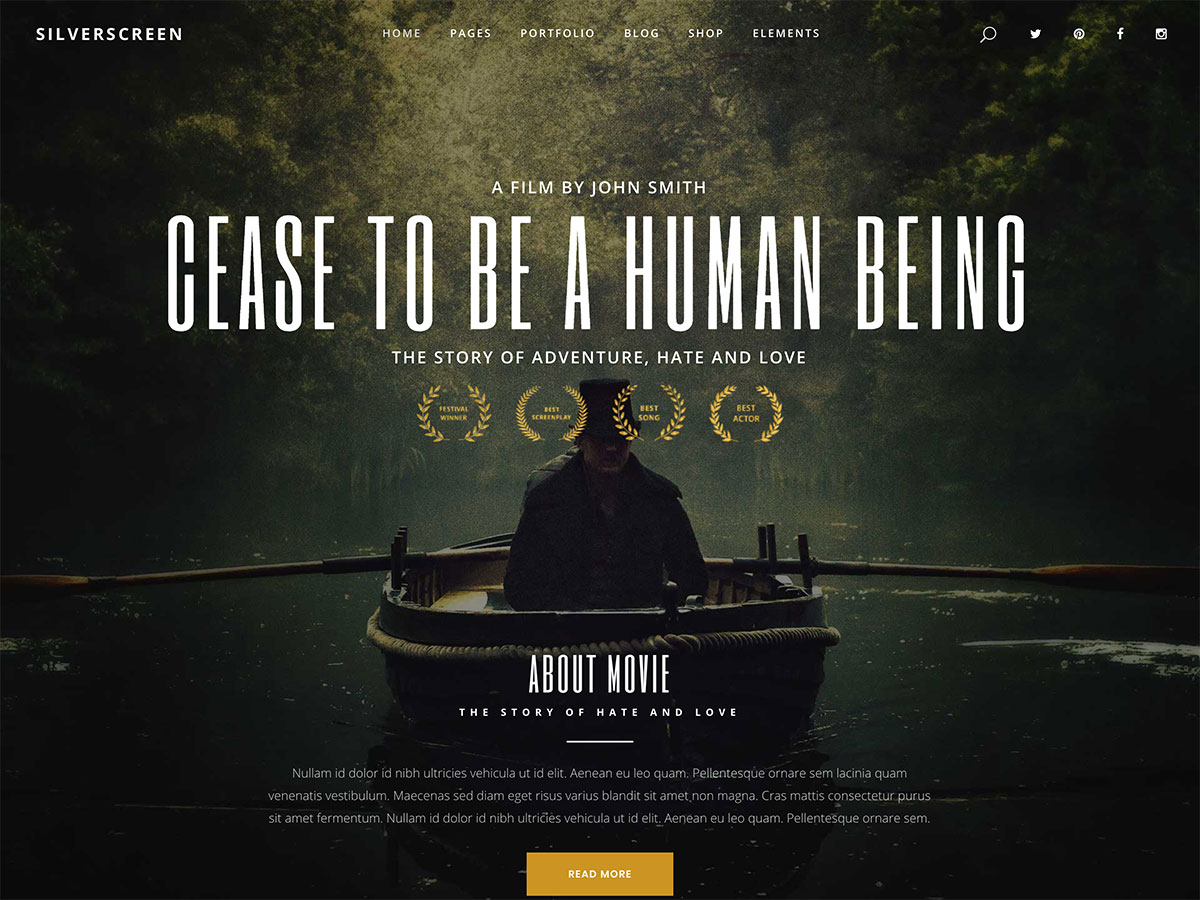 Silverscreen is a theme that's been created especially for movies, production companies, and filmmakers.
In fact, anyone working in the movie industry or its related fields should find this theme very helpful. The default design style has an eye-catching look that will immediately let your visitors know what type of website they've arrived at. However, with nine distinct homepage and website demos to choose from, you'll have plenty of options when setting up your website.
Thanks to these designs and demos, Silverscreen is ready to help you launch a website to publicize a movie, promote your services and skills as an actor, or share your showreel of the projects you've worked on.  Even creating a website for a film festival is well within the scope of the Silverscreen WordPress theme. As well as the homepage designs, this theme also includes all the inner page templates your movie related website is likely to need. Thanks to this, adding information about your project or your abilities is straightforward, as is publishing an FAQ, a contact page, and a blog. The Silverscreen theme has full ecommerce support too, giving you the option of selling physical products and digital downloads from your website as well as collecting payments for your services.
To help you customize your website, the best selling Visual Composer page builder plugin is included in the Silverscreen theme package. As well as this drag-and-drop visual editor, the WordPress Customizer is on hand to ensure you're able to get your website looking exactly how you want.
Silverscreen is a stylish WordPress theme for filmmakers that's ideal for promoting projects both large and small.
Nine Studio is a theme with a strong focus on building websites for the film and movie industry.
Filmmakers of all types should appreciate the design and features of the Nine Studio theme. Whether you want to promote the latest project you've completed or advertise your filmmaking skills online, then Nine Studio has a pre-built website design to match. Anyone involved in making films, from agencies and studios to freelancers and actors should be able to find a way to use this theme to launch a professional website. There's also a demo for creating a WordPress movie blog that has good support for publishing video content and vlogs.
Nine Studio includes a useful set of page templates that cover the essential pieces of content your website might need. However, as the Visual Composer page builder plugin is included in the package, you can easily create your own custom content designs. As Visual Composer has its own set of content templates, you can get a head start on any new pages you need to create for your filmmaker website. You'll also find the premium Slider Revolution plugin is on hand to help you create video slideshows and other interactive presentations to assist you in promoting your work.
If you want to take control of your content and stop relying on third-party services like YouTube then Nine Studio can help you launch your new movie website.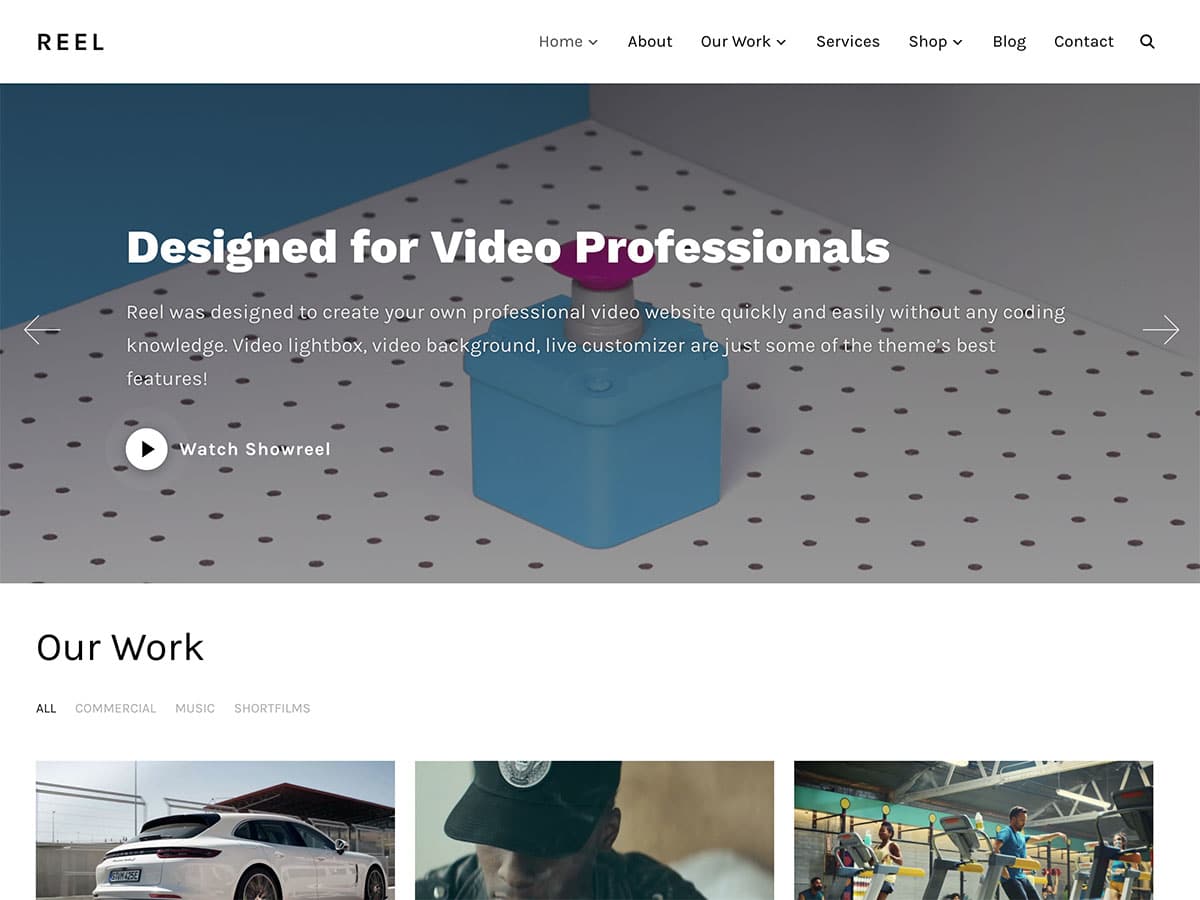 Reel has been designed for video professionals that need to launch a high-quality website as easily as possible.
The default Reel website demo configuration features a full-screen slider with video background display that is ideal for giving your visitor a taste of your content. Whether you're promoting your showreel or the latest movie you've produced, the Reel theme is more than up to the task of displaying video content online.
The rest of the default homepage layout includes mini video players that can be used to put your best content front and center. However, as there are four main homepage layouts in the Reel theme pack, you're not short on options for setting up the most important page of your website. Furthermore, as Reel does include a page builder tool, you can easily modify the demo layouts or create your own custom homepage designs from scratch. As the page builder has a good set of modules, adding useful elements to your pages is straightforward.
Another notable aspect of Reel that has helped it earn a place in this collection of the best WordPress themes for filmmakers is the selection of portfolio templates. If the goal of your website is to help generate interest in your abilities, services, and skills, then you should definitely check out the Reel portfolio layouts. Unlike some themes, Reel has been configured to handle video content by default so you should have no trouble uploading, managing, and displaying your showreel. Other useful and customizable page templates in this theme package cover the about, contact, services, team, and blog areas of your site. There's also a full set of ecommerce templates should you wish to sell and products from your website.
Reel is a user-friendly filmmaker WordPress theme from WPZoom that looks great and is easy to set up.

THE PASSION is a multi-purpose video and music WordPress theme that filmmakers should check out.
The eight website demos in this theme package cover a range of styles and purposes. These designs are all flexible enough to be adjusted to suit the goals of your project. However, apart from the two music-focused demos, all the other pre-built website options should have designs and feature lists that appeal to filmmakers. Key elements from the demos of this theme include the large full-screen video background displays, the animated sliders that are ideal for sharing photos from your work, and the modular layouts that make it easy to mix and match the different sections that are available.
To help you add video to your WordPress website, this theme supports all the major video sharing sites, including YouTube and Vimeo. Simply entering a video URL in the right place is enough to start populating your website with this type of content. Depending on the purpose of your website, you might also want to enable the front-end video submission forms and give your visitors a way to share their own content with you. Alternatively, this feature could be used to let your team submit their contributions to projects online.
As you'd expect from a leading WordPress theme for filmmakers, you also get access to the popular Visual Composer and Slider Revolution plugins at no extra cost.  Fast loading times can be expected too, as can secure code.
THE PASSION has lots of features that filmmakers should find useful when setting up their websites.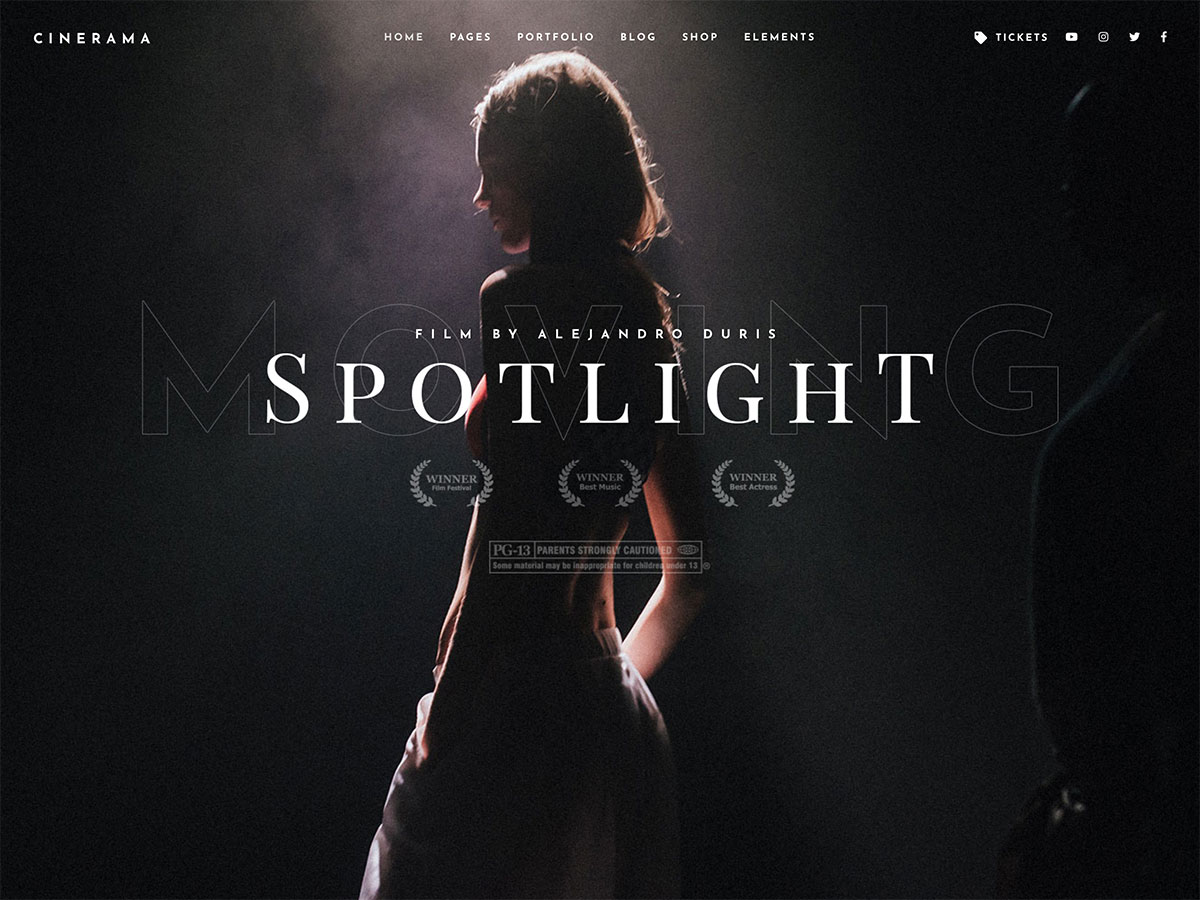 Cinerama is a WordPress theme for movie studios and filmmakers who want to quickly launch a new website.
With a good selection of website demos to choose from, you can decide which pre-built homepage layout you'd like to use for your filmmaker site, then import it into your WordPress dashboard in just a few clicks. The options cover film festivals, movie studios, blogs, and other types of film-related websites, so hopefully, you should be able to find a suitable design in the Cinerama package.
To help you promote your films and other video content, the Cinerama theme includes a set of film-specific portfolio layouts. Alongside the eye-catching designs, the Cinerama portfolio templates give you lots of space to share stills from your files, as well as embed videos into your content. You can also use the timeline templates to tell the story of your career or the development of your business or latest projects. In addition to the portfolio templates, you'll also find pre-built layouts for all the other pages your filmmaker website is likely to need. Some examples include the about, contact, and blog pages of your site. You can also use the ecommerce support of this theme to list products for sale, including physical items and digital downloads.
Thanks to the powerful admin interface, you can easily customize many aspects of your website with the Cinerama theme. The premium WPBakery Page Builder plugin is provided too, giving you even more customization options for your filmmaker site. Also, if you want to add any slideshows to your website, including sliders to display video content, the premium Slider Revolution plugin is included in the Cinerama package at no extra cost.
Cinerama combines an impressive feature list with a library of stylish designs to help you create your own filmmaker website with WordPress.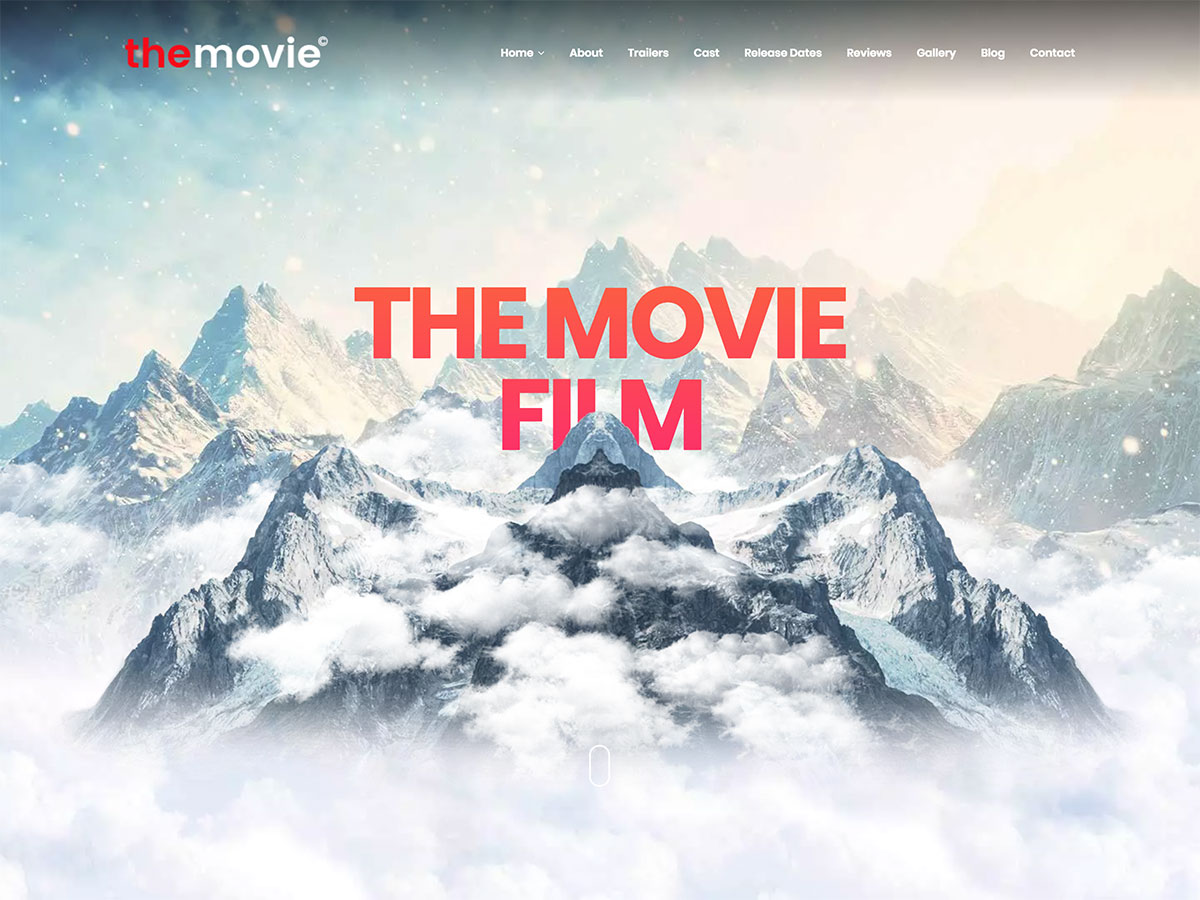 The Movie has pre-built content for promoting your filmmaker services and publishing video content online.
If you do have lots of video content that you'd like to use as part of your website, then The Move theme series layouts could come in useful. As you can easily organize your video content with this theme, defining in what order your videos are displayed is very straightforward. So if you have created a video series, it can be published in a way that visitors will be able to interact with as intended rather than having to navigate their way around your site to find what they want to watch next.
The Movie theme also has provisions for displaying video in full-screen mode, giving you an effective way of capturing the attention of your audience and promoting your trailers and other video content. The slider homepage layout works well in this regard too, as thanks to the Slider Revolution plugin, you can add videos to each slide in your presentation and maximize the page space available to you. Visual Composer is another premium WordPress plugin that's included in this theme package at no extra cost, opening up even more creative possibilities for your site.
The Movie templates also include ticket selling features, giving your audience a way to purchase tickets to your shows. The online transactions are handled through the WooCommerce plugin integration, making it possible to collect payments and send out ticket order details from your website. The Movie also has a newsletter feature that you can use to start collecting the emails from visitors who'd like to know more about your future projects.
The Movie WordPress theme for filmmakers has big budget looks all wrapped up in an affordable package.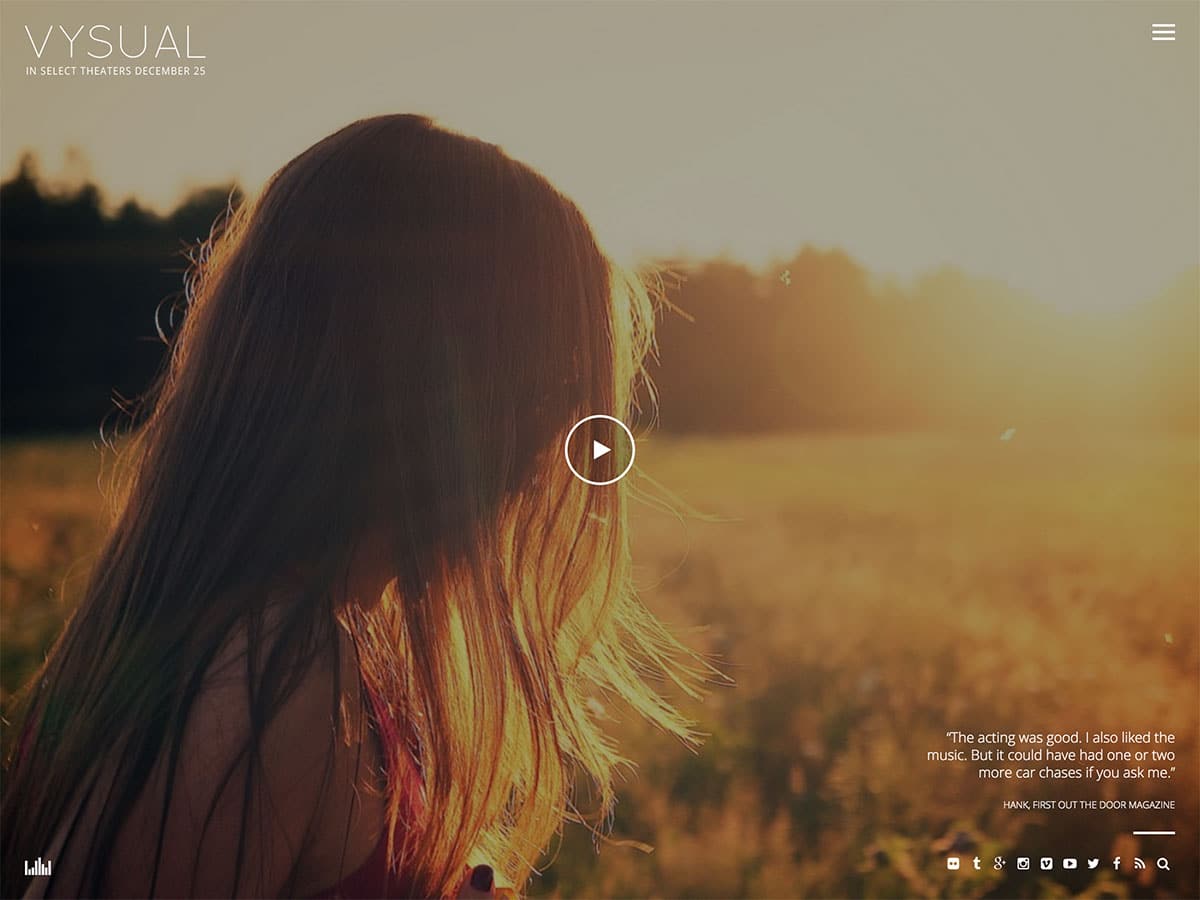 Vysual has been built for creating websites for promoting film campaigns and marketing movies using WordPress.
If you'd like to replicate those official movie websites that are used to promote the latest releases, then the Vysual theme should be on your shortlist. The two main website options give you the ability to either display a video as your background content or a full-screen slider. Both designs work well for promoting your movie, whether you'd rather use still images from your video to generate interest from your visitors or an actual video clip.
The page templates give you a quick way to share the information about your cast and crew. From this page, your visitors can read about the team who helped create the move and get a better idea of whether your film is something that they would like to see. There's also a synopsis page template that makes it easy to share the outline of your film and hopefully encourage more of your audience to take the next step and go to the theatre and watch your movie. Adding an image gallery section to your website is possible to, giving you another way to share stills from your movie or behind the scenes shots from the movie production.
Making changes to your website with the Vysual theme takes place through the WordPress Customizer. Adjusting the fonts, changing the colors, and configuring the layouts are some of the controls you get access to. As the demo content can be imported into your WordPress website in just a few clicks, getting started with the Vysual filmmaker theme shouldn't be a problem either.
With walkthrough videos that cover how to use this theme, Vysual is ideal for website owners of all experience levels.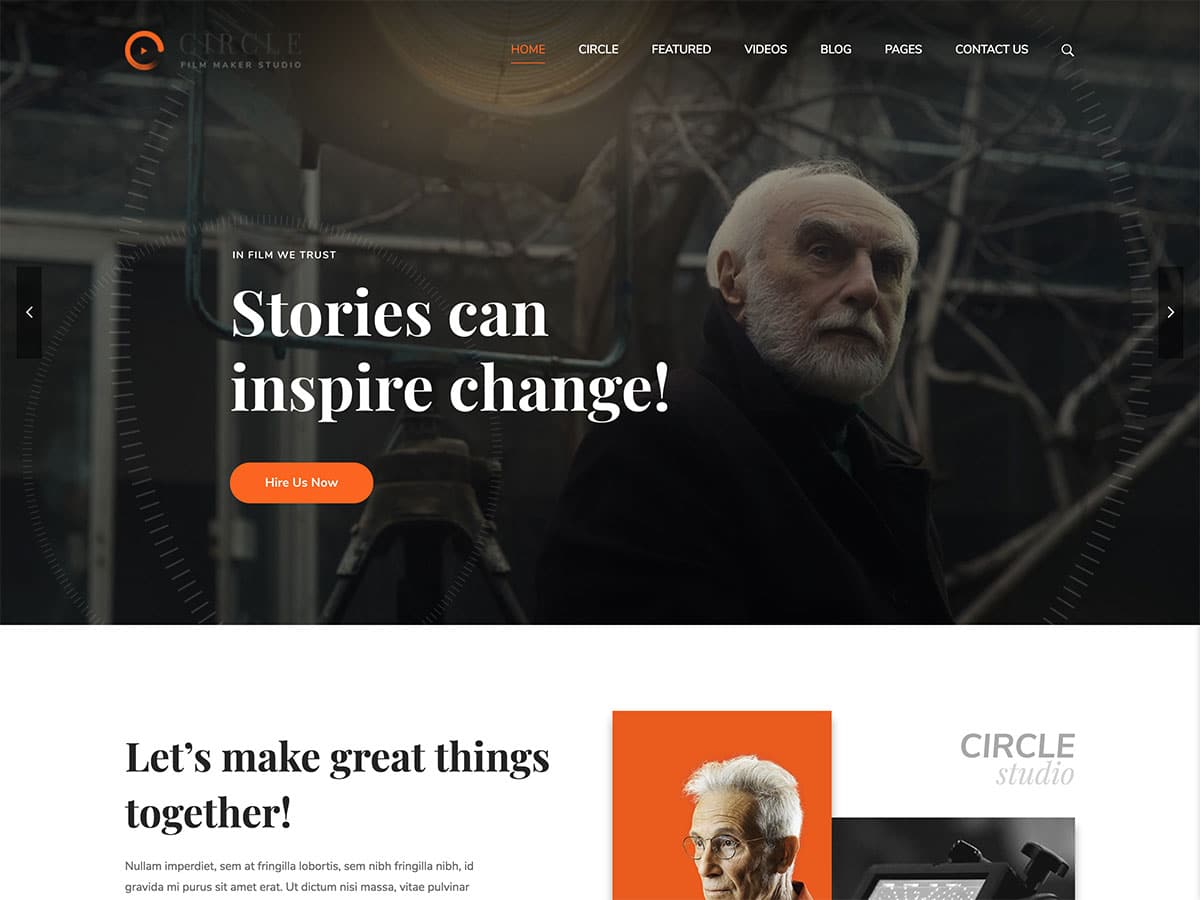 Circle is a creative WordPress theme with pre-built website designs for directors, actors, bloggers, and filmmakers.
The various Circle website demos all have different designs and layouts to help you find the right option for your website. Whether you're promoting your skills as a director or actor or creating a website for a new movie release, Circle has a pre-built design to match. As these demo designs can be imported into your WordPress website very easily, it shouldn't take you long to start your new site. Then, after the import, it's just a case of replacing the demo content with your own text, images, and videos or getting more creative and using the theme custom options to personalize the layouts. Visual Composer is on hand to help you edit any of the demo content designs or build your own unique pages from scratch.
Circle has many of the best features you'd expect to find in a popular multi-purpose WordPress theme, all wrapped up in a design that's suitable for creating filmmaker websites. Some of these features include a wealth of homepage modules that give you the ability to add testimonials, team member profiles, sliders, call-to-action buttons, and much more to the front and inner pages of your website. There's also good social media integration options, including an Instagram widget for sharing your latest photos with your website visitors.
Circle is a versatile WordPress theme that filmmakers of all types could find useful.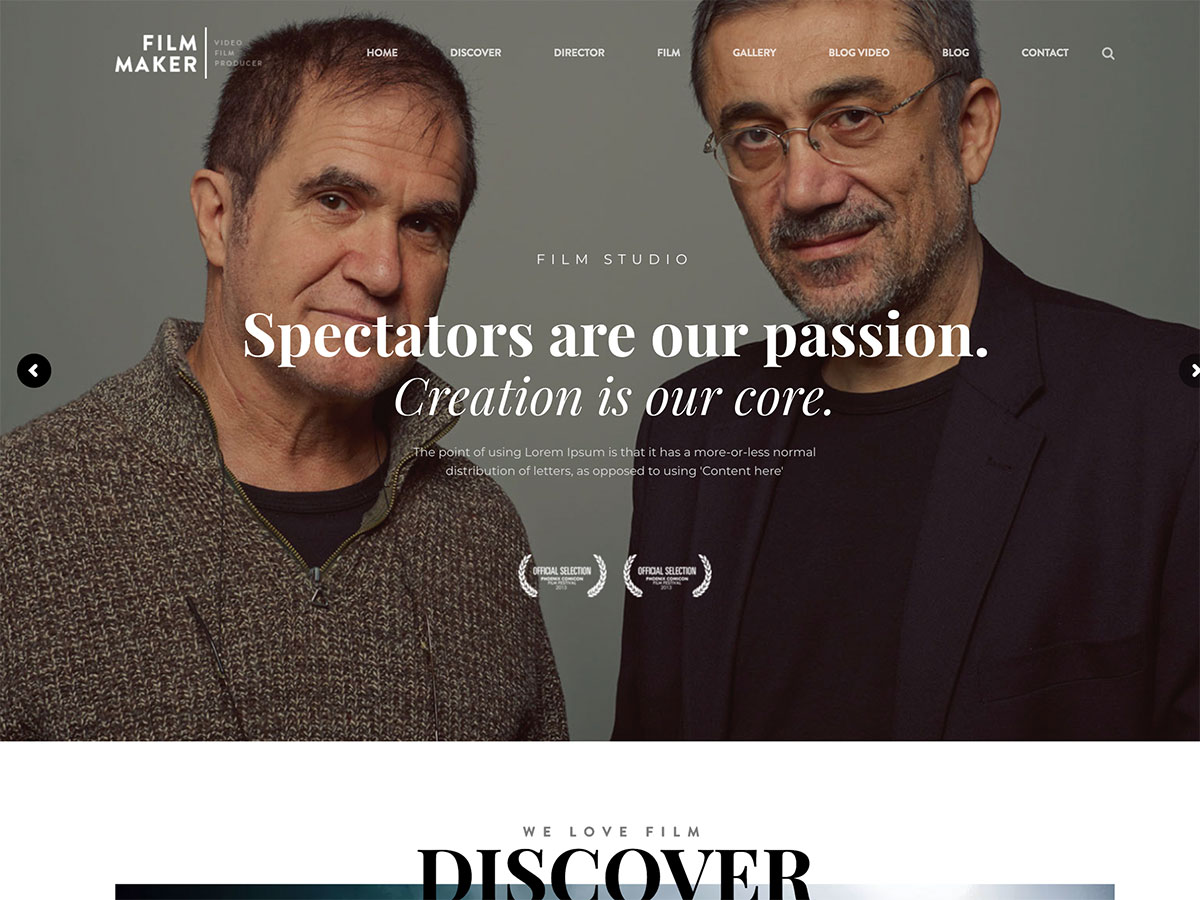 Filmmaker is a movie industry WordPress theme has been built with one purpose in mind.
Designed to help filmmakers launch a professional WordPress website, this theme is an obvious addition to this collection. There are a number of different layouts in the package including a design for a film studio, one for an animation company, and another for movie bloggers. There's also a pre-made website layout that's been created especially for movie directors and crew members, demonstrating that this is a very versatile filmmaker WordPress theme.
Despite the focused nature of this theme, the features are very varied. The powerful Master Slider plugin has been used to add interactive slideshows to the demo content and you can also use this tool to design your own sliders. For more creative options, all the layouts that make up the Filmmaker theme can be edited through the drag-and-drop page builder interface of the included Visual Composer plugin.
Other useful features of Filmmaker include the mega menus tool that makes it possible to add a range of extra content to your website's drop-down menus, the MailChimp integration that will help you grow your email newsletter subscribers, and the one-click installation that makes launching your site very straightforward. Filmmaker works with all the best third-party WordPress plugins so you can add any extra features to your website as needed.
Filmmaker has pre-built layouts for all types of movie and video related websites.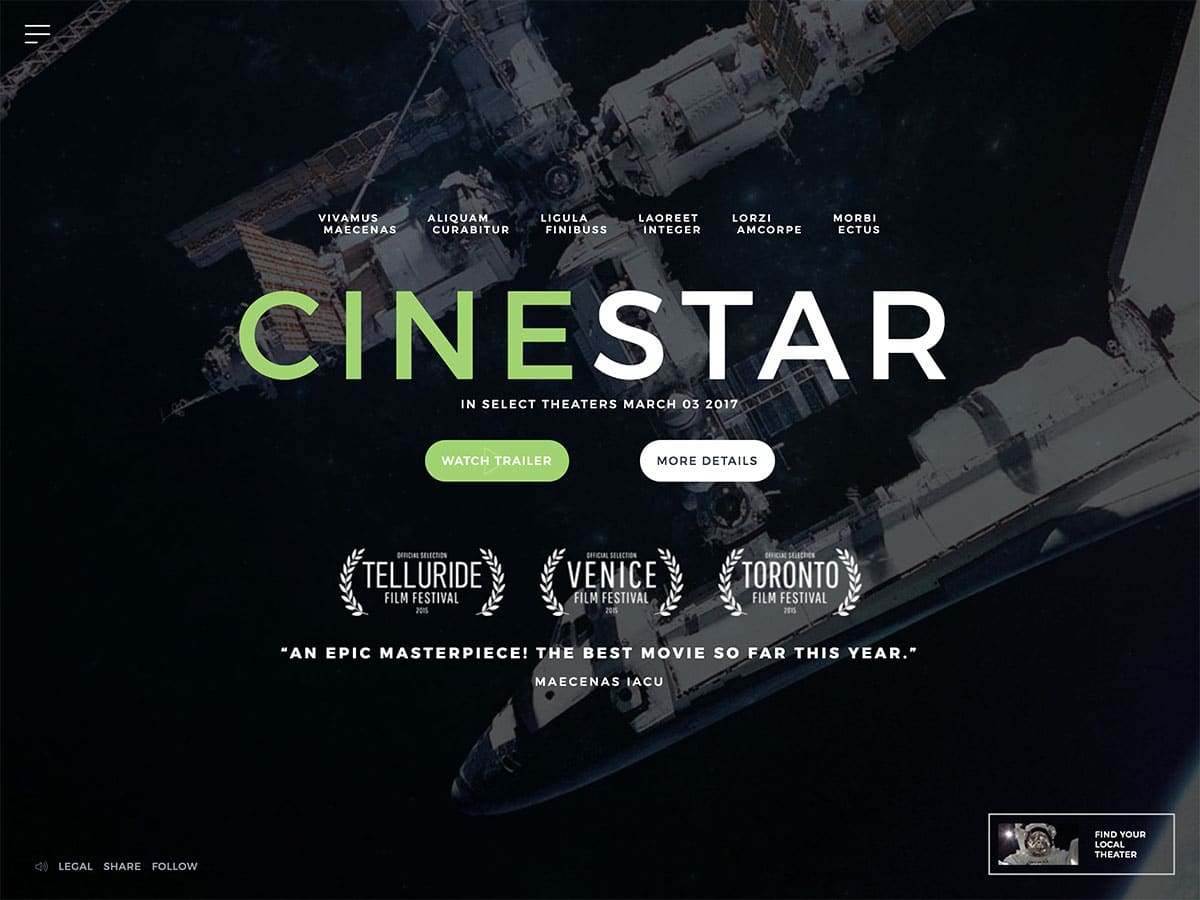 CINESTAR is a film marketing WordPress theme that should interest anyone who wants to promote a movie online.
To ensure your promotional website has the right design, CINESTAR has a number of modes that are aimed at a range of different movie genres. With options that cover space, war, history, nature, wildlife, and animation films, you're sure to find a design that's close to the type of film you're marketing. If there isn't a close match, then CINESTAR could still be a good option. Thanks to the theme customization settings, you can easily upload your own background and header images, choose your own fonts, and create custom color palettes that work with your branding.
To help you take even more control over the design and style of your website, this theme also includes the ever-popular Visual Composer drag-and-drop page builder plugin. Now redesigning the demo content and creating your own custom page layouts is well within your reach. To ensure your website has all the content your project requires, CINESTAR integrates with all the best video hosting services. Due to this, you'll be able to easily import yours and other users content from sites like YouTube and Vimeo, as well as self-host your own video files for display on your website.
CINESTAR has a stylish movie focused design that will give your promotional website a professional look and feel.