If you want to promote your skills and services online then creating a high-quality personal resume website is essential. Thanks to this collection of the best WordPress resume themes, launching such a website has never been easier.
As many of the themes featured here include more than one pre-built resume website demo, there's a good chance you'll be able to find an option that's right for your project. Furthermore, as many of these themes include page builder tools, if you see a design that's almost perfect for your website but not quite right, you should be able to customize it, either using the theme options control panel or a drag-and-drop editor.
Many of these themes also have high-quality portfolio templates for publishing your work online. Therefore, if you're working in areas like graphic design, photography, or fashion, for example, you should be able to find a theme that has everything needed to publish your work online.
Other features to look out for include skill graphs for highlighting your areas of expertise, education and employment timelines, and testimonial tools for publishing feedback from clients and employees. As mentioned, most of these resume WordPress themes are flexible, so you can adjust how they look and what elements they include without much effort.
So if you're building a new personal website, this collection of resume WordPress themes has plenty of options for you to choose from.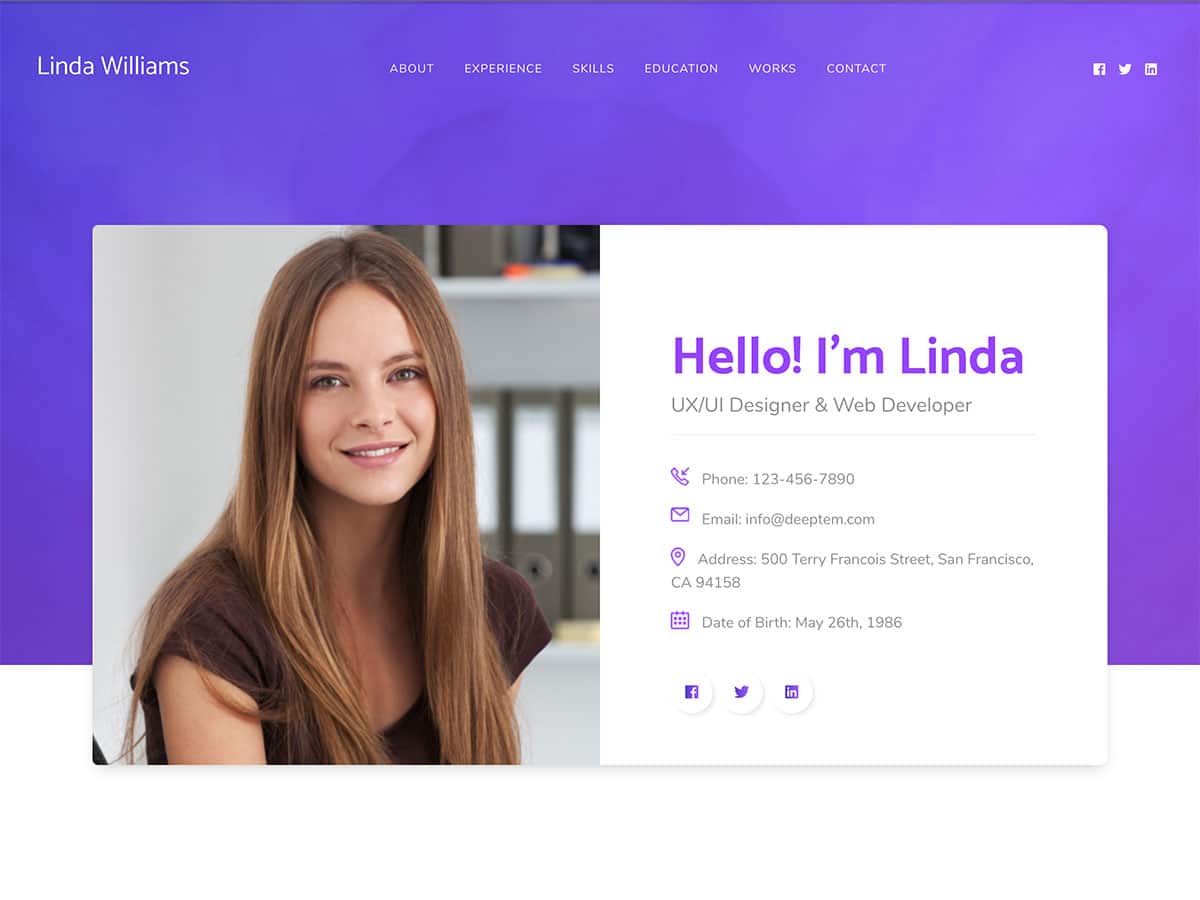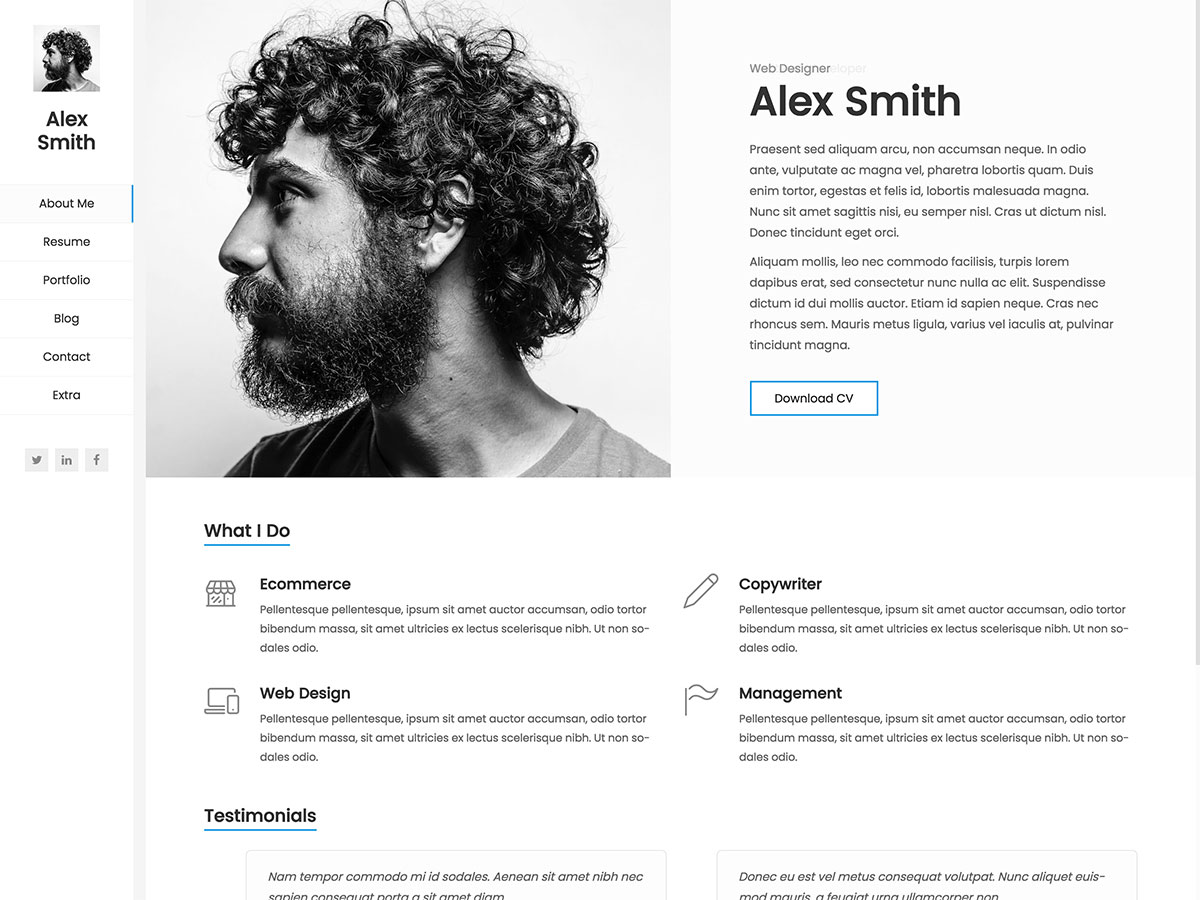 Kerge is a vCard and resume WordPress theme that has two unique demos to help you launch your website.
Both demos are ideal for creating an online resume website with WordPress. However, they do have slight differences that help set them apart from each other. While one of the Kerge demos is better suited to using images to catch the attention of your visitors, the other demo has been built to make the text of your resume the main attraction. Both demos share a sidebar navigation area, rather than opting for the more traditional horizontal navigation bar area. But whichever demo you do decide to use, you can quickly import the templates into your WordPress dashboard in just a few clicks.
Other features of the Kerge WordPress resume theme that might make you want to consider this option are its animation effects which help add some flair to the design of your online resume, the library of icons that can be used to break up the text on your pages, and the skills graph which can be used to provide a visual representation of your abilities.
If you want to customize any of the Kerge resume theme templates, you can use the drag-and-drop editor to carry out any design work. As this theme is built on the popular Unyson framework, you get access to a powerful back-end content editor in addition to the standard WordPress editor. Thanks to the elements of this drag-and-drop editor, you can easily create feature-rich page designs for your resume website from scratch.  You can also use the theme options control panel to customize other aspects of your website, including the fonts, colors, and layout settings.
Kerge can be quickly installed on your WordPress website, making it easy to launch your online resume.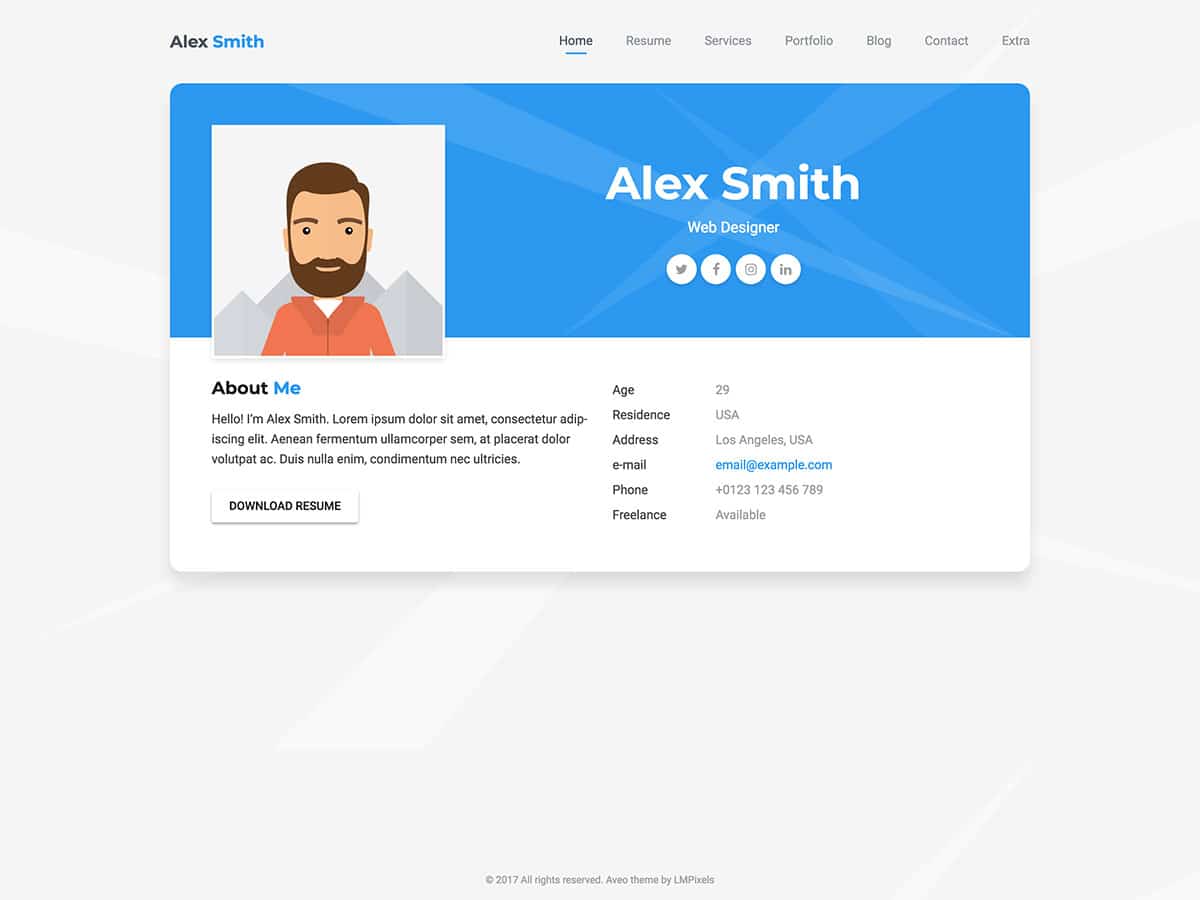 Aveo is a WordPress theme with a traditional vCard and online resume website design.
Launched in 2017 and regularly updated since then, Aveo has a layout that ensures your website is immediately recognizable as an online resume. The default design has space for a passport sized photo, alongside the key information you'd like to share with the world. The rest of your online resume content can be accessed through the menu, with new pages displayed using an eye-catching animation effect.
In addition to the main Aveo demo that's great for personal resume websites, there's also a design that's been created for building agency sites. Therefore, if you'd like your work to take center stage, rather than your personal details, this Aveo demo might be a better choice than the default mode. Both options have a good set of portfolio templates that make it easy to showcase your work and completed projects. Also, as all the content can be imported into your site in just a few clicks, getting set up takes no time at all.
However, regardless of which of the Aveo demos you choose, you can easily customize the appearance of your website. Thanks to the integrated drag-and-drop page builder tool, you can quickly and effortlessly rearrange the pre-built layouts and templates in the Aveo package. As usual with a high-quality page builder, you can also add your own unique page designs to your website, populating them with useful elements. The theme control panel gives you another way to personalize your website, despite using an off-the-shelf theme. Carrying out changes like adjusting the colors is all very straightforward with this stylish WordPress resume theme.
With good levels of support for a range of content types, whatever mediums you work with, Aveo could be a great choice for your online resume website.
RSCard is a powerful theme for creating all types of online resume websites with WordPress.
RSCard has five website demos that can all be used to create a WordPress resume website. The main differences between the five designs are their target users, with options for startup workers, doctors, singers, students, and actors. However, all of the pre-built RSCard demos share high-quality layouts and designs that are sure to give your resume a professional look.
As well as the stylish designs, RSCard is packed with useful features to help your resume website become a success. Among the different sections you can enable on your website, you'll find parts for adding education and work timelines to your resume, Twitter and Instagram sections for sharing your social media content with your website visitors, and skill bars and statistics sections to let visitors know where your strengths lie.
You can also add image sliders to your resume to share photos and other visual content with your audience. Promoting your services through the feature grid is an option too, as is publishing your rates via the pricing table section. If there's a useful element you want to add to your website, there's a good chance it's included in the RSCard package. For even more website options, RSCard is fully compatible with the WooCommerce plugin. Thanks to this, you can easily list items and services for sale on your resume website, with the ability to collect payments from your visitors.
As you can see, the varied selection of demo sites in the RSCard package ensures this theme will appeal to a wide user base.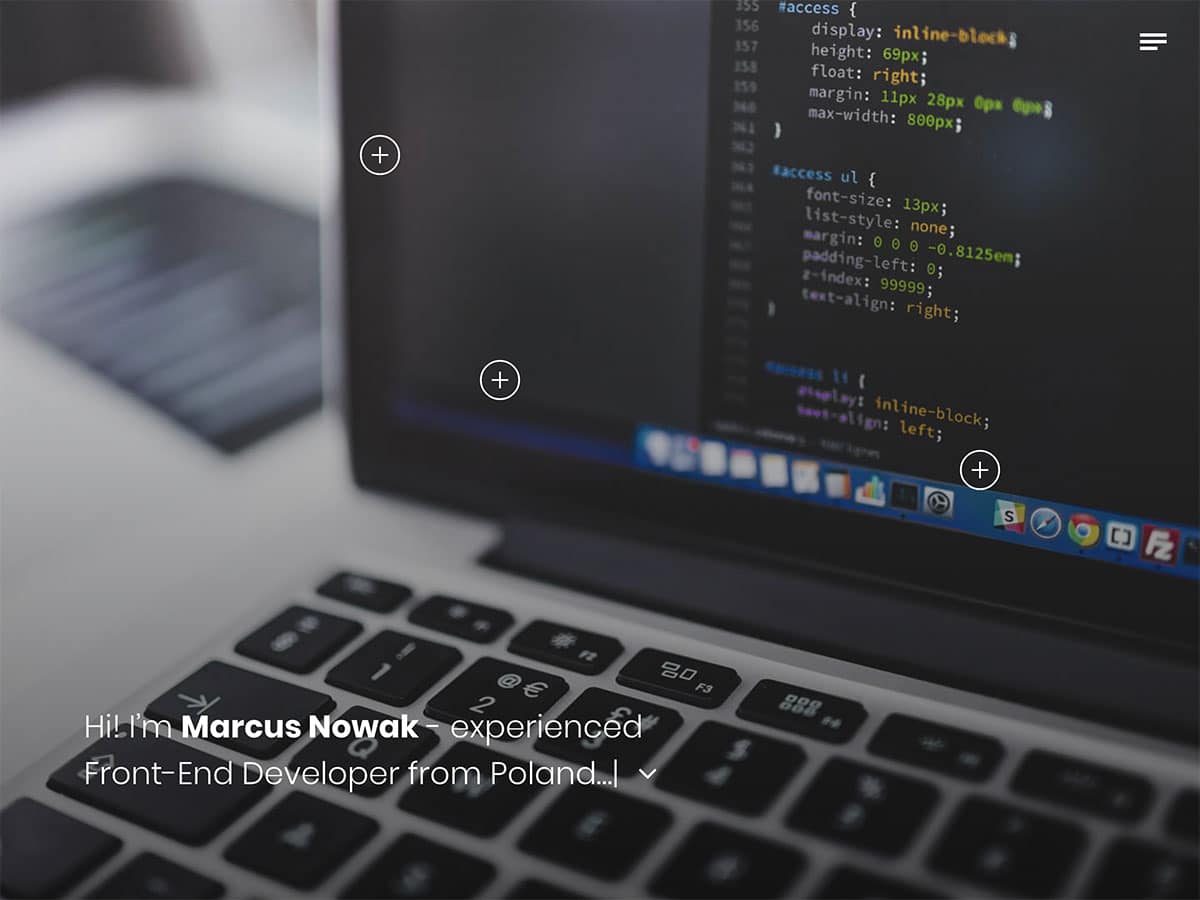 Jab can be configured to work in a number of different ways to help you launch a resume site that's right for your goals.
To help you create a suitable resume website, Jab comes with seven demos that can be imported into your WordPress dashboard. The demo designs cover developers, doctors, coaches, and personal trainers who need a stylish online personal portfolio and resume website. Therefore, if you fall into one of the categories covered by the Jab website demos, getting started should be very straightforward with this premium theme.
However, if none of the demos are an exact match for your industry or skill set, Jab still has lots of offer. With a little bit of work, this theme can be easily tweaked to suit even more jobs and career options. With the powerful WPBakery Page Builder plugin included at no extra cost, you'll have one of the most popular visual editors for WordPress at your disposal. Thanks to this, tasks like changing the demo site text, images, colors, and layouts just got a whole lot easier. There's also a feature-packed theme options control panel for carrying out even more customization work on your personal resume website.
Other useful and interesting features in the Jab theme package include a choice of section transition styles, multiple navigation options, case study templates, and support for adding slideshows to your website. You can also easily publish pricing tables, employment timelines, use background video displays, and integrate your site with Google Calendar to help your visitors check your availability – ideal if you're offering coaching or personal training from your website. Lazy loading and the use of Ajax is available to help deliver a faster and smoother user experience to your visitors.
If your product is covered by one of the Jab demos then this theme is a great choice, but even if not, it's still worth checking out due to its flexibility.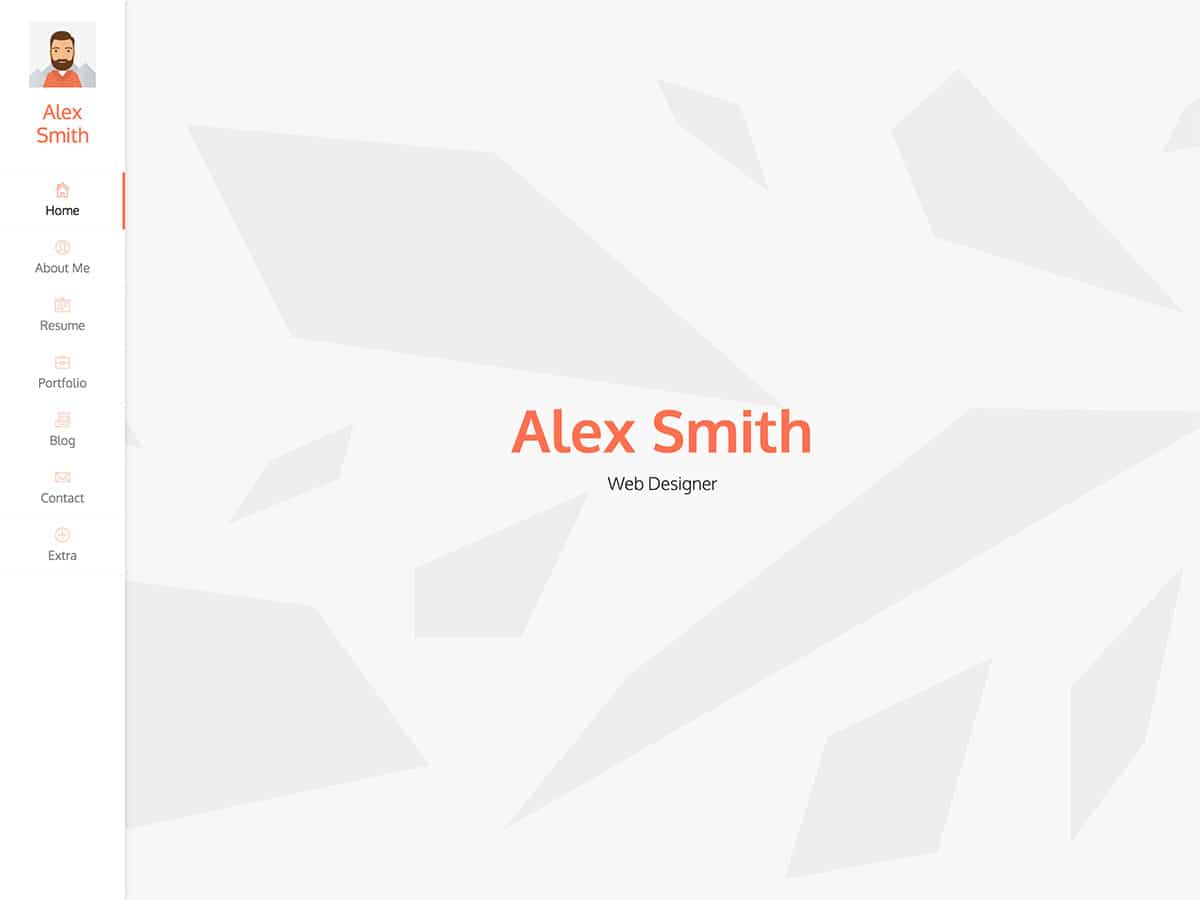 Unique has a pre-built online resume demo that can be quickly imported into your WordPress site.
Once you have imported the demo, you can begin customizing its content and appearance in order to create a unique site to promote your skills and services online.  With a full set of options for controlling the display properties of your website, you can tweak almost every aspect of this theme. The drag-and-drop page builder tool is on hand to help you adjust the demo content layouts, as well as create any extra page designs that are missing.
When setting up your website with the Unique theme, you can choose from a selection of 67 eye-catching page transition effects. You can also apply any of the 800+ Google Fonts to customize the text on your online resume. Having access to over 1,000 font icons gives you even more opportunities to illustrate the content on your website. Integrating Google Maps with your website is another way that you can enhance your resume site with this theme. Furthermore, if you work with video or audio, you'll be pleased to know that this theme makes it easy to integrate content from sites like YouTube and Vimeo in your resume.
Other features, like the social media integration, can help you share some of your personality with your audience. Through the feed options, you can display photos and other content from platforms like Instagram. Also, if you want to add a blog to your resume website, then the Unique theme has all the templates you'll need to share content with your audience. The built-in contact form ensures visitors will be able to get in touch as soon as you launch your website.
The design of Unique sticks to the traditional online resume format website while still offering lots of opportunities for customization.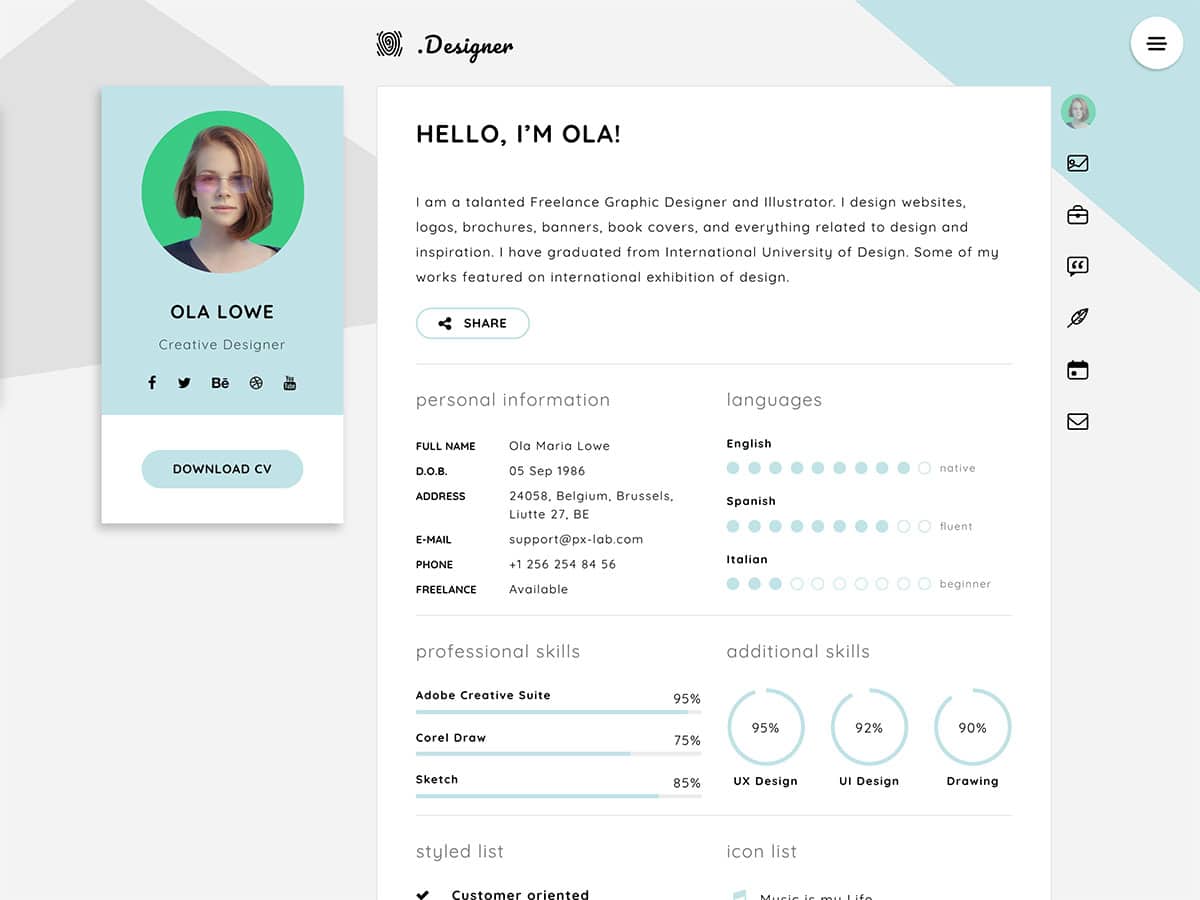 Certy is another stylish purpose-built WordPress resume theme with a mobile-first design.
With eight different resume website templates in the Certy package, there's a good chance you'll find a design that's right for your project with this theme. Although you can check out all of the Certy resume website demos in great detail on the theme website, to give you a quick idea of what's on offer, each template sticks to the tried-and-tested layout that's widely used by vCard and resume websites. This means each website design features a sidebar with a space for uploading a personal photograph, a link to a downloadable resume, and the main resume content presented using a card style design. However, there are enough variations between the different demos to give you a good range of choices when setting up your new WordPress resume website.
As the Certy theme includes a custom Instagram widget, you can easily display photographs from your feed on your WordPress website. If you're offering your skills as a photographer, then this feature could be a great way to automatically display your latest work on your website. Alternatively, if you just want to share a bit of your personality with your audience, then this feature could come in handy as well.
When it comes to customizing your resume website, the Certy theme makes it easy to control which sections are included on your site. You can also drag and drop the different sections to change their order, giving you even more control over the appearance and organization of the content on your website. Changing other settings, like the colors and fonts, is just as straightforward.
If you check out the rest of the features on the Certy sales page, you'll see that this theme isn't lacking in any areas, especially compared to the other themes in this category.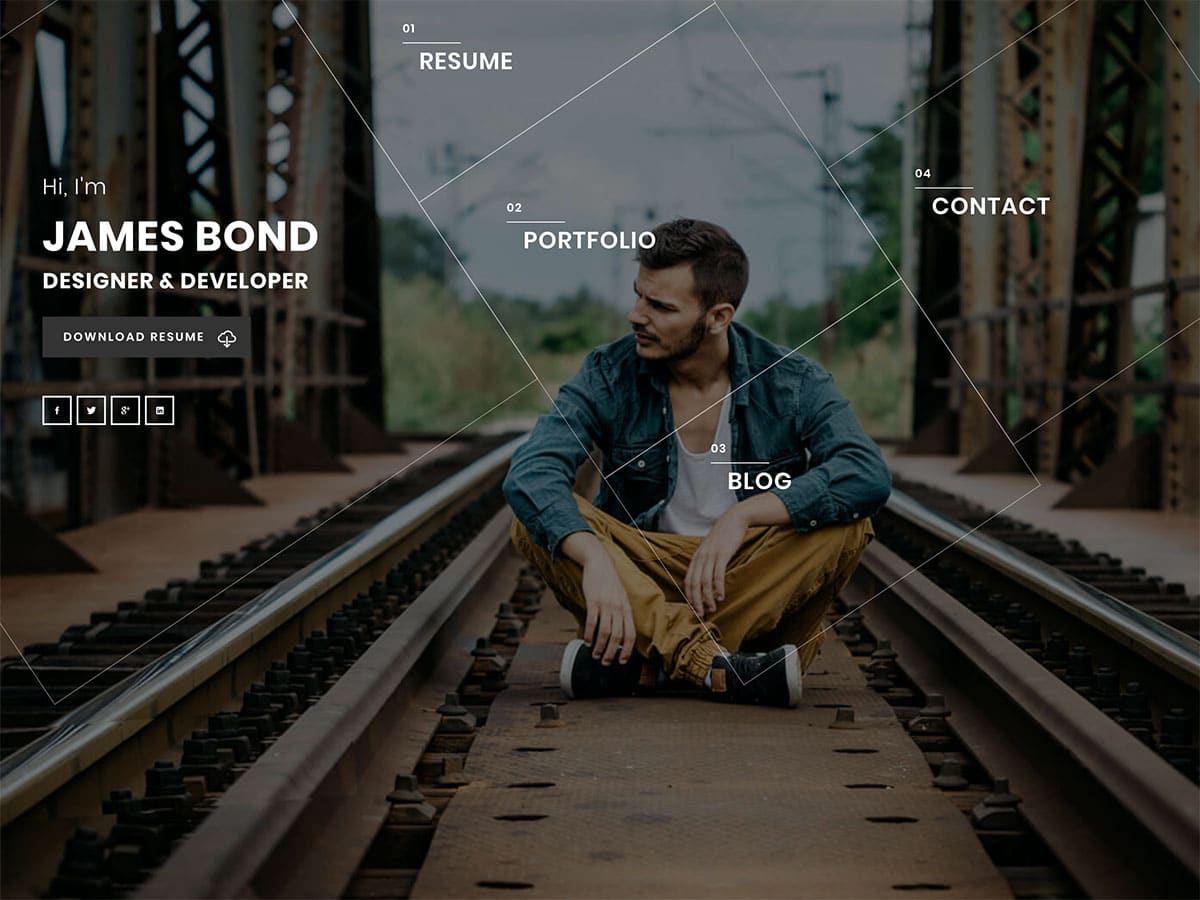 MeFolio has ten different resume website variations that all share a full-screen layout.
Each of the MeFolio homepage layouts has a different element as its main feature. For example, one option has a full-screen slider as its main feature, while another option uses a video background to grab the attention of your visitors. The other MeFolio homepage options use animated text, a scrolling background effect, or different menu positions to help you find the right design for your personal resume website. As mentioned, unlike some of the other options in this collection of the best WordPress resume themes, MeFolio uses a full-screen layout instead of the more traditional boxed layout, giving you more space to express yourself and present all the essential information to your audience.
As well as the stylish homepage layouts, MeFolio also includes a good set of portfolio designs. The different portfolio layouts use grid layouts to display your work, but each one takes a different approach to how the content is laid out. So whether your portfolio contains photos, videos, or some other type of work, the MeFolio theme should be able to accommodate it. You'll also find a template for adding a blog to your resume website, giving you a way to share your thoughts with potential employers. If you need to add any more templates to your resume website, then the King Composer page builder tool for WordPress is included in the MeFolio package. Thanks to the inclusion of this tool and the theme options and settings, you can take full control over the appearance of your website with MeFolio.
The demo MeFolio content has a very high-quality design that's sure to give your resume website a professional look.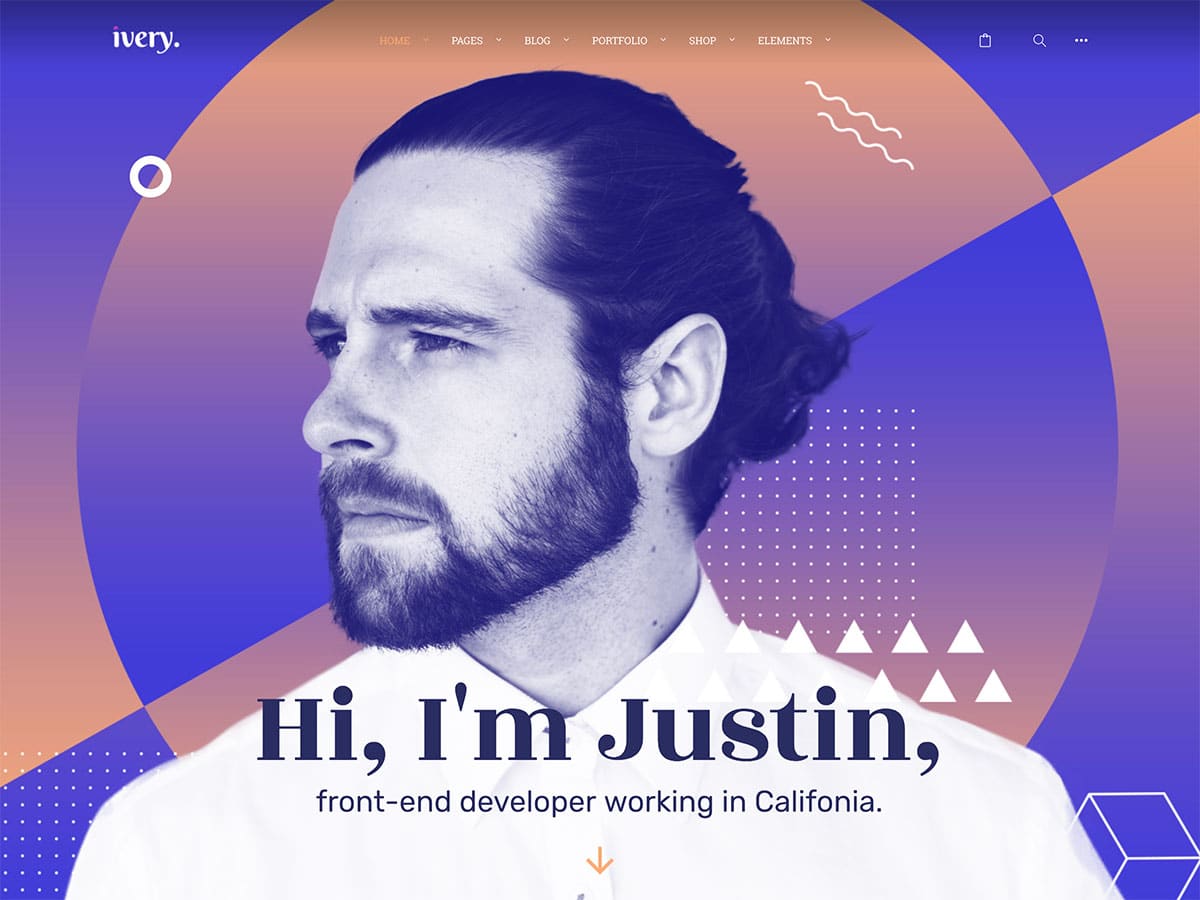 Ivery is a creative portfolio and resume WordPress theme with a colorful and eye-catching design.
As this resume theme has also been created to help you design portfolio websites, the Ivery package includes lots of different layouts and templates for presenting your work. All of the five different website variations that make up this theme have bright and colorful designs, making this a good option for anyone working in the creative industries, as well as those who want to make a good impression on their visitors. Also, as this is a relatively newly released theme, Ivery has used lots of the current web design trends to give your website an up-to-date look.
In addition to the full-screen layout that takes up all the space available to it, this also theme makes it easy to display full-screen background images on your website. As your visitors scroll down your choice of homepage layout, you can either use stock images as the background display or showcase some of your creative work. As Ivery is aimed at those working in creative fields, such as graphic designers, photographers, illustrators, and similar industries, the default design has lots of little touches that should help the theme, and your website, appeal to that demographic.
If you want to make any changes to the default layout and design of this theme, all the tools you need are included. For one, you get access to a premium visual content editor plugin in the form of WPBakery Page Builder as well as the powerful Slider Revolution slideshow creation tool. Thanks to this, no matter how little experience you have with WordPress, you should be able to add your own personality to this theme.
Ivery is packed with useful features and varied layouts to ensure it's ready for creating online resume websites of all shapes and sizes.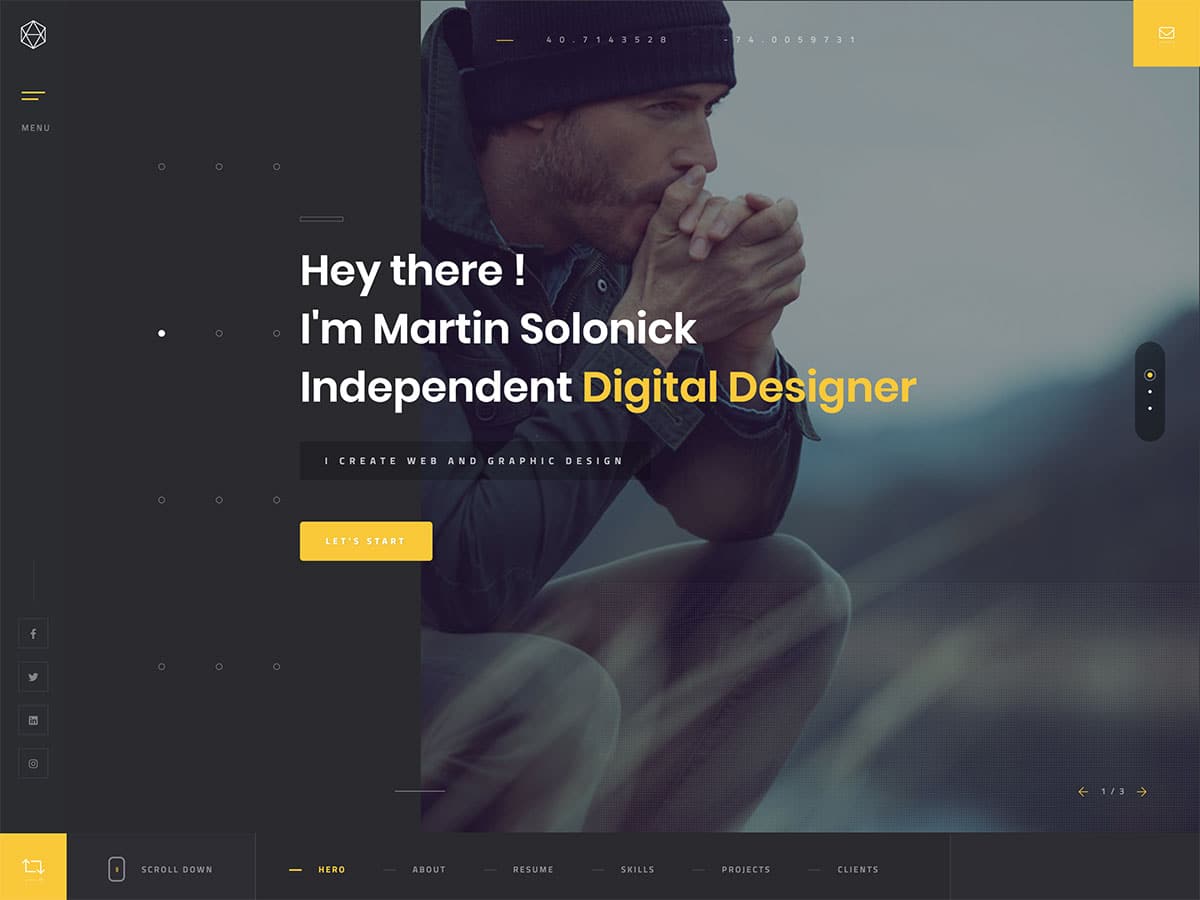 Solonick works well for both personal resume websites and creative portfolio sites.
Thanks to its varied features, it's fair to say that Solonick is a multi-purpose option in the resume WordPress themes category. The nine website demos all have a slightly different focus, but they each have a design that should appeal to anyone creating a personal resume or portfolio website with WordPress. With lots of spaces for large images, it's easy to display photographs of yourself on your new website with the Solonick theme. You can also use the pre-built sliders to create a montage of your work or use the included premium slideshow builder plugin to design your own sliders from scratch.
As well as using large images and sliders in the design of your resume website, this theme has also been created to accommodate video, with sections that can display video backgrounds to catch the attention of your audience and potential employers. Although the colors of your website can be easily customized with this theme, the default palette works really well and gives you another opportunity to make a positive impression on your visitors.
In addition to adjusting the colors of your website, you can also personalize your site by choosing between a multi-page format and a single-page design. Like some of the other popular resume themes in this collection, Solonick comes equipped with a drag-and-drop content editor tool, with the premium WPBakery Page Builder included at no extra cost. If you want to get even more creative with the design of your website, the Solonick theme comes with well structured and clean code to ensure developers can make any changes they feel are necessary.
Solonick is a feature-rich WordPress resume theme that should provide a versatile platform for your website.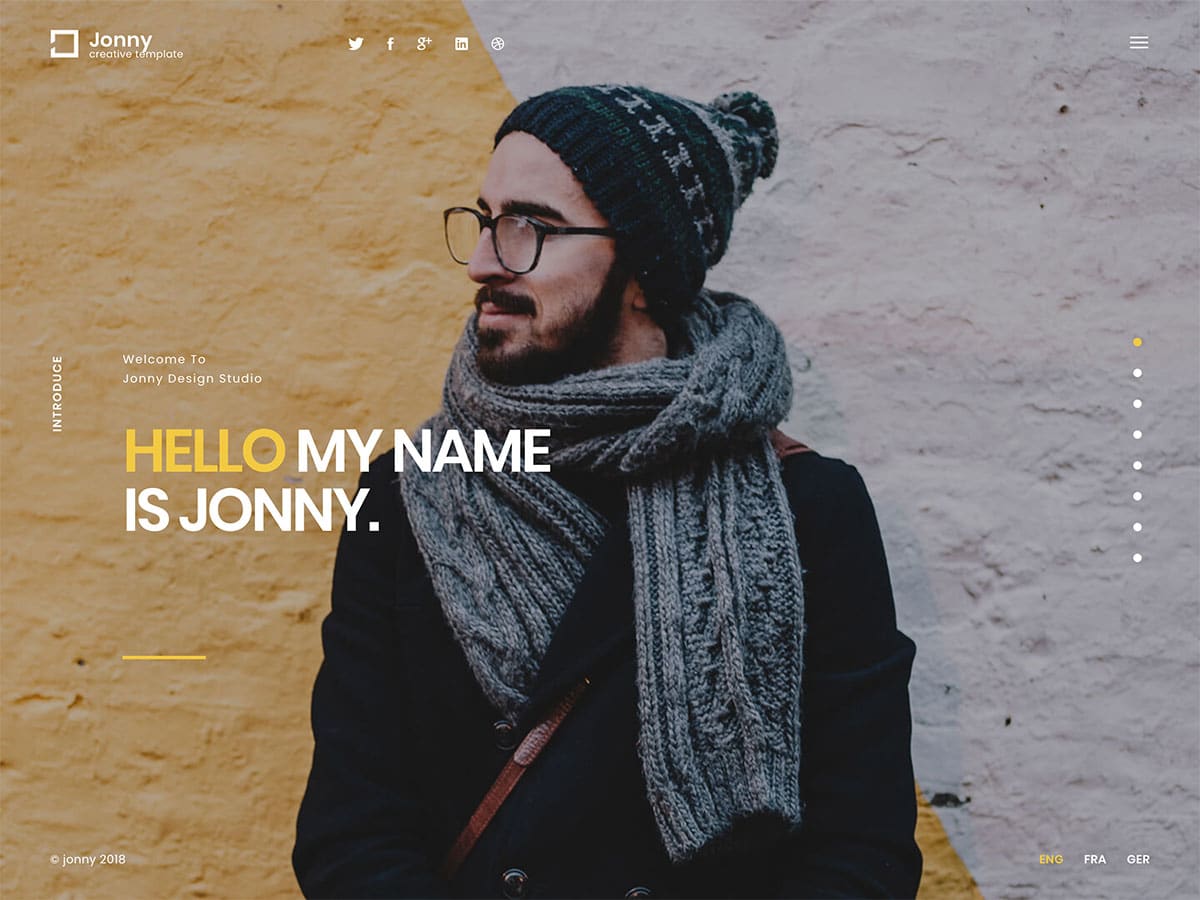 Jonny is well suited to creating a traditional online resume or promoting your skills as a freelancer.
Whether you want to find traditional employment or you're seeking more freelance gigs, the Jonny personal WordPress theme could be the right option. A full-screen layout with a large background image and an interesting scrolling effect are used together in a successful combination to give the main demo site of this theme a unique style and appearance.
Although you don't have to, if you do decide to use the theme in its default configuration, the slides or different sections that make up the homepage design can be used to display your skill set, link to featured works from your portfolio, promote your services, and highlight your education timeline. There's also a section for displaying awards you've achieved as well as logos of clients you've worked with. Other optional homepage sections include an area for displaying testimonials in a slideshow format and a contact form that makes it easy for your audience to get in touch.
As mentioned, you're definitely not constrained to using this theme in its default mode. With a premium drag-and-drop page builder plugin included in the package, as well as a powerful set of theme options, everyone should be able to make small or large adjustments to the design and style of this impressive personal resume and portfolio theme. Getting started with Jonny shouldn't be a problem either, thanks to the videos tutorials that will walk you through the process of installing and setting up this theme. As you'd expect from a premium theme of this type, everything works just as well on small screen mobile devices as with laptops and desktop displays.
Jonny has an interesting navigation system that could help elevate your resume website above the competition.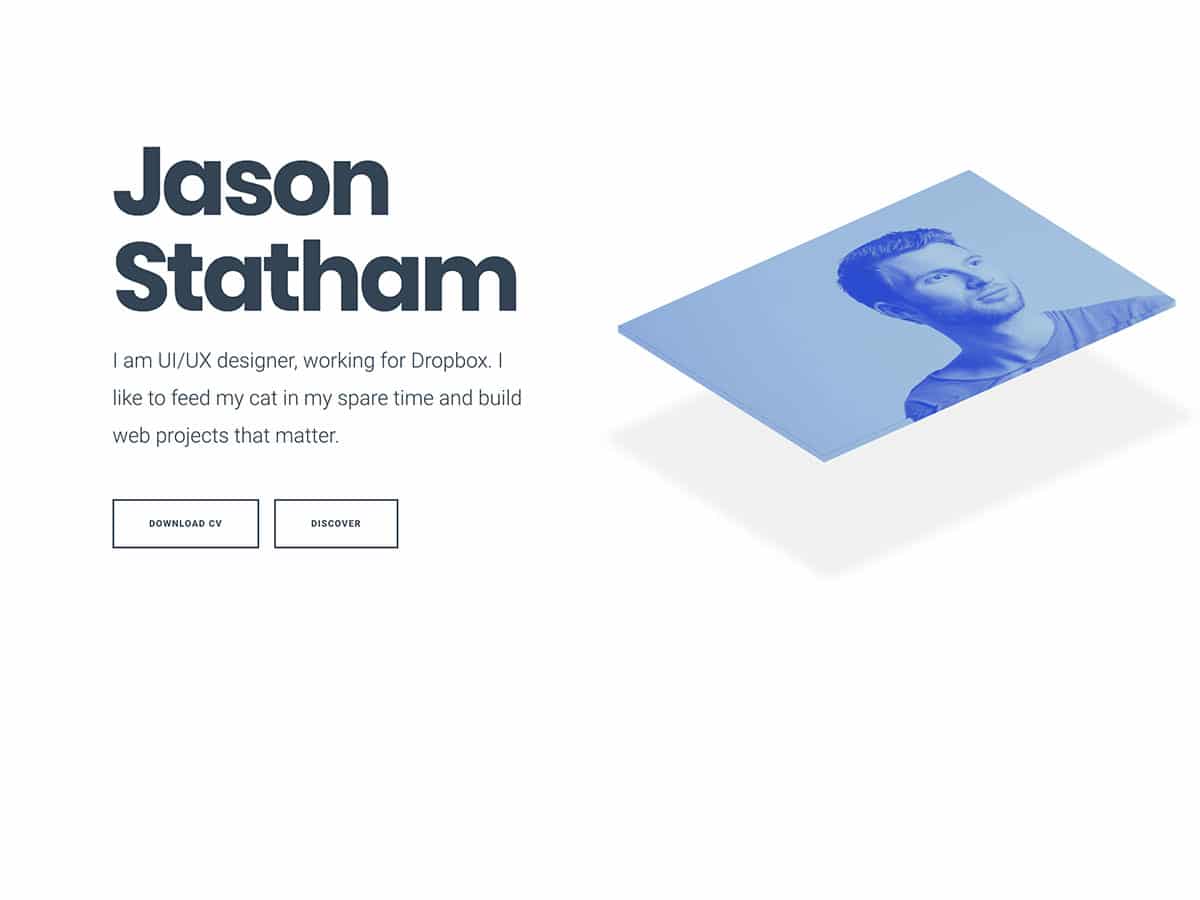 unRovr is described as an animated vCard and resume website builder theme.
If you'd like to use animation effects to make your resume website look a little more interesting, then the unRovr theme is well worth checking out. As well as the optional animation effects, you also get to choose from eight website demos if you decide to use unRovr for your project. When it comes to picking a demo from the unRovr selection of templates, the options include a clean and minimalistic design, an elegant full-screen option, and a more traditional boxed vCard style layout. There are also a few other designs which you can preview for yourself on the demo page.
If you do check out the demos, you'll see that some of the designs are very minimal and simply feature a text area, space for an image, and then buttons to download your resume. This makes the unRovr theme ideal for anyone who needs to get their resume website online today, without spending more than a few minutes setting it up while still having the ability to share their essential details with potential employers. If you have more time to devote to building your website, or you need a more feature-rich design for your online resume, the other unRovr templates might be more to your taste. For example, there are some demos in the package that have sections for displaying your skills using animated graphs, adding an educational timeline, and publishing testimonials from previous employers and clients.
It's fair to say that the designs of the unRovr demos are very clean and minimal. However, thanks to the drag-and-drop interface, it's easy to make any changes to the overall designs if it helps make your website better suited to your requirements. Through the page builder tool, you can also add extra elements to your pages, such as buttons, tables, media players, and much more.
unRovr is a stylish resume WordPress theme with all the features you should need to create the perfect website.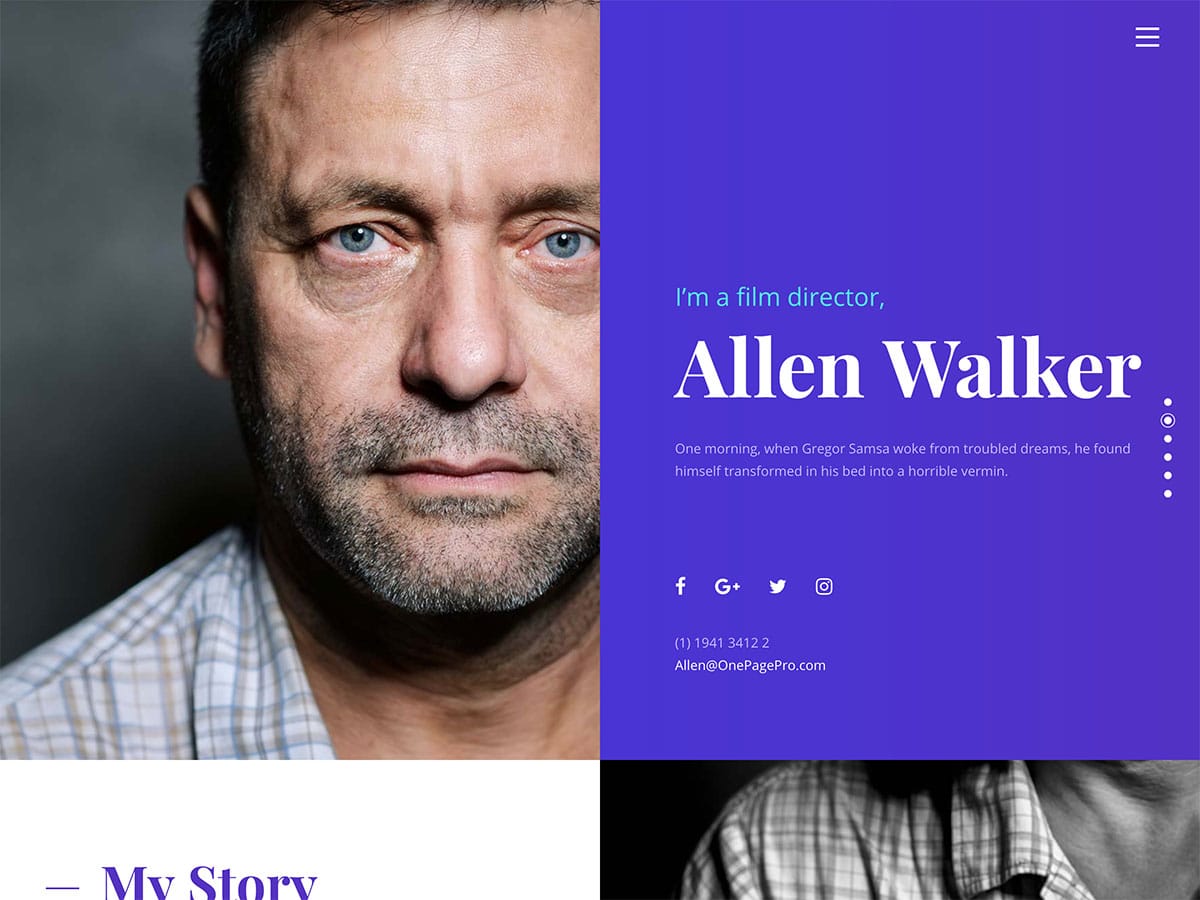 One Page Pro has three varied website demos including an option for creating a CV or resume website.
Although you could easily adjust the other demos to make a stylish resume website, the purpose-built option is the quickest and easiest way to use this theme to launch your new resume website. The full-screen design of this demo ensures your website will make the most of the browser windows of your visitors.  A good proportion of the One Page Pro template is devoted to displaying images, so if you have some high-quality photos you'd like to use in the design of your website, this theme could be a great choice. For example, the default homepage layout has been configured to display a photo of the website owner, above the fold, taking up half the page.
As your visitors scroll down the homepage, the default layout will allow you to display text that tells the details of your story. This section is then followed up by a portfolio section that has its own scrolling navigation that your visitors can use to flick through your past projects. The timeline feature that's popular with the creators of WordPress resume themes is displayed next, giving you a visually interesting way to share your employment or education history.
As this is a one page WordPress theme, the default homepage layout continues with a section for publishing the logos of clients or employers you've worked with, as well as a contact form that makes it easy for your visitors to send you a message. Although the default resume website demo looks good and all the sections work well together, as this theme includes a drag-and-drop page builder tool, you shouldn't have any problems when it comes to rearranging or adding and removing sections from the default homepage layout.
One Page Pro is a highly flexible WordPress resume theme that is suitable for a range of personal website projects.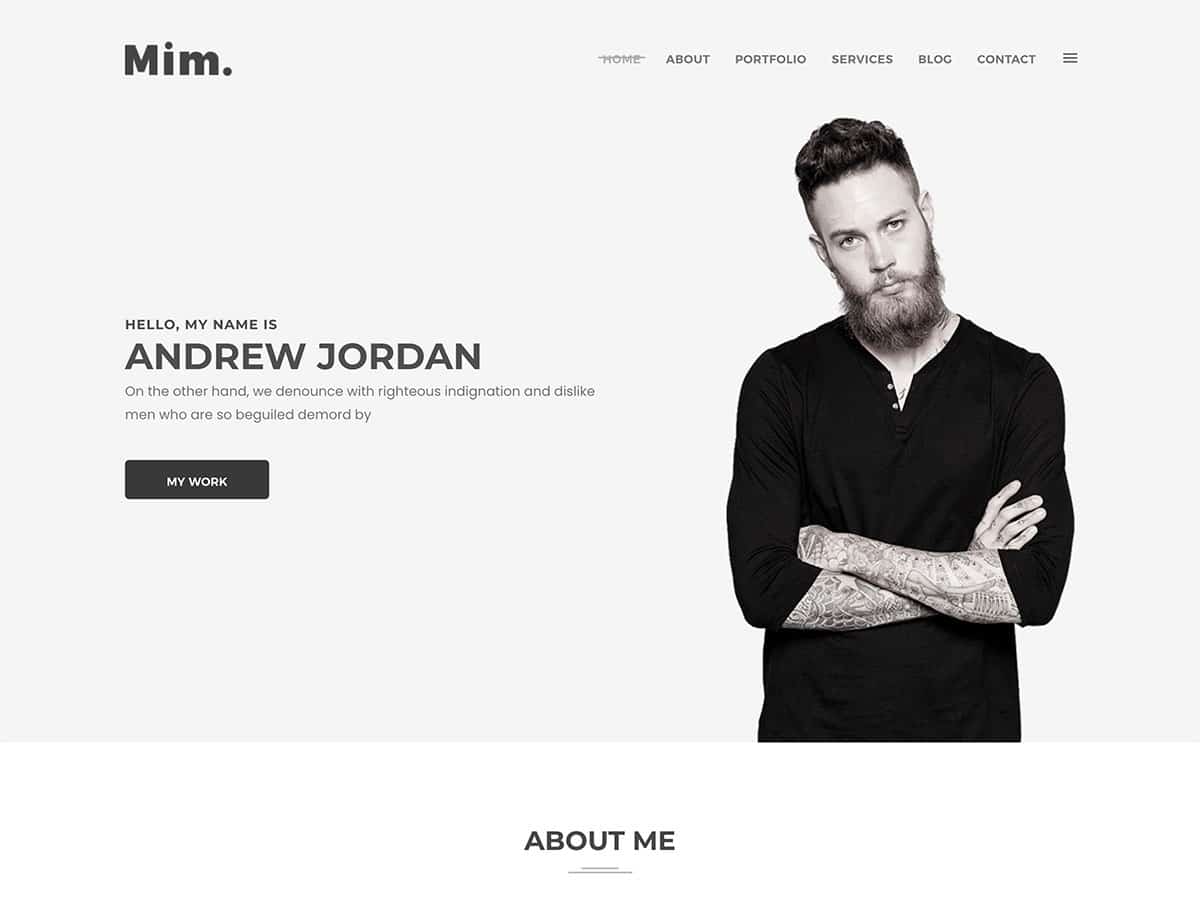 Mim is a personal portfolio theme that's also ideal for creating resume websites with WordPress.
The two demos in the Mim theme package give you a choice between a light or dark color palette for your website. Once you've chosen and imported a demo, you can start replacing the placeholder text and images with your own content. With sections for a welcome message, personal information, a skills graph, and an employment timeline, the Mim theme has all the features you should need to launch a professional-looking online resume website.
Thanks to the portfolio section and templates, the Mim theme is particularly well suited to anyone who wants to share the visual work they've completed with their online audience. Visitors can browse the portfolio excerpts on the homepage, with the option of clicking on an item to view a larger version along with the accompanying text. The individual portfolio piece templates have space for all the information you'd expect to find on this type of page, including a section for an image gallery.
Other features on the homepage layouts of the Mim theme include a nicely designed testimonial slider for sharing feedback from clients and employers, a blog post area, and a built-in contact form and space for publishing your contact details. The footer section layout has links to all the main social media networks, giving you the option of promoting your profiles to your audience. As the Mim theme has been built on the popular Bootstrap grid layout, all of your website will be easily accessible on smartphone devices, as well as larger desktop and laptop displays.
As well as the pre-built website demos, this theme also includes a drag-and-drop page builder to help you make any changes to its design.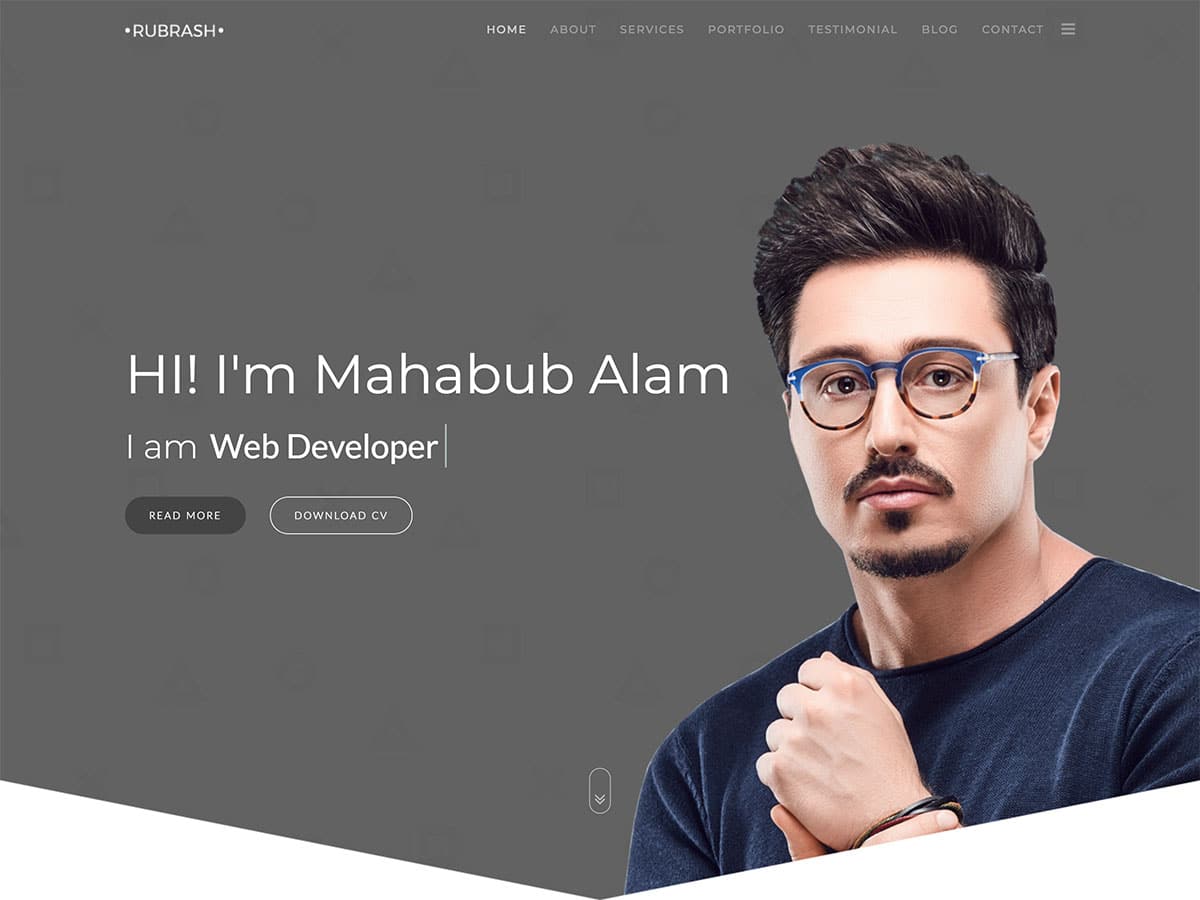 Rubrash has nine website demos to cover a wide range of different online resume and portfolio styles.
With nine different portfolio and resume website demos to choose from, you're sure to find a design that's right for your project with the Rubrash theme. Among the options are general purpose traditional resume website layouts with modern designs, as well as more specific demos for photographers and personal trainers. So if there's a purpose-built demo that matches your area of expertise, then Rubrash could be a great choice. But if not, one of the more neutral designs could still make this theme a good option for your project.
As the Rubrash theme has a modern design that's extended to all of its demos, your resume website is sure to have a contemporary look and feel that will help it appeal to your target audience. Features like full-screen layouts, subtle animation effects, and in-content sliders, all help to give this theme an up-to-date look. It's not all about the looks though. The pre-built homepage layouts are packed with useful features. Publishing client testimonials, employer logos, and education and career histories are all part of the functionality of the Rubrash theme.
The technical features of this theme are just as impressive as the design-focused ones. With a fully responsive design that looks great on screens of all current shapes and sizes, as well as fast-loading clean code, you'll have no problem building an easily accessible website with Rubrash. Furthermore, with the premium WPBakery Page Builder plugin included, making any changes to the design and layout of your website is very straightforward with this theme. The Slider Revolution tool is included too, for all of your slideshow creation needs.
With nine high-quality resume demos, you're sure to find a suitable design for your website with the Rubrash theme.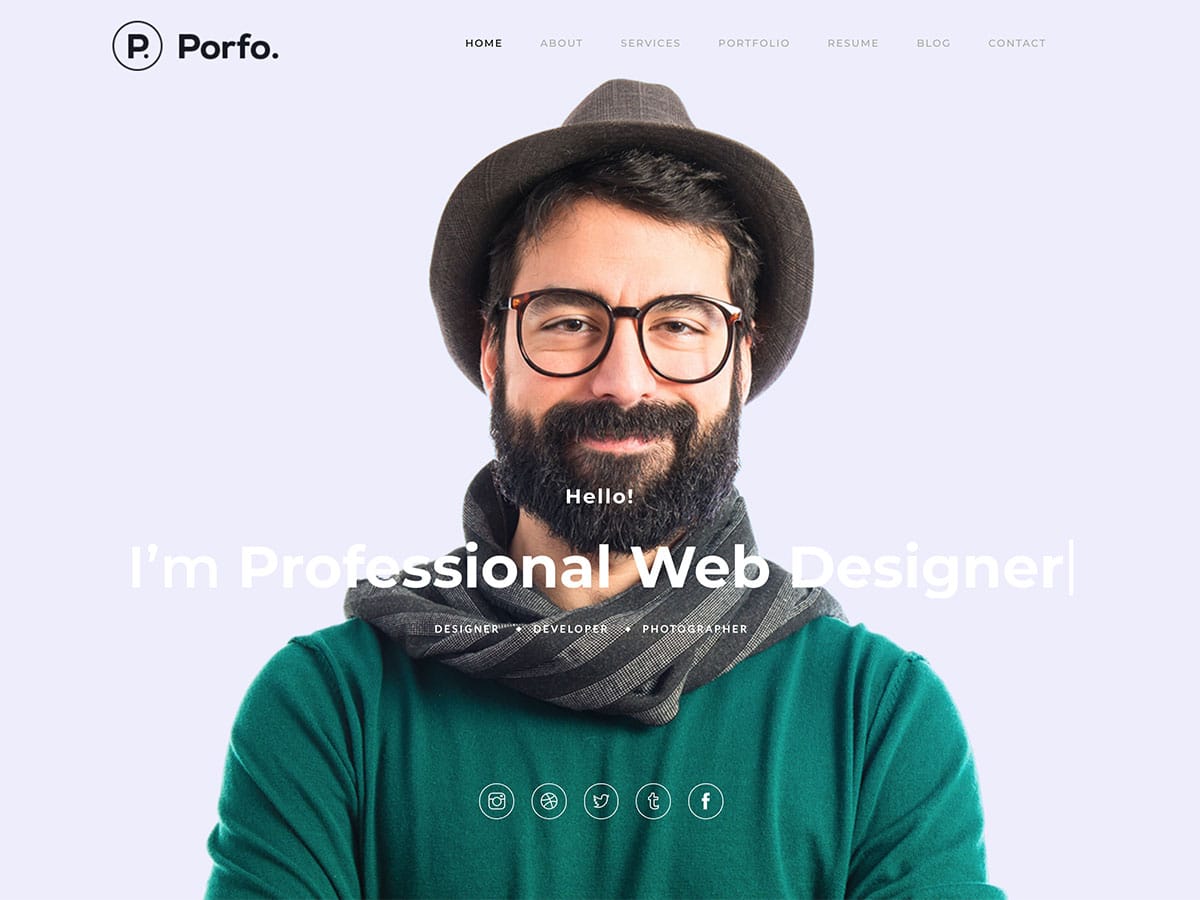 Porfo is a minimal purpose-built personal resume WordPress theme with two main website variations.
With light and dark color variations of the two main demos to choose from, Porfo should suit most personalities. Overall, the design of the Porfo theme is best described as being minimal. While the layout has been built to fill the browser window, there's lots of white space to ensure your text and images are the main focus of your personal resume website.
The available elements that are included on the Porfo demo layouts make it easy to publish an about me section complete with links that let your visitors download your resume, animated skills graphs to show off your key areas of expertise, and a section with a slider for presenting your services or the main skills you have to offer. There's also a stylish yet minimal portfolio section. This area of the homepage layout can be used to display the latest excerpts from your portfolio, while still giving your visitors the ability to click through to the main portfolio content. Like many of the WordPress resume themes here, you'll also find sections for publishing testimonials, work history, and details of your education in the Porfo theme homepage layout.
The final section of the default homepage layout includes a built-in contact form to encourage your visitors to take the next step and get in touch. However, as the Porfo theme includes the drag-and-drop King Composer page builder tool, you're free to rearrange the homepage sections or add and remove any as you see fit. As the page builder tool has its own set of content elements, you can easily drag and drop new features to your pages as needed.
Porfo should work well with most resume website projects and has video tutorials to help you get up and running.