BuddyPress is the social networking plugin for WordPress that enables you to build your own Facebook. Whether you want to create a social space for your friends and family, develop a collaborative environment for your co-workers and colleagues, or somewhere in-between, the free and flexible BuddyPress plugin is for you.
While any good WordPress theme should work with this social network in a box plugin, choosing a purpose built template not only saves you lots of time and effort but also ensures that each feature of the plugin will match the rest of your website.
By choosing a theme with a good selection of BuddyPress page templates, your visitors will be treated to a consistent user experience as they move through your website. This covers the registration and login pages, the activity feeds, member profiles, private messaging tools, and more.
Some of these themes have also been built especially to integrate with the bbPress plugin. This is another tool for WordPress that lets you add social features to your site, this time in the form of discussion boards. Look out for support for membership plugins, e-commerce tools, and calendaring plugins if you want to charge your users a fee for accessing your site, sell items online, or manage virtual or offline events.
BuddyPress and its add-ons offer a wealth of social networking features that when combined with WordPress and the right theme, provide unlimited possibilities.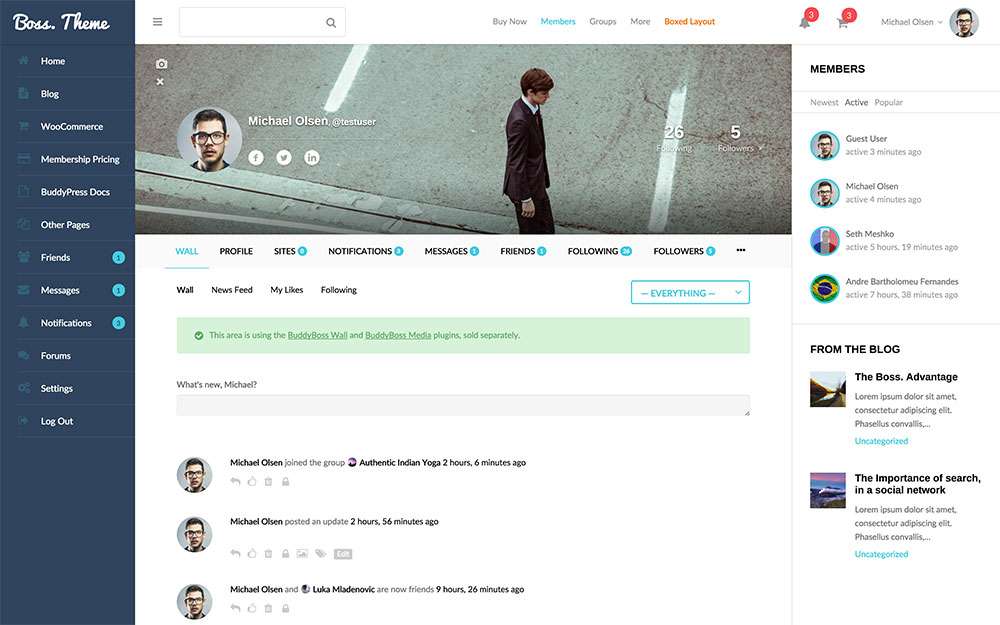 Boss has been created by BuddyPress specialists BuddyBoss. This is also their flagship theme so you know it's going to be a good one.
The overall design and layout of this theme really is first class. If you don't want your social networking site or online collaborative working space to look like it was created on the cheap, then Boss is a great choice. As well as the full BuddyPress integration that you would expect from a theme in this category, you also get access to a wealth of features to help your project become a success.
When building your website with this theme, you will have a great deal of control over the layout of your site, plenty of customization options to work with, and detailed settings and options to manage how your platform will work. Boss also offers full integration with the Sensei and LearnDash e-learning plugins. This means adding an LMS component to your website isn't a problem either.
If you want to add membership features to your site, such as multiple member levels, and drip feed access to content, Boss includes full support for the free Paid Memberships Pro plugin. Using this plugin then gives you the ability charge for access to your site by using the best payment gateways out there. This includes PayPal, Stripe, and 2Checkout.
The BuddyBoss team also offers custom development services, so if you have an advanced project in the works, or just need a little extra help, be sure to get in touch.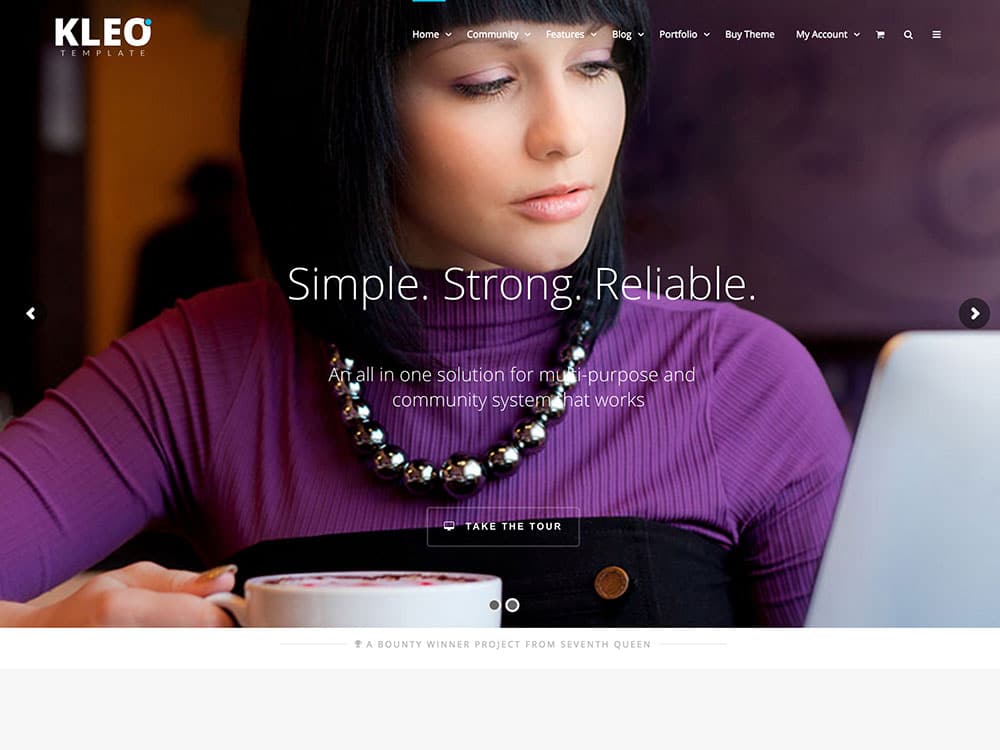 KLEO has a demo configuration for every occasion, including a social network powered by the BuddyPress plugin. It's also a theme that has been one of the most popular templates for BuddyPress users in 2016 at the ThemeForest marketplace.
While KLEO is packed with all the features you would expect from a modern premium WordPress theme, there are many that will be of particular interest to BuddyPress users. These features include all the page templates you will need to create your social network and online community, a BuddyPress profile search tool to help your members better connect with each other, and support for a popular geo-directory plugin for adding location-based features to your community.
As this is a fully multipurpose theme, if you want to add a shop, blog, forum, e-learning, or other components to your social networking site, it's not a problem with KLEO.
As well as the social networking configuration, other modes you get access to with KLEO include a portfolio site, a Pinterest-style layout, an e-commerce mode, an e-learning setup, and a business directory listings website demo, plus many more. Each demo version can be installed in just a few clicks to help you get your website online in no time at all.
KLEO offers plenty of customizable design elements alongside impressive third party plugin integrations for adding many kinds of features to your site.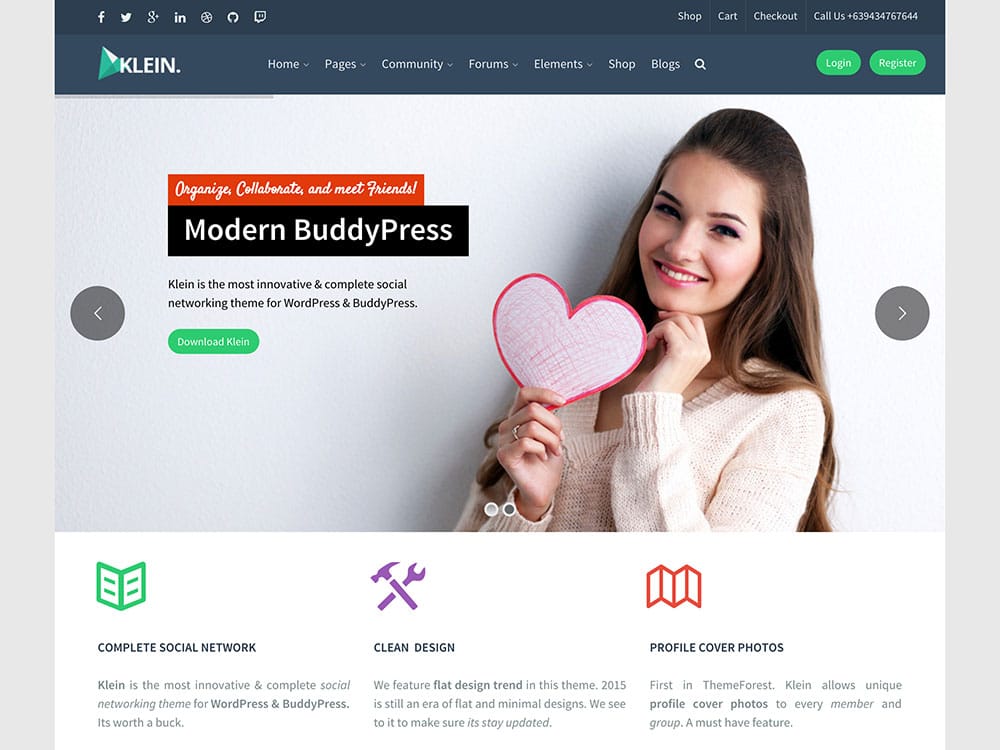 Klein is a community-focused WordPress theme with strong BuddyPress integration that has also been designed to work closely with the bbPress forum plugin, Paid Memberships Pro, and the WooCommerce eCommerce plugin.
This gives you plenty of options that cover the types of sites that can be built with Klein, ranging from simple community and social networking sites, through to those with online store capabilities, and discussion forums.
Creating the layout of your site is easy with the newly released version 2.0 of Klein. This is thanks mainly to the drag and drop layout builder which includes over 45 components, all of which can be added to your layouts in any position you want with ease.
As well as all the community-building possibilities of this theme, Klein also represents great value for money as it includes the premium best-selling Visual Composer page builder plugin, and the Slider Revolution content slider plugin. When purchased separately, these two plugins wouldn't cost you much less than the price of this theme on its own making the package a great deal.
If you are building a community website then WordPress, BuddyPress, and the Klein theme combine to give you an effective solution that is easy to use.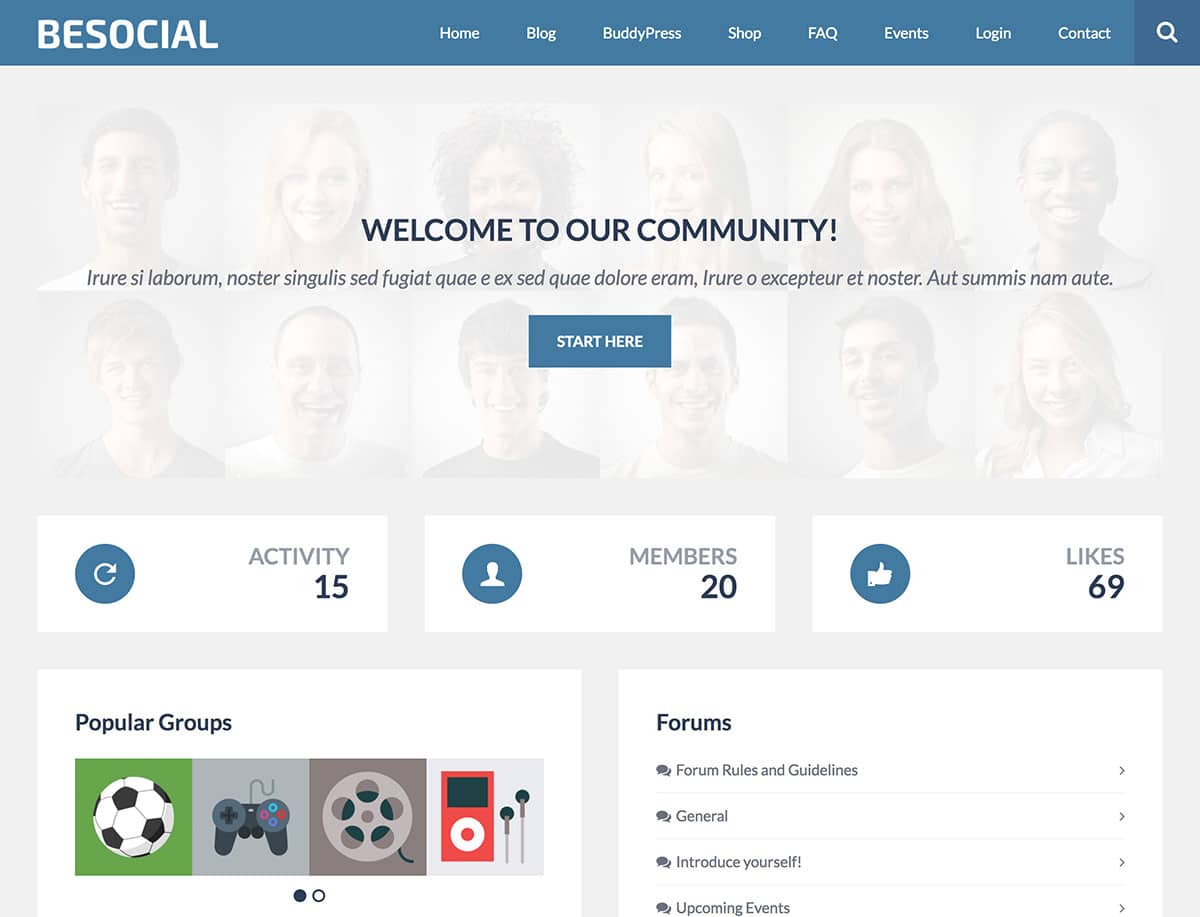 BeSocial has been built around the BuddyPress plugin to provide you with everything needed to launch your own social networking community.
However, BeSocial isn't only focused on BuddyPress. This theme includes full support for the bbPress discussion forum plugin, giving you even more options for adding interactive and community building features to your website. WooCommerce is another plugin that can be seamlessly added to your website, enabling you to sell products, services, and experiences.
However, when it comes to social networking features, BeSocial has plenty to offer. Adding the Facebook comments feature to your site is easy, giving your visitors another way to interact with your content and each other. Your BuddyPress members can also create connections and see mutual friends at the touch of a button. Adding photos and other information to member profiles is part of the package too. If you want to know more, you can try out an admin demo for this theme. This gives you a quick way to see for yourself how all these features and the rest of BeSocial works.
Customizing your website is straightforward too. BeSocial features a detailed set of theme options that can be accessed through the WordPress Customizer interface. Now you can modify many aspects of your site, through a user interface that offers a live preview of your work. When it comes to customizing the individual pages of your site, the SiteOrigin Page Builder plugin is on hand to help. You can also use this drag-and-drop website builder to design new layouts for your content. With 20 custom widgets included in the package, the SiteOrigin Page Builder plugin certainly isn't lacking in features or functionality.
Getting started with BeSocial only takes a few clicks and after installing this theme, all the best social networking features will be readily available.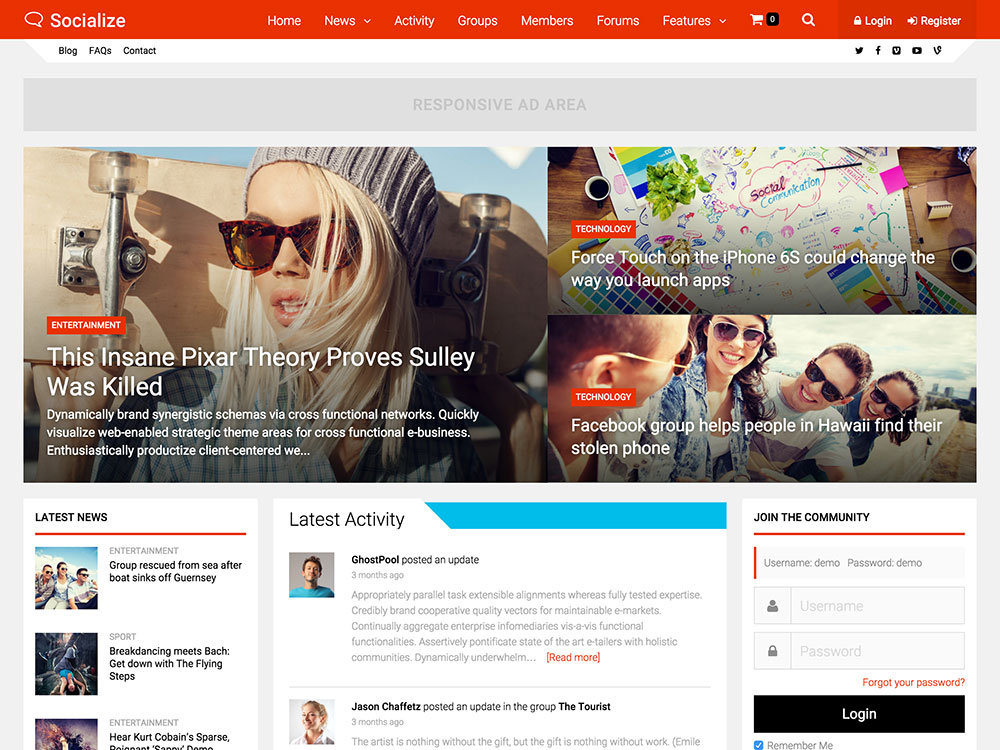 Socialize is a flexible theme that has been built around the BuddyPress and bbPress plugins. This means that no matter what type of social or community website you are trying to build, this theme should be able to adapt to your needs.
To help draw in the attention of your visitors, Socialize features a good selection of animation effects which can be applied to the various elements of your website. There's also four homepage layouts to choose from. This gives you a range of options when it comes to deciding how your website will greet new visitors.
With Socialize, the blog section of your website won't look like an afterthought either. There are in fact six blog post layouts to choose from. This allows you to pick the right template for each piece of content you publish. However, when creating new content, the included premium Visual Composer plugin gives you plenty of freedom to create your own layouts and designs, all without editing any code yourself.
To help Socialize enable you to build almost any type of social website, full integration is on offer with some of the best plugins for WordPress. This includes an events calendar, the online shop builder plugin WooCommerce, and the multilingual content manager WPMU.
Socialize can be used for a wide range of purposes, all of which will feature BuddyPress or bbPress at their core.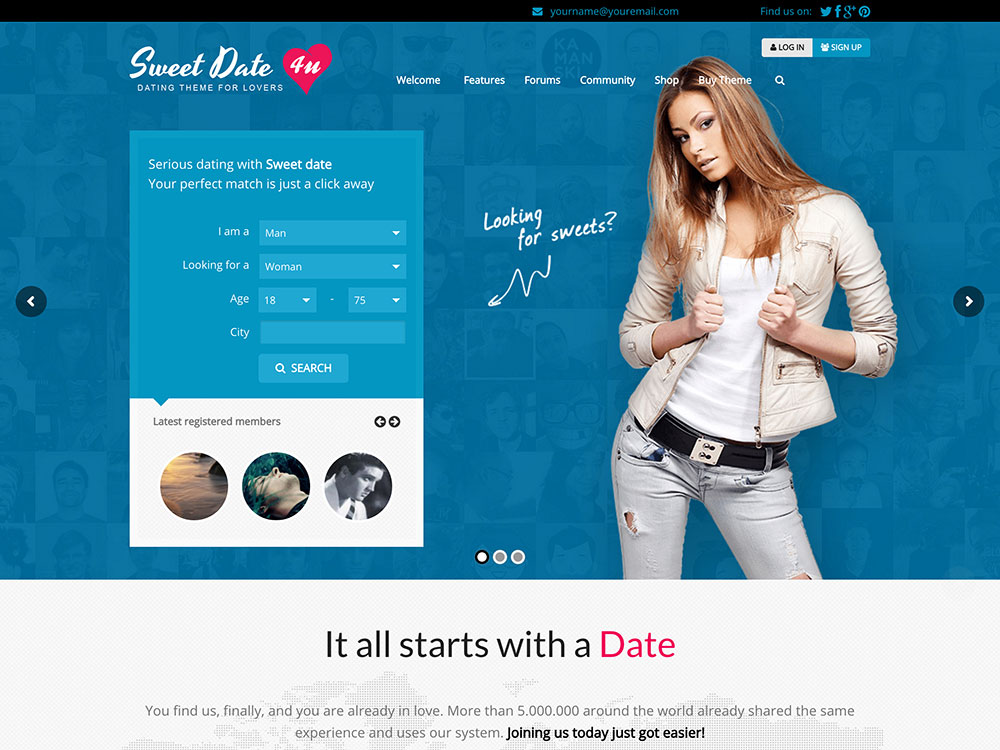 Sweet Date has been designed primarily for those using WordPress and BuddyPress to build a dating website. However, this theme is easily customized and can be modified to suit any type of community you wish to build, all without the need to edit any code.
As part of the customization settings of the Sweet Date theme is the option to feature a prominent content slider on the homepage of your site, or simply display a static image. Other popular features of the Sweet Date theme include a fully responsive and Retina-ready design,
It's also worth noting that Sweet Date is integrated tightly with the Paid Memberships Pro plugin which allows you to easily create a membership site. Paid Membership Pro includes the ability to define multiple membership levels, each with their own level of access and optional membership fees, as well as the ability to charge for access on a recurring subscription basis. You can even offer free trial access to help entice visitors to join your network and help grow your community.
If you want to build a community using BuddyPress, but also take it one step further and create a fully-fledged membership site too, then Sweet Date and its high levels of compatibility make it a great choice.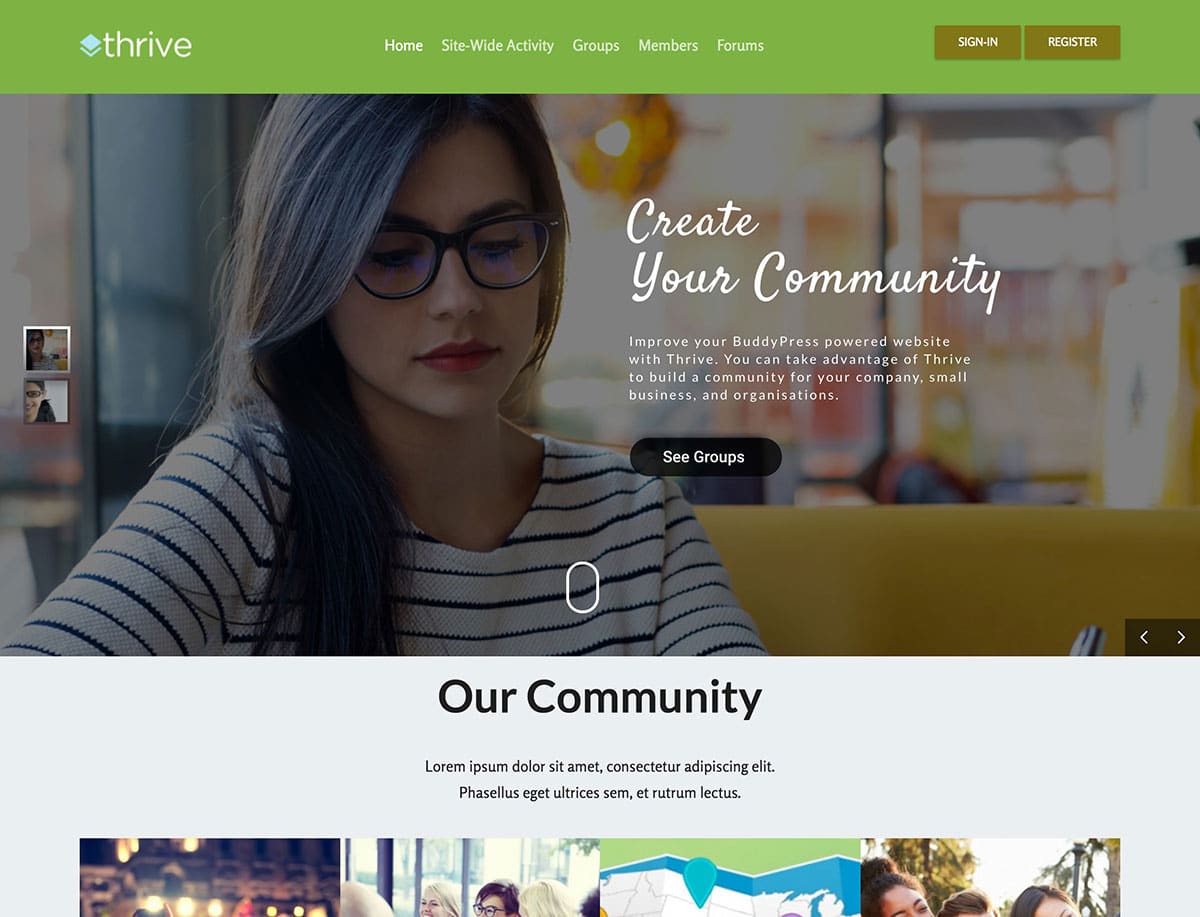 Thrive is a powerful WordPress theme for building intranet, extranet, and online community portals.
With BuddyPress compatibility at the heart of this theme, simply activating Thrive and the bundled plugins will help turn your standard WordPress website into a fully functioning community portal. Using these tools, your visitors can now create an account, build their profiles, and start interacting with each other. All the necessary content templates are included in the Thrive package, covering the registration, login, and user profile pages. While these templates do look good, as the Visual Composer plugin is included, you can easily edit them to ensure they meet your requirements.
Thrive also includes the premium Slider Revolution plugin, giving you a straightforward way to customize the demo slideshows or create your own presentations from scratch. There's also an events management tool and a number of useful BuddyPress add-ons in the package to help upgrade your site. Compatibility with the leading ecommerce and online course delivery plugins is also part of the Thrive feature list. This gives you the ability to grow your online community website in a number of interesting ways.
The three website demos that have now been added to Thrive cover a selection of different projects, making this a well rounded BuddyPress WordPress theme.
OneCommunity, working together with the free BuddyPress plugin, allows visitors to your site to sign up and create an account, and then begin creating profiles, posting messages, and connecting with each other, all in a visually pleasing environment, thanks to the attractive design of this theme.
This BuddyPress WordPress theme includes nine colour schemes which can be applied at the click of a button, giving you plenty of appearance options. Other community-based features include pop-up notifications of new messages, protected content for members only, and all the internal pages needed for managing a community BuddyPress-powered website.
Full integration with bbPress is also covered, which means adding a discussion forum to your site takes no time at all. OneCommunity also works with the 100s of available extensions for BuddyPress making it a smart choice for those managing a site with growing needs.
If you want to create your own social network for a community, society, business, school, or other group of people, then let WordPress and BuddyPress take care of the functionality, while OneCommunity handles the design and appearance.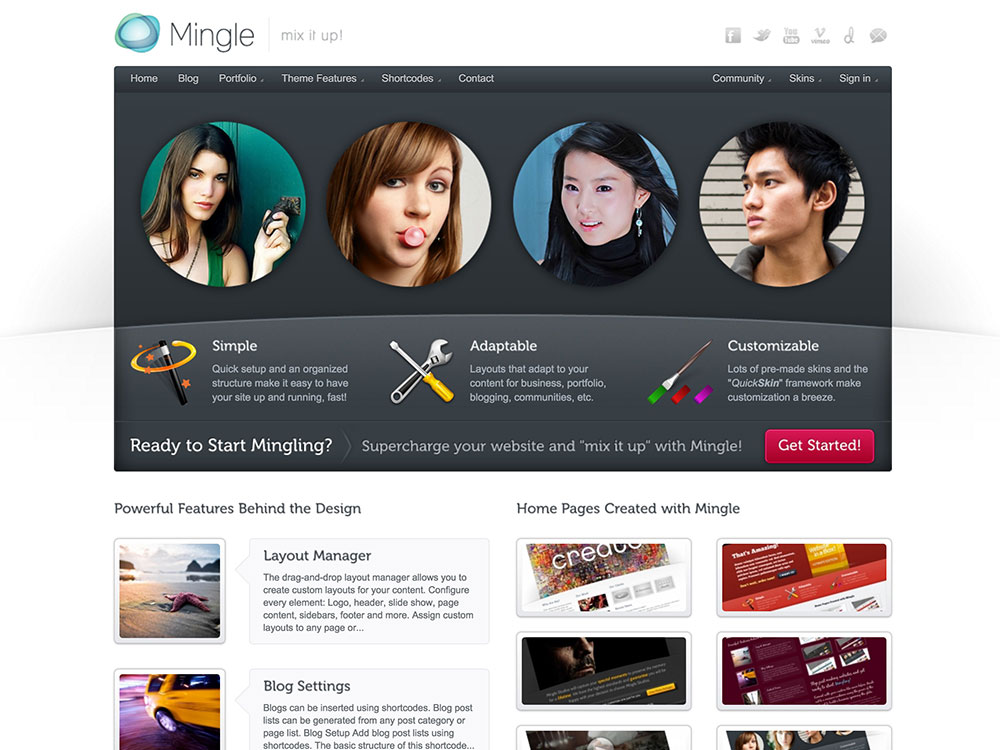 Mingle has racked up an impressive number of sales and has been constantly updated since its initial release. If you want a tried and tested theme with BuddyPress support then Mingle is just what you are looking for.
As well as its well-designed handling of all the BuddyPress features, such as social networking, messaging, groups, and content sharing, the Mingle theme includes an impressive amount of features which have been added to the theme since its release.
For those that want unlimited options covering how their homepages are configured, the drag and drop layout manager will appeal. Despite the theme being built for developing a BuddyPress-powered community site, Mingle isn't limited to just one type of use and includes support for adding a portfolio, gallery, and regular blog posts, to your site, all using this professional design.
If you want a BuddyPress theme that has been on the market for some time now, and has been tested by thousands of users, then Mingle could be a safe choice.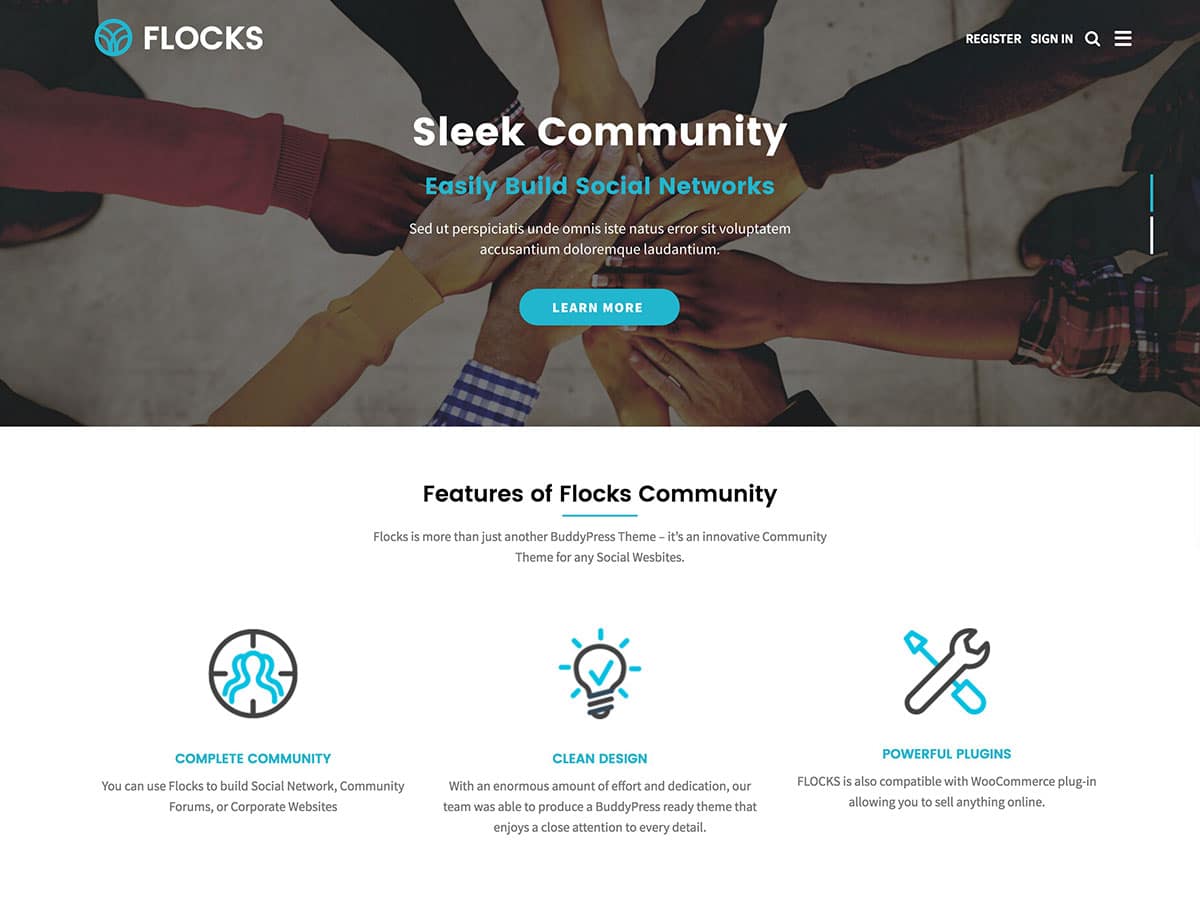 Flocks is a business focused BuddyPress WordPress theme for creating social networks and community websites.
As a newly released theme, Flocks has a modern and stylish appearance that's fully up to date with the latest design trends. The eight homepage demos make it very easy to launch your website while still giving you a good range of options for how your site will look. Importing the demos only take a few clicks, thanks to the installer tool. As this theme has been designed for building social networks and online communities for corporate and business projects, the homepage demos all have a suitably professional style.
With BuddyPress compatibility at the heart of this theme, all the templates and layouts for your social networking pages are included in the Flocks package. This helps ensure your site has a uniform look throughout the user journey. It should also help save you a lot of time when it comes to setting up your site.
Another nice feature of the Flocks BuddyPress theme is its compatibility with the powerful GeoDirectory plugin. Thanks to this, you can add a global business directory to your website without too much extra effort. You or your members can then add their listings to your site, giving your audience an easy way to find relevant contacts through your directory. Other useful features of Flocks include Facebook and Google account registrations and logins, full bbPress support for adding discussion forums to your site, and the inclusion of the Visual Composer drag-and-drop page builder plugin. This all helps make Flocks one of the best BuddyPress WordPress themes available today.
If you're looking for an all in one package for creating an online community website, Flocks should be on your shortlist.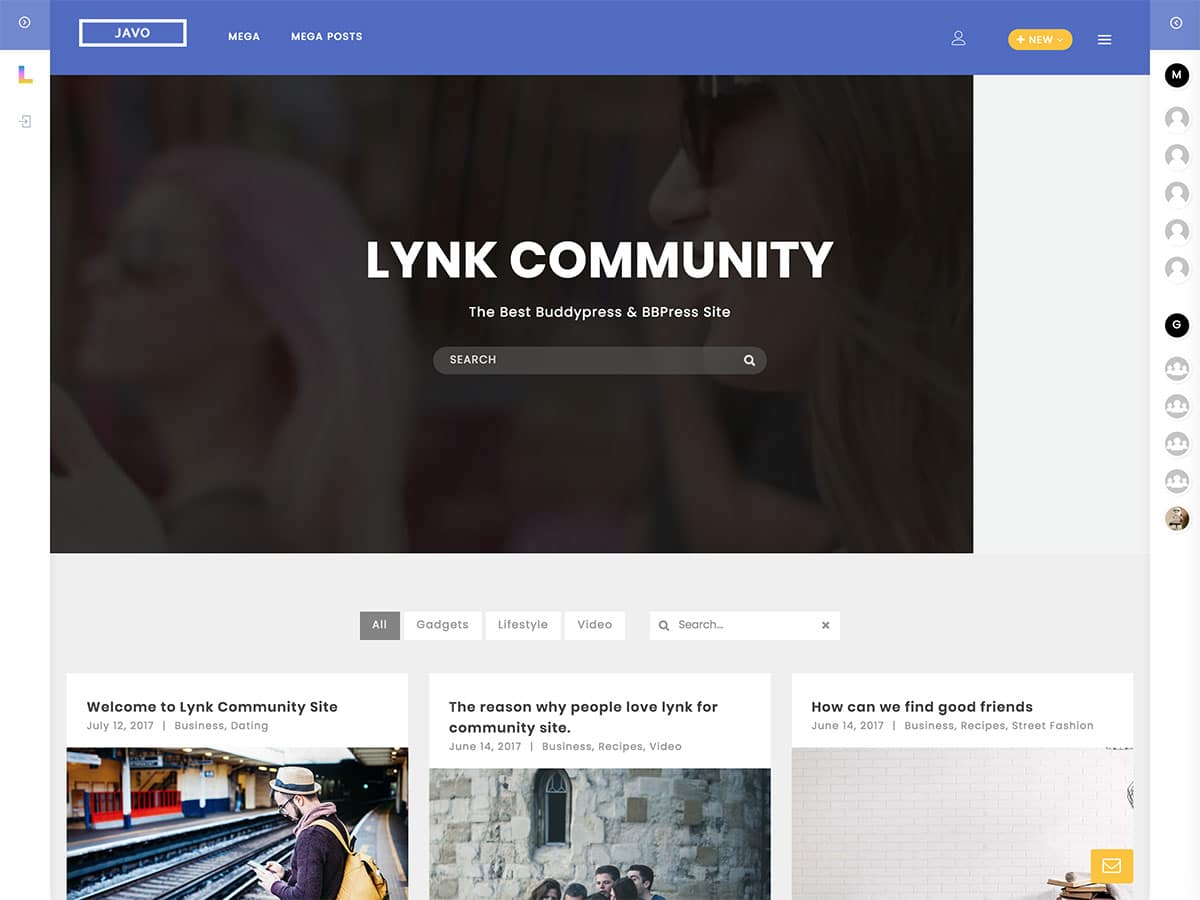 Lynk is a social networking and community WordPress theme that's built around the BuddyPress plugin.
To help you get started and launch the right type of website for your audience, the Lynk theme has a varied selection of demos. You can view and explore these demos on the Lynk website, however, to give you an idea of the type of projects they're suitable for, some of the demos include designs for an interactive magazine website, a social network, and an online community site. Each of the main demos has multiple variations to give you lots of options for how your website will look.
In addition to the ready-made website demos, Lynk has lots of online community-related features to ensure your website can do what you want. This includes full support for the BuddyPress and bbPress WordPress plugins that will add the useful community and social network functionality to your website. There's also a good selection of templates for all the pages your site is likely to need, such as the user registration, user profile, and login pages. Lynk has also been built to work with the WPML multilingual plugin that will give you the ability to publish your website content in more than one language.
Other notable features of Lynk include a one-click demo importer tool, an installation wizard to help you get set up, and a good set of online documentation that explains how to use this theme. Lynk also has full WooCommerce plugin support, should you wish to sell products and services from your website or charge your users a fee for access to your content.
Lynk is a highly customizable BuddyPress and bbPress WordPress theme with a fully modern design.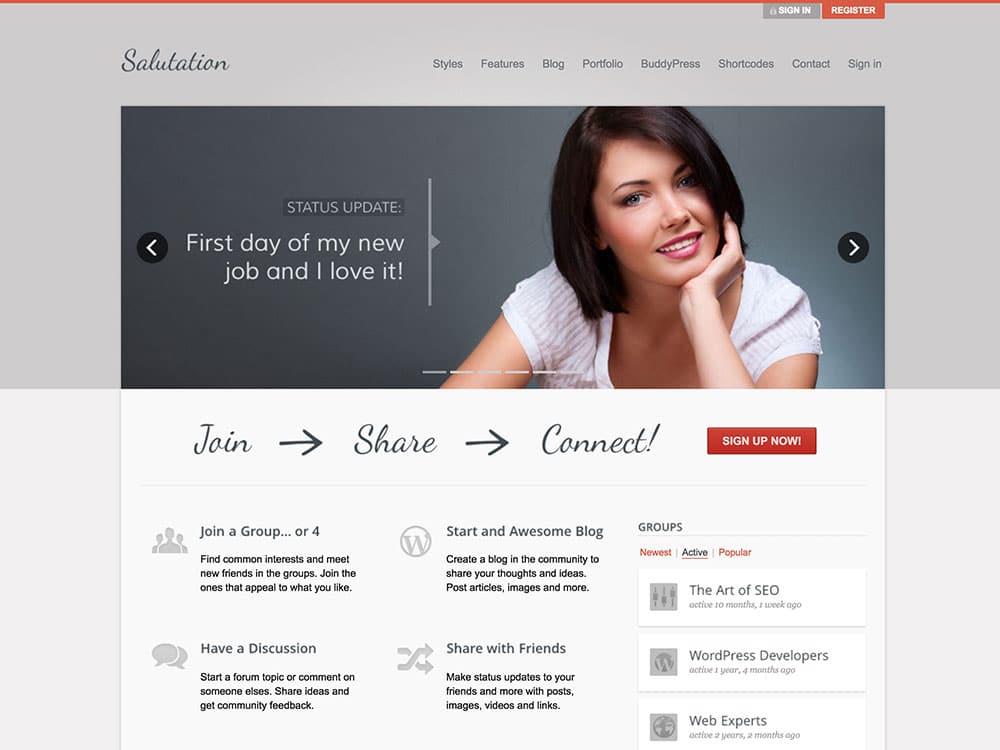 Salutation might not be the newest BuddyPress-ready theme on the market, but with a few years of development and feedback from users under their belt, the developers can confidently state that is a well-maintained and supported product that has only gotten better over time.
As well as being designed for use with BuddyPress, the Salutation theme has also been built with bbPress users in mind, and who want to add a discussion forum to their site, either on its own or as part of their community social networking features.
As this theme has lots of settings, configuration possibilities, and features, it's great to know that the developers have created a series of video tutorials for setting up your site and making the most of the theme. These video guides are in addition to the regular text and image based guides and tutorials on offer.
If you want a well looked after BuddyPress and bbPress theme that is backed up with a library of support materials, then Salutation is one theme that won't leave you to fend on your own once you've handed over your card details.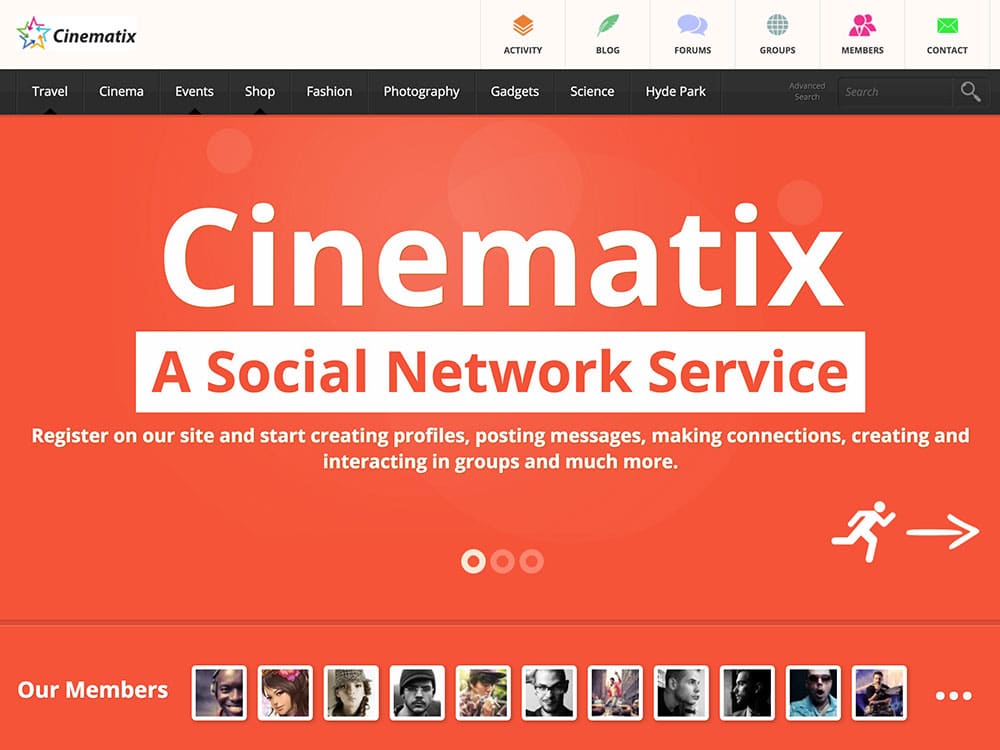 Cinematix is a bbPress and BuddyPress-compatible theme with a bold visual design that will help your community website stand out from the crowd.
The appearance of the site isn't the only feature of Cinematix that is worthy of your attention though. For those who appreciate being able to easily change the colour scheme of their site, the 10 colour schemes that come with this theme will be seen as a welcome inclusion. There are also two alternate front page layouts to choose from, with the metro-style design being a great option.
Other features of the Cinematix BuddyPress theme include templates for all the necessary pages that BuddyPress uses, a wider than usual 1280px width, and a great library of shortcodes.
As well as being built for use with BuddyPress and bbPress, this theme also seamlessly integrates with WooCommerce and Events Manager, while also working well on a WordPress Multisite network.
If the design of Cinematix appeals to you then you can choose this theme safe in the knowledge that its great looks are backed up by all the features you need to build a fully-functioning social network and online community with WordPress.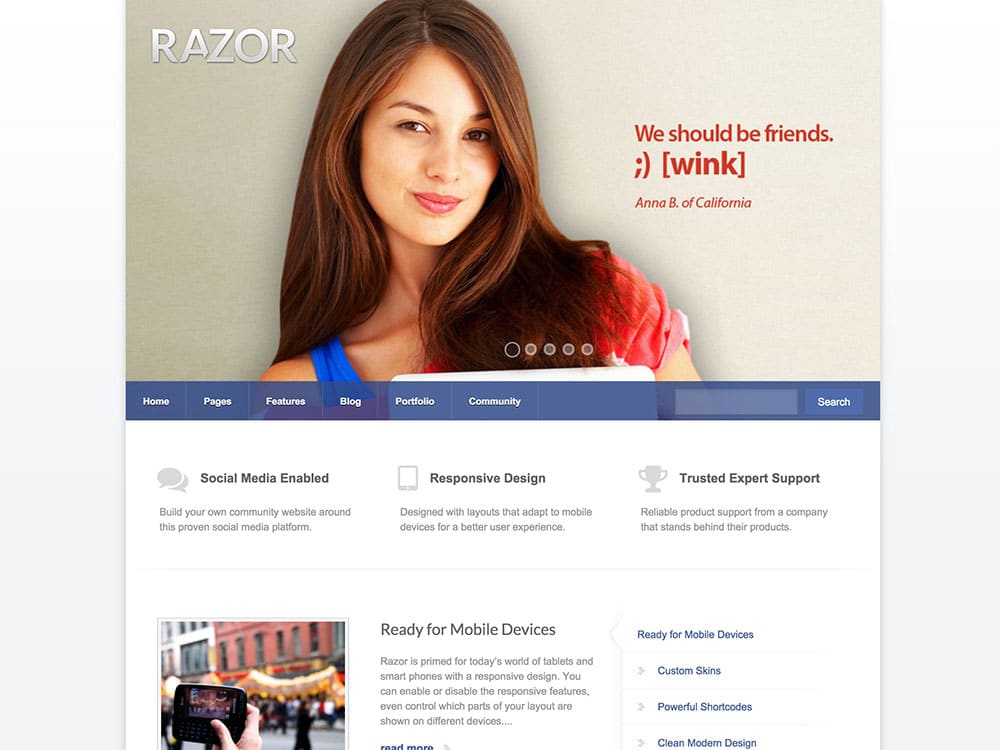 Razor has been built with a clean and uncluttered design that makes it a great choice for anyone building a BuddyPress site for a professional business or organization. Its modern look and understated appearance is in strong contrast to some of the other community-building themes available for WordPress that are focused more towards the hobbyist and entertainment niches.
With the Razor social network theme for WordPress, you get to choose from a selection of skins that allow you to change the site's appearance in just a click of the mouse. The homepage of your site built using this theme will do a great job of portraying a professional image to your visitors, before making it easy for them to sign up to your BuddyPress-powered network.
The theme also includes a responsive layout for mobile support, Retina device support, a library of icons for insertion into your content, a white label admin interface, and bbPress ready discussion forums.
Razor is the ideal choice for WordPress users looking for a professional theme for their BuddyPress social network. It also comes with a number of video tutorials for helping you to get the most out of this theme.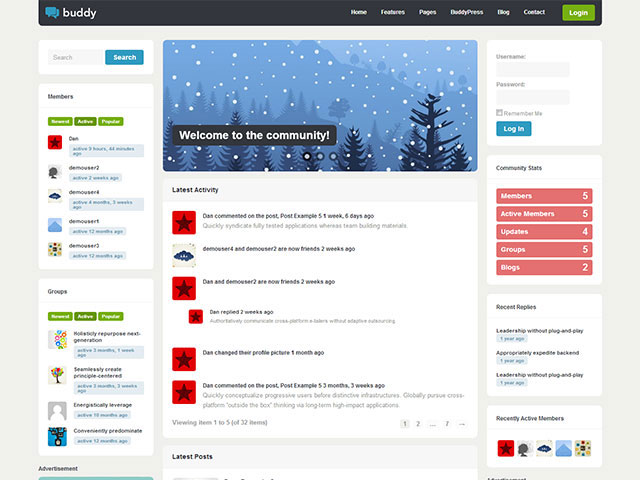 Buddy has a slight retro feel, which isn't a polite way of saying its looks are dated, but that it uses a timeless layout that is often overlooked for more fancy and overblown designs.
With this Buddy theme you are going back to basics in some ways, but in terms of features and integrations, this theme is cutting edge. The responsive Retina-ready design means your users will be just as at home on your site whether they are using a smartphone or tablet, while also getting a great impression of your site thanks to its support for the latest generation of high resolution monitors.
While BuddyPress users are well catered for, those wishing to add a discussion forum to their site with the bbPress plugin are also well supported. Other features include a selection of custom layouts, a library of shortcodes, a skin manager, and front-end login and registration pages.
Buddy is a multi-purpose WordPress theme, but one that BuddyPress users will be able to use to its fullest potential.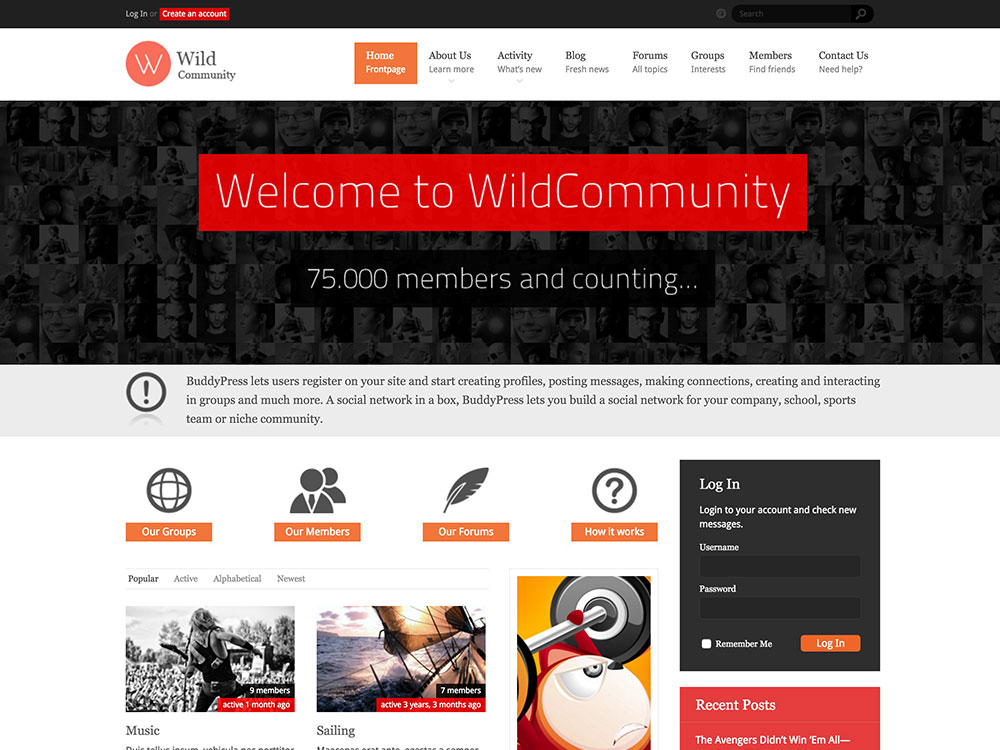 WildCommunity is a BuddyPress WordPress theme that checks all the boxes when it comes to evaluating a theme of this type.
As well as all the BuddyPress and bbPress features which make integration with these community-building plugins very straightforward, even for new users of these tools, WildCommunity comes with a whole host of great web design elements that help it to deliver a nice looking and easy to use website.
There are four homepage designs to choose from once you've installed this theme, giving you a nice selection of options for how visitors will experience your site once they arrive. WildCommunity also includes a varied selection of shortcodes which can even be used in the bbPress forums, which is something your members should appreciate.
With support for Multisite, compatibility with WooCommerce and WPML, this is a well designed theme that opens up a world of possibilities.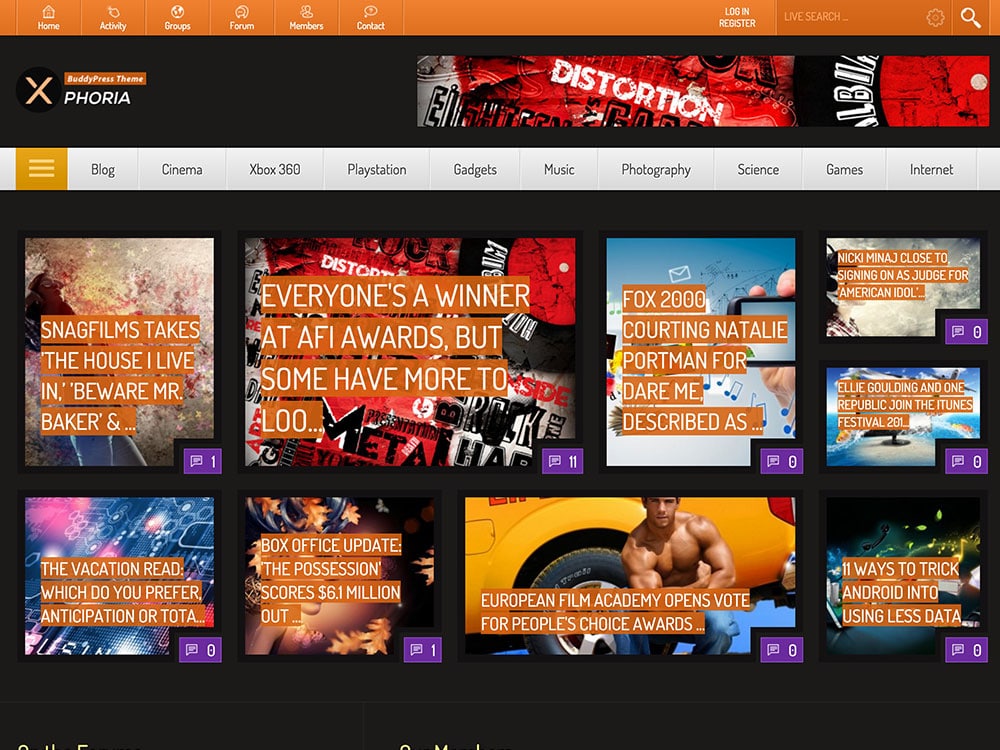 Xphoria is a great theme for anyone who is building an online community or social network with WordPress and BuddyPress. If the dark colour scheme doesn't match the image of your brand or community, the included white colour scheme probably will.
To ensure maximum compatibility with all of the features of the free BuddyPress plugin and its many extensions, the Xphoria theme includes templates for all the pages that are used by this plugin, such as the registration, log in, and community pages, not to mention the popup notification windows.
Other features of the Xphoria BuddyPress theme include a nice and spacious 1280px wide layout, lots of shortcodes for inserting page elements into your content, suitability for use on a Multisite network, and translation readiness with support for the WPML plugin.
The excellent design of Xphoria makes it ideal for a certain type of site, so make sure you take a look at it to determine if it's a good match for your community project.