Whether you are the president of a university, the director of a daycare center or a professional tutor, you know that the way your institution's website looks and feels to visitors could play a role in whether they decide to trust you with their educational needs or decide to look somewhere else.
What the below themes have in common is a focus on quality design and practical functionality made especially for education-based websites. Everything from LearnDash course management systems, to teacher biography pages, to course rating and review widgets, to events calendars can be found in most of these themes. On top of that are the usual assortment of excellent choices when it comes to basic features such as fonts and icons, along with top notch support.
Just one thing before we go any further: If you are specifically looking for a LMS website to offer passive online courses and material to students, you should check out our collection dedicated exclusively to LMS themes.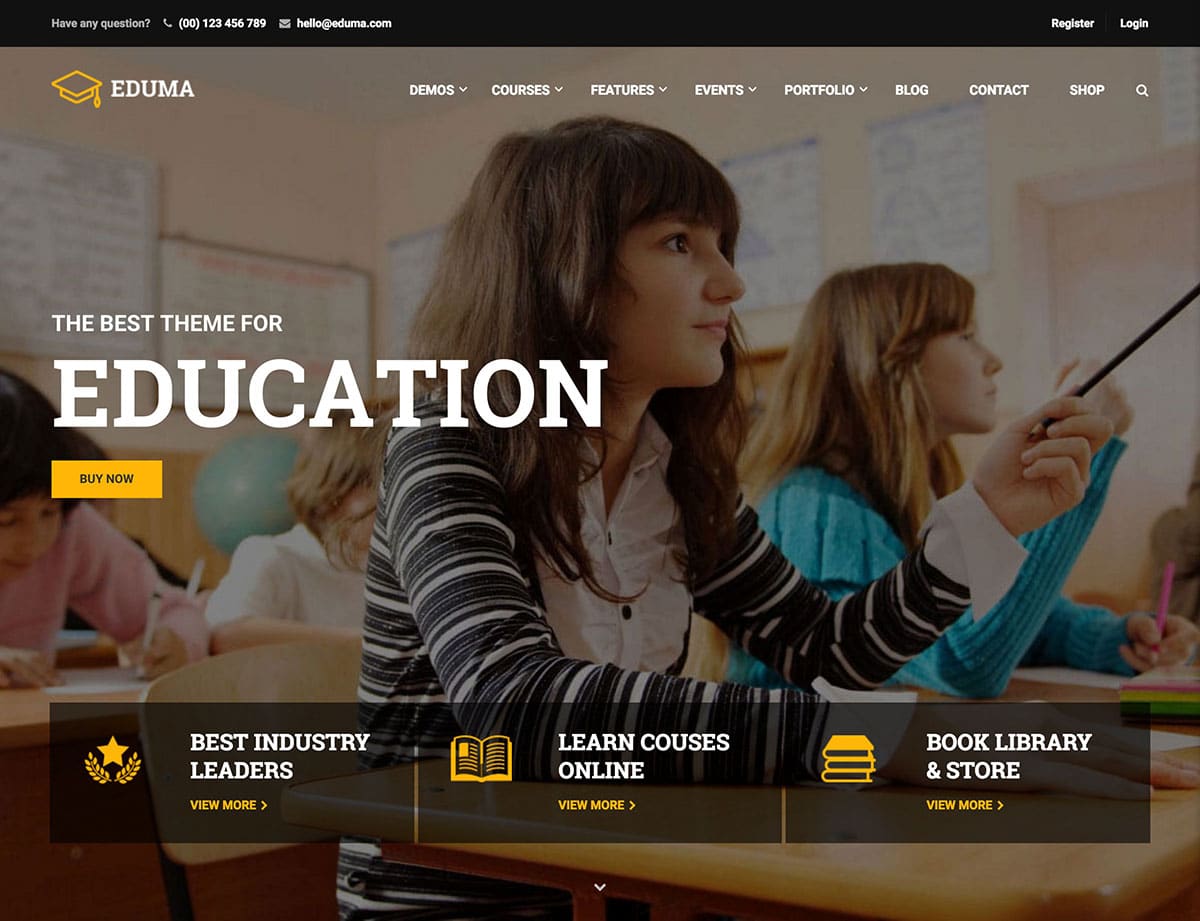 For some, learning is a joyous experience – others, though, wouldn't be seen within a five mile radius of a textbook. It's vital, therefore, to choose a theme that looks inviting, while offering the functionality necessary to see learners through their course. Those qualities are something that Education WP has in abundance.
Overall, Education WP's design is clear and welcoming, with the default accent color of yellow helping to evoke a sense of warmth. There are nine different demo layouts to choose from (all imported with one click), but practically any layout can be created and tweaked further using the bundled SiteOrigin Page Builder plugin.
While there are a number of additional plugins bundled with Education WP, top marks go to the LearnPress plugin. This can be found for free in the WordPress.org plugin directory, but with a number of premium add-ons included, it really give its competitors a run for their money. Functionality within the add-ons include the ability to assign co-instructors to courses, issue certificates, and offer 'content drip' style courses – which helps to make an incredibly powerful theme.
Overall, given the outstanding feature set of Education WP, it's definitely top of the class and well worth your consideration.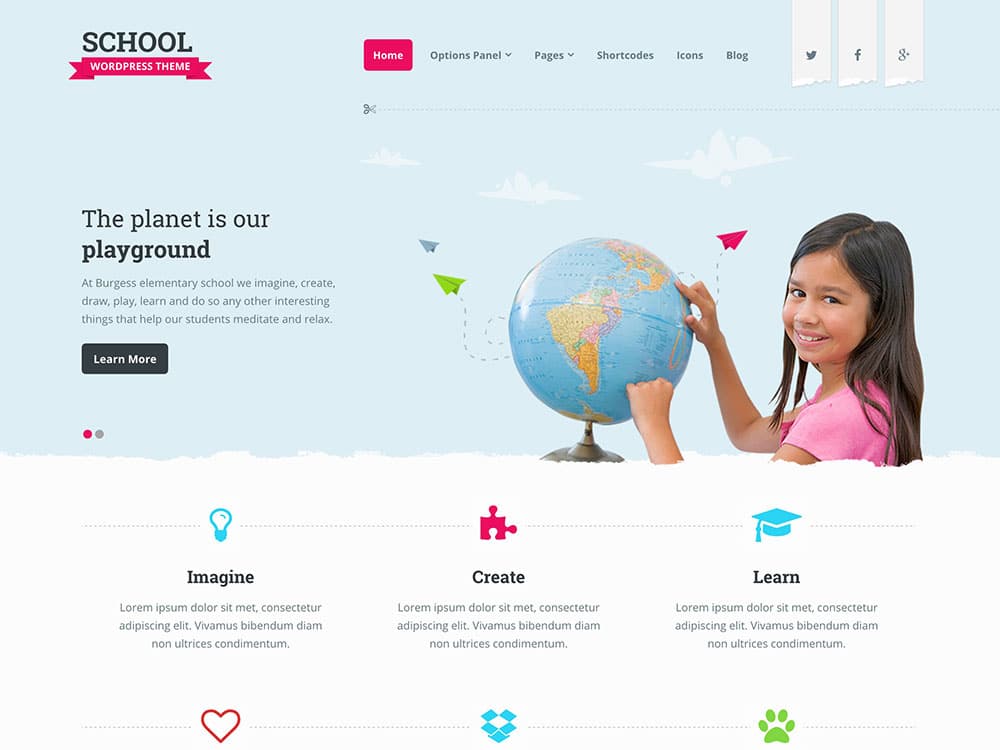 At first glance, School is a theme that would seem to suit a younger demographic than some of the more "professional" themes available within this collection. Of course, that may not necessarily be a bad thing if you run an educational institution for young children.
School's design is clean and simple, and its icons give it a friendly and down-to-earth appeal that is lacking in some of the more formal educational themes elsewhere on this page. It's not without functionality either – underneath the surface, School offers a custom slider, galleries, events, and customization options including Google Fonts.
Beyond that, the established look and feel on School's homepage is consistent across the theme – from blog posts to pages and beyond. If you're looking for a theme that impresses with a simple design, bold colors and eye-catching icons, School might just be the right choice.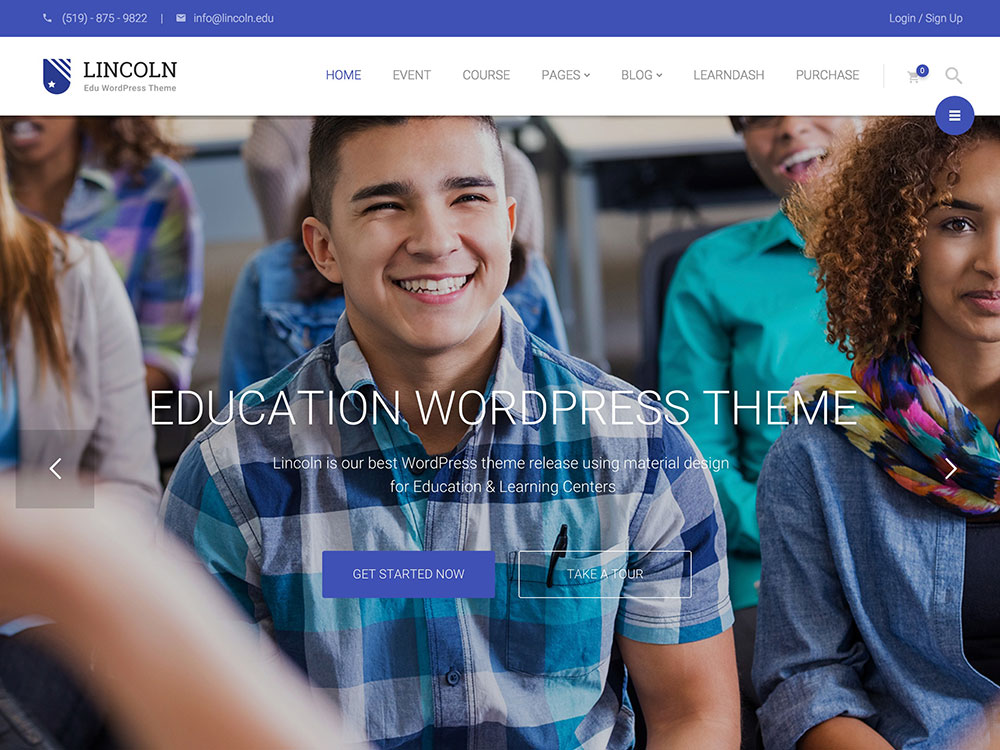 Lincoln is a beautiful, modern theme designed specifically with educational institutions in mind.
If your school, college or university needs an online home that is dynamic and multifunctional, this theme is a good place to start. Thanks to a wealth of beautiful features such as parallax scrolling, four homepage layouts, and integrated premium plugins such as Visual Composer and Slider Revolution, it doesn't require much know-how or expertise to build a highly functional, streamlined website. But Lincoln was made for an optimal educational experience, so it includes plenty of custom-designed content that you will find quite useful for your institution's website.
If your institution puts on events such as academic symposia, basketball games, or theater productions, let everyone know when they're happening with a richly detailed events calendar. Give each and every one of your teachers or professors an in-depth bio page that tells parents and students a little about them. However, the most unique and innovative feature of Lincoln is the Learndash plugin, which was created just for this theme. Learndash is a robust online course app that enables your instructors to upload a syllabus, reading materials, quizzes, grades and more onto an online portal. If you offer online classes at your college or university, this tool will prove indispensable to giving your students a comprehensive learning experience that is in line with our ever more connected world.
Thanks to a great array of useful features and a beautiful, sleek design, you can be confident that Lincoln will make an excellent theme for your institution's website.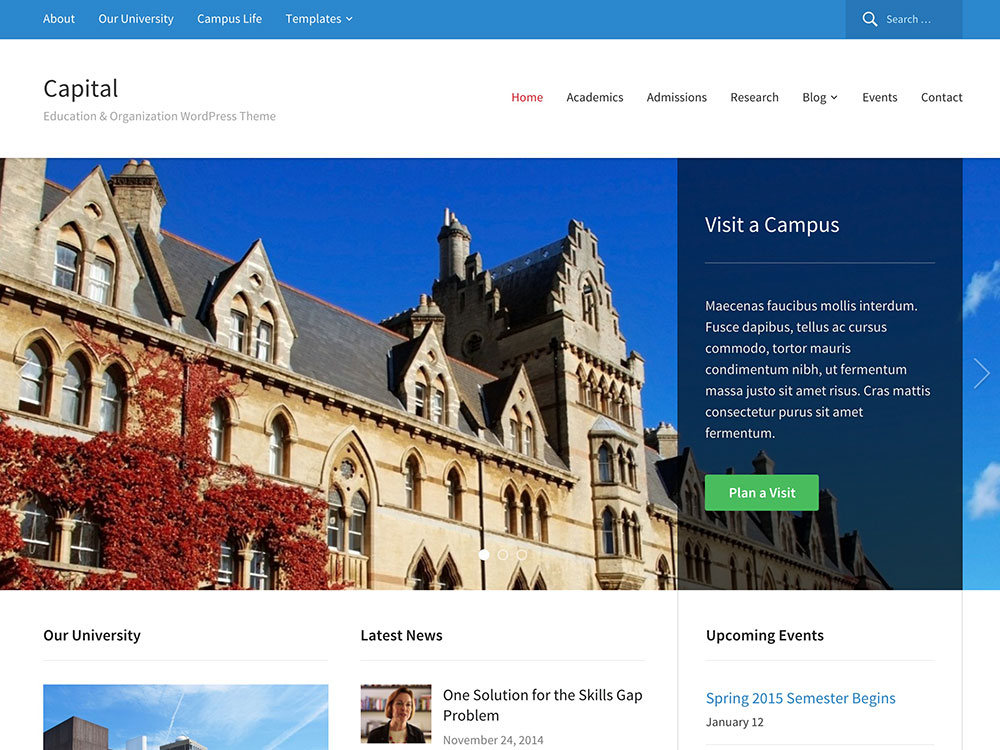 Capital features a clean, professional design; something that will make sense to most educational institutions.
But what's going on underneath the skin? As you would expect from the vast majority of themes these days, Capital is both responsive and retina ready. But its greatest power lies in its customizability and functionality. Built on the ZOOM framework, it is possible to customize Capital to an impressive level of depth without technical know-how. Even better, the Dynamic Homepage Builder enables you to combine the widgets that will make up your homepage with simple drag-and-drop movements.
Beyond its clean lines and customizability, Capital features an easy-to-use events calendar and a full-width slideshow (which can be used to dominate the homepage). It's certainly a theme worth careful consideration.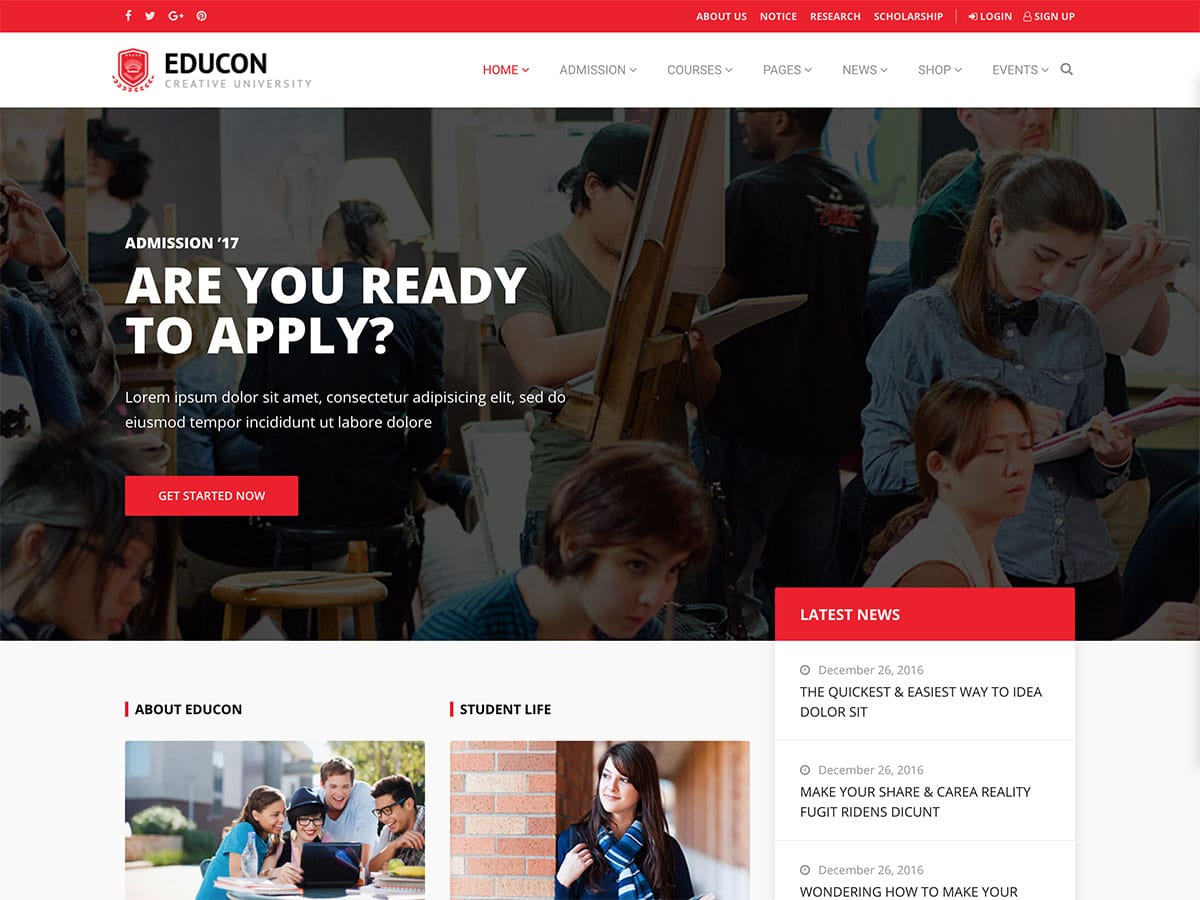 When choosing a suitable education theme, neat, well-spaced, and easily navigable pages will reflect positive qualities onto your courses. Educon epitomizes the simplicity you want in an education theme, but includes much scope for customization.
Layouts in this theme are created with the bundled WPBakery Page Builder plugin (formerly Visual Composer). It enables you to drag and drop course modules, staff directory profiles, mega menus, and other elements onto your page with ease. Out of the box, Educon comes with three demo layouts to choose from (each with one-click import), and you also have the freedom to customize colors and fonts to your exact requirements.
Educon also includes a calendar feature for scheduling important lectures or events. By using the built-in 'noticeboard', you can push important updates to students as and when they occur.
All in all, Educon's vast array of customization features is a clear selling point. We're big fans, and the theme a standout solution for creating an education website.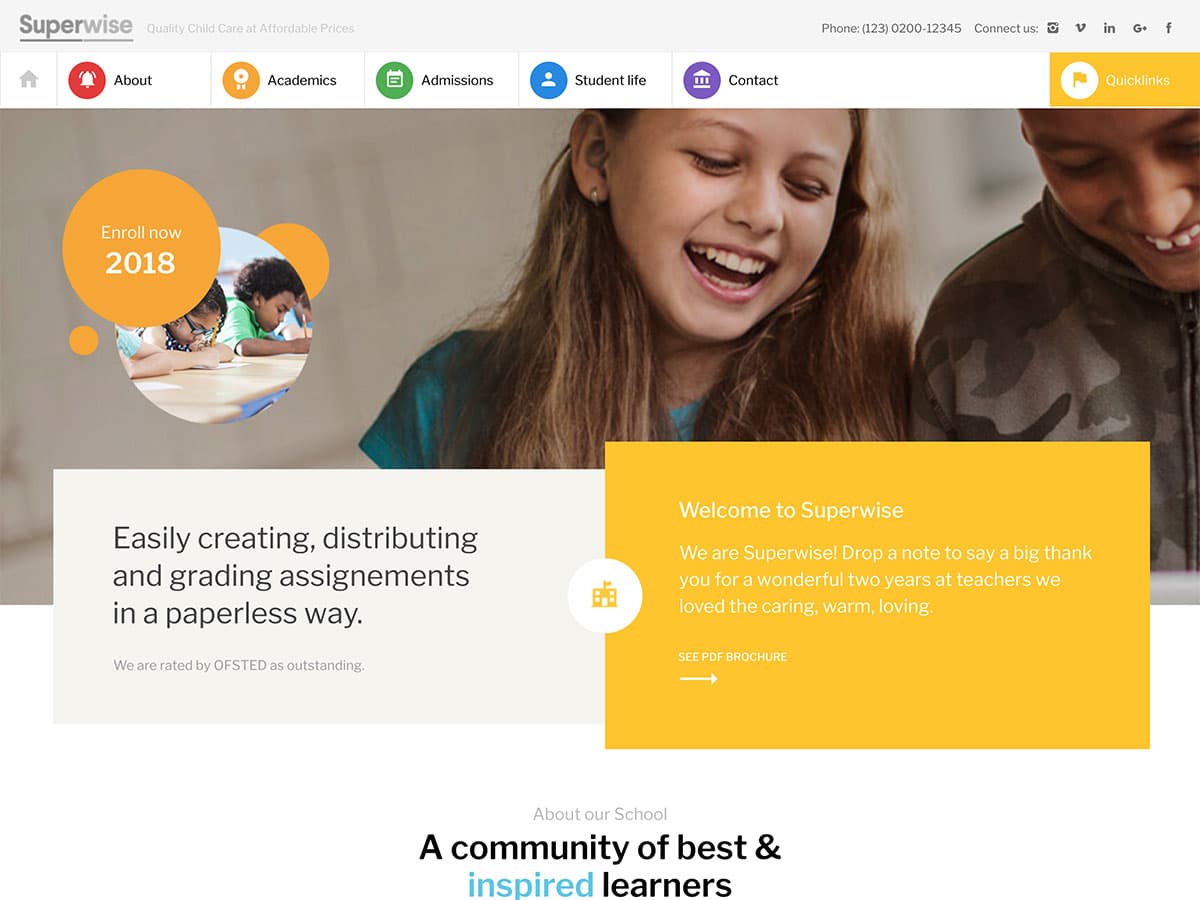 A good WordPress education theme should simplify the process of managing classes and assignments, while highlighting the accolades and achievements of your learning institution. With Superwise, you can achieve 'A+' results in both of these areas.
Out of the box, Superwise is bundled with the WPBakery Page Builder plugin (formerly Visual Composer). This makes the process of creating your layouts (along with student activity schedules, staff profile pages, and parent testimonials) simple, via its drag-and-drop interface. The Contact Form 7 plugin is also bundled in, which can drastically simplify the process of creating enrolment enquiry forms for users to fill out.
A standout feature of Superwise is its smooth integration with Google Classroom. This enables you to schedule assignments, email grades and feedback, schedule video conferences, collaborate on projects in real time, and much more.
Though perhaps not as visually striking as the other themes mentioned here, Superwise's ease of use and included premium features are major deal clinchers. For a polished, simple-to-manage WordPress education site running quickly, it's certainly worth the price tag.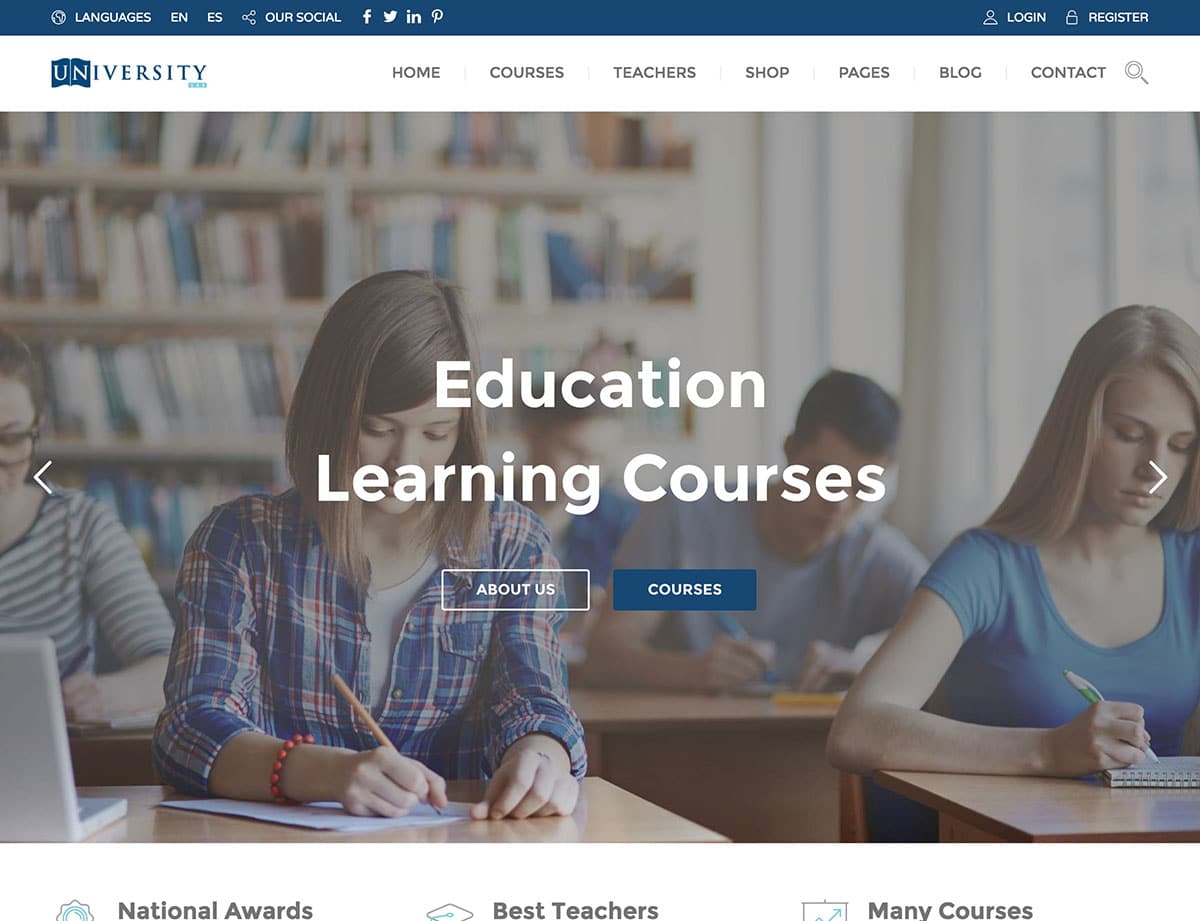 For many, the word "school" conjures up memories of stuffy teachers, blackboards, and a recess that's always ten minutes too short. However, Education Pack shows that not all learning experiences are confined to a classroom, or so drab.
There are nine demo templates available – suitable for universities, driving schools, kindergartens, and more – enabling you to get up and running quickly. For further layout refinement (or to create bespoke layouts to almost any specification), you can turn to the bundled Visual Composer plugin.
Education Pack's look is pleasant and welcoming – exactly what you need to attract pupils with a negative opinion of education. Also included are the Learning Course and TimeTable plugins, enabling you to offer and administer courses directly from your WordPress website. It's a bonus that both are easy to use and flexible enough to handle almost any type of course you offer.
Education Pack has solid functionality, with powerful plugins included to boot. While it's not the star quarterback, it's not the class dweeb either. It's more of a straight-A student, and a theme you can depend upon when creating your education establishment's website.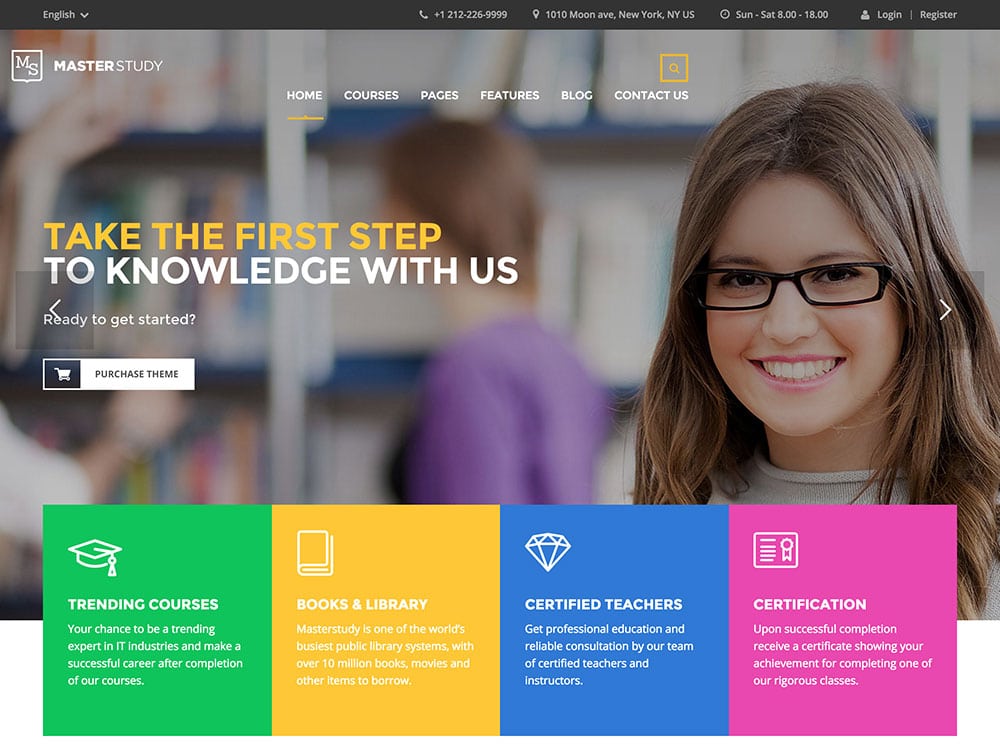 Masterstudy is an elegant education theme that is rich in premium plugins that are well-integrated to save you money and create a top experience for both educators and students alike.
One of the better-looking education website themes out there, Masterstudy manages to be as useful as it is striking. The focus of this theme is online course offerings, whether for individual businesses and tutors or as part of a broad educational institute such as a junior college or four year research university. Integration with the premium WooCommerce plugin makes listing courses easy, and you can organize classes based on a variety of different categories. Three layouts for listing courses – including grid, listing, and single course – enables you to feature your offerings as you see fit, and a countdown style events calendar adds a sense of urgency to time-sensitive courses and seminars, which will help you get more signups.
Four different types of blog post layouts, three kinds of photo and video galleries, and three event templates make customizing your website's more engaging features simple. Especially useful if you want to grow your institution's online following, integration with the premium MailChimp subscription manager grants you the power to send out emails for reduced course price offerings, new upcoming courses, featured guest speakers and bloggers, and more.
If you are an independent online educator, tutor, or even larger educational institution, Masterstudy's combination of excellent design and a smart assortment of premium integrated plugins makes it a great choice for your website.
At a base level, a school must achieve one thing: ensure the success of its students. However, as time has progressed, education has become so much more. Schools are now expected to be nurturing and welcoming environments. If you're running a modern educational establishment, you'll need a suitable theme for your website – such as Ed School.
This theme comes with three demo layouts, all offered with one-click installation. If you have more unique layout requirements, you can employ the bundled Visual Composer plugin. This tool enables you to build custom headers, mega menus, and much more.
In addition, there are over 26 unique niche pages that can help you display crucial information about your school. Many of them (including the Principal's Message page) include gorgeously animated pie charts and other graphs, to help hammer home the school's achievements.
An inviting and successful educational website needs a compelling theme, and Ed School's bright color scheme and plethora of impressive features could be all you need. Check it out, but be prepared to end your search early!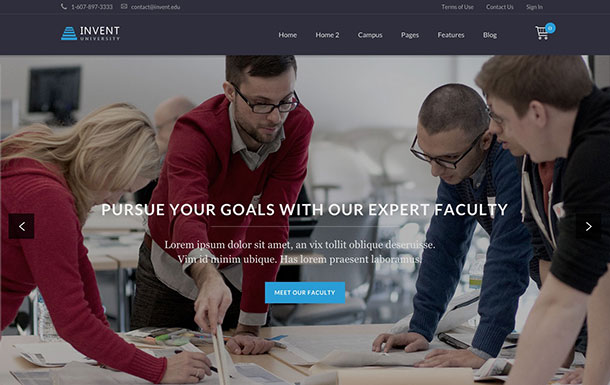 Invent uses a modular framework in its design, giving it a modern look and a user-friendly interface. It's ideal for colleges and universities, but can be used for other types of schools as well. LiveMesh, its developer, created Invent as a result of studying what educational institutions require for their websites.
What Invent does well is customization. It offers near-unlimited color options, more than 500 Google Fonts and unlimited sidebars, as well as eight custom post types, a large selection of shortcodes and unlimited heading styles. Parallax and video sections serve to liven up the content you display.
Featured plugins include Contact Form 7, WooCommerce, the Revolution Slider and the Flex and Nivo sliders. Invent is also designed to work with the LearnDash learning management system (purchased separately). This plugin enables you to create and sell courses, and to manage quizzes, certificates, reporting and subscriptions. You can use Invent to customize styles, sidebars, posts and page templates for LearnDash.
Being so user-friendly and customizable makes Invent an excellent choice to showcase your school.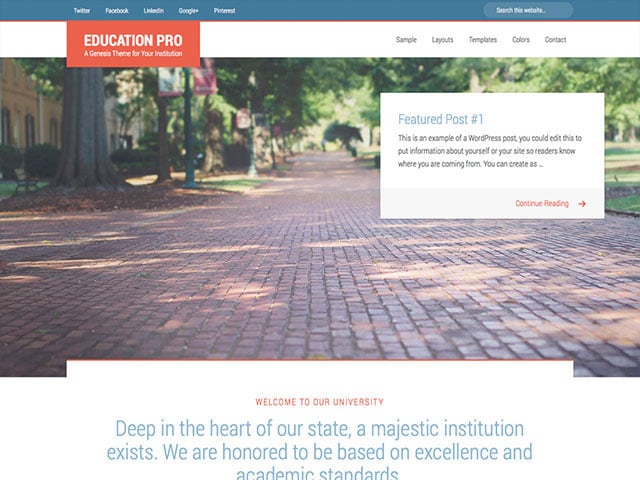 Education Pro has been created for schools and universities that want a professional design for their website. The theme has been developed by the StudioPress team and is a child theme for the popular Genesis Framework from the same team.
The main objective of Education Pro is to provide a solution for educational institutions that allows them to not only show off their facilities with high quality photographs, but also handle the large amounts of information they need to publish on a regular basis, from schedules and results, through to the latest news and developments.
This goal is achieved by using a large homepage slider which is ideal for displaying multiple photos in one eye catching area. This WordPress theme also gives you the ability to organize your content in the best possible way thanks to the six layout options and the selection of page templates on offer, which includes a landing page template. The layout of Education Pro is responsive to ensure your website will look just as good on a mobile device as it does on a desktop computer.
Education Pro is a clean and modern WordPress theme for educational organizations that runs on the highly respected Genesis Framework from StudioPress.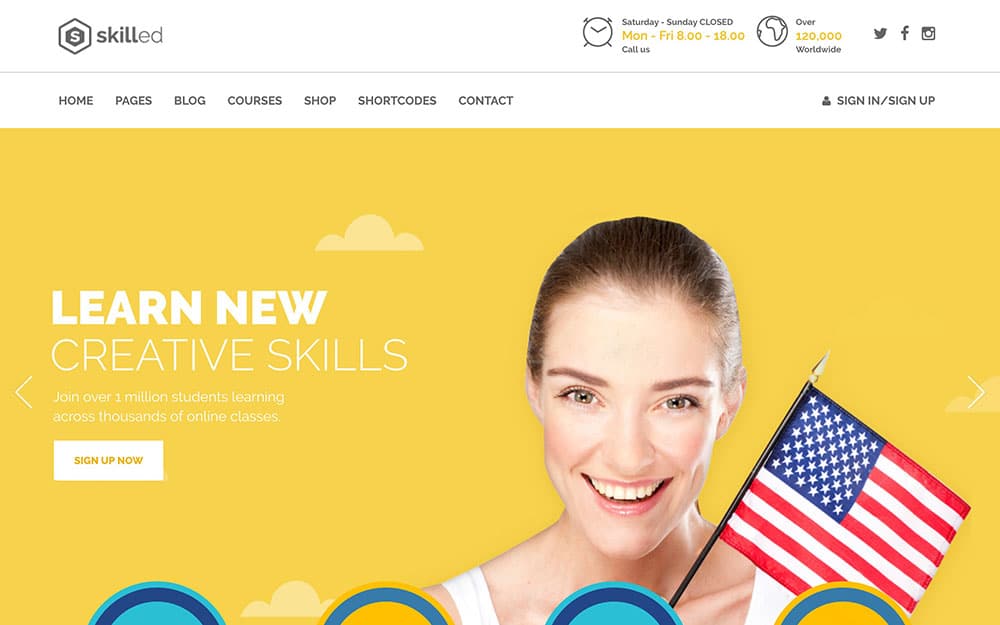 For some, learning is a joyful experience – but for others, the mere mention of essays and exams can cause them to turn on their heels and run. In order to convince people to invest in the courses you offer, it's important to have an inviting and easy-to-navigate website – for which, you may look to Skilled.
The need for an inviting look is at the forefront of this theme. Along with a selection of Google Fonts, there are six color schemes to choose from – all in bright shades of green, yellow, and blue – which can be customized further from an extensive color palette.
The LayerSlider plugin is bundled with Skilled, enabling you to display any important courses or information prominently, and there are over four demo layouts to choose from if you need to get up and running in a hurry. Further customizations can be made with the included Visual Composer plugin and bundled Ultimate Addons extension.
Skilled supports the Sensei plugin – for which a further purchase is necessary – but does bundle a number of other plugins. The Events Calendar plugin helps you schedule any non-course related events, while the Timetable for WP plugin helps you organize your course timetables.
With further support in the form of extensive documentation, and a packed knowledge base to guide you if needed, the developers of Skilled have created a worthy theme, with almost everything you need to start selling and hosting courses on your website.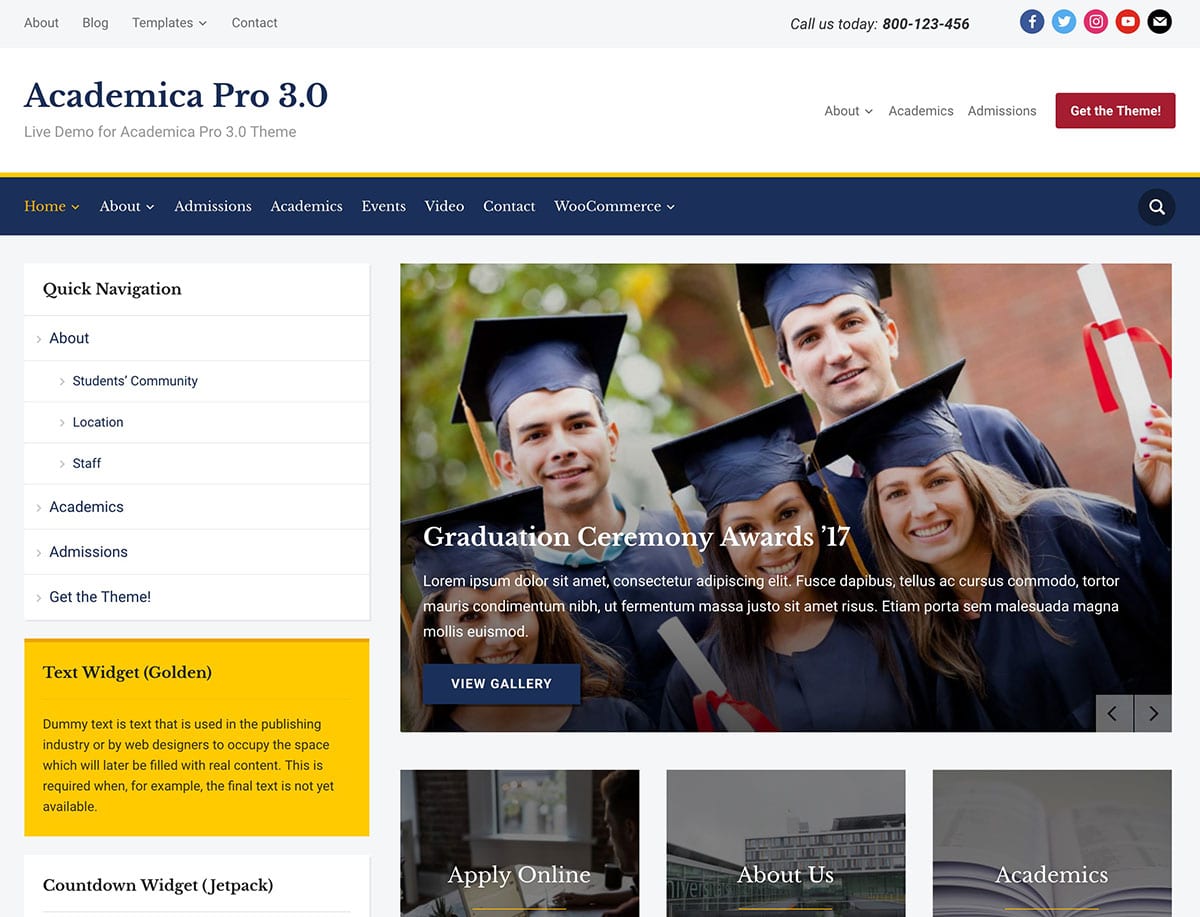 Regardless of the size of your educational establishment, you likely have a myriad of activities, events, and courses running at any one time. This means you'll want a customizable theme for your website, to help you communicate with your students. Fortunately, Academica Pro 3.0 has been freshly updated to provide the tools you need.
This theme is designed to bridge the gap between simplicity and a comprehensive feature set. For example, there's only one design layout, but within that option you can choose either two or three columns, select from among three different menu designs, and pick from four page and post layouts.
There's definitely enough here to help you create a compelling site. What's more, you can use the extensive live customizer to tweak your site's design to perfection. Plus, by using the built-in Dynamic Homepage Builder, you can create a unique layout using custom widgets from the developer.
While we're not particularly keen on the 'stuffy' default design, the included options for personalizing your site will enable you to make yours unique to your institution. Academica Pro 3.0 is a solid update to a workhorse theme, and definitely warrants a closer look.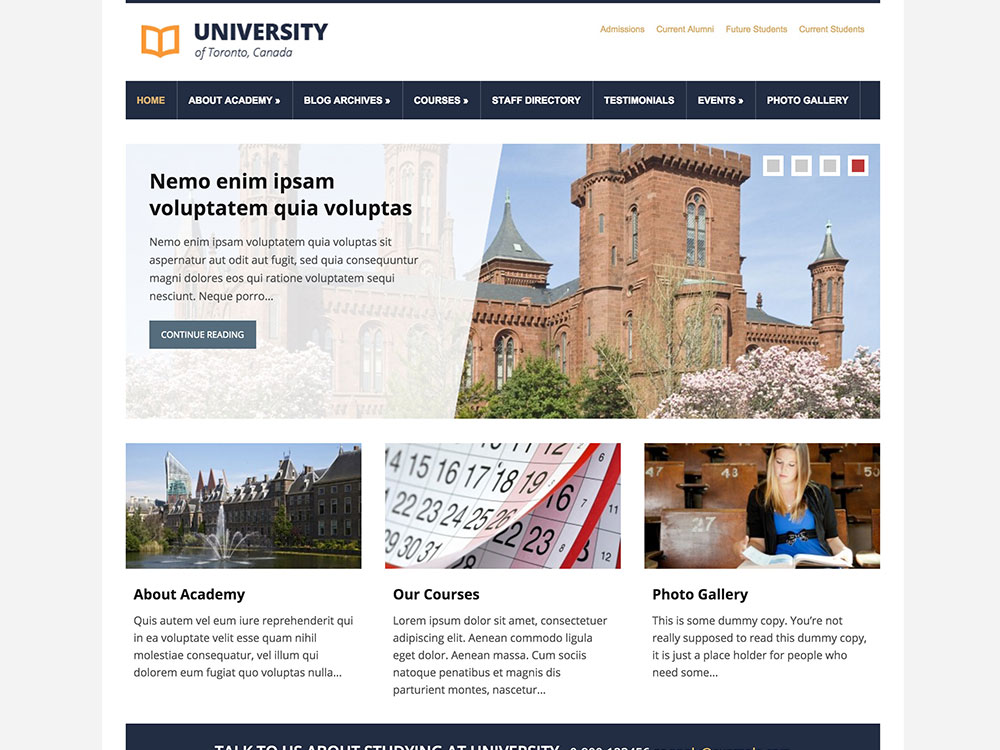 Lectura is a professional looking responsive theme from Academia Themes that is clean and refined. Just like their Blackboard theme, Lectura includes blog, testimonial, course directory, course detail, events and staff directory page templates. Additionally, video support makes this theme work for a number of educational uses.
The homepage includes a stylish featured posts slider that has sophisticated design elements. Lectura keeps your content organized in focused sections so visitors can easily find what they're looking for. The theme's developers have also added custom widgets for quick display of testimonials, photo galleries and upcoming events. While the Lectura comes with pleasant default colors, you have unlimited customization options if you need them.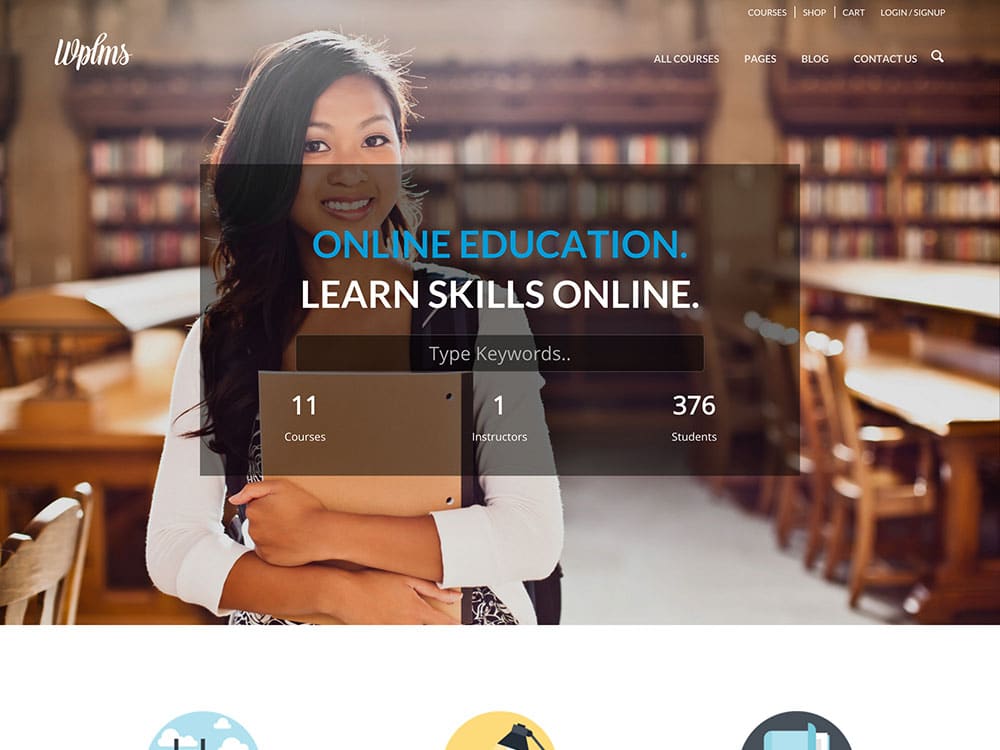 WPLMS is designed specifically as a learning management system, featuring management for courses, instructors and students, and the ability to create and sell courses online. According to the product page, WPLMS is the top selling theme in the education category.
WPLMS is fully responsive and has an intuitive interface – it's easy to find what you are looking for anywhere on the site. It offers free updates and support in addition to customization options and compatibility with a number of popular plugins, including WooCommerce, BuddyPress, Layer Slider and Visual Composer.
What sets WPLMS apart from other themes are its learning management plugins. Covering everything from instructor and student dashboards to front-end course creation (including pricing and reviews), it is this extended functionality that makes WPLMS hard to beat as an online learning platform.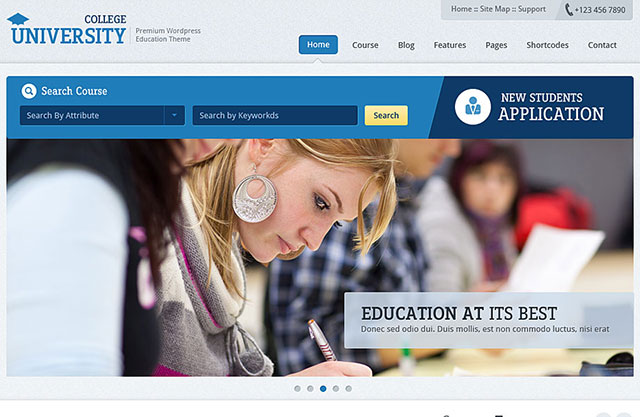 The Education Academy theme is a modern college-level theme that is responsive and has a one-click auto-install feature. In addition to making installation easy, Templatic provides a theme guide and tutorials to help you out. But the simplicity doesn't end there. The theme is designed with a widgetized homepage, so you can drag and drop content areas to create the layout you want.
Education Academy comes equipped with built-in post types, including courses, staff members, facilities and galleries. The theme also has built-in ad monetization options if you need them and support for Gravity Forms and All in One SEO Pack.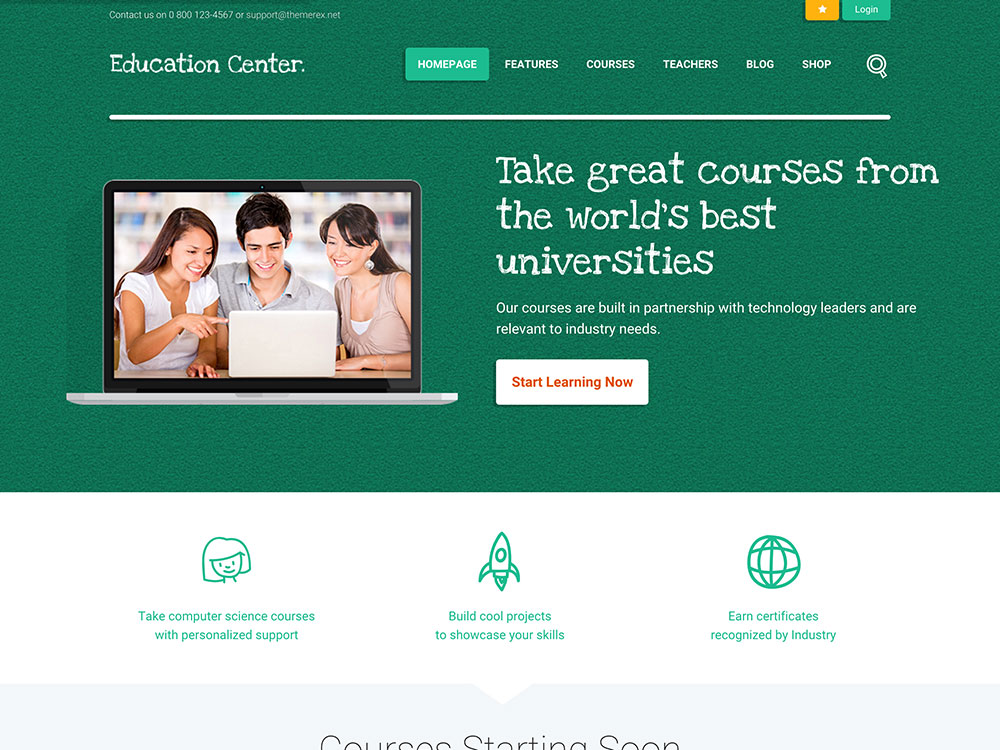 A highly-rated theme geared towards children's education and online learning, Education Center is a good choice for early childhood and primary educational institutions.
A particularly eye-catching aspect of this theme is the bright primary colors, friendly icon and font styles, and beautiful scrolling effects that add plenty of dynamism and energy to the homepage. There are three homepage layouts to choose from, enabling you to feature galleries with news of goings-on at school as well as reminders for everything from parent-teacher conferences to upcoming class field trips. An in-depth blog panel with ten premade templates makes it easy to optimize your website for online searches, which is particularly useful should you offer online coursework.
Like many of the themes in this collection, Education Center is compatible with the award-winning LearnDash plugin, so you can upload readings for assignments, share quiz and exam grades with your students and parents via an online portal, and curate online discussion board forums for instructors and students in a variety of different subjects. Course feedback is also easy to integrate thanks to a ratings/review feature, where students or parents can rate instructors or courses out of five stars, from 1 to 10, or out of 100%. Numerous shortcodes, including testimonials, make it simple for you to inform potential course enrolees about the benefits of signing up by showing feedback from previous students.
Thanks to its beautiful design, user-friendly site navigation and well thought-out course management system, Education Center is definitely a great choice for your website.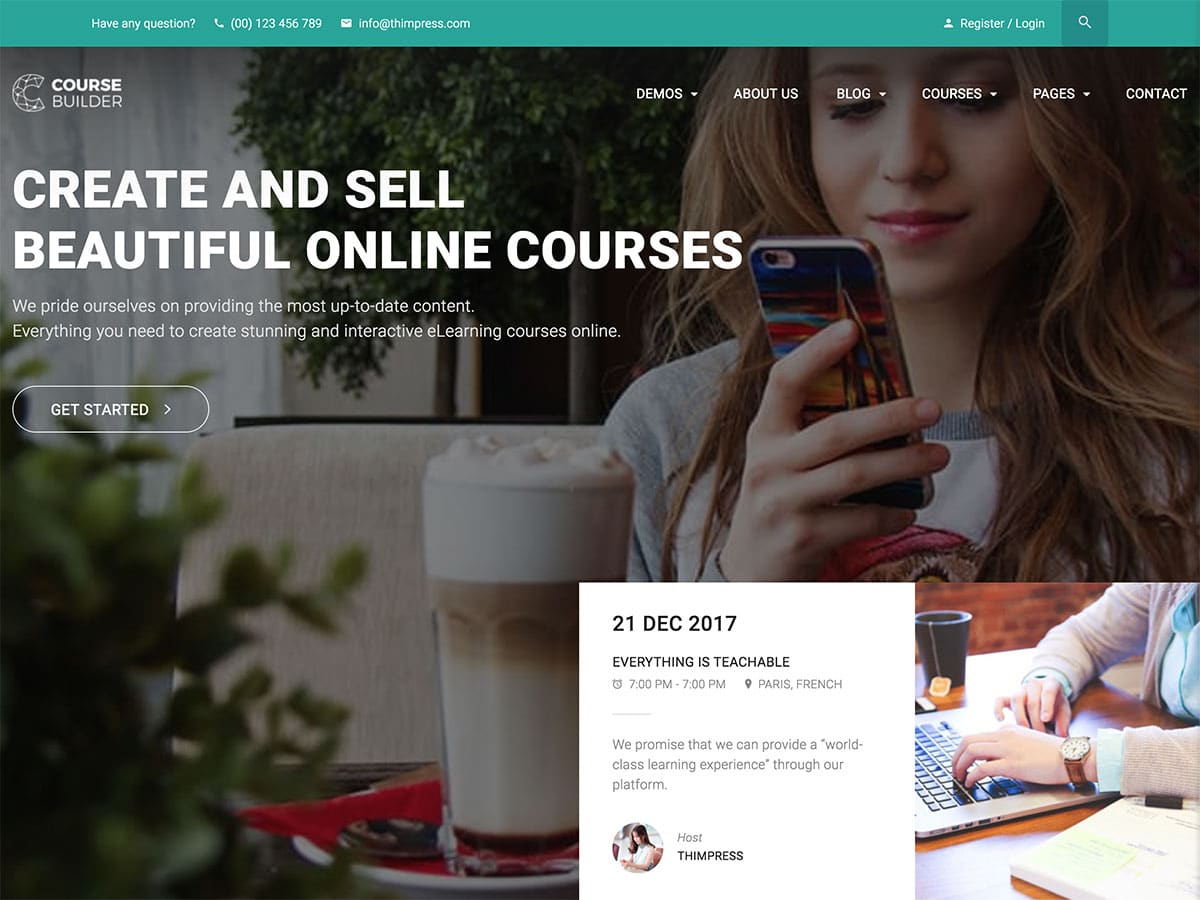 Regardless of your exact educational focus, creating a robust website to give learners the opportunity to find your courses is a must. In short, Course Builder is a solid theme for creating your website.
Layouts are created primarily with the bundled Visual composer plugin, although there are pre-built demo layouts available to install. The theme also serves up an array of customization options for colors, fonts, and more. However, the real star of the show is the bundled LearnPress plugin. It's free to download from WordPress.org, although Course Builder gives you access to a number of premium add-ons.
For example, you can build courses using a drag-and-drop builder, and sell courses directly via a range of payment gateway options. What's more, you have the option of selling subscriptions to your courses using the included PaidMembership Pro add-on.
On the whole, Course Builder is a flexible, user-friendly and practical theme for anyone looking to create a smooth-running educational website.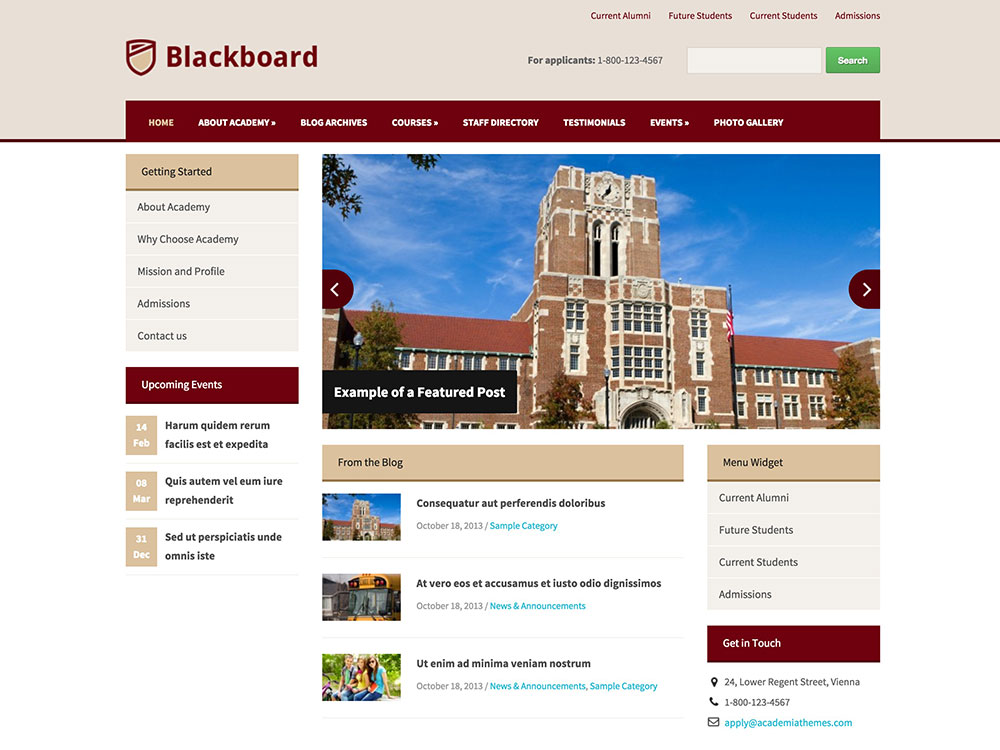 Blackboard is a responsive education theme with a traditional three-column design. In addition to standard blog and testimonial page layouts, it includes essential academic page templates like course directory, course detail, events and staff directory. The theme's custom-built widgets make it easy for you to add testimonials, photo galleries and events to your site.
The homepage showcases a featured post slider and several menu location options. This lets you choose to duplicate your navigation or group and split up your menus. Blackboard's standard colors are crimson, grey and tan, but you can easily customize the theme with your school's colors.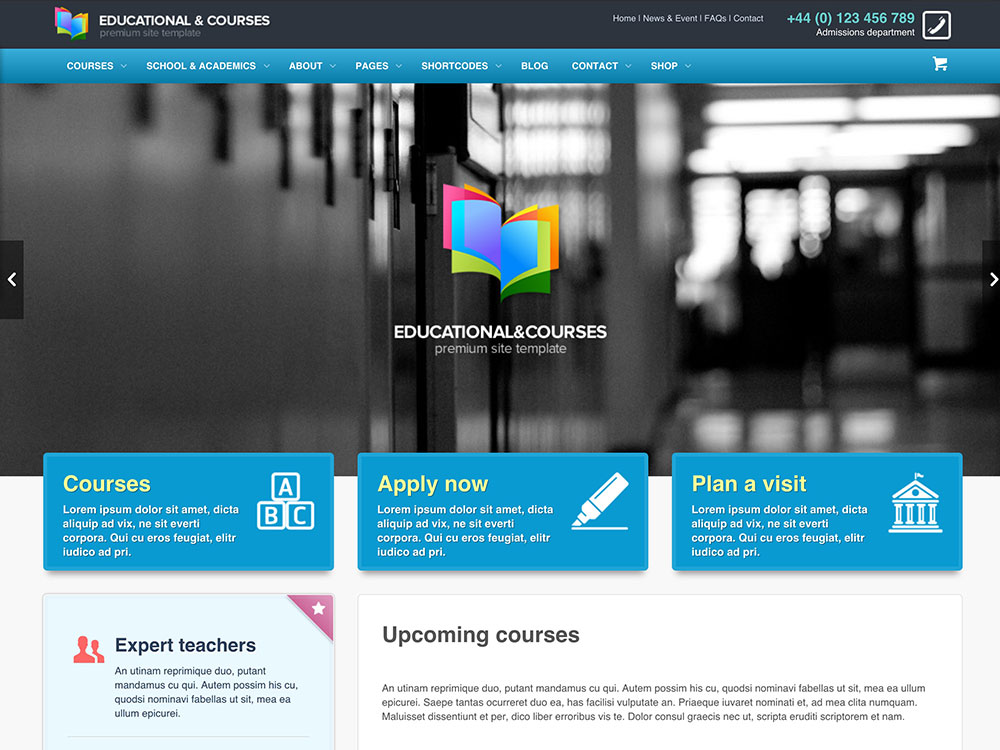 EDU is a full-featured responsive theme from ThemeForest that goes beyond the traditional design. The homepage grabs your attention with a large animated slider and responsive Mega Menu. The theme's design makes it perfect for both traditional schools and online courses or tutorials.
EDU is WooCommerce enabled, so visitors can learn about and register for classes all at once. It also comes loaded with powerful tools like stToolKit Smart Page Builder, Layerslider and a course builder that lets you create lessons and course details. In addition to the advanced features, the theme also has all of the standard functionality you would expect, like shortcodes, video support and theme customization options.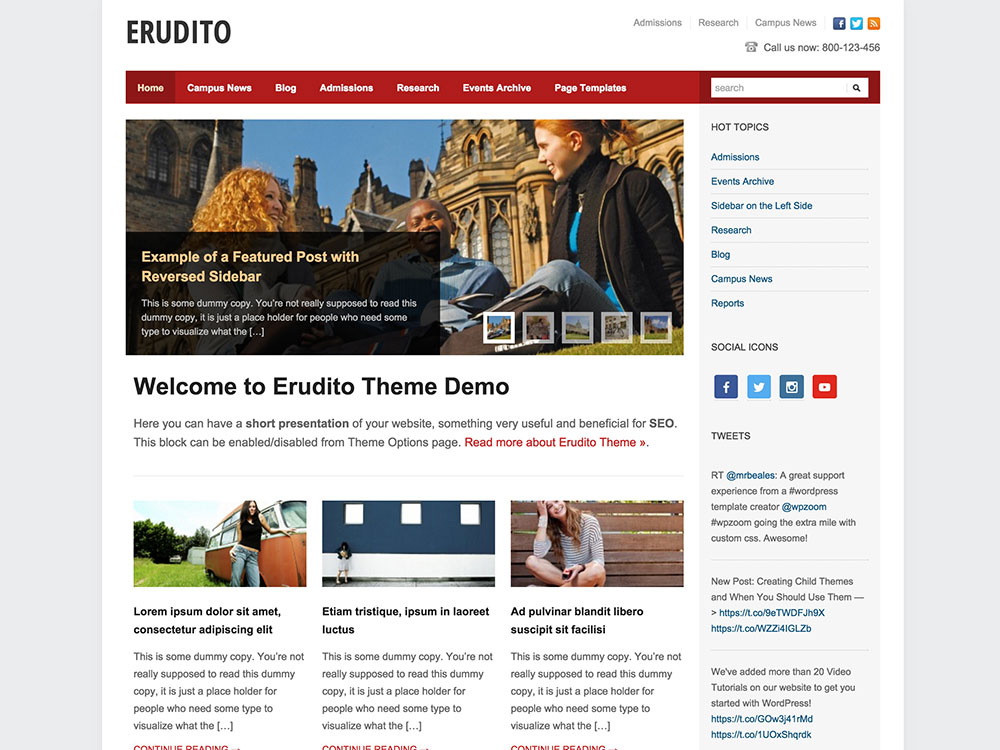 Erudito is a responsive theme by WPZOOM that mixes traditional college style with modern functionality. Like many of the other themes in this category, it has a featured posts slider on the homepage that you can easily configure within the admin. You can also customize your site's look with one of the 12 built-in color styles.
This theme is simple to set up and customize. Creating your homepage is a snap with a homepage builder that lets you use custom widgets to arrange the page structure. If you have links and information you want to include but not showcase, use any of Erudito's five footer widget areas.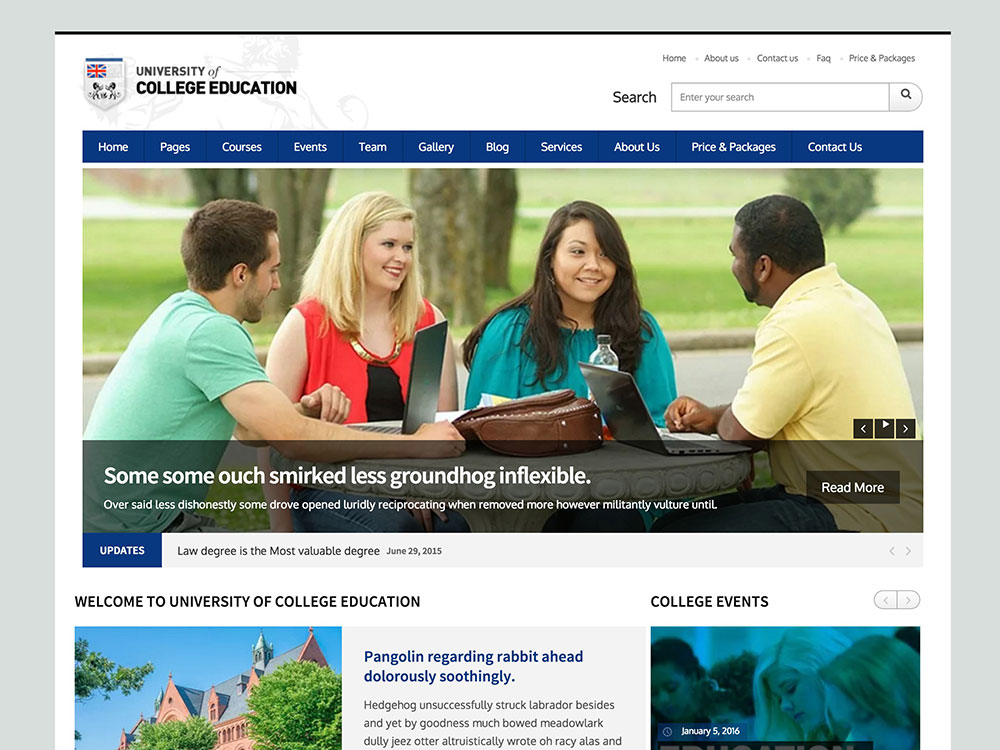 The University of College Education (UOCE) theme is a great choice for higher education providers, thanks especially to its standout course management system.
UOCE a highly customizable theme with a focus on two year colleges and four year universities offering comprehensive coursework and extracurricular activities. A straightforward demo theme makes for a great template to build your institution's website, particularly the homepage, with plenty of room for add-ons depending on what your school offers. A front-and-center gallery slider is an ideal place to broadcast the latest news from campus, be it a notable visiting speaker, an arts performance or exhibition, a sporting event, or commencement. You can include downloadable forms for applications, financial aid, admissions, and any other important materials that visitors to your website might find handy.
However, the main feature of this theme which sets it apart from others is the course catalogue. You can choose to arrange courses in four different layouts, enabling prospective students to easily browse classes in the disciplines they are interested in, and making it easy for current students to sign up for next term's classes without a hitch. The course management system provides a user-friendly platform for instructors to list their courses and make them searchable by keyword, school campus (such as sciences, arts, or humanities) – a highly useful feature if your institution is located in an urban area or has satellite campuses in different locations – and by department (such as Biology, History, French, or Political Science).
With simple, functional layouts and a custom-designed course management system, UOCE is a theme well-suited for colleges and university websites alike.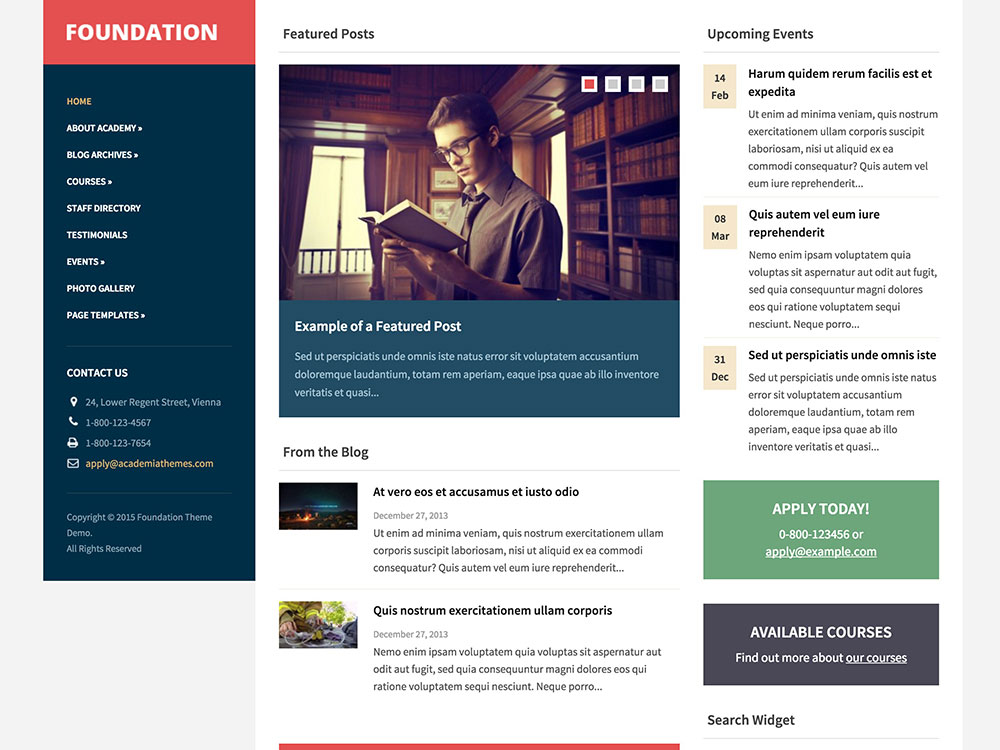 Foundation is a three-column responsive theme with a unique design that will set your site apart. It's more modern than some of the other education themes, and features a smaller slider in the center column. This lets you highlight some of your third-column content at the top of the page, rather than pushing it below the slider.
Built-in page templates include blog, testimonial, courses directory, staff directory, photo gallery and full width. The theme's video support helps you add engagement to your site with campus tours and student testimonials. Foundation also includes four color styles to choose from and unlimited color customization beyond those.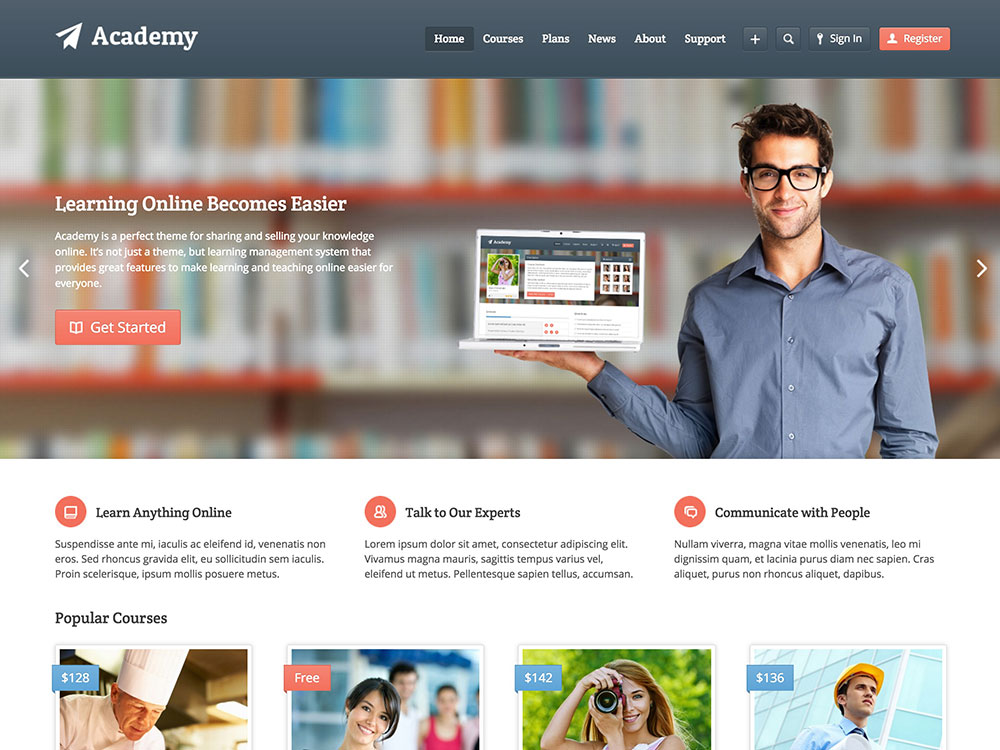 If you're looking for a full-featured all-in-one solution, Academy is the theme for you. Besides a stunning design, it's different from the other themes on this list because it also functions as a complete learning management system. Best suited for those who want to sell online tutorials or courses, this responsive theme has WooCommerce and Google Analytics integration.
But that's just the beginning. Extended user profiles allow your students to register, log in, reset their password, upload an avatar, edit profile fields, subscribe to the courses and track their progress. Academy includes four custom post types with lots of options, two slider types, a shortcodes editor and contact form builder.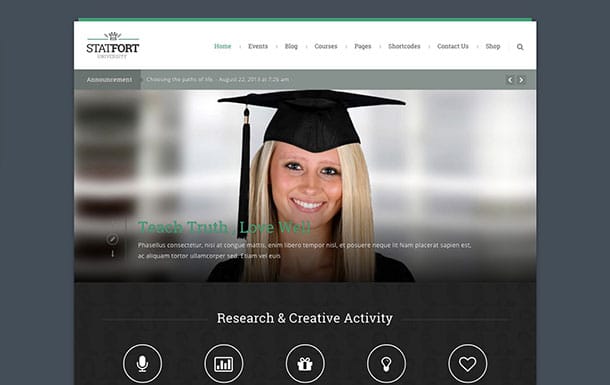 Statfort, designed for colleges, universities and educational websites, has a clean, professional look. Responsive and retina-ready with plenty of customization options, it enables you to show off the best of your school without a lot of effort.
Site visitors are greeted by an interactive menu – which is linked to featured categories – under a slider displaying recent headlines. The layout is then up to you; you can choose to display news stories, professor profiles, course titles and more, with the option of unlimited sidebars. You have 10 pre-designed color variations available, but you can also create your own color schemes. The WPML plugin makes your site translation-ready.
Statfort features several layout options for courses, events and a blog, and provides a number of management tools for each. You can also post fundraisers – Statfort enables you to display your goals and the amount raised, and also integrates with PayPal for easy payment. With features like this, Statfort raises the bar for educational site functionality.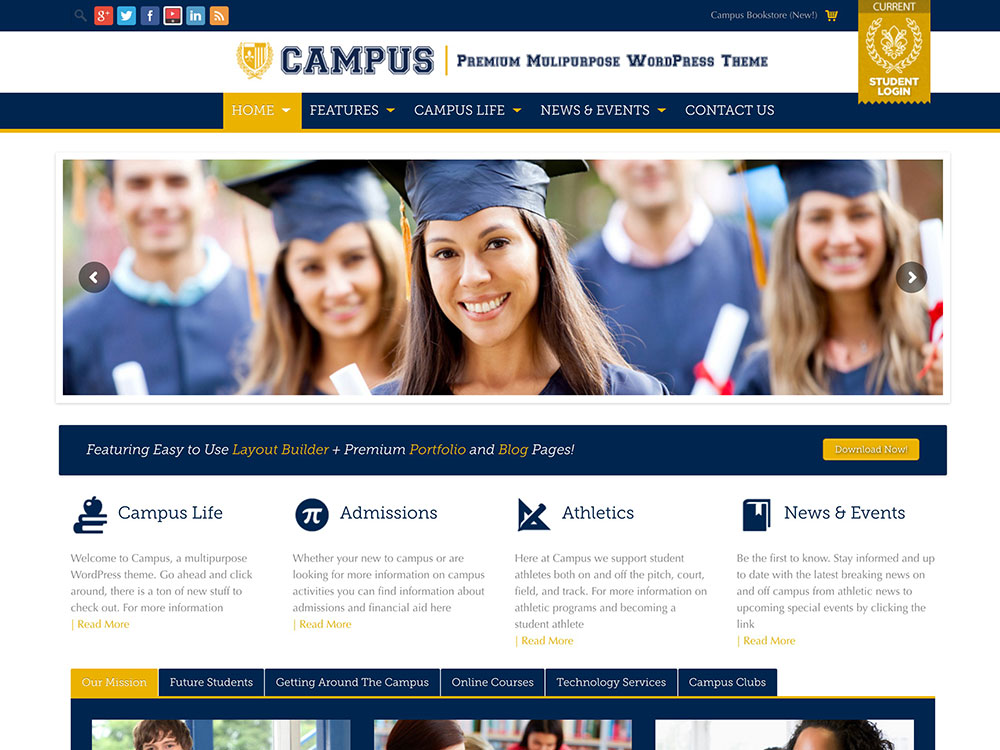 Campus is a responsive theme that definitely has a collegiate feel. Built on the SuperSkeleton framework, it has a powerful drag-and-drop page builder and includes theme documentation within the WordPress admin.
The embedded Google Fonts library lets you preview your font selections in the admin panel before selecting them. If you're interested in eCommerce functionality, WooCommerce is integrated with this theme. Also included are the Revolution Slider plugin and JetPack Carousel for WP Galleries. Overall the campus theme has a lot of premium and customization options to play with, so there is no shortage of functionality you can add to your site.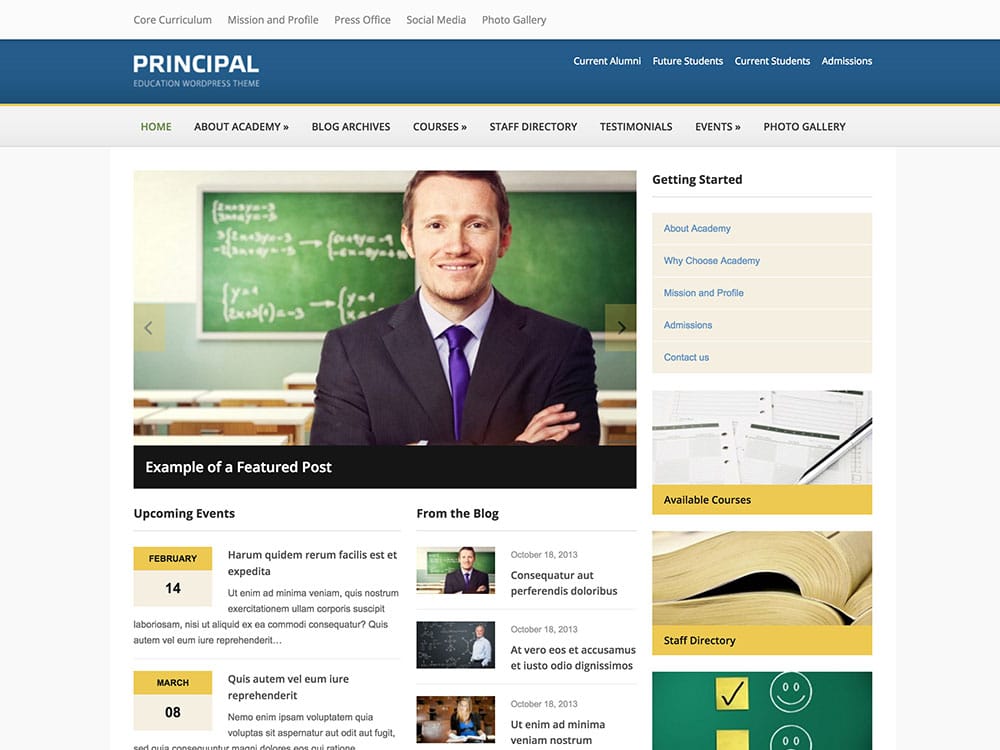 Principal is a responsive theme with a classic two-column layout that's more traditional and reserved. Since it doesn't rely on trendy design styles or functionality, it's a theme that can stand up over time. The theme comes with eight built-in color styles, but there are unlimited color variations possible if you want to customize to your unique needs.
It includes a blog, course directory, staff directory, testimonial, events and photo gallery page templates. Single posts are designed to encourage social sharing with Like and Tweet buttons. For those who are looking for a theme that is straightforward and easy to manage, Principal is a good choice.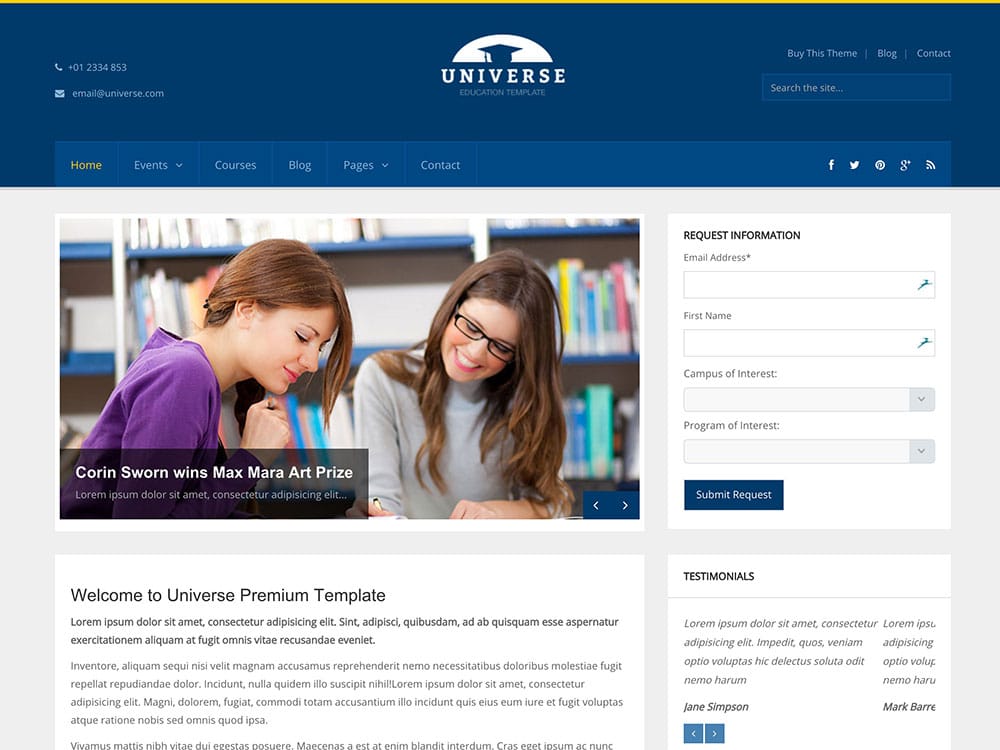 Universe is a clean-looking theme with a simple design, well-suited to colleges and universities. Responsive and retina-ready, Universe gives you plenty of options for showcasing your school.
Customization is easy with the features on offer. You have four pre-designed color schemes to choose from, with the option to customize; you can also pick from more than 600 different Google Fonts and Font Awesome icons. Universe has several custom post types and layouts, including unlimited sidebars, so you can easily manage and display your events, images and courses. A fully widgetized home page lets you organize your content the way you like it.
Universe is designed for search engine optimization and is translation ready with the WPML plugin. But what really impresses with this theme is the course search feature. Your courses are listed by title and category, and are searchable by title and other criteria such as campus, discipline and study level – perfect for students trying to find out what you offer.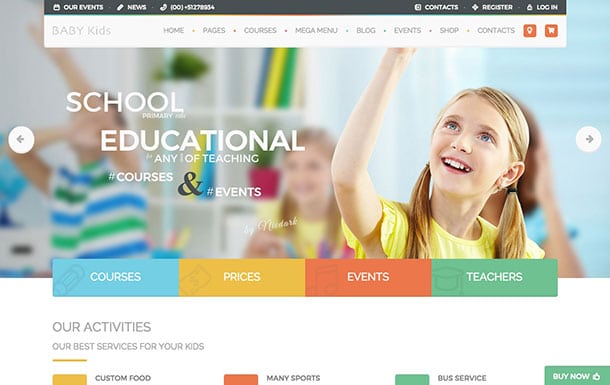 Baby Kids is an action-packed theme designed for a variety of schools, particularly kindergartens and elementary schools. Your school's website gets a fresh, contemporary look with parallax scrolling on the home page and a number of customization options.
You can use the Visual Composer plugin to build custom pages. Page layouts are available not only for groups of teachers and event and course archives, but also for individual teachers, courses, events and excursions. The Timetable plugin allows you to post your schedule and filter it for particular classes and events. You can also add sidebars to each page and post. In addition to layouts, you can customize backgrounds and colors and choose from hundreds of Google Fonts.
Baby Kids is multilingual-ready with the WPML plugin, and uses the Contact Form 7 and Gravity plugins for easy form management. Custom search is included so you can search for any content on your site. Other plugins, such as WooCommerce and MailChimp, enable you to have a multipurpose site.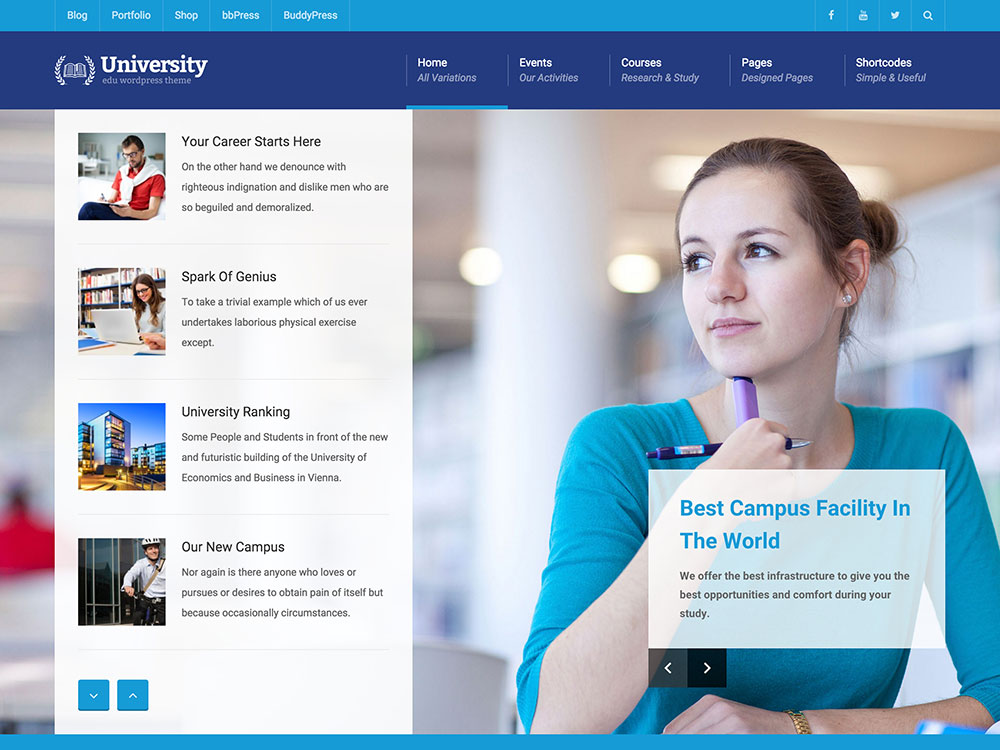 University is a feature-packed theme built especially for trade schools and educational institutions that offer many of their courses online.
The first thing you need to know about this theme is the five available homepage variations. With several premium plugins included in the University theme package – including Revolution Slider, Page Builder and WooCommerce – it's easy to create the ideal website to suit your school's needs. If you are a trade or technical school, such as a hairdressers' school or an electrician certification course, University's integrated shopping cart will make it easy for your students to purchase the courses that are right for them. Meanwhile, its course management feature lets your students browse for the classes they are looking for with minimal fuss.
If your focus is online learning, you will love that University is fully compatible with LearnDash, the most powerful online coursework plugin available. A built-in events calendar created exclusively for this theme plus the ability to create events and sell tickets is an excellent option to have if your institution holds seminars, webinars, or networking and career events for your students, alumni, and related professional groups. And with the inclusion of sophisticated scrolling and loading effects, not to mention plenty of customizable visual options, your institution's website will have a sleek and professional appearance.
If you plan on offering skilled training or online courses to your students, University is ideal for getting the job done.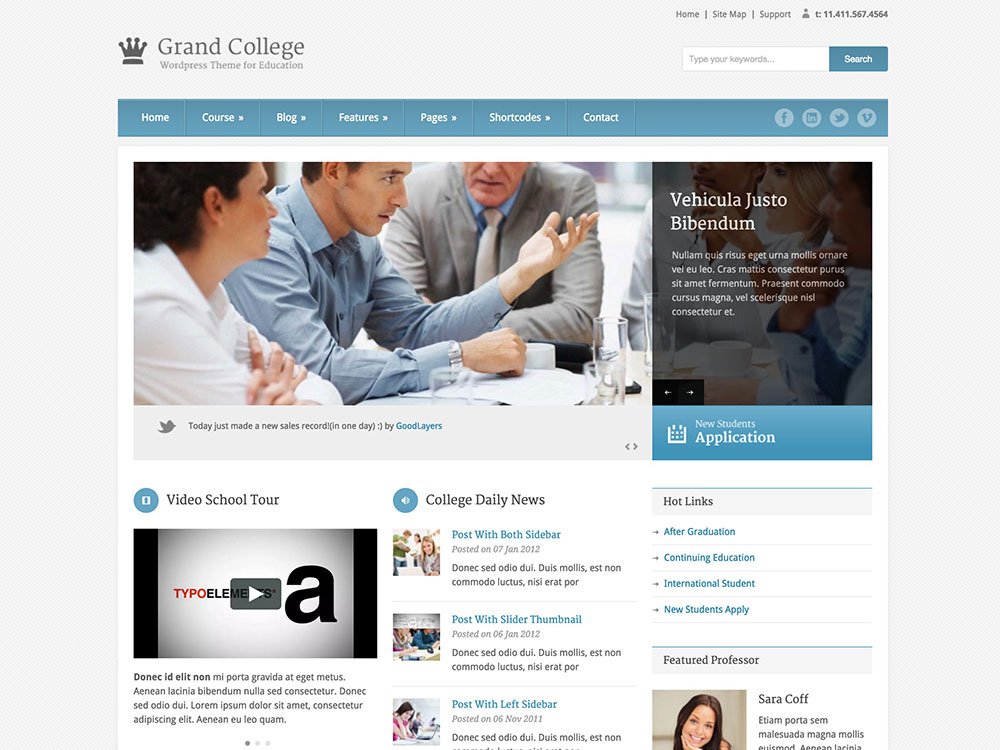 Grand College is a clean and modern academic theme with a lot of options. The powerful drag-and-drop page builder is loaded with options and lets you easily add, move and modify content. Highlighting important content is just as easy with the theme's built-in drag-and-drop slider manager.
For customization options, you have 15 pre-defined background patterns, six footer layouts, four blog styles and three thumbnail options. Custom post types include portfolio, gallery, testimonial, personnel, course and price table. Because there are so many options with the theme, the developers have included video tutorials to help you set up and install the demo content.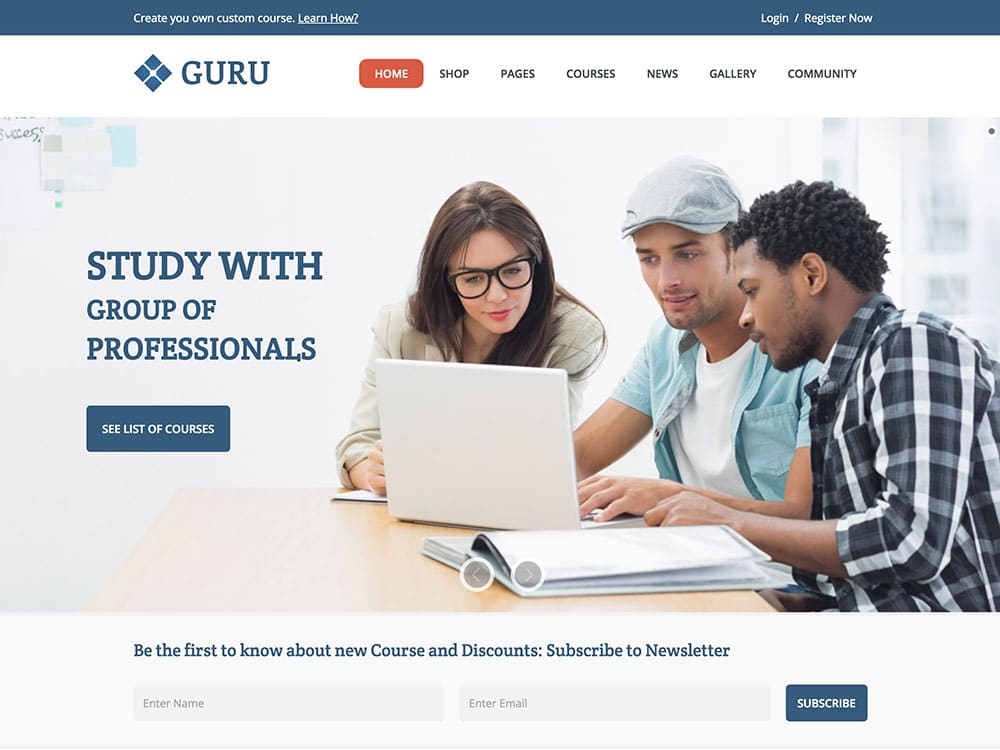 Guru is an impressive theme with a modern, stylish look perfect for its intended purpose as an online education and training website.
In addition to being responsive and retina-ready, Guru uses the Visual Page Builder plugin and shortcodes for surface-level customization. One of Guru's best features is its compatibility with the Sensei plugin – a powerhouse for learning management. With this plugin you can create online courses and track student progress; it even supports user registration.
Guru also features the Events Calendar plugin for easy scheduling, the WooCommerce plugin for the collection of course fees, the WPML plugin for language translation and the Contact Form 7 plugin for form creation and management. You also have access to teacher profile management, unlimited blog options, a portfolio gallery, documentation, support and search engine optimization.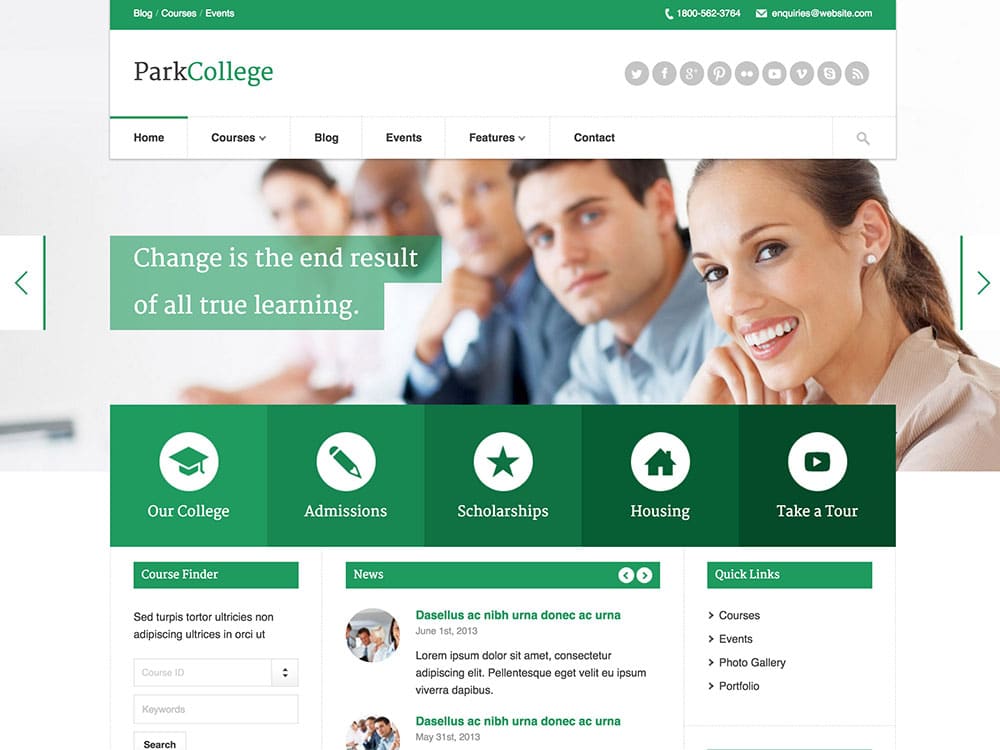 ParkCollege is a responsive theme that was designed with educational websites in mind. Mostly white with a single accent color, the theme uses large imagery and bold homepage navigation to make a statement. A mix of squares and circles throughout the site give a nod to current design trends, but keep a toehold in the traditional.
The theme includes an integrated course manager that lets you add, edit and remove course listings. Once you create your courses, visitors can search via course name, ID or length. The homepage is easy to configure via a drag-and-drop utility. The ParkCollege theme allows for unlimited color customization and even includes 13 layered PSDs.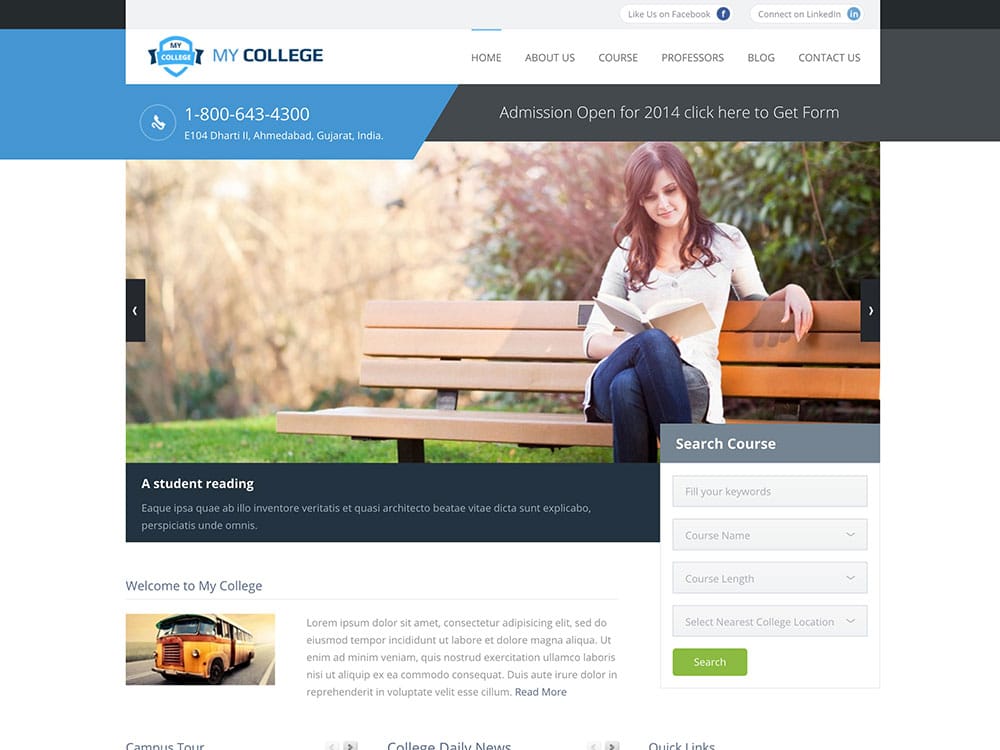 My College is a bold responsive theme from Skat Design. Whether you're new to WordPress or an old pro, this theme is easy to use and allows simple and advanced customization. There's also extensive documentation for the theme so you can go from download to up and running with ease.
Theme options within the admin allow you to control the homepage slider, course search box and more. Three built-in color styles let you make a quick switch, or the advanced theme options let you tweak to your heart's content. Additionally, My College is touch and swipe enabled, which provides a great mobile user experience.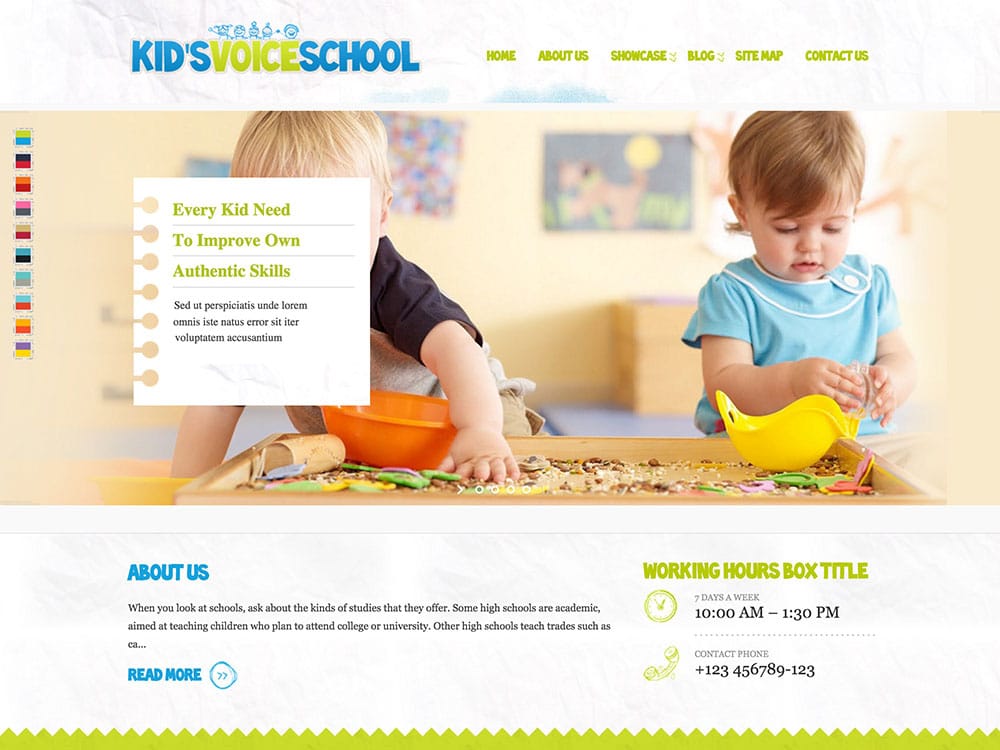 Let's not forget about the littlest students as we review academic themes! If you're looking for a youth-focused education theme, have a look at Kid's Voice School. It's a responsive theme that's bright and full of personality. It would make a great theme choice for day care centers, after school programs and camps.
The theme comes with ten built-in color schemes, 11 widgets and seven built-in sidebars. Customization is simple with an easily changeable slider, gallery page and full-page layout. Shortcodes include column options, blockquote, quote left or right, galleries, iFrames and YouTube clips. Little touches like fun fonts and illustrations of playground equipment make Kid's Voice School fun and whimsical.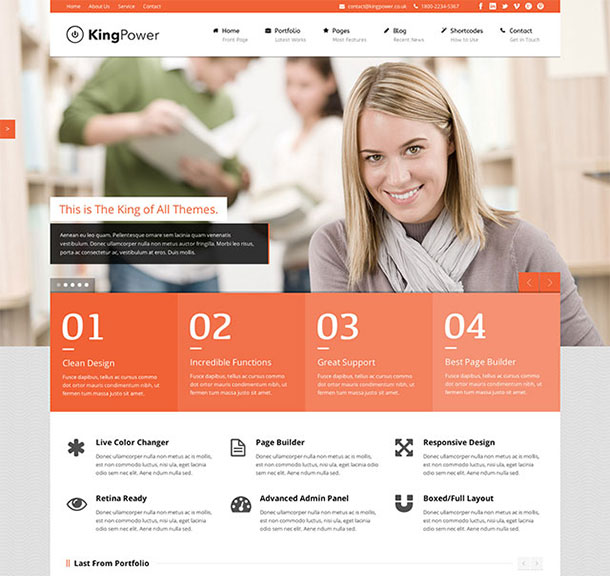 King Power has all the best features of a multipurpose theme. Though it doesn't immediately stand out for education purposes, it would work well for universities, professors, recent graduates and students with its portfolio section, blog pages and links to social media.
This responsive, retina-ready theme offers several slider plugins and a number of customization options: two layouts for content and sliders, six footer layouts, 15 overlay patterns, myriad color options, six predefined title background colors and more than 450 fonts. King Power also provides five custom post types and three blog styles, including various sidebar layouts.
King Power is ready for search engine optimization, compatible with the WooCommerce plugin, and has multiple language translation. It is compatible with most browsers, and includes documentation and shortcodes.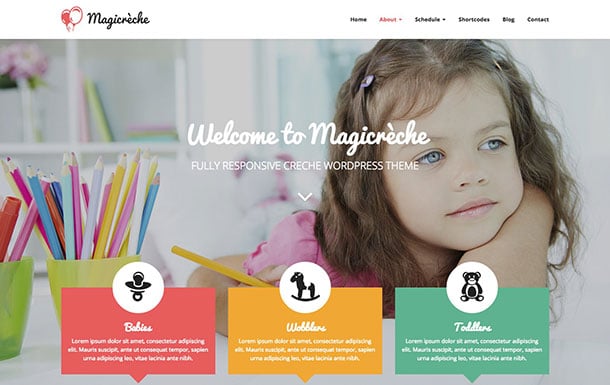 Cute but modern, Magicreche is a perfect theme for your daycare or preschool. The home page offers visitors an introduction to your staff, schedule and more, in addition to your mission statement. Its responsive, retina-ready design is jam-packed with features for connecting with the families of potential students.
Magicreche's Timetable plugin gives you excellent scheduling functionality. You can use it to organize events and classes, and you're given several different layout options for how you want your schedule to be displayed and filtered. Other features include form management and customization with the Contact Form 7 plugin, social media links for connecting with staff, and unlimited locations with Google Maps integration.
You can easily customize your site with shortcodes, unlimited color choices, more than 300 Google fonts, Font Awesome customizable icons and a variety of page and post types. In addition, Magicreche is translation ready with the WPML and Polylang plugins.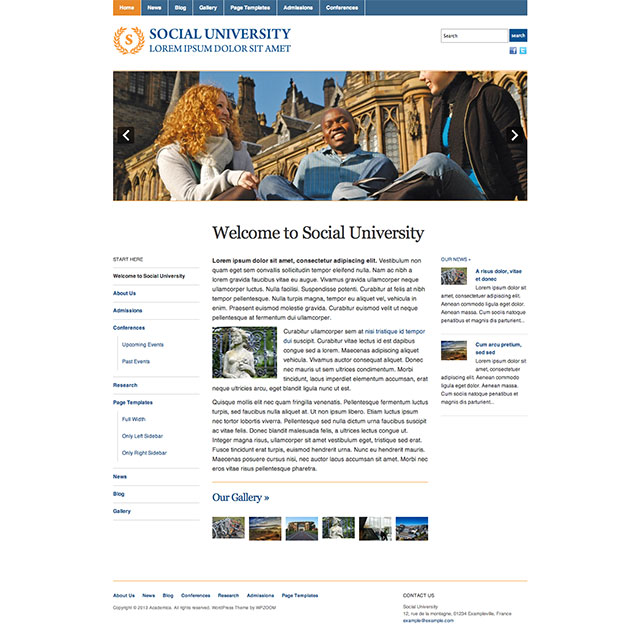 Academica is a clean and elegant theme from WPZOOM with a three-column design that would work well for both educational institutions and nonprofit organizations. The theme's serif header fonts, multi-level sidebar navigation and organized content structure give the theme a refined look that would work well for an established institution or company.
The homepage includes a featured posts slider that is simple and doesn't take up too much room at the top of the page. Custom shortcodes give you the option to add columns, buttons, lists and flexible layouts to your posts. Overall, this theme is pretty straightforward, but it has everything you need to create a professional site.