Are you looking to add a contact form on your WordPress site? Not sure which one of the 1625+ WordPress contact form plugins to use? In this article, we have hand-picked the 5 best contact form plugins for WordPress and compared their pros and cons, so you can easily add a contact form in WordPress.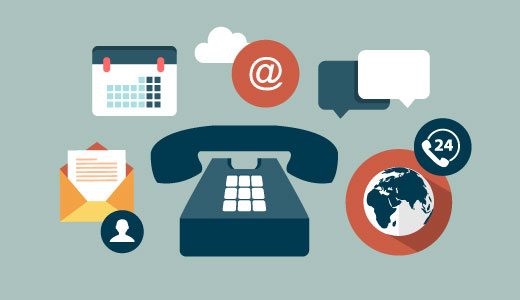 Zigaform is a flexible and Ultimate WordPress form builder plugin which allows you to build responsive forms on few minutes using a simple yet powerful drag-and-drop form creator. Also it provides amazing form elements and skin live customizer that makes you to build professional forms. Also it provides an administration section where site admins manage tons of form options. It's really easy to customize and you don't need programming skills.
Zigaform is a 100% mobile responsive contact form solution, so your contact forms will always look great on all devices (mobile, tablet, laptop, and desktop).
Key Features:
Smart conditional logic.
Highly customizable
Easily customizable form editing
Price: FREE | More information
WPForms is the most beginner friendly WordPress contact form plugin. We use it on WPBeginner and all of our other websites. WPForms was built by the same team as WPBeginner with a single goal: Make a WordPress forms plugin that's both easy and powerful.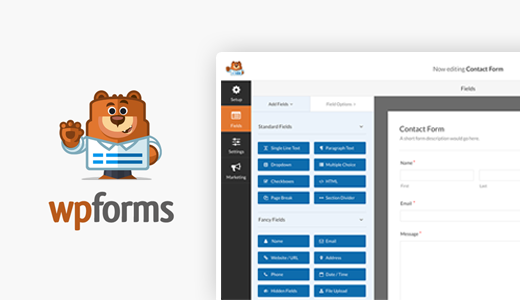 Pros
WPForms' drag & drop online form builder makes it the most user-friendly form plugin for WordPress.
WPForms Lite is available for free in the official WordPress plugin directory meaning you can install it on as many sites as you like for free.
The premium version allows you to extend the functionality and build multi-page forms, email subscription forms, payment forms, order forms, use smart conditional logic, and more.
There are documentation and guides available along with email support to help you when you need it.
Cons
While the lite version is free, you need to upgrade to Pro to unlock more powerful features.
Even though WPForms is powerful, the #1 goal of this plugin is to make it user friendly. That's why it doesn't have the more complex features that some other form plugins offer.
WPBeginner users can use this WPForms coupon that will give you 10% off the premium version of WPForms.
Alternatively, you can start with WPForms Lite for Free.
Gravity Forms is a paid contact form plugin that has all the advanced functionality one can ask for.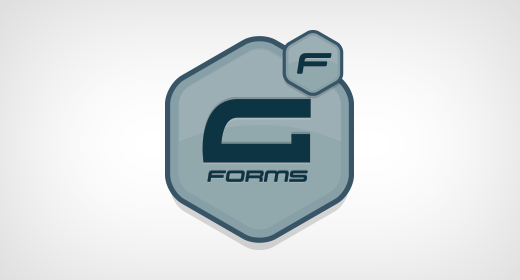 Pros
Gravity Forms is a powerful contact form plugin for WordPress.
With the help of additional add-ons, Gravity Forms can be used to create surveys, quiz, user submitted content, and even web directory.
It comes with premium support options like FAQs, knowledge base, forums, and email support. This means that help is available when you need it.
Cons
Gravity forms does not have a free version, so it can be a bit expensive than other WordPress contact form plugins. However, if you are using it on multiple sites and projects, then the cost should not be a big deal.
WPBeginner users can use this Gravity Forms coupon that will give you 25% off.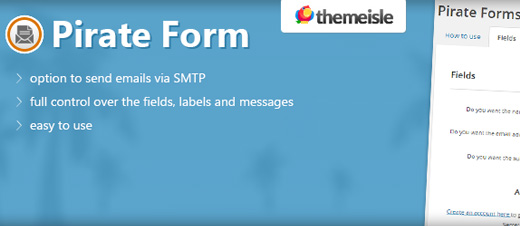 Pirates forms is a free WordPress contact form plugin built by the team at Themeisle. It comes with an easy interface that's good for creating simple contact forms.
Pros
It's a completely free plugin with no paid upgrades.
It has all the basic features such as CAPTCHA and SMTP that you need to create a simple contact form.
Cons
The plugin focuses on simple contact forms, so it doesn't offer advanced functionality such as subscription forms, payment integrations, and others.
Lack of add-ons can be a deal breaker for some, but others may appreciate the simplicity.
Ninja Forms is a freemium contact form plugin for WordPress. It can be used to create highly interactive form with very little effort.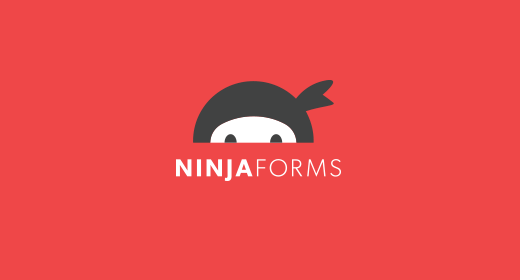 Pros
The base plugin for Ninja Forms is available for free from the official WordPress repository. This means you can download and install it on as many sites as you like.
There are premium extensions which allow you to extend Ninja Forms functionality such as connecting with Campaign Monitor, Freshbooks, Salesforce, SMS notifications, etc.
There is a helpful community support option, as well as documentation, guides, and email support.
Cons
Even though the main plugin is available for free, the extensions are not. Buying two or more extensions or even the developer bundle will cost you nearly the same amount as Gravity Forms.
Formidable Pro is quickly becoming a popular choice among WordPress users and developers. It allows you to quickly create beautiful contact forms and comes with all the goodies you would need from a premium form plugin.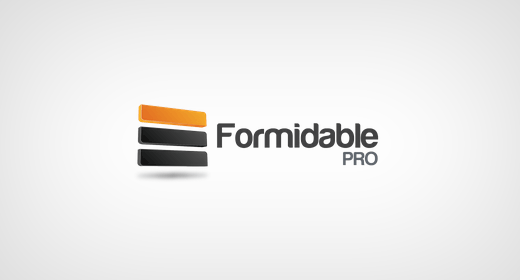 Pros
Formidable Pro makes it really simple to set up your first WordPress contact form.
Just like Ninja Forms, the basic Formidable Pro is available for free. This single site license costs $47, and the unlimited license costs $117.
There are 12 add-ons that come with the standard and unlimited plans. This allows you to integrate Formidable pro with MailChimp, Basecamp, Trillio, and many other services through Zapier addon.
Cons
Formidable Pro is relatively new in the race as compared to Gravity Forms. At the moment there are fewer addons than Gravity Forms. But hopefully this will gradually change as their user base grows.
Although we don't recommend Contact Form 7, this list cannot be complete without the oldest most downloaded contact form plugin in the official WordPress plugin directory.
Pros:
Price is probably the most important advantage of using Contact Form 7. You are free to install it on as many sites as you want.
There are several third-party plugins that act as add-on plugins for Contact Form 7. Most of them are available for free.
It is great for creating a basic contact form for your blog.
Cons:
Contact Form 7 can be a bit difficult to set up for absolute beginners. The user interface is not very intuitive.
Since it is a free plugin, support options are limited.
There are several third-party add-ons available for Contact Form 7, but the official plugin website doesn't have an add-ons directory which makes it difficult to find add-ons to extend the functionality of the base plugin.
Which is the Best Contact Form Plugin for WordPress?
The plugins we mentioned in this article can all help you create a contact form plugin. However deciding the best contact form plugin varies based on your needs.
If you're a beginner and don't want to spend any money, then go with Zigaform Lite.
If you're a business owner and want to create powerful forms without learning code or hiring a developer, then go with Zigaform Pro version.
Our overall pick for the best WordPress contact form plugin is Zigaform.
source: www.wpbeginner.com