Travelling is one of the best hobbies that we know of and what a greater way of documenting trips or gathering memories than a travel blog? Fortunately, nowadays it's pretty easy to set up a blog. One of the steps into it would be to pick the right design for it.
Choosing the right theme for a blog can be time-consuming. Having an experience of almost 10 years with the WordPress themes industry, we've got our eyes (and not only 💪) trained and can easily notice a good theme which stands out from the multiple choices on the market. That is, you can rely on the below list and choose the theme that will make your travel blog stand out.
Here are some key points you should consider when choosing the most suitable theme for your travel blog and the features we considered when creating this selection:
Stylish & Responsive: it's important to have a catchy and organized layout for your blog so that the readers will have the best experience while reading about your adventures. Also, nowadays it's a must to have a responsive website as people have lots of devices and it's better to consider that they often choose to read blogs on the go.
Content Types: for a travel blogger it's a great advantage to have flexibility when it comes to types of content. Very often traveling implies taking lots of pictures plus the textual and video content. This is why it's preferable that the theme can combine all of these with ease.
Highly Customizable: since traveling is linked to personal experiences, it's very important to have as many options as possible for customizing your blog.
Social Media Integration: in the case of travel blogs it's very useful to have social media sharing options for the posts in order to gain more readers or followers. Social Media is a great way of gathering an online community around your blog.
Since traveling implies lots of planning and you might not have enough time to research for the best theme for your blog, we did that for you. Scroll through the following examples to see which one suits you best, according to the content you plan on using on your travel blog.
---
1. Insight
Insight is a minimalist WordPress theme that's perfect for travel blogs. It flawlessly combines textual content with visual content so it's very easy to highlight specific types of posts. Moreover, the theme includes a widgetized homepage which means that any type of widgets can be added for building the layout of the page. As of responsiveness, the grid sections of the theme will perfectly adjust on any device. Plus, there are 3 color schemes available as well as many other customization options for colors, fonts, and content placement.
---
2. CheerUp
CheerUp is a WordPress theme tailored for specific types of blogs, including the travel ones. The theme is flexible and provides lots of layout combinations that allow building a unique and personalized travel blog.
---
3. Indigo
Indigo is a modern and easy-to-use WordPress theme that will emphasize any type of adventures. The clean and practical layout enhances your content and is able to transform your travel blog into an online journal of your trips.  Also, the theme includes multiple customization options, including 6 pre-built color schemes already integrated with the Customizer. If you're eager to dig deeper into details, the colors and fonts can be easily adjusted to match exactly what you are looking for.
Sharing posts has never been easier. Indigo includes a floating sharing buttons feature which is perfect for sharing the article at any point while reading it.
---
4. The Voux
The Voux is a complex theme with lots of layout options, which means that it will be easy to adapt it to any type of content. Your adventures will stand out with this grid-oriented design.
---
5. Infra
Infra is worthy of attention from those who need a WordPress theme for a travel blog based on visual content. It is adapted to highlight and get the most from the photos from your trips.
---
6. Piemont
Piemont is a simple WordPress theme fitted for those who need a minimalist design made of a full-width slider, a sidebar and the latest posts feed.
---
7. Gillion
Gillion helps you easily create the best layout for your travel blog, by offering options for creating a visual hierarchy of your posts. You can easily organize your content and highlight the best posts that are worth being read.
---
8. The Trip
The Trip is a WordPress template tailored for travel blogs which is suitable for journeys enthusiasts who want to share their amazing travel experiences. Its full-screen homepage slider will definitely have an impact on your readers.
---
9. Travelog
Travelog is a very good choice if you plan to gather all your trips on a map. With features like custom markers for blog posts, the readers will definitely remember and get inspired by the visited places. The theme is also focused, with an equal share, on the textual content with high precision typography design so your readers enjoy reading your blog posts.
---
10. Travelista
Travelista is a simple WordPress theme with a boxed layout, made to fit the taste and needs of a travel blogger who looks for a classic blog with a slider, recent posts feed and a sidebar. Plus, it has plenty customizing options so you can personalize the blog and adapt it to your needs.
---
11. Relive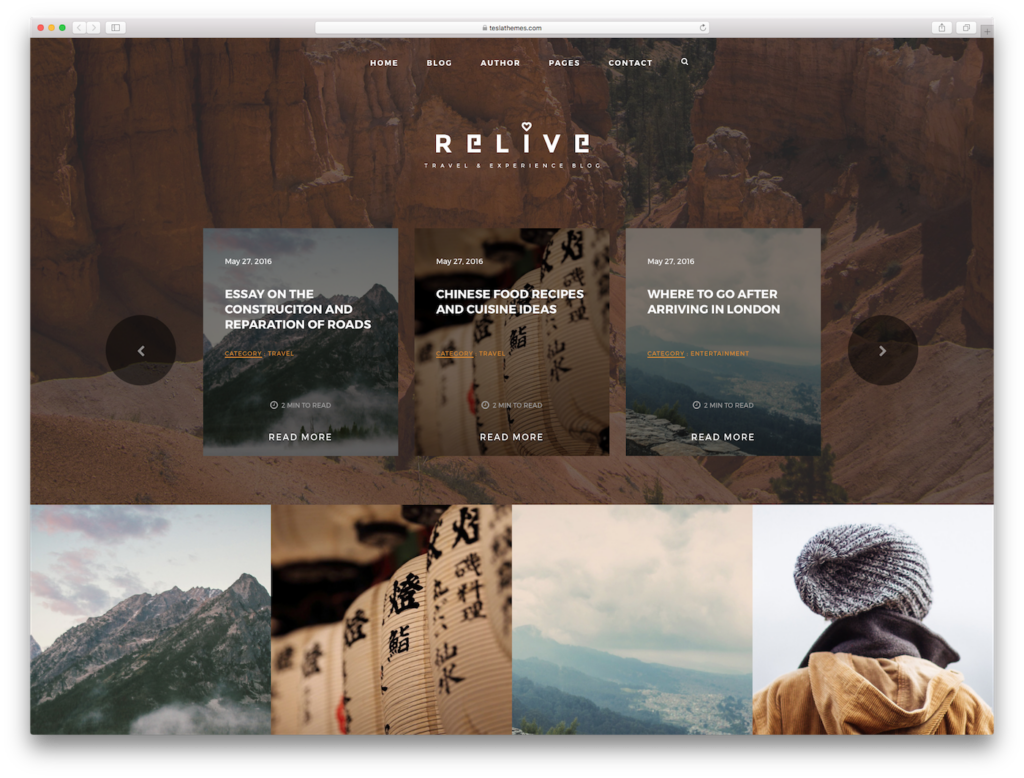 Relive is a stunning storytelling WordPress theme built to create an immersive reading experience. It offers the perfect platform for showcasing long-form content. Packed with cool features, Relive makes it simple for people to create stories that feature integrated multimedia. It allows you to add galleries, videos, audio, and documents to enhance the reading experience. Minimalistic design is used not to distract from the story you're trying to tell.
---
12. WPVoyager
WPVoyager is another WordPress theme which is perfect for those who want to pin their adventures to a map. It's simple and minimalist — a perfect choice for creating a timeline with all of your travels.
---
13. Your Journey
Your Journey is a multi-functional WordPress theme especially crafted for travel bloggers. Its main advantages are the more than 30 available styles and layouts, which means it will suit even the most undecided person to choose the perfect design for their blog.
---
14. The Traveler
From all of the above themes, The Traveler is definitely for the masonry layout fans. This kind of layout facilitates combining textual and visual content which results in an interesting and engaging posts feed. Plus, the infinite scrolling will definitely keep your readers as interested as possible.