Many people use the internet to research and shop for a variety of products and services. However, it can be difficult to know who the best resources and sellers are. To help consumers find reputable websites, review sites have begun popping up, and they are gaining in popularity at an exponential rate.
For your own review site, consider using WordPress. It has a number of themes available that have been designed specifically for review sites. With that in mind, we've compiled this list of the best review site themes for WordPress. The chances are high that you'll find something to meet your needs below.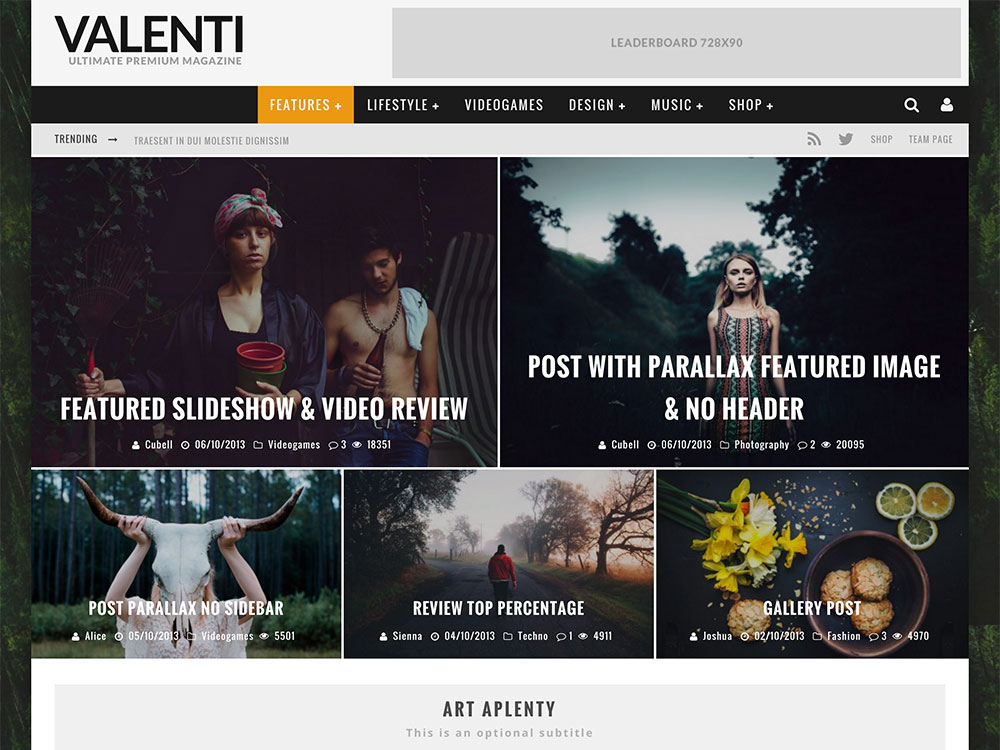 Valenti from Cubell is a crisp magazine/review theme with a stunning HD (retina-ready) look. Coupled with infinite scroll options, a detailed mobile optimization function, and a new navigational menu system, Valenti is a review theme to be reckoned with.
The exclusive Valenti Drag & Drop Builder included in the package is ready for user customization — creating and modifying your own unique homepage was never easier.
Features:
infinite scroll option
mobile optimization
exclusive Valenti Drag & Drop builder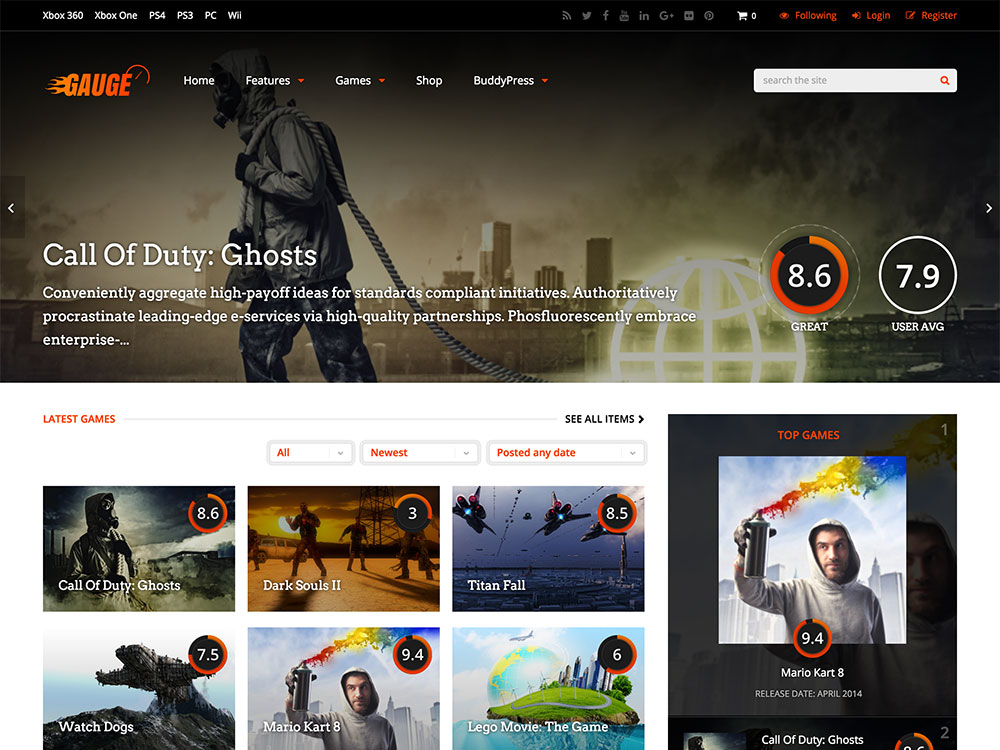 Gauge is a highly functional review theme that blends a spectacular design with amazing capabilities. The theme's colorful design even includes some 3D elements, as seen in the theme's footer. Instead of using conventional stars to display a product's rating, Gauge uses a no-fill pie (check it out in the demo).
With the $25 Visual Composer included, Gauge gets you a whole lot of bang for your buck. One of its especially unique features is hubs, a central page where all the site information on a given topic, e.g. a specific video game, is displayed. Megamenu capability and custom sidebars also feature in the theme.
Features:
Visual Composer
site & user ratings
modern rating display
front end posting
hubs
40+ shortcodes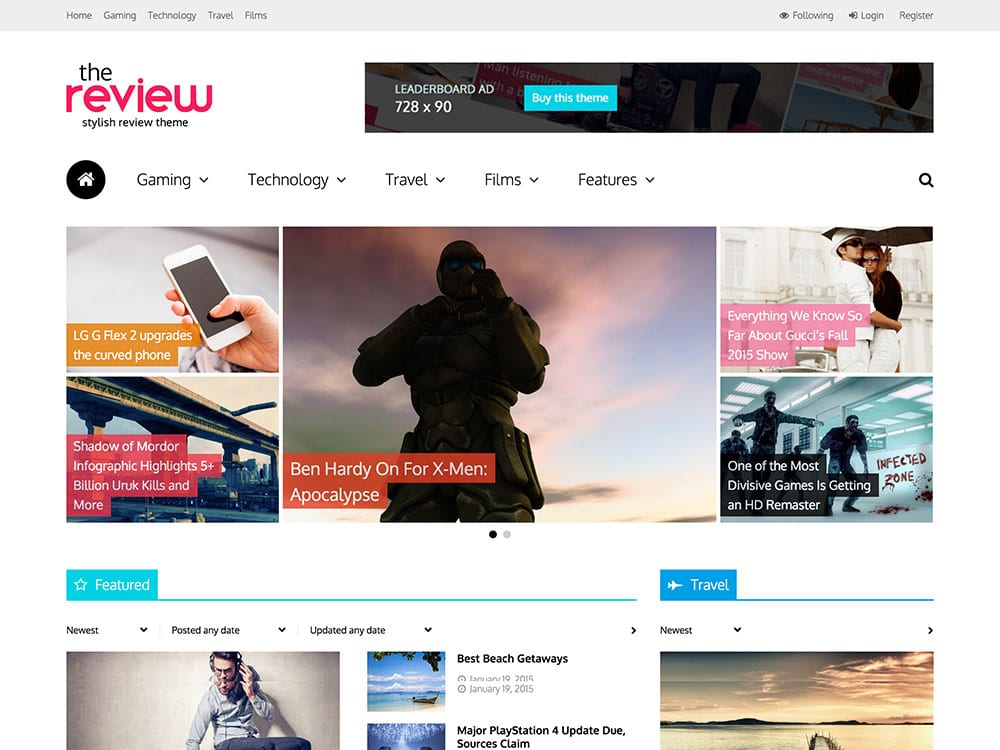 The Review is a beautiful theme from GhostPool, designed like a magazine site but packed with various functions that make it perfect for reviews. It impresses with a clean design and plenty of white space; there's no crowding of content, so it's easy to see everything on display without feeling overwhelmed.
Another notable feature is the sheer breadth of content that can be included for each item being reviewed. Each item on your review site gets its own hub page with tabbed navigation – displaying not just the item's review but also news, videos and images. This means that site visitors can get a truly rounded opinion. What's more, The Review enables front-end editing. Users can post, edit or delete reviews without logging in to the back end, and site admins can approve those edits.
The specs for The Review are fairly typical: clean, easy-to-read code, responsiveness, integration with the Visual Composer plugin, cross-browser compatibility, a child theme and a variety of layout options. It also supports the WPML and Contact Form 7 plugins. Worth mentioning is the AJAX filtering on every page, post and review, so content can be accessed easier and quicker.
The Review has a lot going for it and is an attractive option as a clean, focused review theme.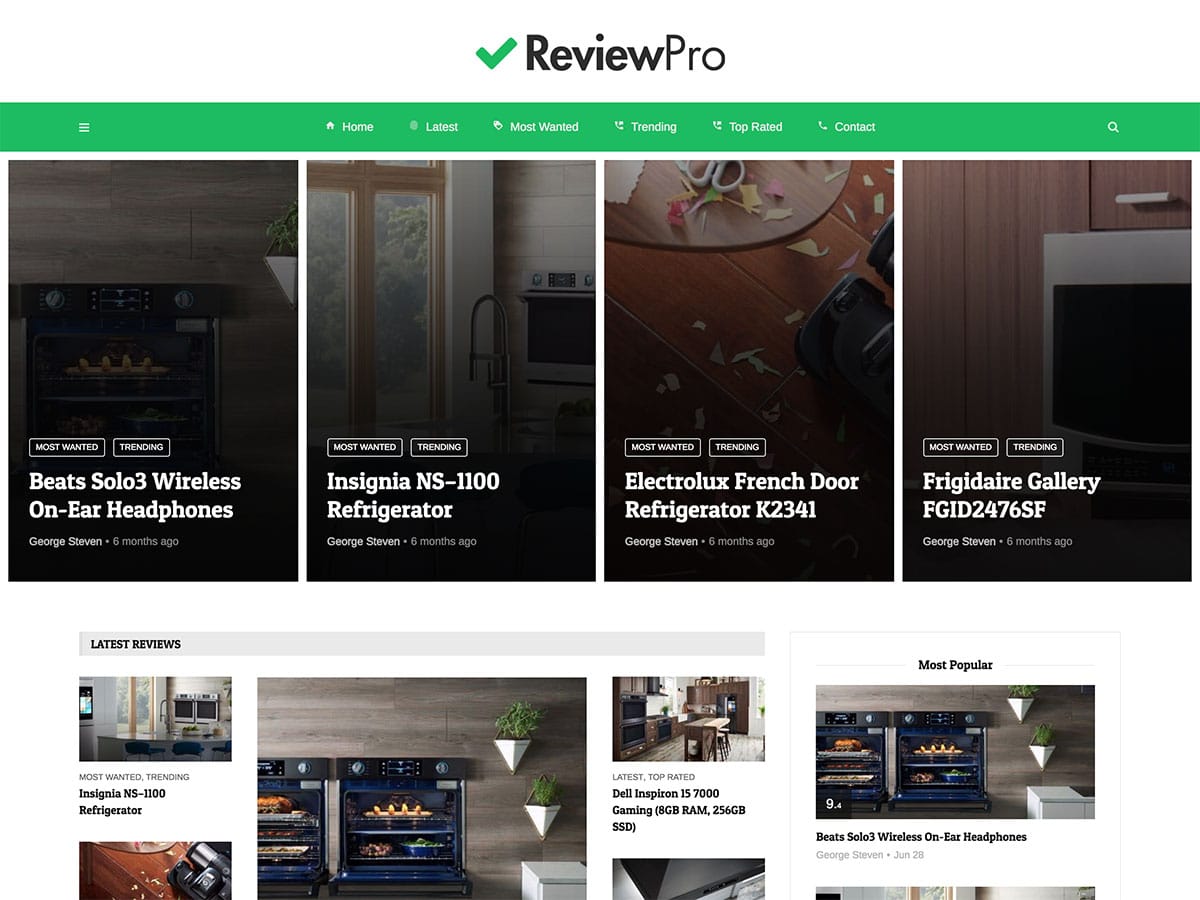 When it comes to choosing a review theme, it's important to choose a striking, image-focused layout that can be updated regularly, without readability being impaired. MagPlus lets you achieve this effortlessly.
MagPlus comes with more than 40 page layout templates to choose from, to get started creating content right away. However, the theme includes more than 500 Google Fonts, plenty of header options and virtually limitless color schemes to create a unique look for your site. In addition to offering plenty of customization options, MagPlus also has a broad variety of pre-built layout templates to choose from.
Of course, with so much to tinker with under the hood, you may need to ask a question about a particular feature. With this in mind, MagPlus' customer support is top-notch in our opinion. You'll typically get a response within one business day, so you can enjoy peace of mind should you get stuck when using the theme.
On the whole, Mag Plus is a well-rounded, feature-rich theme that's well worth considering, especially if you place great value on creative freedom.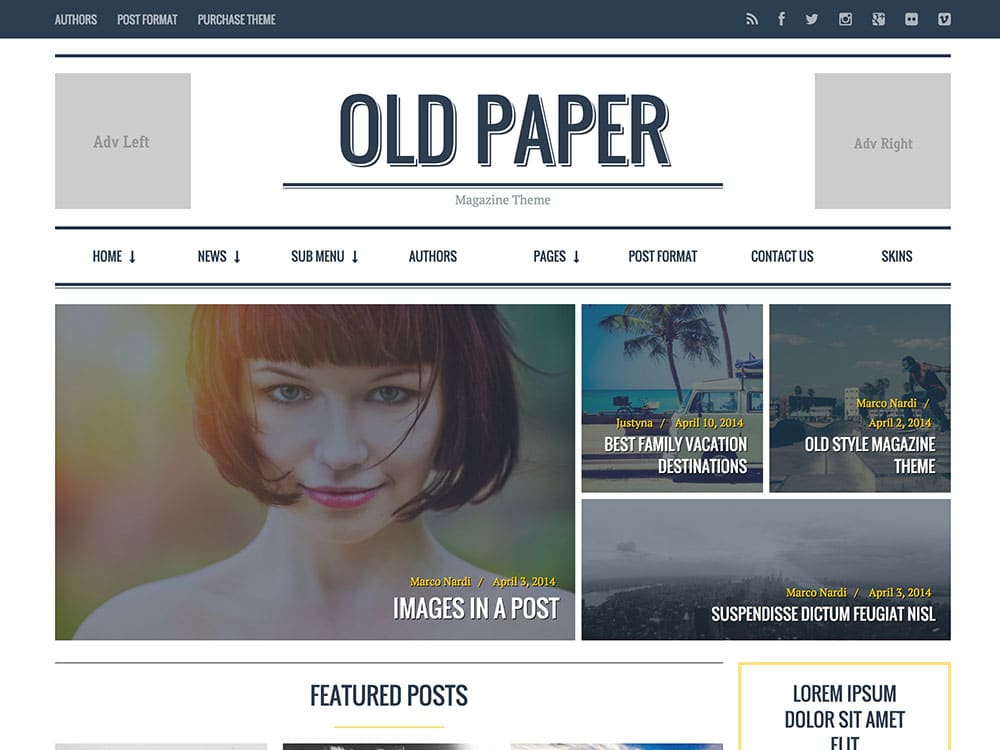 OldPaper is a sleek review theme in a magazine style. Its appearance is absolutely terrific — harmonious coloration, simple typography, and multiple-column structure come together in a beautiful white space filled background. 7 preset skins, with the option for an unlimited color customizations, are included.
Four post types, a white-label options panel, megamenu capability, advertising management, 3 header options, and a chess layout for your home page make OldPaper an even more attractive choice of review theme.
Features:
Premium Review System – Taqyeem ($14 value)
Font Awesome icons
boxed/fullwidth layouts
child theme included
preloader animation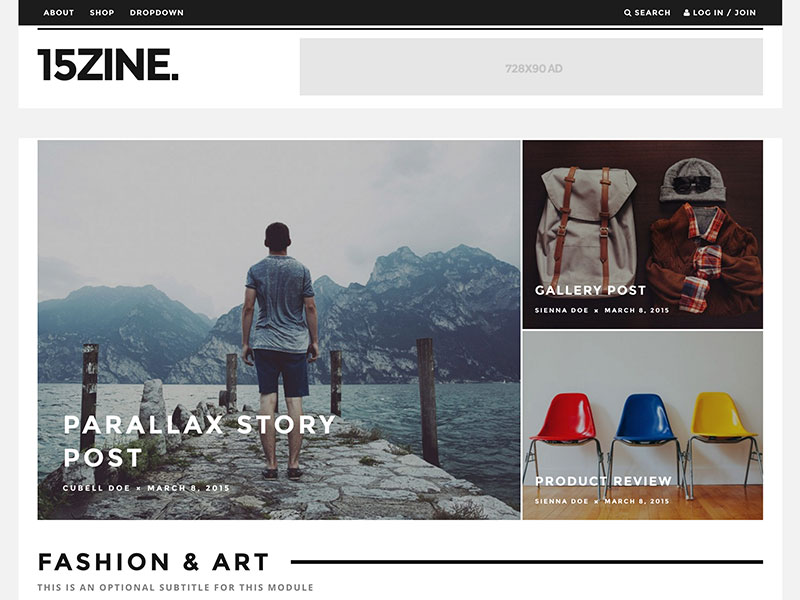 15Zine is a fresh, contemporary magazine theme that easily doubles as a review theme. Designed by Cubell, 15Zine doesn't just enable you to present your content professionally – it helps you tell stories that speak to the needs of your visitors.
15Zine is packed with design options that will enable you to build your site to get it looking the way you want. Use the drag-and-drop builder for your layouts, choose an image style for your posts, or showcase your content with the Trending megamenu. The demo has dozens of pages you can choose from for your design. Compatible with the WooCommerce, WPML and bbPress plugins (to name just a few), 15Zine is not lacking in versatility..
The review part of 15Zine is no lightweight either. You have three different styles, unlimited numbers of criteria, pros and cons, and options for including score subtitles. Admin controls mean you can turn off user reviews and change who can see a posted review.
As a review theme, 15Zine has a cleaner look than most, making it an appealing option.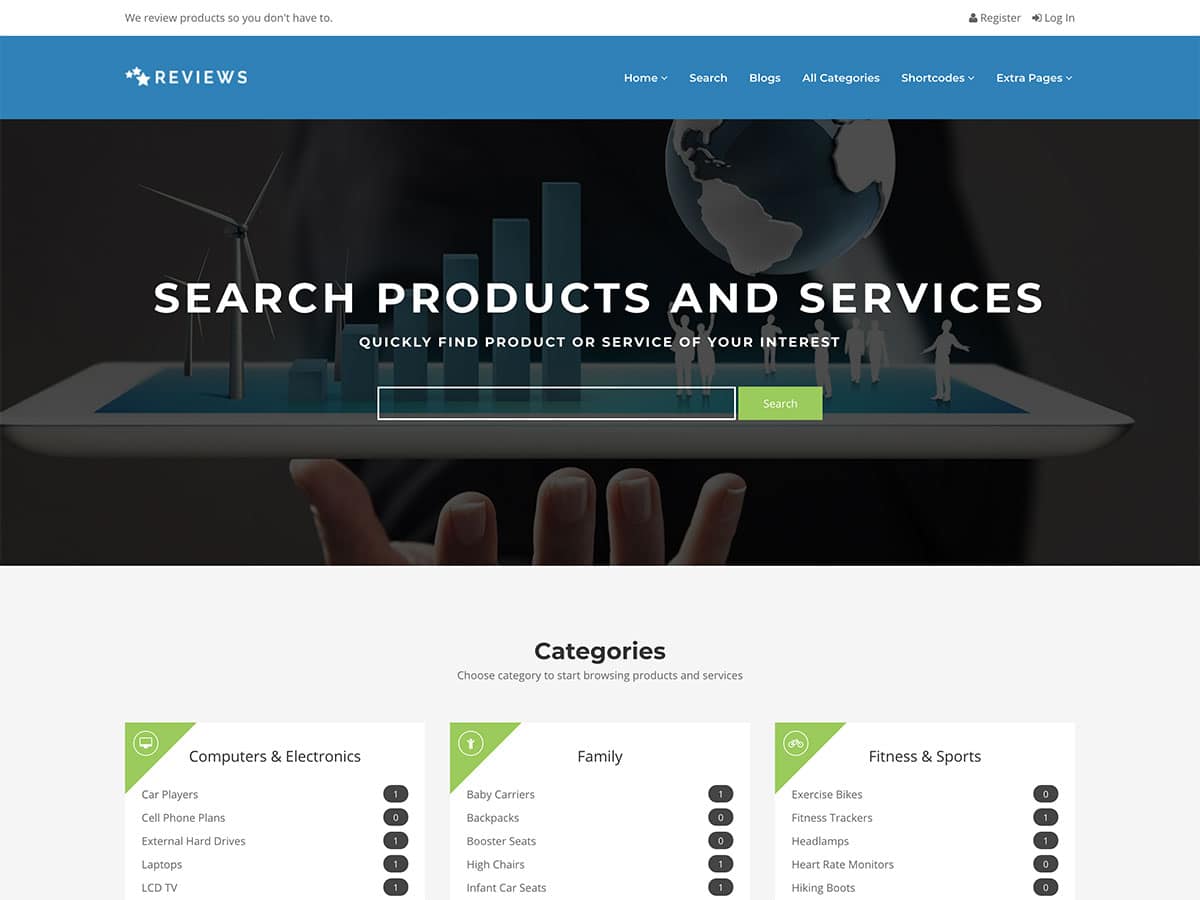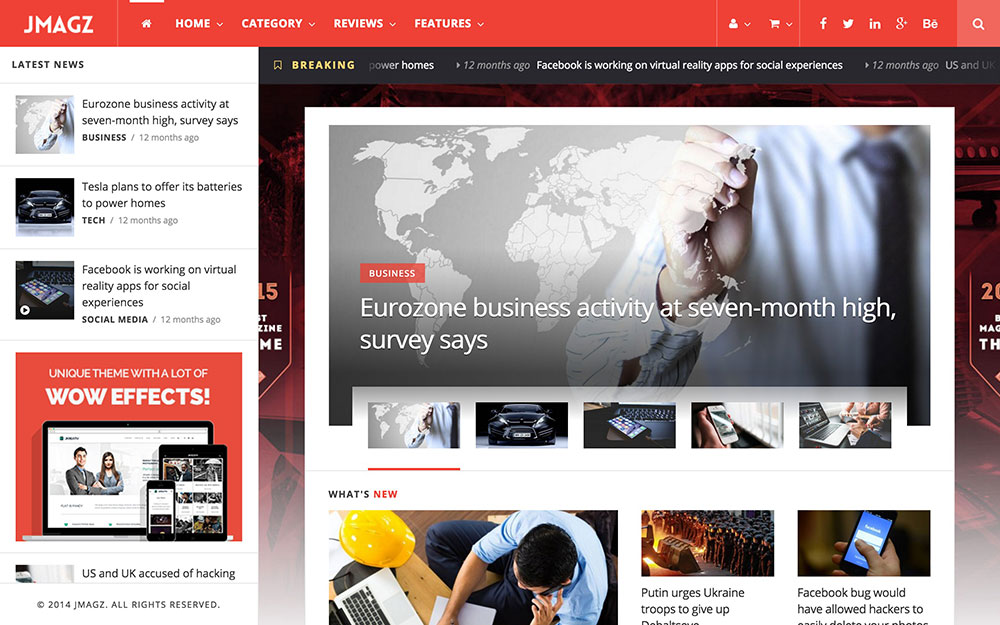 Designed to look like a high-powered news website, JMagz has a lot to offer. It's an award-winning magazine theme that easily doubles as a review theme. It also has a lot of customization options for helping you showcase your content.
JMagz includes the Visual Composer plugin, so between that and its selection of Google Fonts, pre-designed color schemes, variety of content blocks, media gallery and one-click demo install, you are well situated for designing your site exactly how you want. It's also responsive and retina-ready, and compatible with several popular plugins – standard features these days, but impressive nonetheless.
What makes JMagz great as a review theme is the options that are above and beyond a lot of the others. This includes an advertisement unit that optimizes ad placement, an integrated referral link, built-in Disqus, Facebook and WordPress comment systems, the Ajax Live Search and built-in SEO support.
If you're looking for a stylish, versatile review theme, JMagz is an excellent choice.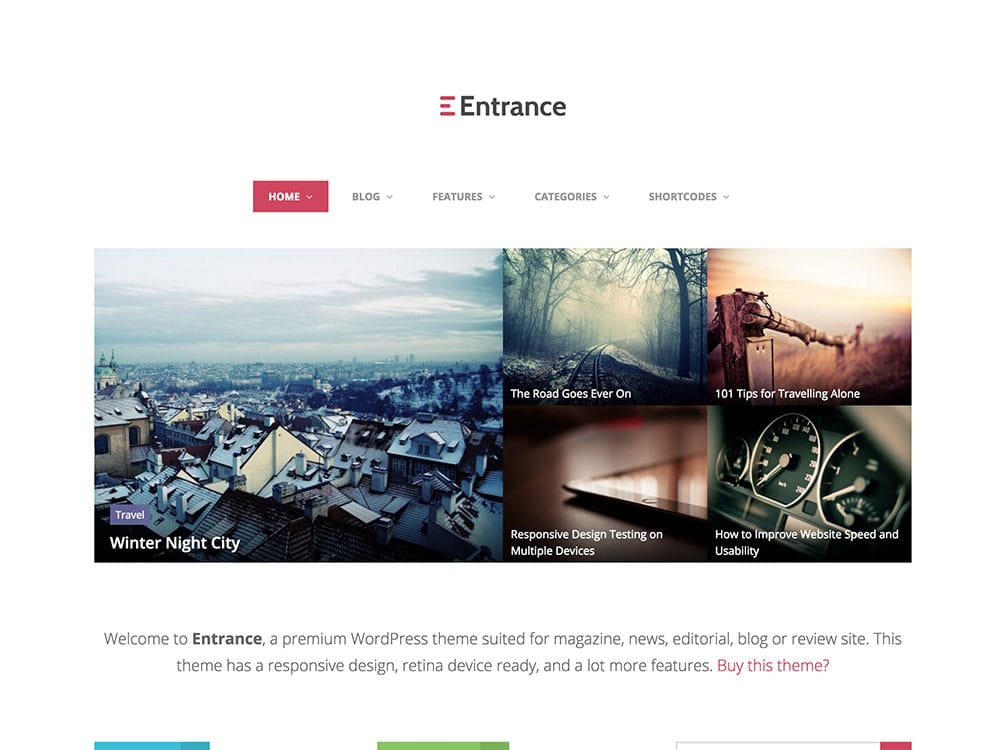 Entrance is a content-focused theme designed for magazines, reviews, and other publications that prioritize long-form written pieces over photo or video content.
Since the first place your readers come to when visiting your website is your homepage, it's crucial that you present a positive first impression. Entrance gives you seven layout choices to format your homepage, with a preference for straightforward column and grid layouts that keep it easy for visitors to find the article they're looking for without having to use your site's search bar. The theme makes it simple to organize your content based on multiple categories, with either a sidebar or header menu available for navigation within the website.
Page layouts themselves are functional if somewhat limited, with the blog feeling a bit redundant – basically you should expect a pretty straightforward publishing experience. However, there are many useful shortcodes included that make your text elegant and invite readers into a more engaging and enriching experience. Block quotes, columns, drop caps, and highlights all combine to enhance your written content and provide a polished reading experience.
While an image slider is available, this is a theme whose limitations are apparent should you wish to include elements such as embedded photo galleries or videos. But there is no denying that this theme is an excellent choice for, say, a literary review or long-form journalistic publication.
Other important and useful features:
Drag-and-drop content builder for easy page building
Built-in author box for profiling your website's contributors
Fully responsive and retina-ready for all devices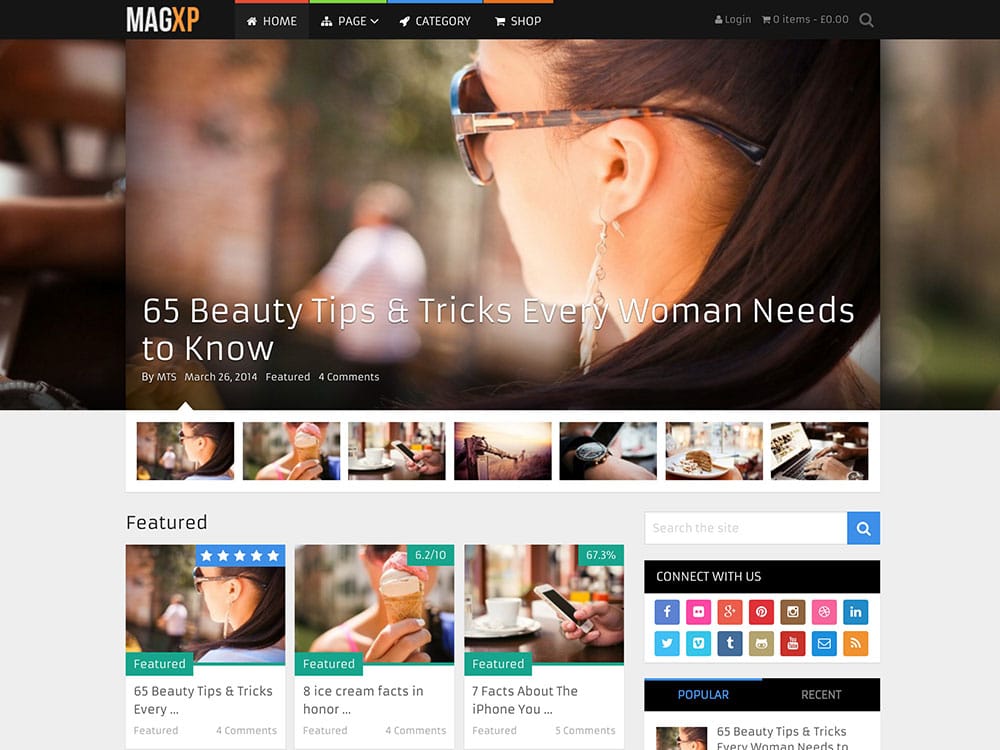 MagXP is a trendy-looking magazine theme, with responsive, clean layouts and a variety of design schemes. It's a multipurpose theme with a number of demos, one of which is intended specifically for review sites. It's flexible and functional, thus enabling you to give your site a professional look.
The demo review site doesn't get too creative with its color or fonts, but that is something you can change easily after purchasing – MagXP comes with a plethora of color options and more than 600 Google Fonts to choose from. You can also rearrange the layouts to suit your needs – coupled with the selection of widgets and the drag-and-drop page building function – giving you numerous potential finished looks.
A couple of things that MagXP does particularly well are the AJAX tabs and search feature, and the social media integration. The AJAX additions make the site easy to navigate, and the large number of social media icons and conversion boxes enable fast, easy sharing.
For a simple, versatile review site, MagXP is a great choice.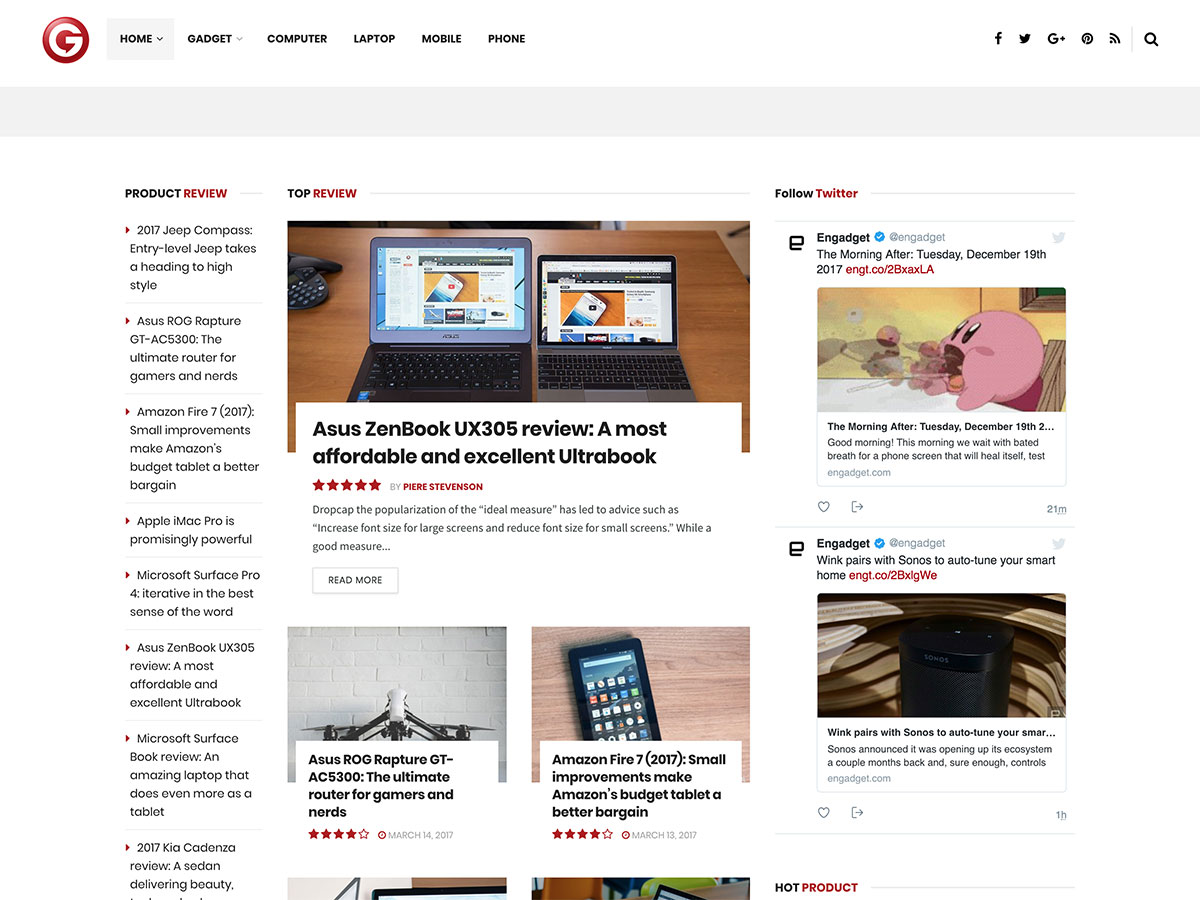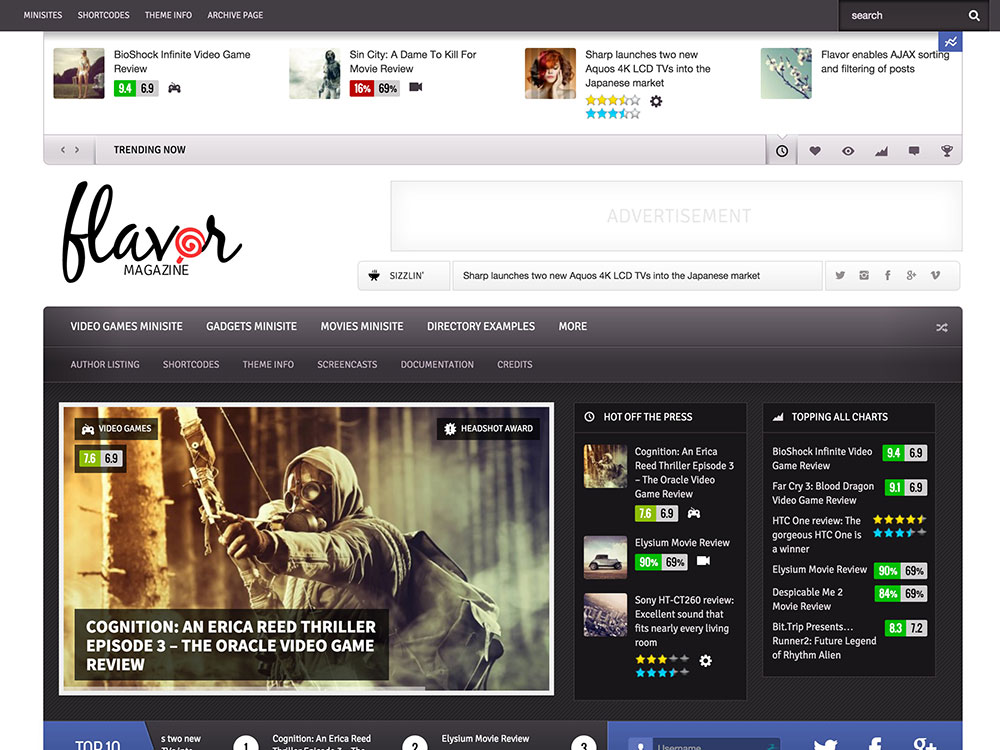 Flavor is one of the most competent magazine-styled review themes out there. The platform comes with several features that big-time web publishers use, with the ability to create an unlimited number of mini-sites.
The Flavor package also includes Slider Revolution (a responsive jQuery slider), an array of shortcodes, a weighted rating system, a simpler, more powerful Ajax admin panel, plus lots of support resources to help you get it all set up.
Features:
weighted rating systems
unlimited mini-sites
Slider Revolution (responsive jQuery slider)
Ajax admin panel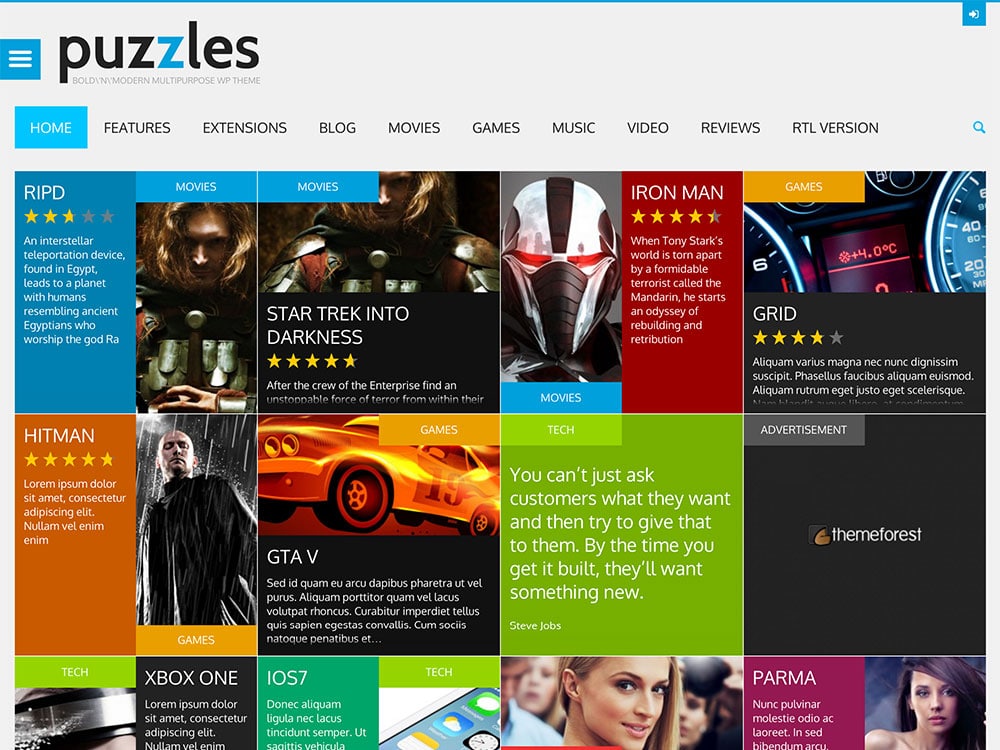 Puzzles is a high-res professional review theme. Its unique look will set you one level above your competitors' designs with eight different display options, nine color schemes, a long list of custom settings, and flexible post, page, and category setup.
Puzzles has an awful lot of function beneath its sleek hood, too. Unique author options, 3 different rating systems, integrated performance optimization, and SEO friendly code all feature.
Features:
eight display options
nine color schemes
3 rating stystems
performance optimization

Edition is a gorgeous WordPress theme that makes use of giant images, varied coloration, and a structured layout to produce a design that's pure eye candy. The navigation is megamenu enabled and sticky for desktops.
Page layouts are built with drag and drop, custom widgets are included in the package, and the rating display is simple and elegant at the same time.
Features:
sticky megamenu navigation
drag and drop layout builder
custom widgets
elegant ratings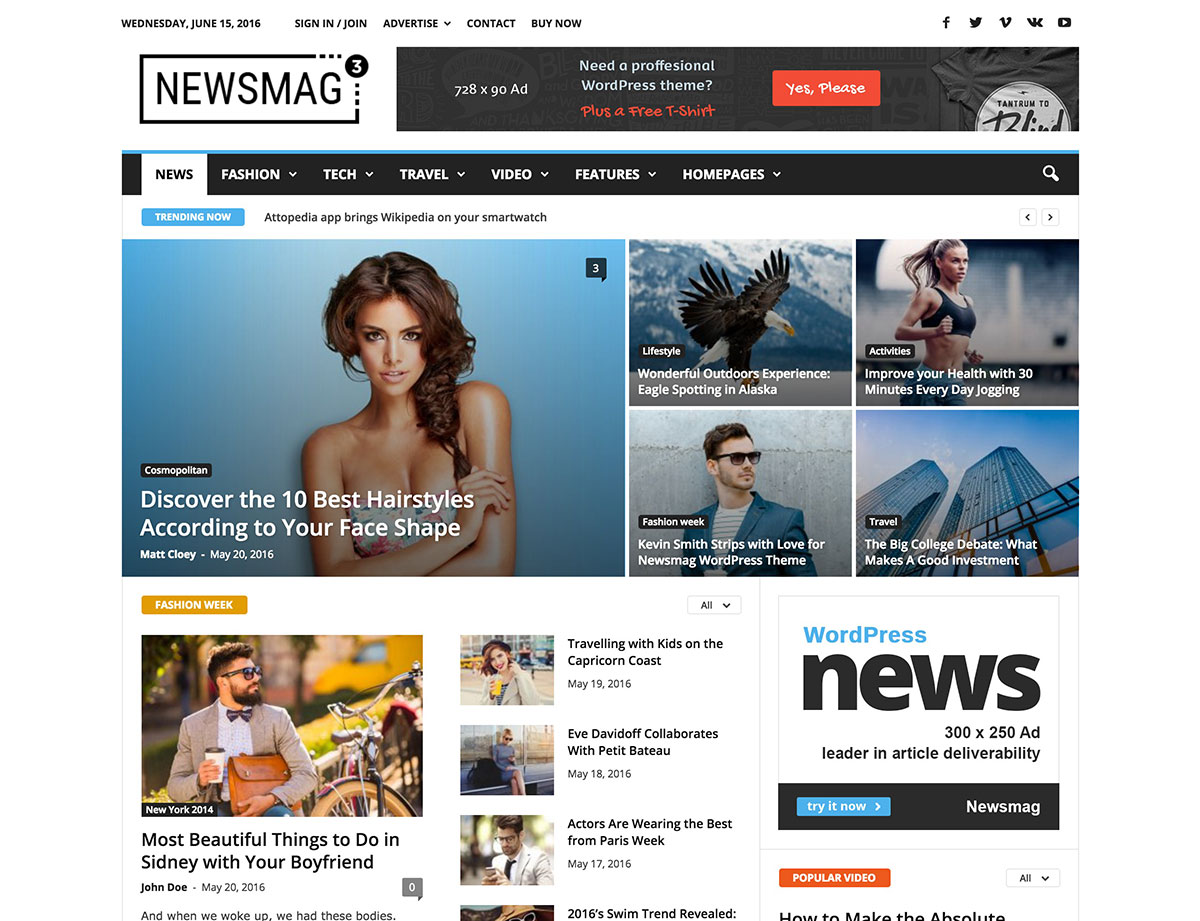 NewsMag is a highly versatile, gorgeous-looking magazine theme that offers you the possibility to publish everything from listicles, to photo galleries, to long form journalistic pieces. There are six distinct demo sites on offer, so it's easy to set up your website with minimal fuss – not to mention that there's plenty of inspiration for you to customize as you please.
The option to include a fullscreen image as the background for your homepage makes NewsMag a great choice if your publication is heavily reliant on high-resolution photography. If that's not your style, you can create a masonry grid of articles, plus feature sidebar content to include columns and other text-only pieces. If you want to display your content on your homepage without thinking too much about it, you have 14 different block layouts to choose from. Using this theme's page builder makes creating a custom layout simple, enabling you to embed sliding photo galleries, news videos, ratings-based reviews, and clickable ads wherever you want.
If creating pages from scratch isn't so appealing to you, a wide number of layouts exist for you to easily create articles in a number of different formats. For BuzzFeed-style listicle creations, NewsMag offers four different layouts that vary between sliding image galleries to single page scrolling lists. There are also multiple templates for creating simple posts featuring single images and conventional text-based articles.
In other words, if your publication features a bit of everything, you should consider using NewsMag.
Other important features:
Integrated WooCommerce plugin for selling online
Smart sidebar automatically adjusts to column size
Fully responsive sticky menu for better, elegant navigation
Custom-made social counter encourages visitors to share your content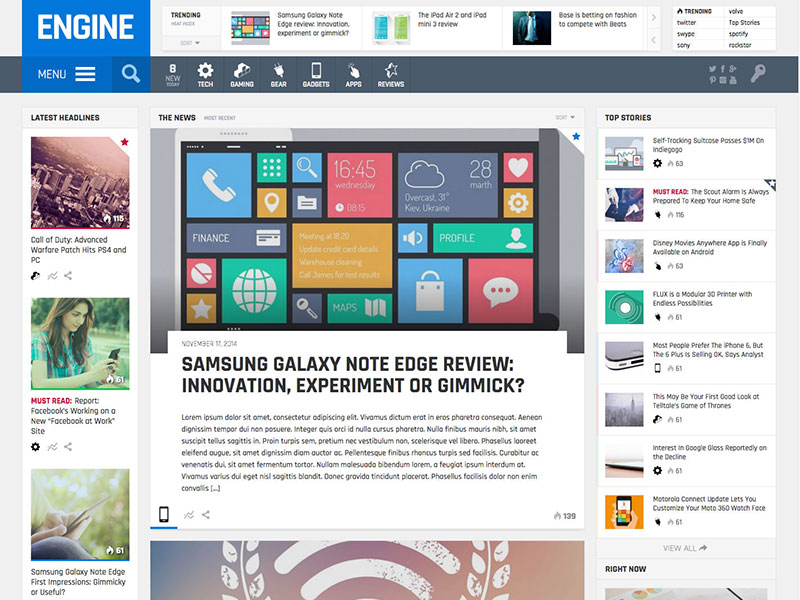 Engine is an incredibly robust theme geared towards publications and reviews that cover what's trendy and new, particularly in tech.
If you aspire to build a magazine in the style of Wired or Engadget, there are dozens of features you will love about this theme. Publishing viral content is at its core: a sidebar widget showcasing your site's top stories and a slick-looking bar graph showing trending topics based on keywords or categories help boost the hype. The menu features some of the coolest visuals and navigation options we've seen at aThemes (and we don't say that lightly), with sharp flat-design icons revealing a neat list of subcategories in a dropdown menu that display article thumbnails without appearing overcrowded. Meanwhile, the drag-and-drop page builder makes creating articles – whether they are long form written pieces, product reviews with photo galleries and five star ratings, or standalone videos – super easy.
One of the most important aspects of this theme is its deliberate design for in-depth engagement with readers. A straightforward forum builder enables you – and your readership – to create multiple discussion threads, with a super easy login and registration feature for frequent readers to signup and participate in discussion boards.
Pick Engine as your theme if you have a highly interactive and engaging publication; don't pick this theme if you're looking for a simple blog or magazine, because that would be a waste of its incredible array of features.
Other important features include:
Built on Bootstrap 3 (i.e, it's meant to be consumed on mobile devices)
Minisite creation for multiple categories of content
Comparison system for performance evaluations of articles/posts
Smart ad system optimizes placement of ad banners for maximum revenue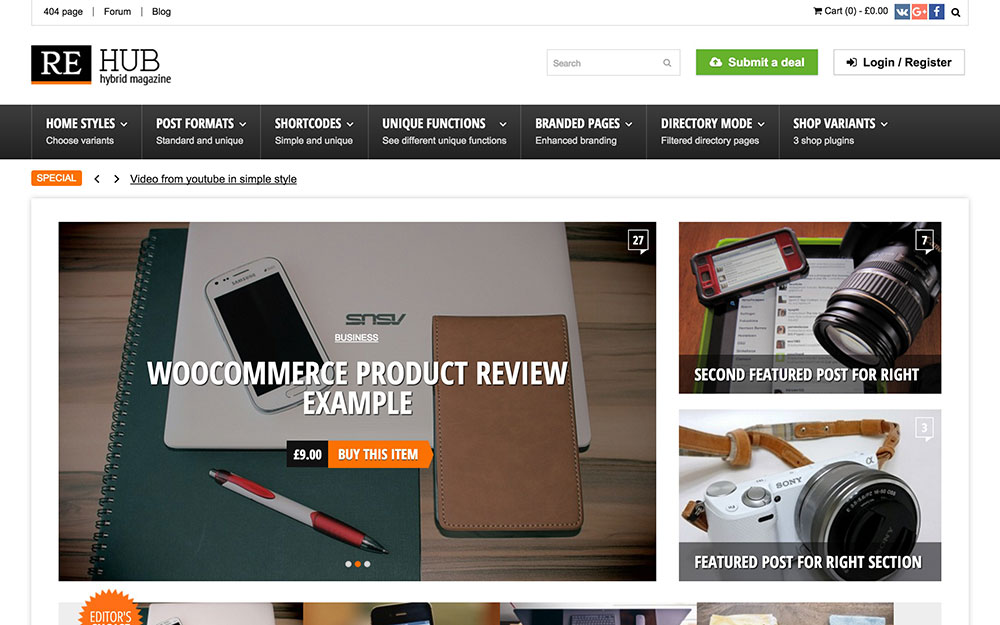 REHub is a modern multipurpose theme from Sizam Design. Besides being great as a review site, you could also use it for your blog, shop or magazine. Jam-packed with content, it has a wide range of potential uses.
REHub comes with a lot of capability for customization. It's compatible with three shopping plugins (WooCommerce, Easy Digital Downloads and Ecwid), and even has demo pages designed for each one. You're provided with several designs for comparison pages, post formats and top posts, as well as more than ten content blocks for the home page and plenty of header customization options. Shortcodes galore give you even more customization ability.
Other aspects of REHub that we think you'll like are the various branding and advertising options, and the ability to add a catalogue to your site. You might also appreciate the compatibility with bbPress and WPML plugins for easy content sharing and community building.
For a well-rounded review site, REHub is an excellent choice.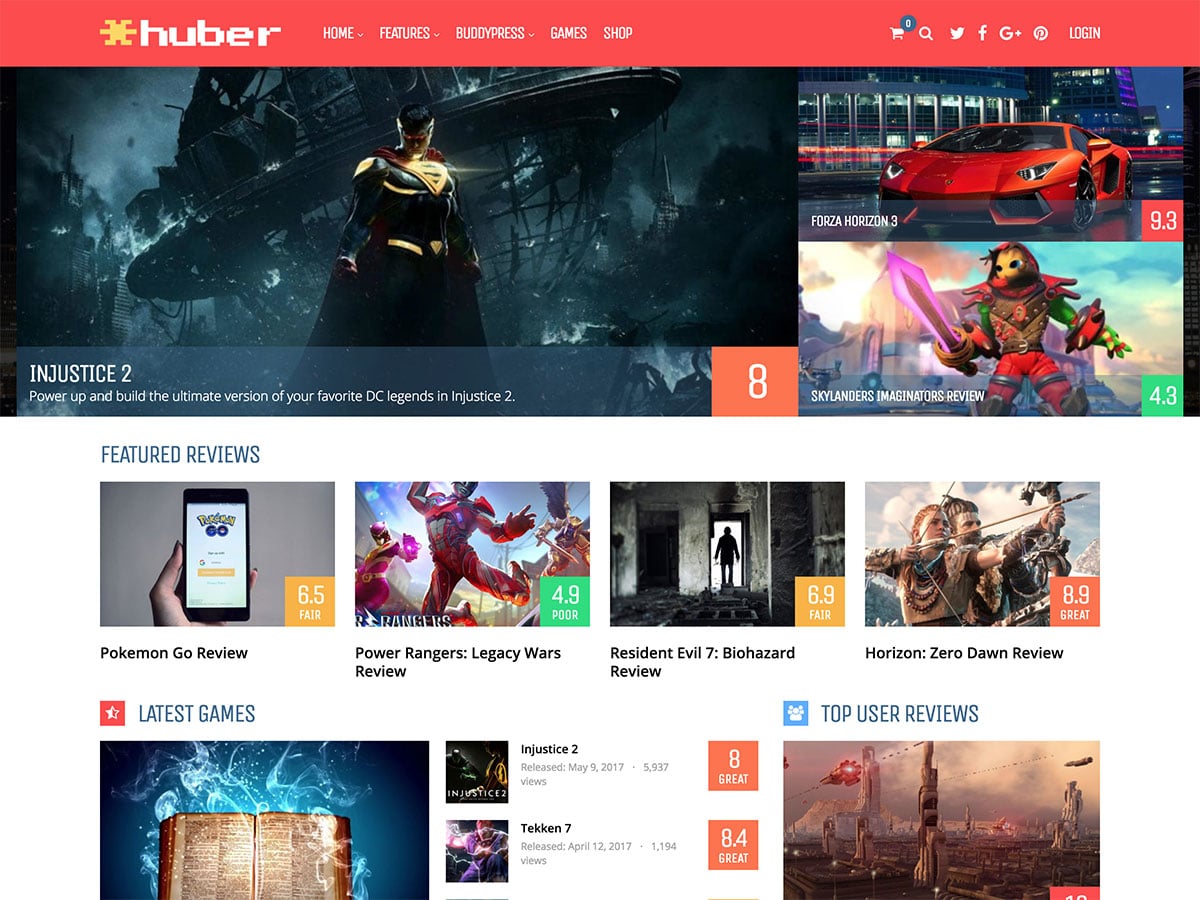 When creating a truly outstanding review website, it's vital to choose a theme that encourages user interaction. You need to create dynamic, dedicated, and interesting pages, or visitors will look elsewhere. Fortunately, Huber makes building an engaging review site super easy.
Huber's streamlined interface enables you to show an overall score based on various categories. For example, a video game could receive an overall score based on sub-scores for gameplay, audio quality, graphics, and more. Readers can also leave their reviews, and because the theme offers a way to follow your site, your readers can stay up to date with the content they are interested in. Huber is also bundled with the WordPress Popular Posts plugin, so you can gauge which of your posts are trending.
Out of the box, Huber is also bundled with the Visual Composer plugin, enabling simple drag-and-drop layout creation. There's also a large degree of customization freedom, with a plethora of fonts, Font Awesome icons, page layouts, and color schemes.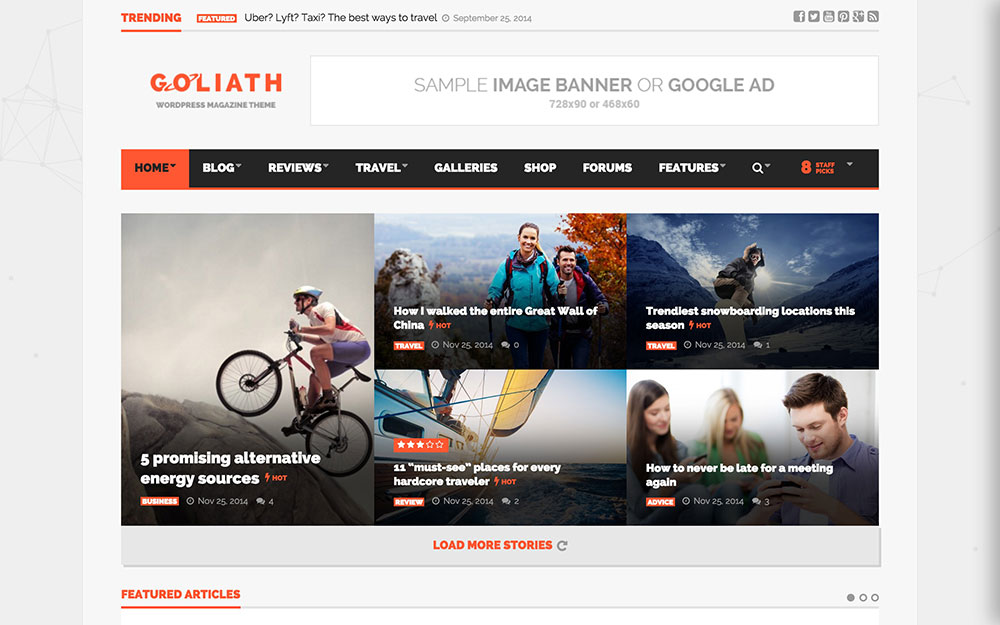 As you would expect for a theme with this name, Goliath is a feature-packed magazine and reviews theme with a sleek look and exceptional functionality.
Goliath offers four distinct demo choices for your brand, each with a different focus and layouts, including five homepage setups. The sports theme gives you a homepage that shows off an image slider with multiple categories following below. Among any number of categories are breaking news, different sports, and a useful keyword cloud at the bottom of the page for enhanced search. The fashion theme utilizes a dark skin, which is perfect for showcasing fullscreen images on the homepage, and also features image galleries and five star product review sections. The minimalist black and white tech theme includes a useful "staff picks" in the menu, an image slider in the header, plus categories placed in masonry-style column format.
Besides the demo features, Goliath offers many useful tools. A really useful subsection tool lets you divide your articles into as many sections as you want, with a sidebar navigation menu for readers to skip down or up to whichever part of the article interests them. A trending content banner at the very top of the page features an endless news channel-style ticker of popular articles and posts on your website.
For a review and news website that looks great and gives your readers everything they're looking for, Goliath is a fantastic choice.
Other important features:
Supports the WooCommerce plugin for e-commerce capabilities
Optimized for SEO, thanks to integrated Google-rich snippets and meta data
"Hot article" feature automatically tags each week's most popular articles to attract more hits
Integrated Visual Composer plugin for deep customization of page layouts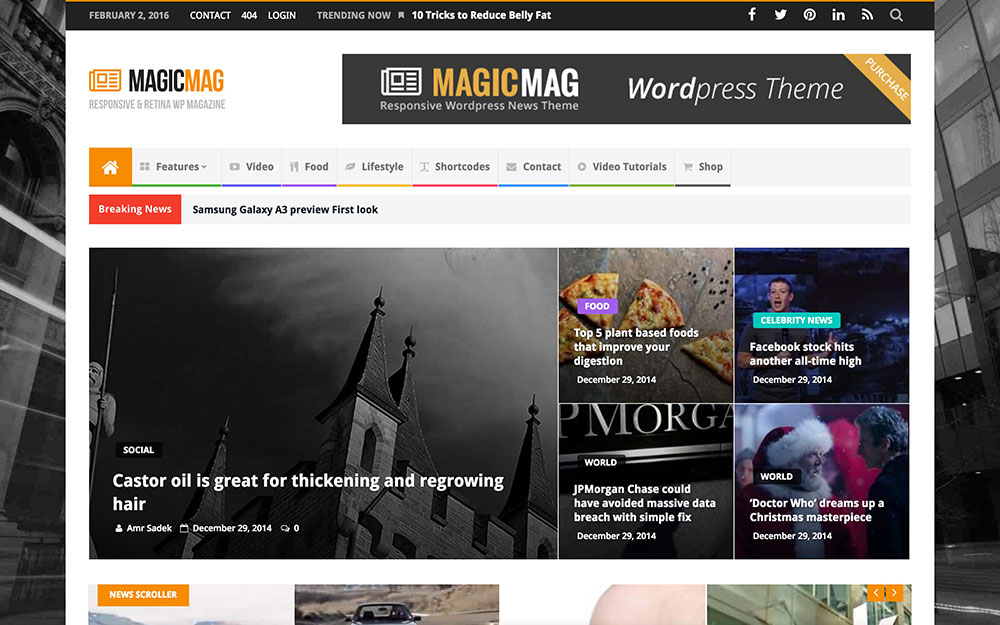 News Magic is a responsive and bold news theme from Bdayh that contains a powerful review system, meaning it works great as a review site. The background image on the demo homepage grabs attention immediately, drawing the eye to top posts and a clean-looking header.
Responsive and retina-ready, News Magic has a unique look that you can easily customize. It comes with a plethora of homepage layouts, a drag-and-drop homepage builder, lots of sidebar and color choices, access to hundreds of Google Fonts and ten different category and blog post layouts. News Magic also has a respectable number of shortcodes for customizing the look of your site.
What we think you'll really like about News Magic is the included Social Counter plugin – it counts the number of subscribers you have from various social networks. When you're reviewing things, integration with social media is a huge plus as it helps you get the word out quicker to more people. And if you ever need assistance, News Magic provides video tutorials among its support features.
As a well-designed review theme, News Magic works like a charm.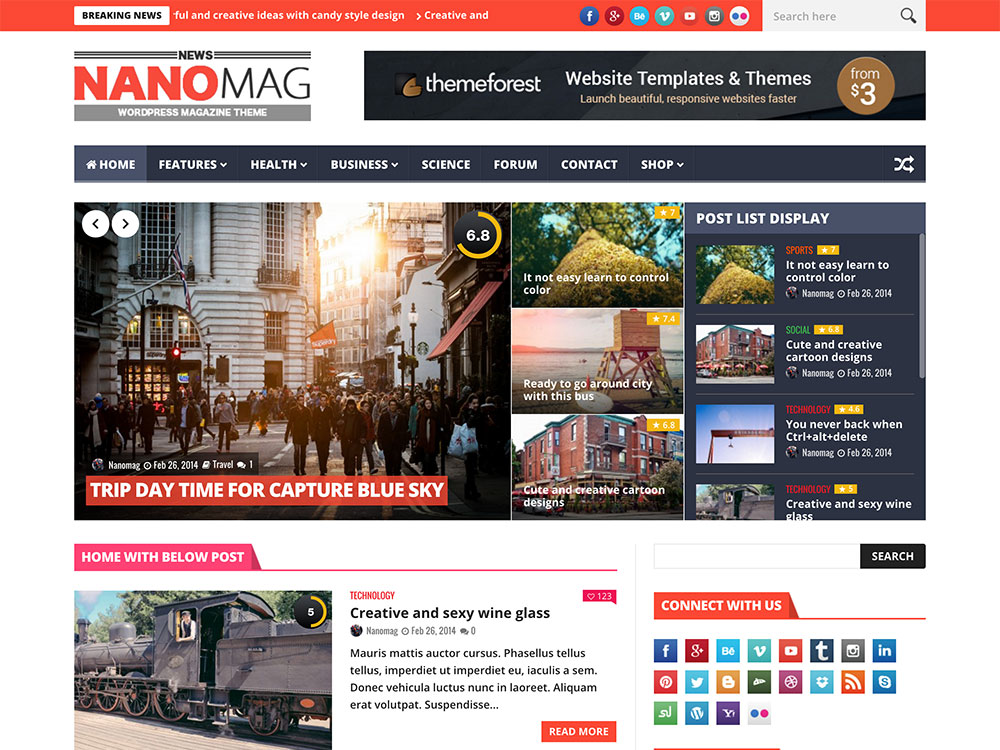 NanoMag is a great review and magazine theme with an excellent and easy to use page builder, making it an excellent choice for experienced and novice publishers alike.
This theme is designed for multimedia posting, with a publishing engine that enables your content creators to create articles featuring YouTube or Vimeo videos, extensive block quotes, photo galleries, SoundCloud audio streams, or good ol' fashioned written text.
NanoMag's homepage comes with six distinct kinds of layouts, all of them optimized to show off media-rich posts thanks to included visual features such as sliders, hovering affects, and Ajax loaders. An easy to use mega menu feature gives you the power to create a custom header navigation menu in four different styles, with options to include article images within the menu as well as 1–10 numerical ratings for review posts. NanoMag also includes a forum creator and user registration/login portal, so if your publication relies on an engaged reader base, you're all set.
The standout feature of this theme is the page builder, which includes twenty different elements that you can arrange to create the perfect homepage for your website, as well as homepages for minisites or different editorial categories. Some of the more useful elements include the home slider, which displays larger scrolling images – perfect for featured articles and posts – and the recent posts column, which elegantly lists your website's freshly pressed posts along with featured images.
Definitely consider using this theme if you want a highly functional, slick looking website with plenty of customizability.
Other important features:
Unlimited sidebars
Supports WooCommerce plugin for online retail
Full or boxed width that is fully responsive on all displays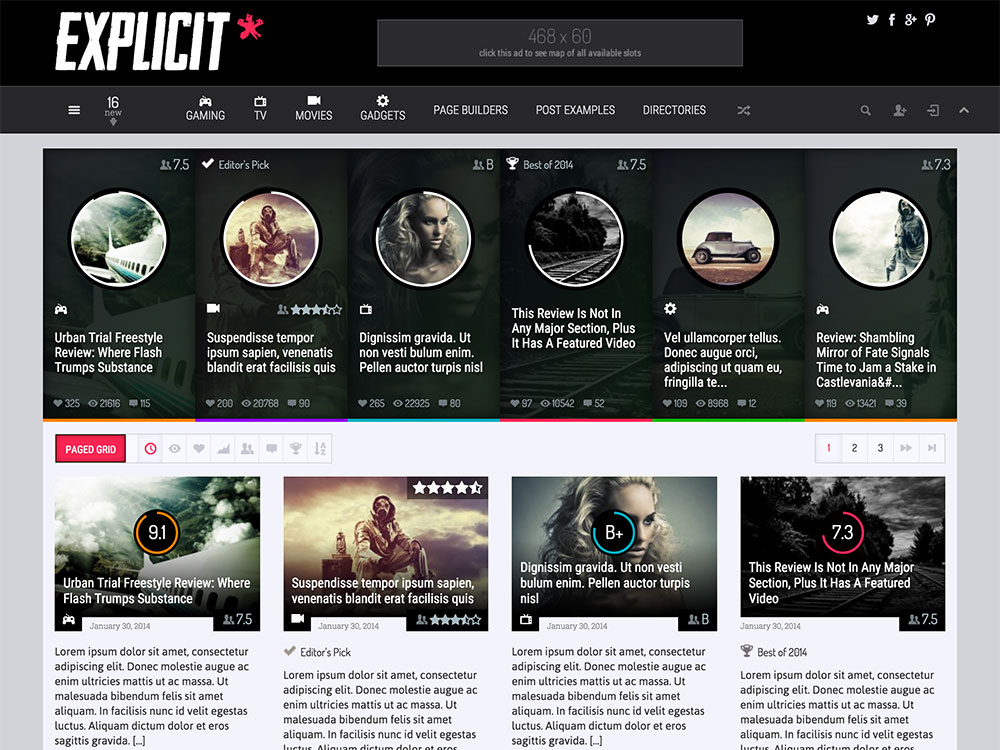 Are you searching for a killer-looking news or review theme that was made for mobile? Explicit could be the answer.
This theme is ideal for heavily-trafficked websites that target demographics who are most likely to consume their content on the go. That's why it was built on Bootstrap 3.1 and features an integrated touch/swipe master slider – this theme is absolutely meant to be played with on a smartphone or tablet. A plethora of design options means that you and your design team will be able to customize the homepage layout, header, menus, and articles from top to bottom. Your homepage comes with an advanced (yet simple to use) page builder mode that lets you choose from dozens of elements. Everything from a fullscreen image slider for eye-catching headlines, to column widgets that let readers search for articles based on myriad filters is included.
If the focal point of your publication is reviews, there are plenty of nifty features packed into this theme just for creating detailed and useful reviews. An overview section comes with a synopsis of each article, lists the basic features of whatever is being reviewed, and can be customized to include data such as specifications or running length. You can also insert badges or icons for more complex ratings. If your website includes crowdsourced reviews, you can customize reader ratings to include five stars, or give them the possibility of emoji ratings.
In short, if its features match your needs, Explicit is a theme well worth considering.
Other important features:
Comments section and forum for capturing reader data
Infinite page loaders and scrolling for a one-page browsing experience
Ad slots included in front page and post page templates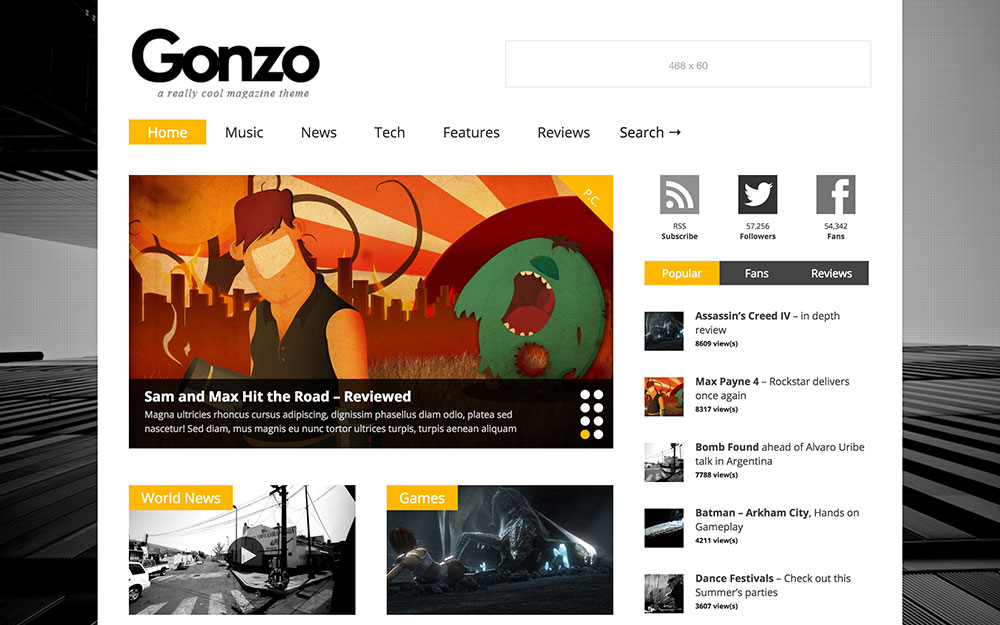 Gonzo is a minimalist review theme most suitable for smaller publications or solo bloggers who are looking for a cool yet unsophisticated style for their website.
This theme focuses on a few good layouts rather than giving you an endless number of choices. While lack of choice might not seem like a positive thing, the five layout options that are available make for an intuitive and easy-going user experience.
A simple header menu features dropdown tabs with a splash of color, with an embedded flex slider at the top of the page offering your readers scrolling featured articles or blog posts. You can display your content on the homepage via either columns or in masonry blocks, with a gallery module in-between showcasing visual media to break up the white space.
The review tool gives you two simple options: five stars or percentage rating, although there is currently no possibility for readers to react to reviews like in other themes such as Explicit.
Gonzo is an excellent choice for those who know what they're looking for and don't require many bells and whistles to create a beautiful and simple review website.
Other important features:
Fully responsive
Full support for embedded videos, images, and other media
Support is provided directly by the developer himself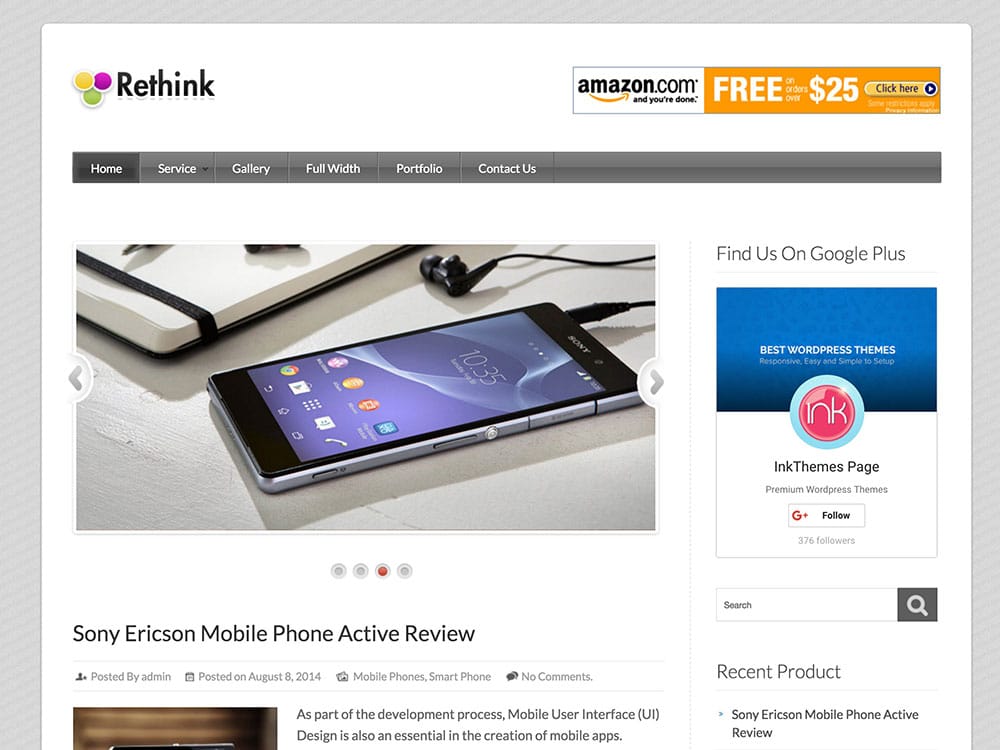 Rethink is a stunning review theme release from InkThemes. Its elegant design features sizeable typography and vibrantly colorful call to action buttons. With a rating system, table creation ability (to accurately tabulate the pros, cons, and features of each product you review), and several kinds of options for featured reviews, Rethink is a very competitive review theme.
Features:
custom widgets
rating system
intuitive theme options panel
7 prebuilt page templates
custom social icons
3 layouts (all viewable in the demo)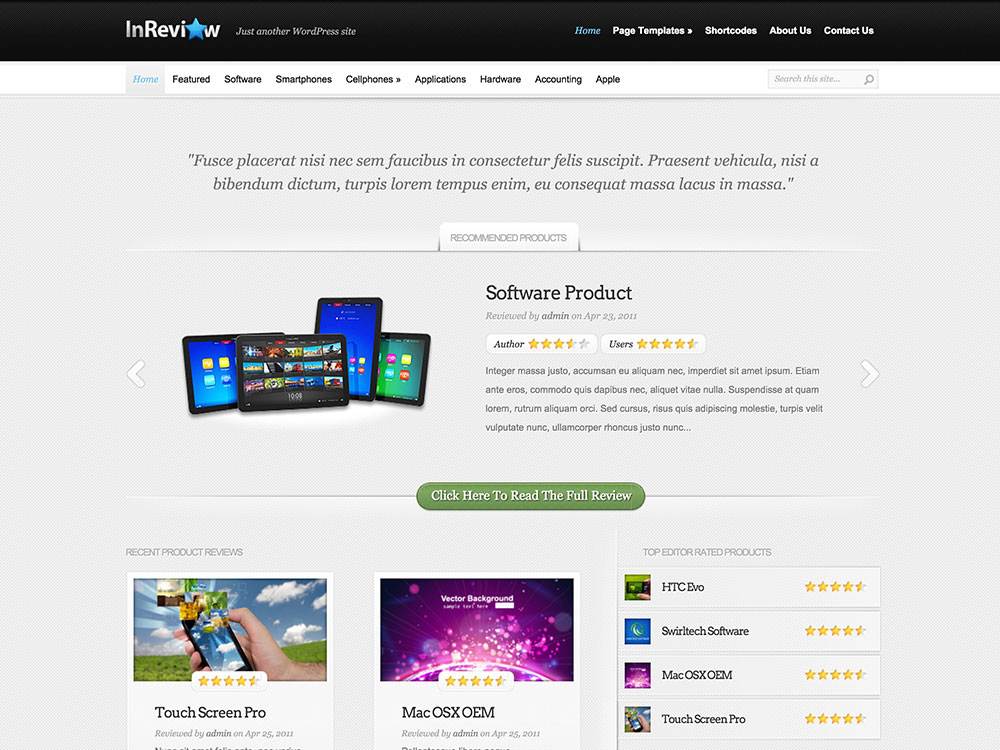 With InReview, you can transform your WordPress blog into a fully-functional review website, complete with a highly customizable in-built rating system and a feature that makes affiliate link integration a piece of cake. However, it is more for the advanced WordPress user.
The theme comes with several custom widgets specially made to help boost website sales and conversion rates.
Features:
easy affiliate integration
custom widgets designed to boost sales & conversions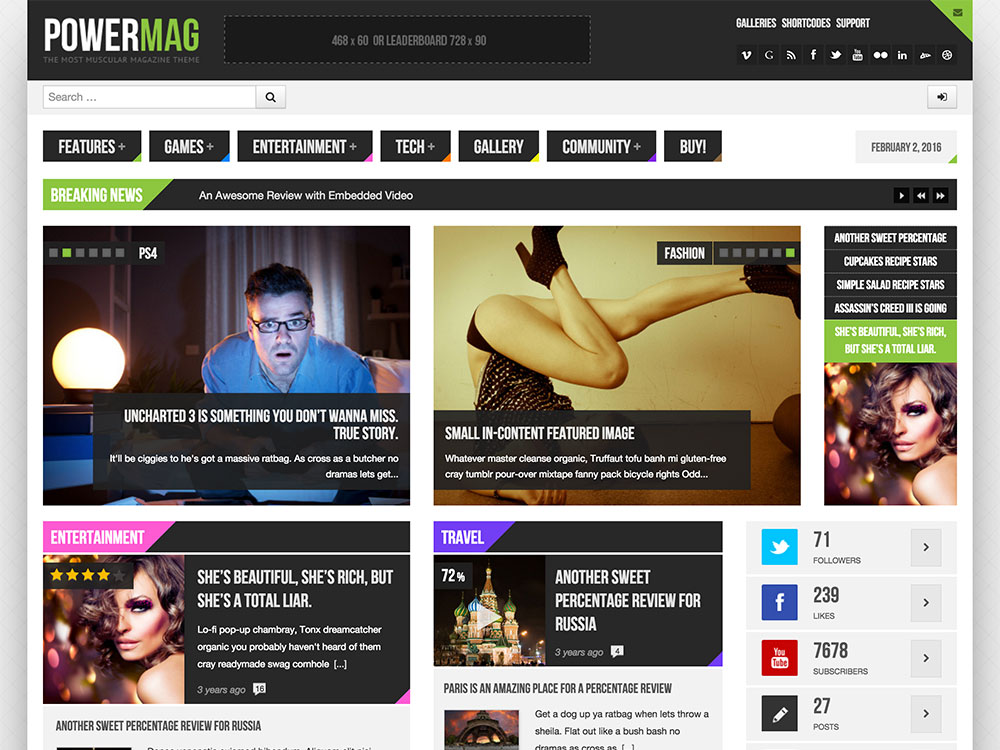 PowerMag is a bold magazine theme that doubles for a review site. With a easily customized rating system and appealing typography, it's hard to find a more stylish review theme. Optional sticky navigation, affiliate link stripe, fully widgetized home pages, color-coded categories, a $10 JackBox responsive slider packaged free, and much more make PowerMag a step ahead of the bunch.
Features:
color-coded categories
free $10 JackBox responsive slider included
optional sticky navigation
widgetized home page
affiliate link stripe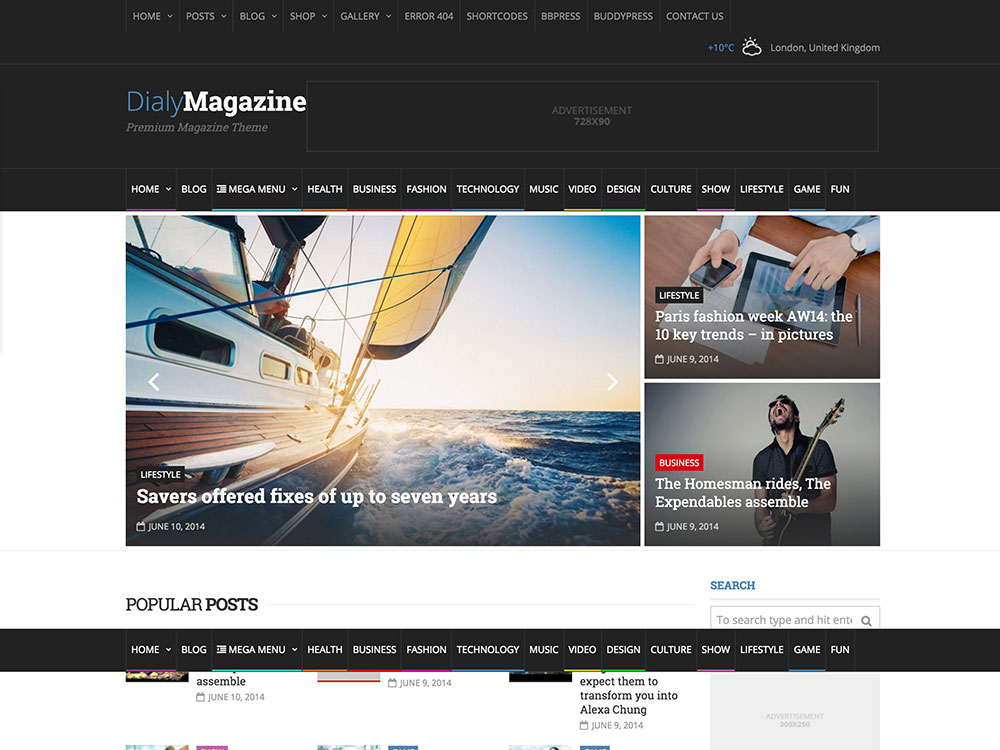 DialyMagazine is a clean, fresh magazine-style review theme that incorporates a tiled display and many design elements in its home page layout. The ratings stick to the traditional five star display, while modern touches such as megamenus and ad banners are added to the rest of the design.
The theme is SEO friendly, Google Snippet enabled, and comes in both boxed and wide layout variations. 9 possible header combinations, WooCommerce integration, and location-based weather forecast are included.
Features:
megamenu capability
advertising management
search engine optimized
location-based weather forecasting
simple ratings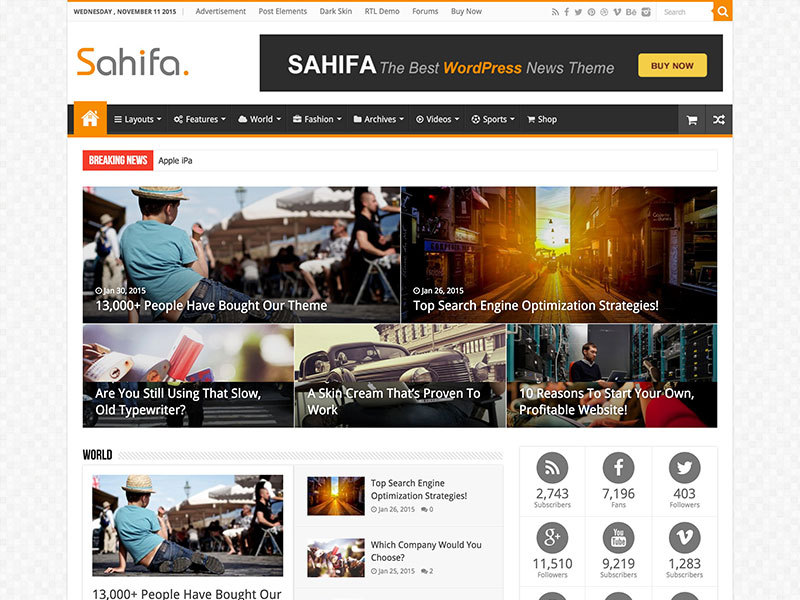 Sahifa is a retina-ready responsive magazine, news, and review theme. A colorful, rich design, Sahifa allows users to cover a number of different topics and categories in one content-rich website.
9 different page templates. Category-based megamenus. A custom social counter widget. 650+ Google fonts, an intuitive admin panel, and a home page builder. Sahifa clearly gives you one of the biggest bangs for your buck.
Features:
unique admin panel
home page builder
9 page templates
megamenus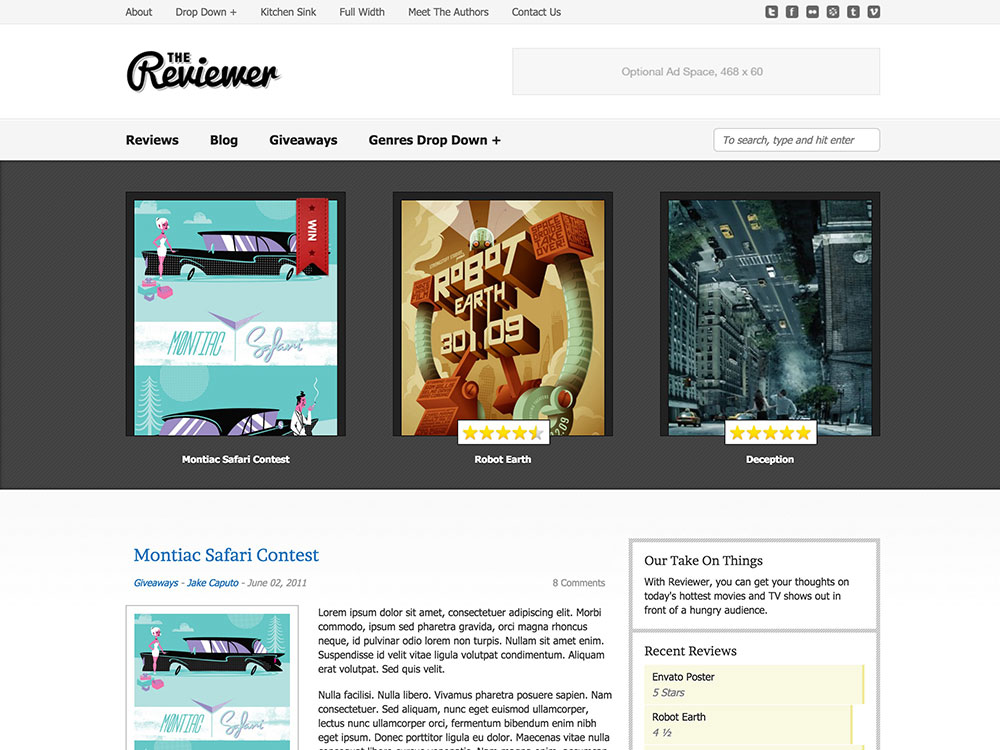 The only purpose Reviewer was meant to serve was to be the ultimate review theme. Design Crumbs did a good job of it too, with a streamlined review process and the ability to archive reviews based on their content.
Features:
simple back end UI
content-based review archiving