While WordPress is a full-featured content management system, when people think of blogging platforms, it's the first solution that springs to mind – and for good reason. Firstly, WordPress' editing options and blog management features trample all over the competition. Furthermore, the ability to extend its functionality with the right theme and plugins makes it a tantalizing proposition for any webmaster.
A theme suited to blogging shouldn't be too difficult to find either, given WordPress' history. Given that creating and managing your content will be no problem, you'll likely want to base your purchasing decision on other factors. You'll primarily be looking for additional customization options, and also whether the bundled plugins will enhance both your site's design and your visitors' experience.
Below, we've dug through countless themes to bring you over 30 of the best personal and creative choices for blogs available today.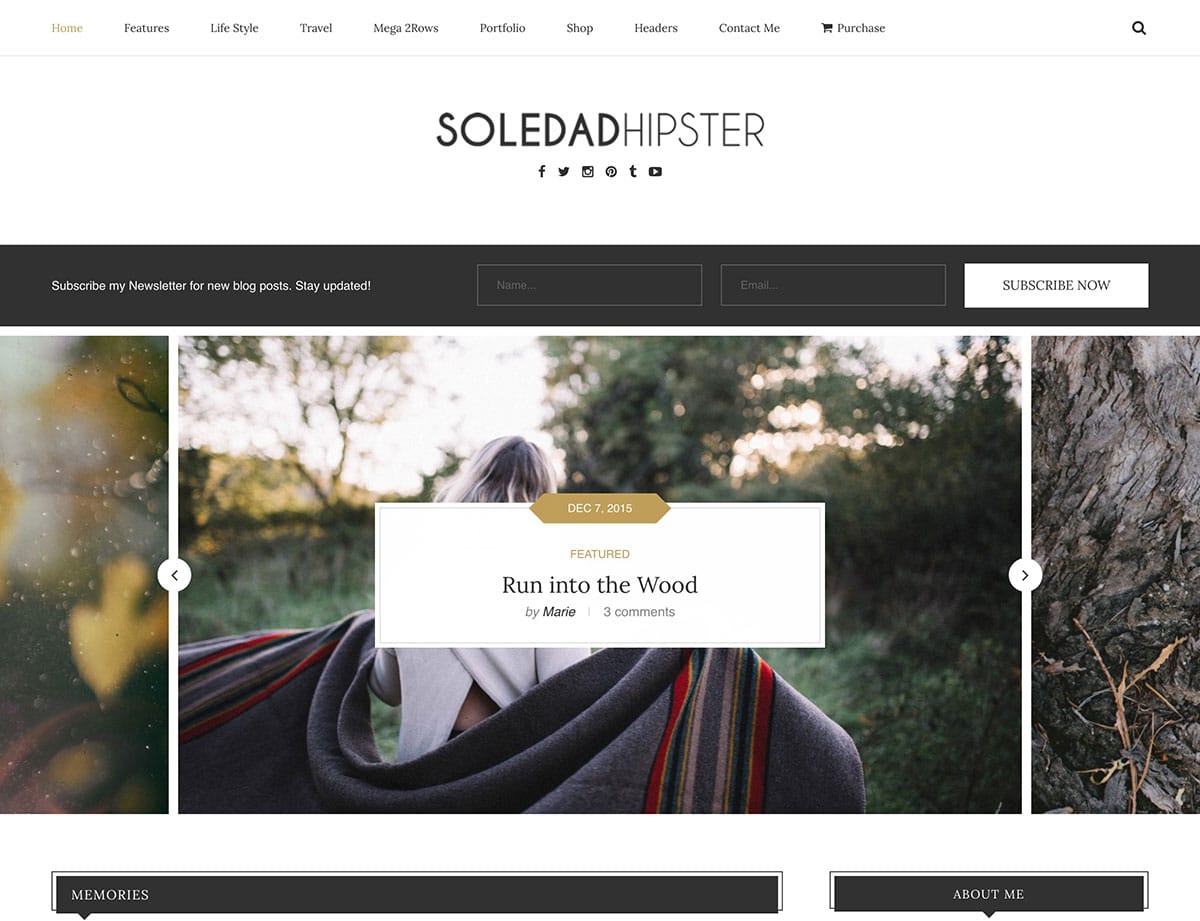 Blogging is no longer just about documenting your opinions and interacting with commenters. With the advent of social media, the emphasis is now on connectivity – and Soledad helps you to both engage and connect with all who visit your website.
Firstly, designing your blog will be no problem – there are over 250 demos ready to download, covering all manner of niches and industries. Along with six header styles and five article layouts, there is also a choice of two mega menu styles for creating feature-rich navigation. Furthermore, there are another 250 tweaks that can be made from the WordPress Customizer.
The true dealmaker, though, is Soledad's social media integration. Numerous widgets are available, including a Facebook widget, and three sliders for showcasing your Instagram, Twitter, and Pinterest accounts. These all enable visitors to connect with every aspect of your brand through your website, potentially increasing traffic levels.
Overall, for those looking to create a hub for their brand, along with extensive customization options, Soledad could be ideal.
It may be stating the obvious, but writers are not designers – and in order to devote yourself fully to your craft, a theme that's ready to go straight out of the box may help. That theme could be Storyteller.
The overall concept here is 'understatement'. Storyteller has pruned practically every piece of superfluous functionality, leaving only the absolute essentials you need to tell your story. Other than the choice of three layouts, there's little else on offer. However, what does remain is beautifully presented. Headings are bold, text is clear and easy to read, and there is extensive use of white space to separate each element. Overall, each element combines perfectly.
Storyteller has a great look, but no marquee bundled plugins or functionality, which means it's ideal for those who want to get on with the business of writing without getting bogged down in design.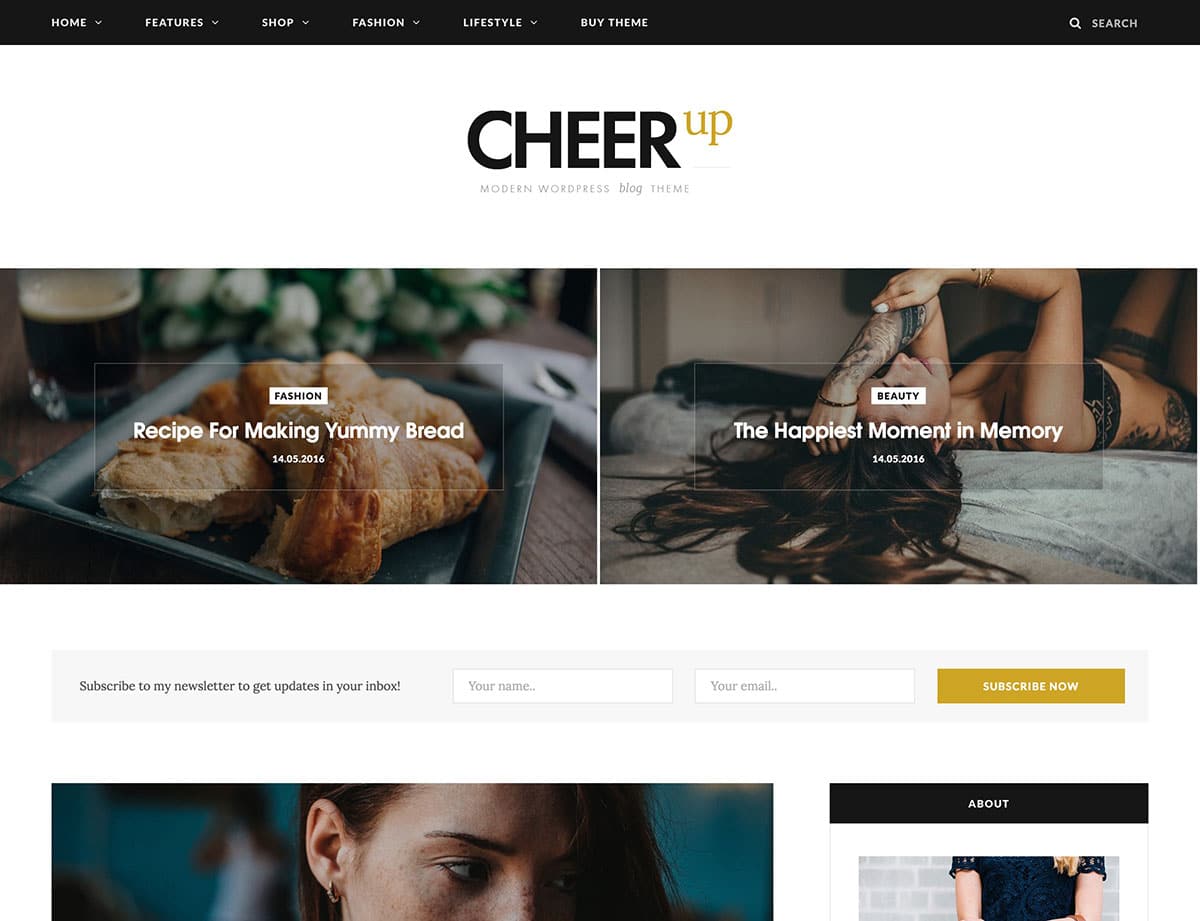 CheerUp labels itself as a theme suitable for a wide variety of blogs, complemented by "luxury design options" that enable over a hundred possible layout combinations. So it certainly talks the talk, but does it walk the walk?
Although CheerUp has a lot to offer, you'll want to appreciate its general style to justify taking a closer look. If you're looking for a striking, minimalistic design driven by heavy use of imagery, it's certainly an option worth considering. Furthermore, rather than boasting any particular standout design features, this theme is more a sum of its parts, with elegant color palettes and understated typography.
In terms of versatility, CheerUp certainly does have a lot to boast about in one respect – a wide variety of demo layouts give you the opportunity to pick a design that works for you, without having to go to the trouble of trying out different options yourself to see if the end result is as you hoped. However, it's clear the developers are aiming this theme at personal bloggers in the fashion and beauty niches – the typical alpha male blogger isn't likely to give CheerUp a second thought.
That said, for its intended audience, CheerUp is a versatile and full-featured theme, packed with all of the usual options you would expect available, and will be a more than viable option for the right customer.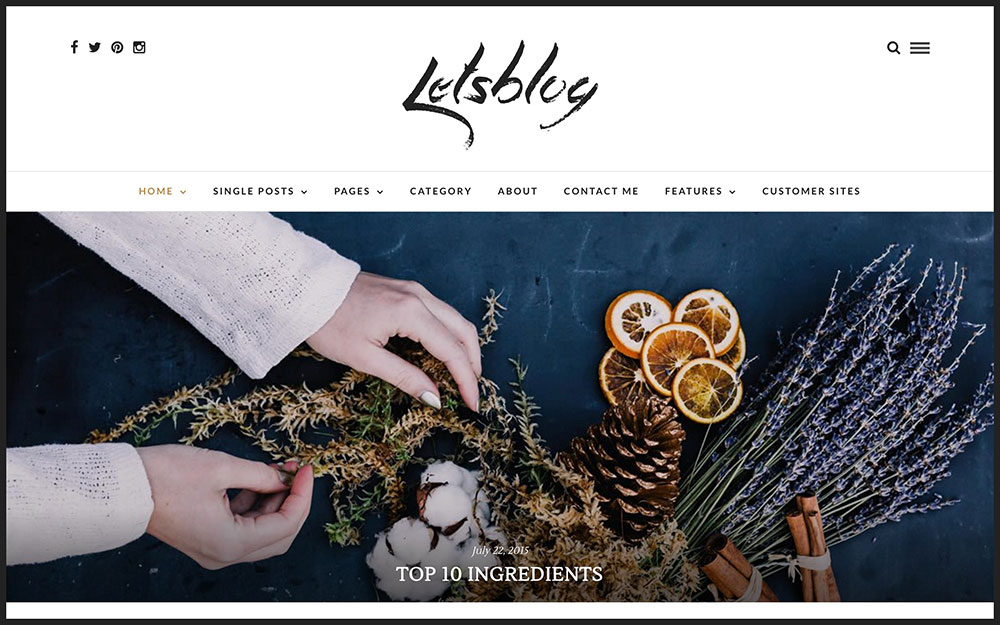 Lets Blog is for the creative in search of a clean, elegant, retina-ready and fully responsive blog or magazine website. It lets you play around with multiple customizable elements to create an elegant minimalistic site that looks great on all devices.
The theme is focused on creating a custom feel and quality experience. The built-in live customizer means that you can customize various elements from color to background to fonts and see these changes live. The two slider and ten blog layout options coupled with over 500+ Google Fonts give you many design options.
Let's Blog was also designed with SEO in mind; it has been optimally coded for easy search engine crawling and indexing. Better still, it has passed Google's mobile compatibility check, so you'll enjoy greater visibility and better mobile performance.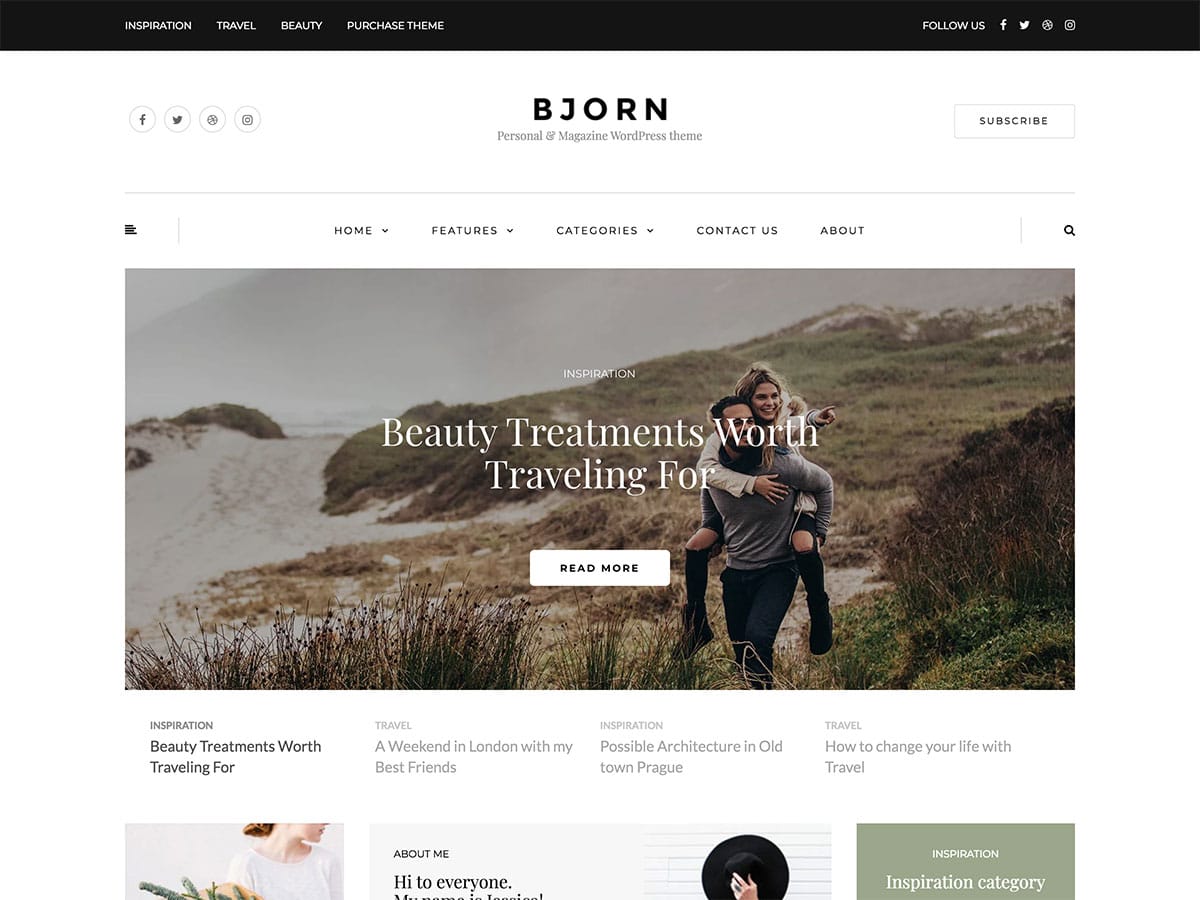 Bjorn is a personal blogging theme that gives you seven different blog layouts to choose from.
Designed for bloggers and online magazines, the Bjorn demo makes it easy to see the different ways that this theme can be configured. The six main website demos should give you some inspiration for your project and if you do find a mode that matches your vision, you can easily import the layout into your website in just a few clicks.
As part of the Bjorn demo content, you'll not only have access to a stylish homepage layout for your blog or magazine, but also multiple blog post layouts to choose from each time you publish a new piece of content on your website. There is also a selection of different headers that can be combined with the other pre-built layouts and templates. This results in almost unlimited design combinations for your website and its content. You also have the freedom to choose the position of your logo from a number of different options.
Another highlight of the Bjorn blogging and magazine WordPress theme is the featured posts slider. In fact, there are over 10 featured content slider designs to choose from, giving you lots of options when it comes to promoting your most important or newest content on your website. The slideshows are powered by the premium Slider Revolution plugin, which is included in the Bjorn theme package at no extra cost. You can view these post sliders in action on the Bjorn demo page, but suffice to say, like the rest of this theme, they are all fully mobile responsive and touchscreen compatible.
Bjorn is a fully modern magazine and blogging WordPress theme that's packed with stylish templates and useful features.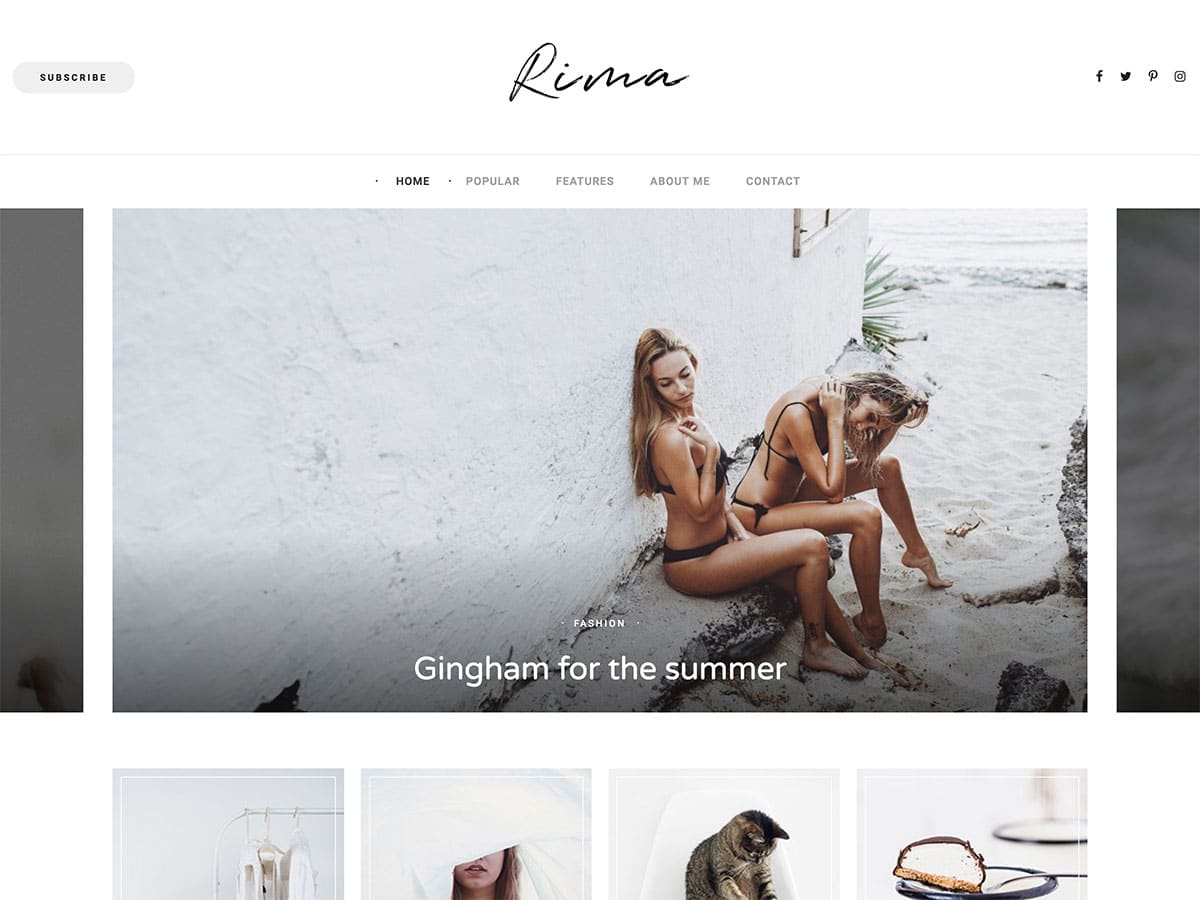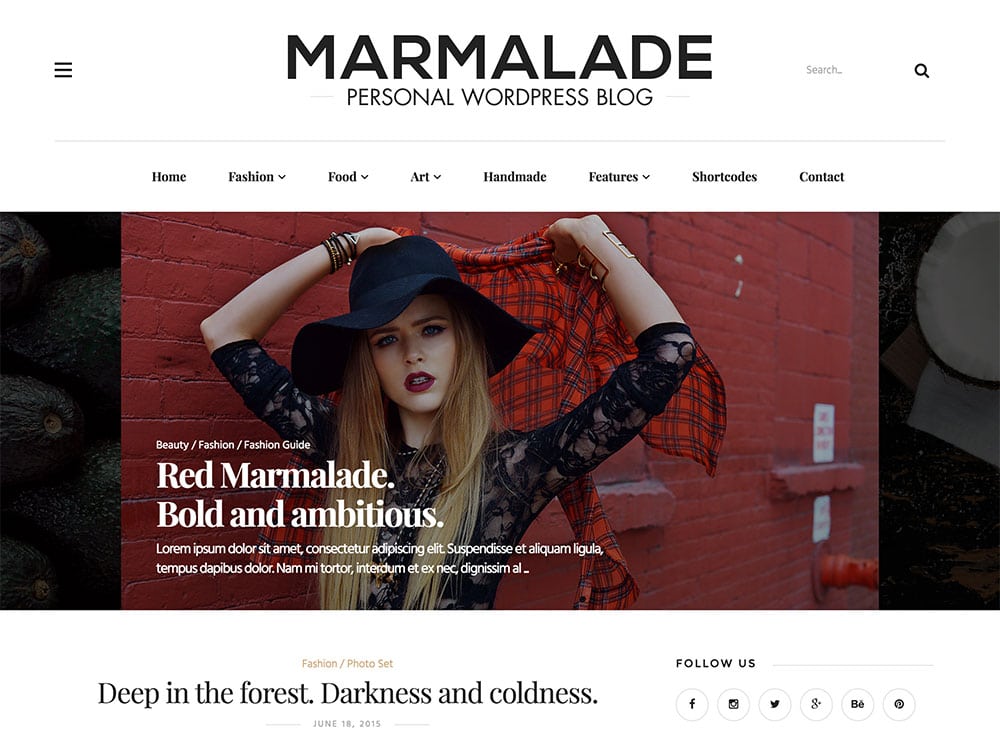 The Marmalade is a responsive and retina-ready theme especially suitable for food, fashion and art blogs. It is a simple, yet powerful, beautifully designed theme with cutting-edge features and premium functionality to help you stand out.
The WordPress Live Customizer enables you to alter every feature of your blog and see live changes, making The Marmalade friendly for all users, particularly WordPress beginners. You can play around with multiple post formats, extensive typography options, 650+ built in Google Fonts, a premium master slider and custom plugins. You can further customize the interactive and visually stunning grid layout for added elegance.
Although it has a stunning design and powerful features, The Marmalade is also designed to make your content stand out. It provides a great balance of beauty and substance.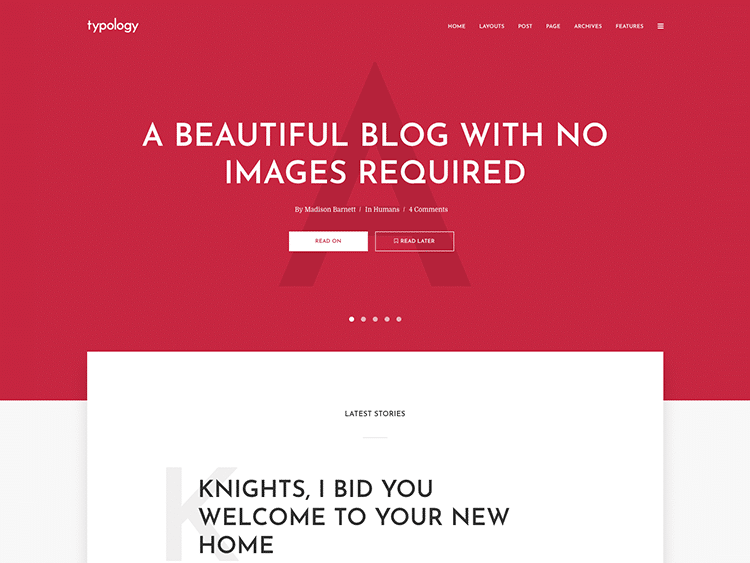 Typology is a minimal blogging theme that's designed to look great without relying on images.
If you'd rather focus on writing content rather than searching for the perfect images to accompany your words, Typology could be the right theme for you. Thanks to the stylish typography settings of this theme, the text in your blog posts and pages will be used to enhance the look and overall appearance of your website. This formatting, including creative use of drop caps, should reduce your reliance on images to improve the presentation of your content.
Other design effects that you can rely on when using Typology includes the ability to choose between the ever popular material design trend or the classic flat UI style. When setting up your website, you also get to choose which sections are displayed on the homepage of your blog. Through the intuitive control panel, you can easily enable or disable the intro sections on the blog post archive layout, choose which posts are displayed, including most popular or most commented articles, and a few other layout options. Furthermore, each time you post a new article on your blog, you can choose the perfect layout for that piece of content from the available designs.
As typography is such a strong element of this theme, it should come as no surprise to learn that Typology gives you a great amount of control over which fonts are in use on your website. Through the typeface settings, you are able to choose from over 600 Google Fonts, change the text sizes, and many other typography options. The customization options don't end there though, the Typology color controls make it easy to create unlimited color variations for your website, ensuring your blog matches your branding or personal style.
If you're looking for a fast loading minimal WordPress theme for your blog, take a closer look at Typology.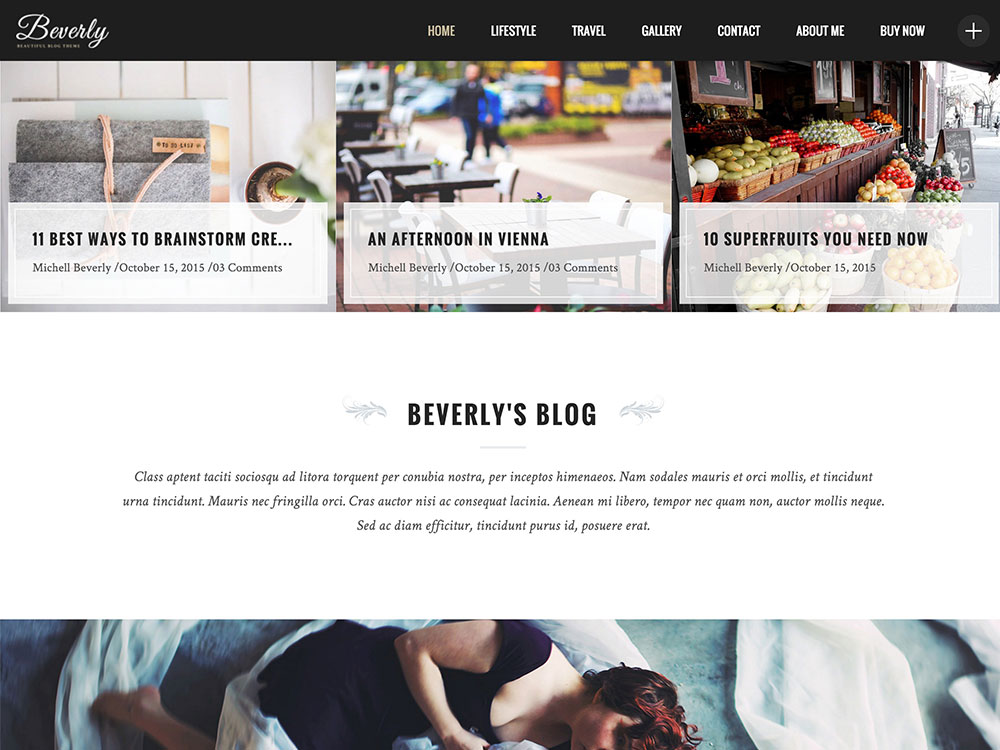 Beverly is designed to captivate the reader. It works well for creative blogs and authors by featuring full-width images, beautiful typography, and clear calls to action throughout the page.
The theme is responsive, offers four different layout options, and provides several ways to manage featured slider content on the home page.
Beverly provides ten different custom widgets that enable you to display content from social networks and/or easily stylize your own customer content. Social buttons are subtly yet effectively placed throughout the website to encourage sharing. Beverly also gives you two additional choices in terms of commenting platforms: Facebook and Disqus.
Beverly balances striking presentation of content with performance. It is quick to load, and the images you use will be augmented by its eye-catching design. This theme is a great choice for storytellers who want a theme that supports their content with strong visuals and encourages engagement from the reader.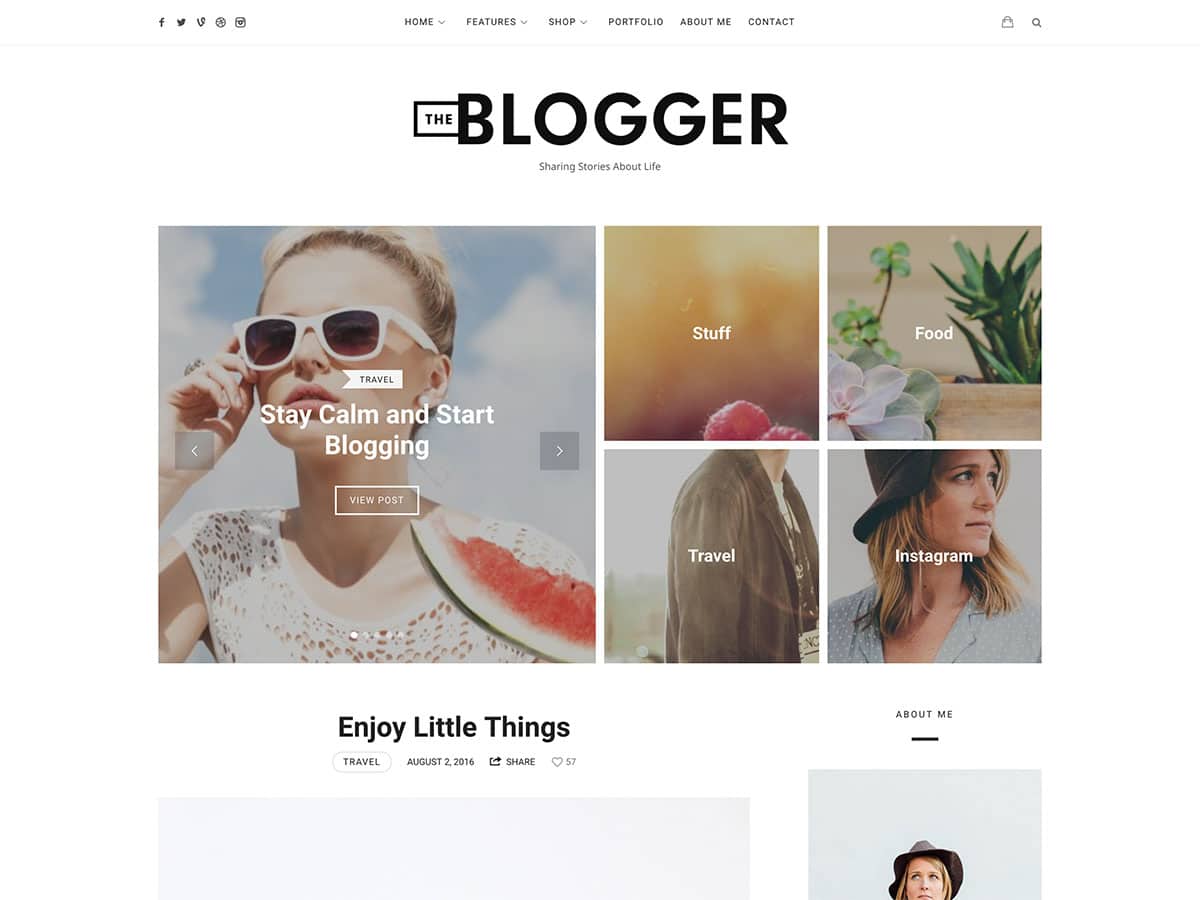 TheBlogger could be a good choice for anyone who wants to create a custom personal blog with WordPress.
Thanks to the regular updates that this theme has received since its initial launch, you now get access to an impressive selection of blog website demos that can be imported into your WordPress dashboard in just a few clicks. The personal blog demos of TheBlogger are ideal for a range of projects, including food, travel, lifestyle, and general purpose blogs. There's also a stylish blog demo that's aimed at helping users promote their services and skills and hopefully land more clients or other opportunities via their blog.
Regardless of which website demo from TheBlogger theme you choose, you'll have a full set of pre-built homage and post and layouts to choose from. Showing off your portfolio is easy too, thanks to the library of page templates. The social media integration should also come in handy, particularly if you are active on visual networks like Instagram or Pinterest. The Instagram feed is particularly eye-catching and well worth considering adding to your site.
As well as all the pre-built content that makes up TheBlogger, there's also a library of shortcodes to make use of. Through this inbuilt functionality, you can easily add tabs, toggles, accordions, alerts, buttons, and more to your content, with just a click or two. You can view these shortcodes in action on the TheBlogger demo if you'd like a better idea of how you can use them on your website.
Regardless of what style of personal blog you want to create, TheBlogger could have a pre-built demo that's just right for your project.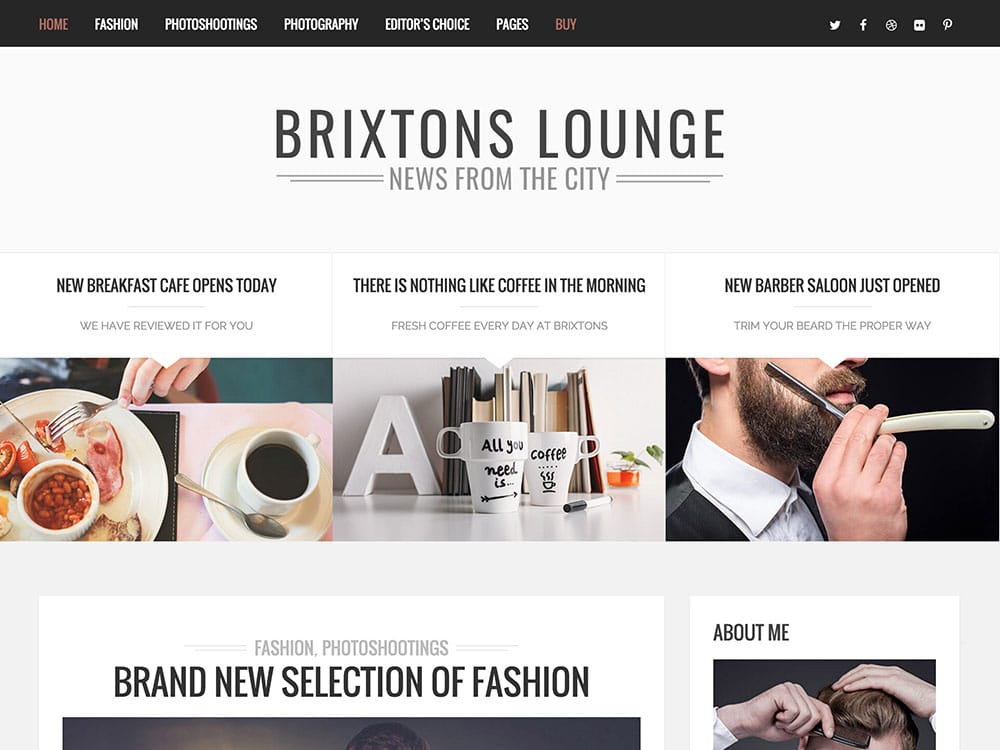 When considering themes to showcase your engaging content, you may be looking for a captivating and modern design. If your content needs to dress to impress as well as engage, consider Brixton.
The developers say Brixton is "for storytelling", and it offers a trendy look that gets straight to the point, with two columns and big, bold fonts and colors. There is also an Instagram feed widget, a gallery post template that includes a slider for multiple images, and an Audio custom post type which can link to your SoundCloud account.
As an added bonus, if you like the look of the Brixton logo, the developers have made it available to download for free, to use in any way you want.
Overall, Brixton is simple and to the point; ideal if you're after a stylish website that matches your stellar content.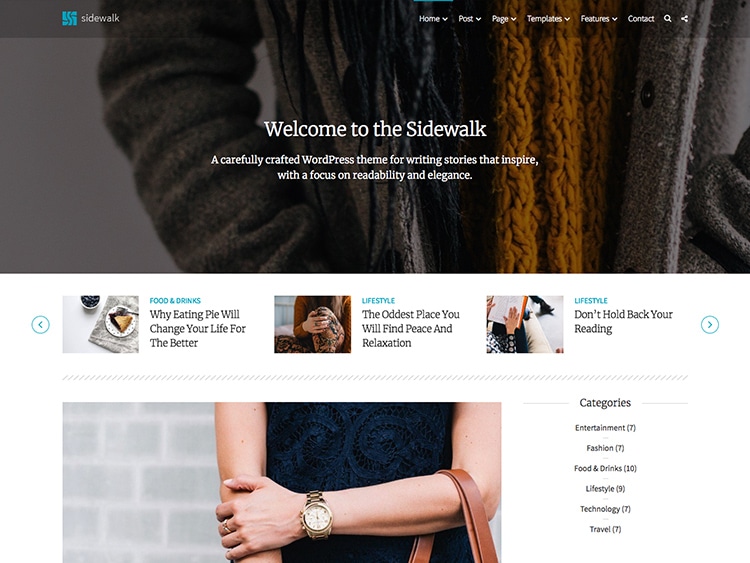 Sidewalk is a WordPress blogging theme with a strong focus on readability and high-quality content presentation.
One of the main ways that Sidewalk can help your personal blog and its content stand out from the crowd is the cover image feature. Thanks to this, you'll be able to display a large full-width featured image or cover photograph on your blog that is sure to draw in the attention of your visitors. However, like many of the features of Sidewalk, the cover image is entirely optional and can be disabled if it's not a good match for your website.
Speaking of the other Sidewalk blog theme features, adding scrollable featured content areas to your site is an option. If you do enable this feature, your visitors will be able to scroll or swipe their way through your best content until they find an article that catches their eye. You also get multiple layouts to choose from with Sidewalk, not only when setting up your blog, but each time you publish a new article on your site. These layouts are all focused on making your articles look great and presenting your content in a way that's easily digestible.
To help you promote the other posts and pages on your website, the Sidewalk theme comes equipped with a useful selection of custom widgets. These elements can be dropped into your sidebar and footer areas and used to display a posts slider, social media content, advertisements, and links to popular content. You're also able to create an unlimited number of sidebars and define when and where each one is displayed on your site. Enabling sticky sidebars is an option too.
Sidewalk and its ability to present blog posts in a professional style makes this theme a great choice for the serious bloggers out there.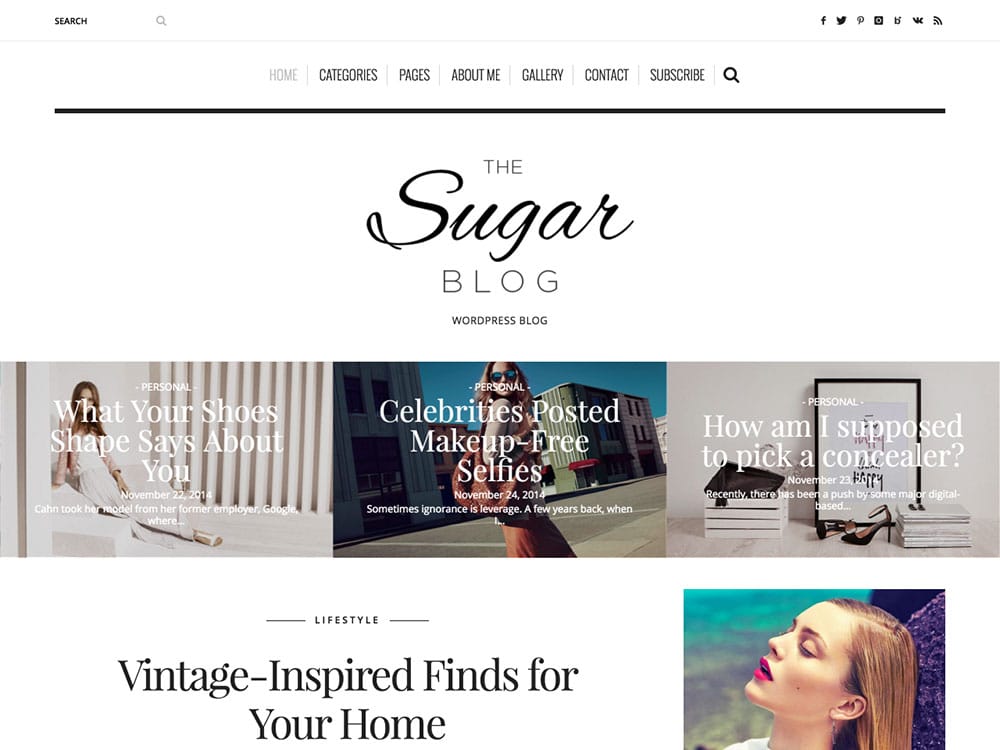 SugarBlog is a pretty sweet theme for any kind of blog. Its clean, modern and visually stunning responsive design is loaded with some pretty powerful features; social sharing and accessibility are big components.
SugarBlog is fully responsive and features several layout options for a consistently polished look across all devices. You can choose between 11 blog layouts to fit the theme or personality of your blog. Up that with four built-in header options, one of which offers an awesome parallax effect.
This theme has ten custom widgets for social integration; powerful social widgets (for Facebook, Instagram, Twitter and Flickr) and sleek social icons are all included to boost your social presence. Furthermore, SugarBlog is translation ready, so you can further share your great content in any language and reach a wider audience.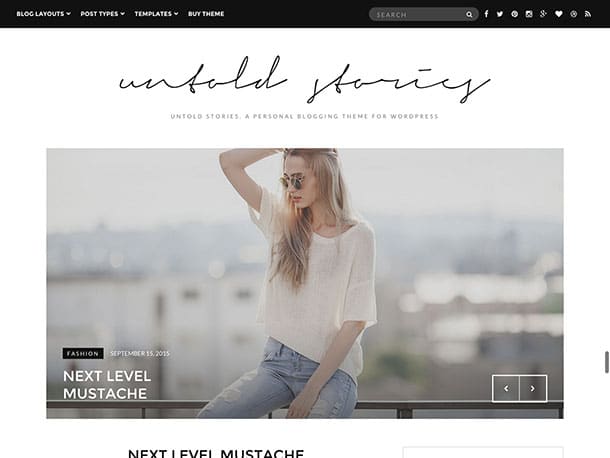 Make your content pop with Untold Stories. This ultra modern retina-ready theme is perfect for – but not limited to – visual content bloggers. It is truly versatile with multiple blog layouts, color and topography options to accurately represent your brand.
This is what you get in terms of customization: 100+ Customizer Options, ten page layouts, eight post styles, multiple color schemes, custom widgets and typography options. Play around with these customizable elements and create an animating blog and/or website.
Untold Stories is greatly focused on social media engagement. It supports all social media outlets through its custom widgets. Your audience can enjoy fluid interactions with your brand across all channels, and because of the responsive design, your audience can also enjoy your blog or website on various devices.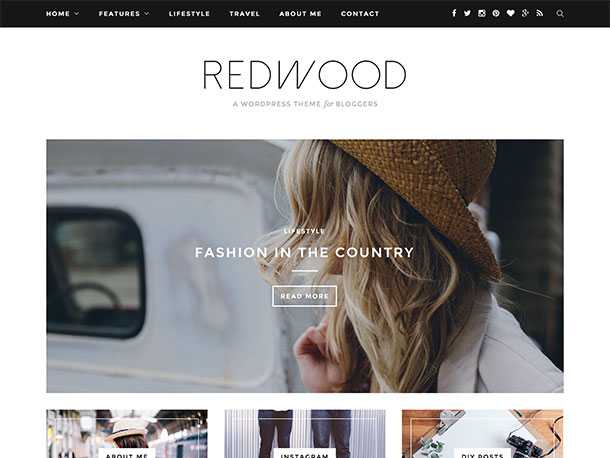 Redwood is a theme made specifically for bloggers. It doesn't offer any deluxe features or effects. So what makes it special?
Redwood is responsive, minimal, clean and meticulously laid out. But don't worry, you're not limited by the standard layout. You can use five different blog layouts, including full width versions of each layout. It also has a stunning feature slider, custom widgets, unlimited color options and three promo boxes below the slider to increase your click-through rate.
Perhaps Redwood ignores the frills to focus on delivering performance. Would you give up the fancy features for a clean and fast website? Absolutely – especially as Redwood offers the simple thrills that matter most so you can focus on just blogging and engaging.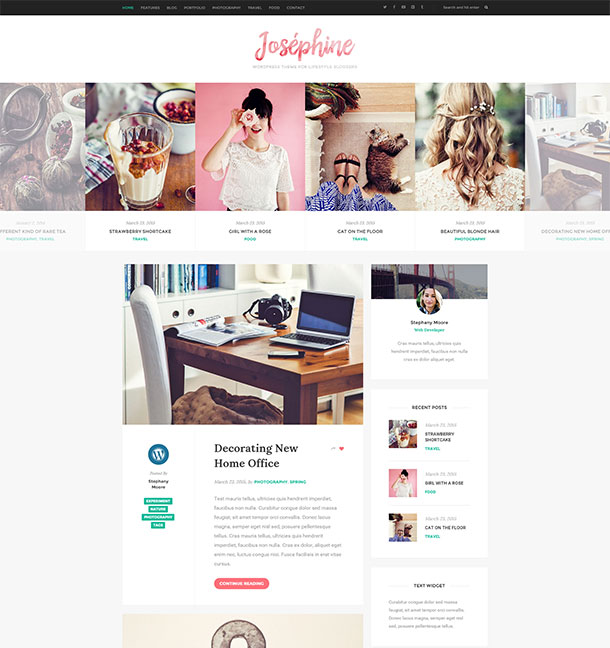 Perhaps the ultimate theme for lifestyle blogs, Josephine provides limitless customization to enhance your website. It is way ahead of the competition in terms of design and ease of use.
Josephine is great for the WordPress beginner. You can start building your blog immediately by using the one click demo importer. That means that you can upload the demo content within just one click and be on your way to building a powerful blog. You can also adjust and revamp all features without any coding. And you have a lot of options here.
The live customizer enables you to instantly make unique style variations. This gives your site added elegance and personality your readers can appreciate. Add to that a fully responsive design to engage visitors on all devices.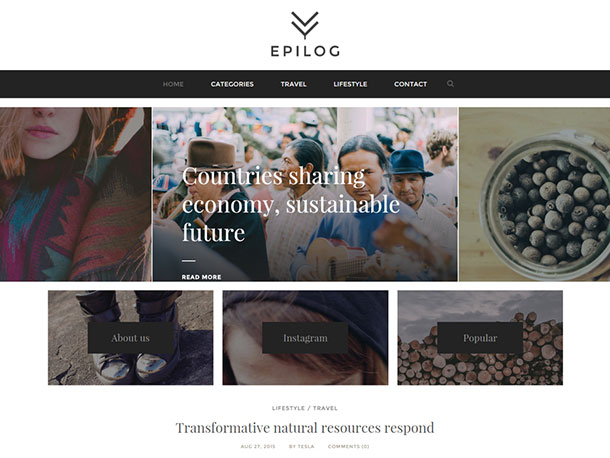 Epilog was designed with you, the avid blogger, in mind. It is greatly focused on providing the ultimate reading experience and delivering great site performance (in terms of both speed and user experience).
Readers should be able to enjoy your content with ease and without distraction. Epilog has a very clean and neat layout for easy navigation and good user experience. You have six blog layouts, multiple post formats, three promotional boxes and social feeds at your disposal. It doesn't matter which customization you implement – your reader will have a distraction-free enjoyable visit on your blog or website. It will remain beautiful, readable and clutter-free.
Best of all, Epilog is designed for SEO and speed; arguably the biggest selling factors of this theme. It is meticulously coded and designed for search engines to crawl and rank you. The fast loading time gives you SEO points and great user experience. Epilog is truly a design and performance powerhouse.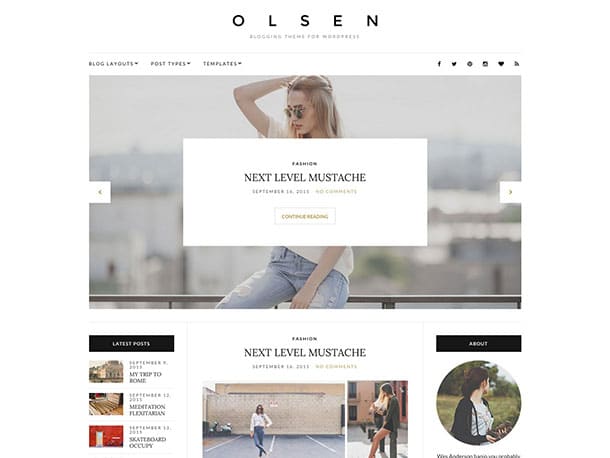 With WordPress' evolution, you'd be forgiven for thinking that the humble blogging theme is dead in the water. However, nothing could be further from the truth – as Olsen proves.
A theme for fashion bloggers, Olsen tries to utilize lots of white space to separate content. However, with both a left and right sidebar employed, the content feels a little cluttered. Removing a sidebar makes things better, but the default small typography choices still don't help to give the feeling of space. Fonts can be easily customized though, as can the layout – with 11 different design choices at your disposal.
Finally, Olsen provides Instragram feed integration, and also a smart section at the end of blog posts to display the products mentioned throughout – ideal for those using affiliate links.
All in all, Olsen is a solid theme with good customization, with just the right level of functionality to appeal to bloggers of all types.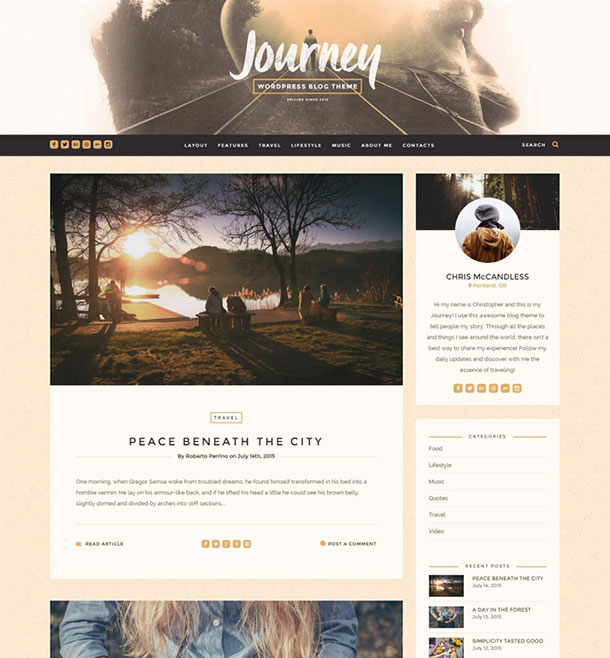 Blogging is still important, regardless of WordPress' growth into a legitimate CMS over the past few years. For bloggers themselves, the need for a simple, easy to navigate theme for hosting their content is also important. If this is your concern too, you'll likely be looking for Journey.
On the surface, there isn't much to separate Journey from other themes on this list – and in some aspects, it's falling behind. For example, the default color scheme and typography look a little dated, and its attempts at a sticky header produces a buggy end result. In contrast, the layout is neat, and the default line spacing makes text easy to read. There are 11 blog layouts to choose from, and coupled with the bundled Visual Composer plugin, you can tweak your layout into almost any design you imagine.
In a nutshell, if you can see past the default design choices and the buggy elements, there's enough customization within Journey to make it your go-to blogging solution.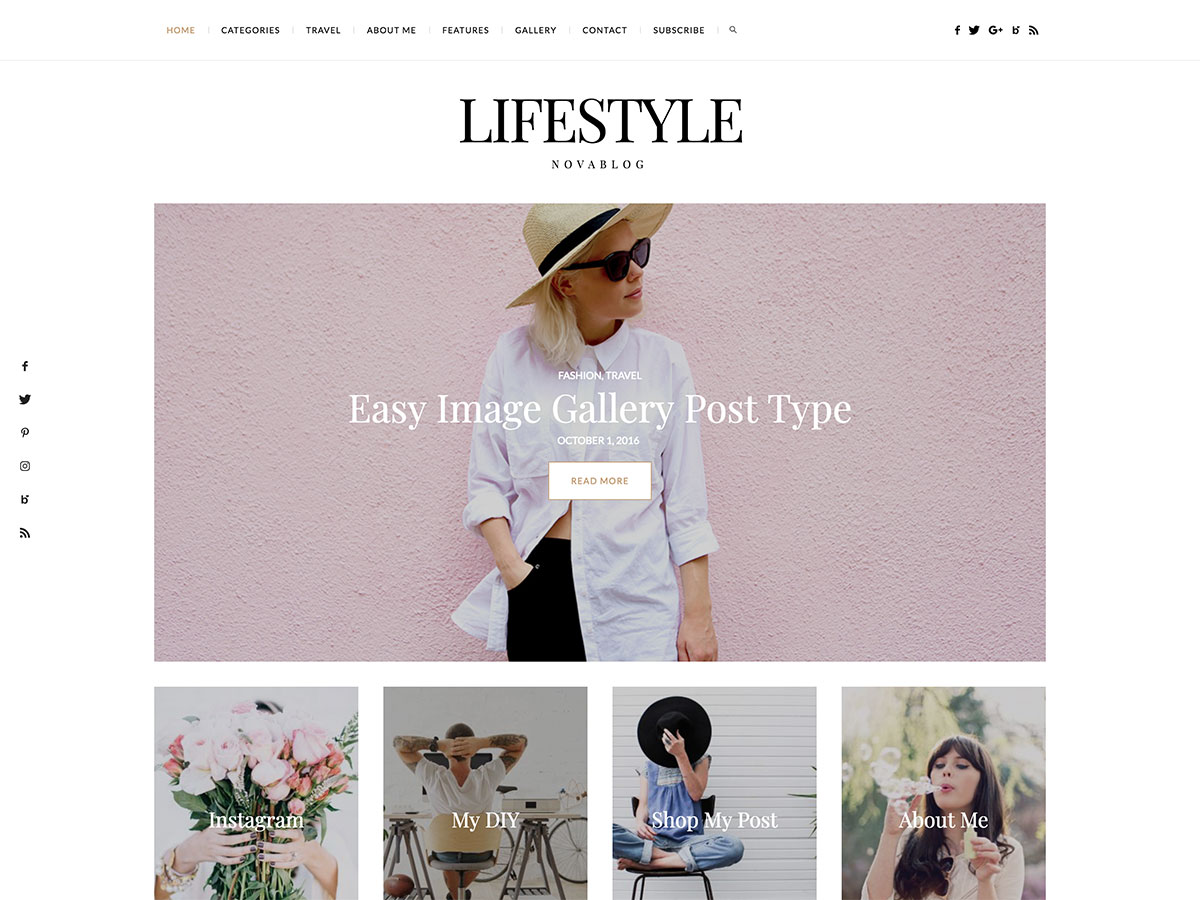 NovaBlog is an impressive multi-concept blog and magazine WordPress theme with 18 demos available.
No matter what type of personal blog you're working on, NovaBlog is sure to have a pre-built website demo that's at least a close match for your project, if not a perfect fit. From travel and food to fitness and fashion, the NovaBlog website demos cover a wide range of blog types. There's also an ecommerce demo in the NovaBlog package, making this a good option for any bloggers who want to monetize their websites by listing physical and digital products alongside their regular content. Thanks to the full WooCommerce support of this theme, everything you need to list products and collect payments from your visitors is included in this theme package.
Despite all the great features that make up NovaBlog, including mega menus, lazy loading images, infinite scroll, and multilingual support, NovaBlog is still a good choice for personal bloggers looking for a straightforward theme for their WordPress website. Thanks to the settings and options of this theme, you can easily pick and choose which elements you decide to enable or disable. Not only that, but the admin panel and style manager give you wide-ranging control over the appearance of your blog.
Other reasons why NovaBlog has been included in this collection of the best personal blog WordPress themes are the premium drag-and-drop page builder plugin, the AJAX-powered live search tool, the sticky sidebar, and the six pre-built header layouts. In fact, the NovaBlog feature list is so long, it's impossible to do it justice here.
If you want to know more about this powerful personal blogging theme, there are 18 website demos available to try out.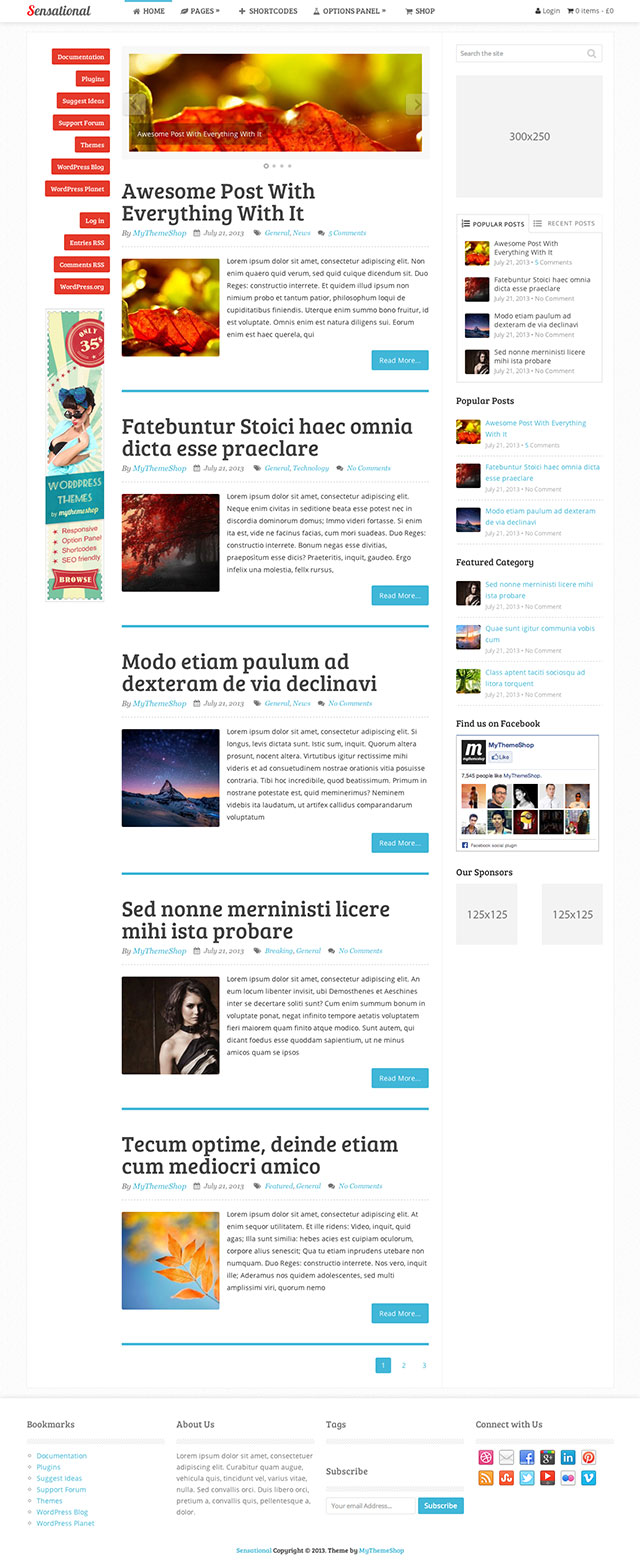 Sensational has the ability to transform an average looking blog into one that is quite stunning.
Play with the numerous color options, tons of custom backgrounds and four different layouts to find the perfect fit to showcase your content. Choose from more than 620 Google Fonts as well. There is a user-friendly options panel that enables you to easily add your logo, social buttons and advertising. Also, Sensational is optimized for clicks, which can potentially help you boost your Adsense income.
Additionally, there are twelve custom widgets pre-loaded so that you can get your blog up and running quickly. This theme has a fluid and responsive layout and is translation ready.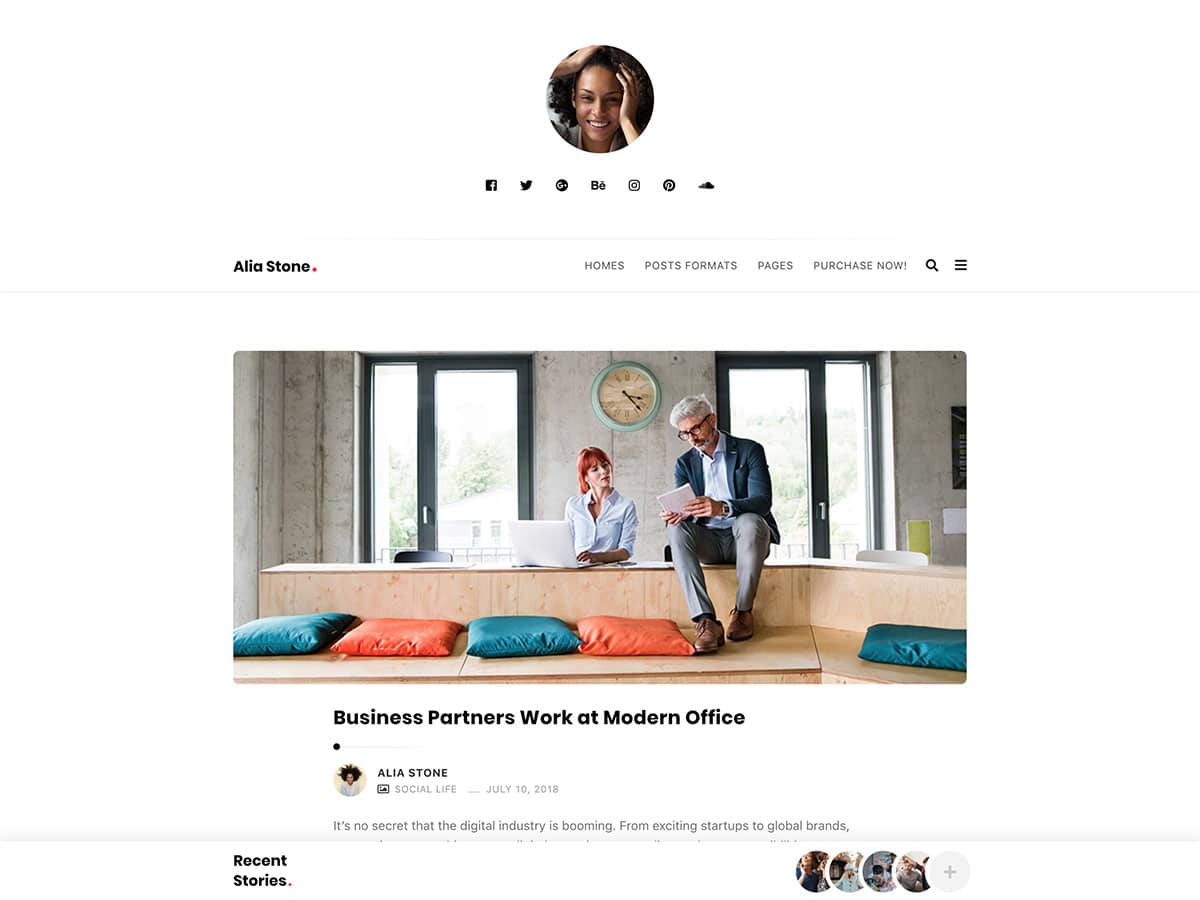 Ink from Elite ThemeForest author Codestag is dedicated to enabling bloggers to tell their stories in the most compelling way.
Firstly, this theme is fully responsive and looks stunning on screens of all sizes, including the latest Retina displays. And if your blog is also your business, Ink's Restrict Content plugin enables you to bill your customers for full access to your content.
To give your blog a unique edge, Ink supports video covers for your articles. As well as being fully compatible with the latest SEO plugins, Ink offers full support for the WordPress Theme Customizer, enabling you to make simple changes to the theme's design.
Ink is easy to set up, and support is available from a dedicated support desk.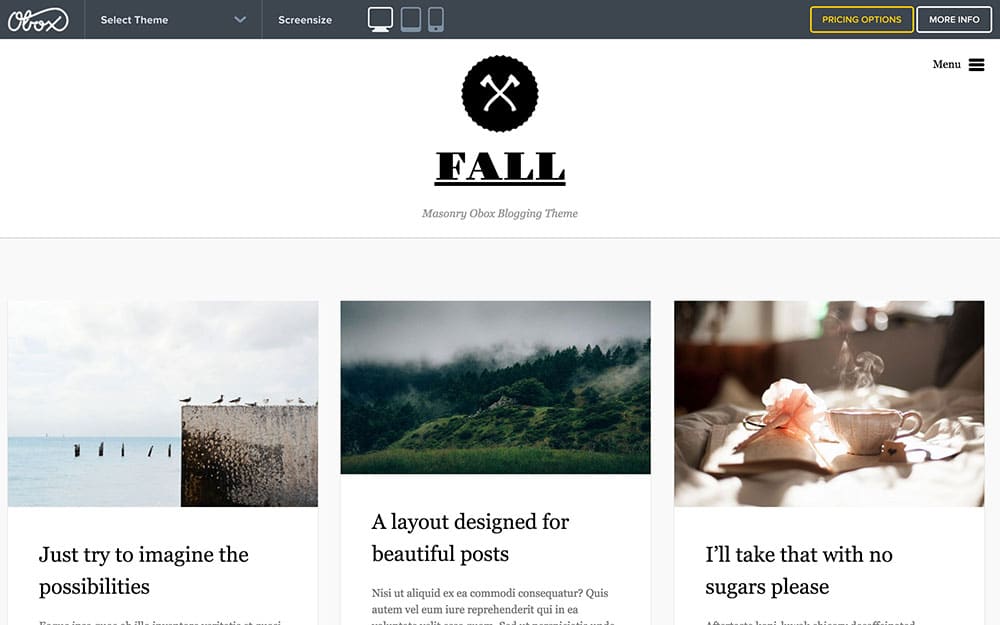 Fall is a great personal blogging theme release from OboxThemes. Its design incorporates elements of the popular "tile" trend and is excellent at making content the focus of the reader's attention.
Despite the slightly undersized font size on the home page, when you go to a specific blog post, the typography is sized perfectly. Given the complete lack of design elements in the background (almost 100% empty space), the reader is drawn towards what's important: the content. It's a difficult design trend to master, and Fall's designers have hit it right on the nail. The home page design uses a grid layout to showcase featured and latest posts.
The theme comes with a great set of capabilities key for personal blogs, such as automatic Google Authorship support, SEO-friendly code, a social links widget that supports integration for over 40 networks, and a responsive layout.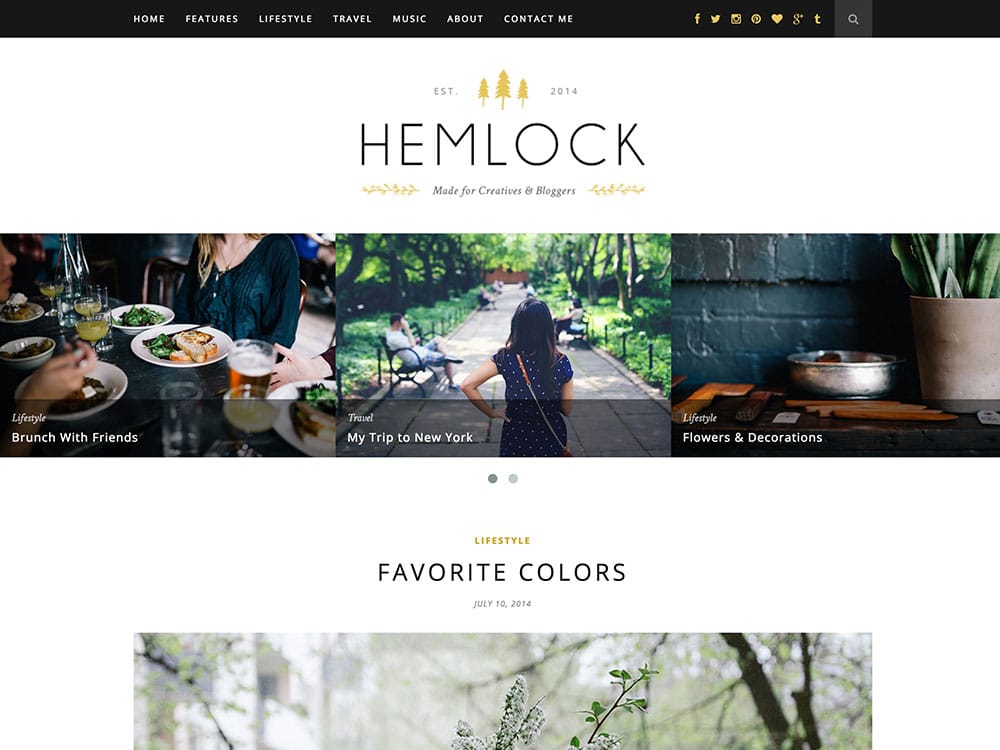 Hemlock is another beautiful "content first" casual blogging theme.
Hemlock uses varying typography, a white space filled background, and centered post content area to make sure that a reader's attention stays on the content and not on any distracting design elements. Sophisticated and modern, Hemlock's creative design will make sure that your website viewers come back regularly for more.
Multiple widgets (like the custom "about me" widget), social media icons, an almost-unlimited number of possible color customizations, and four post formats (standard, video, gallery, and music) make Hemlock the perfect blog theme. You also get multiple post feed layouts, and styling for Contact Form 7.

Cassia has a clean and straightforward design that could be used for a blog in almost any niche.
You can elegantly showcase articles, photos and videos via the theme's full post or list layouts. Choose between a slider or four static posts as your featured area. There are tons of skins to select from and more than 650 Google Fonts to pick between. There are custom widgets included for your "About Us" section, popular posts, latest posts and to promote your Facebook likes.
Cassia is also fully responsive and translation ready.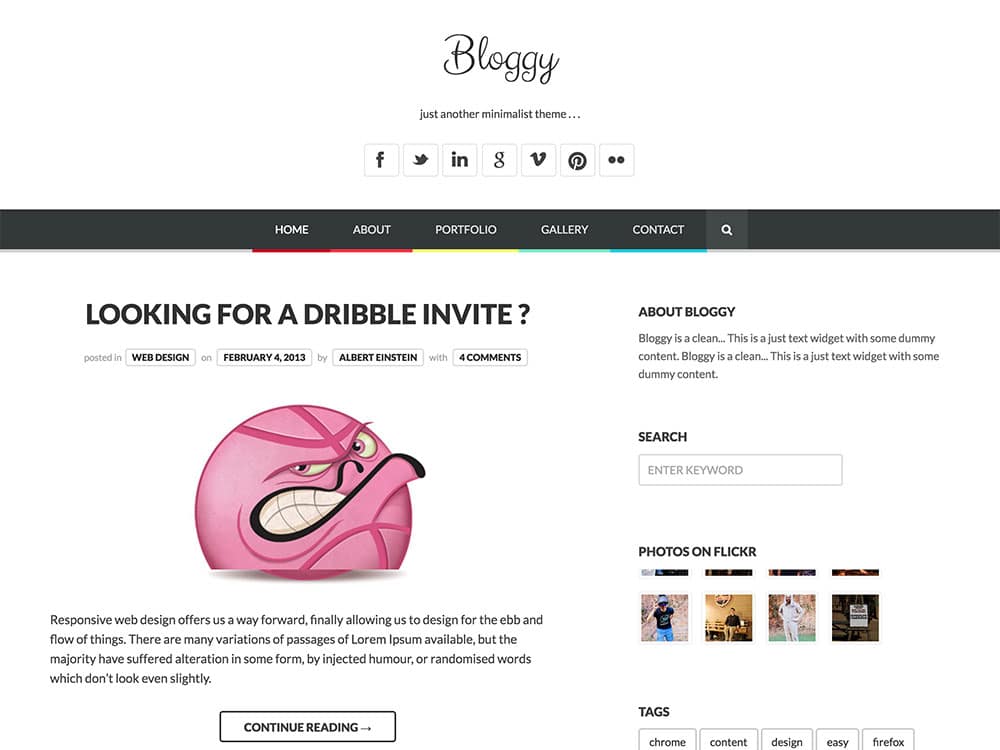 Bloggy offers a minimalist design ensuring that the focus is on getting your content read.
In addition to being retina ready, Bloggy is also cross browser compatible and has a fully responsive design. Your content should look great on any device.
There are three blog layouts and more than 600 Google Fonts to choose from. For hardcore bloggers, all post formats are supported. This theme supports more than twenty social media icons and is translation ready. Bloggy also comes with extensive documentation and a support forum if you get stuck.

Blank is an elegant and minimalist theme. The ultra-clean design puts the focus strongly on your content and makes for a great blogging design.
The theme is fully responsive and retina ready to ensure your content pops on virtually any device. It is also translation ready.
Blank is truly customizable – there are both wide and boxed style layout options, as well as two header styles to choose from. Additionally there are four portfolio layouts and tons of color options to pick from.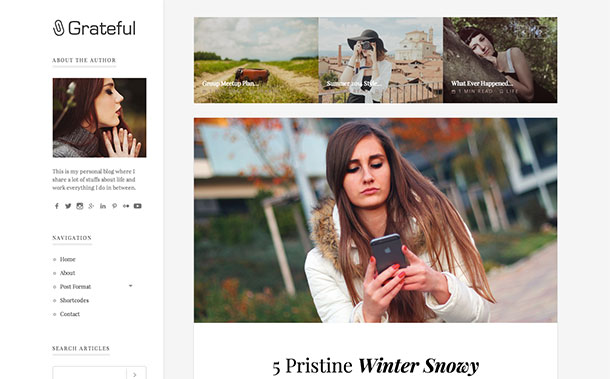 The sales blurb for Grateful isn't going to win any awards:
Grateful is a a simple and clean WordPress theme dedicated for bloggers who like to write blog posts in their personal blog.
But we're not going to judge the theme on its sales copy. With so many theme developers doing everything from coding to marketing, one cannot expect perfection on all fronts. So let's focus on what truly matters: the theme itself.
The good news is that what Grateful's developers lack in marketing chops, they well and truly make up for in design skills. This theme manages to combine simple elegance and attractive design elements. CSS3 effects are used sparingly to ensure that Grateful doesn't look like 'just another blogging theme.'
Design aside, functionality is well catered for, with support for multiple WordPress Post Formats, theme options, Google Fonts, child theme support, and much more. When it comes to personal blog themes, Grateful is a cut above many competitors.

Hooray is a fun and colorful theme that will grab your reader's attention and invite them to join the party.
This theme comes equipped with its own rating system, eight post formats to choose from and over 600 Google Fonts. The social counter will grab the latest counts of your subscribers, fans, followers, etc from your favorite social networks to boast traffic. It is also optimized for SEO.
The built-in related posts module will help you to keep reader's interest; sort by category, tag or author. This theme is retina ready and fully responsive to ensure your content will look amazing on any device. Installation is quick and users are impressed by the level of support offered.