The humble contact form is an essential element to many websites – and choosing the right one is paramount. If this is your first step on the ladder, the choice can be overwhelming. On the flip side, if you've been thinking about jazzing up your main contact form (or other forms on your site), you'll know that there are a myriad of suitable WordPress forms plugins available.
In either case, too much choice can be a burden. With that in mind, this article will help you decide which one fits your needs by comparing 16 of the best WordPress forms plugins currently on the market.
16 Best WordPress Forms Plugins Compared
The plugins that have made this list are widely used, receive regular updates, and have garnered excellent feedback from the WordPress community. They're also listed in no particular order, as they all offer a variety of benefits that may or may not fit your particular needs. Let's get started!

Zigaform is a flexible and Ultimate WordPress form builder plugin which allows you to build responsive forms on few minutes using a simple yet powerful drag-and-drop form creator. Also it provides amazing form elements and skin live customizer that makes you to build professional forms. Also it provides an administration section where site admins manage tons of form options. It's really easy to customize and you don't need programming skills.
Zigaform is a 100% mobile responsive contact form solution, so your contact forms will always look great on all devices (mobile, tablet, laptop, and desktop).
Key Features:
Smart conditional logic.
Highly customizable
Easily customizable form editing
Price: FREE | More information

WPForms enables you to create clean, modern forms within an intuitive drag-and-drop interface. There are also a number of pre-built templates to choose from, including multipage and user registration forms.
The entry management system enables you to view all of your leads in one place within a streamlined workflow. In addition, you can create high performance forms using WPForms' smart conditional logic, as well as enable file uploads.
Add-ons such as integration with MailChimp, AWeber, and PayPal are available on WPForms' higher tier plans.
Key Features:
Instant notifications.
Streamlined entry management system.
Smart conditional logic.
Price: $39 | More information
FormCraft enables you to create beautifully designed forms via an easy to use drag-and-drop builder. Although it's simple to navigate, FormCraft offers far more than your basic contact form. You can use it to display popup forms on any page, utilize math formulas within forms, and create one-page payment forms.
This plugin also gives you the option to embed maps, videos, and other widgets within your forms. If you're looking to create a multipage form, FormCraft can deliver on that too, and also provides you with analytics, including views, submissions, and conversion rates.
Key Features:
Over 23 fields to choose from.
Supports high-definition images.
Built-in conditional logic.
Price: $34 | More information

Ninja Forms is a great plugin for beginners and developers alike. For beginners, its drag-and-drop interface makes it quick and simple to create any type of form. For developers, Ninja Forms has a range of filters and custom field templates for high-level customization.
The basic form does not include conditional logic, which is a highly desirable feature for many users. However, it is available as an add-on.
Key Features:
Intuitive user interface.
Almost unlimited number of forms, fields, and submissions.
Options to force required fields and correct data formatting.
Price: FREE | More information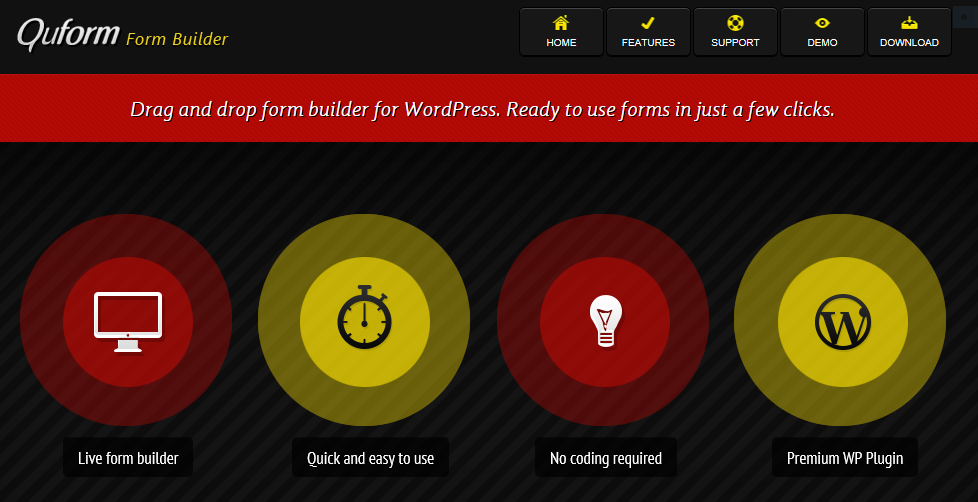 Quform enables you to create anything from a simple contact form to a complex booking form. The drag-and-drop form builder is super simple, and doesn't require any coding knowledge.
This plugin allows you to view submitted entries within the WordPress admin area, and send submitted form data via email. Other options include a custom autoreply and filters to strip unwanted data. Quform also enables you to use built-in or custom validators to force specific data from the user.
Key Features:
Easy to use interface.
15 element types.
Import and export capability.
Price: $29 | More information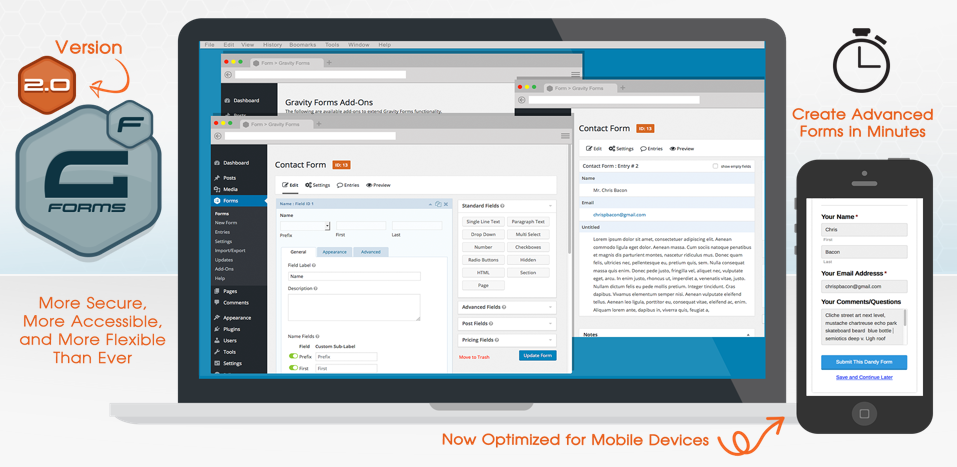 Gravity Forms enables you to build complex, powerful forms quickly and simply. You can create multipage forms, limit entries for competitions, and even schedule forms to be displayed during a specified time period.
This plugin stores all submission data in your WordPress database for easy access. You can configure the entry list to display only the columns you want, view each entry in detail, and export entries to a CSV file.
Integration with third-party services such as AWeber, Dropbox, and PayPal is available, but only within the higher tier pricing packages.
Key Features:
Built-in conditional logic.
Highly customizable.
Easily configurable email notifications.
Price: $39 | More information
Form Maker provides an easy to use drag-and-drop interface that enables you to create simple contact forms. The basic free plugin offers features such as multipage forms, conditional logic, and customizable emails.
Furthermore, there are also a myriad of premium features (such as PayPal integration), and lots of paid add-ons that enable you to tailor this plugin to fit your needs, such as MailChimp and Dropbox integration, and conditional mailing.
Key Features:
41 customizable themes.
Form submission management.
Multipage forms.
Price: FREE | More information

Jetpack comes with a plethora of features, one of which is its contact form module. Once the module is activated from Jetpack's settings screen, a new option for creating a contact form will appear in your WordPress editor.
While the Jetpack contact form has fairly limited customization options, it's a great solution if you already have Jetpack installed and only have simple needs. In addition, because the design takes place within the WordPress editor, it offers a familiar interface for creating your form.
Key Features:
Customizable submit button.
Ability to add a contact form to any post or page.
Customizable notification emails.
Price: FREE | More information

For a free contact form plugin, Fast Secure Contact Form is pretty robust. You can easily create and edit forms within a drag-and-drop interface, and also add or remove as many fields as you wish.
This plugin is an excellent option if you'd like to use your form to schedule appointments. Included are options to add online scheduling, appointment booking, and invoicing via the vCita platform.
Key Features:
Easily customizable form editing.
Ability to send confirmation emails.
You can redirect visitors to almost any URL.
Price: FREE | More information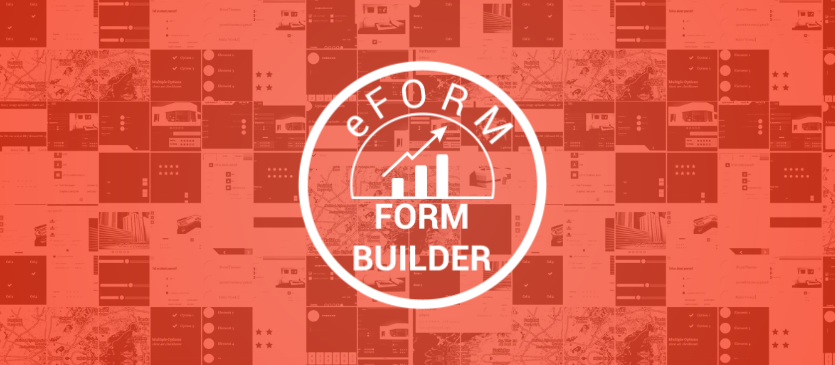 eForm's focus is on supercharging the humble contact form, enabling you to get creative with quizzes, surveys, and payment estimations. Furthermore, this plugin is highly customizable with over 100 fonts and over 35 form elements built in.
You can apply conditional logic within forms, add mathematical formulas, and also enable file uploads. Within the admin area, eForms allows you to easily categorize forms and edit submissions.
Key Features:
Survey analytics.
Built-in quiz system.
Integrated with PayPal and Stripe.
Price: $30 | More information

With multiple layout options and 18 field types, Visual Form Builder enables you to create professional looking forms quickly and easily. This plugin can be configured so that form submissions go to multiple emails, and it also has the option to send customized email receipts to each user.
In addition, you can place multiple forms on a single post or page, and duplicate forms with one click. Visual Form Builder automatically stores form entries in your WordPress database, and enables you to manage data directly within your WordPress dashboard.
Key Features:
Drag-and-drop interface.
Option to export entries to a CSV file.
Multiple field layout options.
Price: FREE | More information

NEX-Forms boasts a unique grid layout system that enables you to create almost limitless stylish, yet functional forms. It's loaded with plenty of design customization options including over 70 animations, 660 icons, and 1200 fonts.
NEX-Forms also comes with over 40 form elements and functionality such as math logic, conditional logic, and file upload options. In addition, there are a number of form styles, such as popups and sticky forms, with unique animations for each.
Key Features:
Multi-step forms.
Email auto responder.
Sidebar widget option.
Price: $34 | More information
Form Builder enables you to create simple forms based on one of 10 default templates. If you're looking for a quick and easy to use form, the basic plugin will do the job. However, it is stylistically lacking, so if aesthetics are important to you, Form Builder's paid upgrade could be a better fit.
With the premium version you get 37 themes based on different color schemes, the option to add a submissions section, and the ability to export the submitted data to the CSV or XML formats.
Key Features:
Email options for both administrators and users.
Google Maps integration.
Variety of redirect options.
Price: FREE | More information

Contact Form 7 is popular, simple, and flexible. You have the ability to create multiple forms, and they can also be customized with simple markup. Options to configure mail settings and to change the default message can be found within a custom dashboard panel.
Also, while some have complained of updates causing bugs, the general consensus is that this is a straightforward plugin for creating all manner of simple forms.
Key Features:
Easy to set up.
Customizable default messages.
Easily defined mail settings.
Price: FREE | More information

Formidable Forms is great for quick and simple form creation. The customization options are somewhat limited in the free version, but it offers enough for all manner of simple uses. You can create forms using built-in templates, or start from scratch using the drag-and-drop builder and save your own templates for future use.
While you're limited to only seven field types in the free version, the premium version comes with 15 additional field types. It also offers some flexible admin options, enabling you to view, edit, and delete entries, and generate graphs and stats based on your collected data.
There are also a number of paid add-ons available such as integration with MailChimp and AWeber.
Key Features:
Drag-and-drop interface.
Almost unlimited email notifcations.
Import and export forms using the XML format.
Price: FREE | More information

Pirate Forms is another free option for creating simple contact forms, though it does have an edge over many of its competitors when it comes to the look of your forms. However, there aren't many customization options – but that's part of the premise behind the plugin.
The form is designed to require little setup, so you can just drop a completed form into your site using a shortcode or widget. Furthermore, Pirate Forms stores your collected contact information in a database for easy access from your dashboard.
Key Features:
Email notifications.
Ability to customize fields, labels, and messages.
Contacts are stored in a database.
Price: FREE | More information
 source:www.elegantthemes.com