The number platforms to build an ecommerce store is mind numbing.
When it comes to customizing and tuning to however you want, nothing beats a WordPress ecommerce site.
It does take time to get it running; you can set up and start selling on BigCommerce or Shopify over a weekend. With WordPress ecommerce, you got to give it a week. However, unlike those, you can cut your cost.
But finding the right set of compatible WordPress plugins can be a frustrating mess.
People sometimes choose the wrong one because they don't know better. I once had a client site built using an old version of Shopp. Yikes!
I'm a WordPress guy – been building and marketing WP sites since 2008. I can say that I understand the nitty-gritty of the whole process. WP doesn't come ready for ecommerce until you bundle it with a plugin. While there are many of those, few excel in every area.
That said, let's get into the best plugins for a WordPress store.
BigCommerce WordPress Plugin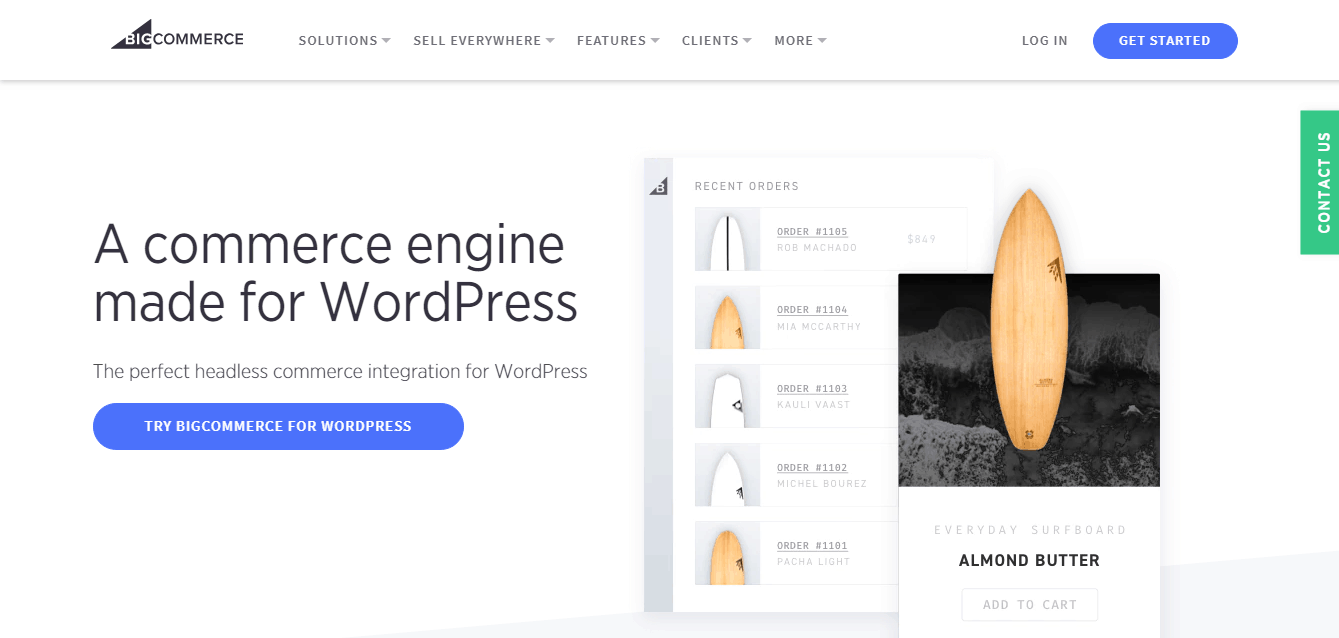 The BigCommerce plugin for WordPress follows the headless ecommerce trend.
This plugin allows you to use WP to power your site and choose what functions you want BigCommerce features to cover. You could do catalog management and processing payment, or you could get the whole BigCommerce package.
I see a ton of potential for this plugin. That's because it carries BigCommerce functionalities that work for every type of business model. It brings a nice sync of content and commerce. You have access to BigCommerce apps, fully integrated payment and shipping method/rates, multichannel sync, gift cards, and more.
If you're already on BigCommerce, one plus this has for you is AMP. The plugin is AMP ready to support WP's overriding of template files to crank up the speed of site on mobile.
It's free; you can download it and install on your site. However, you'll need a BigCommerce account to use it. Having a BigCommerce account means you have to subscribe to any of their plans – $29 – $249. That's an added cost to your hosting fees. However, if having WordPress is important to you, then go ahead.
This plugin is a new kid on the block, having been released in June 2018. It's still early to say how great it will be, but a lot of work has been ongoing.
Depending on how things go, in a year or so, I'll probably add this plugin to the affiliate site I just launched.
BigCommerce Plugin Pros
Integrates real-time shipping rates
Better multi-channel selling
Highly customizable
All BigCommerce features
BigCommerce Plugin Cons
Need to buy a BigCommerce plan
No 1-click upsells
Very new to the WordPress game
WooCommerce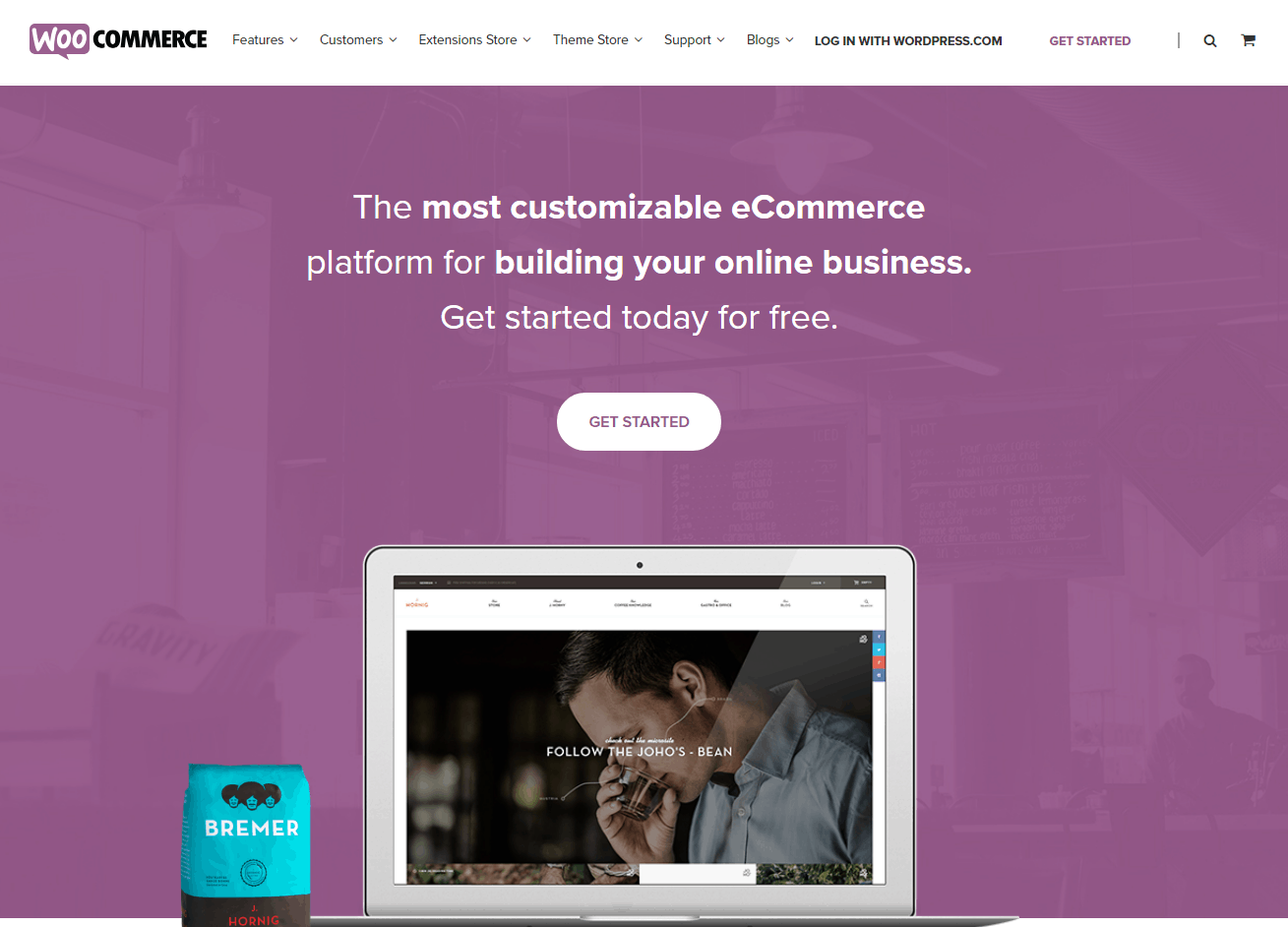 WooCommerce is tried and true. Released in 2011, it holds the most ecommerce stores – over 28%.
It has come a long way; much improvement has been made on this plugin over the years, but it still feels a bit clunky compared to pure ecommerce SaaS like Shopify.
Nevertheless, there are many premium features to customize your store. Lots of design flexibility as well. My ecommerce site runs on WooCommerce. I launched on Woo but moved to Shopify for a while and came back because it worked better for me.
Many themes are compatible with Woo but they don't all look good on mobile, so you have to be careful with that. From experience, you can totally upgrade your design with the combination of Elementor plugin and the Astra theme. That's how I build most WP ecommerce sites.
That said, Woo is free, but you might spend a little cash on extra features.
Marketing automation is not bad. There are free and paid apps to integrate that. I only wish that it was built-in though. From the dashboard, you can activate user rating and reviews, coupon codes, social selling all come out of the box.
You can extend your store with wish lists and reward programs using extensions as well.
One thing you have to pay for which I don't like is real-time shipping rates. If you want to integrate USPS with WooCommerce to get real-time shipping rates, there's an official WooCommerce extension for $79. Or you could get a third-party plugin. US Postal Service USPS Woocommerce Shipping Plugin costs about $20.
WooCommerce Store Pros
Social selling is built-in
Syncing multi-channel selling is free
Many advanced design options
WooCommerce Store Cons
Many functions require paid extensions
Zero support
Ecwid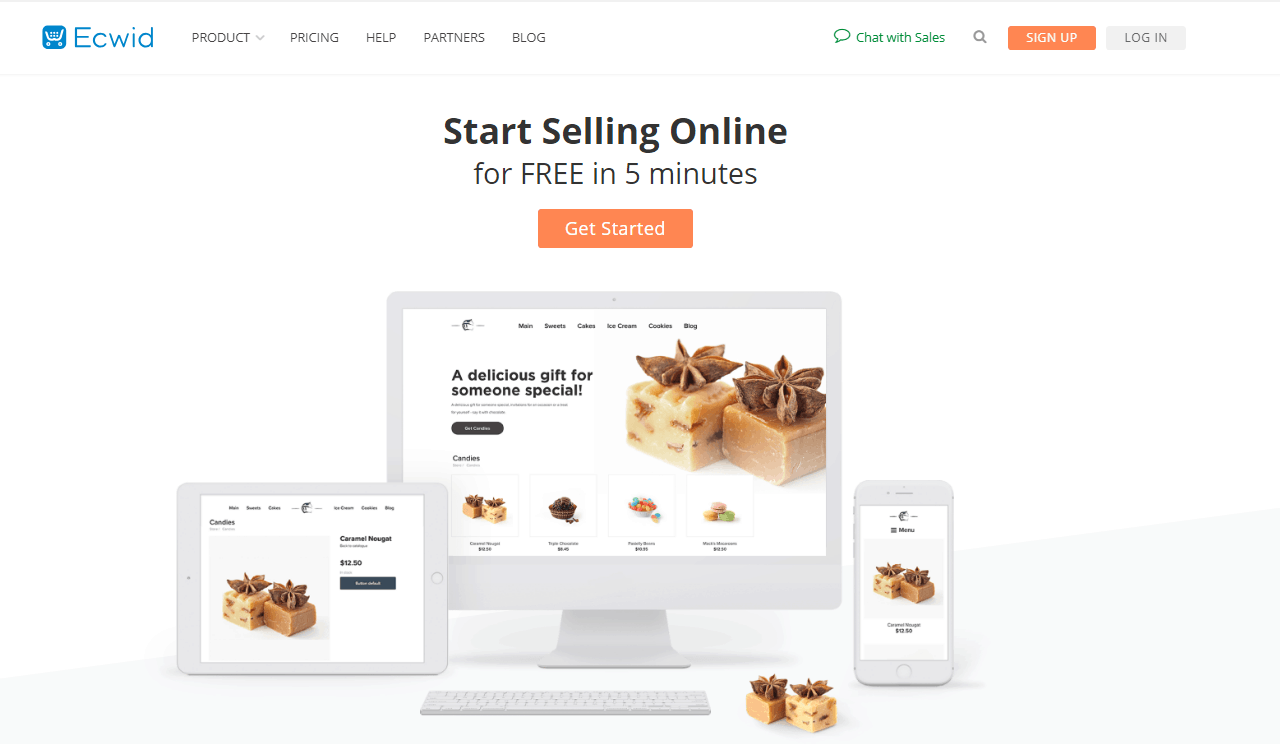 EcWid allows you to add a shopping cart to any website.
Getting a simple store set up with the Ecwid plugin is pretty easy. There's also an onboarding checklist that helps first timers know the essential things they need to do as well.
Many things you will need extensions for on Woo are built-in for Ecwid. You can sell on social media, Google Shopping, Amazon, and eBay. They also have in-store POS.
You can sell digital products, but each cannot be more than 10 GB. Premium features like abandoned cart recovery are available as well.
When it comes to translations, it's better than WooCommerce and most other plugins. There are 50+ languages available, and stores automatically translate as they detect the settings of your customer's browser.
Much like the BigCommerce plugin, they have pricing plans. There's a free plan that works if you have just 10 products and you want to keep things as simple as possible. However, if you want more options like multi-channel selling, abandoned cart auto recovery, inventory management, discounts, and EcWid support, you'll have to pay between $15 to $99 per month.
Ecwid Plugin Pros
Real-time shipping rates built-in
Multi-channel selling available
Free plan for simple stores
Ecwid Plugin Cons
Phone support is only available on top-tier plans
Free plan is very restricted
Limited number of extensions
Cart66 Ecommerce WordPress Plugin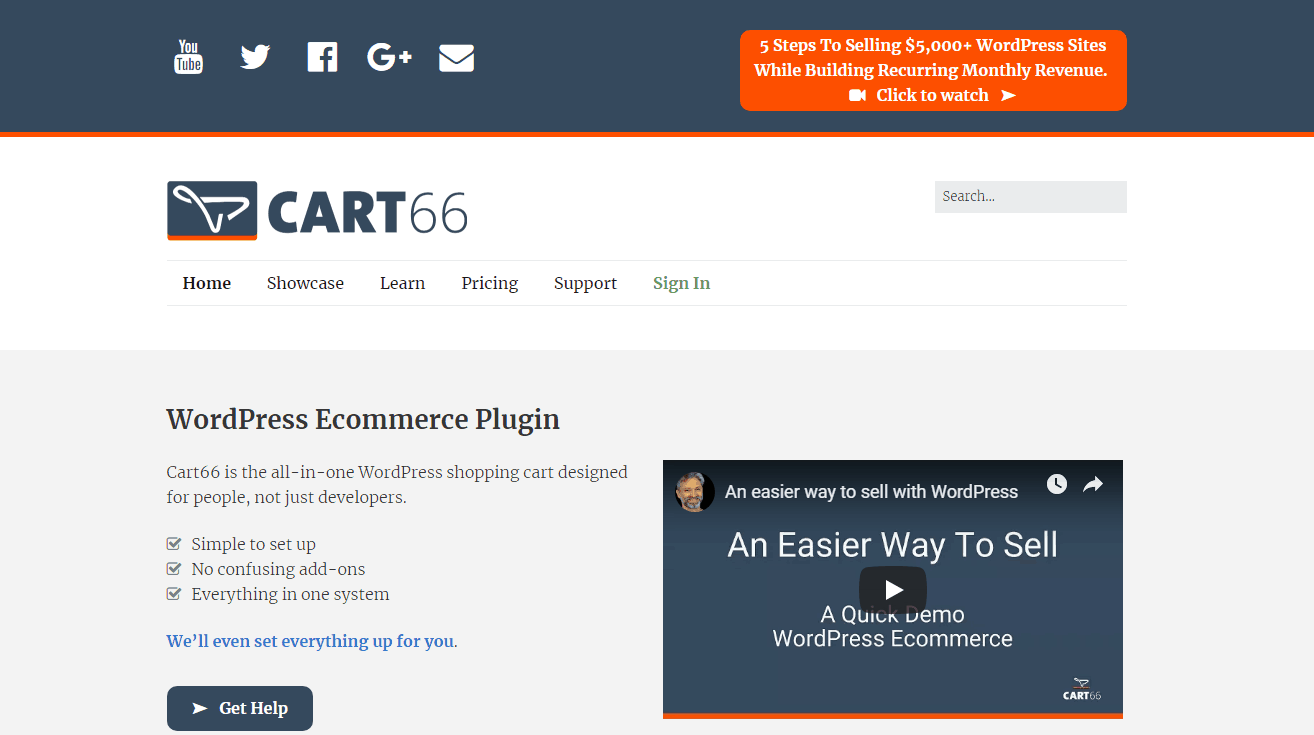 Cart66 bills itself as an all-inclusive plugin. It tries to minimize the number of apps you need to get the plugin to deliver what you want. As a result, there are lots of features built-in.
I've used it in the past to sell services. I liked it then; the ease of use and the customer support were great.
You can sell physical products, digital files, accept donations, and sell memberships as well. It also has a recurring billing feature for selling subscriptions. For those who want to sell online courses, you'll enjoy the content restriction selling feature. With that, you allow access to higher modules in your course to users as long as they have paid more.
It has inventory management, tax calculation, and integrates with Google ecommerce analytics and over 100 payment gateways.
For shipping, you can either set your rates or use real-time shipping. It integrates with many 3PLs including FedEx and USPS. However, to use this feature, you need an EasyPost account.
The plugin is free, but you'll get more features from the premium version at $99/year. One of those is marketing automation like drip emails and coupons. You can create segmented lists and set timed follow-up emails from the dashboard without having to use an extension.
Cart66 was fine and dandy for the past years. However, they are currently not accepting new accounts.
Cart66 Pros
Many features built-in for free
Excellent value for digital products
Great customer support
Cart66 Cons
No extension store for features not built-in
It seems to be on its way out
WP Ecommerce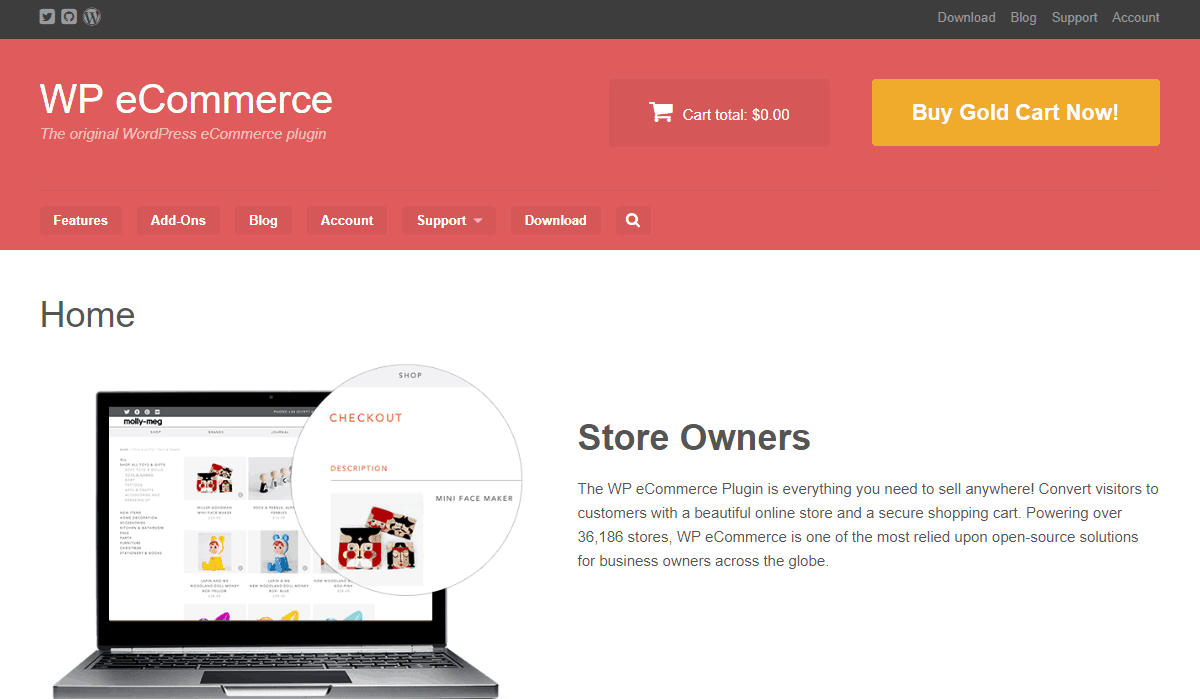 If you're looking for a free plugin that has marketing automation out of the box, WP eCommerce might be it for you. It has features for cross-selling products. Just like Amazon, the "those who bought this also bought that" is available. This can help you boost sales without much effort.
You can also set discount at certain quantities, give advanced coupon options like time-based coupons and so on.
Advanced shipping is packaged with WP eCommerce. You can set your own shipping rates or get real-time rates from UPS and USPS. Some other providers like FedEx are not included out of the box. You'll have to get a paid extension. That of FedEx costs $99.
The core plugin is free, but there's a premium version – the Gold Cart Extension – for $99. It has the addition of grid view for products and live product search. There's an extension store as well to expand your store, but it's very limited.
What I really don't like about it is that it's clunky and adding new products can get arduous. The video tutorial they link to do not exist, and there's basically no support. And even users who paid for premium still complain about the unresponsive support. Plus it's not as popular as WooCommerce so you might not get help in the WP forum.
WP Ecommerce Pros
Marketing automation out of the box
Real-time shipping rates from some providers
No transaction fees and multiple processors
WP Ecommerce Cons
Issues with support
Hardly updated
Limited extension store
JigoShop Ecommerce Plugin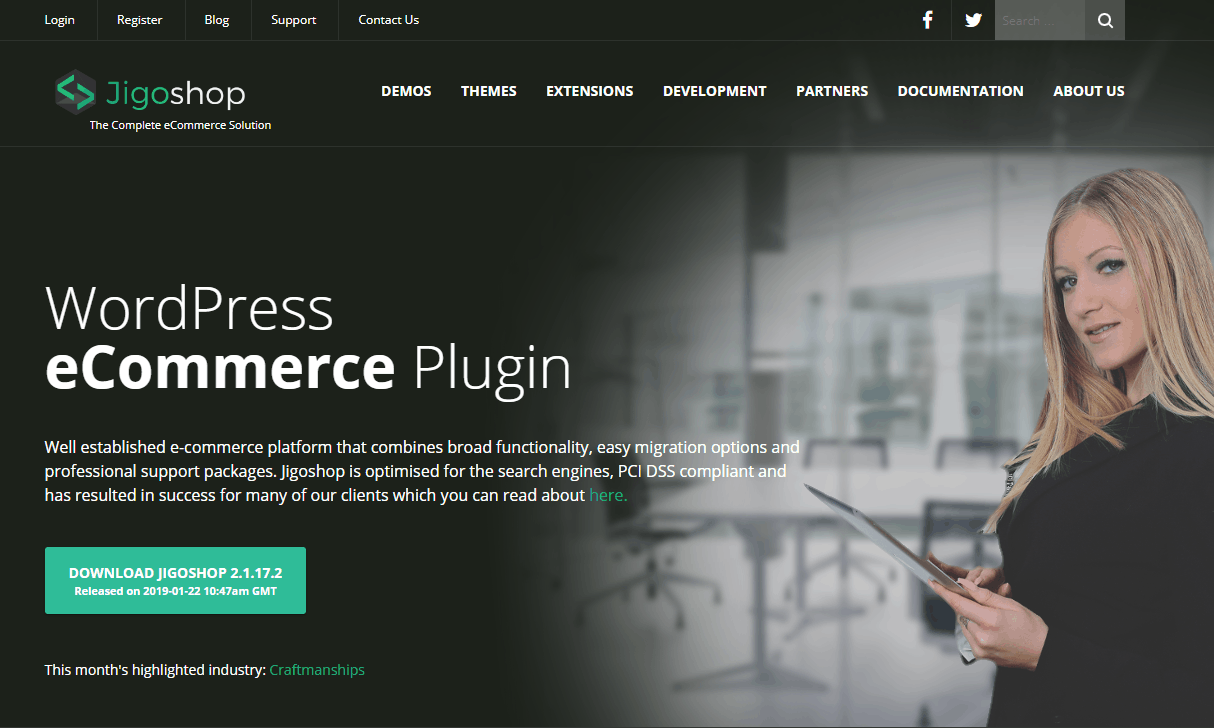 JigoShop is geared towards getting a shop set up quickly. It's simple with good enough support and constant development. For support, you'll find help on the WordPress forum, or through email if you paid for something – extension/support.
This plugin supports digital, physical, variable, affiliate, and grouped products.
It has a theme store where you can get good themes for free or as low as $35.  an extension store as well. The extensions are not so expensive, but there are certain features you will get on some of the other WP plugins free. Google product feed for example. It's $29 here.
I really don't like that simple things like USPS tracking, multiple currencies, setting delivery times, or products of the month require a paid extension. Most apps in their store cost around $50.
Nevertheless, JigoShop has some sweet features that might appeal to you.
It gives nice inventory reports. You can set your inventory amounts and put a threshold level for when it shouldn't accept any orders. It automatically tracks the amount of inventory and notifies you when your product is about to reach that threshold level. Analytics for the store's performance is also included on your dashboard.
It's integrated with many payment processors including PayPal Standard and FuturePay. You can get an extension if you want Amazon Pay or Paypal Pro.
JigoShop WordPress Ecommerce Pros
Great for simple stores
Good customer support and active community
Nice inventory management
JigoShop Cons
No multi-channel selling
No up/cross-sell
You pay for even the simple things

MarketPress – WordPress eCommerce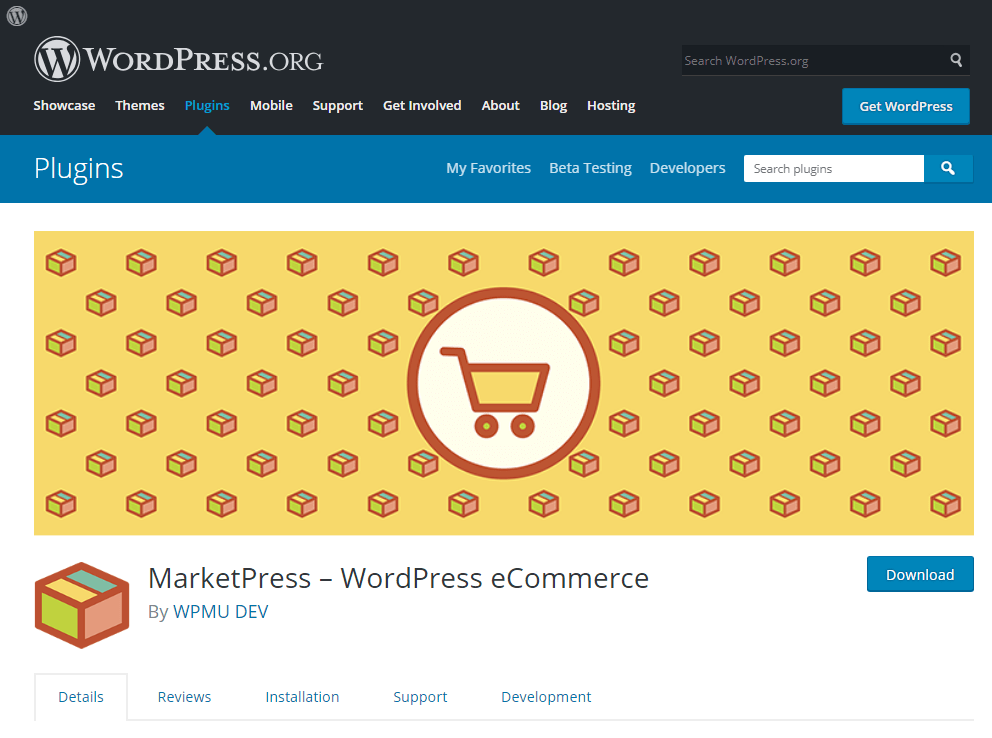 Many WP professionals are against using so many plugins; WPMU DEV created MarketPress with that idea; to have a system where extensions and apps are not used. What it has is good, but the lack of an extension store limits the features you get. For one, you can't sync with your Facebook storefront.
It features 15 payment gateways including 2Checkout, Authorize.net, PayPal Chained Payments, PayPal Express Checkout, PayPal PayFlow Pro, and Stripe. It also supports up to 120 different currencies.
Advanced shipping options are available for UPS, USPS, FedEx, and in-store pickup using table or weight rates.
For inventory management, it sends stock tracking alerts, and you can view all of those as well on your dashboard. When the product is out of stock, it automatically hides it from the product page. You can even choose if the product should be hidden from certain guests only.
For marketing, there's related products showcase, coupons, discounts, and sales pricing options.
They have an active customer support, especially on the WordPress forum.
MarketPress Pros
Advanced inventory management
Many payment gateways
Hides products from specific people
Basic marketing options available
MarketPress Cons

Easy Digital Downloads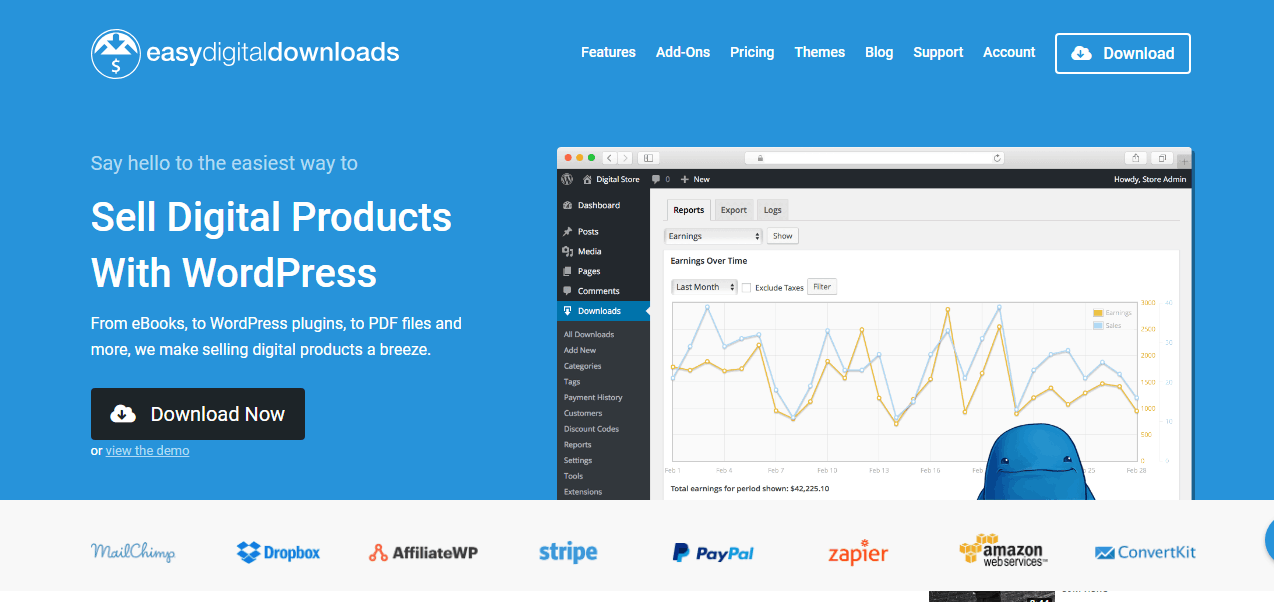 Easy Digital Downloads (EDD) is a great plugin for selling digital goods. It also has a physical goods system, but its core features revolve mostly around digital products. It has tools for selling subscriptions and memberships as well, but that is only gotten from EDD's extension store.
I like the content restriction feature. There's also cross-sell and upsell built-in to increase average order value.
If you're looking to blow up sales, you can use affiliates on your store. It integrates the AffiliateWP plugin that allows you to have affiliates for your products. That can increase your visibility and sales.
Other marketing tools include advanced options for discount codes, promotions, and email marketing with MailChimp and AWeber. It integrates with many payment processors like Stripe, PayPal and Bitpay. But most of these are not free. I hate that you have to pay $89 to integrate a payment processor when many other plugins do it for free.
You can avoid paying for a payment processor and other extensions by purchasing the EDD plugin rather than taking the free route. Pricing plans go from $99 to $499 per year.
EDD WordPress Plugin Pros
Great for digital products
Affiliate marketing integration
Timed discount codes and promotions
Great support
EDD Cons
Extensions are pricey
Pricing plans for the plugin can go high
No advanced features for physical products
WP Easycart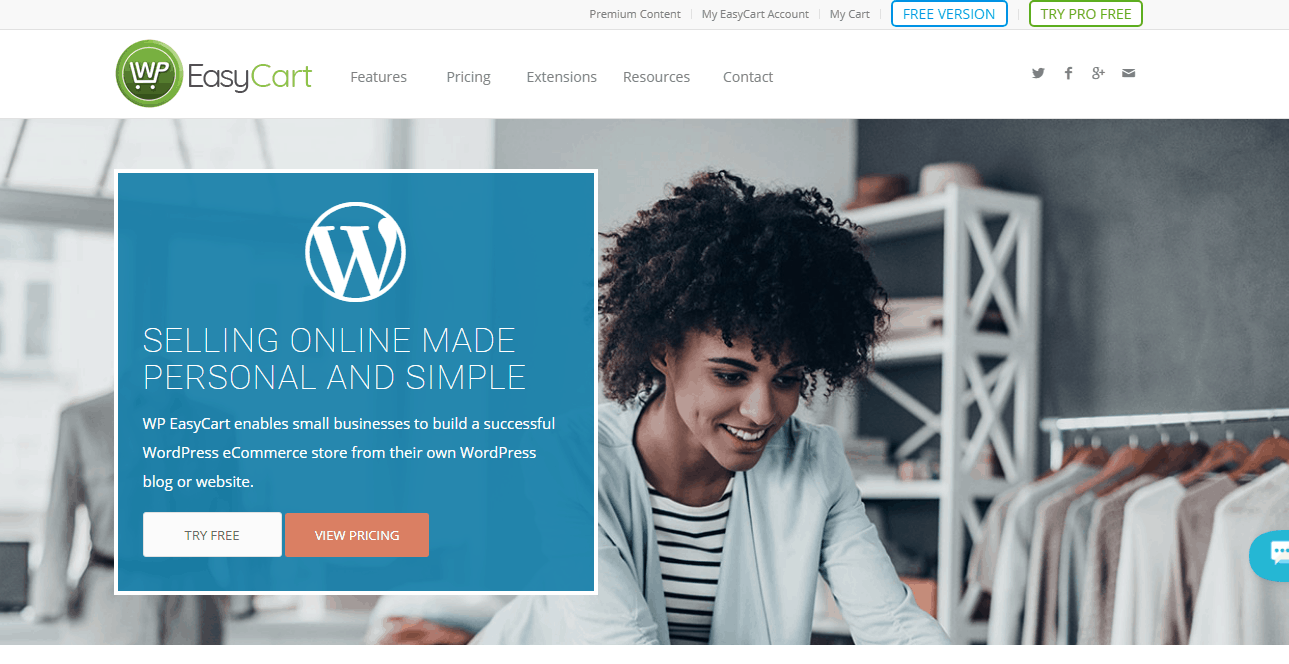 WP Easycart tries to make selling easy regardless of the type of product; it supports, physical, digital downloads, donations, services, subscriptions, and gift cards.
Some sweet features are abandoned cart recovery and real-time shipping rates. Another plus is that It's easy to use so small business owners can set up whatever they want without needing a developer.
I like the business tools. It connects with Quickbooks, Mailchimp, TaxCloud, and ShipStation. But these tools are only available if you take their premium plugin of $99/year.
There's a free version, but you don't get marketing options, and you pay a 2% fee on integrating Square, Paypal, and Stripe. You could also go for the middle plan at $69 per year. While that's better than the free plan, you'll be limiting yourself from integrated email marketing, connecting affiliates, and the business tools. Those may not matter to you though.
WP Easy Cart Pros
Abandoned cart auto recovery
Works with many business models
Marketing and business tools available
WP Easy Cart Cons
2% application fee for payment gateways
No upsell/cross-sell
Paypal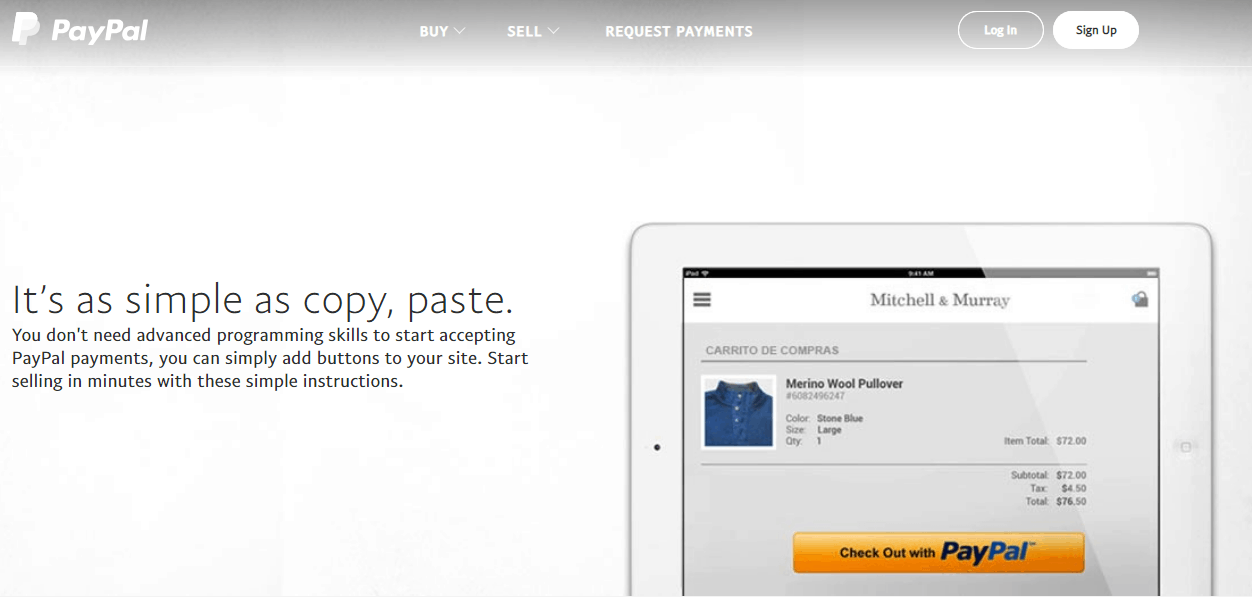 Sometimes, you don't want to spend time on building the platform when we have a few products. In this case, the PayPal buy button will come in handy. It's the simplest ecommerce solution.
You can place the button anywhere on your website. With it, you can accept payments, allow users to add items to their shopping cart and checkout.
Customers pay with their PayPal account, credit card, or debit card. It's not much because you are not getting an ecommerce platform or a fully-integrated ecommerce plugin. Rather, the plugin makes collecting payment easy.
You can also manage your inventory, create subscriptions and gift certificates. But don't expect more advanced features like upsells and cross-sell.
Paypal Plugin Pros
Great option for simple ecommerce stores
Hosting-space effective
Paypal Plugin Cons
Not an ecommerce platform
Not enough features for most store owners
No marketing features
Shopify Lite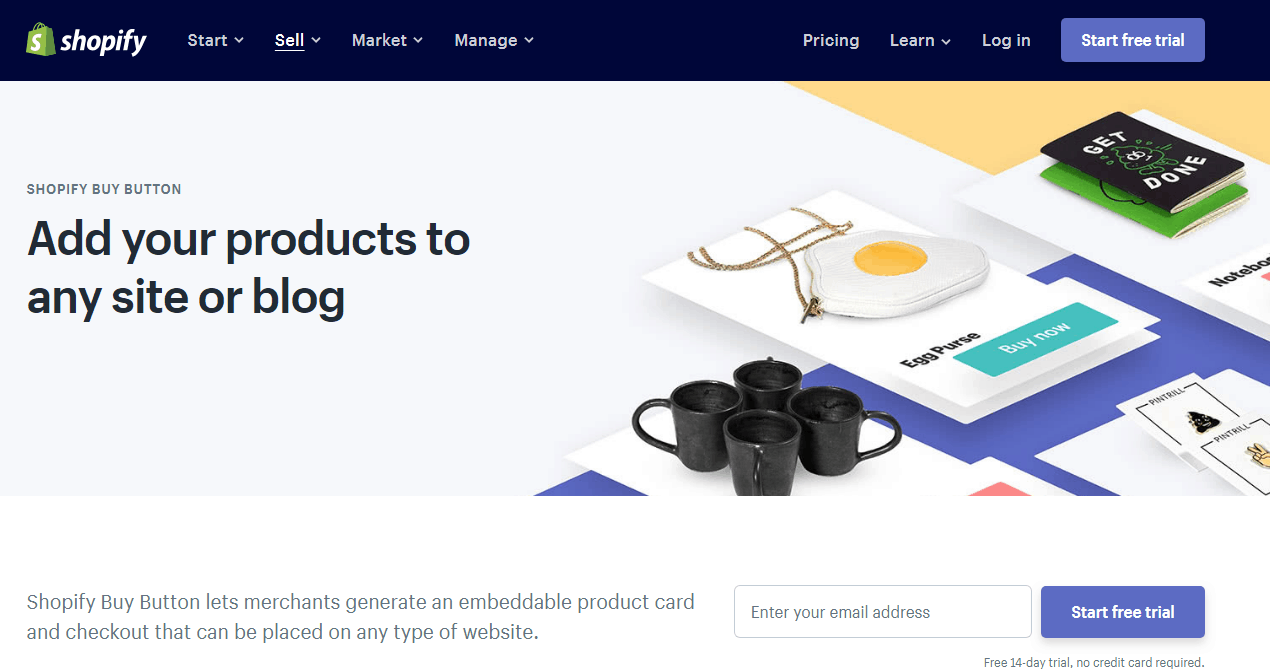 Shopify used to have a native ecommerce plugin but stopped that. They now have just the buy button.
You can get that from the Shopify Lite plan at just $9 per month. If you are looking for a buy button with an admin interface that allows you to manage orders, shopping, sales, and payment, it is a good option. They have tutorials on how to set up the buy button on your WP site.
With Shopify Lite, you can build custom storefronts and sponsored content on any page or post on your site. In using the buy button and in extension Shopify Lite, you have access to the mobile POS app.
Also, you can sell on Facebook. It can sync your two stores. You can manage your inventory, marketing, analytics, channels, and products from the Shopify dashboard.
Along with the button, you also get an integrated dashboard with tools that allow you to manage inventory and payments. As for payments, you can use card/electronic payments or send an invoice. To process it, you either use one of the payment processors – Stripe, PayPal, or Square – offered by Shopify or use Shopify payments.
Shopify Payments isn't bad and it may be more cost-effective. Without Shopify Payments, you pay 2% transaction fees plus whatever your processor also collects. On the other hand, Shopify Payments charges 2.9% plus $0.30.
If you don't understand Javascript, HTML, and CSS, you'll have issues with customizing the button and the way products show on your site. That's because you'll need to embed code on your site for it to work. In doing so, you might want to edit the default look.
Shopify Lite Pros
Cost effective for small business
Little bit of multichannel
Marketing – discount codes
Shopify Lite Cons
Payment processing fees
Need coding knowledge
What WordPress Plugin Are You Choosing?
Now that you know what WordPress Ecommerce plugins work best for a simple store, which of them have you decided to use? If you are still confused, reach out in the comments.