WordPress is the ideal platform for creating a video website. Whether you want to build a portfolio website to display your own digital creations, or you need to develop a membership site that contains protected video content, the themes in this collection will make it easy to complete either type of project.
Furthermore, thanks to the features of WordPress and its ever-expanding library of plugins and add-ons, if you want to build a video sharing website, similar to YouTube, then you can easily do that too. Essentially, whatever type of video website you want to make, such as a movie promotion site or online news portal, with WordPress and the right theme, you should be able to do it yourself.
All of the themes in this collection are mobile responsive to ensure your smartphone and tablet users can access your site and view your content. However, when shopping for the best video WordPress themes, there are some other optional features to look out for. Most of the themes here include YouTube integration for importing content from this popular video sharing service into your own site.
Some of these themes include full support for the BuddyPress social networking plugin. By using this plugin, you can add social media features to your site. This can include video commenting, sharing, and discussion. These features are worth considering as they can help you build a community around your website, and give it that all-important interactive edge.
If you want to build a video website with WordPress, the themes below are the best options for doing so.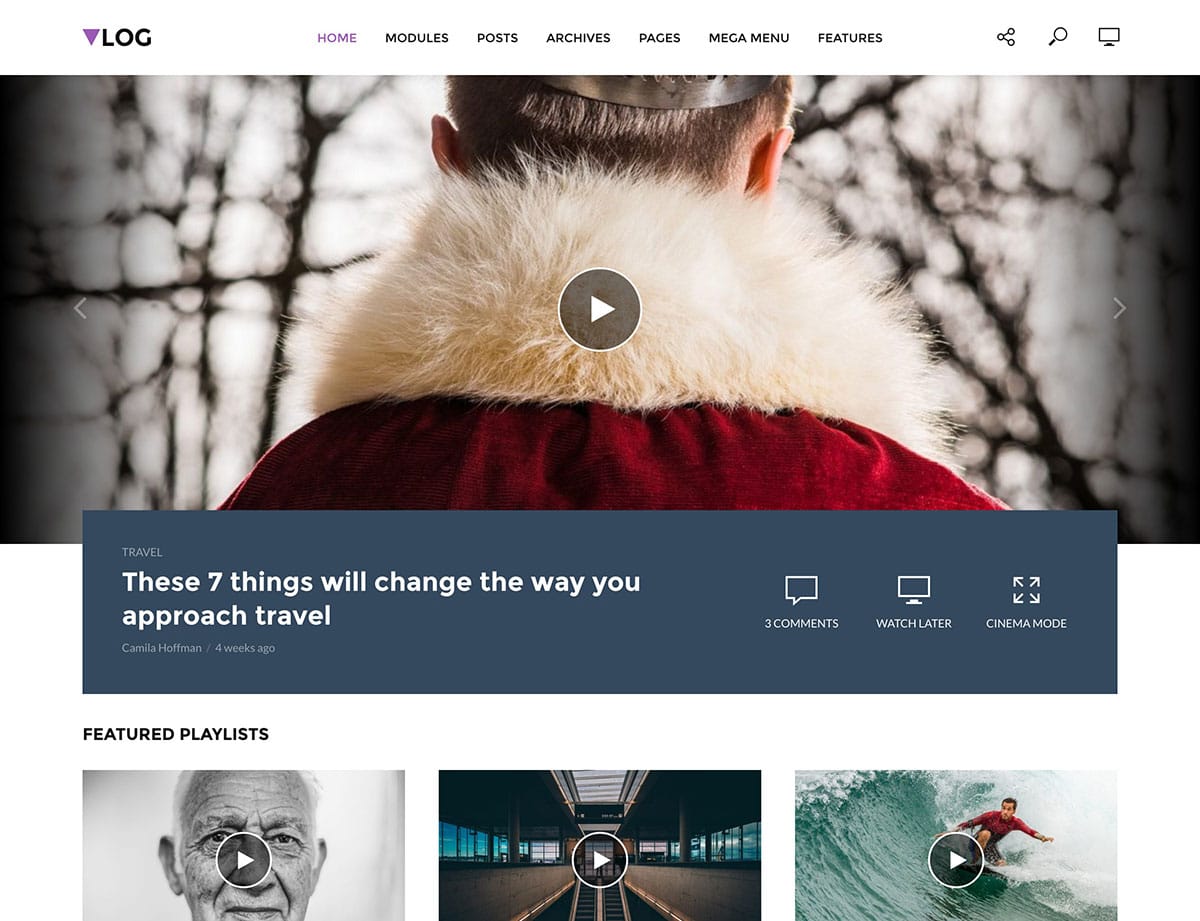 Vlog is a stylish video WordPress theme that can be used for a wide range of projects. Whether you're creating a website to post your vlogs to, you want to build a video news or magazine style website, or somewhere in between, Vlog has everything you'll need.
To help you get setup as quickly as possible, Vlog includes a selection of modern demos. These demos cater to solo vloggers; those who want to promote themselves, their products, and services online using video; and anyone who wants to create a multimedia video content site.
Whichever demo mode you choose, you'll be able to effortlessly publish your videos on your site, whether you're uploading them directly to your WordPress installation or importing them from popular video sites like YouTube, Vimeo, or Dailymotion.
Thanks to the varied selection of page templates that make up the Vlog theme, you can easily choose the perfect layout for your content each time you add a new video to your site. This theme also has the ability to automatically detect and create video thumbnails and publish them on your site, with no extra effort required on your part. There are also plenty of options for monetizing your website with Vlog.
To help your visitors get the most from your site and its content, Vlog gives them the ability to save videos for playback at a later date, watch the videos in full-screen cinema mode, and much more.
If you want to create a modern and stylish video website, Vlog offers plenty of flexibility.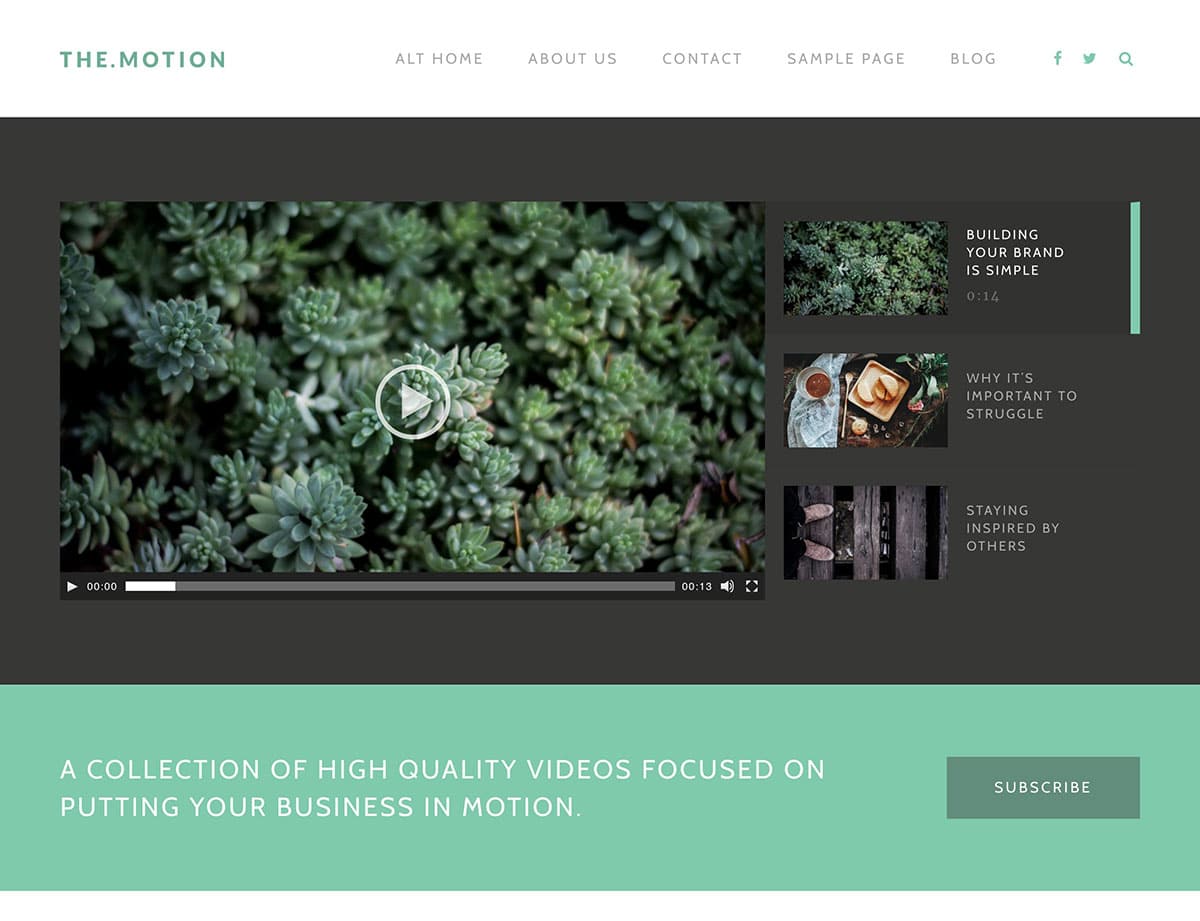 TheMotion is a professional video blogging theme for WordPress that combines great looks with an impressive set of features.
Once you've uploaded this theme to your WordPress website, it only takes a few clicks to import the demo content and lay the foundation for your new video blog. Then, in just a few minutes, you can start adding your own content to the site, including any videos you want to share online.
If you want to give your website a more custom look, then the theme options and settings of TheMotion give you a good amount of control over your WordPress site, without overwhelming you with too many decisions to make.
Through the WordPress Customizer, you can personalize the colors used on your website, reorder the homepage content blocks, and tweak other aspects of your site in real time. TheMotion also gives you plenty of freedom when it comes to setting the background content of your pages. Custom image backgrounds, slideshow backgrounds, and video backgrounds are all available with this popular video WordPress theme.
Thanks to this theme's full support for the powerful WooCommerce plugin, you'll have no trouble charging your audience a fee to consume your content. Therefore, whether you want to sell downloadable video files from your site, or protect your video content behind a paywall, TheMotion and WooCommerce can provide you with all the tools and functionality you need to monetize your video website.
TheMotion can be purchased by joining ThemeIsle's theme club, which gets you access to over 20 other WordPress themes. This helps to make TheMotion one of the best value options in this collection.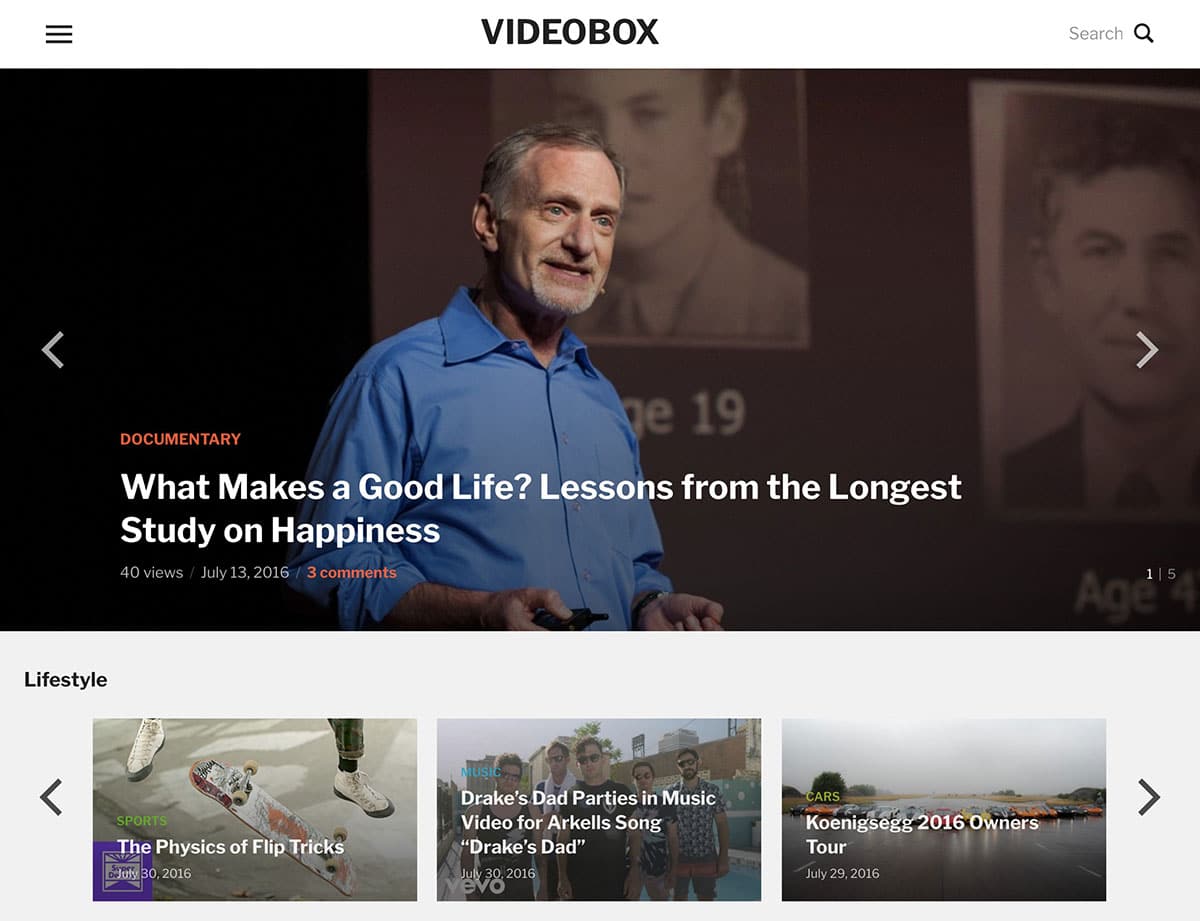 VideoBox aims to be a versatile WordPress theme that can be used to create a range of different video-based websites.
Whether you want to create a website for your video blog, build a home for your favorite clips, or setup a professional online portfolio for your own videos, VideoBox gives you plenty of options. When it comes to adding video content to your WordPress website, VideoBox includes full support for quickly and easily importing content hosted on sites like YouTube, Vimeo, Facebook Video, and many other platforms and services. However, you also have the option of hosting your video content yourself, and then embedding those files into your posts and pages.
VideoBox has a handy feature that will automatically generate thumbnails for any videos you add to your site, provided they are hosted on certain sites, such as YouTube, Vimeo, or DailyMotion. For other video sources, you'll need to create the featured images manually.
Other notable features of VideoBox include a popular videos feed that will help your visitors find more of your best content, a widgetized homepage that makes it easy for you to rearrange the homepage modules in the best way for your project, a video carousel widget for quickly creating slideshows, and a good amount of customization settings and controls. You also get access to detailed documentation with VideoBox, helping you to make the most of this powerful video WordPress theme.
Although you can purchase VideoBox for just $69, if you take advantage of the WPZoom all themes package deal, you'll get access to VideoBox and over 40 other themes for only $199.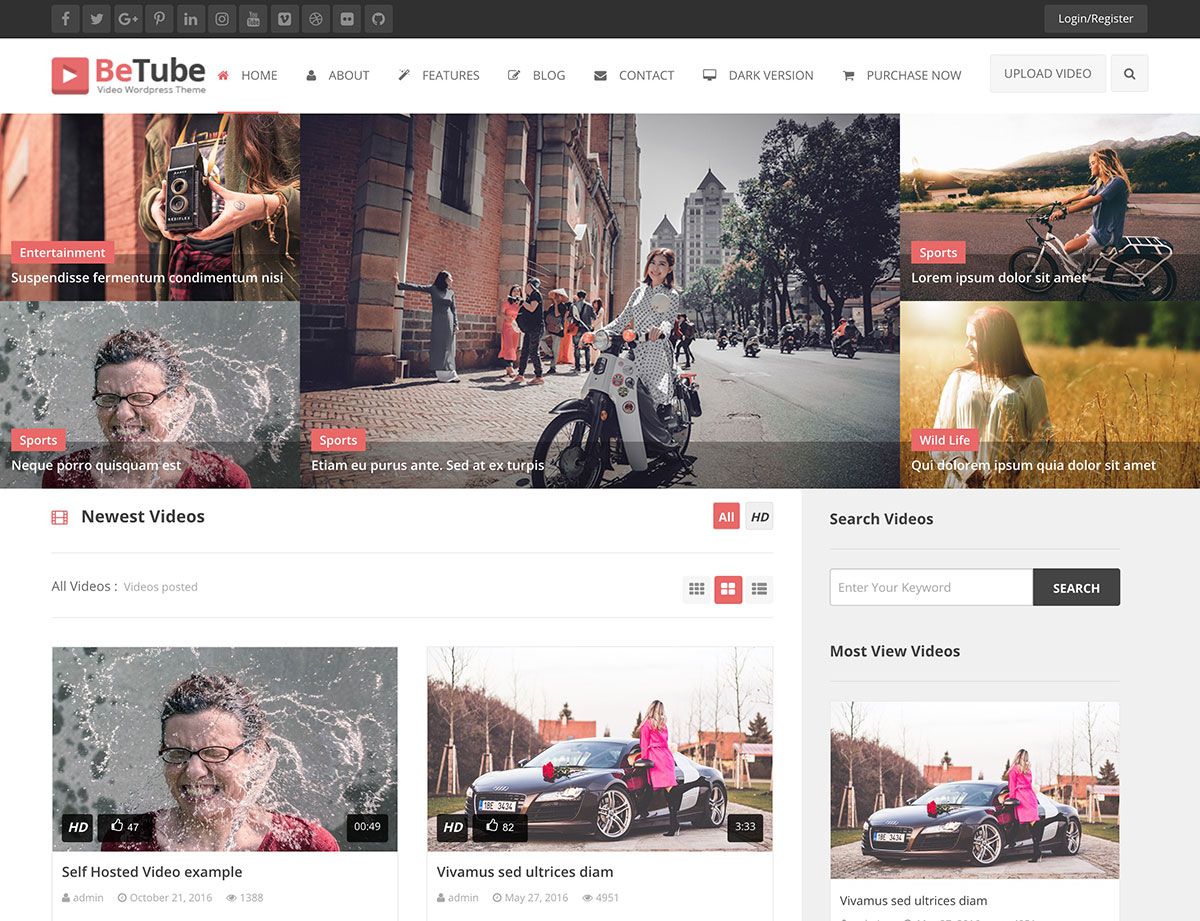 BeTube is a flexible video WordPress theme that's ideal for creating a video sharing website.
With BeTube you get 10 different homepage designs to choose from when creating your video website. These homepage designs can be imported into your WordPress site in just a few clicks, helping you get your new website up and running in no time at all. You can view all the 10 homepage demos on the BeTube demo website to see what this theme has to offer. Once you've made a decision, the developers of this theme will set up BeTube for you at no extra cost.
Another impressive feature of BeTube is the ease with which your visitors can sign up and start uploading their videos to your website. If you're creating a video sharing or community website BeTube certainly has all the features you'll need. Through the front-end forms, your visitors can quickly login or register. Once they've done this, they can then share videos that are hosted elsewhere, or upload their files directly to your website. Of course, you have the option of disabling video hosting if you don't have the storage space of bandwidth to facilitate this.
When it comes to monetizing your website, BeTube isn't lacking in features here either. Thanks to the included video advertising plugin, you can choose to display adverts before videos, as well as display video ads on your site, alongside Google AdSense and image ads.
BeTube is also packed with customization options and tools, giving you an easy way to tweak the appearance of your video website. This powerful video WordPress  theme will also automatically generate thumbnail images for your videos. A full series of video documentation is also available to help you get the most out of this theme.
BeTube is packed with features and design options, making it one of the most powerful and flexible options in this collection of video WordPress themes.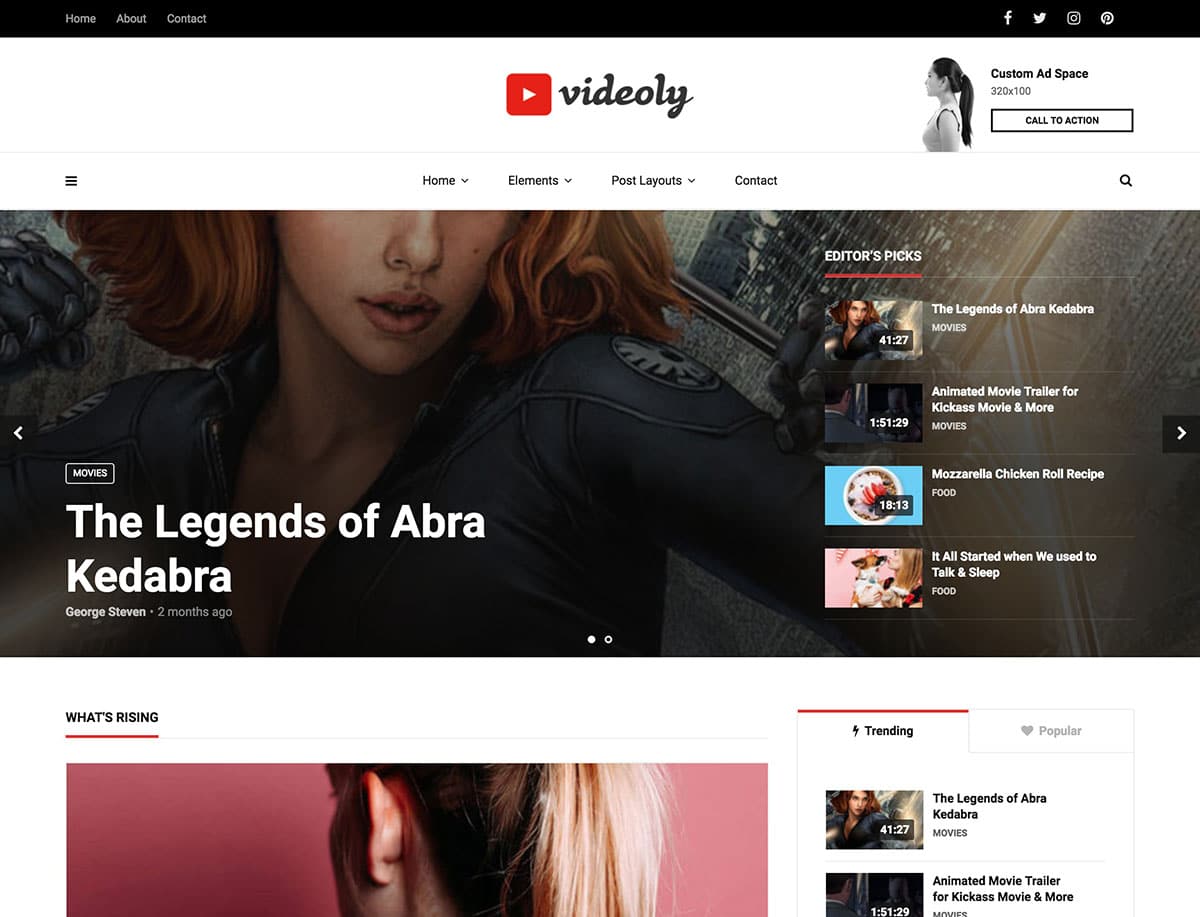 Videoly gives you many different ways to incorporate video into your WordPress website.
Whether you're a blogger, YouTuber, or vlogger, the Videoly WordPress theme could be just what you're looking for. The nine different homepage layouts offer plenty of options when it comes to how you welcome visitors to your site. Regardless of which demo design you choose, you'll be able to display many of your best videos on the homepage of your site. This should give you a good opportunity to catch the attention of your visitors as soon as they arrive at your homepage.
Once a visitor clicks on a video thumbnail, you can either have it play right then and there or instead, opt to take the visitor through to a specific page on your website that contains the video. Again, with Videoly, you get access to lots of options covering how your website works.
Another way this theme is able to help you create the right type of website for your project includes providing you with multiple article templates. Now each time you publish a new post on your blog, you can choose from a range of layouts to ensure your content presentation is just right. These layouts all include space for inserting videos into your content. However, they work just as well with text and images.
If you want to create a custom designed video website, you'll be pleased to learn that Videoly includes the Visual Composer drag-and-drop page builder plugin. There's also a good set of customizer controls and settings, making Videoly a truly flexible option in this collection of the best Video WordPress themes.
If you're looking for a new and feature-packed video WordPress theme, Videoly definitely deserves a place on your shortlist.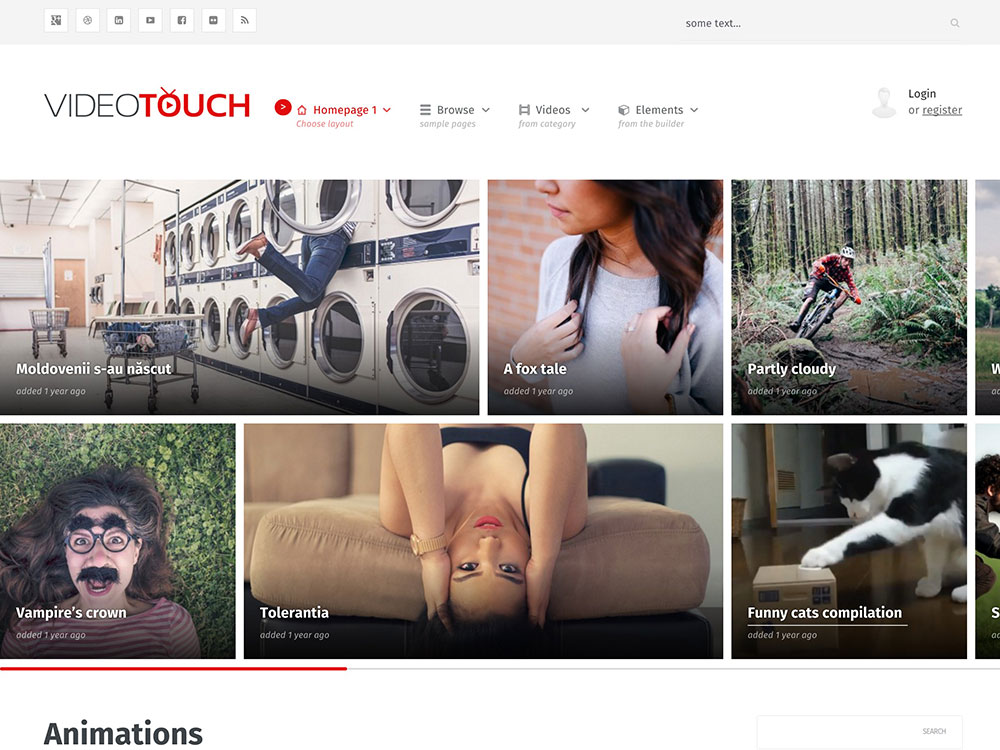 VideoTouch is a highly flexible theme that has been built specifically for creating a website to display video.
Whether you are curating a collection of videos or creating an online portfolio for your own videography work this could be the theme you are looking for.
When it comes to setting up your website, you get plenty of opportunities to add your own personality to the project. This comes courtesy of the large number of layout options, which can be combined to help you create a unique presentational style for your website. Along with the unlimited color scheme combinations on offer, there is no reason that any two websites built with the VideoTouch theme should look alike.
As you'd expect from a modern WordPress theme such as this, VideoTouch is fully responsive. However, when your website is viewed on a mobile device, none of your content will be hidden, such as sidebars, or other content blocks. This helps to ensure this growing demographic of mobile visitors won't miss any of your important content.
Thanks to the included support for the highly extensible WooCommerce plugin, if you want to sell products or files from your website, or take payment for your services, then VideoTouch has got you covered. Part of this WooCommerce plugin support includes multiple custom product layout templates and purpose built shopping cart and checkout page templates.
VideoTouch is a clean and crisp theme that aims to load as quickly as possible and deliver a consistent user experience across different platforms and devices.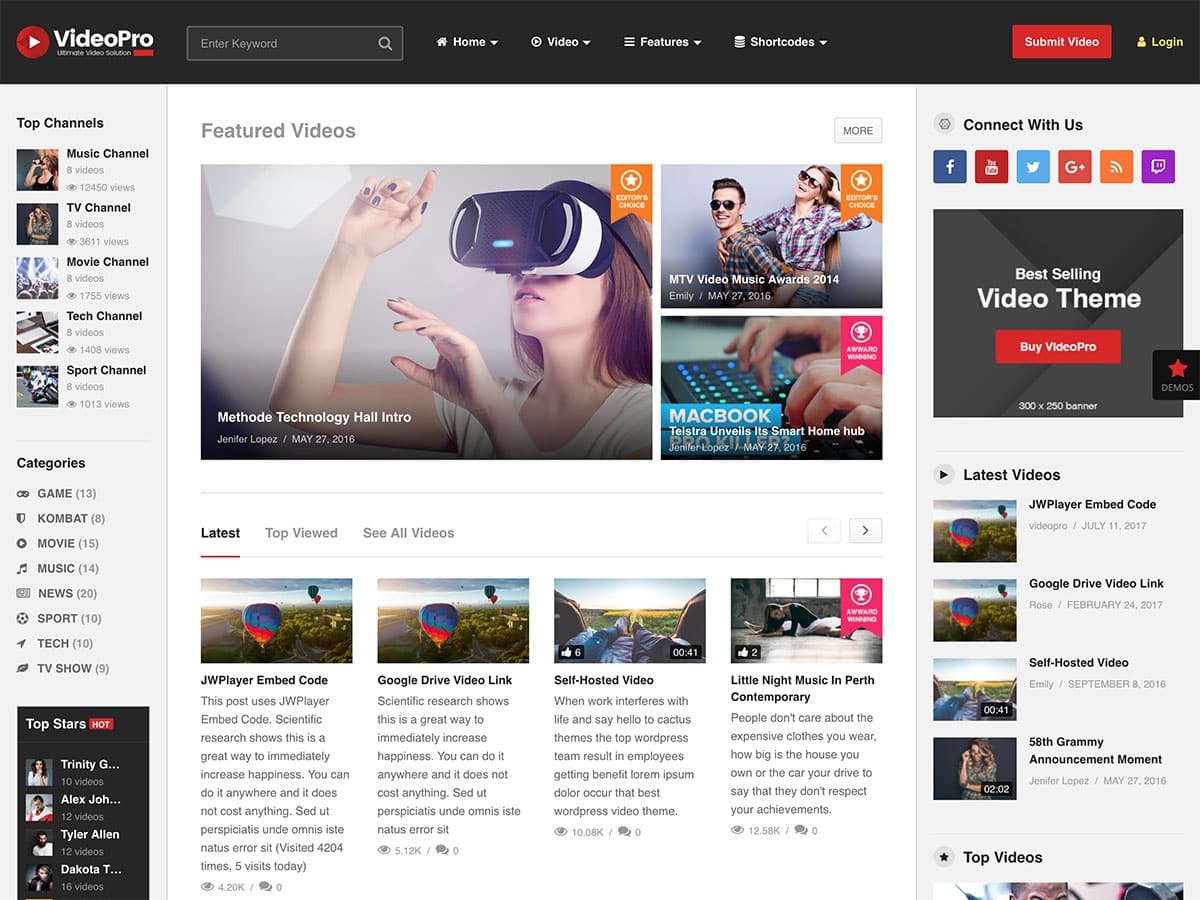 VideoPro is a well-established WordPress theme for anyone creating a video-focused website.
Since the release of version 2.2 of VideoPro, this theme is now even more mobile-friendly than ever before. With support for Google AMP and Facebook Instant Articles, you can ensure that your website content, especially the videos, look great no matter what devices they're viewed on and what platforms they're shared on. If video views are important to you, choosing a highly mobile responsive WordPress theme is always a good idea.
Thanks to the many other useful features of VideoPro, this theme should be a suitable choice regardless of what type of video website you want to create. From video portfolios and magazine websites with video content to premium membership sites with protected content and community sites, VideoPro is more than up to the challenge of setting up this type of project. The recently added membership features give you lots of control over who can access what and when on your site.
If you do want to make your video website as interactive as possible, then the full BuddyPress plugin support should come in handy. By using this free plugin and its library of add-ons, you can add many of the most popular social networking and community building features to your WordPress website. Content sharing on all the main social networks, like Facebook, Twitter, and more, is supported out of the box by VideoPro.
VideoPro has a wealth of features that should really be seen to be fully appreciated.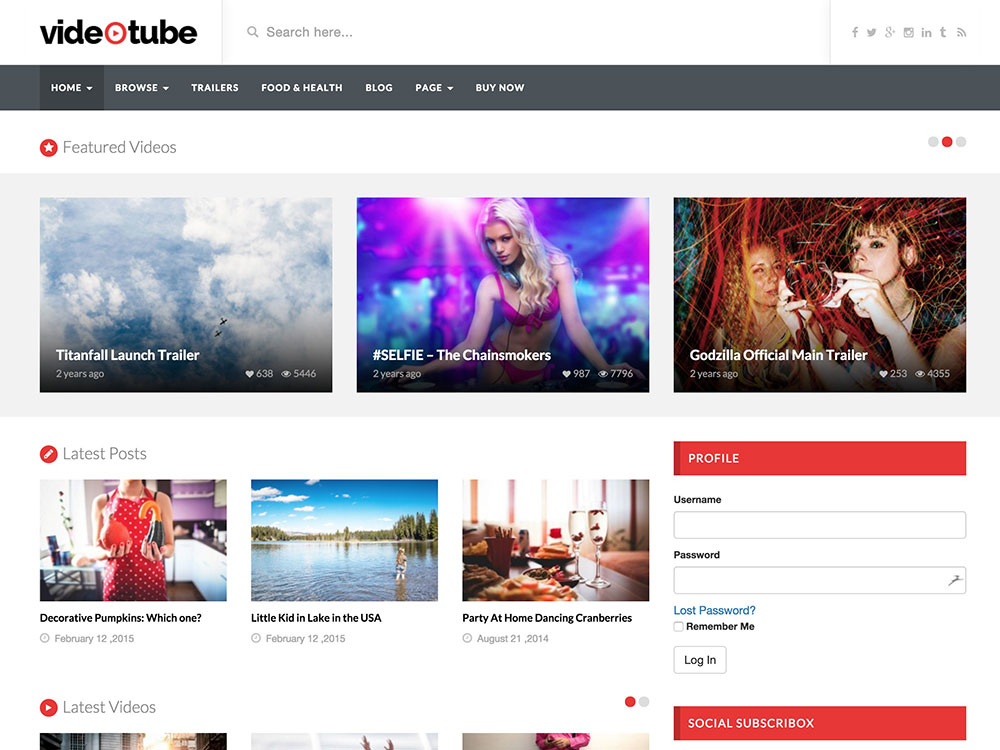 VideoTube has a look and feel that mirrors the popular social video sharing platform. The responsive theme allows users to embed or upload videos and the homepage is easy to build with plenty of widgets. The theme includes automatic video resizing for thumbnails, has a like button and view counter and comes with easy to change theme colors.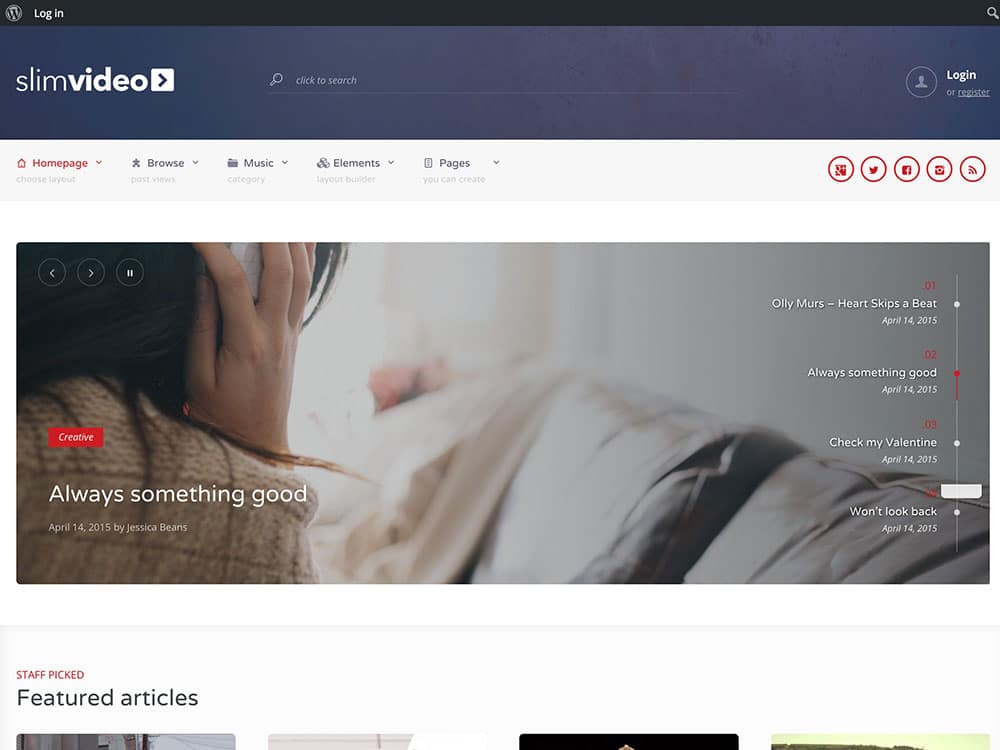 Slimvideo combines a modern and responsive design with some useful features to help you build the video website you need with WordPress.
With Slimvideo, you get plenty of presentation options to choose from to help you display your video and written content in the right way. This is delivered via the use of WordPress custom post types. This means that your video content is easy to organize on the back-end, while also being easier to find and navigate on the front.
As well as the video custom post types, you will also find a custom gallery post type for creating collections of your video content. There's also an events custom post type to make use of if you are going to be creating offline or virtual events for your audience or promoting the events of others.
As well as full ecommerce capabilities, thanks to the support for WooCommerce, Slimvideo also includes support for the BuddyPress plugin. This free extension makes it easy to add social networking features to your website. This can be as basic as making it easy for your visitors to create user profiles and post content, right through to adding a full-blown messaging system, group discussion, and communication areas to your website.
Other useful features of this theme include multiple post layouts, a drag and drop page builder tool, pre-built slider templates, and all the demo data you need to get your site up and running as quickly as possible.
With a great selection of ready to go layouts to choose from, Slimvideo aims to help you get your site online in no time at all.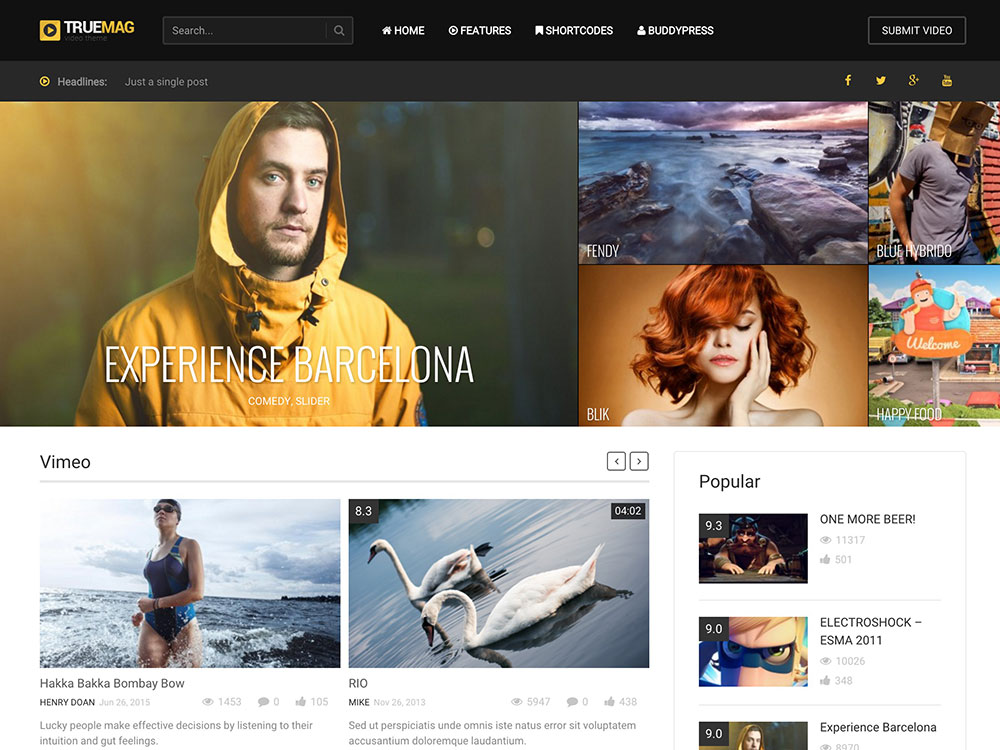 True Mag comes with over 10 demo versions that can be applied to your WordPress website at the touch of a button.
If you are looking for a flexible template for your video website, True Mag could be just what you are seeking. As well as the multiple demo versions that can be quickly and easily imported into your website, you get many options for how your videos will play and be displayed.
Some examples of the video functionality provided by True Mag and its plugins include a tool for displaying video ads, video auto-play tools, and the ability to accept user-generated video submissions through the front-end of your site. Therefore, no matter what type of video website you are planning to build, from a small videography portfolio or a straightforward video blog, through to an online community-led video repository, True Mag should contain everything you need.
This theme also makes it very easy to integrate your website with your YouTube channel. Through the theme options, you can display the feed of videos from your YouTube channel through a great looking template. However, with True Mag, if you want to self-host your videos and display them on your site, that isn't a problem either.
True Mag might've been released over a year ago, but this theme has been constantly updated and improved to ensure you are getting an innovative theme for your website.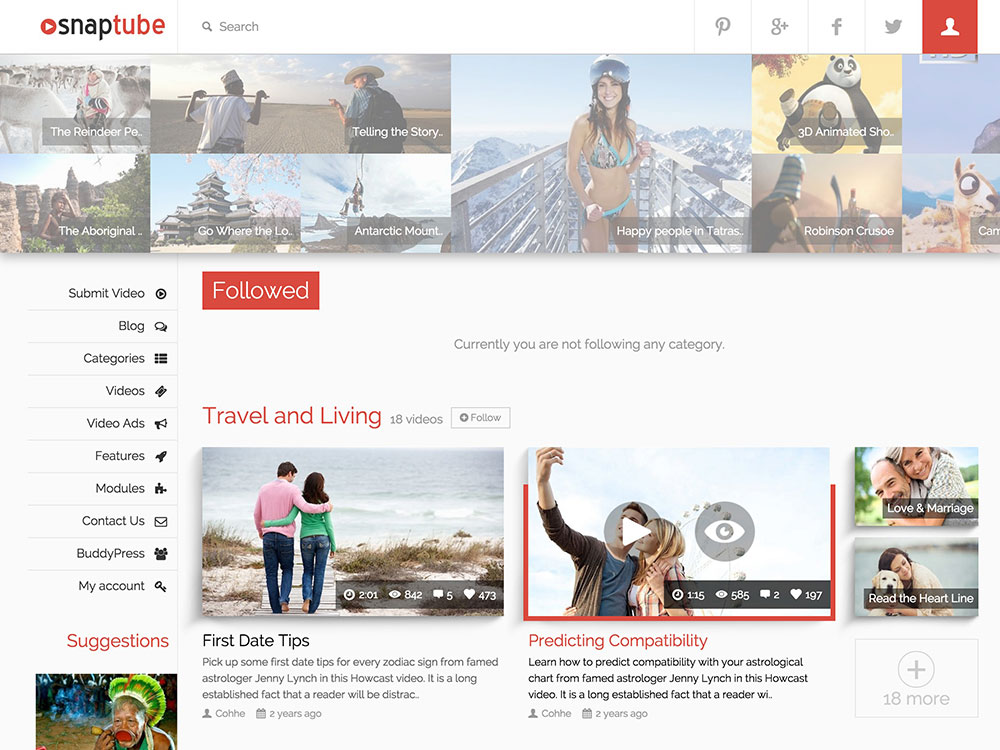 Snaptube has been created by the Cohhe team to help you build a video publishing website with WordPress.
The default homepage layout of this theme makes it easy to display all of your best video content in one easy to navigate place. Each video thumbnail can display a caption, the play button, and length, as well as the number of views, comments, and likes each item has received.
When a visitor clicks on a video thumbnail, they will either be taken straight to the video, or the post that contains the video and its description will load. Other options available with Snaptube include the AdRotate plugin, which makes it easy to display adverts on your site and start monetizing your content. You will also find full BuddyPress support should you wish to add social networking functionality to your site.
The theme options control panel of Snaptube gives you the ability to customize many aspects of the theme, all through the comfort of your WordPress dashboard as opposed to digging into the code and template files. You'll also find a premium drag and drop page builder included in the package in the form of the best-selling Visual Composer plugin.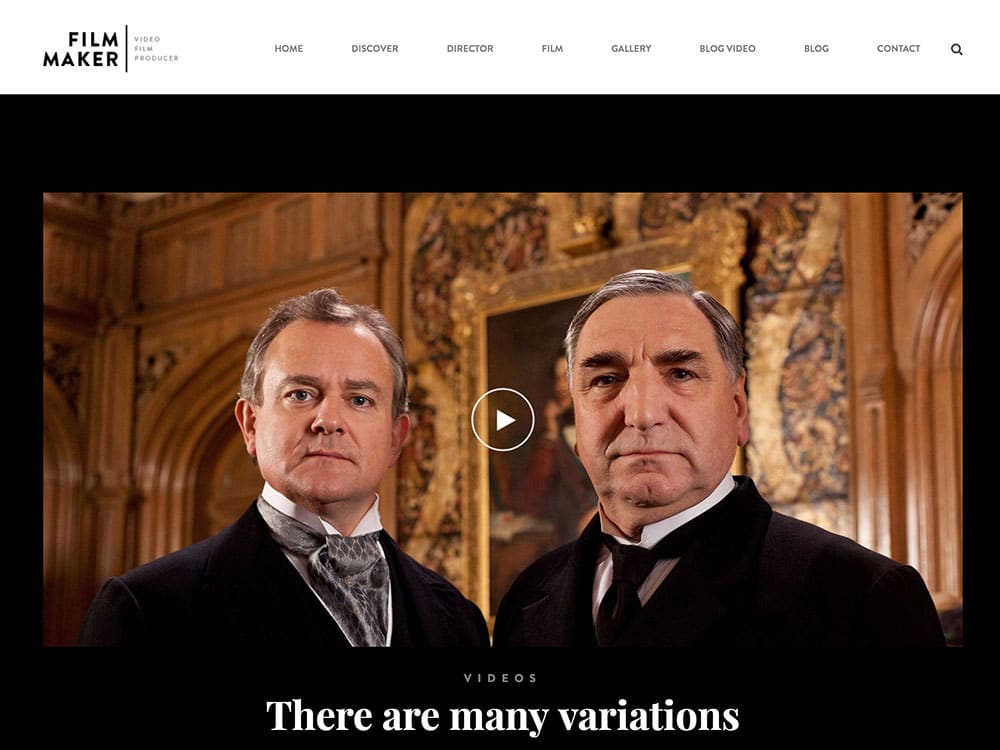 FilmMaker has been created to help anyone build a video-focused website with WordPress.
Whether you want to give your creative agency website a professional look, or ensure that your WordPress-powered vlog appeals to your audience, the FilmMaker video theme aims to provide you with everything you need.
When using FilmMaker to build your website, you get four different homepage layouts to choose from. Therefore, whether you want to promote your videography services, display your video portfolio online, or simply create a stylish home for your video content, FilmMaker gives you plenty of options.
As well as the multiple homepage layouts you can choose from, the FilmMaker WordPress theme includes the powerful Visual Composer page builder plugin. This tool gives you an easy way to customize any of the pre-built layouts that make up FilmMaker, or create your own from scratch.
If you want to design a website to promote a film or other video project, the pre-built page templates that make up this theme will help save you a lot of time. In the FilmMaker package, you'll find directory, crew, film detail, and image gallery page templates to make use. There's also a range of blog layouts, including video blog templates, full-screen video templates, and more.
Adding video backgrounds to your website is easy with FilmMaker, as is importing the demo content to setup your website, and creating video slideshow displays. This video WordPress theme also incudes a number of header layouts to choose from, over 600 Google Fonts, and full social media integration.
FilmMaker is a flexible WordPress theme that can be adapted to suit a wide range of video-related projects.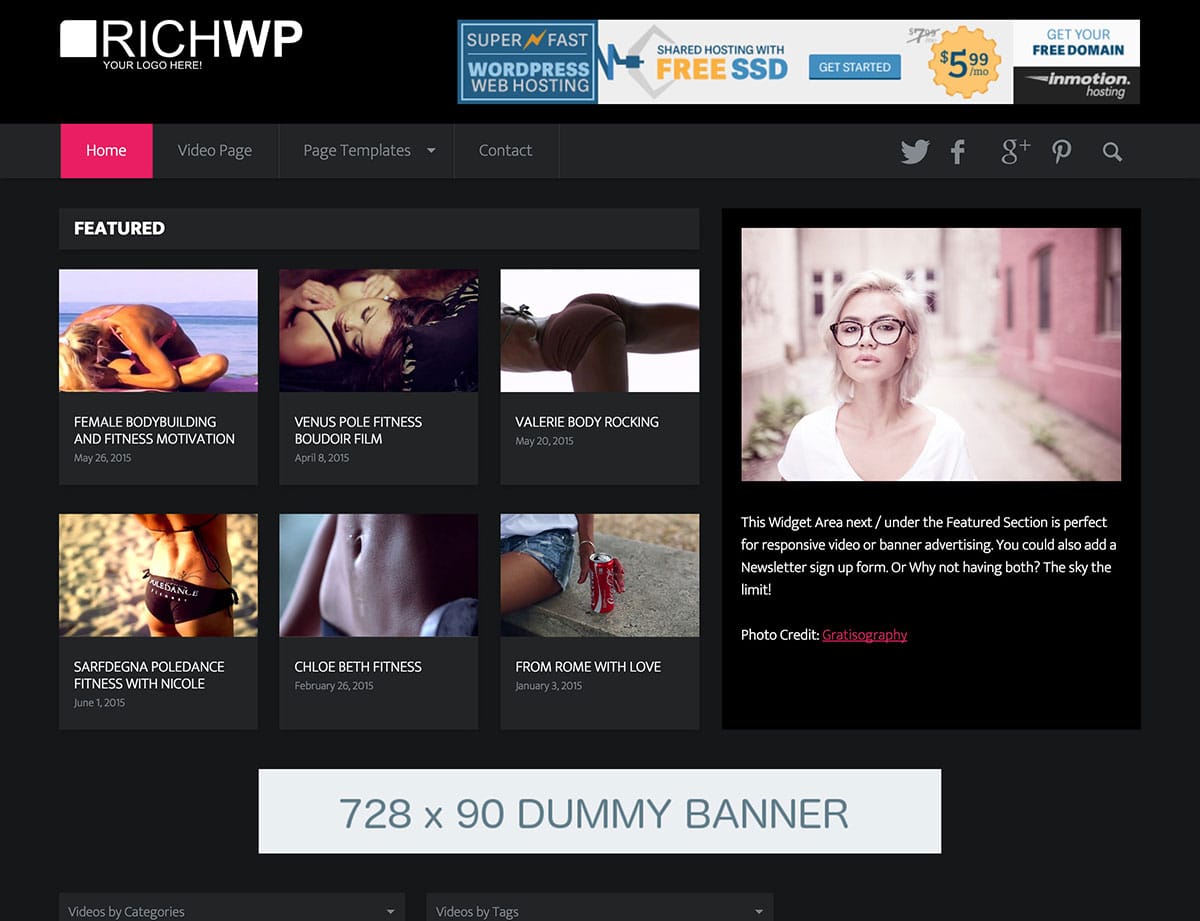 Video World has just the right layout and design to make it a great choice for creating a video website with WordPress.
When setting up your website, Video World gives you the option of using the default layout to create a video-packed homepage. As soon as visitors arrive at your website, they'll be able to quickly check out the featured videos, before scrolling down to filter the content by category or any other criteria of your choice.
There's also a very handy widget area on the homepage to make use of. This area gives you the option of displaying the purpose-built about widget. This about widget could be used to display an introduction or welcome message for your visitors, or alternatively, some advertising content.
When a visitor does click on a video from the homepage, they are taken to the individual video page. From there, they can choose to play the video, read the description, and check out the sidebar and footer content. Thanks to this theme's oEmbed support, adding videos to your site is as easy as just pasting in the video URL.
By the time your visitors have reached the bottom of your page, they'll have seen a great selection of videos as well as a number of optional advertising spots. At the end of the page, there's a number of footer widget areas to take advantage of and display even more of your great content.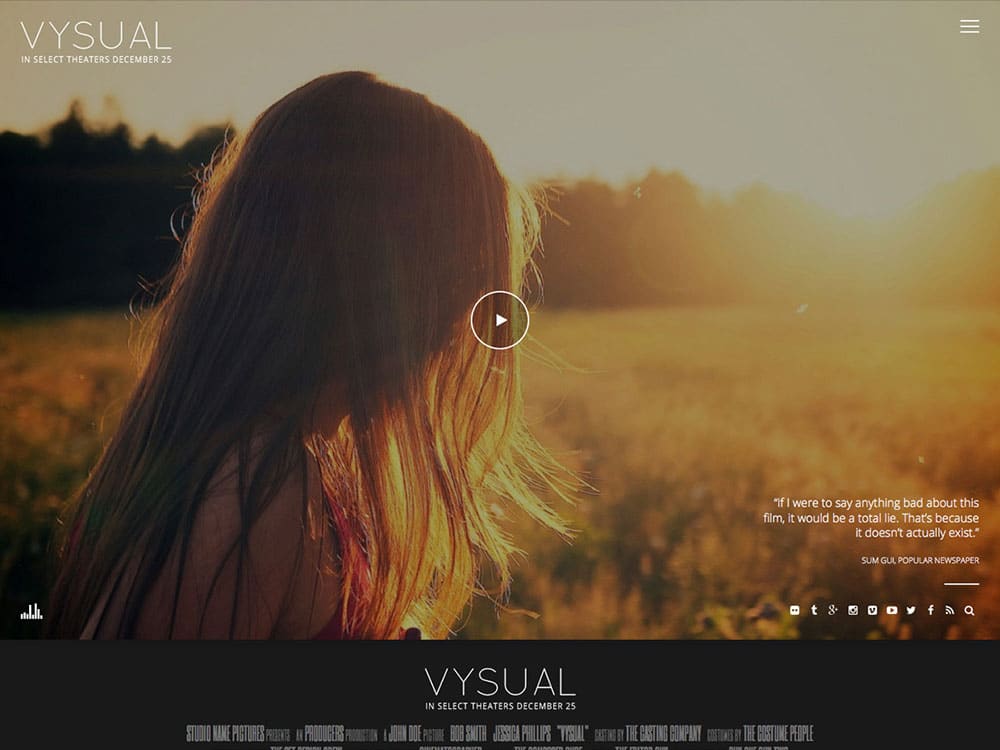 Vysual has been created especially for anyone who needs to build a website to promote a specific movie or other type of video.
If you are familiar with the official movie websites that are used to launch new releases at the cinema, then you already have a good idea of what this theme can do. The demo version of Vysual looks just as good as those professional official movie websites and it's great to know that you can create the same type of site by using WordPress and an affordable off the shelf theme.
When setting up your website with this theme, you have two main options to choose from. You can either configure your homepage to display a full-screen slide show or a video background. Both options work really well and your visitors will appreciate being able to either scroll through stills from the movie or view a video clip, such as the official trailer.
When it comes to adding videos to your site, including the optional full-screen video background, you can easily choose from a range of sources. This includes videos from YouTube, Vimeo, and self-hosted files. There is also an audio player feature if you are creating a website to promote a new music release.
Vysual offers everything you need to create a movie promotions style website, right down to the poster credits-style formatting of the footer.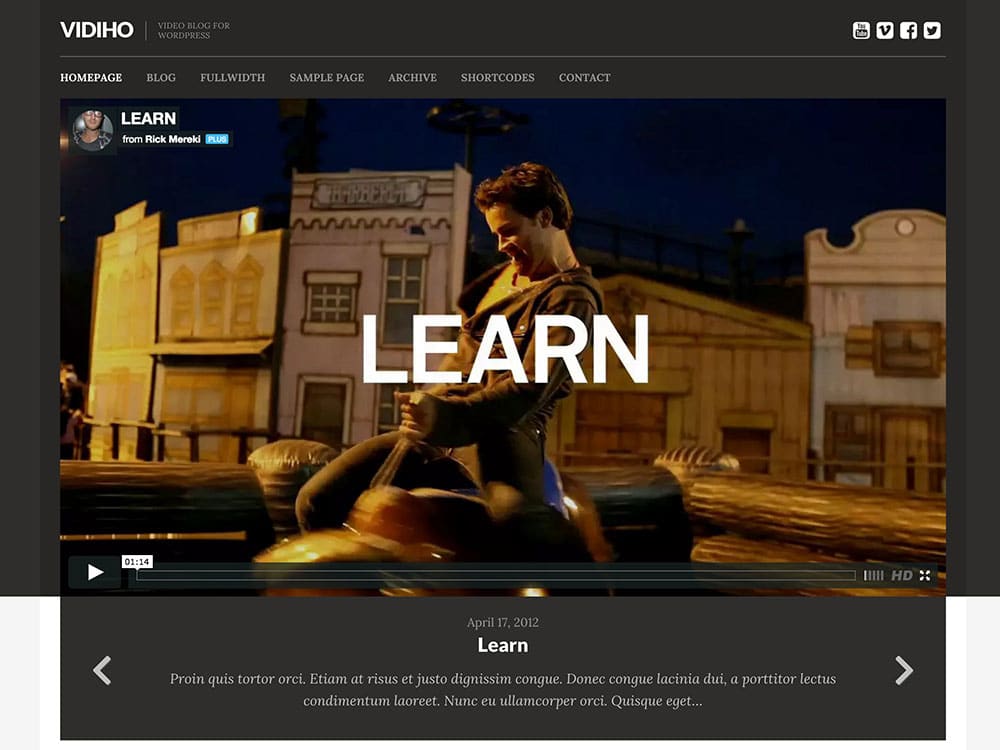 Vidiho makes use of WordPress's native functionality for ease of video embedding. The homepage includes a large slider that is optimized for high definition video. This theme also includes the option for more traditional blog posts for pages without video and plenty of sharing tools.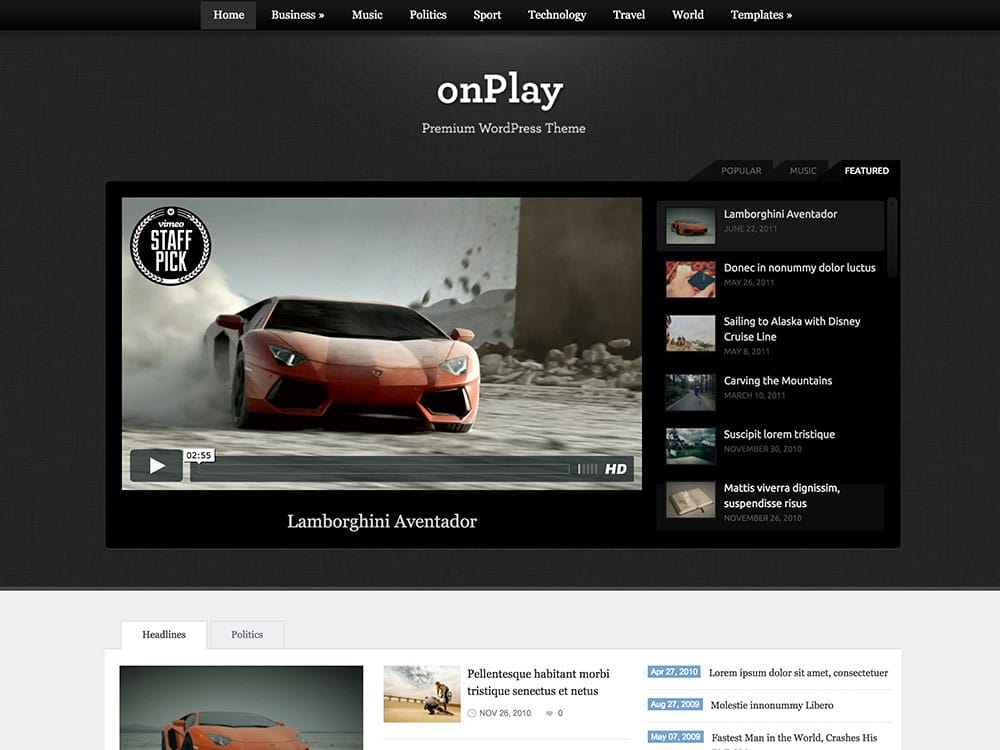 onPlay is a magazine-style theme with a featured slider for showcasing videos. The theme features a widgetized layout with drag and drop components. Custom post options allow for a flexible video layouts and design options.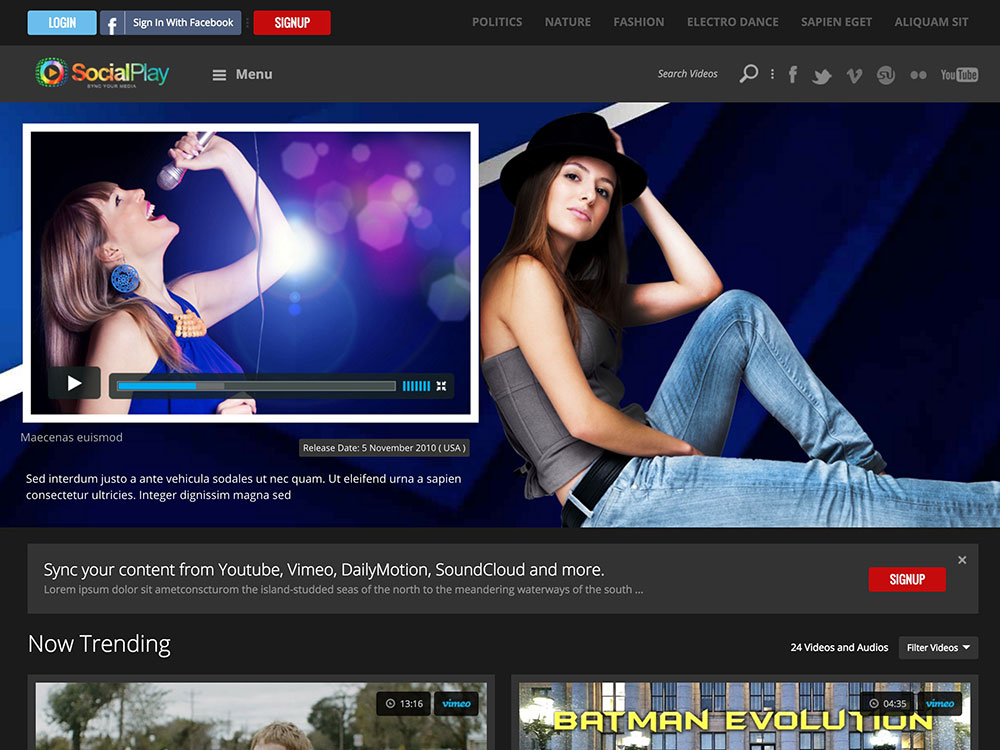 SocialPlay is designed for showcasing video and sharing it across a variety of channels. The fully responsive theme integrates with YouTube, Blip, Vimeo, DailyMotion, uStream, SoundCloud and Metacafe for easy video embedding. Plus, this powerful theme includes plenty of customization options and custom graphics.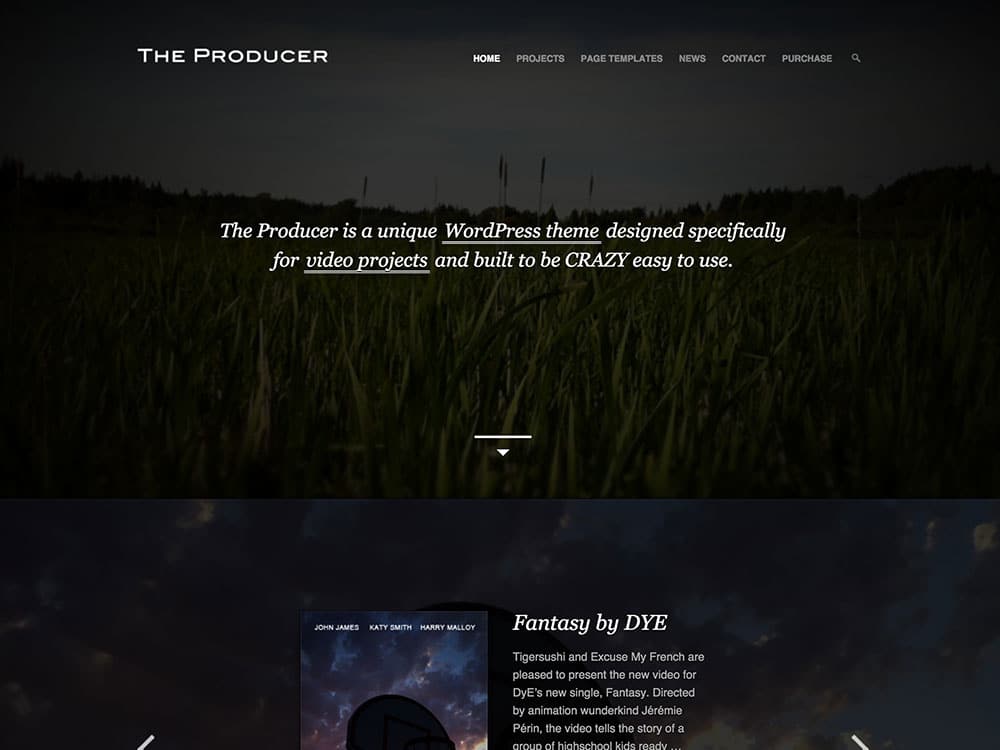 The Producer is designed for studios and film producers. This responsive theme features a traditional rolling credit effect. The Producer also includes light and dark themes, customization of the background and free support and upgrades.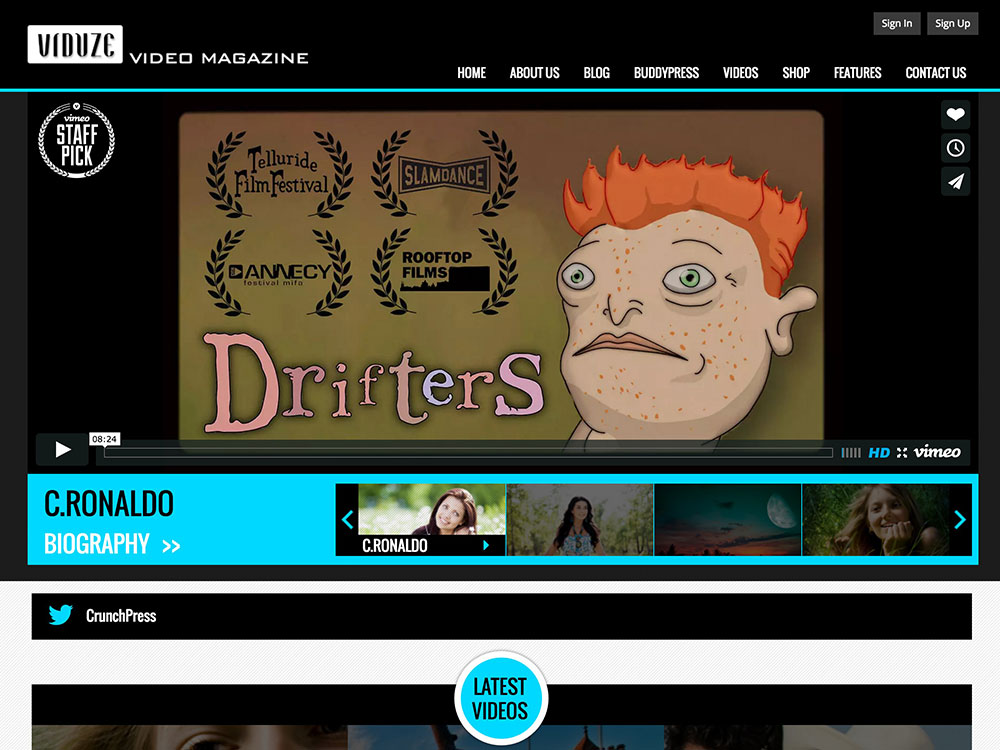 Viduze is an exciting choice for anyone building a video magazine website.
Not only do you get a modern and fast loading design with this theme, but you also get plenty of page layouts and templates to choose from when publishing new content on your site. There's also a powerful theme options control panel on offer, making it easy to customize many aspects of your site.
Thanks to the full support for the free and powerful BuddyPress plugin, adding a social media component to your site is a breeze. This means you have the option of letting your visitors sign-up and create an account on your site and begin sharing their favorite videos. Through the detailed controls and settings of BuddyPress, you could instead simply give your visitors the ability to comment and discuss the video content you upload.
You'll also find full WooCommerce compatibility on offer with Viduze, giving you the option of charging a fee for access to your files or any of the other items available on your site. Getting your site online shouldn't be too much trouble either. Thanks to the one-click demo content installer, you can quickly import the outline of this theme and then start adding your own content.
If you like the look of Viduze then it's safe to say that this theme has all the features you need to build a video magazine or news site with WordPress.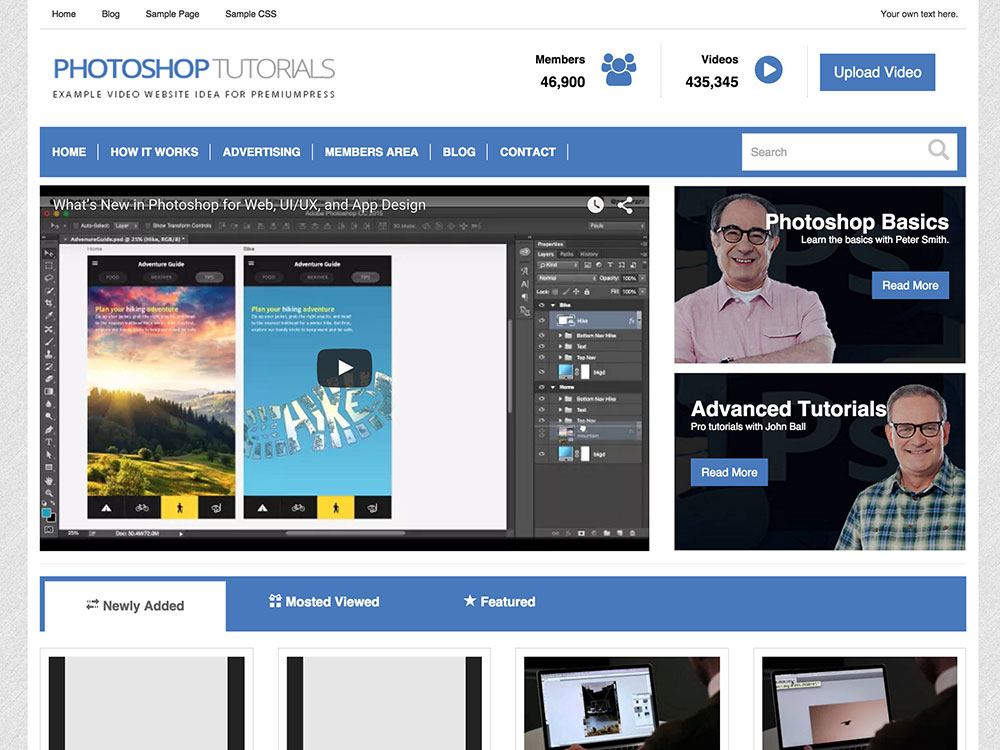 Video Theme comes with six different modes to choose from, each of which can be applied to your website in just a few clicks.
Whether you are building a video tutorial or membership site, or you just want a place to share your favorite video content, then the Video Theme could be just what you are looking for. By combining this theme with an appropriate plugin, you can offer your video content for free, require your visitors to create a free account, or make them sign up and become a paid member to get access. Adding a regular blog to your video website isn't a problem either, thanks to the great selection of blog post templates on offer.
While this is a popular theme, the large amount of options and settings on offer makes it easy to stamp your own personality on your website and give it a unique look and feel without having to edit any code yourself.
When it comes to adding and displaying video content on your WordPress website, this theme includes a built-in video player as well as a YouTube video importer tool. You can also tease your videos for a certain amount of seconds and then give your visitors the option of signing up to view the rest of the movie. With the Video Theme, you'll also find support for multiple payment gateways if you do decide to charge for access to your content.
If you are interested in building a membership site with video content, then the Video Theme is a suitable option.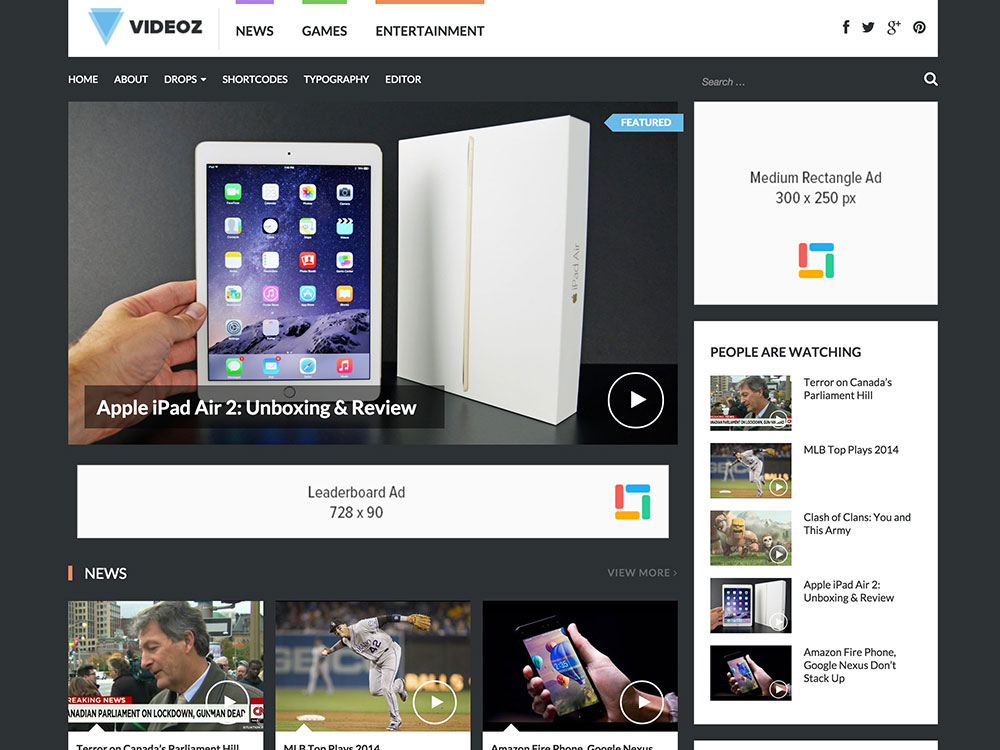 Videoz is a block-style, magazine theme for creating a video blog, video review, podcast, video tutorial or just about any other video related site. The theme includes an unlimited number of color skins and has dark and light color schemes. The theme comes with plenty of tools and features including an advanced control panel, custom widgets, ad management, search engine optimization, cross-browser compatibility and custom page templates.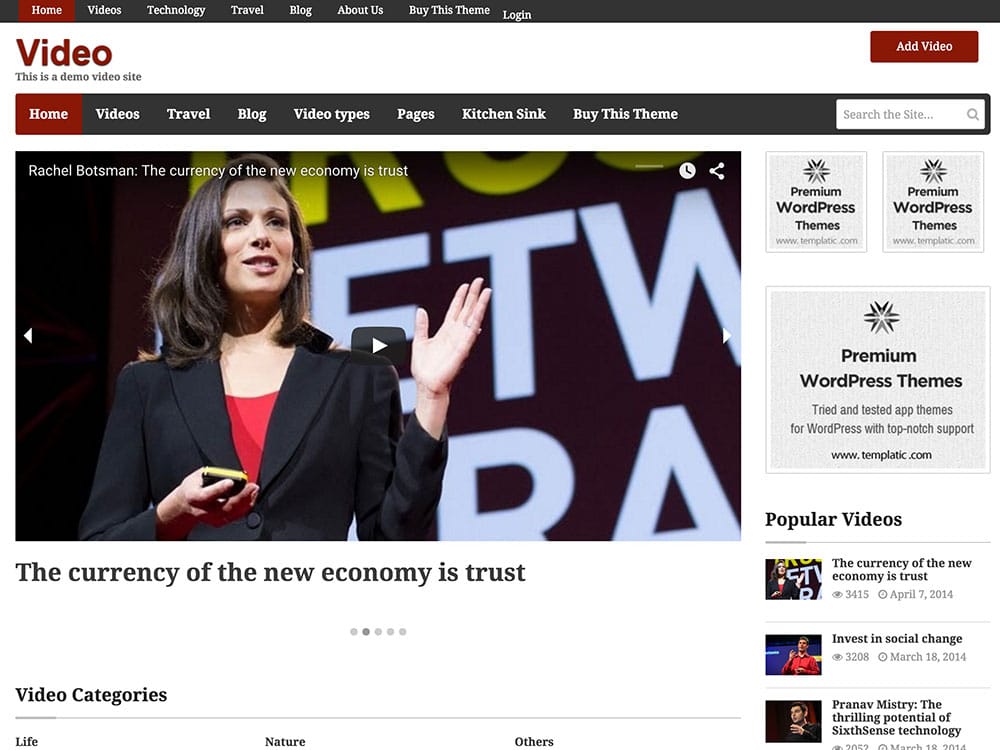 Video is a fully-responsive theme built on the Foundation framework. This theme has lightweight code and is designed to load quickly, making watching videos — from YouTube, Vimeo or personal upload — easy for users. The Video homepage is completely widgetized and the theme includes the ability to include a blog, advertisements and even an email newsletter.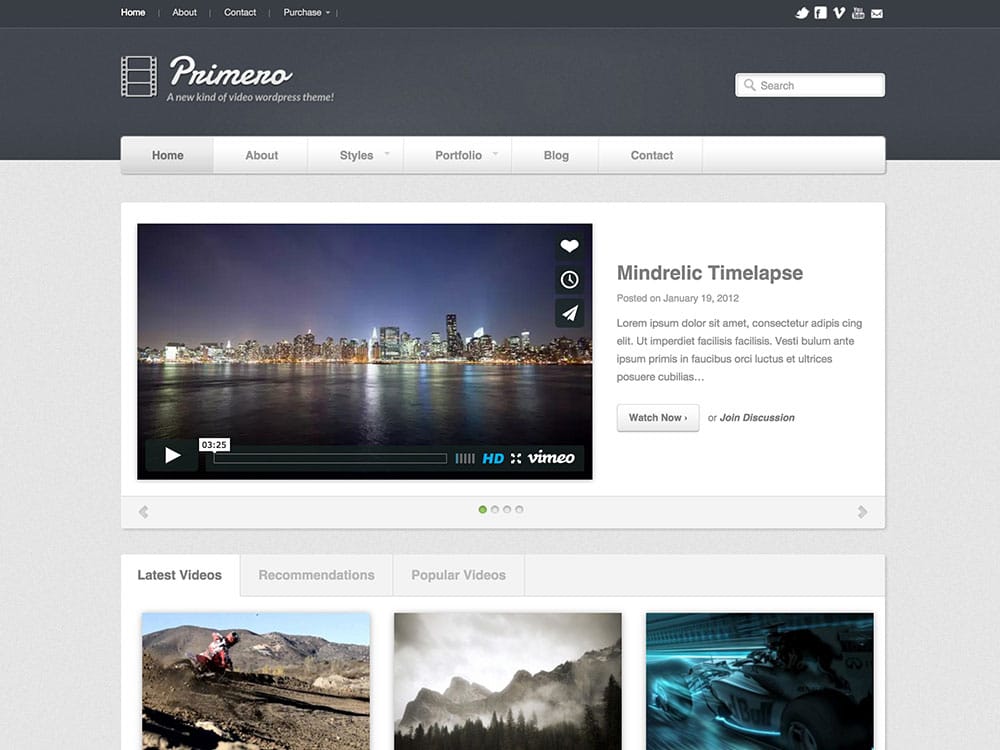 Primero is a theme designed to show off your video portfolio. The theme includes three featured sliders that work for video or photos, an extensive customization panel and four navigation styles. The portfolio pages also allow for upload of multiple video galleries.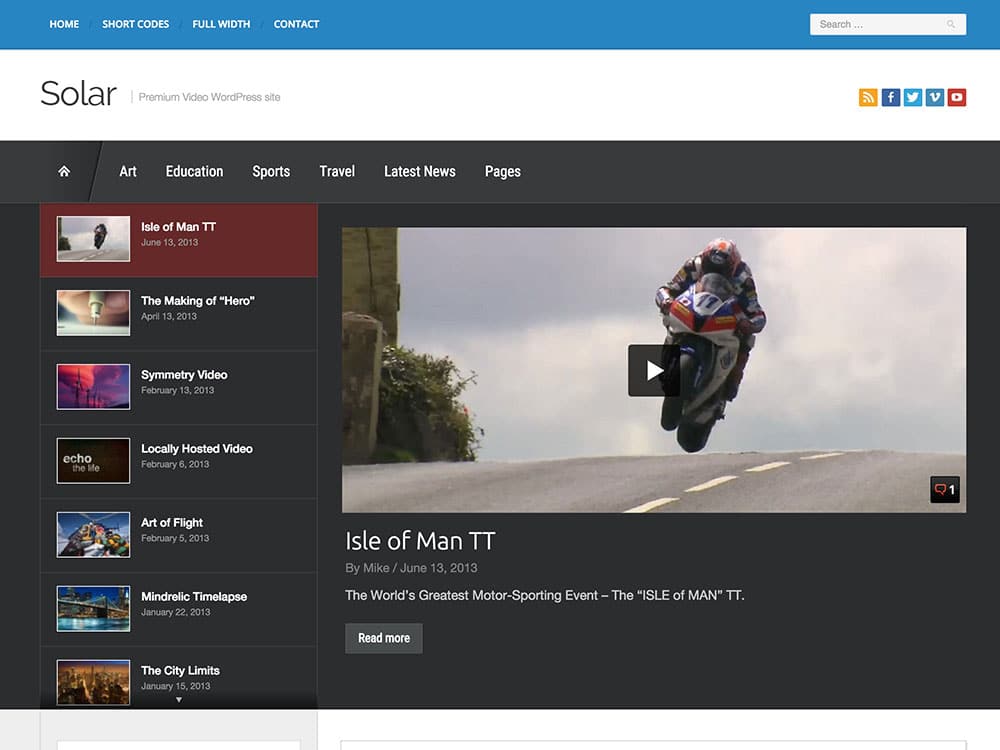 Solar is a fully responsive, retina-ready video theme that comes with a premium slider worth $14 (RoyalSlider). The theme features a modern aesthetic, using principles of flat design.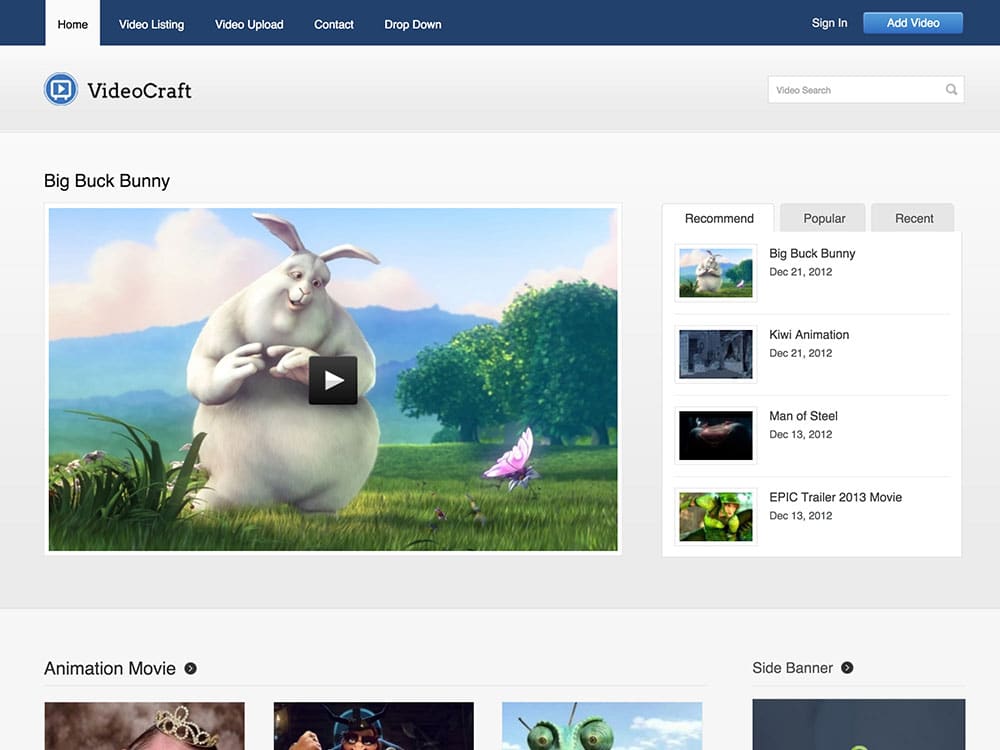 VideoCraft can power a user-generated video site. Users can register and upload videos from services such as YouTube, Vimeo and Dailymotion and supports all major video formats. The responsive template includes multiple page formats and a sidebar packed with custom widget options.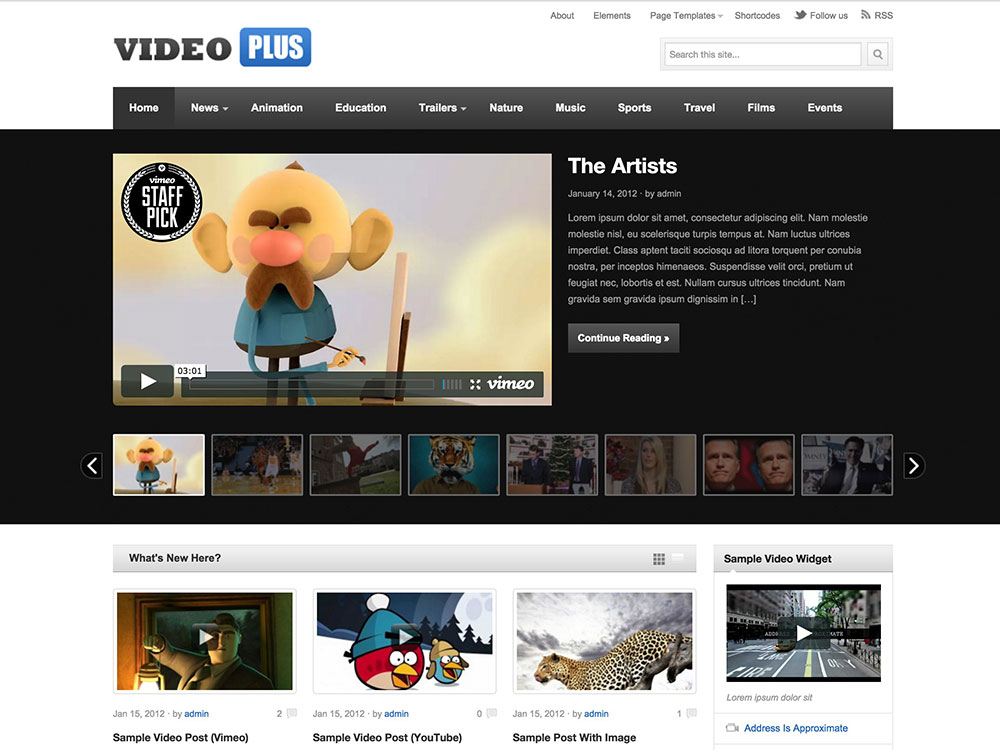 VideoPlus is packed with features and works with a variety of video-heavy applications. The main layout features a large video area with a slider for smaller clips, includes tools to add advertising to the theme and is search engine optimized.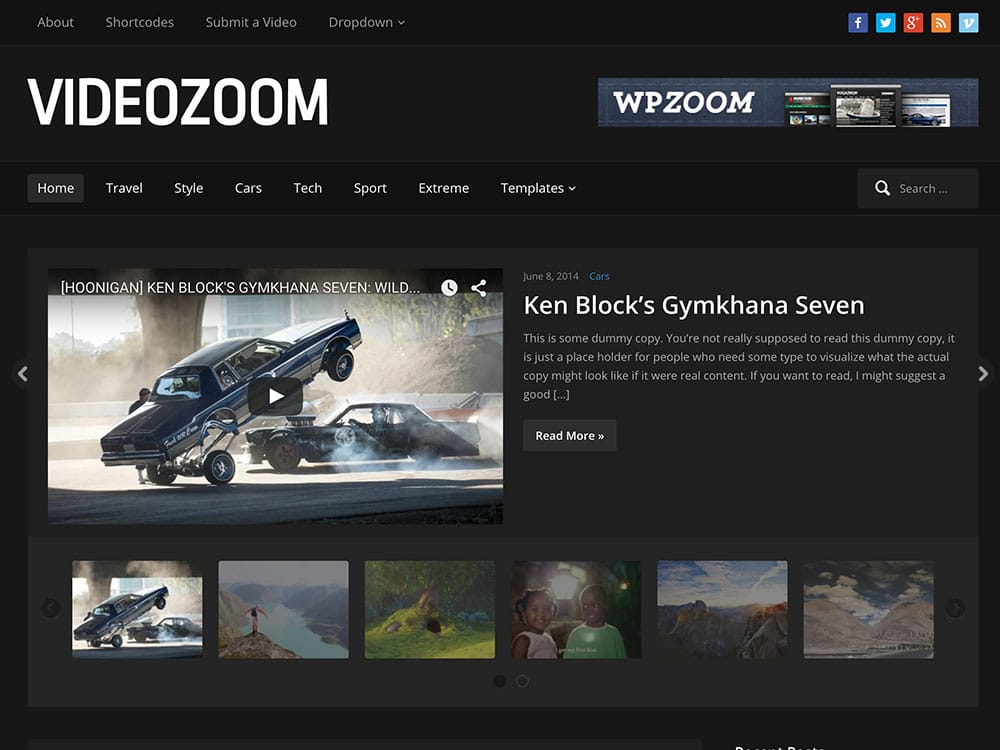 Videozoom allows you to play self-hosted or embedded video with the custom JW Player in a theme that has a ton of customization options. Videozoom includes multiple layouts, a video slider and custom menu and post options. This theme is designed to handle a lot of video at once.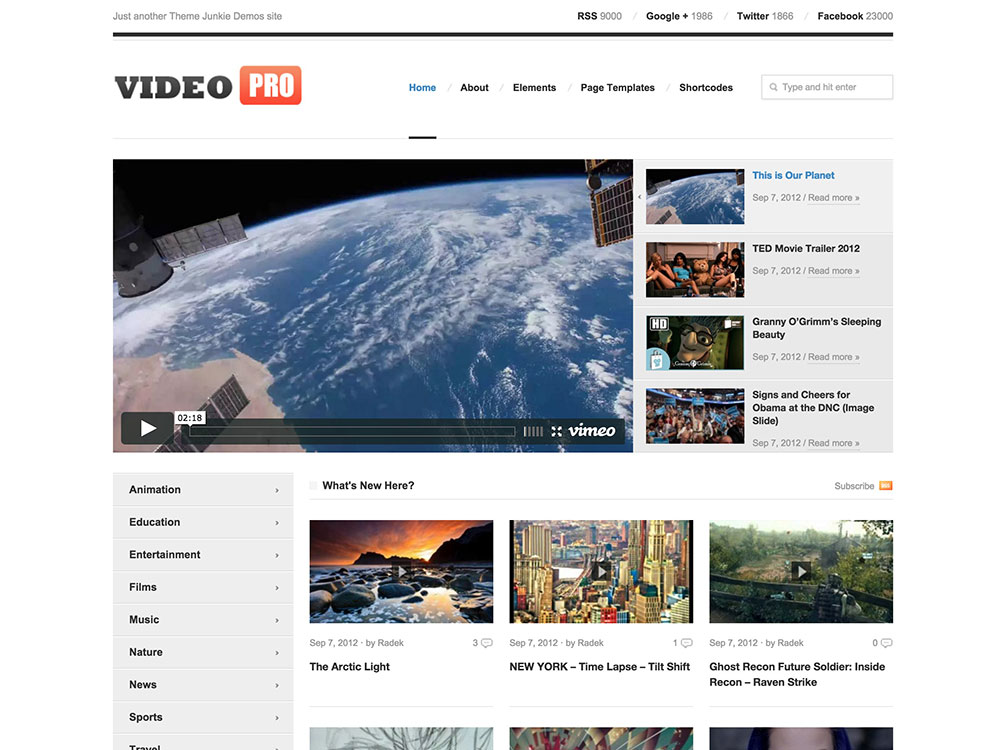 VideoPro has a framework that mirrors the looks of YouTube. The theme include an extensive navigation menu and block-style posts with plenty of embedded information included. The theme is search engine optimized and includes the ability to include advertising and custom widget areas.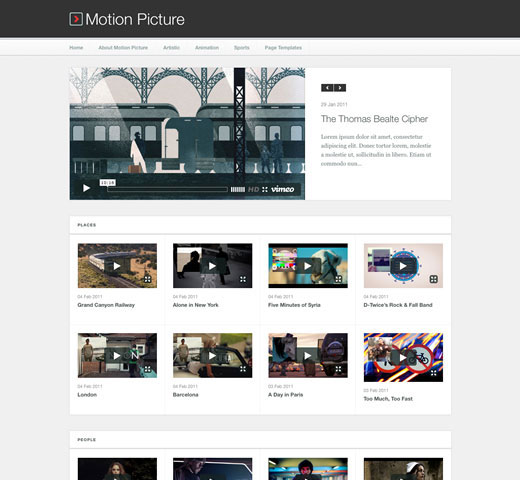 Motion Picture is a minimally-styled responsive theme designed for high definition video. The theme allows users to embed video from popular video hosting sites or self-host video and includes a video resizer. Motion Picture also includes a variety of post formats that work with video, images and text.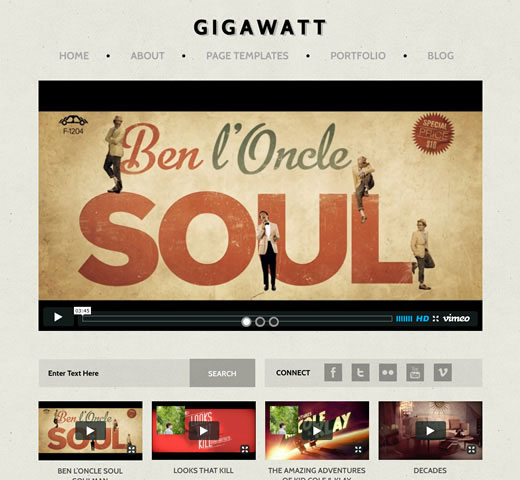 Gigawatt is a vintage-style theme with some modern styling effects for video blogging. The fully responsive theme includes a built-in portfolio and WooCommerce e-commerce tools for easy selling right from WordPress.