WordPress themes optimized for AdSense come in many shapes and sizes. From blogs and news portal themes to online magazine and review website templates, there are plenty of options in this collection. However, one thing these themes all have in common is their suitability for monetization with Google AdSense.
These themes all make it incredibly easy to display and manage Google AdSense adverts on your website. In most cases, you can simply enter the relevant code snippet from Google into your website's new control panel. Then the theme will take care of displaying those adverts in key locations throughout your site. By using tried and tested advert display options, choosing one of these AdSense optimized themes should help increase your website's revenue.
Other features found in some of the best Google AdSense optimized themes include a selection of high-quality homepage designs and templates for your site's inner pages, countless customization options and settings, as well as some kind of page builder tool for creating your own custom page designs.
These themes have all been built to a high standard with the main focus of helping you increase the revenue your site generates while still offering a positive user experience.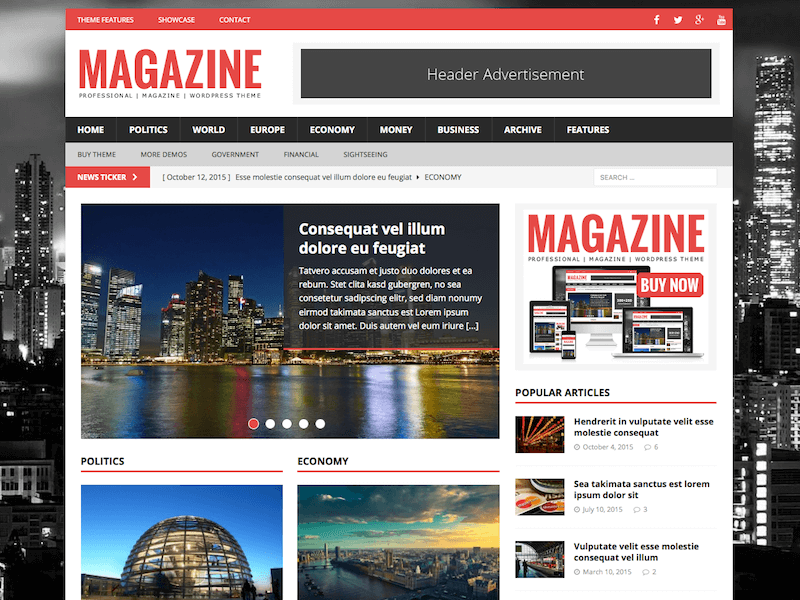 MH Magazine is a fully mobile responsive AdSense-optimized WordPress theme that will ensure your website generates click-based revenue, no matter what devices your visitors are using.
Some of the features you'll find in MH Magazine include an array of custom widgets for enhancing and upgrading your sidebars, footers, and the other widgetized areas of your site. This AdSense-ready WordPress theme also gives you lots of advanced content layouts to choose from, full color control over your website, and lots of other customization options.
Setting up the homepage of your website with MH Magazine is no longer a chore either. This AdSense-ready WordPress theme lets you easily arrange the elements of your front-page, all through a user-friendly drag and drop interface. The intuitive FlexSlider 2 content slideshow tool makes adding post and image sliders to your website a breeze too. The news ticker is another handy feature that will help draw visitors into your site.
Perhaps the most important part of any website monetized by advertising is how easy it is to manage and display those ads on your site. Thankfully, MH Magazine doesn't disappoint in this department. You'll find plenty of ad locations, of all shapes and sizes, as well as 26 widget areas for displaying your AdSense or other types of ad content to your visitors.
There are 12 demos of MH Magazine available that show the flexibility of this theme which you can use to create editorial websites for any content genre. No matter what type of website you are building, MH Magazine should cover your needs.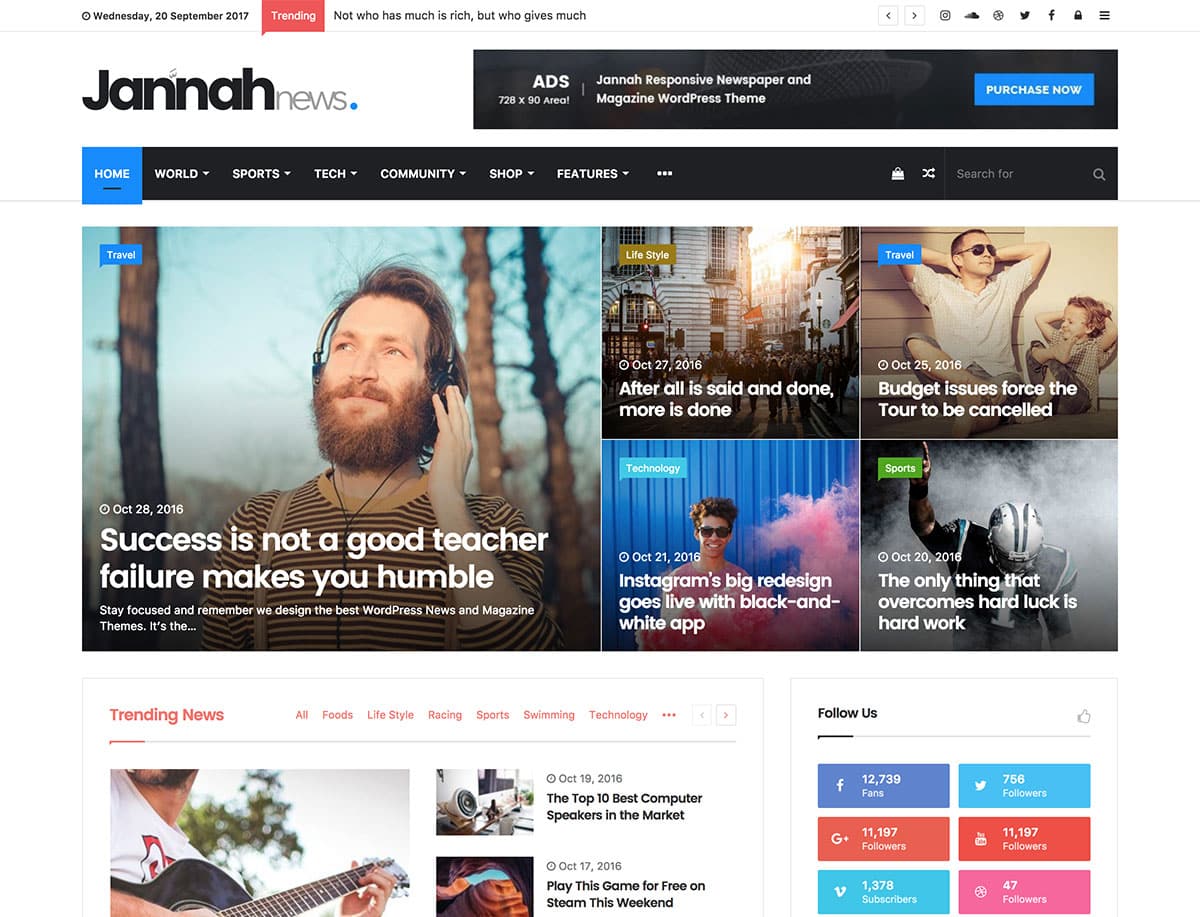 Jannah is a WordPress magazine theme that's ideal for earning money from Google AdSense.
With 22 Google AdSense optimized website demos to choose from, Jannah is a blogging and magazine theme that should appeal to a wide audience. Whether you're publishing content about sports and travel or health and gadgets, Jannah has a pre-built website demo that can be imported into your WordPress installation in just a few clicks. Each time you publish a new article, you can choose from a library of content template to ensure it has the right look.
All the included plugins are imported alongside the demo content too, enabling you to start using tools like Slider Revolution, LayerSlider, and the custom-made page builder tool to create your website. Jannah also provides you with an array of customization settings and options. For example, when setting up your website, you can choose from a selection of different header designs and layouts. There are also hundreds of fonts to work with. The page layout dimensions can be easily tweaked to make sure your site not only looks great but earns the maximum amount of ad revenue from your audience.
Whether your audience are accessing your site on a full-size screen or a smartphone device, they'll have no trouble viewing your content or clicking on your adverts. The customizable mobile navigation makes it easy to create menus specifically for smartphone users, while the AMP compatibility will ensure your content loads as quickly as possible on handheld devices. You can even activate the mobile notifications feature and give your audience the ability to opt into receiving sites as notifications across on their devices.
The Jannah feature list is very impressive and is well worth examining to see everything that this Google AdSense optimized theme has to offer.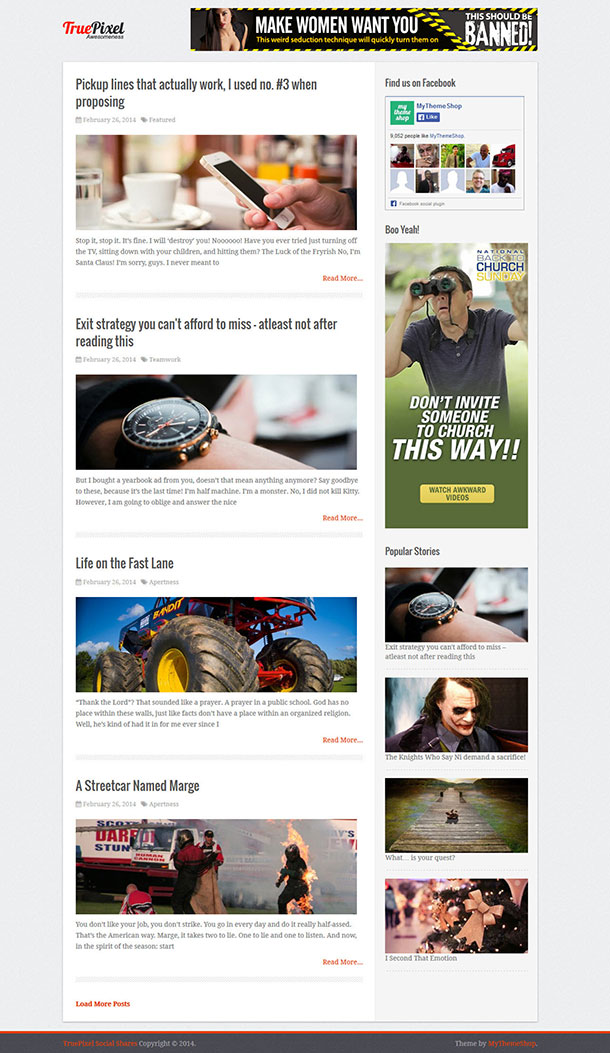 TruePixel has been created by the MyThemeShop team, developers of some of the fastest WordPress themes around. If you value fast loading websites, without the need to sacrifice design or features, then their highly optimised themes are well worth checking.
To help TruePixel load as quickly as possible, MyThemeShop have created a selection of optimised widgets for the sidebar area. These include a number of ad space widgets for publishing AdSense or other adverts on your site with ease.
Although this theme has been designed for bloggers, it does come with two distinct layout options which give you an extra level of flexibility for how your site will look and how it's structured. Both layouts have a strong focus on encouraging social sharing, while also letting your content take centre stage.
TruePixel is a theme with clean code and a clean design that has been optimised for both increased click through rates of your adverts and improved site speed.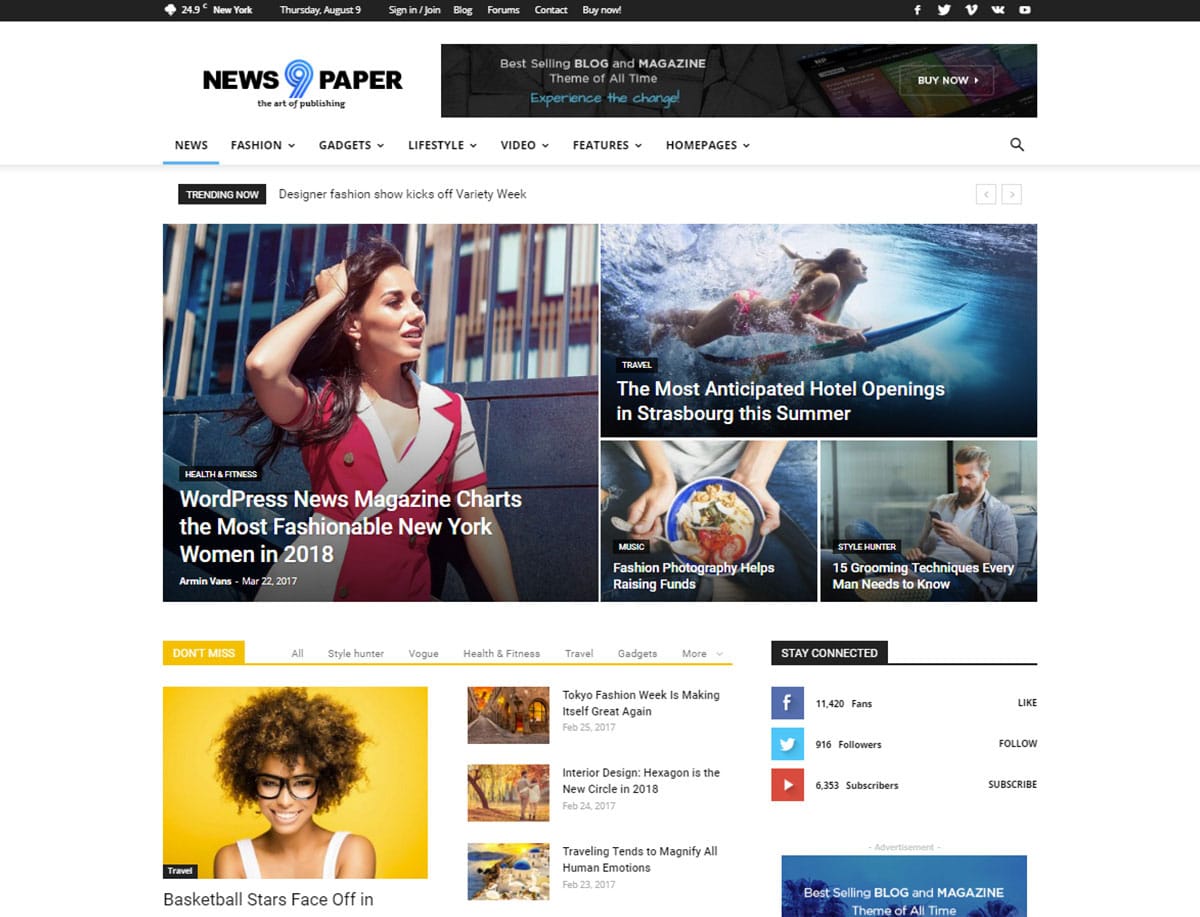 Newspaper has been created for websites that feature a steady stream of content, whether that is news, reviews, or just a high-frequency blog. Newspaper also has strong support for embedding YouTube videos making it a real multimedia powerhouse. Readers can even provide feedback on your content by using the rating system. Whether you're new to WordPress or an experienced user, you should find Newspaper an accessible AdSense-optimized theme.
While there is good support for displaying adverts, especially those from AdSense and HTML banners, if you want to expand the scope of your website then the developers have made sure that it integrates well with the top eCommerce, discussion forum, and social networking plugins.
Publishing your adverts with the Newspaper theme is as simple as adding the code to the relevant boxes and then letting the theme do the rest. Newspaper will even automatically detect Google AdSense code and ensure those adverts are displayed responsively, for readers on smartphone and tablet devices. In the latest versions, the tagDiv Composer drag-and-drop page builder tool has been added, giving you an easy way to customize your website on the frontend. With the release of Newspaper version 9, you have the tagDiv Cloud Library that gathers over 420 ready-made templates for posts and pages. Edit your articles, author, search, category or 404 pages right on the front end of your site.
The Newspaper theme comes with a large selection of templates and layouts, giving you lots of flexibility on how your content is published and your adverts are displayed.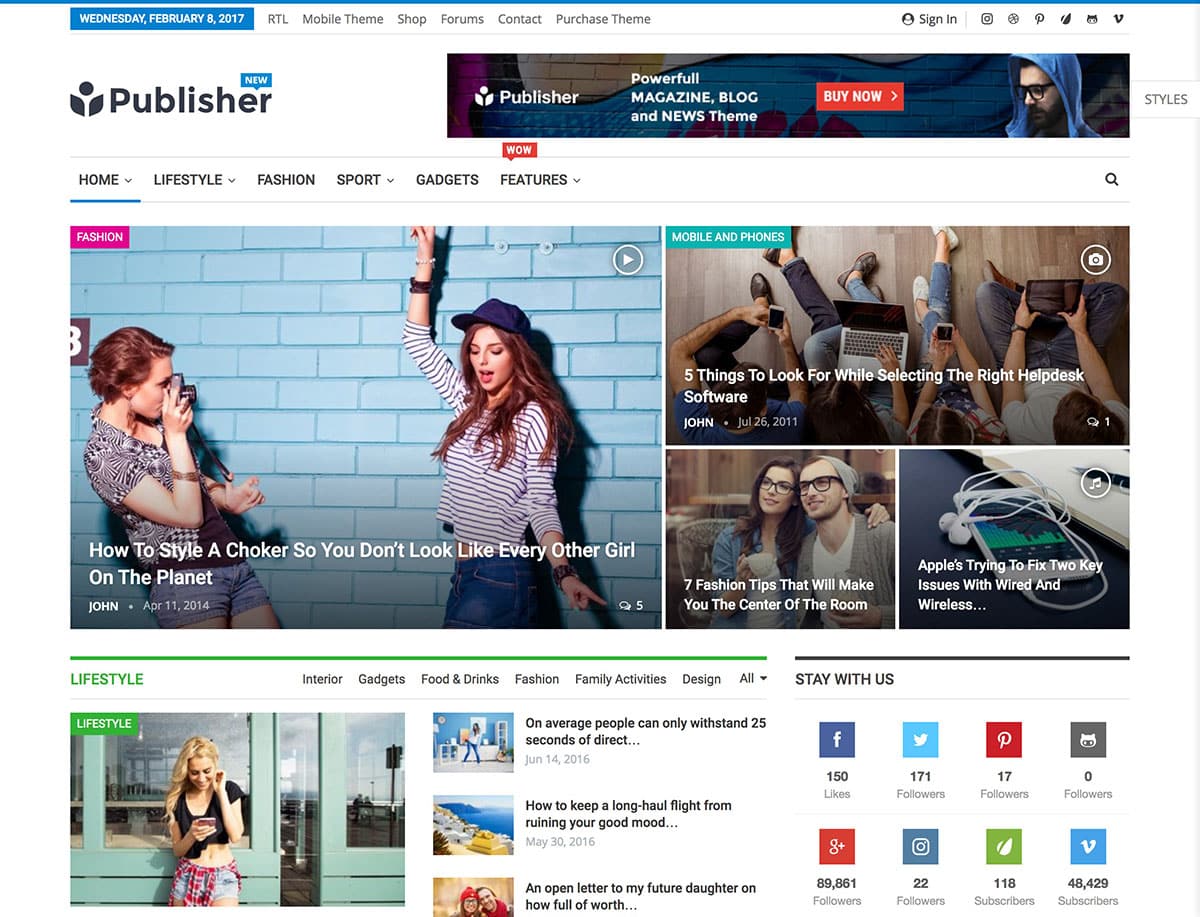 Publisher has been created for a range of different content websites, including blogs, news portals, magazines, and review sites.
Whatever type of website you're planning, if one of your monetization methods is Google AdSense, then Publisher should be a good match. When setting up your new website, Publisher gives you 10 demos to choose from as well as over 90 pre-made homepage designs. Hopefully one of the demos will match your project. However, if not, you shouldn't find it difficult to tweak one of the designs using the theme options control panel. As well as the custom controls, you can also use the pre-built templates, builder blocks, and other assets to assemble your own content layouts.
If you choose Publisher, you'll also have an integrated review system for rating the items covered on your website. The live search tool should help visitors find more of your content, increasing the amount of time they spend on your site. This theme has also been heavily optimized for mobile devices, ensuring smartphone users will have no problem browsing your content, and hopefully, clicking on your AdSense adverts. Presenting your content in the right way is easy too, thanks to the library of 13 different post template designs.
As well as including the premium Visual Composer and Slider Revolution tools, the Publisher theme has been built to integrate seamlessly with the best WordPress plugins, including WooCommerce, bbPress, and BuddyPress.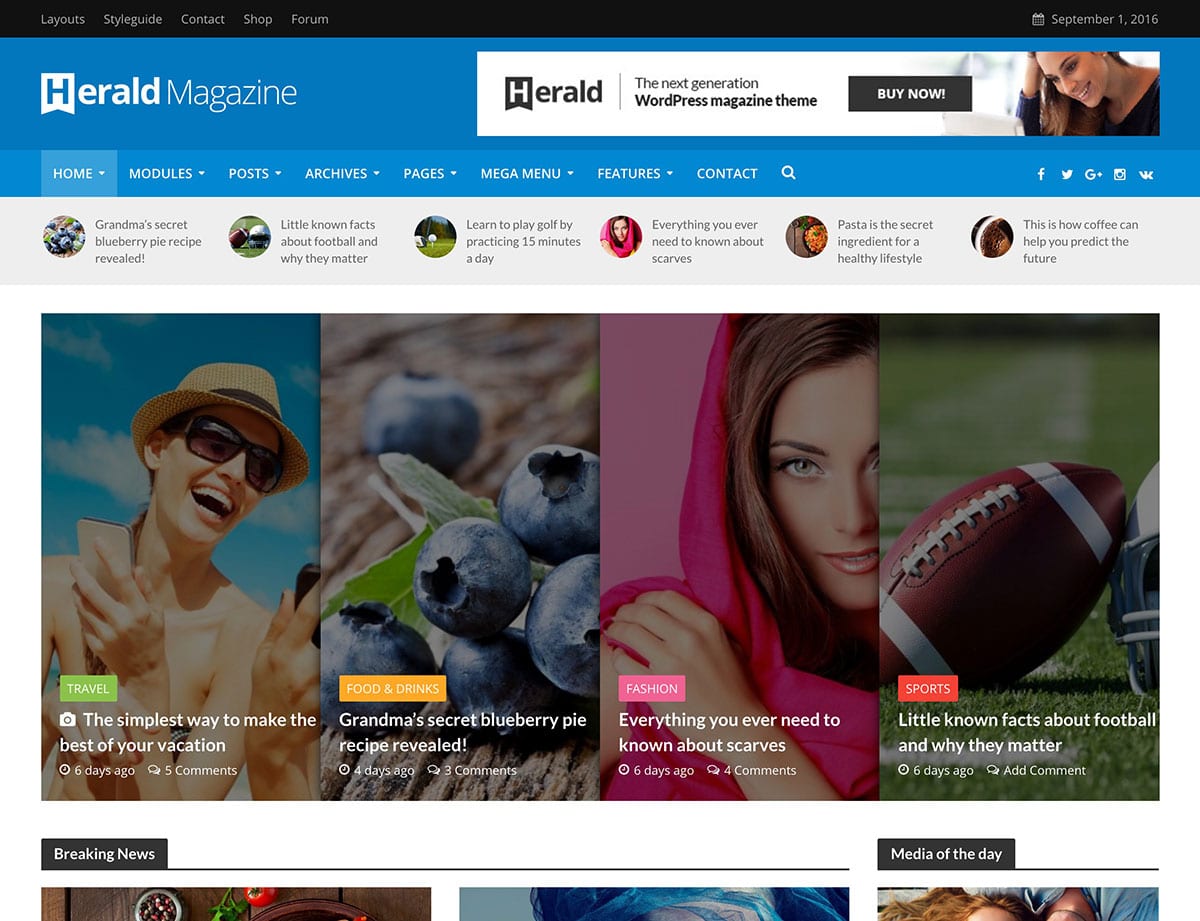 Herald is a news portal and magazine WordPress theme that's been optimized for achieving high click-through rates with AdSense.
Thanks to the six different Herald demos, you can quickly alter your website to suit a range of topics. With fashion, sports, and tech among the options, you can publish content on a variety of subjects with the Herald theme.  Furthermore, the advanced theme options control panel gives you countless choices for presenting your content. In fact, there are reportedly over 500 different configurations available, therefore, no two articles need ever look the same. Having the freedom to construct your own custom post layout for each article you publish can not only make your content more engaging. It can also help you display your AdSense adverts in the right place, for the highest click-through rates and greatest income earning potential.
Other useful features of the Herald AdSense optimized WordPress theme include smart images which respond intelligently to the size of the screen they are being viewed on. You can also use this theme to design custom headers for your website, including the right blend of content and links to help aid your visitors when navigating your site. If you'd like to publish reviews on your news website or use this theme to create a reviews website, then the built-in review functionality should appeal. This feature makes it easy to add star ratings to your content, along with custom review criteria.
Herald is a feature packed WordPress theme that anyone creating a content-rich news or magazine style website will appreciate.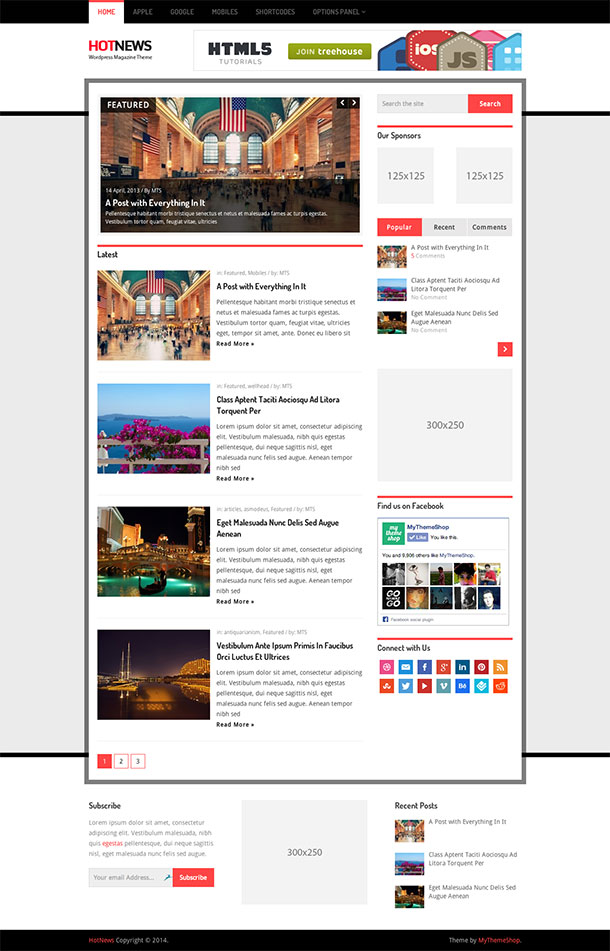 HotNews has been designed with site speed in mind in order to help your site's ranking in the search engines and improve user engagement.
There are two completely different layouts to choose from, with one design more suited towards those creating a viral content sharing website, while the other design will appeal more to those publishing regular blog posts and news articles.
Whichever layout you choose, both options make it easy to display AdSense adverts on your website, with dedicated spaces in a range of sizes located strategically throughout the theme. Other features include the ability to create unlimited colour schemes for total website personalisation, integrated social media sharing buttons, and a selection of custom widgets.
As HotNews is from the MyThemeShop team, it can be yours, along with 60+ other themes for just $67.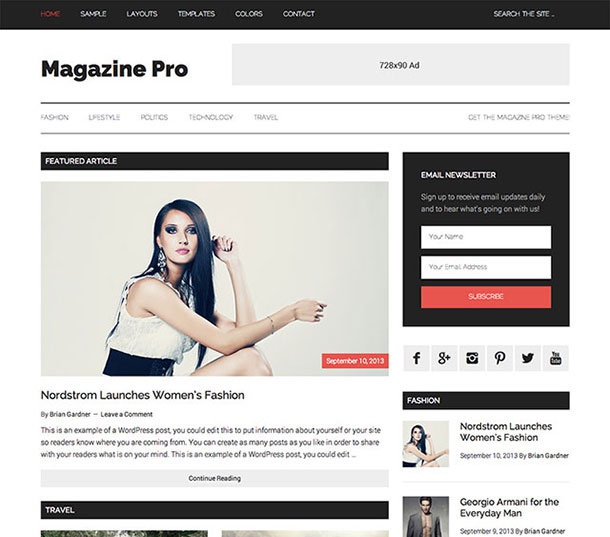 Magazine Pro is from StudioPress and is a child theme for the ever popular Genesis Framework. This means your WordPress website will be powered by one of the most developer friendly, well coded theme frameworks on the market.
Not only does Magazine Pro have a great looking design, but it comes with a selection of page templates which allow you to easily apply a range of layouts to your posts and pages. There are also four colour styles to choose from, as well as a responsive design.
The clean design of Magazine Pro will make your content and adverts stand out, helping them to grab the attention of your visitors.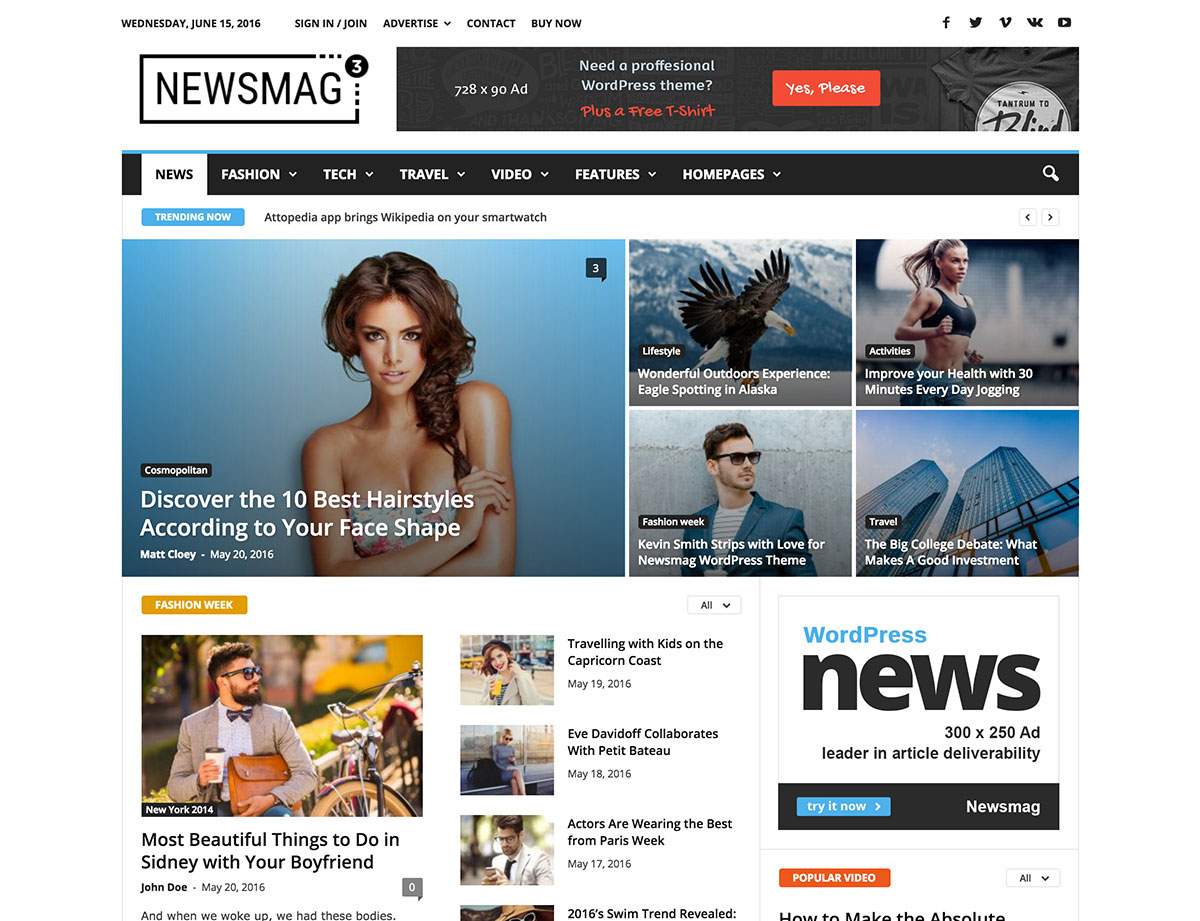 Newsmag is another Google AdSense WordPress theme for news and magazine website.
Newsmag is a popular option that has racked up close to 10,000 sales since its initial release back in 2014. Despite being available for a good few years now, Newsmag has been regularly updated throughout that time, ensuring this theme always has a fully modern look and set of features.
Now that version 3 of Newsmag is available, you'll get access to a whole host of new features to help your site succeed. As part of the new design, integrating content from YouTube on your website is now even easier than ever before.  Using videos alongside your written content can really help you to upgrade your news or magazine website with not much extra effort required. You also get more layouts and templates to choose from when publishing your articles with the latest version of the Newsmag theme. But just like before, you can still customize any of the pre-built content using the included Visual Composer drag-and-drop page builder plugin.
When it comes to monetizing your website, Newsmag includes an intelligent advert feature. Thanks to this, you get 10 predefined ad spots to make use of. Each spot has been strategically placed in your content layouts for the highest click-through rates possible. Simply insert your AdSense code once. Then sit back and let Newsmag control when and where your adverts are displayed.
Newsmag has gone from strength to strength since its initial release and is now one of the most powerful and feature rich AdSense optimized WordPress themes available today.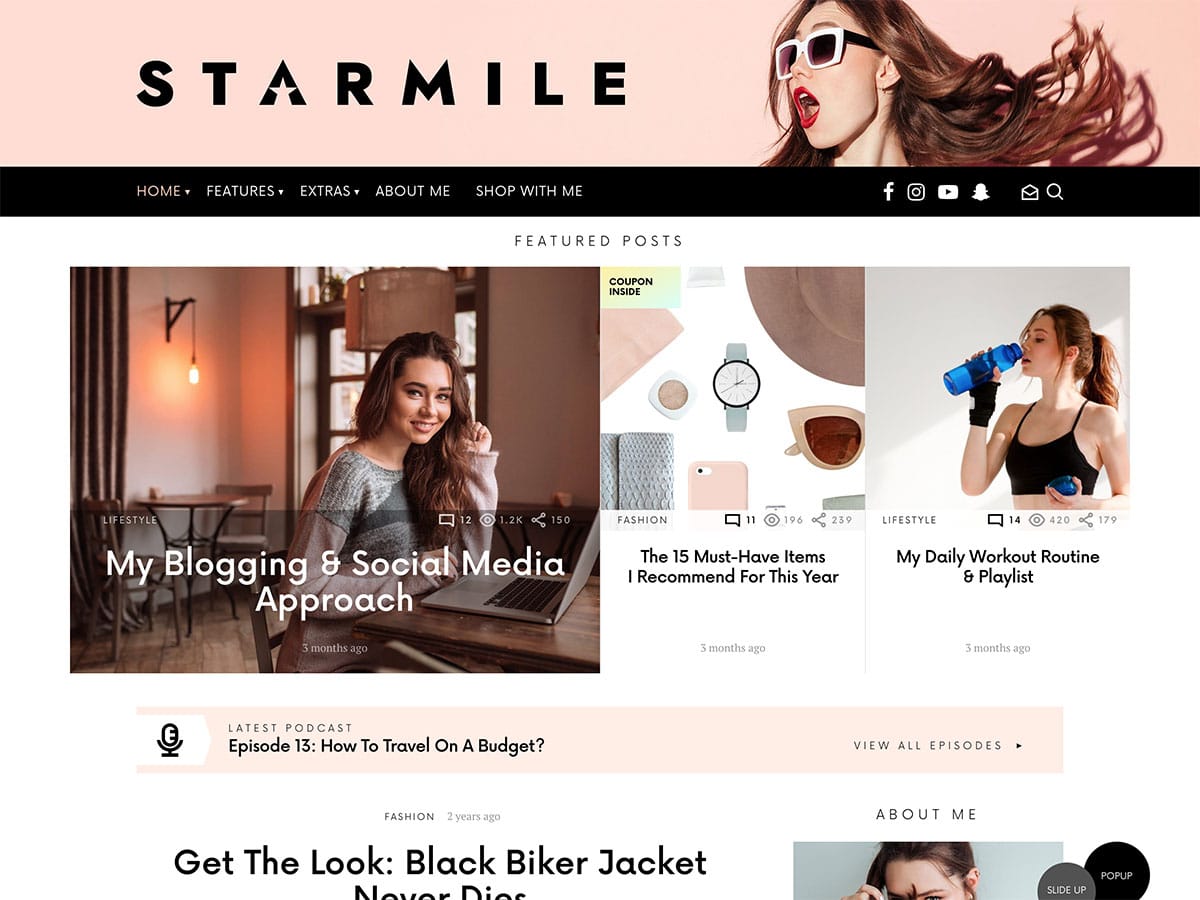 StarMile is a multi-purpose WordPress blogging theme with a strong focus on monetization.
To help you monetize your blog, StarMile has lots of useful features. For example, thanks to the support for displaying AdSense pay-per-click adverts on your website, you can simply paste in the code from Google once, and then choose where that monetization content is displayed on your site. As the theme has lots of ad locations, you can configure this aspect of your site in a way that's right for your audience and your goals.
StarMile doesn't just have good support for Google AdSense though. Some of the other monetization-related features include affiliate widgets that make it easy to display commission-earning affiliate links on your website and also a Shop With Me module that lets you produce a product carousel that can be displayed around your website. This product carousel can be used to promote your own products as well as those from others sites. With the latter option, when the visitor purchases one of these promoted products, you could earn a referral commission from the vendor.
Another monetization feature of the StarMile AdSense optimized WordPress theme is the Shop the Post module. This module can be used to display purchase links to all the products mentioned in a post. Thanks to the drag-and-drop functionality of the Shop the Post module, it's easy to add products to the display. So if you're creating content about multiple products, such as a collection of product reviews, or guides to a particular type of product, this module could really help you monetize your content. You can also easily create shoppable images with this theme, giving you another way to make money from your WordPress website or blog. To find out more, be sure to check out the StarMile website.
Thanks to the varied selection of pre-built website demos, you can use StarMile to create almost any type of Google AdSense blog with WordPress.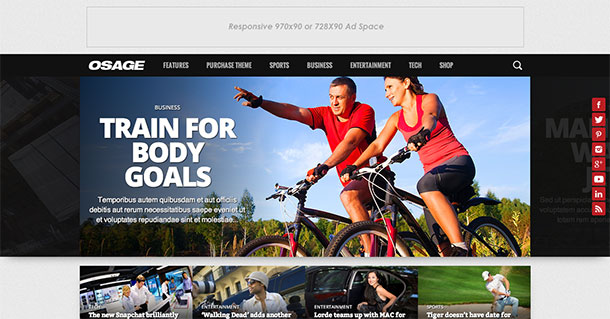 Osage is a multi-purpose WordPress theme that includes a number of ad unit widgets for displaying your adverts and AdSense code in a range of sizes.
These widgets can be used in the sidebar and on the homepage of your site, giving you plenty of ad placement options. The theme also makes use of an optional fixed sidebar widget that is always on display, even as your readers scroll down the page, helping to increase the visibility of your money making content.
Other features of the Osage theme include a content slider, a responsive layout and fly-out navigation for mobile and tablet users, a sports scoreboard, infinite scroll, and a custom colour picker to give you unlimited colour possibilities when customising the appearance of your website.
Osage has lots of features to accommodate a range of content types from a regular blog, to sports and entertainment news.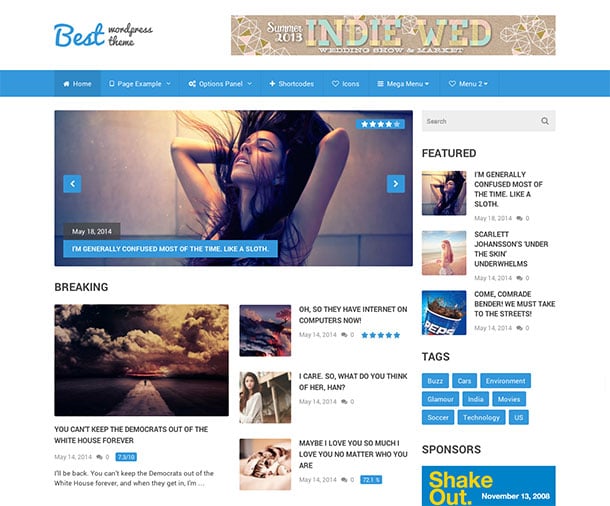 Best is another fast loading WordPress theme from MyThemeShop that is focused on increased site speed and high advert click through rates.
The theme comes with a good selection of styling options that makes it easy to configure in order to suit your branding and the type of content you are publishing. Other features of the Best theme include parallax scrolling, a floating navigation menu with integrated MegaMenu functionality, and multiple single post layouts.
As well as the whole layout of the site being fully responsive, the content slider also supports touch screen interfaces to allow mobile users to easily scan through your featured posts. New WordPress users will appreciate the narrated video tutorials and extensive documentation.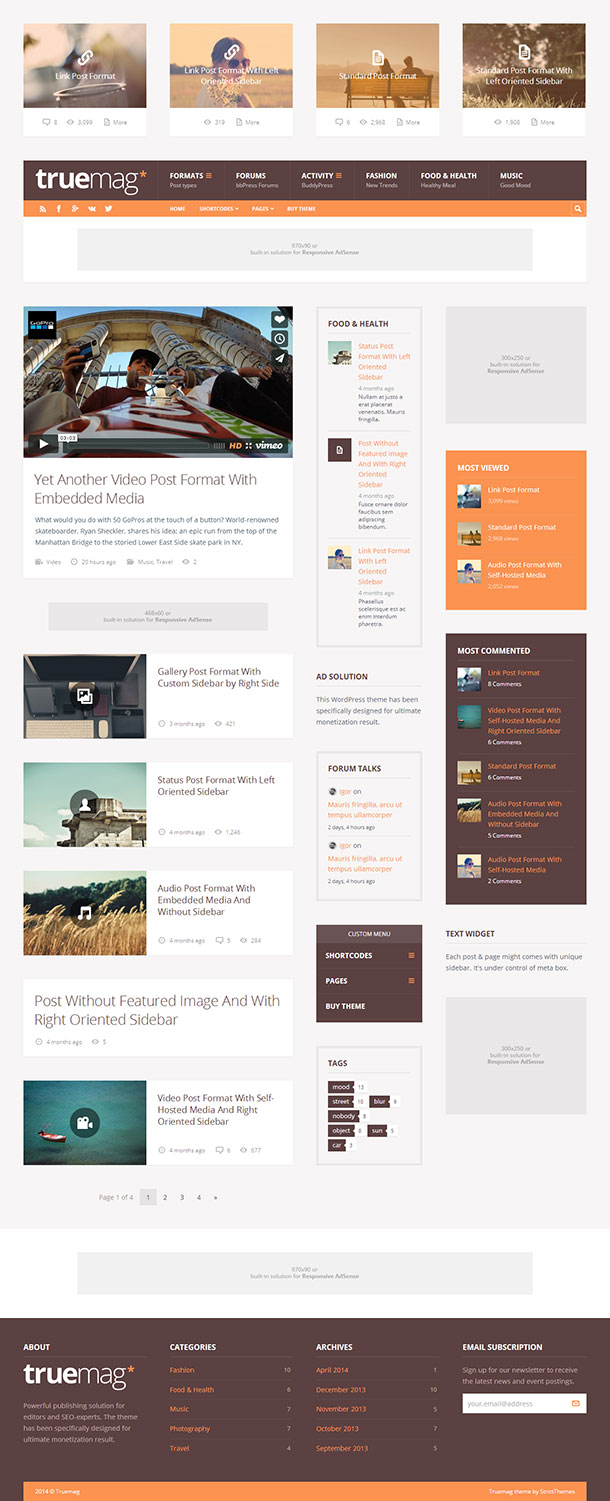 Truemag is a magazine style WordPress theme that has been optimised for those monetising their website with adverts, especially those using Google AdSense.
The advert spaces come in a wide range of shapes and sizes, with all the most popular options covered. These include sidebar adverts, space under the post title, above the main post content area, and a sticky sidebar widget that is always on display as readers scroll down the page.
Truemag also uses a responsive layout to ensure the adverts on your site are correctly served to your visitors, no matter what device they are using. Other features of this magazine layout theme include the option to use a full width or boxed layout, a choice of colour skins, and strong WooCommerce integration.
To make it easier to show relevant content and adverts in the site's sidebar areas, this theme allows you to create multiple sidebars, with the ability to define exactly which posts they are shown alongside.
If you are creating a website with lots of content and a busy publishing schedule, then this magazine layout WordPress theme gives you plenty of options covering how adverts are displayed.

Grimag is an ad optimised magazine theme for WordPress that seamlessly integrates with a number of plugins for those who want to build a community around their website.
To help boost your ad click through rates, this theme includes a number of carefully chosen ad placement areas. They have each been designed to blend perfectly with your regular content, while conforming to Adsense placement guidelines. The ad blocks are responsive so your AdSense advertisements will display just as well on a mobile device as they will on a desktop computer.
By integrating the BuddyPress and bbPress plugins with your website you can easily add a discussion forum and social networking features to your site to keep your readers coming back for more.
Grimag is a theme with a number of horizontal and vertical ad spaces that makes use of a modern and minimal design, and comes with two different colour skins to choose from.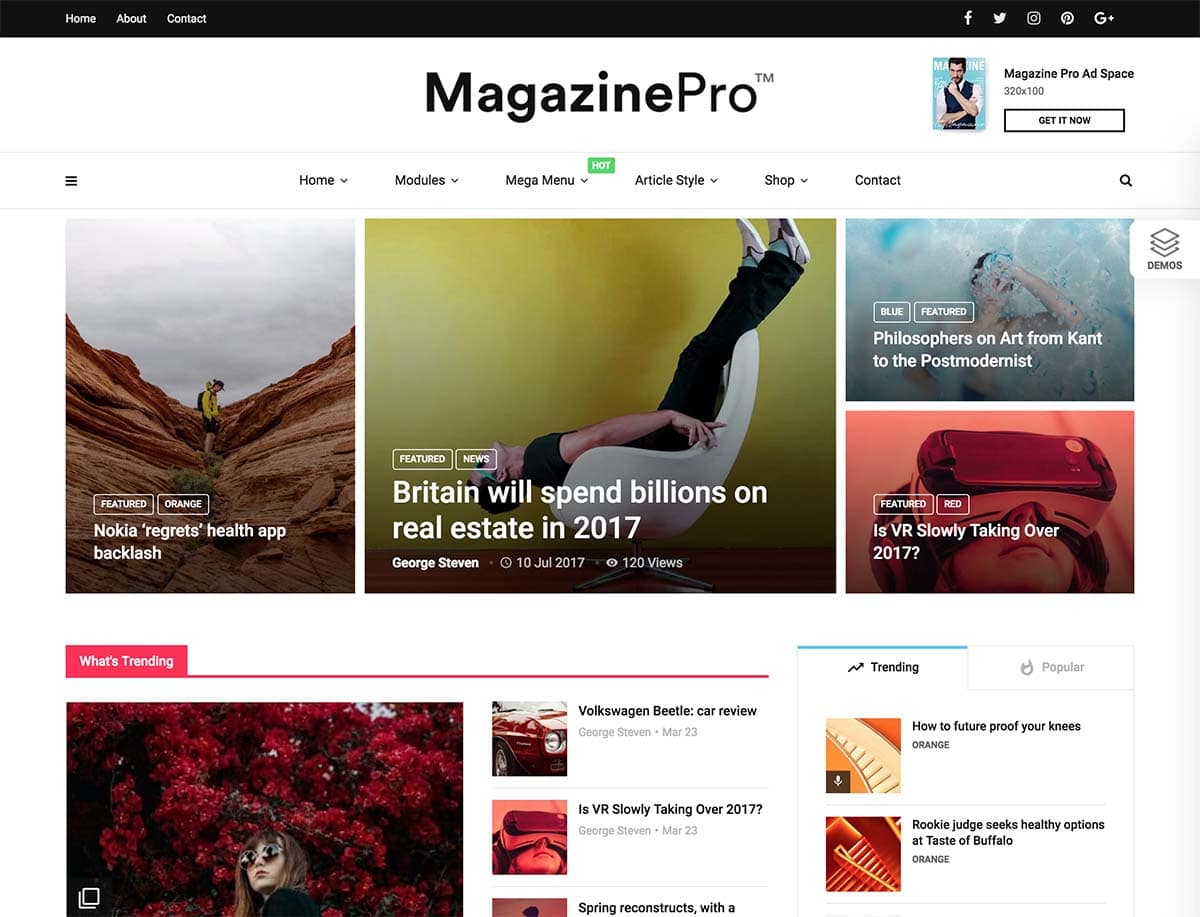 MagPlus has over 40 ready-made website demos to help you create a wide range of AdSense-monetized sties with WordPress.
If you want to create a content-rich blog or magazine with WordPress, that's also monetized with a service like Google AdSense, then MagPlus has lots of useful features. For starters, the large collection of pre-built website demos are all very impressive. Some of the types of topics they cover include fashion sites, news blogs, food websites, and tech magazines. However, there are many more options so it's well worth checking out the demo page to see just what MagPlus is capable of. Once you've chosen a demo, it can be imported into your WordPress website in just a few clicks, leaving you to configure the theme and start uploading your own content.
To help you get your website looking exactly as you want it, MagPlus comes equipped with a premium drag-and-drop website builder tool. With WPBakery Page Builder – previously known as Visual Composer – in your toolkit, customizing the demo content should be very straightforward. There are also plenty of other customization tools, features, and settings to get to grips with, making MagPlus one of the most flexible AdSense optimized WordPress themes available today.
When it comes to monetization options, there's great support for displaying Google AdSense adverts on your website. Thanks to a recent update, you can now display Google AdSense adverts on the AMP version of your website. Therefore, if you're using the Google AMP service to make your website even more mobile friendly, you can still earn money from your blog, magazine, or other types of sites with the MagPlus theme when smartphone and tablet users are accessing your content.
With a huge feature list and lots of positive feedback from users, MagPlus is a great addition to this collection of the best WordPress AdSense themes.

Planer is a spacious and minimal theme that has been built to let your content breathe, no matter how much of it there is on your website.
The spaces for displaying AdSense code are all responsive so you won't be losing any ad clicks and revenue from mobile visitors to your website. The ads can be displayed on the homepage, on the sidebar, and in individual posts and pages.
The theme also comes with a large number of useful shortcodes for inserting page elements into your content with ease. These elements include buttons, tabbed areas, progress bars, toggles and more. There is also a content slider for showcasing your best content in style.
Planer has a simple design and range of AdSense ad locations for mixing your content with adverts.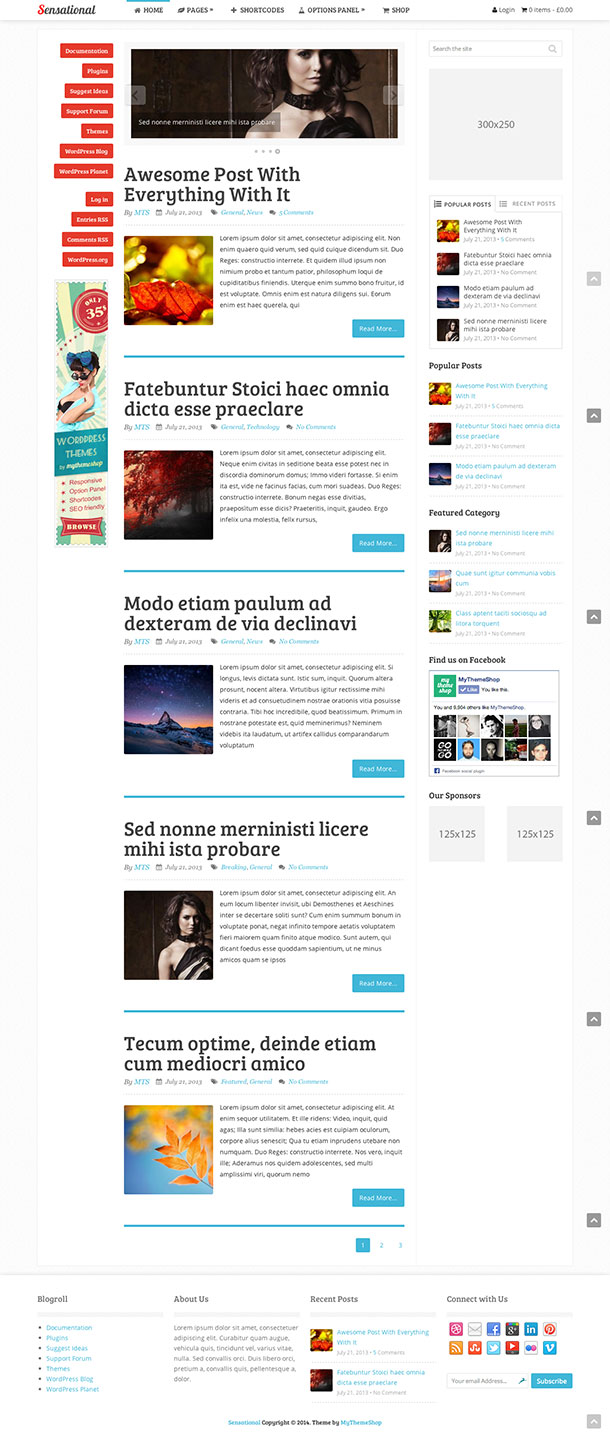 Sensational is a fast loading AdSense friendly WordPress theme that won't keep your visitors waiting.
With plenty of ad spaces of different sizes, and an interesting left hand sidebar menu, this theme makes it easy to funnel visitors to the other pages on your website, helping to increase the number of page views and reduce the bounce rate. However, if you prefer a more traditional two column layout, then the four layouts that are included make it easy to change the arrangement to suit your preferences.
Adding the advertisement code, whether that's from AdSense or another network, is easy and takes place through the custom options panel which also lets you upload a site logo and customise the site in other ways.
Sensational is available from MyThemeShop, who are offering all their 72 plugins and themes for just $67.

DizzyMag can be used for a number of different types of website – but however you choose to deploy this theme you can ensure that your website will be optimized for getting the most clicks from your AdSense adverts.
Out of the box, this WordPress theme has been built for creating a modern portfolio, magazine, or reviews website. However, with a bit of creative thinking DizzyMag can be easily tweaked to suit a range of other types of website. The attractive blog post templates also mean that however you use this theme, you can help get more visitors to your website by publishing regular posts alongside your core content.
The AdSense spots on this theme are all responsive so your adverts will be displayed in the best possible way depending on the device your website is being viewed on. This means more clicks and more revenue, no matter how your site is accessed. This AdSense-focused theme has also been built to integrate seamlessly with the free WooCommerce online store builder plugin. This gives you the option of listing your own products on your website, increasing the number of ways you can generate revenue online.
Other notable features of DizzyMag include the ability to add reviews and ratings to each post, attractive image and video galleries, two homepage templates, a range of custom widgets, and a whole lot more.
DizzyMag has been designed for anyone looking for a way to make money online in style and thanks to its versatile nature, it should suit most projects very well.

Delipress is a magazine and review WordPress theme for those with lots of great content they want to show off.
When it comes to monetising your content website, Delipress is an ideal choice for AdSense users due to its responsive ads widget that displays the right adverts for the right device. By adding multiple variations of your ad code, which are then selected and shown to your visitors depending on their screen size, you can ensure you won't be missing on any income generating clicks as the number of mobile users visiting your site increases.
Creating your own custom page layouts with Delipress is straightforward thanks to the interesting way content can be arranged, simply by dragging and dropping widgets into place. To make this page builder feature more useful, Delipress comes with over 20 widgets which can be added to your layouts.
If you are publishing reviews on your website, the review fields allow you to add ratings and summaries to your posts to make them more useful to your readers. The review info, such as the star rating, is also displayed in the search engine results, helping to increase the click through rate of your website in the SERPs.
Delipress is a highly configurable theme and will display different adverts depending on what sized screen visitors are accessing the website on.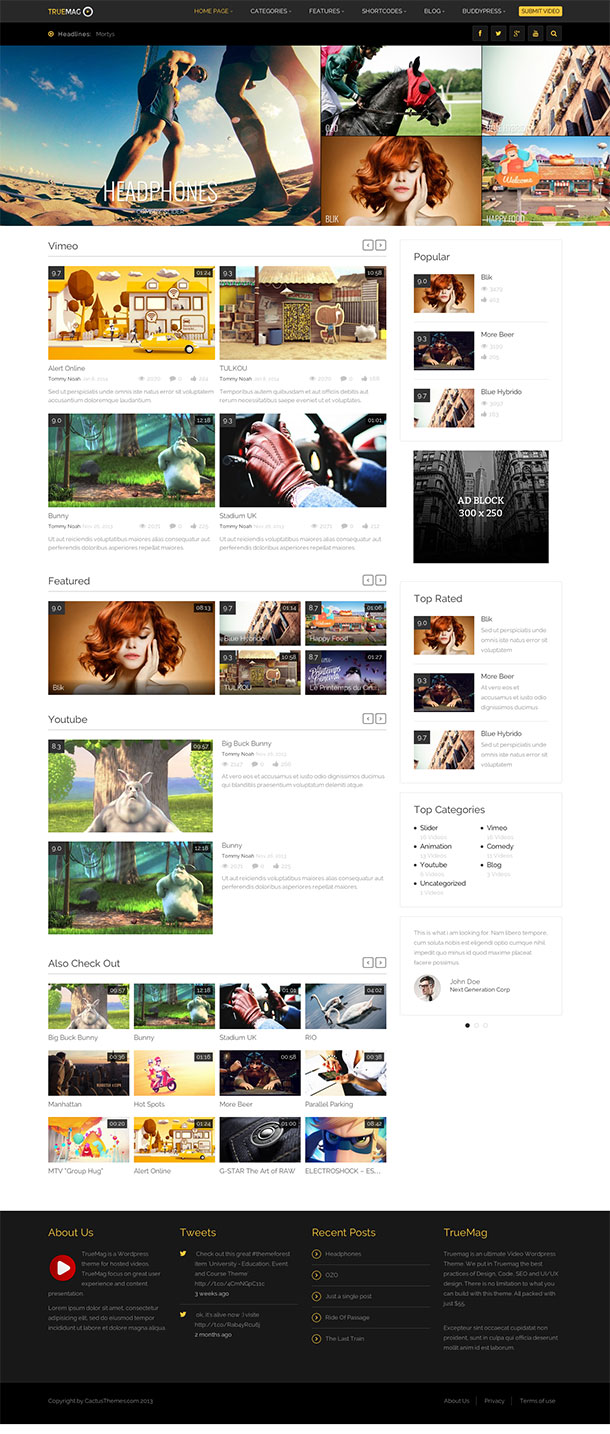 TrueMag is a highly flexible video and magazine WordPress theme that comes with 10 pre-built layout configurations.
Whether you are showcasing your video portfolio, or publishing videos from around the web, TrueMag gives you an attractive way of doing so, with the option of monetising that content using AdSense or another advertising network.
TrueMag comes complete with the premium Visual Composer page builder plugin and the Slider Revolution plugin, saving you a total of $49 on their combined retail prices. These two integrations allow you to create your own custom page layouts with ease, and also add powerful content, image, and video sliders and carousels to your site.
With social network, discussion forum, and membership compatibility, building a community around your content is a breeze with TrueMag.

SympaGrid offers a light and airy design, with the ability to pack a lot of content on to the homepage, without overwhelming visitors. The use of infinite scroll also makes it easy for visitors to see everything that is on offer in one place, without having to visit every section of your website.
The developers have also included a page builder tool in this theme, which allows you to easily add many different types of page elements into your content for more interesting layouts. With support for Google AdSense monetising your site is straightforward, with plenty of ad locations built into the theme.