Contact forms is an essential element of every website as that is the place or source that makes visitors reach and communicate with you easily. Apparently if your WordPress site is missing contact form, then you could be blowing out a way that can raise you bigger business opportunities.
Online form builder is the solution to this and will help you in getting contact forms on your WordPress websites. These form builders contribute in customizing, modifying and enhancing forms as per your requirement, and are available as plugins for WordPress site.
There are a large number of form builders available currently. Each of them is categorized with different features, add-ons, and integrations as well as diverse price range.

So here I am presenting out a superb list of 10 best contact forms for WordPress websites, going through which you'll find some top-class contact forms plugin available in the market.
Let's get started…
---
1. Zigaform
Zigaform has an HTML form builder plugin for WordPress and other websites too. Zigaform really makes it an easy task when it comes to creating forms. You just need to select the field which you want to appear on the form.
Zigaform provides a free usage for lifetime and premium version includes extensions add on. A perfect form builder for beginners as well as professionals. !!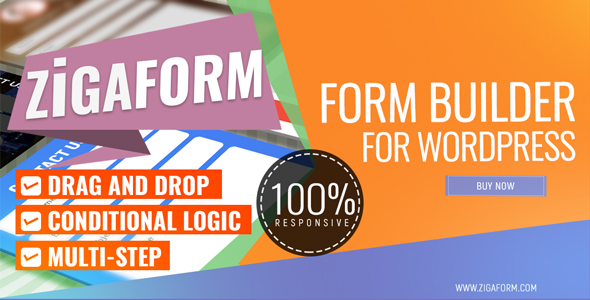 Pros Of ZigaForm – 
Straightforward and easy to use interface along with a drag-drop feature which simplifies form building process.
Doesn't depend on the host website. Forms can directly be created and linked to an email account.
Helps to do better marketing by providing a platform where the user can directly contact the audience of the website and easily update them with the features of their products.
Security can never be an issue with Zigaform as it works on cloud feature application. All the data is securely and efficiently stored on the cloud server.
Unlike few other form plugins, Zigaform provides stress-free payment methods. Even while using the free version, PayPal integration helps quick payments.
A special feature of Zigaform is that it provides detailed analytics report.
Help desk is always available for any assistance. Further, if you are using the premium version, you can get support for unlimited queries.
Cons Of Zigaform – 
Though a free version is available, it provides mere basics. For access to other features, one has to get the premium version where every single feature is chargeable.
Pricing – 
Basic form generation – Free
Additional features – Starts from $28
---
2. Gravity Forms
It is a premium WordPress form plugin which has all the necessary professional functions. The plugin highlight's some advanced options and the forms come with all kinds of fields that you can include inside your website and will help you better interact with your visitors.

Pros of Gravity Forms – 
Easy form development can be done from the website itself.
Provides optimized theme forms i.e. form

automatically

 

gets 

optimized following website. This optimization doesn't need any programming.
Additional add-ons can help to create quiz, survey, user submitted content and web directory too.
Intuitive form building interface helps the users to customize the forms easily. Its unique features comprise of multi-page forms, access to limit entries and even schedule the forms and custom settings.
Support options including FAQs, email support, forums and knowledge base are available as and when needed.
Gravity Form has a unique feature of providing unlimited forms without any restrictions.
Integrations of Gravity Forms with many third party websites like PayPal, Google Docs, MailChimp, Stripe, and survey, etc. make the functioning easier for the users.
Cons of Gravity Forms – 
The only problem with Gravity Forms is that a free version is not available. Users operating a single website would find it costly.
Pricing- 
The advanced version will cost you around $249
---
3. Ninja Forms
Ninja Forms is a form generating plug-in for WordPress. It provides basic features for free for a lifetime including unlimited forms and unlimited responses. Premium version too is available which provides added features and extensions.

Pros of Ninja Forms – 
Base plugin of Ninja Forms is available at the WordPress respiratory for free. Thus, it can be used for as many websites as needed.
The entries can be sorted, searched and downloaded using a CSV format.
Premium version provides layouts as well as CSS customization.
The premium extensions increase the functionality of the forms by connecting them with Campaign Monitor, SMS notification, FreshBooks, etc.
Highly secured from spams as it comes with built-in Akismet Protection.
A helpful support community, documentations and guides, as well as email support, are the added benefits of Ninja Forms.
Cons of Ninja Forms – 
Cannot function without a self-hosted WordPress site as it is technically a WordPress extension.
Though basics are available for free, the premium extensions cost nearly as much as a complete premium form plug-in making it a costly option.
 Pricing – 
Basics – Free for a lifetime.
Added extensions – starting from $19.
---
4. Formidable 
Due to its low-cost range, Formidable is becoming a popular name amongst WordPress users. It has free as well as premium options available for different customer requirements.

Pros of Formidable – 
Due to its simple interface, it is a great choice for first-time users.
Drag and drop interface and in-place editing quicken the process of form building.
The responses collected through forms can also be saved for future use and display.
Preferable for users aiming single sites as it is cheaper that way. Premium version of a single site costs just $47 which is considerably affordable.
The standard and unlimited plans provide 12 add-ons.
Premium version allows easy integration with PayPal, Basecamp, etc.
Better looking forms are generated by Formidable Pro due to its Bootstrap support.
 Cons of Formidable Pro – 
For multiple sites, its license costs $117. At this price range, better options are surely available. So it is not suitable for such users.
Multi-page form interactions in Formidable Pro can be troublesome.
Pricing – 
The starter package will cost you around $34. Their enterprise pricing plan will cost around $397.
---
5. Pirate Forms
It is a free WordPress contact form plug-in designed by Themesile. The plugin is extremely easy and quick to get started with. Within a couple of seconds, you can build a fully functional contact form.

Pros of Pirate Forms – 
Extremely simple interface.
Allows the user to build and modify the forms according to their requirements.
Basic features like CAPTCHA and SMTP are available with it.
The user has complete control over all the fields, messages, and labels.
Cons of Pirate Forms – 
Main focus is on simplicity and ease of use. Thus, advanced functions are not available such as payment integrations, subscription forms, etc.
This makes it a basic plug-in and cannot be used by professionals.
No add-ons can be a reason some people would not go with this plugin.
Pricing –
As of now, it is absolutely free.
---
6. WP Forms
To shorten its description, WP Forms is designed to combine simple interface and powerful features. It allows creating magnificent online forms within few clicks and that too without writing a single line of code.

Pros of WP Forms – 
WP Form provides clear user interface paired with great features.
The lite version can be downloaded from the WP directory and can be used as many times as needed without any restrictions.
Creating forms become quick with WP Forms due to its drag and drop feature.
Users also get access to pre-designed forms to choose from.
The forms created are not buggy and are even mobile friendly.
Coding isn't required for using this plug-in.
Payments can be made using PayPal too.
Premium version even helps building email subscriptions.
Cons of using WP Forms – 
All the features aren't available for free. One has to upgrade to the premium version to get access to all the features.
Though it provides excellent add-ons, services, and features, all the complex and pro features aren't available as the developers aim at making a simple to use plugin.
Pricing –
The basic plan starts from $39 which is for 1 year only. If you go for one-time payment option, they will charge around $349.
---
7 . Visual Form Builder
Starting off free, Visual Form Builder has amazing features and also provides a premium version for add-ons. It mainly aims at providing quick and hassle-free form building tool without any need for HTML, PHP, CSS coding.

Pros of Visual Form Builder –
The forms made using this plug can be easily transferred to a CSV file.
Fields can be added with a click and drag and drop modification is the feature which can simplify all your work.
All the forms are saved in the WordPress database making them available for any future revision.
The feature of 'one click duplication' reduces time consumption during form building.
Visual Form plug-in automatically verifies the uploaded information to rectify any mistake.
Anti-spam verification system which prevents spammers from filling you mail boxes with junk emails.
Allows you to send a personalized message to the viewer after they have sent the forms.
Cons of Virtual Form Builder –
Though the 'no coding' feature might seem interesting to the majority users, only Professionals understand its drawbacks.
Thus, it might be a good option only for new users or people lacking the knowledge of coding.
Pricing –
Starting range – $20 (one-time fee)
---
8. Jetpack
Jetpack is the plugin from the team Automatic. Not just a form builder, but it does many other things too. Creating contact forms with Jetpack is super easy and offers various options for customizing forms.

Pros of using Jetpack –
Designed in a way that modifies the outlook of a WordPress site to that of a WordPress blog.
Covered by the Akismet spam protection which helps the users to secure their website from spammers and their mailboxes from junk mails.
Being a complete WordPress plug-in, it helps to track the data and statistics of the site along-with form building.
Allows storing the messages of people on your website, so you don't need an additional plug-in for that.
Instead of creating forms separately and then adding them to the site, Jetpack builds and edits a form right at the site.
One can add, remove, edit and adjust all the fields of the forms in Jetpack.
Allows e-mail blog subscription, URL shortener, comments enabled for social networking and many other features.
Cons of using Jetpack –
There are a few bugs in the plugin which sometimes lead to crashing of the site.
The basics are available for free, but add-ons need a premium version.
Pricing –
Jetpack has two pricing plans, namely – premium and business. The premium plan cost you nearly $99 per year, whereas business plan will cost around $299 per year.
---
9 . Custom Contact Forms
Custom Contact Form plugin is popular for being highly intuitive as well as a customizable plugin. The flexibility and functionality that you'll receive with this plugin is just incredible.

Pros of Custom Contact Forms –
Simple interface is completely user-friendly.
The benefits and assistance of CSS is provided without requiring actual knowledge of CSS.
A wide range of options are available, and the user can easily chose amongst them using the drag and drop menu selection.
Helps the user to modify the colors, margins, borders and designs of the contact forms.
Fields can be added, remove, re-arranged and even custom fields can be added.
Unlimited forms can be created using this plug-in and a specific destination for each form can be set.
Enables redirecting to a query message or a thank you message for your WordPress site.
CAPTCHA or "Are you a human?" is an added feature which can be included in your website using Custom Contact Forms.
For the developers wanting to modify their website even more, HTML customization is also available. This makes it a dream plugin for professional as well as beginners.
Cons of Custom Contact Forms –
Though it has a lot of advanced features in it, it lacks in customer support.
It has some bugs within which might disturb your website.
---
10. Contact Form 7
Though not quite recommendable now, after we have so many plugins available, Contact Form 7 is the oldest and the most downloaded contact form with more than 17 million downloads, present in the list of the official WordPress plug-ins directory.

Pros of Contact Form 7 –
The third party integrations of Contact Form 7 work as the add-ons which are also available for absolutely free.
Integrated with Akismet as well as other spam protections which help to secure the website easily.
Multiple forms can be easily created, and email newsletter subscriptions are available.
CAPTCHA spam filter and is also available in many languages.
Cons of Contact Form 7 –
The user interface is a bit complicated. It might take quite some efforts for beginners to set it up.
Though it is an extremely feature rich plug-in, everyone cannot easily use it and get the best out of it.
A minimal knowledge of HTML as well as other codes in necessary.
Customizing visuals are possible with Contact Form 7 but it needs CSS and HTML.
Being free of cost is actually a pro, but it gets added to the list of cons because free availability limits the add-ons options available with the plug-in.
Pricing –
Its complete version is available for free.
---
Conclusion – 
Technically, no form builder is good or bad. Each form builder has a different target audience and is thus made in accordance with their requirements. My suggestion would be to use paid additions of form builders as there you'll get the enough customization options that you might not get with free versions of form builders.
Zigaform is one such excellent choice to go with. Loaded with tons of customization and integration options, you can easily get your contact form running on your WordPress website within no time.