When your customer, say Peter, goes to your website and tries to contact your company, or your client's company, what is he going to find?
He may stumble upon a live chat box on the bottom right hand corner of the site, or locate the phone number to call in and talk to someone about his problem. These are all wonderful customer support solutions, and it's important to provide multiple avenues for customers to contact you or your clients; but email is still one of the most convenient and reasonable ways for people to contact you.
Think about it. People are busy, so they don't have all the time in the world to sit on the phone, and typing into a chat box takes all focus away from their current work. An email form allows customers to shoot off a quick message and respond at their own convenience. Not to mention, forms let you direct the emails to the proper department for response.
That said, let's take a look at some of the best WordPress form plugins, each of them providing slick tools such as custom forms, drag and drop fields, conditional logic, entry management and more.
01. Zigaform

Zigaform is a flexible and Ultimate WordPress form builder plugin which allows you to build responsive forms on few minutes using a simple yet powerful drag-and-drop form creator. Also it provides amazing form elements and skin live customizer that makes you to build professional forms. Also it provides an administration section where site admins manage tons of form options. It's really easy to customize and you don't need programming skills.
Zigaform is a 100% mobile responsive contact form solution, so your contact forms will always look great on all devices (mobile, tablet, laptop, and desktop).
Key Features:
Drag and Drop Interface
100% responsive form
Smart conditional logic.
Highly customizable
Easily customizable form editing
Price: $29 | Get Zigaform Now
Alternatively, you can start with Zigaform Lite for Free.
02. WPForms

WPForms is a powerful WordPress contact form designed for even the most novice of website owners. Building online forms in minutes using one of the many pre-built WordPress form templates, this plugin provides all of the fields and features required to create your desired form. In addition, it easily integrates with your preferred email service provider and even configures to collect booking and order payments.
With WPForms, you can utilize the drag & drop form builder, take advantage of the instant notification feature for making quick responses to promising leads, and even learn more about your users using the intelligent geolocation data.
In addition, WPForms also includes a number of useful add-ons such as the one designed to let readers submit their own content to your website.
Lastly, this beginner friendly form plugin implements smart CAPTCHA and honeypot techniques for combating spam, allows for multi-page form creation, and streamlines your workflow with its entry management system placing leads in one convenient location. In the end, you simply can't go wrong with WPForms as it is one of the most feature packed and user-friendly from builders on the market today.
03. Gravity Forms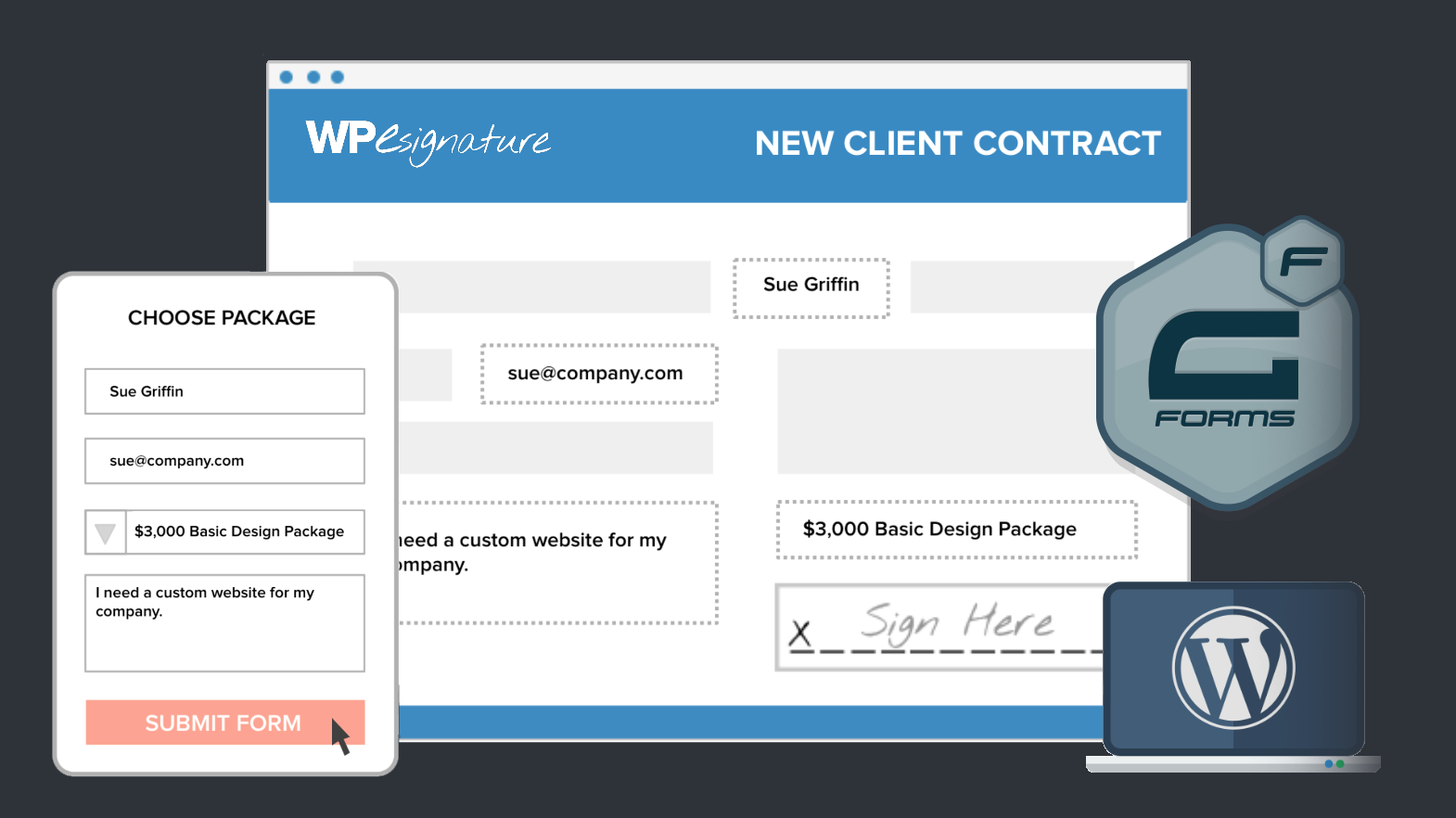 Gravity Forms is one of the more popular premium form plugins to choose from, and it runs from $39 (for one site) to $199 (for unlimited sites). Multi-page forms are a standout feature, giving your customers a chance to fill out extensive forms and view how much longer they have until completion. You can even limit your entries if you're running a contest and only want to accept, say, 50 entries.
Advanced fields bring in information like websites, file uploads and street addresses. Incorporate schedule forms to allow people to setup appointments, and try out pricing or post fields for the ultimate customization experience. Not to mention, standard fields are also included, for posting items like radio buttons, paragraph fields and drop down boxes.
04. Contact Form 7
Contact Form 7 is the most popular form plugin in the WordPress repository, and it is currently running on millions of sites because of its simplicity and customization features. With the plugin you can customize and manage multiple contact forms, and place them on your sites within just a few seconds.
Modify the mail contents however you want, and do all of this with some of the simplest markup on the market. The best part is that the plugin is quite clean, allowing it to work well with other plugins and tools such as Akismet spam filtering, CAPTCHA and Ajax-powered submitting.
05. Pirate Forms
Pirate Forms is a free contact form plugin, which promises to make the process of adding contact form to your website so much easier. Some of the key features include SMTP Option, Captcha, and easy of customization.
Created by ThemeIsle, the plugin is fairly simple, and takes less than a minute to setup. If you want to know more about ThemeIsle, you should see our ThemeIsle review.
06. Formidable Forms
Formidable Forms is a free plugin that also comes with two pro versions, priced at $47 (for one site) and $117 (for unlimited sites). The plugin-maker pitches that you can get a form up and running on your site within 60 seconds, and this is certainly true.
Formidable Forms has a drag and drop builder for helping even the least knowledgeable webmasters. Email notifications are smooth and clear, and you can create forms with up to seven field types. Import and export forms with XML, feel free to send some forms to the trash and customize HTML and CSS to make your form exactly the way you want. Along with shortcodes and autoresponders, you can't go wrong with Formidable Forms.
07. Fast Secure Contact Form
The Fast Secure Contact Form plugin is a free and powerful form builder, with spam blocking and easy field management included. The idea is to generate professional looking forms without having to mess with any confusing templates. The fields are easy to add, remove or disable, and the backup/restore tool assists with the messages you accidentally delete.
Consider sending mail to single or multiple contacts, allowing you to notify several people in your organization, and include an area for customers to submit attachments if needed.
08. Contact Form by BestWebSoft
Contact Form by BestWebSoft lets you incorporate actions into your forms, for sending each submitted email to one, or a few, particular people in your organization. Add a field for customers to include attachments, and send out a copy of the email to the person who actually submitted the form.
Each of the fields you create on your form are customizable, allowing for the changing of labels and submission fields when your form is displayed on the front-end.
09. Jetpack Forms
You may know Jetpack as one of the most installed plugins from the WordPress repository. The plugin features a suite filled with plenty of free tools to power up your site and make it run a little smoother. Some of the tools that come along with it include a mobile responsiveness builder, site performance tool, stats, social network commenting system and more.
However, this is an article about WordPress forms, so Jetpack also provides a sleek and powerful form builder, all of which are backed by Akismet, for blocking spam from building up on your website. The forms are some of the more simple options on this list, making it easy for any designer level to work with.
10. Ninja Kick Sidebar Contact Form Plugin
Ninja kick sidebar is a premium WordPress plugin which adds a contact form with content push animation effect and clean design on every page of your site. It adds a floating button to your site that is always visible.
This plugin not only adds a well designed contact form, but also increases the likelihood of your audience connecting with you, generating more sales, and landing more clients. See our Ninja Kick Sidebar review & how-to guide to understand how to configure the plugin properly and get more leads.
10. Visual Form Builder
The Visual Form Builder plugin is free to start, but they also offer a pro version starting at $29. The goal with this plugin is to build forms within a few minutes, without having to touch any code. Add fields with one click, and drag and drop the fields to reorder them however you like.
Feel free to export your forms to a CSV file, and automatically store your forms in the WordPress database. Not to mention, the plugin has one click form duplication to save you time while designing.
11. Quform – WordPress Form Builder
The Quform plugin goes for $28, and it uses a live form builder and 15 form elements to make it super easy for you to build within a few minutes.
Create unlimited forms, and manage the entire list of submissions from the convenience of your WordPress dashboard. The plugin comes with both light and dark color options, and the responsiveness and reCAPTCHA functionality helps it standout from other plugins.
12. Ninja Forms
Ninja Forms has the power of a premium plugin, but it doesn't take a dime out of your pocket. It lets you quickly and easily design stunning forms, using a drag and drop interface, and not having to touch a line of code. The custom input mask restricts some submissions for things like currency and dates.
Manage, edit and export every submission that comes through the form, and save some of the fields you create as favorites for use in the future. The datepicker is a nice bonus, and the plugin provides messaging to multiple people in your organization, along with confirmations to the customers who submit the forms.