File administration plugins help the webmasters to manage higher the files/records inside the dashboard and also do manipulations on them. In WordPress, all media documents get stored within the media library the place they can be searched, edited, and eliminated if now not wanted. Up to date, updates have generally improved this part of the WordPress backend. There are presently quite a lot of best free WordPress file manager plugins available in the market. 
---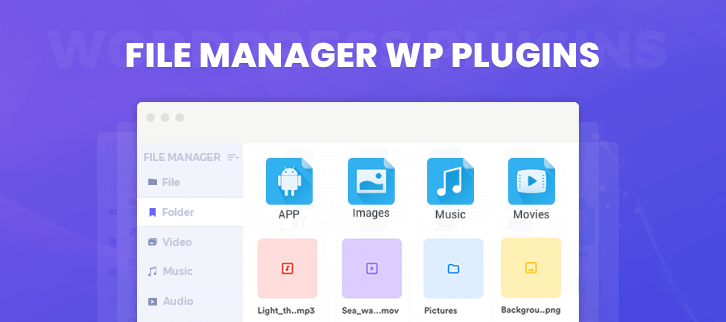 ---
It's too scary to access the media file manager in WordPress website, as it contains all the files in one place. Searching for a particular file is nightmarish.
Managefy Plugin for wordpress, allow you to access folders, download files, upload files, create folders, sub folders. Also Managefy allows to backup your files and database, and restore them as well.
Use your mouse (or touch) to drag and drop your files. Create, rename, delete or reorder your folders If you want to select a image from the "Select a image"-dialog (e. g. featured image) you can filter when inserting media. Just install this plugin and it works fine with all your image and media files. It also supports multisite.
---

---
Features of Managefy 
Drag and Drop File Management.
Create Folders and sub folders.
Files / Folder Sharing.
Searching and Sorting Option.
User Access and User Group Access Control.
Front-end Access.
Multiple Themes.
Image Viewer and Editor.
Pricing
---
2. File Manager WordPress Plugin

File Manager Plugin for WordPress is full of feature, and you can utilize it for almost anything that is related to files/documents. With the plugin, you can upload all type of files, create folders, and, subfolders.
You can also configure extensions which are not recognized by default WordPress. File Manager Plugin can set the access level of any of the folders/files from your WordPress site.
---

---
Features of File Manager WordPress Plugin

Drag and Drop File Upload.
Control who can access to download.
Create user groups for the quick assignment.
Custom Icon images links.
File type icon support.
Searching and Sorting Option.
Download link labels.
Pricing
File Manager Plugin for WordPress is available for $19.
---
3. WordPress Advanced File Manager 
You know what, if you are non-techie then you will want to use File Manager plugins or customize your files in ways that are technically impossible! But this incredibly easy to use File Manager Plugin converts your "impossible" to "possible".  
More importantly, it has different icons for major file types. You aren't going to have to wade through countless images. Just click on preview icons to ensure that your images are tweaked to your liking.
---

---
Features of WordPress Advanced File Manager
Download Option
Built-in Editor
Right Click Menu
Upload File to the current Directory
Switch Between Icons and List View
Pricing
This effortless File Manager plugin has the costing of $18.
---
4. WordPress Real Media Library – Media Categories / Folders File Manager
Real Media Library is undoubtedly one of the best media WordPress plugins. It mainly organizes thousands of images into one folder for your WordPress website.
You can drag and drop your files, rename, delete or reorder your folders and much more. In a nutshell, Real Media Library saves your time, and catalogue your WordPress media library elegantly.
---

---
Features of Real Media Library – File Manager WordPress Plugins
Full control for your folders in one toolbar (create, rename, delete, rearrange)
The filter in insert media dialogue
Improved Uploader
Upload files directly to a folder
Create dynamic gallery from the folder
Fast navigating to folders with fast folder search
Pricing
Starting at only $24, you can get the regular license and future updates.
---
5. Codify – WordPress IDE & File Manager
Codify file manager plugin provides an ideal environment to customize WordPress plugins.It comes with great features of editing multiple files with code auto-completion, syntax highlighting etc.
Additional features include drag and drop interface, Automatic indent and outdent, Code folding, Line wrapping and the list goes on.  This plugin is our favourite and is more than just a file management plugin because it can handle huge documents.
---

---
Features of Codify – File Manager Plugins For WordPress 
Creating new folders & files
Uploading files to any folder
Modifying existing folders & files ( cut / copy / paste / rename / delete) compress (zip )
Changing folders & files permissions
keyboard navigation
Reading folder or file details (owner, group, size and permissions)
Pricing
Codify has the base pricing of $18.
---
File manager is one of the free plugins that you can use on your WordPress website. It currently has 100,000+ active installs with a rating of 4.6 out of 5 stars.
It doesn't have a long list of features but is still a viable option for the website owners who don't want all the bells and whistles.
---

---
Features of File Manager Plugin For WordPress
Operations: Various operations with files and folders on a remote server (copy, move, upload, create folder/file, rename, edit, delete etc.)
File Type: Control what files can be uploaded and what file can be downloaded.
Move/Copy: Admin can Move/Copy files with Drag & Drop.
Archives: Admin can create/extract files(zip, rar, tar, gzip).
File Size: Admin/User can upload any size files.
Private Folder: Available only for File Manager Pro Edition
Multiple Themes: Multiple File Manager Themes Available – New Feature
Shortcode: Available only for File Manager Pro Edition
Pricing
It is freely downloadable from official WordPress website.
---
File Manager Advanced has an intuitive UI that allows you to easily upload, edit, delete and manage (zip/copy) downloadable files.
The goal of this plugin is to help users files organized and they don't need to use any cpanel and FTP.
---

---
Features of File Manager Advanced Wordpress Plugins
Editable Root Directory Path: You can edit root directory path.
Shortcodes: Shortcodes for logged in and not logged in users with multiple attributes and features (allows users and users role access)
User Operations: Upload, Download and Delete operations
File Operations: All operations with files and folders (copy, move, upload, create folder/file, rename, archive, extract, edit, etc.)
PDF Preview: PDF Preview feature available
Files Access: Access files inside and outside WordPress root directory
Pricing
File Manager Advanced plugin isn't going to cost you a penny.